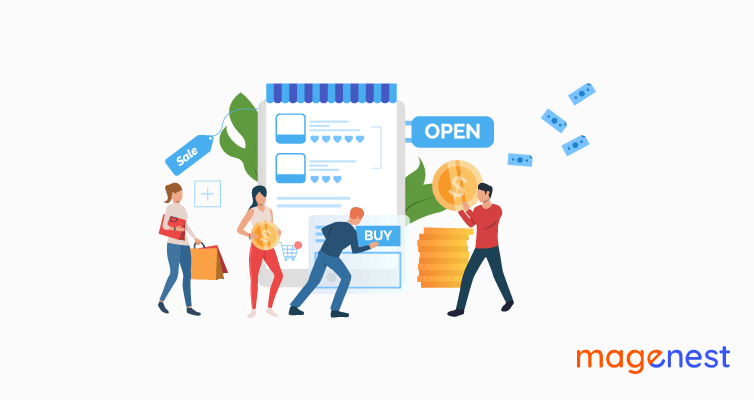 According to researchers, the probability of selling to an existing customer is about 60-70% meanwhile that of selling to a new one is just 5-20%. Moreover, over 80% of future profits will generate from 20% of the existing customer base. That means you have to make the most of every customer.
And one of the best approaches is through cross-selling. If done properly, cross-selling can bring value to your existing relationships, gain credibility, and raise revenue.
So this blog post will cover the subject of cross-selling in full – including some specific strategies to increase Average Order Value.
The definition of Cross-selling?
Cross-selling means encouraging customers to buy products that are the complement products for the items they have already purchased. For instance, if someone purchases a new computer monitor, they might also be offered a keyboard.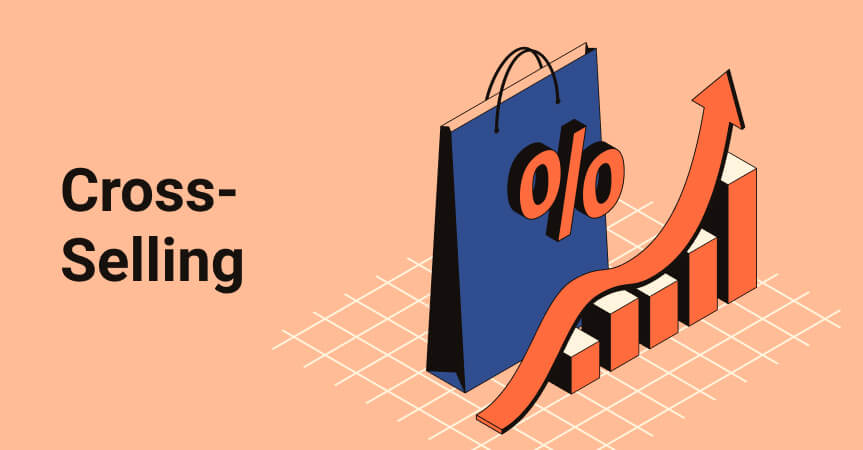 Cross-selling definition, when it comes to a physical store, has conventionally been done by a salesperson. However, eCommerce stores are able to use smart personalization tools to recommend specific, related goods to customers at different stages of the buying process.
If you are a fan of Amazon, you will probably be familiar with its famous "Customers Also Bought…" section or an even more commonly heard phrase: "Do you want fries with that?"
Key Statistics of Cross-selling
Cross-selling (or product recommendation) is becoming increasingly popular and according to Invespcro, it is said to contribute up to 35% of the overall revenues of Amazon. Furthermore, statistics show that customers that clicked on product recommendations are 4.5 times likely to add that product to their carts. Other than that, Forrester Research estimates that product recommendation has contributed roughly 30% of total sales of many eCommerce brands.
Here are some major cross-selling statistics and trends for you to take into your consideration:
Personalized Product Recommendations account for just 7% of visits but 26% of revenue

Shoppers that clicked a product recommendation were nearly

twice likely to come back to the site, in comparison with regular customers

37% of shoppers that clicked a recommendation during their visit returned, compared to just 19% of shoppers that didn't click a recommendation during their first visit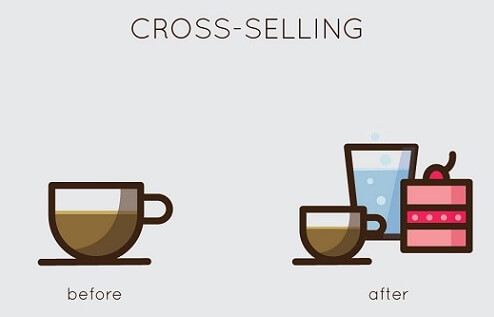 Purchases, where a recommendation was clicked, saw a 10% higher AOV as compared to purchases where a recommendation was not clicked.

Shoppers that clicked on recommendations are 4,5 times more likely to add items to the cart and complete their purchase

Personalized product recommendations are estimated to account for more than 35% of purchases on Amazon

49% of consumers said they have purchased a product that they did not initially intend to buy after receiving a personalized recommendation

52% of consumers would share personal data in exchange for product recommendations

54% of retailers reported product recommendation as to the key driver of the average order value in the customer purchase

75% of customers are more likely to buy based on personalized recommendations
Strategies of Cross-selling in different industries
Here are 5 insanely effective cross-selling strategies you can try applying for your online business.
#1 Recommend Related Items
This is apparently the most commonly used cross-selling strategy out there, as its effectiveness is undeniable. We've all seen several websites recommend similar or complementary products when we're browsing. We bet that you have encountered numerous examples like the below one: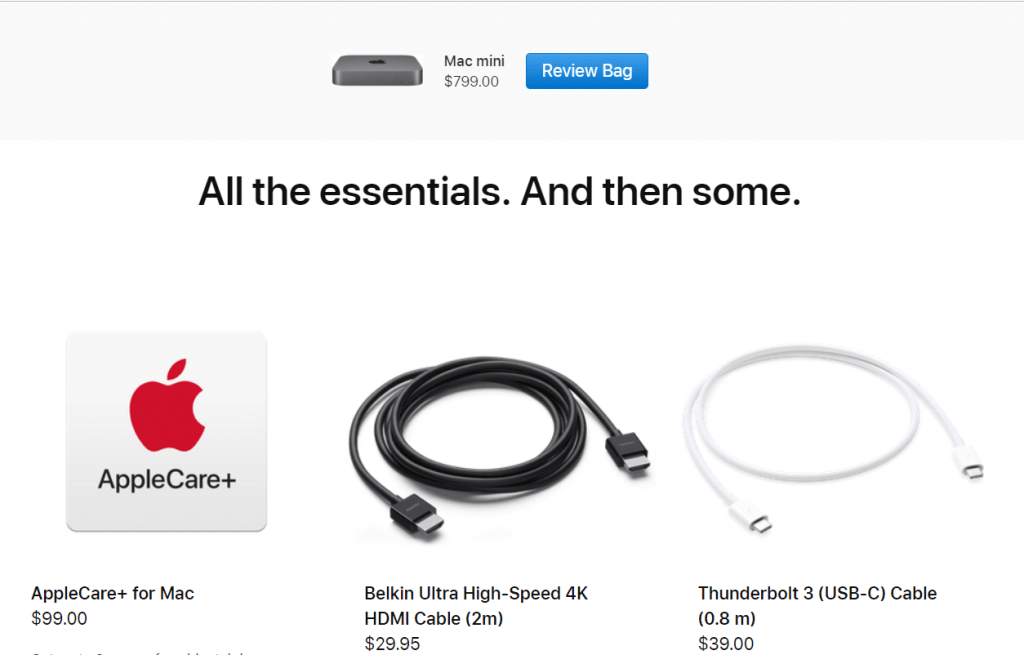 This may be a very basic tactic, but it is surprisingly effective all the time – particularly if you sell a set of complementary products. It serves the best in two ways:
Helping customers discover more products to add to the cart

Helping browsers find a better-suited product for them, and hence saving

money for the customers
And in addition, this method is really easy to put into action on almost every eCommerce platform.
#2 Recommend Recently-Viewed Items
This somewhat works in the same manner as the previous strategy. Except in this tactic, you're recommending items the shoppers recently viewed (not just any relevant item anymore).
Joseph - a fashion brand made it very well with a simple but efficient modal under the product description: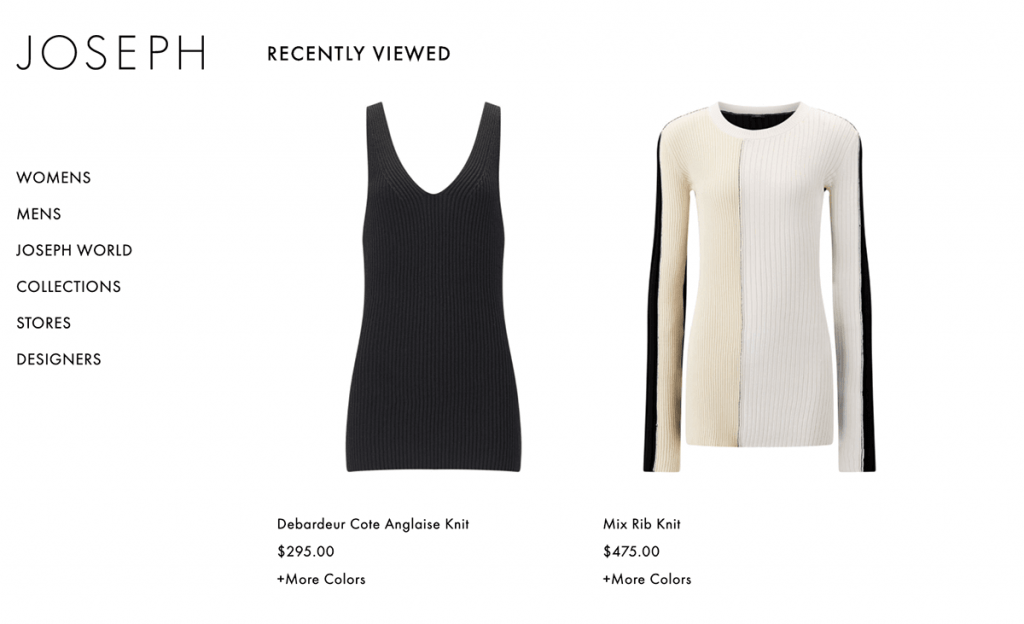 This strategy would be especially effective if your store tends to receive a large percentage of returning visitors. If you have a good loyalty program, or a highly-engaged email list, or just a 'sticky' brand that shoppers like to come back to.
Whatever the reason, if you have a large number of returning visitors then a 'recently viewed' cross-selling strategy would be especially useful.
#3 Shop the Look
Among various cross-selling techniques, the one named "shop the look" means displaying to customers a high-quality photo of a stylish model or environment in an attempt to sell more products.
For example, when you want to buy a pair of trousers, a website might present you an image of a model wearing them – along with a matching tank top, shoes, and accessories. You might like the entire look so much that you add the full set to your cart.
Check below the example from New Look. The standard product imagery exhibits a model wearing a full outfit, even though this page specifically is just for the trousers: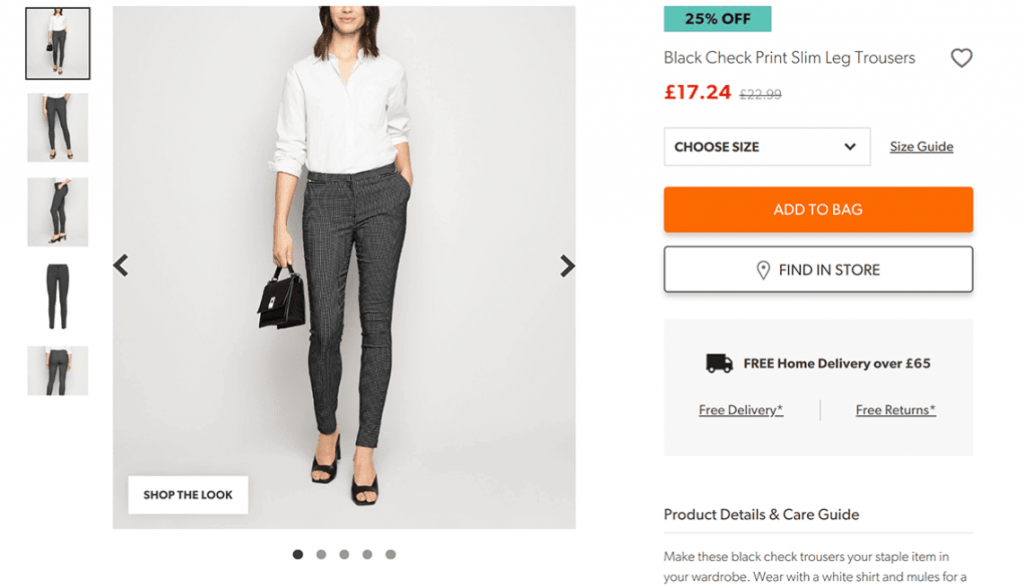 And underneath, customers can see the rest of the items she's wearing and add them to your order without any troubles.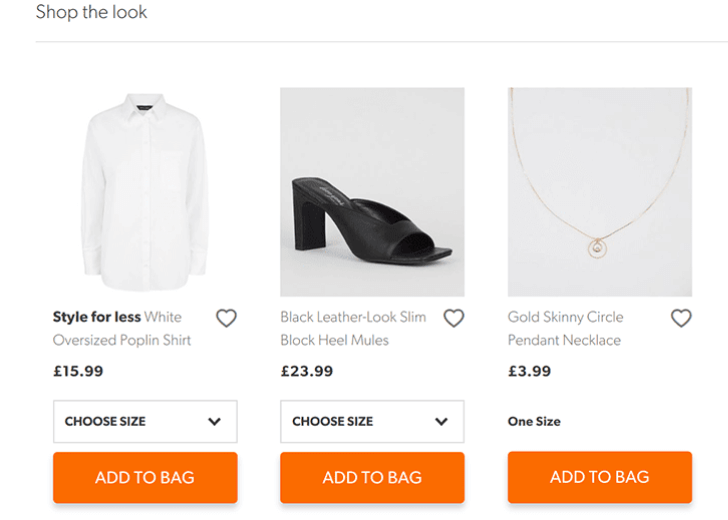 The same fits the furniture industry, too. You might buy a sofa, a coffee table, and a TV stand based on an illustration of a luxurious living room when your initial intention was to buy a new couch only. It's all about showing the prospect with some inspirational images and making it much easier for them to achieve that in their own life.
#4 Offer Discounts on Product Bundles
Another effective cross-selling tactic is to consolidate specific cross-selling products into bundles. And since when all the products are purchased together, you'd normally offer a discount.
Let's say a shopper who wants to buy the latest games console goes checking out a superior retailer like Amazon. They'd see something like this:
As you can notice, Amazon sells the console separately or as part of various bundles. This is ideal for any gamers as they will have to buy games in the future anyway. This method will certainly boost up your sales, as well as the loyalty level of your customers. However, you have to group up products in the most beneficial ways for your customers, otherwise, the method will backfire your business extremely hard.
#5 Promote Items Essential to a Product's Performance
Let's say a customer is looking for a table lamp, and your store sells this very sort of product.
Your website's optimized to help visitors reach the exact table lamp they're searching for within minutes. But after adding the lamp to their cart, the customer realizes something: They'll need a bulb for their lamps to work, too (or at least a bulb for emergency replacement).
Luckily, the page they're viewing covers a section dedicated to a variety of light bulbs.
This is one of the most perfect cross-selling examples. And it works for a wide range of item types – batteries, shoe polish, protective cases, carry bags ... Basically, you can apply this method for any products with the aim of improving other products' performance.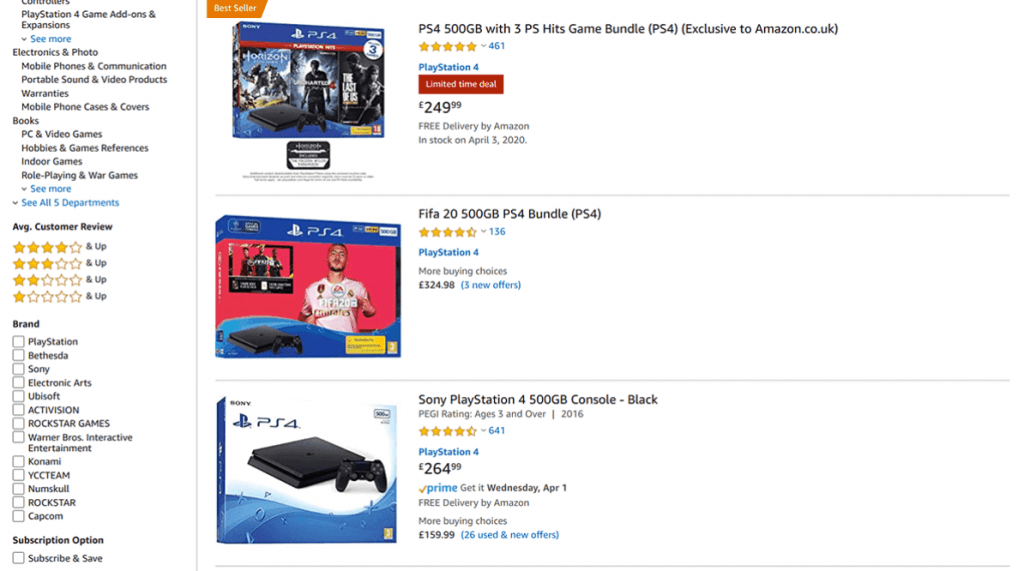 Best Successful Examples of Cross-selling
#1 IKEA
This top-tier international furniture and household products corporation is unique in every meaning of the word, particularly in respect of its cross-selling strategies. IKEA has experienced years of extensive customer research to get behind not only the buyers' mind but also their feelings.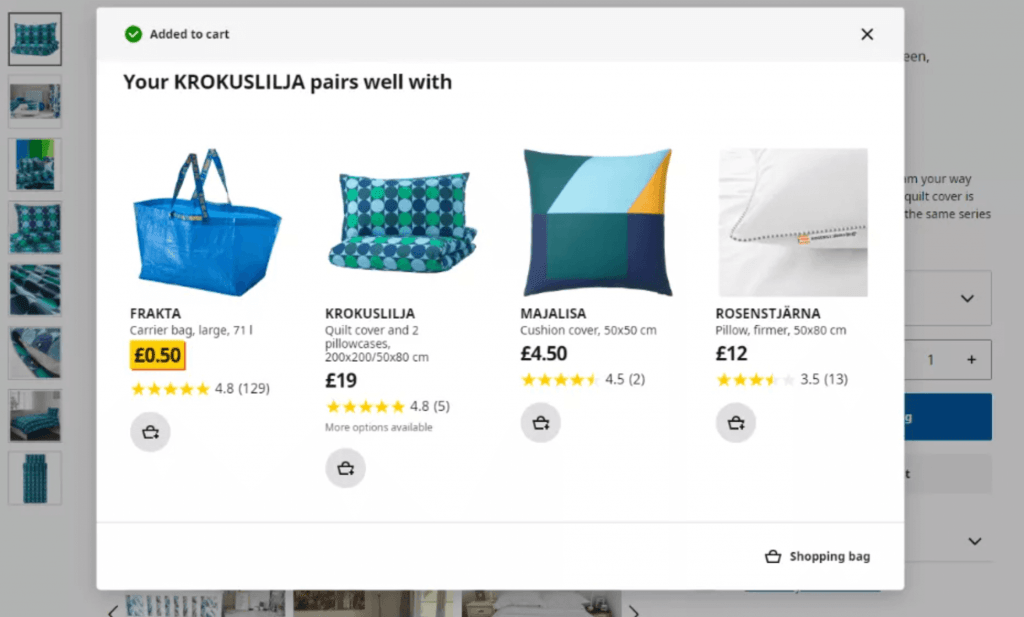 Understanding how exhausting it can be when looking for a matching furniture set for your home, the company comes up with cross-selling strategies: suggesting additional pieces of furniture in the same set; hence; taking away the pressure of having to look for everything on their own.
These tactics are all about making life much easier for the customer, which helps the company earn more money in the long run.
#2 Sephora
Sephora is a popular beauty and makeup products firm with over 300 different beauty brands in stock on their e-commerce website at any given time. And the key to Sephora's cross-selling strategy is bundling!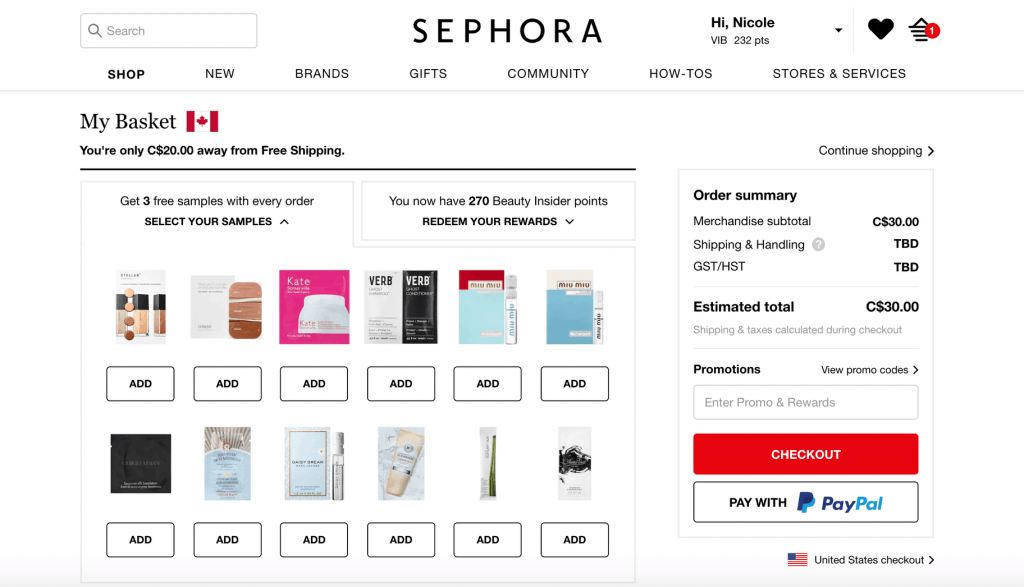 Both pre-packaged bundles and per-customer offers are being provided, giving the buyers absolute control over what pieces they add to their carts while maintaining the discounts. Additionally, there are weekly rotating offers, highlighting various brands each week while offering new cross-selling opportunities to repeat customers.
Placing the power in your customers' hands can be an especially wonderful cross-selling tactic. Let them create their own bundles and packages and perceive how much more eager they are to purchase from you again!
#3 Apple
Apple is a gigantic corporation with many strengths. And obviously, branding is one of them. Apple's branding is strong and focused; it is likely to identify an Apple product on sight immediately.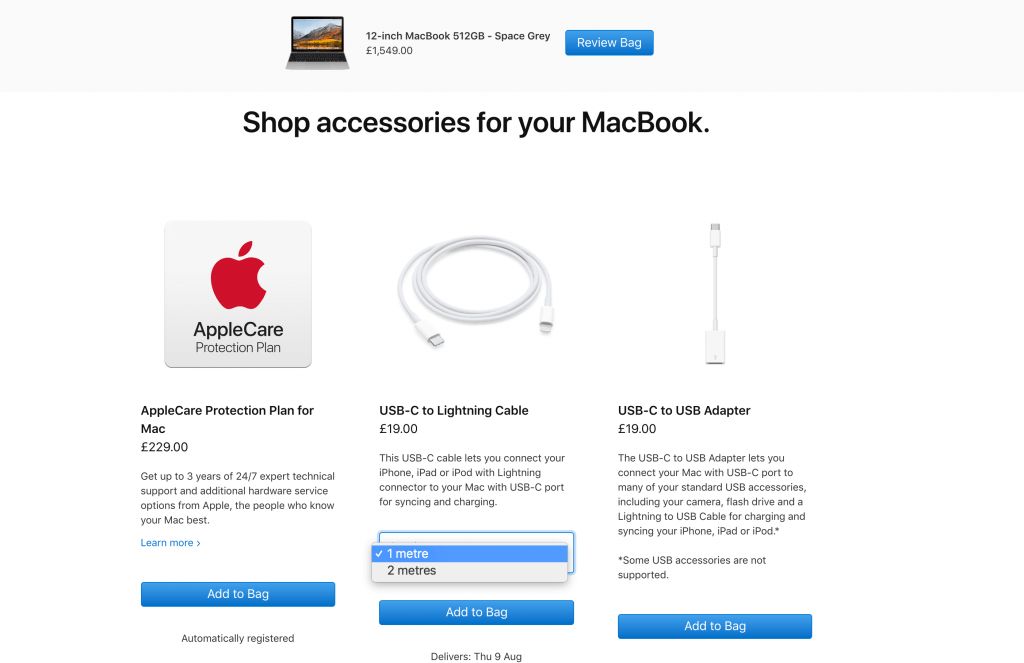 It goes without saying that Apple's cross-selling strategies are just as expertly-driven as its branding tactics. When a customer hits Apple's check-out page on its e-commerce site, they can view visually-simple suggestion sections, maybe some accessories or add-ons, based on the products about to be bought.
If there's anything to be acquired from Apple stories, it's that a little may go a long way.
Conclusion
Formulating a cross-selling strategy is not always challenging. It can be as simple as suggesting complementary goods that pair well with the initial items or even sending an email reminder to your customers about a future promotion package.
Take incentive from the successful techniques used by the successful companies above and begin your own plan for growth and success.