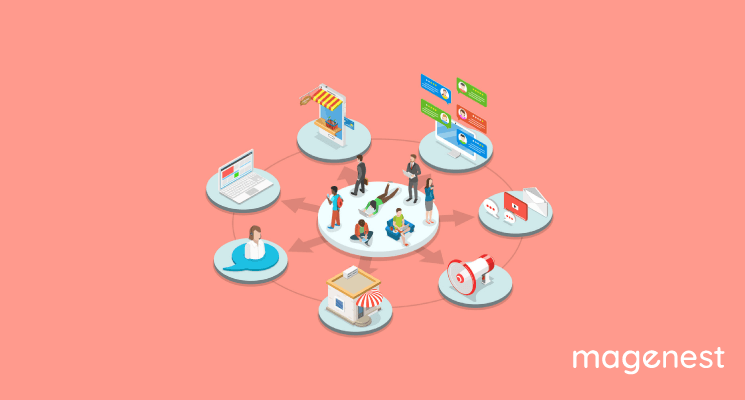 Nowadays, retailing isn't what it used to be thanks to the development of the Internet, mobile technologies, and digital disruption.
It is always important to provide customers what they want, exactly when they want it, and specifically where they want it. This exerts more intense pressure on retailers to ensure that the promise they have made to the customer is perfectly fulfilled. And this is what omnichannel retailing is all about.
Drown in the lately omnichannel retail trends, you must have encountered many articles about this buzzword. But since the word is "omnipresent", it can get confusing what people mean by it.
So, what is omnichannel retail exactly? What is the difference between omnichannel vs multi-channel? Do you clearly understand how real omnichannel retail works? This post will help you investigate the transition of retail trends over decades and definitely will define omnichannel retail.
Brief History of Omnichannel Retail
From Single-Channel To Multi-Channel

The traditional retail model is known as single-channel retailing because it focuses on a single distribution system and relies on only one selling channel. Retailers only owned brick-and-mortar stores (offline), and web-stores (online) showed up a few years later as another option for small businesses.
Initially, this model achieved a considerable amount of success by focusing on a single channel that could minimize all costs while still driving revenue and profit. Furthermore, if a provider holds a monopoly on a market for their product or service, a single-channel strategy may help them maintain that dominance.
However, when the new era of technological development arrived and several new sales outlets emerged, the single-channel sales strategy faced several shortcomings.
Customers wanted a more convenient shopping experience so they certainly wanted to be offered a variety of shopping channels, devices, and platforms. As a result, a single-channel approach was no longer sufficient to draw more demanding consumers. This has put retailers under pressure to reshape their store management work as well as business models in order to avoid falling behind in the race for sales growth.
At the time, multi-channel retailing was considered as a leading retailing strategy that could use the digital revolution to satisfy consumers across any platforms they preferred. This business model soon took over the retail industry and since then has evolved continuously.
From Multi-channel To Omnichannel

Multi-channel retail is a business model born alongside the digital revolution.
Retailers who use this multi-channel strategy offer their customers many options of purchasing their goods both online and offline. As a result, buying products and hiring services are more flexible and convenient for customers, and the sales got boosted significantly.
Another benefit of this approach is that it provides consumers with 24-hour access, which facilitates the development of brand loyalty. Retailers also benefit from multi-channel by optimizing analytics to better identify consumer behaviors, as creating a customized customer experience is vital in the digital era.
However, as multi-channel retail expanded, more problems arose, including how to provide consumers with a seamless experience across channels which could enable the internal process to run smoothly:
As customers' demands had become more complex, and retailers' infrastructural development could no longer meet them. It was almost impossible to create a seamless experience across several channels while still ensuring accuracy and reliability.
For example, retailers found it extremely difficult to manage orders from several channels (fulfilling orders and delivering in time). Furthermore, customer support was a major issue when retailers dealt with customers via different channels and were confused with data synchronization across separate platforms.
Retailers (who have adopted a multi-channel strategy) have often encountered issues with the internal process. The supply chain must be the first and most relevant topic to be mentioned. More distribution channels entailed more available warehouses with better inventory accuracy, while a multi-channel strategy lacked inventory visibility and effective multi-warehouse management. As a result, a supply-demand gap was almost difficult to fill without a centralized management system.

Furthermels, this business model caused challenges in measurement analysis when gathering data through different channels is, resulting in an inefficient approach.
As the retail landscape evolved and multi-channel appeared to hit its limit, the retail industry entered a new era known as the omnichannel retail model. Omnichannel retail optimizes different distribution channels while still achieving maximum levels of integration among them.
The key difference between multichannel and omnichannel is that:
In a multi-channel environment, the user has access to a wide range of communication options that are not necessarily synchronized or associated. Meanwhile, in omnichannel experience, nevertheless, there are not just several channels, but the channels are connected so that you can switch through them seamlessly.
What is Omnichannel Retail?
Omnichannel retail (sometimes called omnichannel commerce) is a multichannel strategy to sales that focuses on delivering a seamless consumer experience, regardless of the shopping methods of the customer (buying via PCs, mobile phones, tablets, or in physical stores).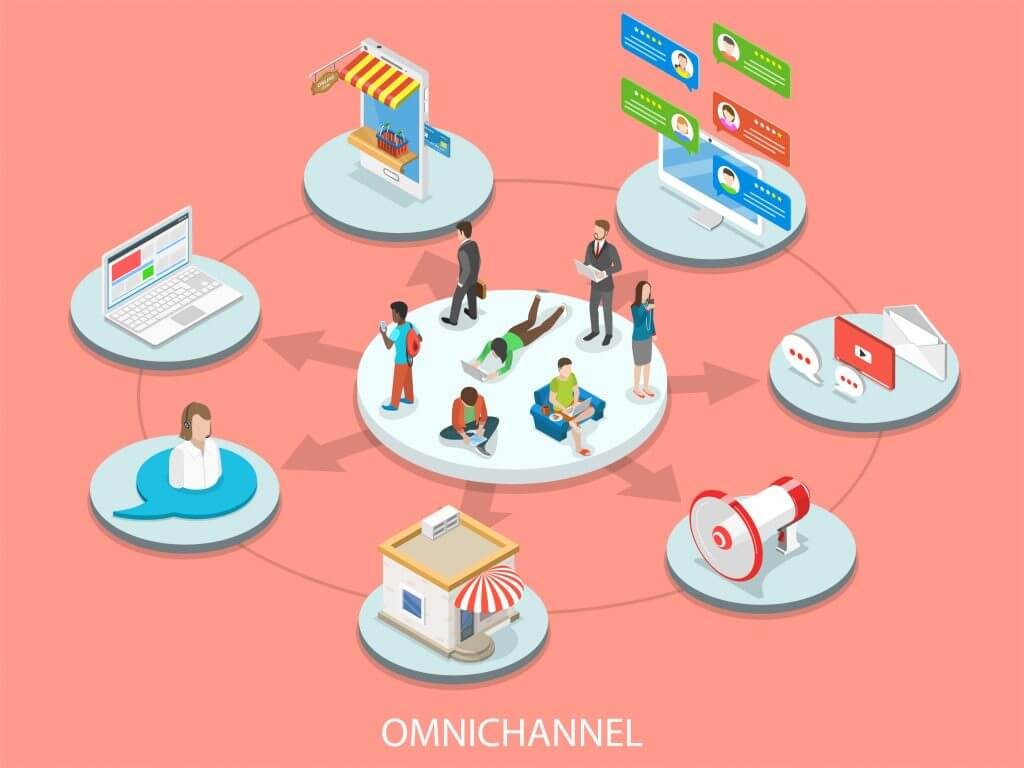 According to the Harvard Business Review, 73% of all consumers use multiple channels throughout their buying journey. Consumers now only pay for the things that they have gathered as much information as possible from various sources to support their spending decision.
Omnichannel operations are concerned with the entire consumer experience, rather than just the customer's individual experiences across channels. To brief, Omnichannel means being available at any time and from any place, making it more convenient for the customer.
The "channels" here can include (however, are not limited to):
Online StoreFronts/DTC

eCommerce Marketplaces

Social Media Platforms

Mobile Channels

Brick-and-mortar Stores of Anywhere Using a POS

B2B/Wholesale Channels
Here are some brilliant brand names that are already implementing it in their strategies for you to learn from:
Disney with My Disney Experience tool

Starbucks with its reward apps

Timberland making use of near-field communication technology

The beauty giant Sephora

A UK-based fashion brand Topshop
Read more: What is Social Commerce? What should Magento 2 Merchants know about it?
Why Create an Omnichannel Retail Strategy?
The future of e-commerce is omnichannel retail. This generally requires a rethinking of "e-tailers", "brick-and-mortar"', and "bricks-and-clicks" (brick-and-mortars with an online presence) strategies and to redefine their business models.
A single channel seems to be no longer enough. This is why traditional retailers are trying to go online, and e-tailers consider different alternatives for establishing a physical presence. The challenge is to find a seamless solution for both the consumer experience and internal processes.
For several years, online channels were treated as a distinct, independent channel, with hardly any integration into the overall brick-and-mortar business model and this has changed rapidly as buyers need more information on stock levels, delivery dates, and delivery options regardless of where they are situated within the retailer's network. Customers expect the same service and information accessibility levels whether they are in a physical store, on a laptop, or on a mobile device during the entire shopping experience.

eCommerce is exploding, and retailers confront a slew of different challenges and opportunities. Because of the exponential growth of the e-commerce industry, traditional retailers are venturing into the online market. Retailers and e-tailers have been under pressure to adapt since a single-channel strategy may no longer be sufficient to meet the demanding customers of the twenty-first century.
Several pure-play e-tailers, on the other hand, are weighing the advantages of establishing a physical presence (

such as showrooms and pop-up stores, either temporarily or permanently

) in order to adapt to a changing marketplace and satisfy growing customer demands.

Succeeding online is depends on the ability to design and execute a comprehensive strategy for being present in the channels that consumers want, both now and in the future.

However, before implementing, retailers must allocate considerable time to preparing. It is important to get it right – if they have separate, disintegrated channels, the development would be impossible. It seems that physical presence is easier for pure e-tailers to grow than it is for brick-and-mortar retailers to expand their digital presence.
Here are some statistical data to be more convincing:
A survey of 46,000 shoppers conducted by Harvard Business Review in an attempt to gauge what effect (if any) omnichannel retailing has on their experience has discovered that:
7% shopped solely online

while 20% shopped in-store only

and 73% used multiple channels.
Another research provided by The Business Insider revealed that shoppers who engaged on multiple channels made further more often.
They also identified a glaring pattern that omnichannel customers preferred using the retailer's touchpoints in a variety of combinations and places. They not only used mobile apps to compare prices or download coupons, but they were also regular visitors of in-store digital tools like an interactive catalog, a tablet, or a price-checker
Customers who interacted with an omnichannel experience spent 4% more in-store and 10% more online.
A further study has shown some key data points to demonstrate the ability of omnichannel interactions to boost revenue significantly:
Companies with omnichannel retail strategies maintain an average of 89% of their customers from channel to channel.

Businesses with poor omnichannel integration hold 33% of their customers.
5 Omnichannel Trends in 2021
Businesses who are eager to transfer from multichannel to omnichannel must think out of the box and implement omnichannel retailing strategies in their future campaigns.
Here are five omnichannel retailing trends to consider incorporating into the omnichannel strategy towards 2021.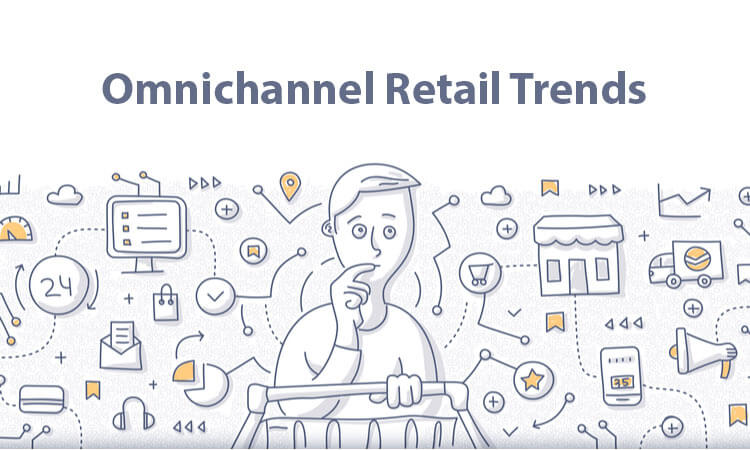 #1 Improved Personalization
Shoppers, just like anybody else, pursue meaningful relationships. They respond especially well to offers that are tailored to their specific interests. To address this, brands should leverage data gathered from various customer touchpoints.
By combining identity data with deep analytics, you can create personalized customer experience to meet each customer's specific search and need. When all of your channels are connected, every consumer touchpoint helps to improve your competitive edge, deepen your customer relationship and increase customer lifetime value.
#2 Fast and Convenient Payment Checkouts
Consumers expect simplified checkout options, whether web, in-store, or via the phone, owing to blockchain solutions, contactless payment, and other innovations. Customers, especially repeat customers, will increasingly gravitate toward brands that do not need them to enter their billing address, input 16-digit credit card number, expiry date, and security code to complete their orders (or at least do not require them to enter that information more than once).
Providing various payment methods at checkouts, such as Stripe, Payeezy, or Paya, would enable your consumers to choose their preferred mode of payment and make shopping much more convenient than ever before.
Moreover, if your budget is comfortable enough (or your business is big enough), you should certainly pick the payment gateway according to your targeted market. For example, if you are focusing on the USA and Canada markets, then you should take Moneris. If your targeted market is the UK, then you definitely need Barclaycard. If you want to make your Australian customers happy, then pick a license of Worldpay right now.
You should also consider taking the subscription version of these payment gateways if you are doing a subscription business. Right now, Worldpay, Opayo, and Stripe are offering subscription versions for their payment gateway integrations. Choosing these subscription versions can be a huge financial benefit if your eCommerce store involves a lot of recurring payments.
Read more: Top 10 best payment gateway for eCommerce business 2021
#3 Embracing Innovation
Customers' growing appetite for new and interactive experiences has also paved the way for numerous technological advances in shopping, such as virtual and augmented reality. Many businesses would have to focus on new ways to engage their clients in an attempt to reach their customers' needs for a unique experience.
As an outcome of an omnichannel strategy, shoppers would be enabled to use their smartphones in a physical shop to improve their customer journey. Alternatively, they may use their smartphones from the comfort of their own homes to evaluate if a certain item matches their needs.
#4 Social Integration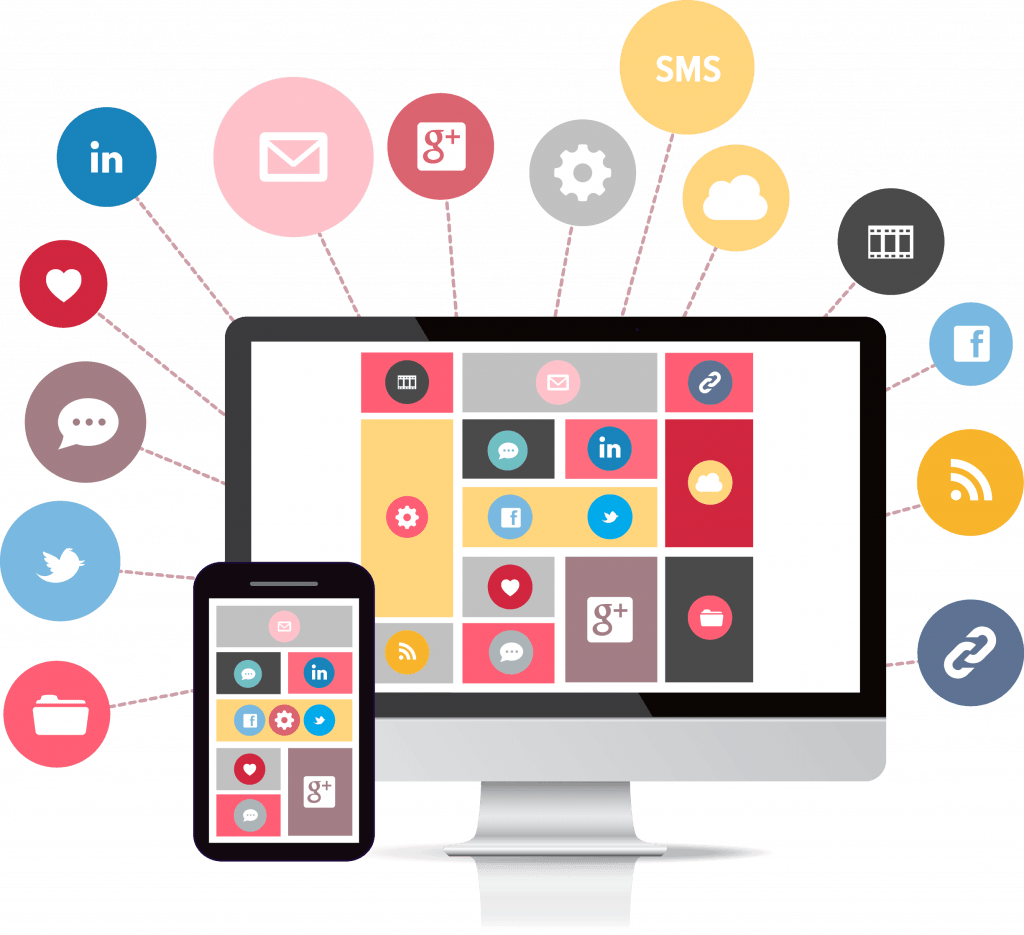 Audiences that are visually oriented are increasingly purchasing goods directly from their favorite social media sites. This opens up new opportunities for omnichannel marketers to figure out new strategies to embed social content into their platforms or to provide product listings in social media messages. Check out our best social integration modules like Instagram Shop, Facebook Chatbot, Facebook Livestream, Social Login & Share to see whether there is something suitable for your business.
#5 24/7 Customer Service
While many businesses cannot keep their physical doors open 24 hours a day, they do provide 24/7 online shopping, ordering, and customer support. So consider optimizing the customer experience and 24/7 accessibility while aligning the retail strategy with omnichannel retail trends in 2021.
Shopping through many platforms and smartphones has its advantages, but it can also cause more concerns from the clients. Be sure you have an outstanding in-person, email, and web customer support program for the buyers.
Conclusion
The omnichannel retail trend may have been skyrocketing for ten years, and it has shown no sign of slowing down. However, you are never too late to start. The big question is that do you have creative ideas and huge patience?
Currently, an increasing number of brands are investigating the advantages of omnichannel retail. Keeping up with the ever-changing world of eCommerce is always difficult. Plus, switching from single-channel or multichannel to omnichannel commerce requires a significant amount of time and effort. But don't give up since it will all be worth it in the end.
We hope that after reading this blog post explaining what is omnichannel retail, you will feel more confident when using this O-word.