Magento 2

Multiple Warehouses
Multiple Warehouse extension for Magento 2 is a great tool allowing admins to manage several locations efficiently as well as keep track of inventory.
Manage and update regularly stock quantities
Help store owners choose the nearest warehouse to the shipping address
Automatically merge shipping methods
Create and combine rules
Manage stock quantities and optimize shipping methods for merchants with Magento Multiple Warehouses
Manage warehouses and inventories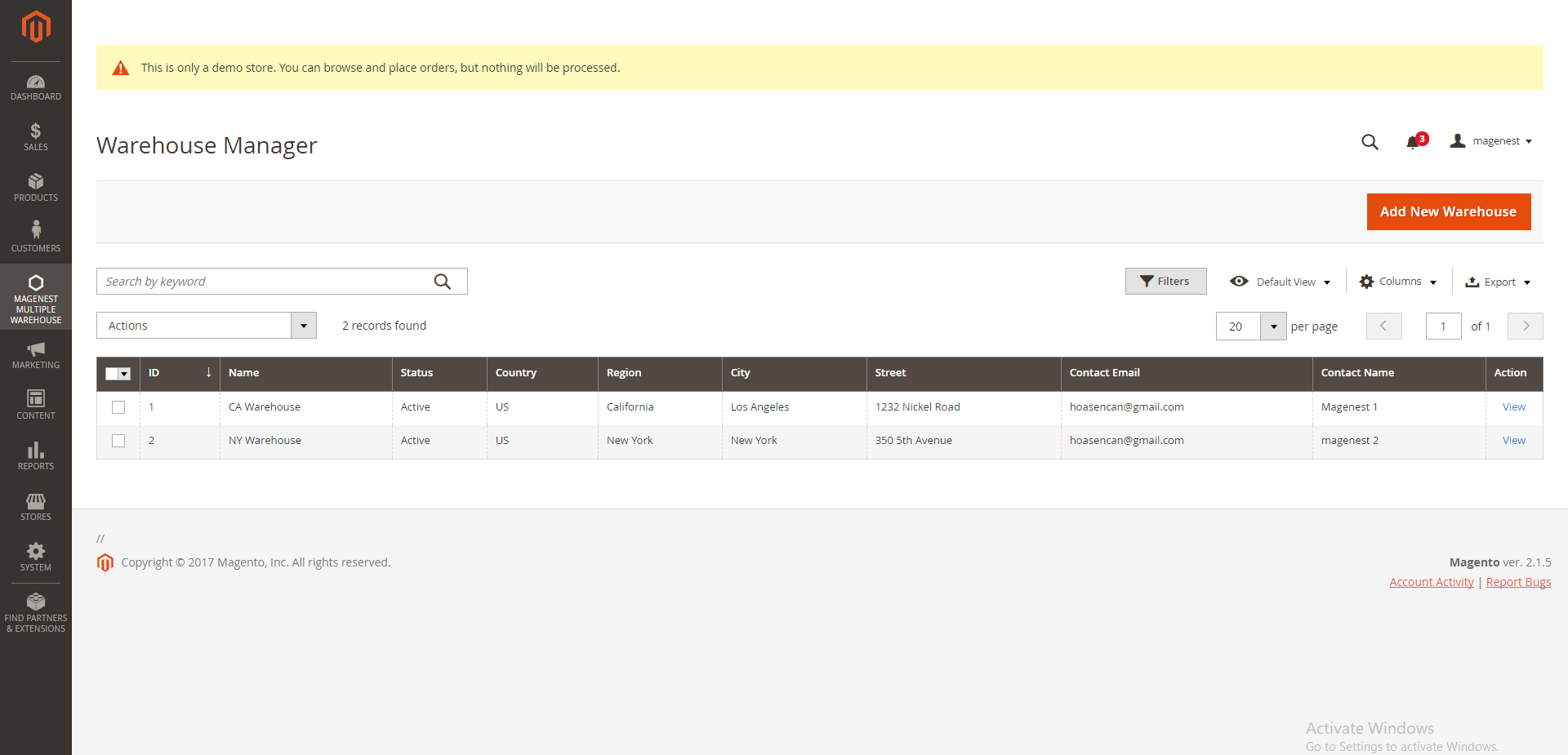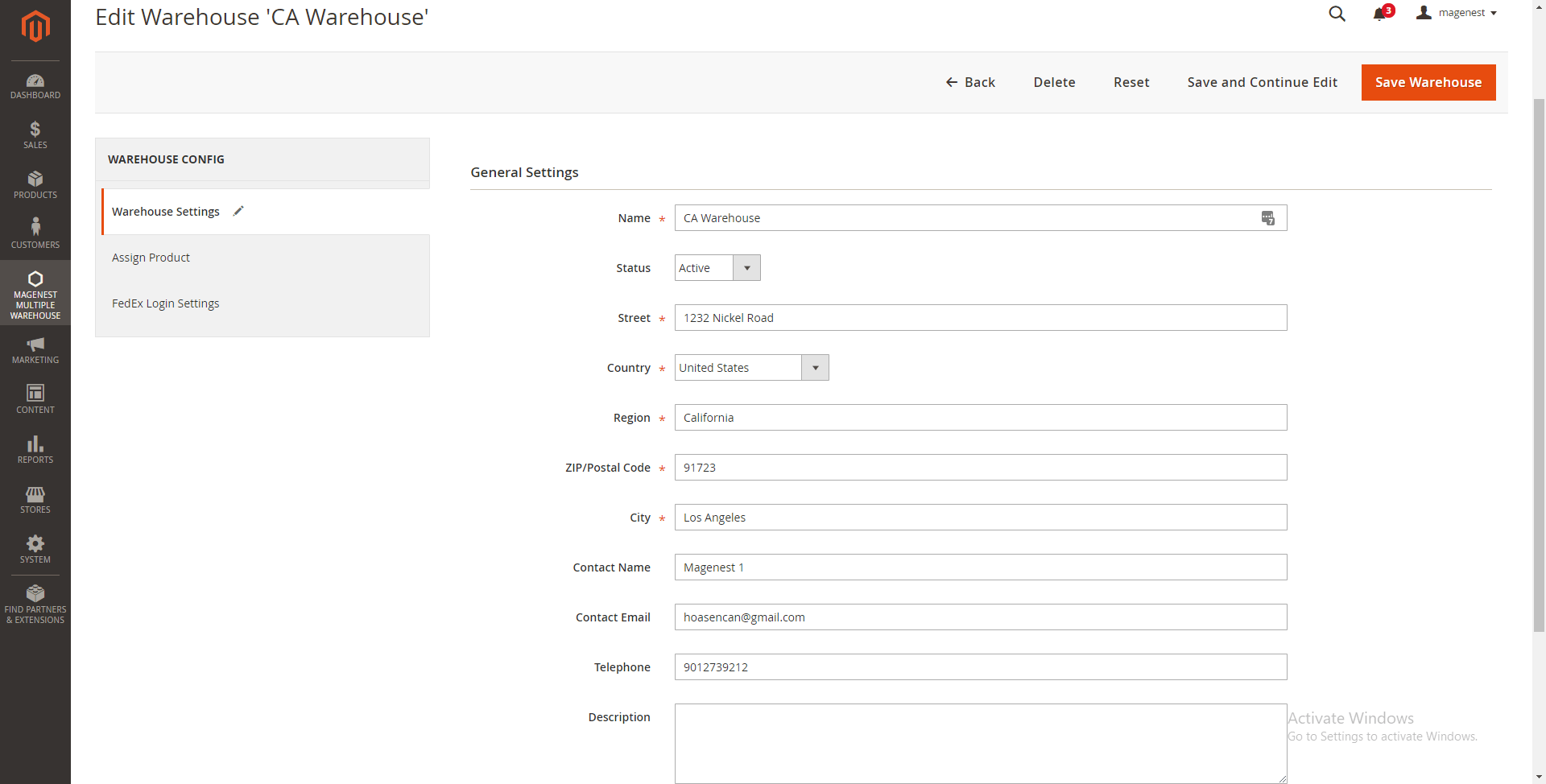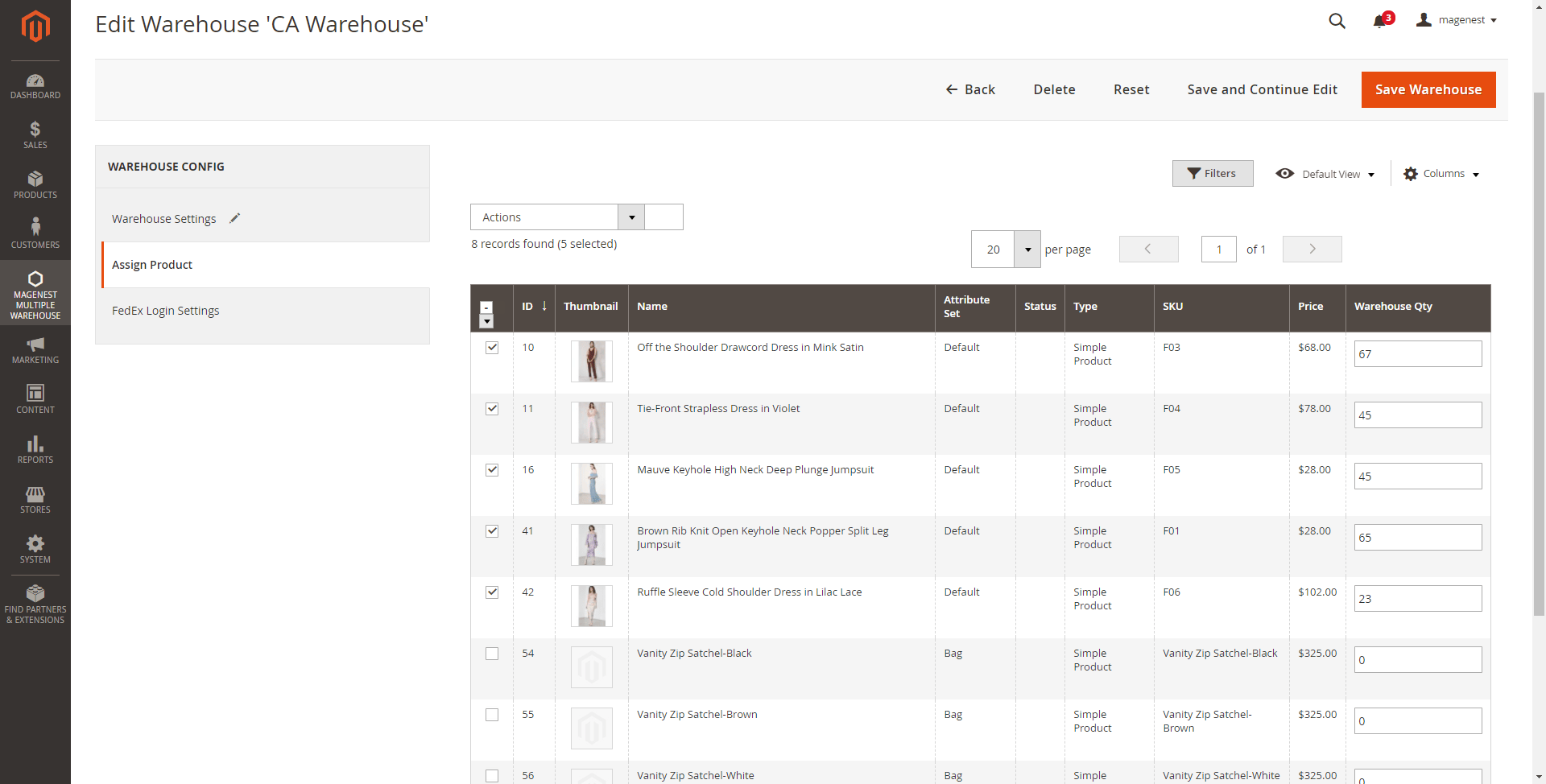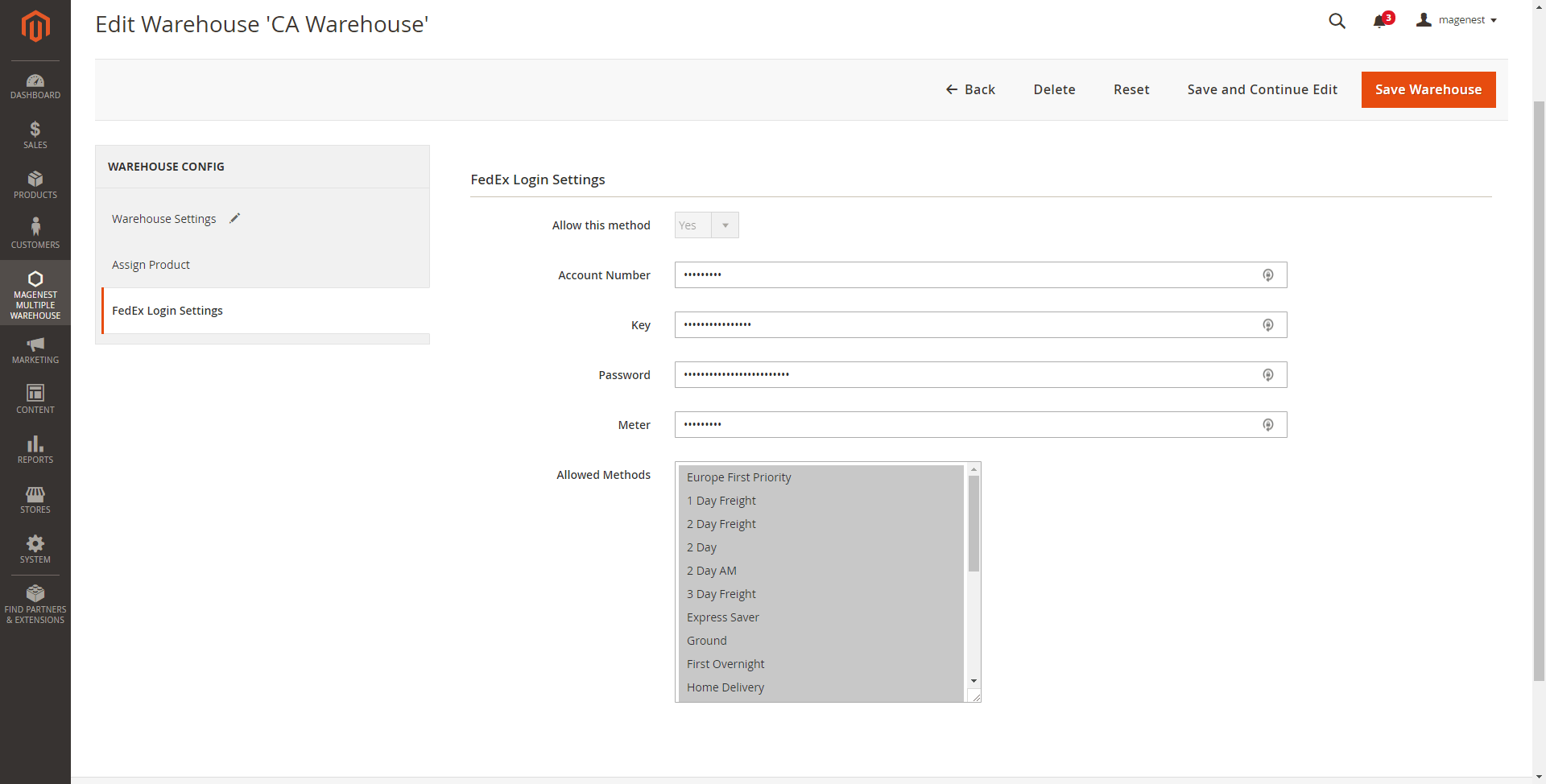 Create unlimited numbers of warehouses
Turn on or off any warehouse for use in store
Add additional information to the warehouse, including geography (country, regioin, zip/postal code, city), contact name, contact email, telephone, description, etc
Assign any products and number of stock quantities to a warehouse easily
Choose allowed shipping methods for the warehouse
Merge shipping methods manually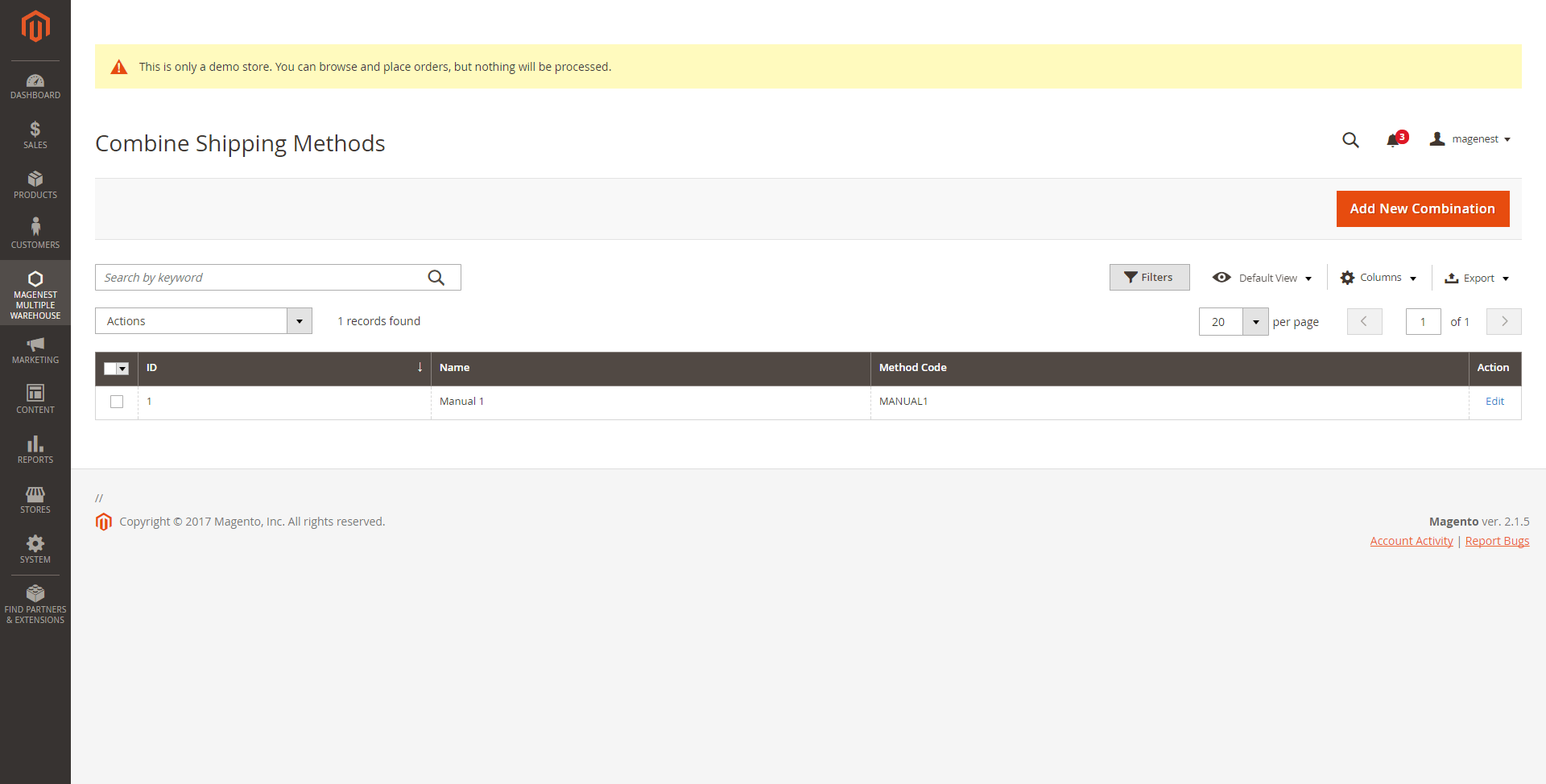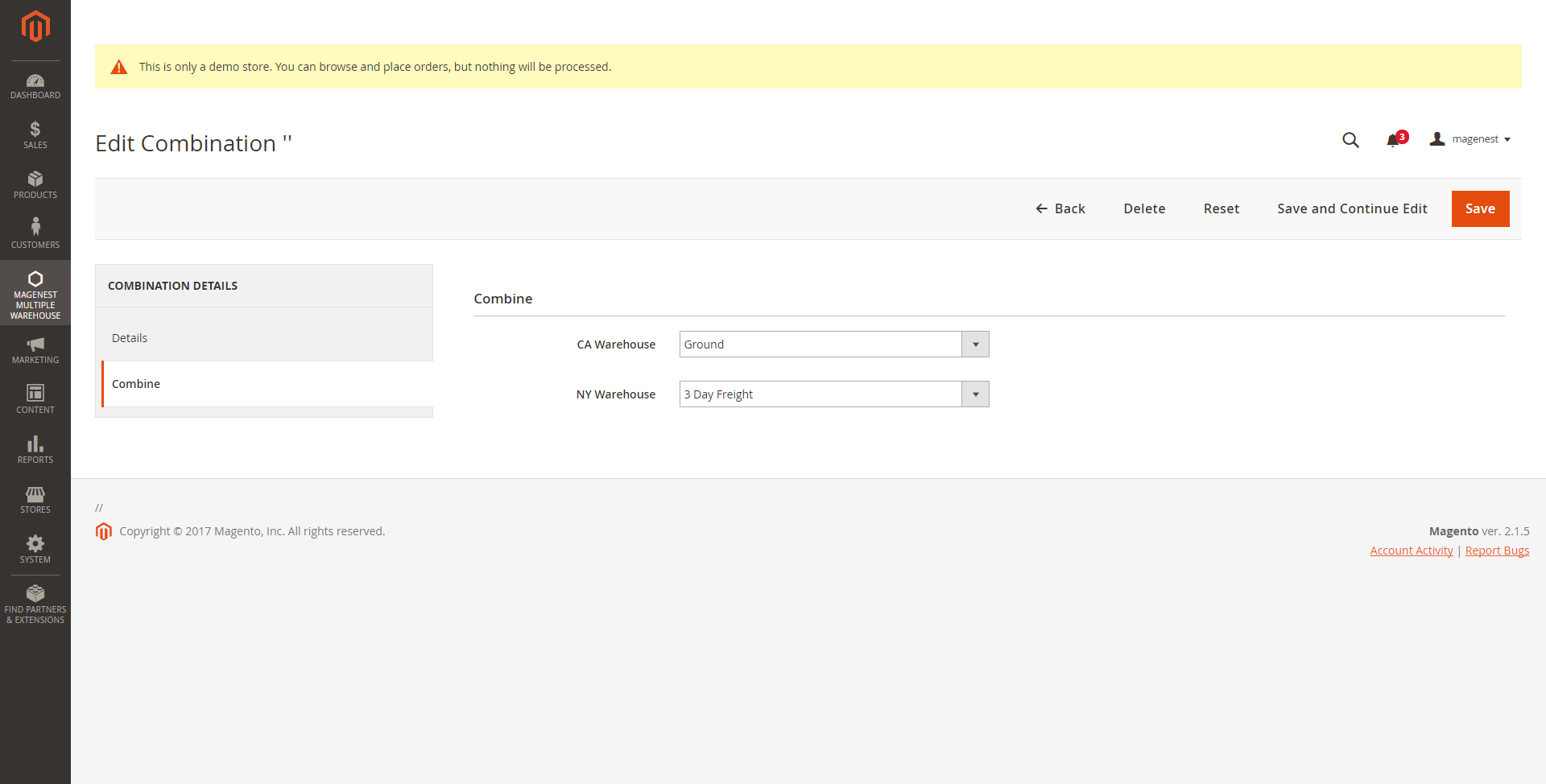 When customers buy products that are stocked in different warehouses, different shipping methods may apply. Merchants might combine different shipping methods to form a new method for customers so they can conveniently choose a new method based on the other two methods
Automatically merge shipping methods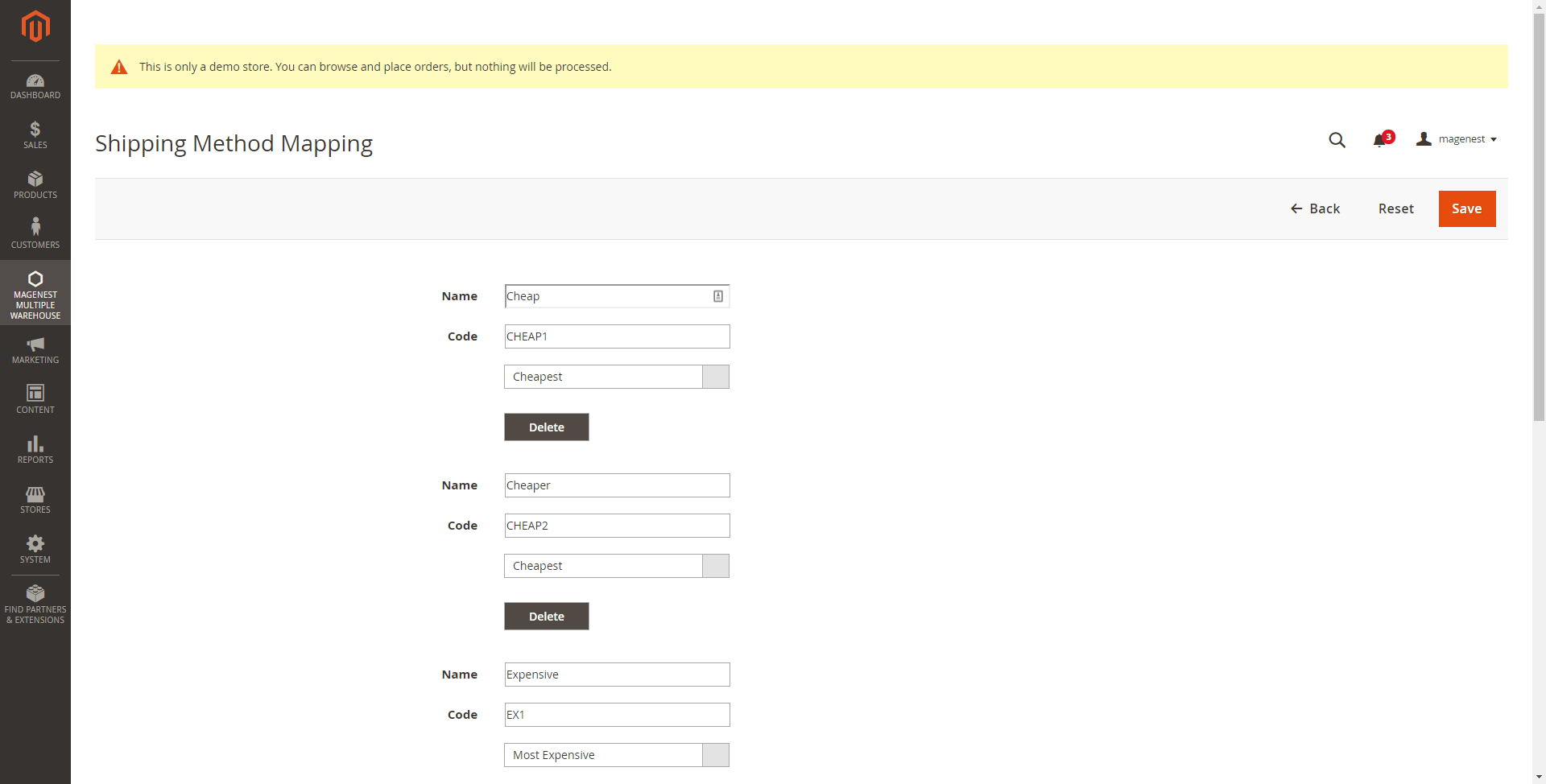 In addition to manual merging methods, merchants might also create automatic merging rules that automatically look at the available shipping methods for the order containing products from different warehouse. The extension will use their built-in algorithms to combine different shipping methods, creating a totally new shipping method that meet a preset criteria. Currently, our Magento Multiple Warehouses use three smart combining criteria
Cheapest method - This criteria will create a combined shipping method that costs the least for customers, but it will likely take a lot of shipping time to arrive at customer's door
Most expensive - This method will combine the most expensive shipping methods so the cost will be the highest. However, it will takes less time for the products to be delivered to customers
Balanced - This method will try to balance between shipping fee and time to arrive at customer's door
Combine multiple rules at the same time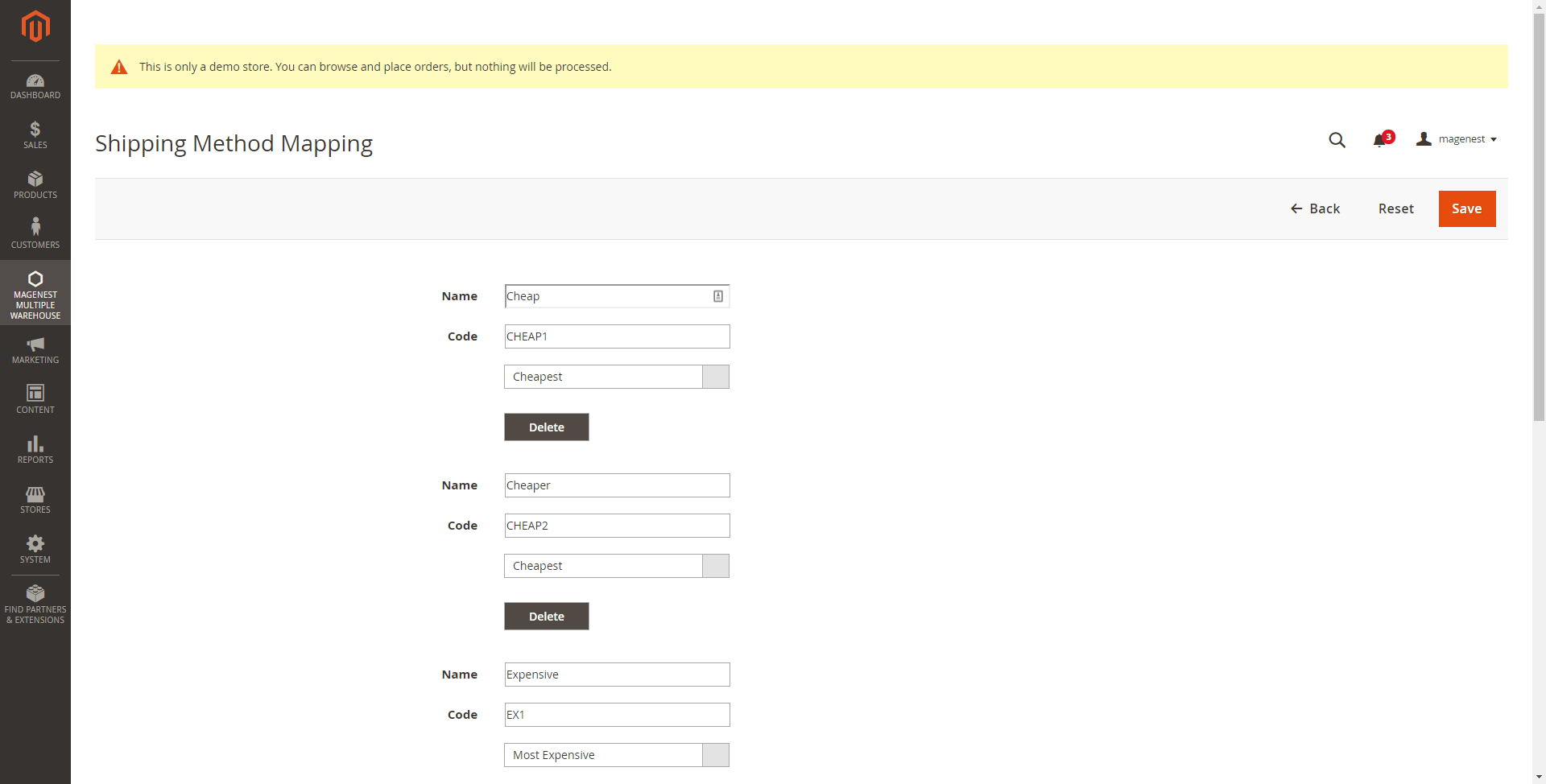 If merchants have more than 2 warehouses operating at the same time, the extension will also be able to combine methods from different warehouses to come up with multiple methods - most optimal, less optimal, etc.
Easy setup and configuration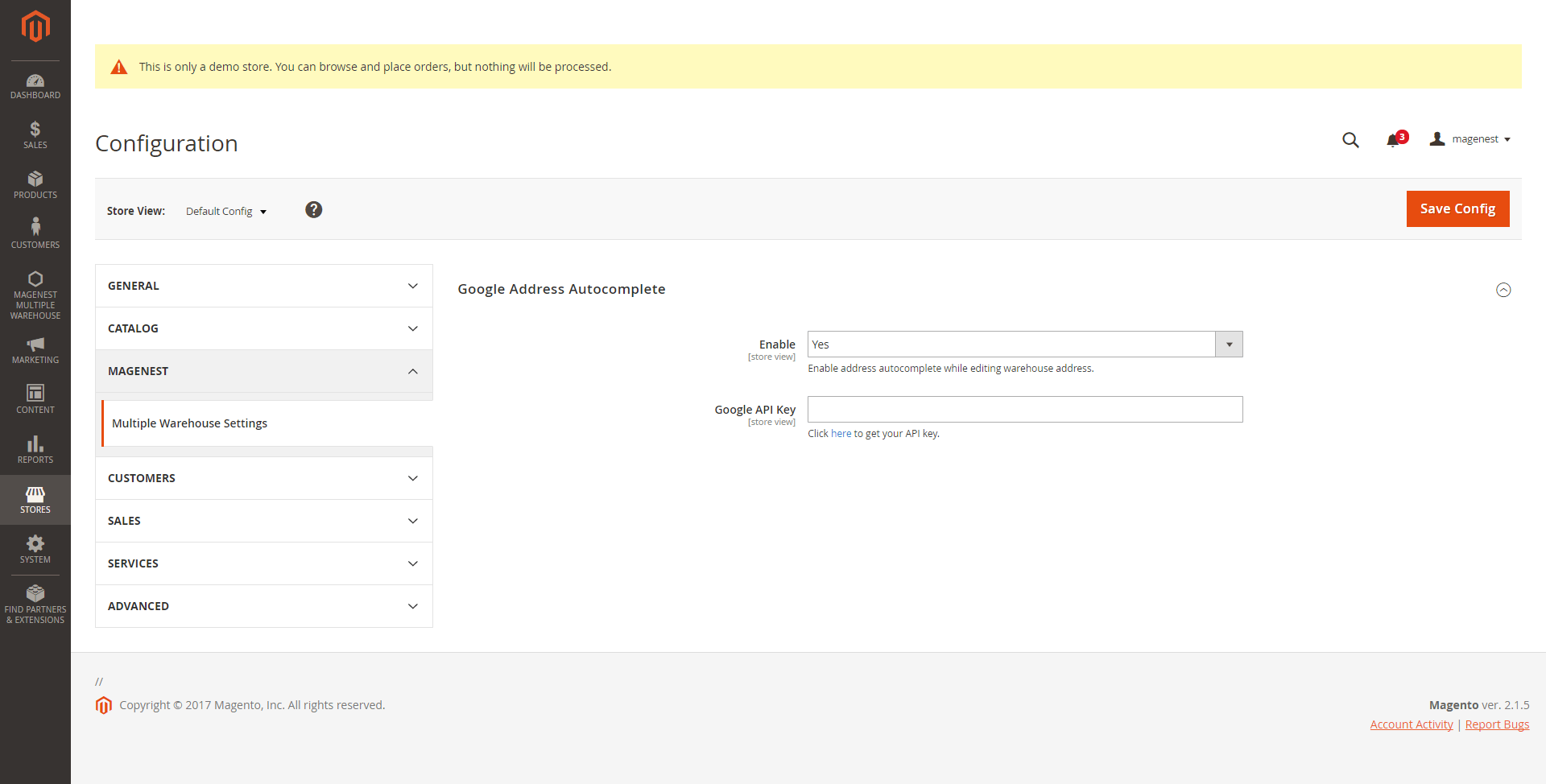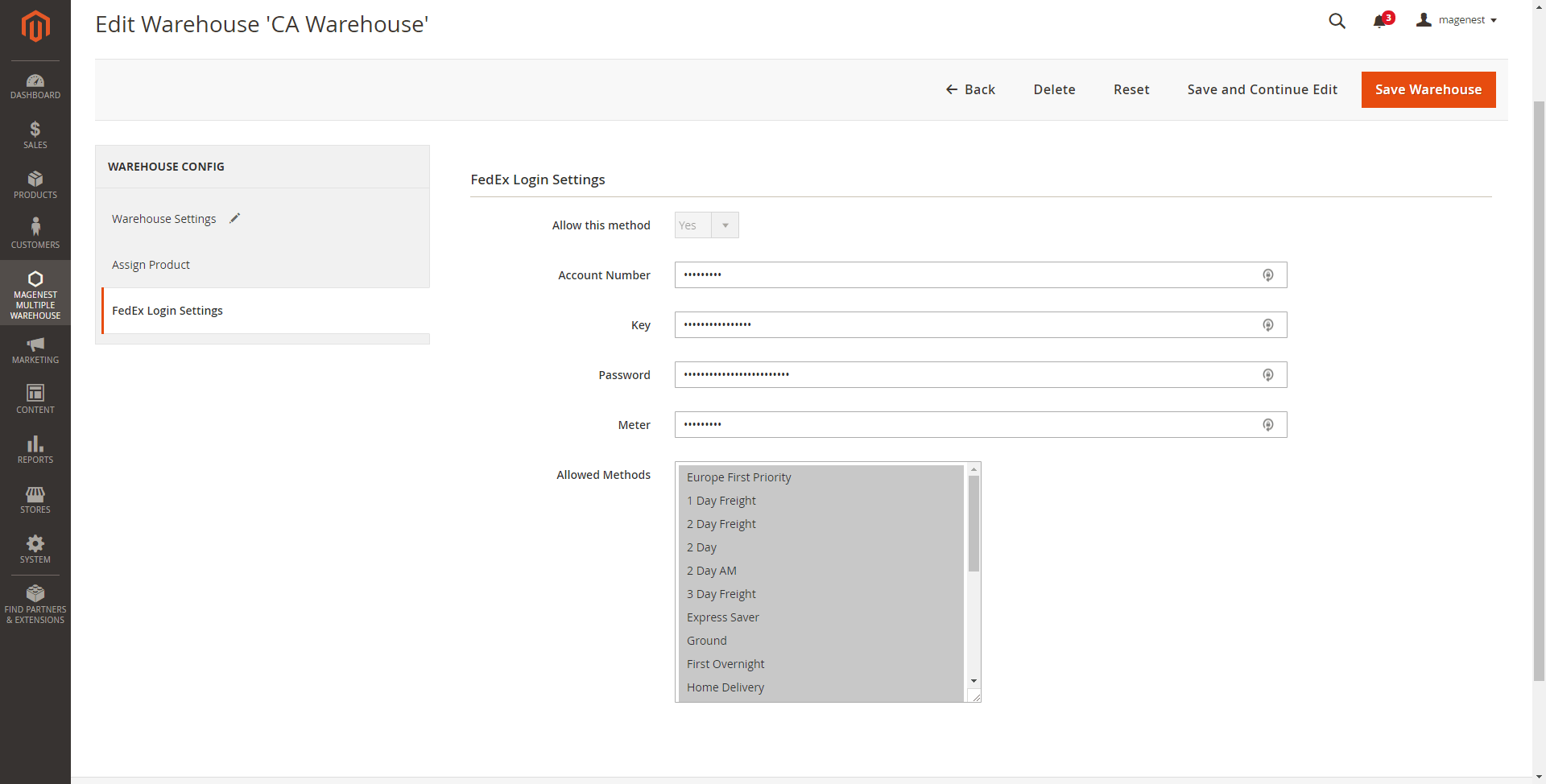 Integrate with Google Address Autocomplete
Automatically suggest address when customers are typing
Easily use API key to get pricing information from third party carriers
Sign up for a carrier account
Get account number, key, password and meter
Currently support Fedex
Full list of features for Magento Multiple Warehouses
Create multiple warehouses
Assign products and inventories to warehouses
Set allowed shipping methods for the warehouse based on supported methods by Carriers
Integration with Fedex to get methods and pricing for shipping
Reason to choose
Magenest
Free lifetime
software updates
30-day money-back
guarantee
Verified by
Magento Marketplace
One-time payment
without hidden cost
Version 1.1.0 - Updated: October 2, 2017
Compatibility: Magento 2.1.x (Open Source, Commerce
### Added. - Fix bug in warehouse assign grid. - Add Google address autofill. - Remove unnecessary options in configuration. - Significantly improve stability.
Version 1.0.0 - Updated: August 29, 2016
Compatibility: magento 2.1
### Added
- Allow admins to create multiple warehouses with location details, contact information and shipping carrier credentials.
- Allow admins to tweak the shipping parameters as they desire
+ Custom shipping method name, which is used for checkout display
+ Default warehouse
+ Maximum number of automatic combined methods that is allowed to be displayed on checkout
+ Algorithm for dividing order items into packages
+ Test mode
+ Handling fee and rules
- Allow admins to set the config to some Fedex's unique parameters
+ Packaging
+ Dropoff tpye
+ Weight unit
+ Maximum package weight
+ Residential delivery
+ Hub ID
- Allow admins to manually combine shipping methods based on warehouses' allowed shipping carriers and methods.
- Allow admins to set the names to automatic combined methods
- Allow admins to view packages information in order view