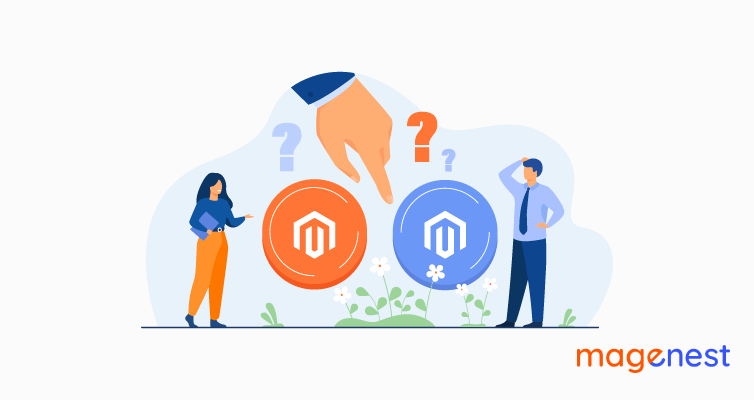 Magento is in the habit of updating its features 24/7. It is commonly known that Magento has two separate editions which are Magento Commerce and Magento Open Source, which are also called Magento Community Edition and Magento Enterprise Edition.
For those owning Magento-based platforms, there are many important decisions that must be made, with the most important one being whether to choose Magento Commerce or Magento Open Source. This guide is intended to place emphasis on key differentiators between the options from many criteria.
Let's begin.
Magento Commerce vs Magento Open Source - Which one wins?
Magento has successfully provided eCommerce businesses with premium versions, including: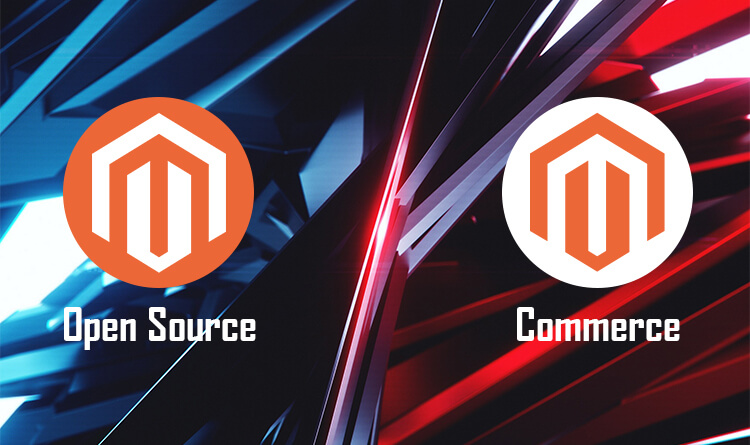 Open Source Edition (originally Community): free software with a comparatively limited learning curve that is available to an enormous source of useful extensions.

Commerce Edition (previously split into Enterprise & Magento Cloud Edition): facilitating small to large businesses to utilize their full functionalities, and improve the practical scales of deployment.
Magento Open Source Version
Originally known as Magento Community Edition (or CE), the free version of Magento became Magento Open Source as part of the 2017 rebranding of the entire product range. Available as a free download, Magento Open Source has remained a popular choice for SMB merchants who want a highly extensible and feature-rich platform that can compete against the big names online.
In spite of often being linked to SMBs, Magento Open Source does have a wide range of enterprise customers too – mainly because it is more lightweight (without the modules available as an element of Commerce) and the more innovative licensing structures not being practical for high volume retailers.
For example, retailers like Brand Alley adopt Magento Open Source and then have developed customized solutions on top of it. This is really popular and, at one point, the majority of the larger merchants using the Magento platform were adopting Magento Open Source. With the reliable infrastructure and development team in place, Magento Open Source can surely compete with Magento's other offerings, and also with other enterprise platforms.
Magento has considerably developed the Commerce proposition over recent years – there were very few discrepancies in regards to functionality in the past, but this now has definitely changed. Features such as visual merchandising, page builder, content staging and preview, and the new B2B suite are examples of elements that make it much more convenient to justify.
In general, Magento Open Source is a comprehensive platform that is easily suitable for enterprise-level retailers – however, it is argued that Magento Open Source is not actually suitable for SMB merchants anymore, owing to the high costs of developing and maintaining the Magento platform (coming as a result of Magento 2 being built for enterprise).
Here are some examples of larger Magento customers on Magento Open Source:
PrettyLittleThing

Brand Alley

Erdem

Bucherer

Tog2

PMT Music

The V&A

Christian Louboutin
Magento Commerce Version
Magento Commerce is the product originally known as Magento Enterprise Edition (EE), which is, theoretically, aimed at larger organizations that need premium support levels and a more extensive set of functionality. While Magento Open Source is free, Magento Commerce has a license charge that is at $24,000 per year. It is offered either as a platform-as-a-service hosted solution or as an on-premise solution, in the form of Magento Commerce Cloud. The codebase is basically the same for the two Commerce options, though some level of platform updates will be automatically applied on the Cloud platform.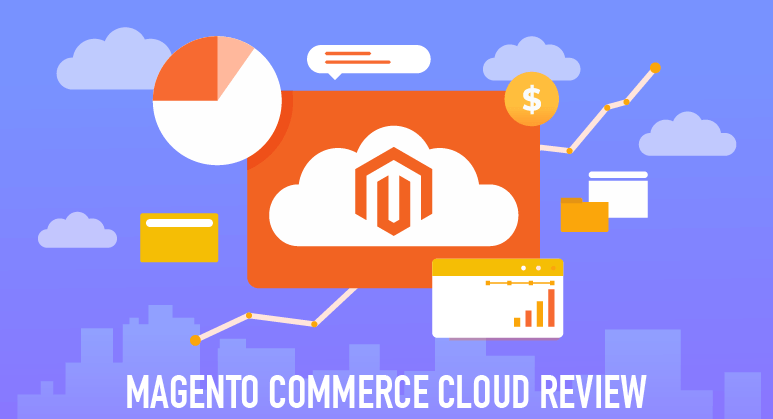 Back in the day, the on-premise version of this platform which was available from $24,000 per year was based on a tiered model, mostly coming from GMV – yet, earlier this year Magento disclosed that on-premise licensing would be charged at a similar rate to Magento Commerce Cloud, which is disappointing for some merchants who don't want to adopt the hosted version of the platform. The cloud version of the platform has a range of tiers available, with the most commonly used ones: Cloud Essentials and Cloud Starter. There's now a set of packages available that feature Adobe products, too, such as Adobe Experience Manager, Adobe Target, Adobe Analytics, Adobe Campaign, etc. There's then a premium alternative for large enterprise retailers developed more around Adobe's enterprise offerings, including all core and relevant Adobe products and being offered with extra tiers of service.
It's worth noting that Magento Commerce has been considerably strengthened over the last recent years and there are a number of native features that add much value for retailers (making commerce a much easier sell). The most influential reasons to choose Magento Commerce come from the B2B module, page builder, content staging and preview, etc. with value-add from Magento shipping, Magento BI (now incorporated as part of the cost of the license), pre-installed modules, and stuff like RMA. There are a lot of modules available to server most of those, but they're usually not as good and just add to overheads throughout upgrading and maintaining the platform.
Here are some examples of large Magento customers on Magento Commerce:
Bulk Powders (Magento Commerce Cloud)

Helly Hansen (Magento Commerce Cloud)

BrewDog (Magento Commerce Cloud)

End Clothing (Magento Commerce On-Premise)

Paul Smith (Magento Commerce On-Premise)

Made.com (Magento Commerce On-Premise)

Paperchase (Magento Commerce On-Premise)
Functional Differences between Magento Commerce vs Magento Open Source
While the core codebase for the two platforms is identical, there are some notable additional features available in Magento Commerce (as already discussed a couple of times) that drive the functional capabilities of that version much further, however, not all features are equally strong.
Features

Open Source

Commerce

License Costs

Free

Revenue-based license cost (tiered)

For license prices tailored to you contact Magento Sales

Responsive Ecommerce Website (Global Capacity)

Yes

Yes

Promotion Engine/ Product & Catalog Mgt

Yes

Yes

Checkout, Payment, Shipping & Order Mgt

Yes

Yes

Site management

Yes

Yes

Elastic Search

No

Yes

Bluefoot CMS in2.2

No

Yes

Magento Order Management

No

Yes

Content staging & Preview

No

Yes

OOTB B2B Functionality

(in v.2.2)

No

Yes
In regard to technology stack requirements, both of those Magento editions support the latest versions of:
Web servers – Nginx 1.x and Apache 2.4

Varnish 6.x

PHP 7.1.3, 7.2.0, 7.3.0

Elasticsearch 6.x

MySQL 5.6, 5.7

RabbitMQ 3.8.x

Redis 3.2, 4.0, 5.0
As you can see from the table, Magento 2 Commerce comprise some exclusive features as follow:
Catalog management (Category Permissions);

Content (Content Staging, Banners);

Customers (Customer Segments, Customer Attributes, Multiple WishLists per Customer);

Sales (RMA, Order Archives);

Reports based on WishLists, Private Sales, and Segments;

B2B features (Shared Catalogs, Company Accounts, Company Credit Quick Orders by SKU or Product Name, Payment on Account, Quotes).

Advanced marketing:

Promotions (Related Product Rules and Banners);

Merchandising (Visual Merchandiser, Reward Points, Gift Registry, Store Credit), Private Sales & Events (containing countdown ticker), ;

Communications (Email Reminders);

SEO & Search (Google Tag Manager);
Measuring the differences between Magento 2 Commerce vs. Open source, you can get the message that Commerce Edition contains much more features. However, the latter is more customizable and facilitates merchants to add on the needed functionality on Magento marketplace extension. This makes you free to determine which features to pay for. If you do not want the full list of Magento 2 Commerce features, pick solely those that truly matter for your business.
Which Version Suits You Better? - Criteria to consider
Despite the hassle in discovering the differentiation between Magento Commerce and Open sources, the key decision forming aspects are going to be the business size, price (licensing can get quite costly for high volume merchants and needs to be reasonable), business fit for cloud vs on-premise, need for features (whether you really need the features that are available through Commerce), and need for flexibility (this can affect the choice a lot – for example, if you choose to use a headless CMS to independently manage content, etc).
To know which version matches your business type, let's dive into this part:
#1 Business size
Magento Commerce is focused more on medium and large enterprises in comparison to the Open-source version.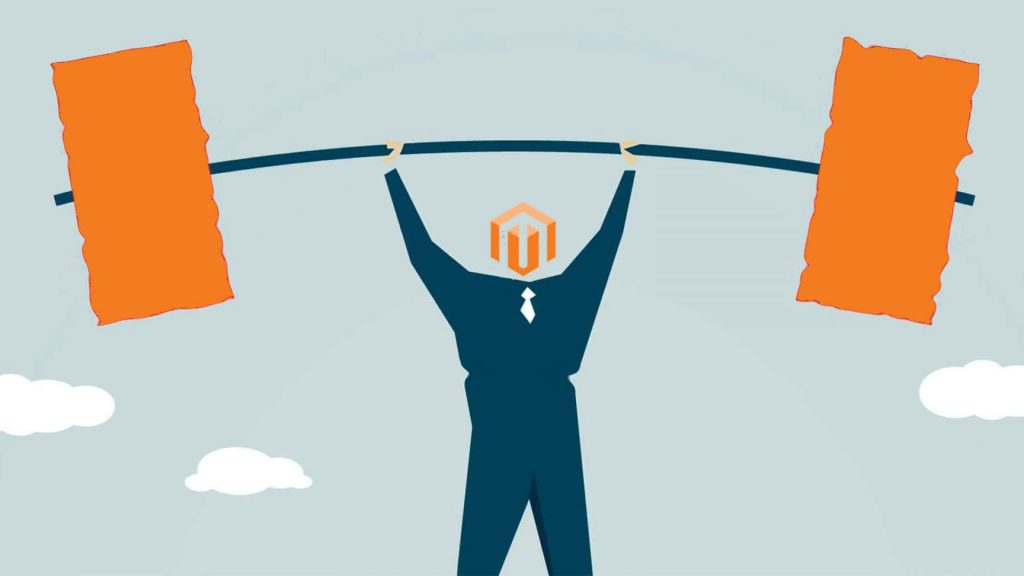 Magento Open Source isn't as such focused on a market but can be easily transferred as it is open source. Unquestionably, Magento Commerce works more wisely which is why it is suitable for growing markets or medium and large businesses.
For the most part, Magento Open Source facilitates the making of online stores for SMEs.
#2 Transferring the code
With Magento Open Source, it is likely to transfer the code from an agency to another. Since the system is open source, the full source code is open and accessible for everyone.
Magento Commerce touches on more of a business use rather than open-source coding. Consequently, people using open source can simply change suppliers and easily customize the websites.
Nonetheless, websites built on an eCommerce setup is restricted and can be built only by one party. So, the maintenance is poor and customization is not feasible by transferring the code to other platforms, which if made may cost a lot.
#3 Power
Magento Commerce is much more powerful compared to Magento Open source. It includes much more features and unique out of the box features apart from Magento Open Source.
Large businesses, therefore, prefer Magento Commerce because it is scalable to the sort of work they want and certainly is able to match the quantity and quality of work that huge commercial businesses want.
#4 Hosting
It is better to handle more substantial businesses on Magento Commerce seeing that it can handle it. Still and all, Magento Open source has to be hosted by a third-party cloud system so the site will be comparatively slower.
It would not be able to handle huge orders, and database clustering is not a get-at-table option in Magento Open Source.
#5 Features supported
Magento Open Source has lots of functions that you usually expect like integrated checkout, product catalog management, sale abilities worldwide, access to module marketplace, mobile/tablet optimization of templates, and purchases that are fast as well as site search.
Whereas, Magento Commerce is very robust and has exceptionally intelligent systems. Also, Magento Commerce has enterprise-level performance, reporting, and scaling functionalities.
#6 Variations
While Magento Open source was formerly known as Magento Community edition on M1, today, the Magento Open source on M2 is free.
In the meantime, Magento Commerce comes in two variations, Magento Commerce Pro and Magento Commerce Starter.
#7 Price
Magento Commerce is more pricey due to simple reasons regarding it is more capable and more powerful.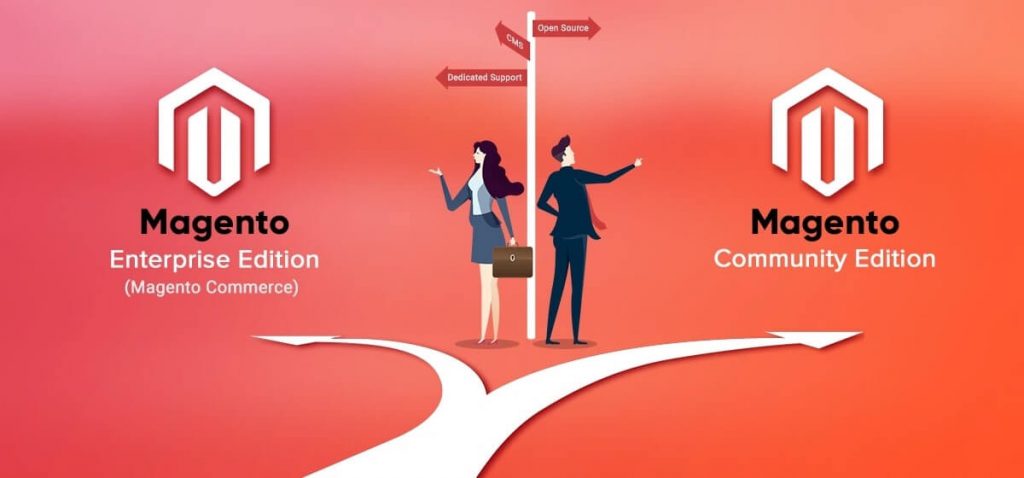 Also, Magento provides extra facilities and support services in Magento Commerce.
#8 Scalability
The sites developed on Magento Open Source don't have huge scalability. If it outgrows the platform, in the situation where larger transaction values or huge sale values, there would be an up-gradation path to Magento Commerce.
While there are lots of innovations that Magento Open source provides that are the same as Magento Commerce, but with that larger businesses living on the edge and run at the risk of false economy.
Conclusion
Generally speaking, though Magento Open Source already provides users with the basic functions of eCommerce, yet, it is the Commerce edition that triumphs in the long run. Considered as one of the conclusive eCommerce platforms, Magento Commerce has plentiful functionalities for your website. In addition to the packages covered in the Open Source edition, it has a broader range of management tools able to handle data migration and expansion.
To sum up, both Magento Open Source and Magento Commerce are effective at their levels. According to the different requirements of various types of businesses, one should decide which one is better for themselves. Magento Open Source would be good to go if you prefer a taste of eCommerce flavor and do not highly expect business scaling in the near future, or if you are a developer who wants to have a go at Magento. Apart from that, it is the Magento Commerce edition that would take you the distance.
Good luck!