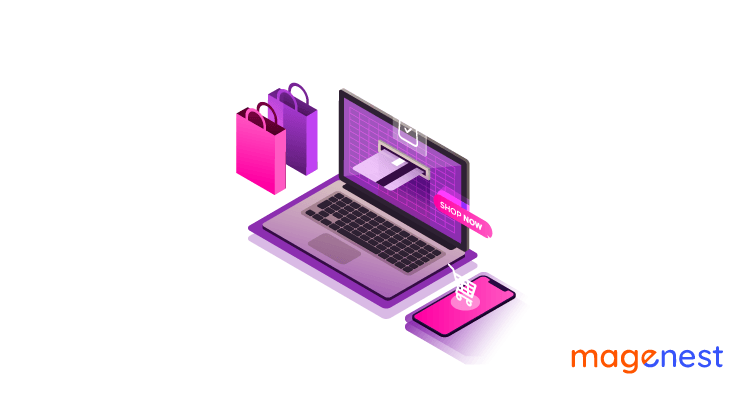 Social commerce has been a new wave in shopping online with the advancement of technology. Social media has become one of the main eCommerce channels as more and more people are spending time on social platforms. Today in this article, Magenest's going to introduce to you some important points of the Social commerce trend, including its history and prime examples of this popular marketing method among brands.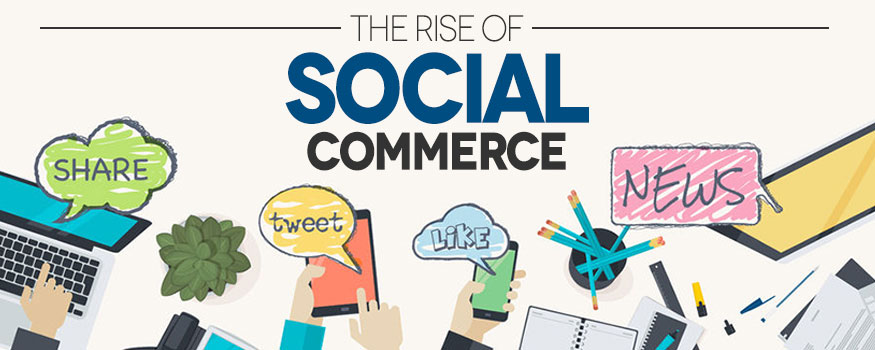 What is Social Commerce?
In simple terms, Social commerce is the use of social platforms to boost eCommerce sales, and admittedly it's a giant market to cater to. Nowadays, customers rely on social media so much to make purchases online that makes Social commerce is considered a quick and effective solution to help any Magento 2 store to rocket their eCommerce sales.
Social commerce enables consumers to buy items and services within the Social commerce platform. This could be done by clicking on either paid ads or "View Shop" CTA on the brand page.
Basically, there's no need for consumers to leave the social media site where they are on but they can still make purchases easily. This advantage means less interruption for users by fewer clicks and efficient features like autofill payments.
A brief history of Social commerce
Now let's dig into the history of Social commerce to see how it emerged and has become so popular as it is nowadays:
Back in 2011, Facebook was the first company that changed consumers' behaviors and expectations by advertising products through sponsored stories.
By 2014, users now could make direct purchases on Facebook with the buy button. In 2015, the first test for running Shoppable ads was started to pave the way for the introduction of Facebook Marketplace in 2018 which competes against Amazon, eBay, and other platforms.
Instagram joined the Social commerce market a bit later. However, this platform has so much room for development and has been used mostly by the young audience. Most users use Instagram to look at visually appealing photos and videos. Until now, Instagram has done a very good job to turn engagement into sales by shoppable posts and ads.
Social commerce now and its promising future
Social commerce no doubt is considered a game-changer for businesses of all sizes with the right marketing strategy, which allows them to survive and thrive in this highly competitive marketplace. Especially big retailers are on board to join this trend. Walmart, for example, is starting to sell products directly on TikTok via celebrities in 2021.
As you might already know, Social commerce grew rapidly dramatically in 2020 despite the pandemic and has no sign of leveling off. Throughout 2020, everyone has seen a rapid evolvement in the digital world as a result of the COVID-19 global pandemic. An almost overnight change in the shopping habit of people worldwide has held much higher expectations for online retailers.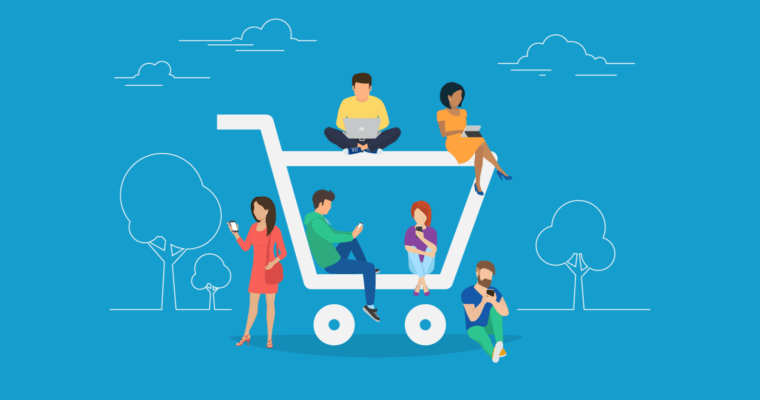 Among economic crises caused by COVID-19, a very bright future of Social commerce is expected to happen with an increase of 604 billion dollars in sales by 2027. Many apps like Instagram, Facebook, and Interest have included "Buy now" indicators on both ads and live streams by influencers, which has been an effective method to drive more sales.
Whether your business is a small start-up or a global company, social platforms can be a key channel in your marketing and sales strategy. Social commerce is a lot more than just about posting and advertising. With the popularity of social media, the eCommerce world is shifting and has a huge impact on both merchants and customers.
For merchants, Social commerce opened the door to abundant data of consumers and a worldwide audience to reach. For consumers, Social commerce has provided them with sharing, entertaining, and spending power. Admittedly, Social commerce has brought a win-win situation for everyone in the eCommerce industry.
Read more: Social Commerce trend and how Magento 2 Merchants can make use of it?
3 Best Social commerce examples
Knowing what is Social commerce and its importance in eCommerce is not enough, you need to gain proper knowledge of its practice models and apply them to your online store. Here we have accumulated some of the latest examples of Social commerce for different platforms that are useful to learn, let's dive into them right now.
Instagram Shoppable Posts
Instagram has been one of the most powerful channels for Social commerce trends. Users now can tap on photos and stories to view products they have interests in with Instagram Shopping. Currently, Instagram Shopping has been available in more than 40 different countries and new markets are always being expanded.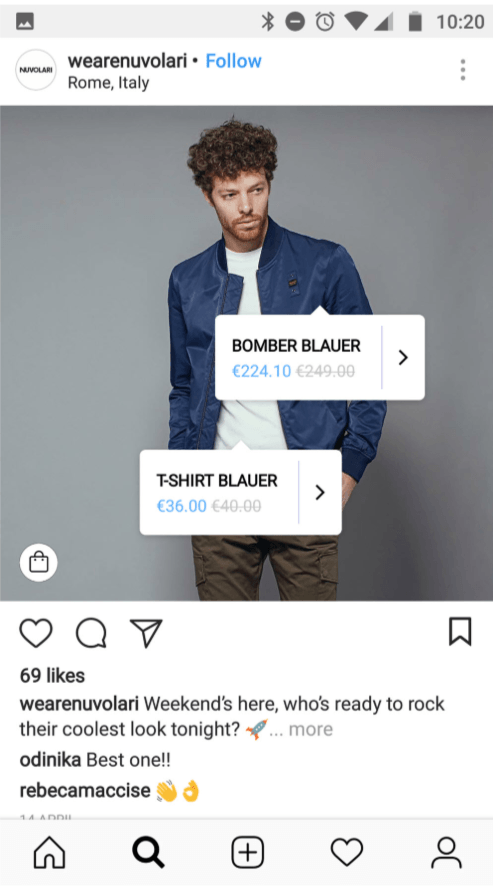 Instagram allows you to add the Product Tags to your shoppable posts. A lot of big brands are using Product tagging to direct their users to the shopping online stores, one of the remarkable examples is Sephora.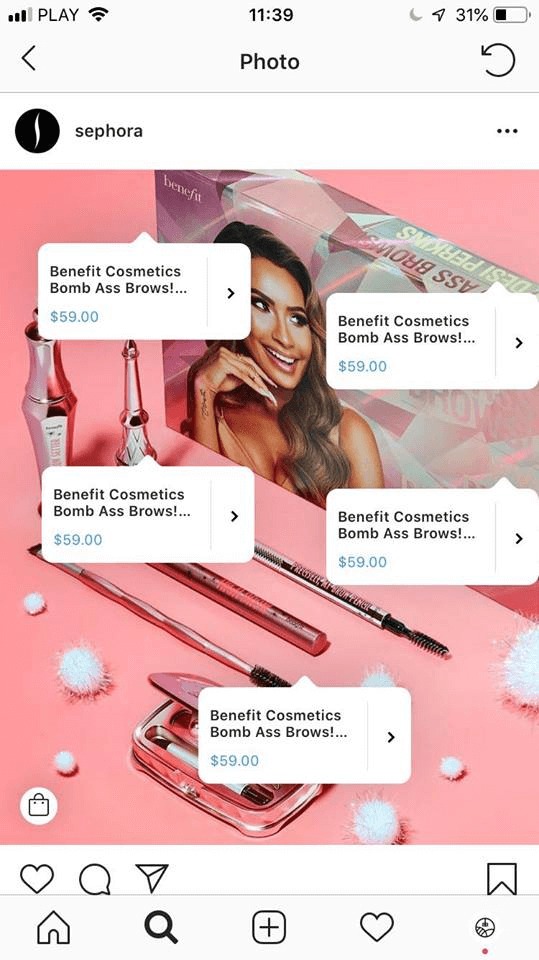 It only takes a couple of taps to make a purchase right there in the picture because everything users can see is shoppable. Another thing Sephora is great at is that they keep their Social commerce effort consistent by adding their link to the bio.

Besides, Instagram has made it very simple and convenient for businesses and brands to sell their products directly through Shoppable Instagram Feed. For the check-out process, many companies have offered an in-app checkout feature within Instagram.
Engage your customers with Pinterest
Did you know that Pinterest is being used by more than 322 users all over the world? This social media channel is more powerful than people thought it would be at first. Pinterest is not only a great source of inspiration, but people use it to go shopping, too. Statistics have shown that 83% of Pinterest users have bought products inspired by what they saw on this platform. Additionally, 75% of users claimed that they are attracted to new items Pinterest added.
After signing up for a Pinterest Business account, a range of useful features would be unlocked to help you boost your sales. One of those features is the Pinterest Tag, with which you can track conversion and customers' behavior. This is also the best way to measure the effectiveness of your campaigns and target audience more accurately.
Just like Instagram, Pinterest has provided a way to redirect potential customers straight to your online store. Pinterest's Buyable Pins are CTA buttons that are shown right next to the pin like in the picture.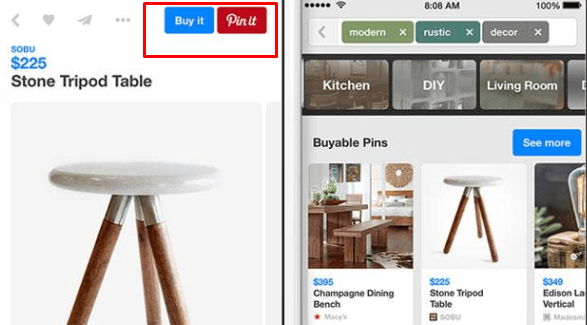 If your business is using Magento 2, this eCommerce platform can link straight to certain product pages. If customers see furniture items they like, they can buy them right away.
Facebook Store
The last example we want to examine today in this article is Facebook, what's striking is that 85% of the orders on social media come from this platform. Facebook is trying to make online purchases even simpler for users. Now customers can enjoy their shopping with the Facebook Store section without having to visit the store website to buy products. Not only small local stores but also the biggest brands have used this as an effective solution to their eCommerce business.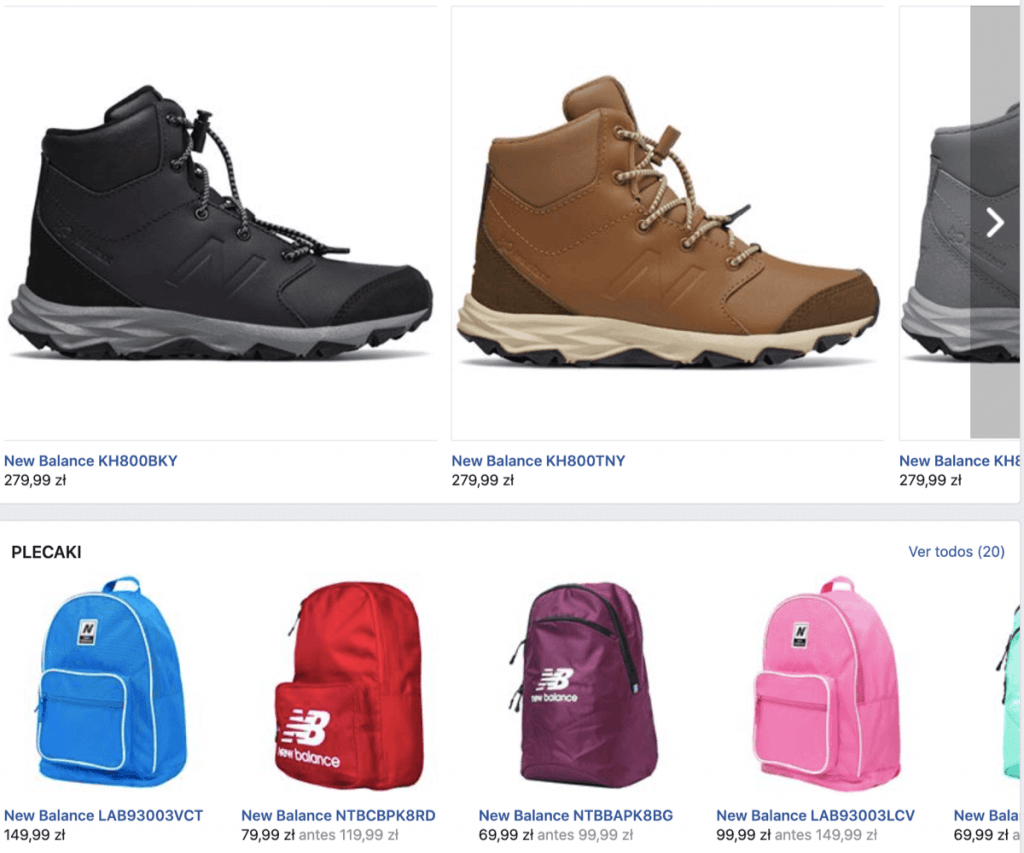 In another example, Loveramics direct their clients straight to the checkout form with the "buy" button.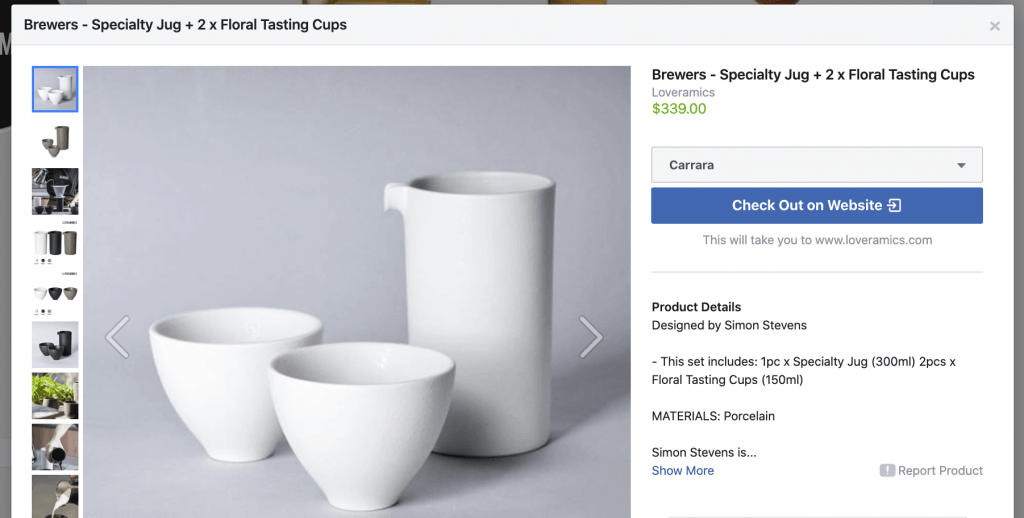 We can see that all the photos and product descriptions appear on Facebook, customers do not have to land on another website to see them.
This feature certainly can save a lot of time and makes the whole journey of users more convenient.
What's more to know about this platform is that you can create a community with Facebook Groups. Some companies reported that over 50% of the sales came from Facebook groups.
Increasing sales is obviously the main goal of any business and Facebook Group is a great channel to help you achieve that.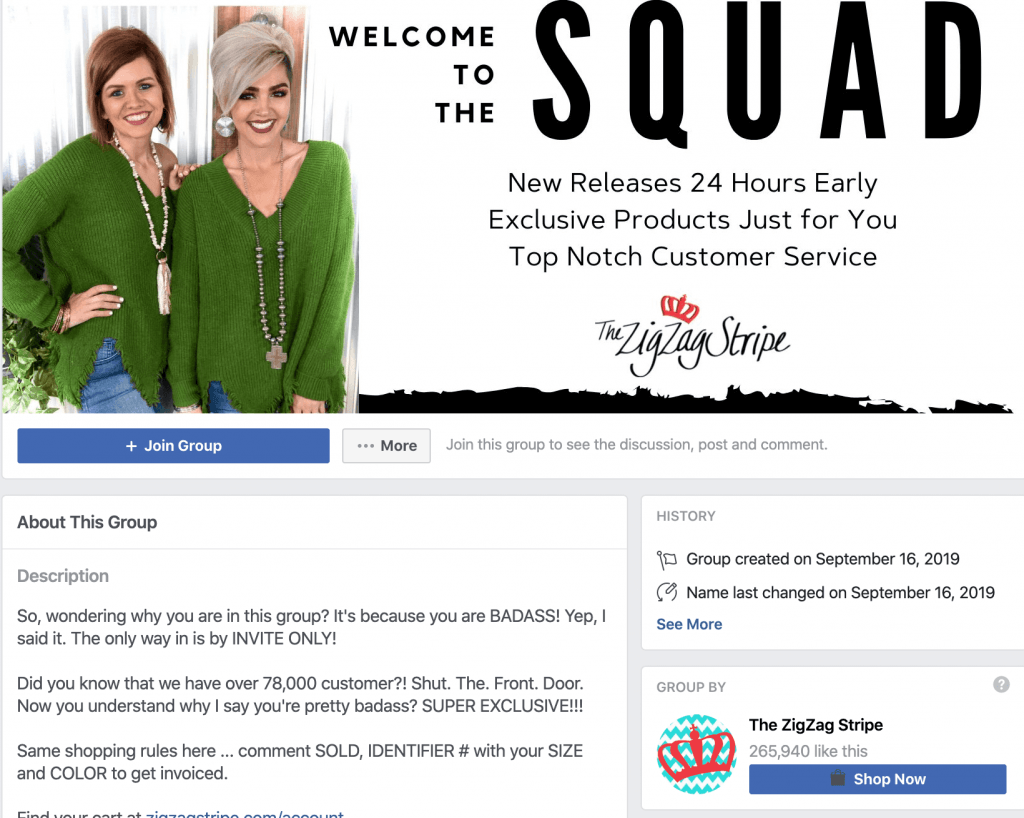 Although the function of groups is a discussion in the first place, it can gradually create a sense of belonging to people who share common interests. Facebook Groups allow participants to ask for advice, share experiences and communicate directly with the brand, too. It's not only easier for customers to learn insights about products and companies they are looking for but companies can also promote public awareness of the brands and improve their service quality with feedback and improvement suggested directly from Internet users.
Conclusion
By going through crucial points about Social commerce, you can realize that it's a journey full of amazing opportunities and potentials. Especially in this day and age when everyone is on social media, making it urgent for your brand to be there too. We hope this article will help you out when it comes to Social commerce - one of the hottest trends in the eCommerce world. Visit our store for other excellent extensions and social networking tools to rapidly grow your business sales!