Magento 2

Facebook Chatbot
Magento 2

Facebook Chatbot
Description
With Magento 2 Facebook Chatbot, merchants can create a chatbot within Facebook Messenger to engage customers through fast automated responses. This extension is a useful tool to help cutting down support time effectively and to promote marketing campaigns with smart notifications right in the most popular messaging app.
Receive and respond to customer queries directly through Facebook Messenger
Create unlimited messages to automatically answer customer questions
NEWDisplay a Facebook Messenger popup on store frontend
NEWSupport multiple message types: Product Display, Category Display, Text, Text & Image<
NEWAdd View Orders & View Wishlist button to persistent menu
NEWUpdate new backend interface to help you easily add & manage messages
Show follow up messages based on keywords set by the admin
Add CTA buttons for each message: Show next message, URL, Phone Number, Take Action
Allow customers to request human support
Send email notifications whenever there is a human support request
Create Persistent Menu for important actions
Customers can directly add products to cart from Messenger
Details
Let your business thrive with Magento 2 Chatbot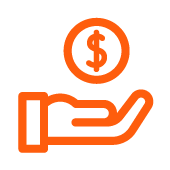 Reduce the cost for customer service
Because Facebook Chatbot will answer customer questions automatically, you don't need to hire too many staff to handle queries. You can save your resources for other important tasks.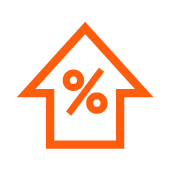 Increase sales naturally right in Messenger
You can design the message flow to stimulate customers to place orders during the conversation with Facebook Chatbot. Only a one-time setup can boost up your sales significantly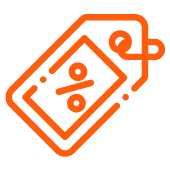 Boost your promotions fast & simply
Facebook Messenger is an efficient way to announce your promotion programs. This method is much more cost-effective compared to other traditional ways such as emails or SMS, and also, engage more customers.
Don't make your customers have to wait - Build strong customer relationship with Facebook Chatbot for Magento 2
Automatically reply to customers via Facebook Messenger
Connecting the Magento 2 website to Facebook Messenger just requires a few clicks. Now you can create unlimited conversation scenarios for FAQs, promotion campaigns, store policy, etc. This will free the support team from repeating boring answers for the same customer questions day by day.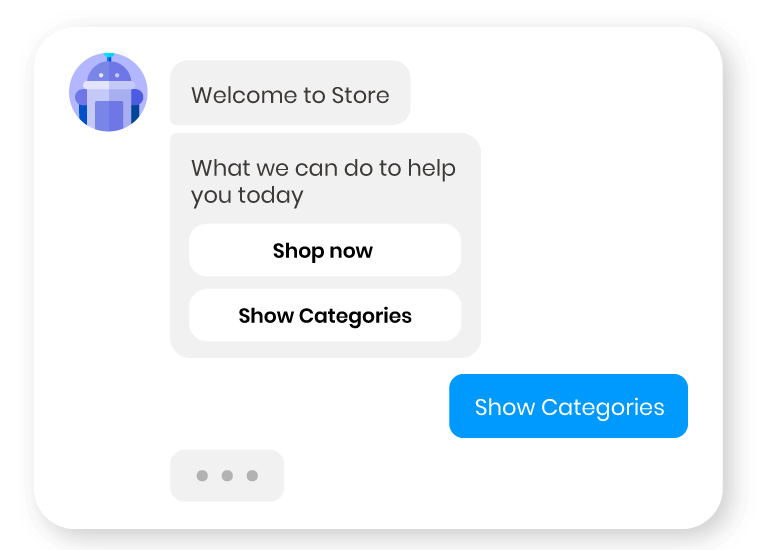 Flexible support modes to satisfy your customers
The supreme advantage of a chatbot is fast reply speed. However, when the conversions go beyond pre-designed scenarios that the chatbot does not know how to reply, customers can ask for human support immediately. The request will be automatically sent via the contact email set in the backend. A shortcut link is included that the supporter just needs to click to come back to on-hold dialogues.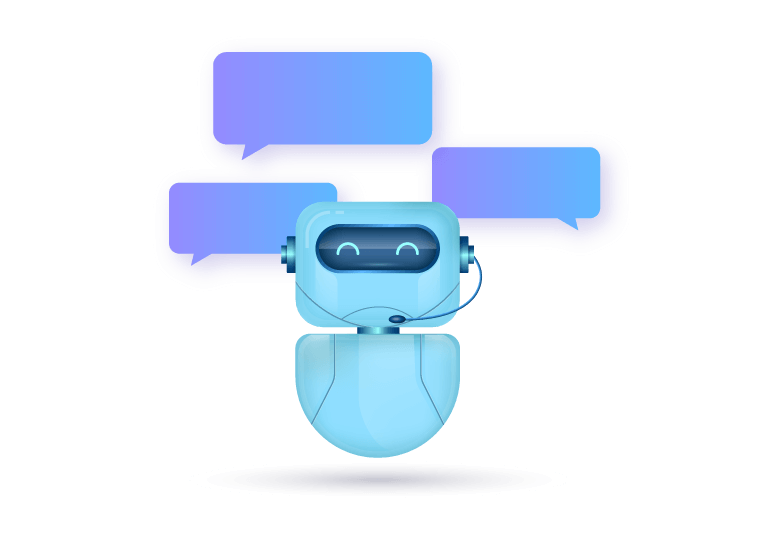 Set up greeting message and Persistent menu
The admin can create the greeting message that customers will see when they open Messenger chat for the first time. Make sure your words are nice to engage customers to start talking with you! Facebook Chatbot for Magento 2 allows store owners to build a Persistent Menu that contains frequently used actions by customers. Request Human Support is the only default tab in this menu.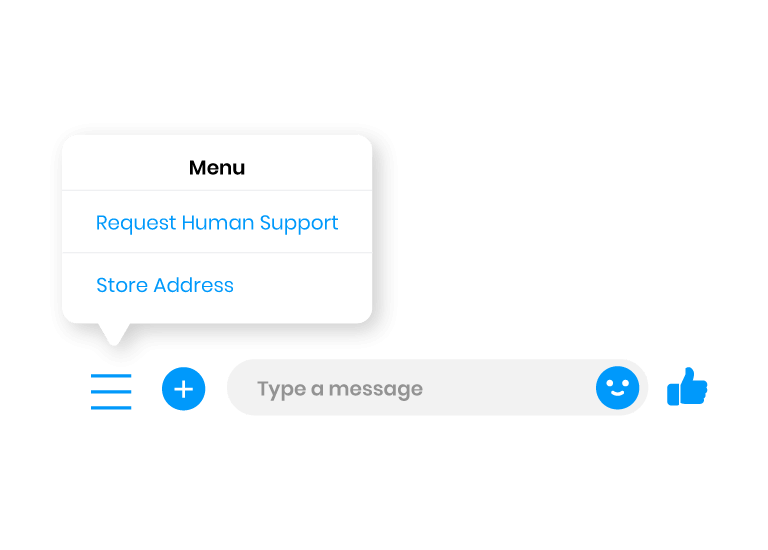 Smart messages to drive your sales naturally
Create unlimited messages and set up flow easily
Admin can choose from 6 message types:

Product Display: Show product list
Category Display: Display category details by level
Text: Display message as text
NEWText & Image: Show image together with text
View Order: Display 5 previous orders generated by chatbot
View Wishlist: Display 5 items in customer's wishlist
To connect individual messages with each other, you can use 4 types of buttons:

Show next message: Another message will appear after the button is selected
Show URL: Customers will be redirected to a new page
Phone number: This button allows you to add your store hotline. Customers can click to call immediately in some urgent situations
Take action: Each message type has corresponding actions such as View Product Detail, Add to Cart, etc.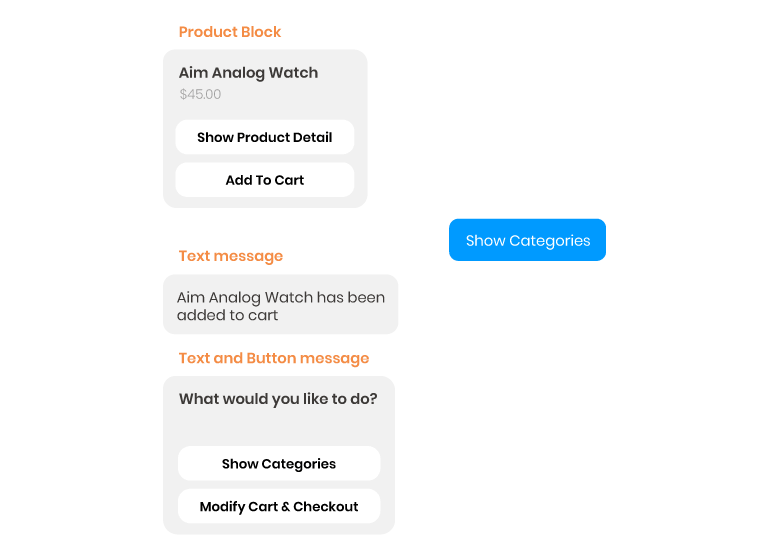 Guide your customers place orders in the Messenger chatbox
The extension can show products and categories information upon customer requests including product image, product name, price & rating so that the buying journey can start right inside the Messenger chatbox. Only simple and configurable products are supported. Customers can select various options of the product (size, color, etc.) before adding it to the shopping cart.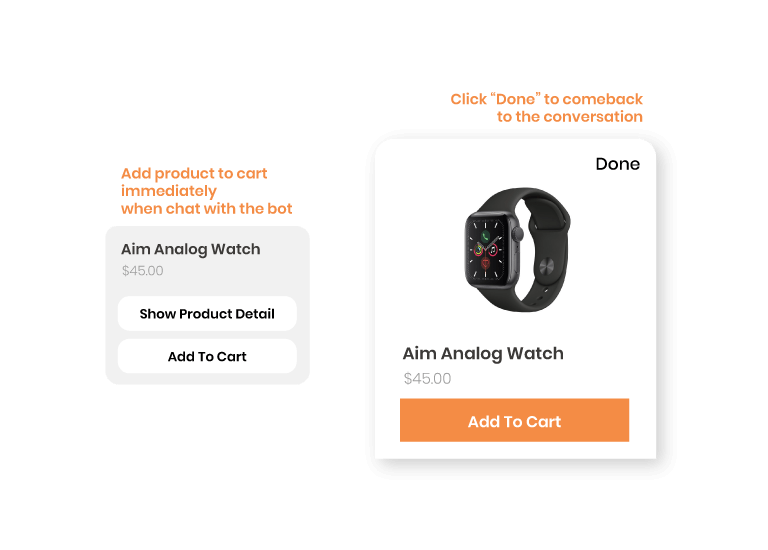 Reason to choose Magenest
Free lifetime
software updates
Verified by
Magento Marketplace
One-time payment
without hidden cost