Instagram Shop
Magento 2 Instagram Shop helps you drive more sales by keeping customers interested in your products using your Instagram photos.
Display photos from Instagram on your store
Feature more than one products alongside photos
Easily customize the photo slider and gallery
Encourage customers' interaction with CTA elements
Easy setup and configuration
Details
Turn your store into a visual art gallery with Magento 2 Instagram Shop
Turn your shoppable Instagram photos into a powerful storefront for your Magento 2 site
Instagram is currently one of the most popular social platforms for media sharing. Utilize your Instagram photos as an additional appealing front to encourage customers' purchase decisions
Display featured products alongside with your Instagram photos
Each Instagram photo allows you to feature multiple products which are linked to their corresponding page on your Magento 2 store.
Easily integrate your Instagram account to your Magento 2 store

Use secured Client ID and Client Secret with native Instagram API to link your account
Pull all photos or specific photos using hashtags from your Instagram to your store website
Manage which photos appear and which are hidden from your slider and gallery
Feature products alongside with your Instagram photos

Choose which shoppable Instagram photos will feature the product you want from Magento backend
Display sneak peaks of your products alongside with your Instagram photos
The sneak peaks are linked to their corresponding product pages on your website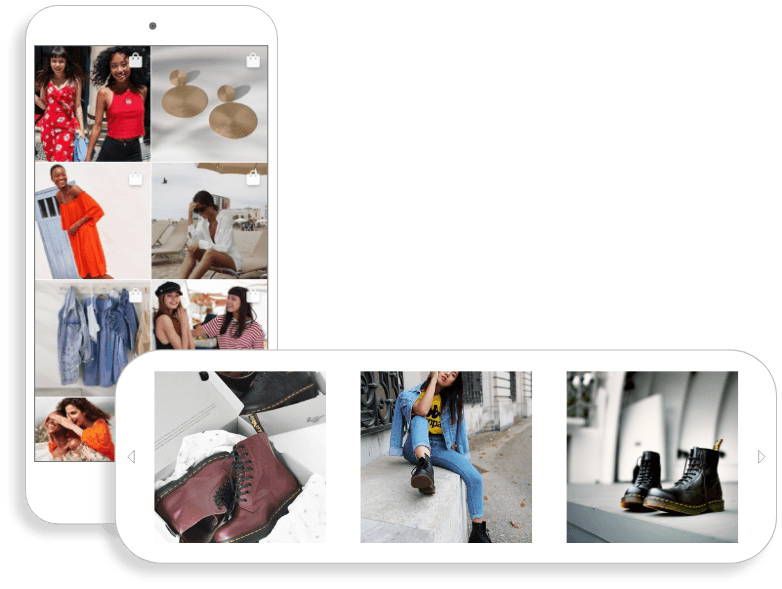 Appealing and functional photo slider and full page gallery

Customers can click to view enlarged Instagram photos with details (caption, likes, comments from Instagram)
Instagram photos in gallery will be displayed with featured products alongside
Customers can see the full gallery of your Instagram photos on a separate page
Encourage customer interaction with engaging Call-to-action elements

Engaging 'Shop Now' text upon hovering on photos
Social sharing buttons for customers to easily share your photos online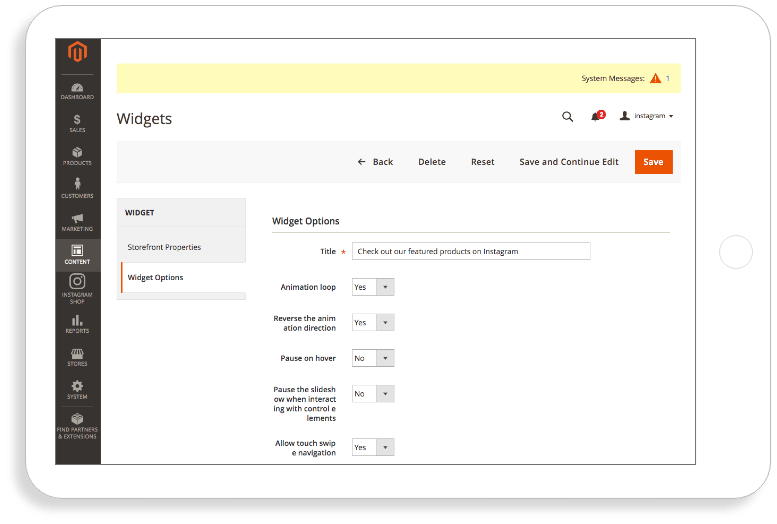 Conveniently customize your photo slider from Magento backend

Specify how many and where the Instagram sliders are on your website
Choose how many Instagram photos can appear in a single slide
Customize animation automation, animation speed and direction
Specify the margin between your photos in the Instagram slider
Full list of features for Instagram Shop for Magento 2
Use secured Client ID and Client Secret with native Instagram API to link your account
Pull all photos or specific photos using hashtags from your Instagram to your website
Manage which photos appear on and which are hidden from your slider and gallery
Choose which photos will feature the products you want from Magento backend
Display sneak peaks of your products alongside with your Instagram photos
The sneak peaks are linked to their corresponding product page on your website
Customers can see the full gallery of your Instagram photos on a separate page
Engaging 'Shop Now' text upon hovering on photos
Social Sharing buttons for customers to share your products online
Customize your slider to suit your website layout
Easy setup and configuration
Customize
Didn't find what you need? Contact us for more information