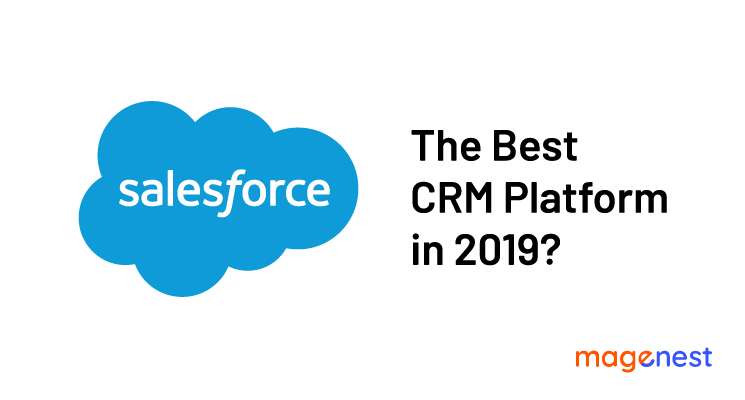 When it comes to Customer relationship management (CRM) software for your business, Salesforce no doubt is one of the excellent suggestions for your decision-making.
Because it is a cloud-based CRM platform for supercharging every part of your Magento store which interacts with customers - including marketing, sales, commerce, service, and more.
Unsurprisingly, Magento Salesforce is soaring in the CRM market with over 150,000 of the most innovative companies - large, medium, and small - use Salesforce to close bigger deals faster.
So, what makes Salesforce become the world's No.1 CRM platform after 20 years of establishment?
An Impressive Brief History You Should Know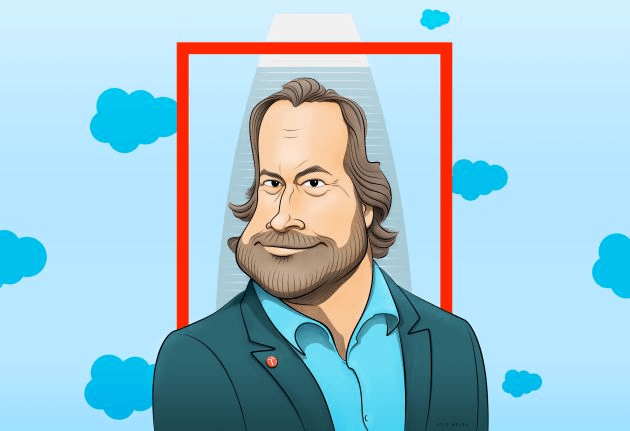 The story started while Marc Benioff, founder of Salesforce, was staying afloat in the sea just off Big Island in his darling Hawaii throughout a sabbatical, he thought: Why isn't buying software as a straightforward as Amazon is for consumer goods?
This thought finally led to Benioff and a group of developers initiating the software-as-a-service (SaaS) model by conveying its CRM software over the internet on a per seat, per month payment plan, instead of deployed on-premise servers under a hefty licensing agreement.
And, here is the timeline of Salesforce from an upstart cloud company to the biggest software-as-a-service (SaaS) company on the planet:
1999: The humble beginnings
The Salesforce Foundation was established in December of the year the company was founded. The 1-1-1 model of integrated philanthropy ongoings under Salesforce.org.
2003: The first Dreamforce
The first Dreamforce, Salesforce's annual convention, was attended by just over 1,000 people. Every year, at Dreamforce, Salesforce releases a new product, which contributes to the success of Salesforce's product system.
2004: The initial public offering
After 5 years of steady growth that led to the 8,700 customer mark, Salesforce launched its IPO and raised $110 million.
The AppExchange, launched in 2005, is an eCommerce site for third-party apps.
2009: A billion dollars in annual revenue
Salesforce reached the $1 billion revenue mark and ended its fiscal year with over 55,000 customers. Besides, at Dreamforce 09, Chatter was announced.
In July of 2011, Salesforce reached 100,000 customers, named "the world's most innovative company" by Forbes.
2013: The acquisition of 'The Marketing Cloud'
Salesforce acquired ExactTarget which later became The Marketing Cloud, one of Salesforce's core offerings. Meanwhile, Salesforce1 launched was the basis for Salesforce Lightning Experience.
2014: The new industries business unit
Salesforce announced its New Industries Strategy, the company's first large-scale push into vertical markets and in six global industries.
2015: Lightning & Trailhead announced
At Dreamforce 15, the Salesforce Lightning Experience was officially published.
Trailhead was introduced in 2015 as "a novel approach to learning Salesforce."
2016: Thirteen acquisitions; The Health Cloud
The native CPQ tool SteelBrick and the Health Cloud were published. It also had the largest purchase price to date – $2.86 billion for Demandware.
How Is CRM Salesforce Supportive For Your Business?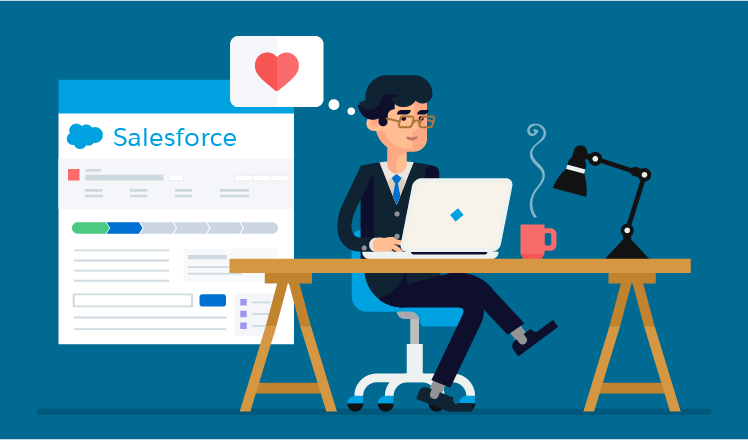 In short, Magento Salesforce unifies your customer touchpoints on a single CRM platform.
It integrates all your teams and technologies around one CRM platform so that every employee can interact with your customers like a single company, not a series of different, disconnected departments. In details, Salesforce is dedicated to helping your business:
- Create more engaging marketing: Targeted and personalized messaging, trigger messages, and data from multiple sources and devices.
- Sell smarter and faster: Increasing sales force productivity and revenue, tracking customer interactions, automating tasks.
- Connect every commerce channel: B2B and B2C buying experiences, continuous shopping innovations, AI personalization.
- Better support every customer: Quick response, management from one view, all support tools (email, social media, phone, and chat).
- Easily build apps for every role: Drag-and-drop tools for app creation, customer-data integration, the connection of apps and data.
What Differentiates Salesforce CRM From Other Competitors?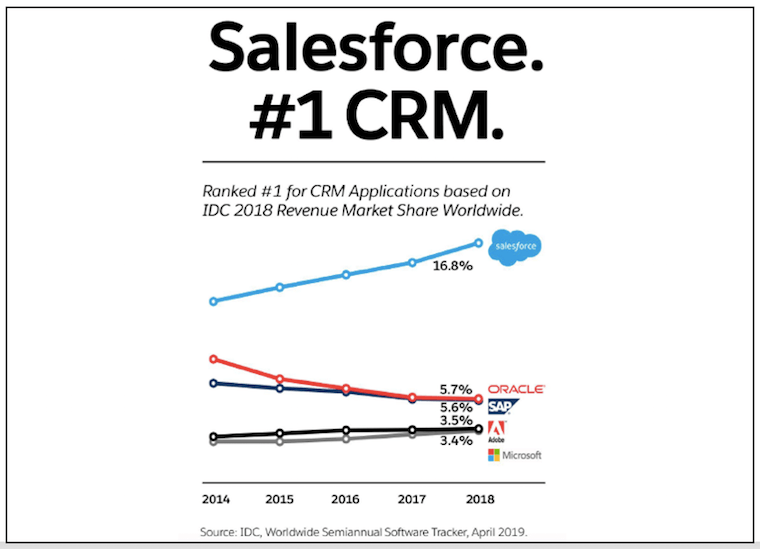 According to Worldwide Semiannual Software Tracker by International Data Corporation (IDC), Salesforce has been named the #1 CRM provider for the sixth consecutive year. In fact, Salesforce increased its market share in 2018 by more percentage points than the rest of the top 15 CRM vendors combined.
And, 5 reasons why Salesforce makes us best value in CRM year after year are:
Reason #1: Innovation - Get consistent pioneering ones
With the latest technologies from 3 free upgrades a year for your Magento Salesforce, your business easily leads the pack with developments years ahead of other competitors.
There are several gainings such as Artificial intelligence, Data-driven insights, Mobile-first CRM.
Reason #2: Platform - Help your business grow and scale
An all-in-one platform, which is secure and scalable, makes it easy to customize and upgrade without any challenges.
Meanwhile, you can be powerful to sell, service, and market with more than 4,000 pre-integrated apps on AppExchange, the world's greatest business app marketplace.
Reason #3: Productivity - Boost sales performance to lightning speed
Your employees can optimize Salesforce Magento or Magento 2 to sell faster and get more done with the Lightning Platform. Having driven efficiency and growth, this suite of market-leading offerings both raises revenues and declines costs.
Reason #4: Mobility - Run your entire business with a single mobile app
With everything being on the cloud, Salesforce CRM allows businesses to move quickly and be more productive with the Salesforce mobile app. Your employees are able to close deals, service customers, track marketing, and even collaborate and share files on any device, anywhere, anytime - all from a single, integrated mobile app.
Reason #5: Community - Share and grow with the 2.3M+ Trailblazers
Well, what is more valuable than learning from predecessors' experiences and experts' advice? With Magento Salesforce, you may join in one of the largest, most impassioned groups of people, partners, and developers, all gathered together and driven by a shared goal: blazing a trail for, and right alongside, their customers.
Which Is A Powerful Salesforce CRM Integration For Your Store?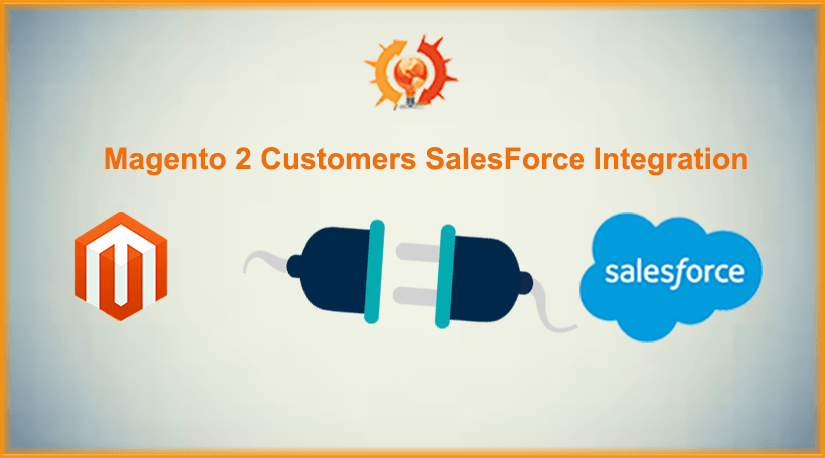 At the end of the day, the 2019 award for Best CRM Software goes to Salesforce since it has established all the amazing features that meet the needs of both the largest and smallest companies.
I'm sure that you are interested in giving a try to merge CRM Salesforce in your store; however, some of you maybe don't know how to do it successfully.
Don't worry! The perfect answer for you is Magento 2 Salesforce CRM Integration which allows you to instantly synchronize data from your site to the Salesforce CRM system immediately.
Seeing that this extension is one of the best Magento Salesforce connectors with the full range of features and functionalities, at a cost that is scalable to suit any business.
Just a click to build a holistic CRM for your Magento store results in better adoption rates, and more effective collaboration, mobilization, and revenue growth. Yeah, that's a truth that you'll be able to discover for yourself right now!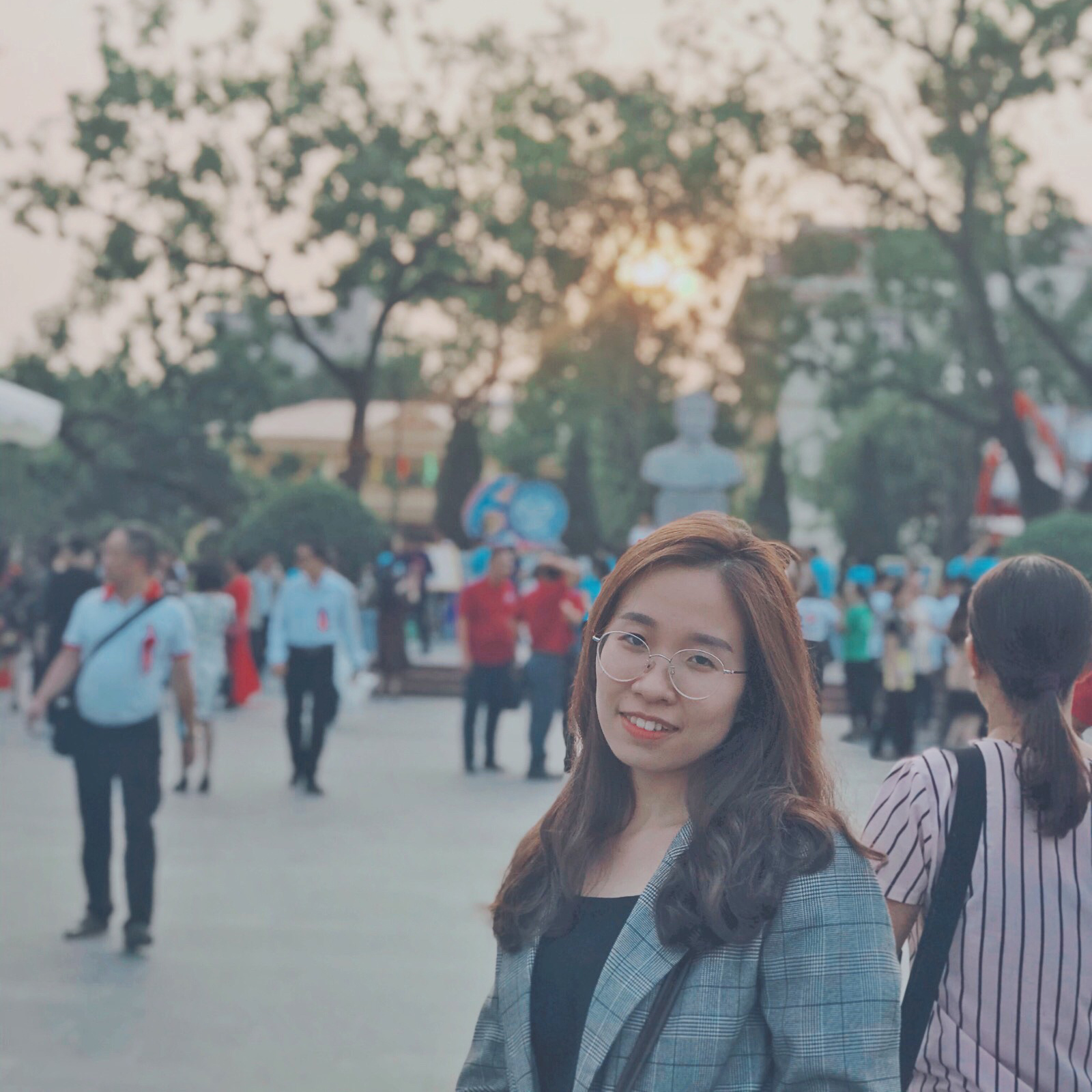 Marketing Executive | Content Manager