Magento 2

Xero Integration
With Magento 2 Xero Integration, you can sync all the Magento data to your Xero Account. Every data from customers to transactions will be updated to Xero helping managers have seamless financial accounting.
Sync products, customers, credit memos, and orders from Magento 2 to Xero
Sync orders, invoices from Magento into Xero invoices
NEW Multiple website setup support
NEW Payment and Tax mapping
Select synchronization options: Automatically or between intervals
Set time for automated data synchronization
Sync two ways between Magento and Xero (contact us to get more information)
Display filtered syncing report
Export data into file CSV/ XML
Display syncing status for every item
NOTE: Your current data in Xero might need to be remapped before syncing with our integration to avoid conflicts. Please contact us if you want to map existing data in Magento 2 and Xero.

What you need
For vendors managing Omni channels, you need to make sure everything is in order. And to keep track of business, managers must acquire a better understanding of their financial information.

How we handle it
Magento 2 Xero Integration helps vendors track payments and financial information easily. All transactions from multiple online stores will be synced automatically from Magento to Xero.
Effortlessly sync your data flow between your Magento 2 store and Xero
Invoice tracking in real-time
Track your online invoice from Magento 2 and easily run reports in Xero with ease
Sync data from Magento 2 to Xero
Export Magento products, customers data, orders, and invoices to Xero
One-time setup for the automatic synchronization process.
Real-time automatic synchronization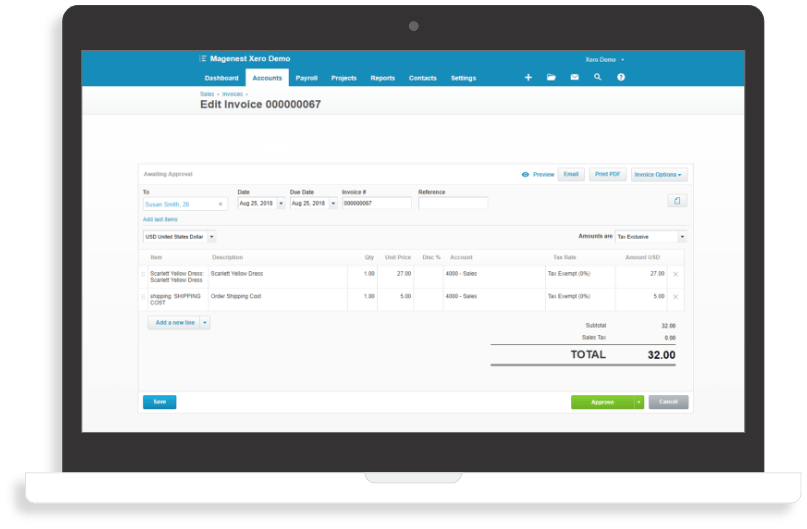 Your orders, invoices, customer information, and product database are automatically synchronized from Magento 2 to your accounts in Xero immediately as changes occur. Your data will always be ahead.
Hassle-free one-time setup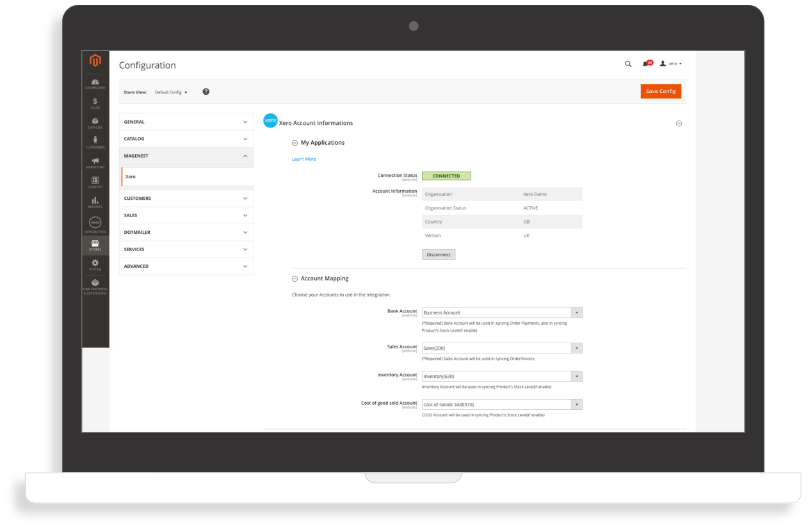 Set up your Xero integration in Magento 2 easily, all you need is an existing Xero account. With your account, you can easily get your API key and input it in Magento 2 back end.

You only need to set up once for everything to work automatically
Data mapping is simple, all you need to do is set the fields you want to sync from and to
Sync mass data easily from Magento 2 to Xero
Automatically synchronize mass data from Magento 2 to Xero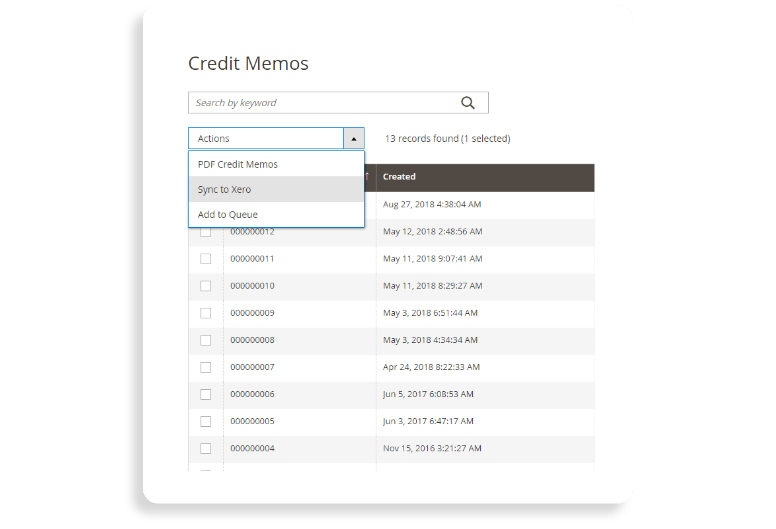 By keeping the database accurate at all times, merchants won't lose track of their customer base growth or suffer from inaccurate sales performance. With Xero Integration, you can select all or chosen items and add them to the queue.

NEW Mass synchronization from Magento 2 to Xero
Easily select/exclude products for synchronization
NEW Advanced payment and tax mapping from Magento 2 and Xero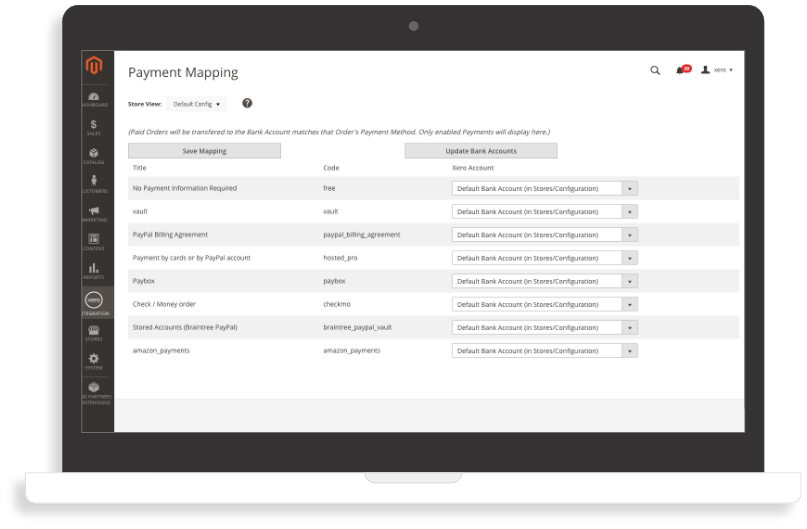 Taxation has long made accounting and invoicing process complicated. With tax code and payment mapping from Magento 2 to Xero, we can ensure tax calculation will be accurate.

Sync tax codes from Magento 2 to Xero Invoices
Tax codes are in compliance with Xero standards
Support 9 payment methods: Paypal, Braintree, Bank transfer, Cash on Delivery, Paypal Billing Agreement, Authorize.net Direct Post, Braintree Paypal, purchase orders*, and no payment methods.

*Available with customization
Set synchronization intervals to suit your business and server capability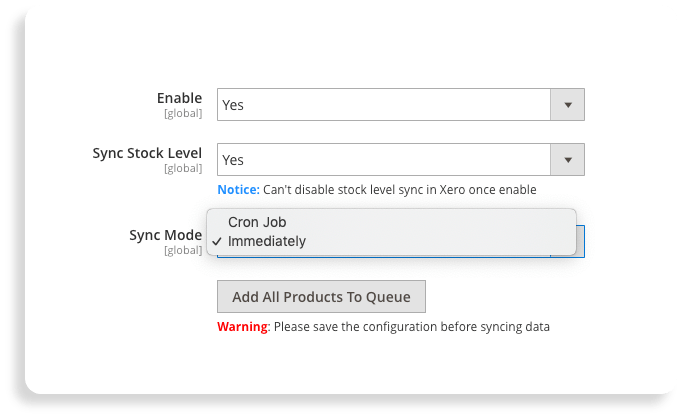 Enable or disable syncing for products, customers, orders, invoices, and credit memos
Choose automatic syncing for real-time transferring data between two platforms
Sync between intervals (Cron job) to reduce workload for your server while still maintain updated data
Sync individual modules to keep control of your data
Reason to choose
Magenest
Free lifetime
software updates
30-day money-back
guarantee
Verified by
Magento Marketplace
One-time payment
without hidden cost