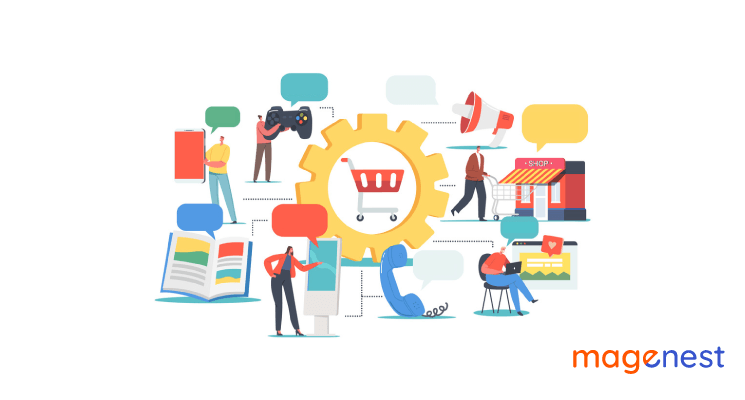 With so many options for customers to shop, your business must stand out to survive in today's competitive retail environment. It's no longer enough to rely on the old-fashioned brick-and-mortar store if you want to meet current consumer demands.
Essentially, brands must make their products and services available through all of their customer sales channels. The best way to achieve this is by implementing a multi channel retailing strategy, which could be the beginning of a revolution of your business model.
What is Multi Channel Retailing?
Multi channel retailing is a business strategy in which you provide your customers with multiple sales channels via which they can purchase from you. It's frequently confused with omni channel retailing. Physical storefronts, online stores or eCommerce platforms like Magento, third-party marketplaces like Amazon, social media platforms like Facebook Marketplace and Instagram, and mobile apps for shopping on the go are the most common types of sales channels.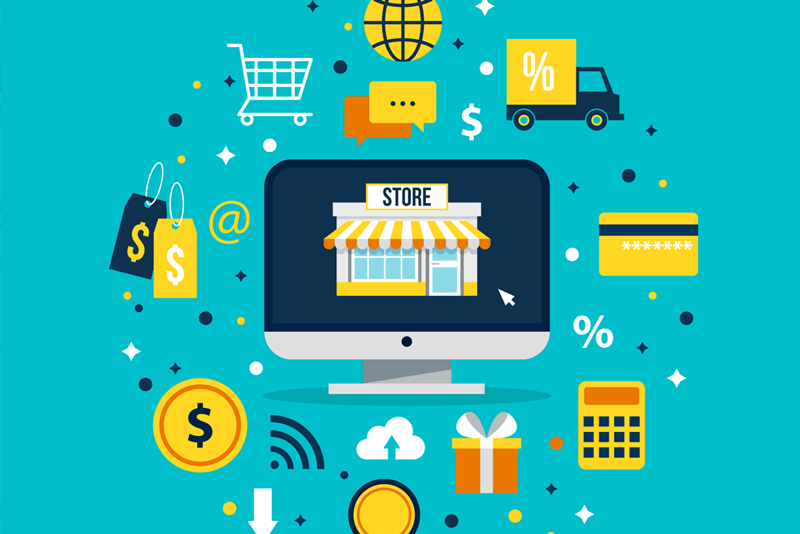 Let's look at multi channel retailing examples to better understand the idea: Apple. Apple's multi channel strategy includes both online and offline sales channels, including third-party marketplaces such as Amazon, eBay, and other country-specific platforms, as well as hundreds of Apple retail stores and other electronics-based retail outlets. Customers can buy an Apple product through any of these channels.
However, many prefer to conduct their research through one channel and then buy through another. Some customers, for example, choose to use a technique known as webrooming, in which they conduct research on Apple's official website, then use the website to locate a shop near them, and lastly buy a product from one of the retail locations. All of these outlets add up to a huge increase in Apple's sales.
Types of Multi channel Retailing
Multi channel retail evolves in tandem with technological advancements. Multi channel selling is not a new strategy, although the internet has facilitated its advancement. There are many creative ways to sell things across sales channels, but the following are some of the most common.
Brick-and-mortar
Traditional retail has always taken place in a physical or brick-and-mortar store that is owned and managed by the company. Businesses can provide products or services in person and interact with customers face-to-face using the brick-and-mortar model.
Pop-up stores have also been popular among digitally native retailers who want to connect with customers in person but aren't ready to open a permanent location. Businesses can test a brick-and-mortar location in these low-risk temporary venues.
Previously, organizations' main distribution channel has been brick-and-mortar stores. It's rare nowadays to come across a company that just operates in brick-and-mortar stores without the help of online channels.
Direct-to-consumer e-commerce
The late-1990s dot-com bubble promoted the hybrid retail method known as clicks-and-mortar, in which companies sell directly to customers both in-store and online.
Without the need for third-party retailers or wholesalers, a direct-to-consumer (DTC) strategy allows businesses to sell items directly to customers. DTC can be done on your company's website or through a mobile app.
Social media channels
When social media first became popular in the early 2000s, businesses flocked to it to connect with customers and advertise their products. Paid social media advertising had become normal practice for most e-commerce companies by the mid-2010s.
Some social media platforms even allow in-app purchases, allowing users to make purchases without leaving the platform. Instagram users, for example, can buy things from retailers without ever leaving the app.
Telephone orders
When a customer calls and places a product order over the phone, it is referred to as telephone order.
During the 1980s, when paid programs dominated late-night television, telephone orders were common. Infomercials and other on-air advertisements usually invite viewers to order a product by dialing a toll-free number.
While telephone order may appear to be a thing of the past, it remains a vital aspect of modern multi channel shopping. If a consumer is having trouble ordering online, they can simply call or text to place their order. Customers can also call brick-and-mortar establishments to place products on hold for later pickup.
Catalogs
Prior to the internet, businesses could use mail-order catalogs to contact customers in both rural and urban areas. Consumers might go through a catalog and then mail their payment and product selection back to the company.
While the internet has made mail-order catalogs less common, direct mail is still active and well. To advertise new items or features, several firms continue to distribute physical catalogs to their customers.
Online marketplaces
To provide consumers with a centralized buying experience, online marketplaces such as Amazon, eBay, Etsy, Rakuten, and even Walmart sell products from third-party suppliers.
Because of the huge variety of items and services accessible, online marketplaces have proven to be popular among modern consumers.
Omni channel vs Multi channel Retailing: What is the Difference?
People may mistakenly think that the terms "omni channel" and "multi channel" convey the same meaning. After all, both have many channels via which a company can communicate with its customers. They do, however, have significant distinctions that allow them to perform multiple functions.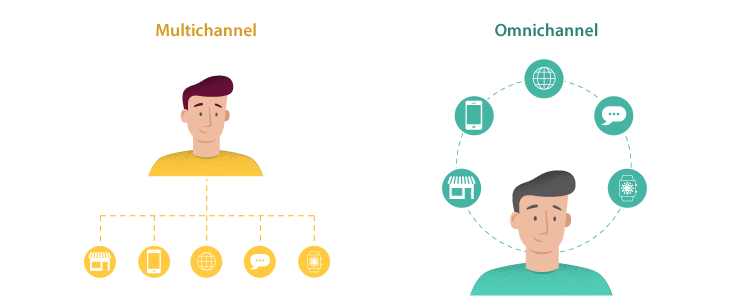 Integration makes a difference. Certainly, customers can get information through several channels, but multi channel marketing does not require them to work together in a unified manner. This is due to the fact that each channel offers distinct services and operates independently of the others.
The customer is at the center of omnichannel marketing. They focus on the customer's needs, sending them a personalized message in a consistent, seamless experience. Because all of the channels are linked together, the customer may easily obtain information from any of them.
Customers want a consistent experience across all channels. This indicates that the customer prefers to purchase from a company that maintains consistency throughout all of its channels. They expect your Facebook page to be styled similarly to your website, e-learning course or training, and email newsletter.
Customers appreciate unity because it demonstrates brand consistency because of the following advantages:
Customers know that you pay attention to the smallest of details.

They can count on your company because it is reliable.

They become committed to a company they believe in.
People view your business as unorganized if there is a lack of consistency. People will notice that you care about your company if you keep your channels integrated and unified. To keep a consistent style across your channels, you pay attention to the minor details.
While omnichannel and multi channel may seem to be similar on the surface, they have significant differences that impact how customers perceive your company. Omnichannel focuses on the small details of your channels to bring them together. Customers recognize and appreciate this consistency.
Now let's discuss the advantages and disadvantages of multi channel retailing.
What are the Advantages of Multi channel Retailing?
Because multi channel retailing is a step forward from the most common strategies, let's compare it to single-channel retailing to see how it differs.
Increased revenue
Even if you spend a lot of money on advertising and marketing and build brand awareness, your revenue will not improve if your customers only have one route to buy from you. However, by distributing your business across different channels, you may appear more frequently in the eyes of potential customers and so receive more attention. This will allow them the time they need to look around your store, compare pricing, and do their research before deciding to buy from you. By far the most prominent benefit of multi channel retailing is increased income.
Flexible buying decision
Like any other skeptic, most customers would be hesitant to buy from a company they had only seen once. And if that's the only time they see your business, the chances of them remembering you and looking for you are zero. If you only have one sales channel, all of your consumers are forced to buy from you through that channel.
And although this is okay for customers who have previously purchased from you and trust your brand, it does not necessarily attract new customers who are considering doing so. As a result of multi channel retailing, you can provide your customers with a variety of buying options from which they can choose based on their convenience and comfort. This will provide you a competitive advantage over businesses that only sell through one channel. Simply said, providing additional options for customers to purchase from you could result in more sales.
Gather useful data on customer purchases
When compared to a single channel, multi channel retailing allows you to acquire a lot more data on buying behavior. You'll be able to tell which sales channels your customers prefer and which ones they don't, allowing you to focus on the areas of your business that need improvement and advertise your company more effectively. Furthermore, if you only have one sales channel, you won't be able to compare your sales to those from other channels because you'll be stuck with the one you have.
Comparing multiple channels allows you to gain a better understanding of the world. You can assume that selling X volume of things per month on one channel is quite amazing if you don't have anything to compare it to.
If you start using other channels and find that you're selling 10x the amount of goods on one, you've learned not just that the other channel is better, but also that you can aim for far more than your original X volume. You don't have to compare the total performance of multiple channels; you can also compare how individual products perform on different channels. Isn't it part of the useful data you're gathering to know which product to market on which channel?
Social proof
For modern businesses, social proof is priceless. Consumers can learn about other people's purchase experiences by looking at online reviews and social media chatter in multi channel retailing.
People are more prone to copy the actions of others, according to social proof, which is based on the concept of social influence. This means that customers are more likely to buy products that have received great evaluations and feedback.
Probably you've gotten persuaded by social proof if you've ever made a purchase based on a review or testimonial.
What are Challenges in Modern Multi Channel Retailing?
There are many things to consider, from eCommerce marketplaces and social media advertising to comparison shopping engines and real stores. The most important thing to remember is that your customers can be found anywhere. That means you should be as well.
Of course, it's easier said than done, especially when you consider the sheer scope of "everywhere" in the context of multi channel retailing. More than 80% of consumers currently use their smartphones to check several retail channels before making in-store purchases, and 88 percent conduct research online before deciding where, when, and how they will buy.
This tendency to compare costs, delivery options, and other factors are blurring the distinction between multi channel (using the correct channels to attract customers) and omnichannel fulfillment (ensuring a fluid customer experience across channels).
It's critical to prepare for the major problems in each of the three main categories before you can begin to accurately define your ideal mix of channels and how to best leverage them for a seamless shopping experience: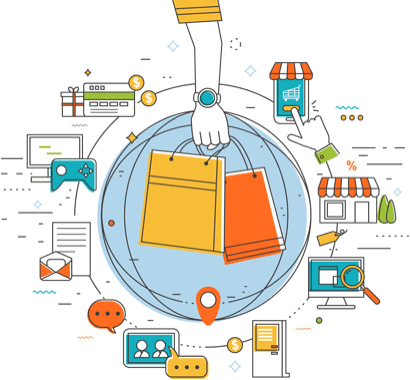 Marketing
In recent years, the number of eCommerce advertising alternatives has increased dramatically. It's now more important than ever to figure out how to grow your reach without spending too much money.
Sales
Each sales channel has its own set of listing requirements and data input requirements, which are constantly changing. This makes optimizing and streamlining the flow of consumer and product data across several channels difficult.
Fulfillment
Success in multi channel retailing involves mastering the optimal retail fulfillment option for every research purchase, especially now that sellers are competing in the era of same-day shipping. This can be especially difficult for a seller who has relied on a single carrier strategy for a long time.
It becomes a lot easier to identify the proper mix of channels and meet consumers at various stages in the path to purchase when you address these three core areas first and establish a multi channel retailing strategy around them.
Conclusion
One of the most critical aspects for sellers to take in 2021 and beyond is to understand the new world of multi channel retailing. With the current proliferation of channels, it's more vital than ever to figure out which ones have the most promise for your business.
Expansion that is too fast can lead to the selection of channels that are both unsuitable for your customers and unprofitable for you. However, if you take the time to thoroughly research your alternatives, multichannel retailing can pay off nicely.