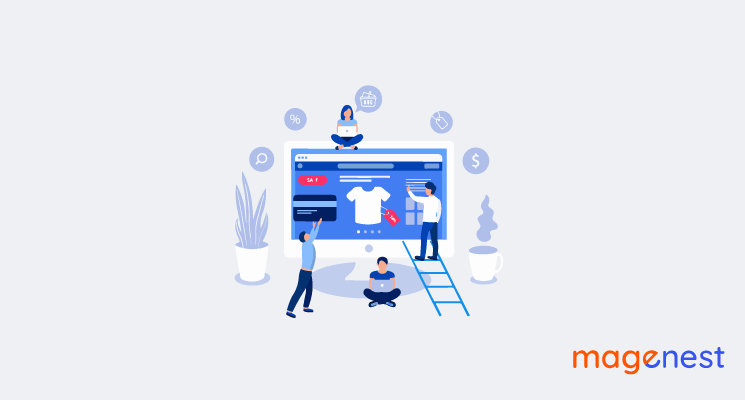 The fact that people love T-shirts makes selling T-shirts online a popular choice when starting a business. T-shirts now are not only easy to mix and match but also somehow reflect our personalities, interests, and identities.
Selling T-shirts seems to be a common and comparatively inexpensive way to start a business especially for eCommerce entrepreneurs and artists, there's no doubt you would have to face some fierce competition since more and more people are joining this market. The global market for the printing industry of custom T-shirts is predicted to reach 10 billion dollars by 2025.
If you've been thinking about this potential market, then this article is for you because we are going to show you how to start a successful T-shirt business step-by-step. Follow our tips and advice to produce high-quality products for customers, build a good brand image and eventually bring extra income each month to your T-shirt store.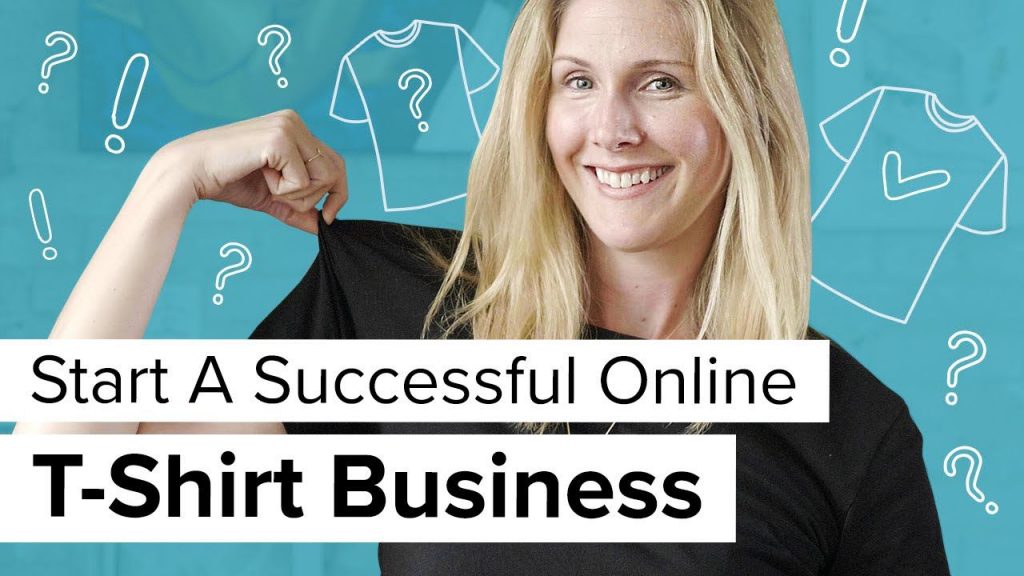 How to start a successful t-shirt business
1. Choose a niche market for your online T-shirt company
If you are among those who are looking for ways to set up your online T-shirt business, it may be important to find a niche market to serve right from the beginning. This way your chances for success will be considerably higher since your T-shirt store is unique, both in terms of the brand image and the availability of the products.
Therefore, the first step you should never miss is to take time and do research on the market to create a niche T-shirt store. In case you don't know where to start, just look through other online stores that you find interesting. While visiting those websites, jot down anything you think is impressive and things that you don't like about them. Then brainstorm your own ideas for your T-shirt business, think about the good features you should keep on your website, and how you can make your store even better.
Another important part of building a successful T-shirt business is the possibility to stand out. Cater to a specific target audience or group that you are interested in, even if it's an untapped market. Since it's easier to stand out when there is little competition, why not take a little risk to make your brand different from others.
2. Find a good source for T-shirt material and printing
We all know that not all T-shirts are the same and not all printing jobs are the same, that's why we all have businesses who will succeed and those who will experience failure. Product quality is the most significant factor that can decide the success of your brand.
Although it may be tempting to sacrifice the quality for higher profit margins, you should never do that because products with bad quality will affect customers' decision to make purchases from your brand one more time, not to mention recommend it to other friends and relatives.
There are many factors involved to create good T-shirt products, such as material, design, size, color, softness, and weight. A good starting point to determine what blank T-shirts should be used is to check out T-shirt Magazine, reading the magazine would be of much help to you as it reviewed some of the most popular bank T-shirts for printing. Once you finish narrowing down your choices, it's wise to order some samples and check them again by yourself before making the final decision.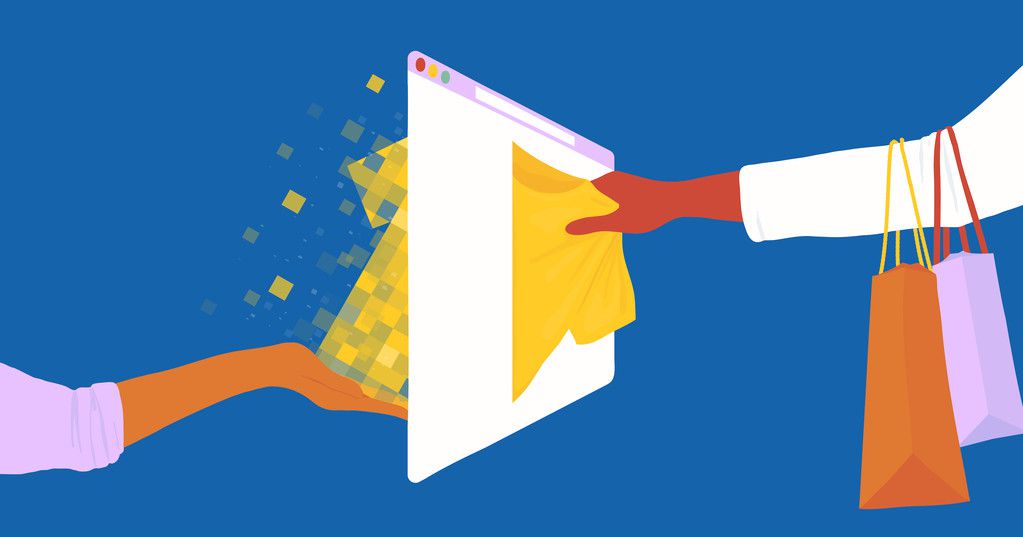 3. Design your own T-shirts
When you are launching a successful online T-shirt business, your design ideas would be crucial to carefully think about because great T-shirt designs can help you stay ahead of the game. In other words, products with excellent designs will be a strong foundation for your business' success later.
Your staff will find it easier and more confident to market great products, so be creative and always try to think outside of the box. To see which one fits best with your target audience, you should try out various ideas for your T-shirt designs as long as it's relevant to your brand.
If you feel stuck for T-shirt niche ideas and designs, a good start is to look at what else is trendy and currently selling on the market. Here are a few websites that can help you come up with amazing ideas for your business:
Pinterest: Pinterest is more than just a social network, it's actually a visual search engine and an excellent tool that can bring you every concept you are finding in a vivid way. Pinners go to Pinterest for inspiration since it helps them make the right choice about what to sell and why you should sell it. Pinterest is an incredibly rich resource to go to when you need some brand-new or brilliant notions to start designing your products.

Dribbble: Dribbble is a big community for designers and those who are looking for cool ideas, just type the style you want to find on the search engine or you can directly message the designers you feel interested in to see if they can help you with your projects.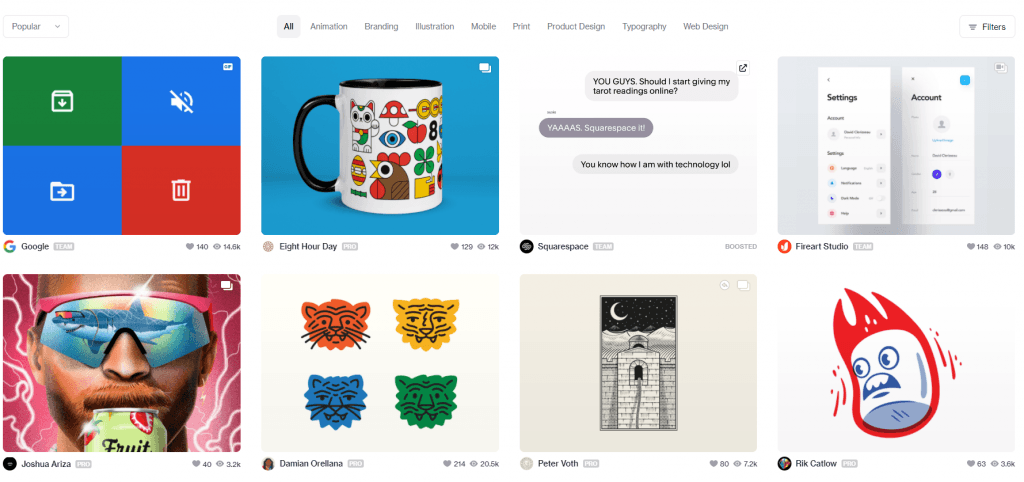 Behance: Behance is another amazing platform to check out as you can see portfolios from various creators from any part of the world who specialize in illustrations, styles, and many more. If you find any potential designers, you can also reach out to them and get advice on how to create appealing customized T-shirts.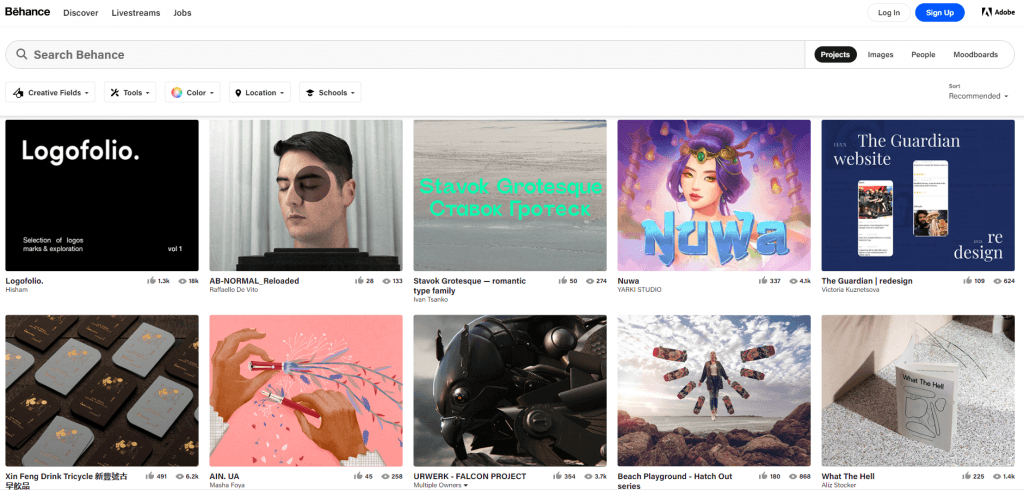 Some other options you may want to try to find the best idea for your T-shirt store are popular networks for freelancers like Upwork, Freelancer, and Fiverr. Here you will easily have a chance to work with qualified T-shirt designers by carefully checking out their past job successes and portfolios.
Above are just some great online platforms we highly recommend, remember that there are always tons of ways to help you come up with fantastic ideas and find more inspiration.
4. Test the validity of your T-shirt designs
Once you assembled a few solid ideas for your T-shirt designs, you will need to validate them. You may think that the designs that you have made are already to print but it wouldn't harm to seek validation from others. Here it means that other people who have different perspectives may point out some features that need improving. Furthermore, receiving feedback from others is very necessary to improve the quality of your products and also to make sure that your design ideas are not biased.
There are many ways to collect feedback and one of them is posting your designs on some forums (of course you must make sure you watermark your designs so that they won't be stolen). You also can ask local consultants for their opinions and they will give you professional, unbiased feedback.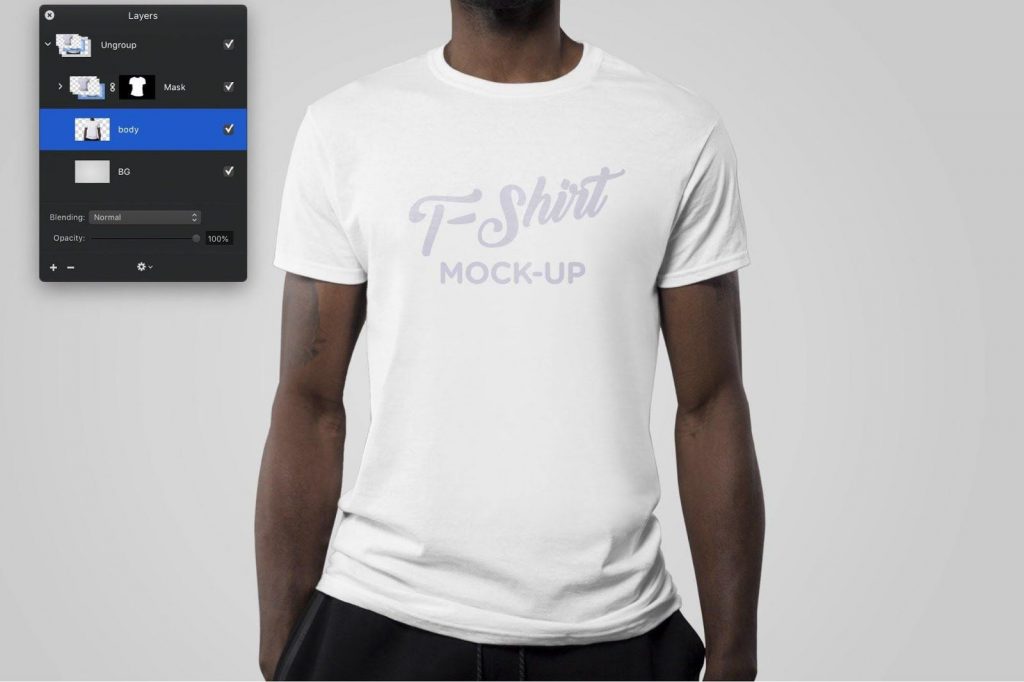 Using online discussion platforms is not a bad idea, for instance, Reddit has been proven a useful tool to use when you are gauging the success of your T-shirt designs. Many businesses create T-shirt mockups and post their prospective designs onto the relevant subreddit pages to look for honest feedback from people who are interested in their products.
5. Set a price
Determining the price of what you are selling is another important aspect of starting a T-shirt business. You will need to calculate thoroughly to come up with a proper price for both you and your customers. Assuming you want to sell your item at a 50% margin, you can multiply the overall cost (it must include the printing cost and the purchase price) by 2 to choose the unit price.
Let's say you buy 50 T-shirts for 300 dollars, and the printing cost for them is 500 dollars. In this case, it costs 6 dollars for one T-shirt and 10 dollars to have the design printed on. Your per-unit cost would be 16 dollars in total (10 for the blank T-shirt and 6 for the printing). So, it will be ideal to sell the T-shirt at 32 dollars to enjoy the 50% margin. You can even charge a little bit more than 32 dollars if your store is selling good quality T-shirts. People nowadays are willing to pay more as long as it's worth the price, here it should be for better-fitting and super soft T-shirt material)
6. Set up your online store
Now after having your mockups and validating your idea, it's time to set up your store and start selling online.
You need to choose a suitable business model for your T-shirt store. If it's too costly for you to use a local printing business, then dropshipping can be a good solution.
Besides, there are many T-shirt Print-On-Demand services that directly integrate with your T-shirt store and help you print and ship your T-shirts to customers on your behalf. Since you don't need to purchase or hold any inventory structure upfront, dropshipping might be a great way to get started.
There are many T-shirt companies applying Print-On-Demand solutions such as Printful, Teelaunch, Printify, and Gooten.
Considerations when starting a successful T-shirt business
Although now it's relatively simple to start a T-shirt online store thanks to all the tools and technology available for the designing, printing, and shipping process, the difficult part is how to make your brand stand out from the rest. Therefore, choosing the right T-shirt printing techniques right from the start is an extremely important decision for any business to make. Here are 3 of the most popular options for T-shirt printing to consider in terms of quality and process
Screen Printing
This is an old technique but has been used a lot by business owners who design and sell T-shirts online and in-store. Screen Printing is one of the most common methods for printing due to the durable and long-lasting results it can produce.
However, because of the labor-intensive initial setup, It would be best if products are printed in bulk to save costs when you choose this technique for your T-shirt business. Besides, Screen Printing can only print simple images and designs. When it comes to complex design or design with more than 4 to 5 colors which will increase costs and production time, Screen Printing is not the optimal technique anymore.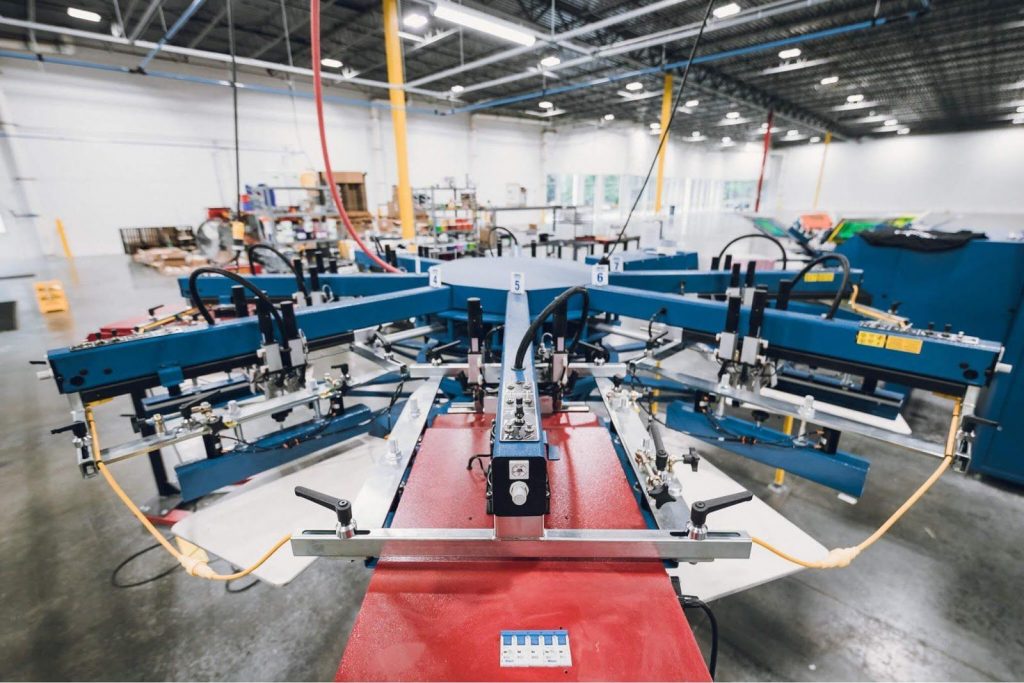 Heat Transfer
The second popular technique we want to introduce is Heat Transfer, which has also been used for a long time and existed in several forms. Although this method allows you to easily print T-shirt designs from your home with a computer, more advanced forms of heat transfer printing should be used by professional printers with high-quality heat-transfer material.
The advantage of Heat Transfer is you can print each shirt on demand when you receive orders, making it more affordable for small batches. Additionally, Heat Transfer enables T-shirt businesses to be produced with full-color images easily and quickly.
But compared to Direct-garment and Screen Printing, Heat Transfer creates lower-quality and less durable products. It also requires a large amount of investment upfront (from a few hundred to a few thousand dollars for a heat press machine).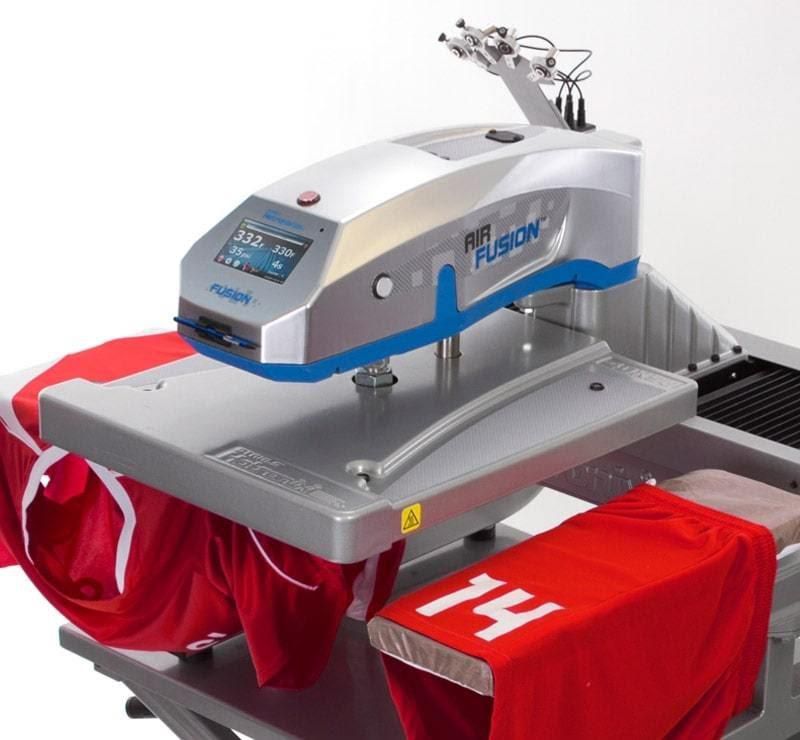 Direct-to-garment
With Direct-to-garment printing, the ink would be applied directly onto a T-shirt, just like how you operate your ink-jet printer at home. This method is a common type of T-shirt printing because it can print ink directly onto the physical T-shirts and create full-color images with a high rate of accuracy.
And because its operation is just like an inkjet printer, unlike Screen Printing there would be no setup costs needed if you choose the Direct-to-garment technique.
This option is more suitable for small print orders because it's the cheapest among the three methods and it does take some time to print T-shirts one by one, which will not be appropriate to print a large volume of orders.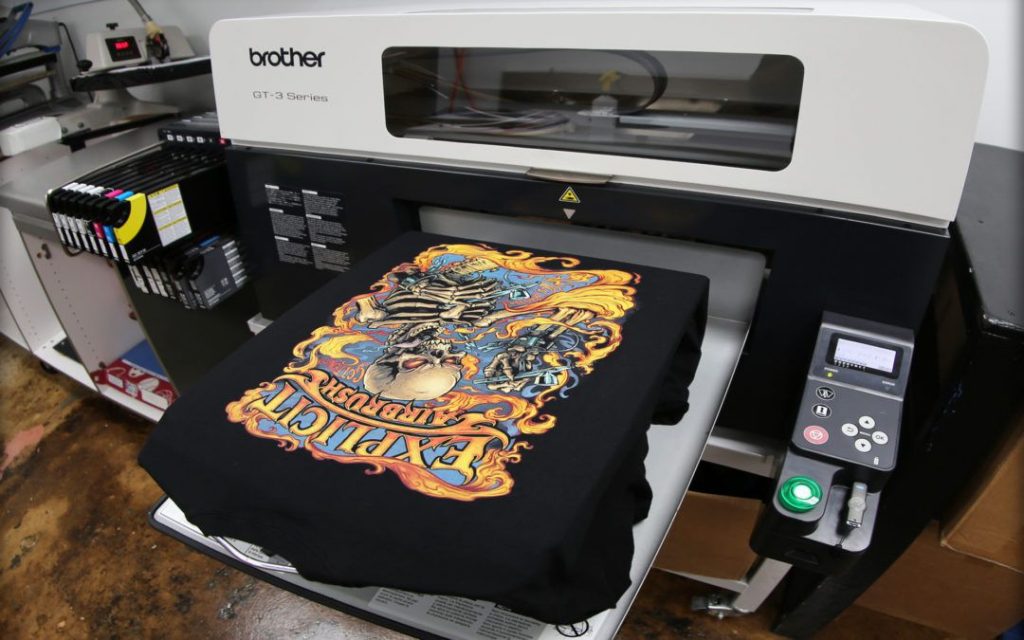 Successful T-shirt business stores
Story 1:
Many start-ups have been successful in building their own T-shirt businesses online and one story like that happens with Ryan McCarthy. Ryan is known as the founder of Imouri (formerly known as Sugoi Shirts) who has used Shopify to establish his anime-inspired T-shirt printing company ever since 2016.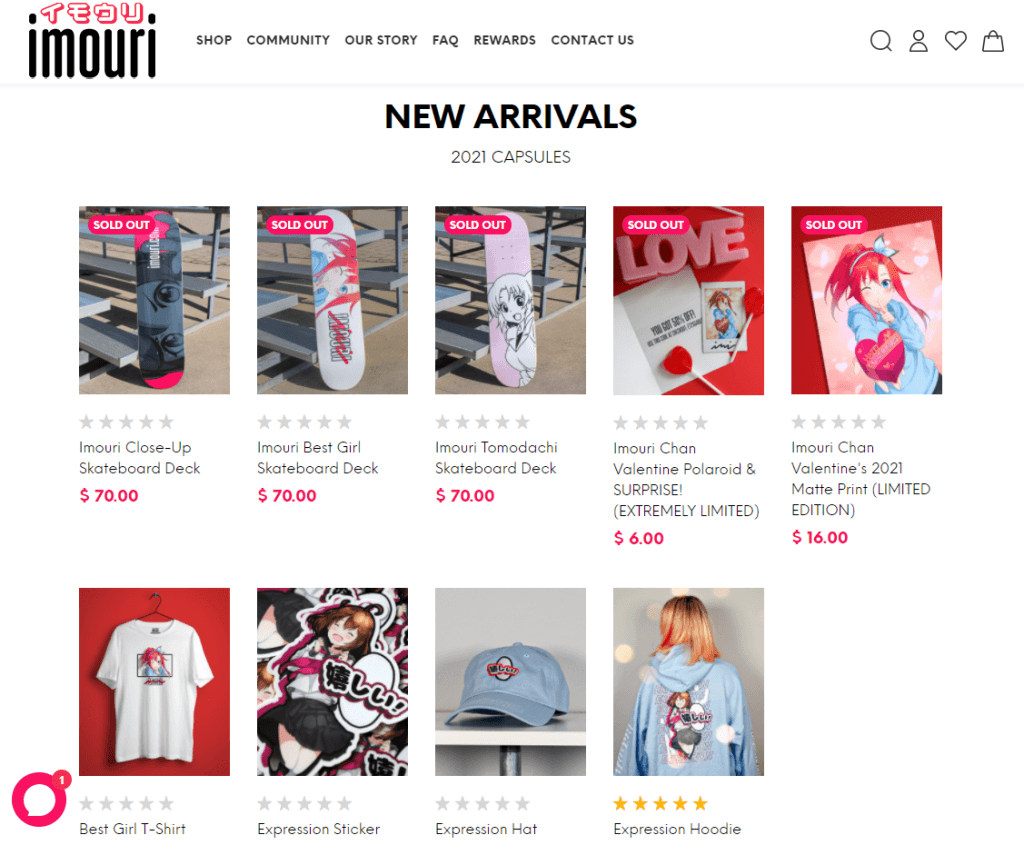 At first, he had trouble finding anime-style clothing anywhere to show his personal style so he decided to create a T-shirt business by himself. When it launched, the founder only thought that it would be a small clothing line and he never could imagine his small start-up at that time now has turned into a six-figure Print-On-Demand business that sells streetwear to people who love Japanese anime and culture all over the world.
Story 2:
Another story is about an online T-shirt business with a dropshipping business model. Melvin Chee started his own eCommerce store as an experiment when he's 22 years old. At that time he went to a Facebook group and looked for ways to bring success to his store. He put the emphasis on core products which were basic T-shirts printed with funny slogans. These products plus his marketing efforts have finally transformed the initial experiment into a profitable business which ended up making $100K after just 3 months.
Perhaps these two stories, along with many T-shirt businesses that have been thriving out there, somehow have inspired you to build a unique T-shirt store and join the market to find your own position.
Conclusion
Now that you've learned with us about how to start a successful T-shirt business. We hope you will find this article useful and know exactly what to do to build a great T-shirt store to create your own success story. Remember that designing and selling T-shirts is always competitive, so make sure you make good use of the tips we've discussed above and properly apply them to your online store. If you have any further questions about how to start a successful T-shirt business or eCommerce store in general, don't hesitate to contact us or visit our store blog for more useful insights.