Description
Photo Reviews for Magento extension encourages customers to interact more with your store. By adding photos in the feedback, brands can drive more sales and gain trust from user-generated content.
Customers can upload photos in the review section
Display the pros and cons on the review section
Send email reminders to stimulate customers to review products after purchases
Admin can reply to customer photo reviews
Share reviews on social networks
Create a seperate page to show all photo reiews
Show photo reviews in lightbox linked with product page
Mobile-friendly design
Manage customer feedback in the backend
Details

What you need
Customers are getting more doubt with normal reviews: Is it real or is it fake? In fact, this question is becoming more frequent than you think. Consumers demand detailed feedback with real evidence of previously purchased products. For store owners, they want to gain more trust from potential customers with honest comments and at the same time, provide old customers with an environment where they can freely express their opinions about products and services.

How we handle it
Magento 2 Photo Reviews gives your websites a brand new user-friendly interface: Adding photos into their comments. The visually appealing platform will draw more attention from customers and give them better validation of potential items. What is better to research the products than the previous experience of other buyers? Prepare to boost your sales and reputation from just a simple change!
Deliver the best customer service through engaging and impressive photo reviews!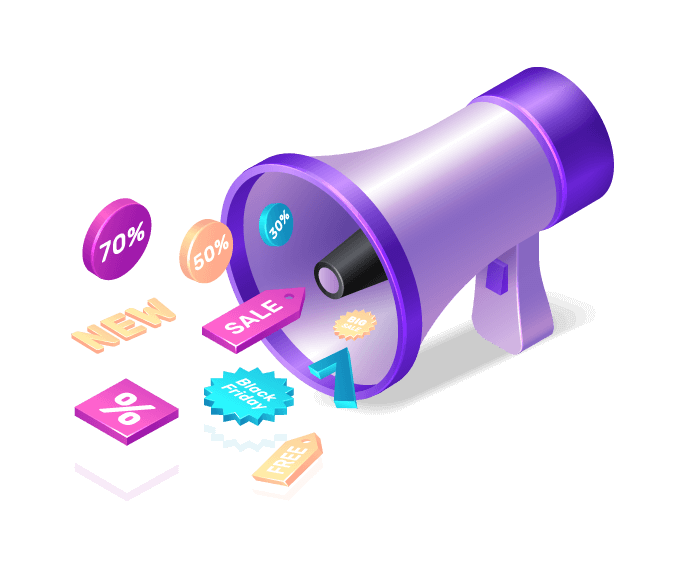 Increase customers' interactions
Photo reviews give customers more chance to express their experience with the products and services. This is a great way to create and make use of user-generated contents. This will become a forum for your buyers to share their feelings and find the next items. The comprehensive feedback is also a great source of information for you to improve the productivity of your brands.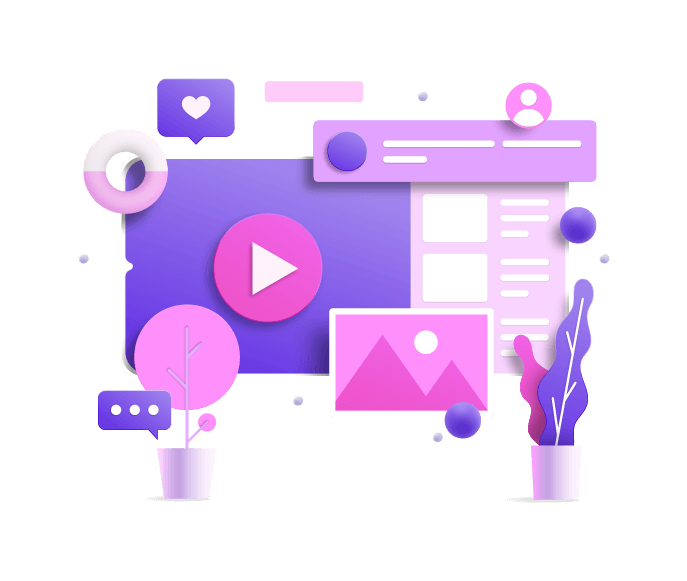 Better visual impact
Images speak louder than words. A review with photos brings a closer look for both visitors and admins regarding the products. This is a simple and efficient way to prove your authenticity as well as creating an impressive frontend for your review page.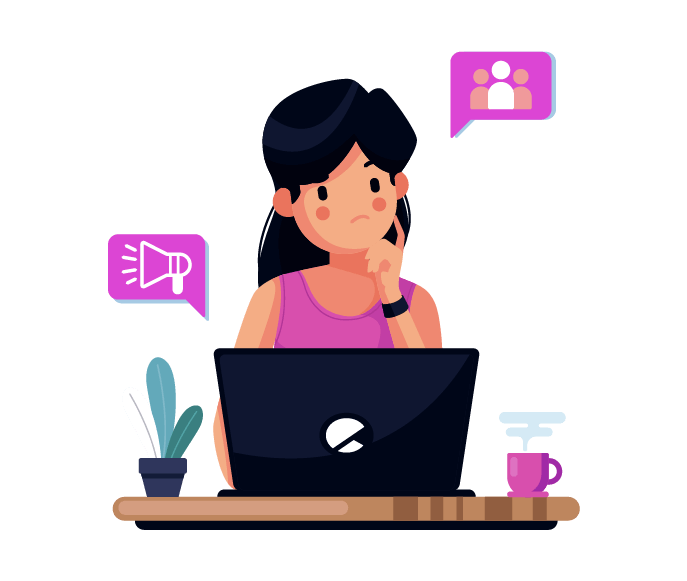 Build strong trustworthiness
Realistic feedback from previous customers will be concrete evidence for customers about the quality of your items. It's difficult to gain trust from consumers nowadays since there are thousands of brands online. A good review is not enough to make them choose your store. It's time to update the feedback section to support the final decisions of visitors.
Encourage customers to write honest feedback
Send reminder emails with attractive benefits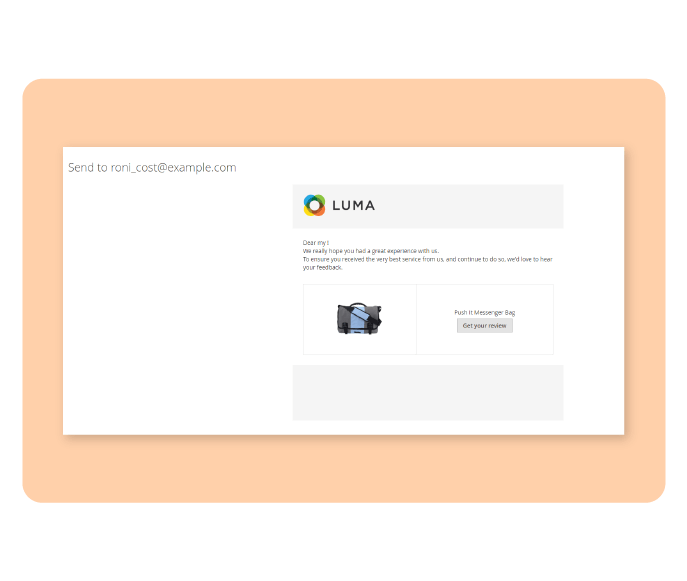 Lots of customers don't have the urge to write a review, or simply they just forget. So let's remind them to express their opinion through automatic reminders emails! You can set the rule of time and date for the notification to be sent. You can also enable coupon for review so whenever buyers write something, they get a discount code as a thank-you gift for the contribution to your store!
Connect to other social networks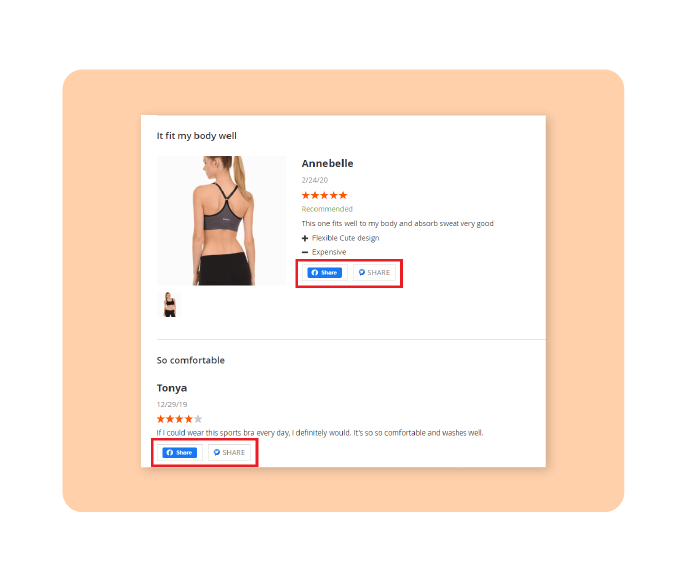 Social media plays an important role in eCommerce right now. Magento 2 Photo Reviews allows customers to share the reviews via Facebook or Twitter with smart Facebook API. With this feature. your store has found a new way to quickly reach new customers.
Manage reviews' performance at ease
Customize photo reviews setting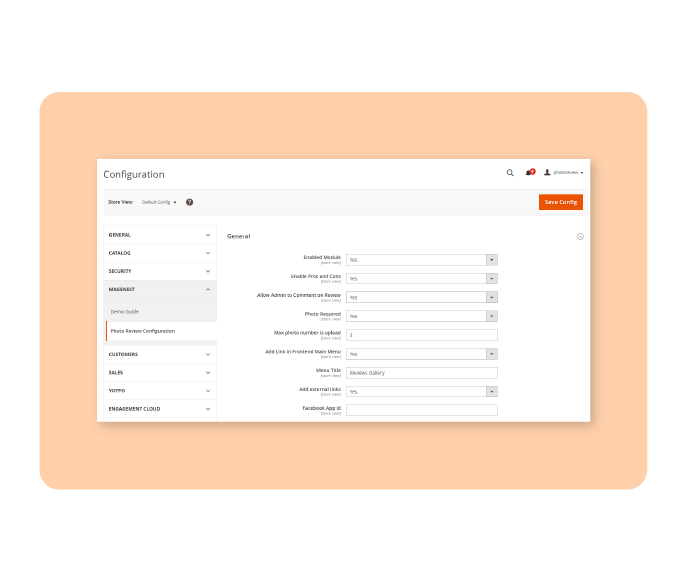 Magento 2 Photo Reviews lets admins decide whether to display all the photo review or not. If there's any misunderstanding, editing the reviews on the backend is really simple. Store owners can create filters with only photos for the best searching results of customers. It's also easy to reply to reviews to answer the FAQs or support further issues.
Enable the pros and cons section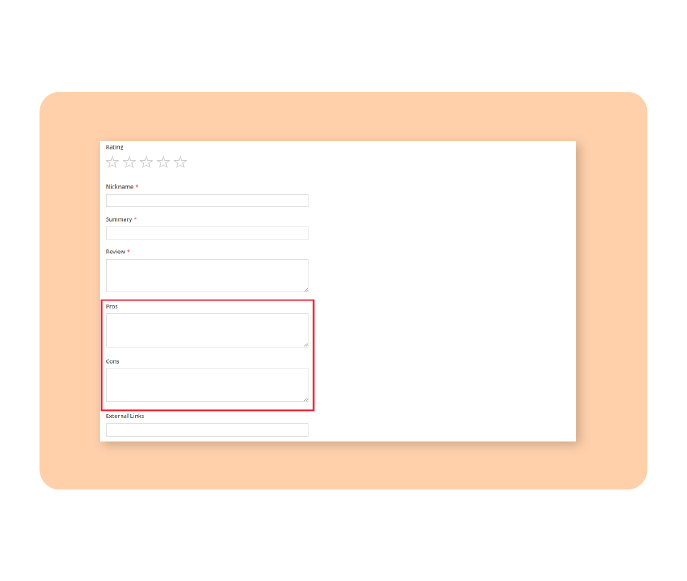 For better comparison, retailers can enable the pros and cons section in the backend. This is a fantastic way to create a comprehensive view of the products. It also gives customers more chances to describe the experience with your products and services.
Keep track of customers' transactions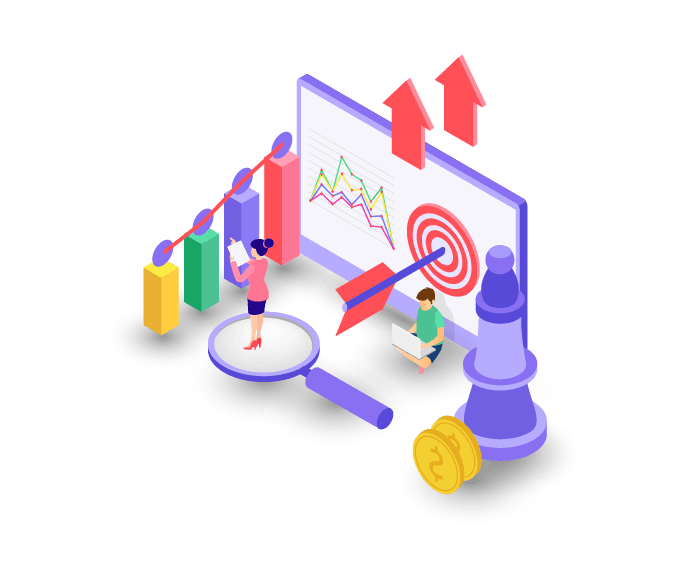 To assist the reminder emails and guarantee the honesty of the comments, you can easily check whether reviewers have purchased or not. This will eliminate fake feedbacks and help you deliver perfect customer service.
Design the best interface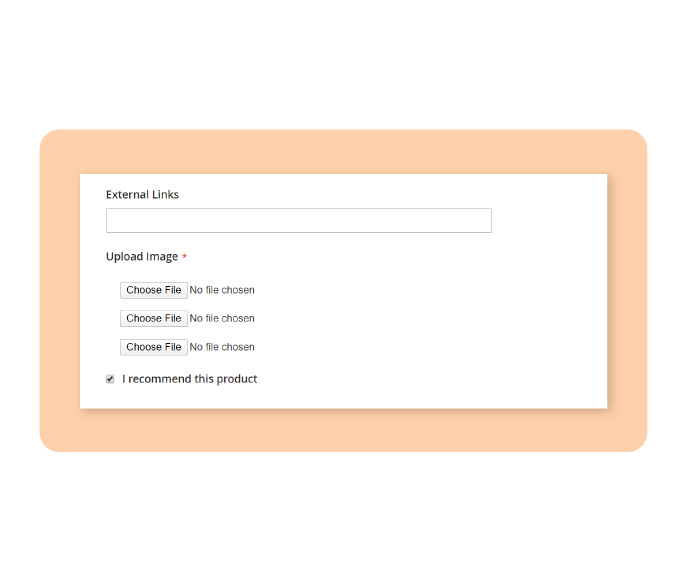 As Magento 2 Photo Reviews allows customers to upload photos in the reviews, admins can organize the comment section whatever they like! This will bring an engaging and simple platform that makes customers want to write feedback. Reviewers can also attach external links for more information. Besides, you can add these reviews into popup so visitors will not miss any hottest trends at your store!
More useful features
Set up required fields

You can select which fields are required in the review section, which helps you choose the most necessary and engaging factors for effective feedback.

Maximum numbers of photos

Control the design of your comment section by setting the maximum number of photos customers can upload. Keep your reviews organized and easy to follow!

Email template

It's easy to upload your unique email template for reminder emails. Customize your notification until you're satisfied with the final design.

Review gallery page

The extension lets you create a review gallery page. You can freely choose the title for the review gallery tab on the main menu.
Reason to choose
Magenest
Free lifetime
software updates
Verified by
Magento Marketplace
One-time payment
without hidden cost