Magento 2

Coupon Code Listing
Magento 2

Coupon Code Listing
Description
Magento 2 Coupon Code Listing Extension helps store owners optimize their customers' experience by providing a list of coupon codes available to use right before they place an order. Buyers can easily apply a suitable code for their order without having to search and enter it manually, saving their time and increasing your conversion rate.
Show coupon code list at the view cart and checkout page
Coupon code will be automatically disabled after it expires
Filter attributes in cart price rules to display external coupon codes
Enable/Disable the coupon code list in the backend
Set up coupon information fields to be displayed on the storefront
Details
Create a seamless customer experience and boost your sales effectively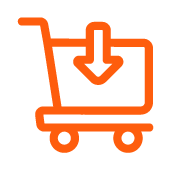 Simplify customers' purchase journey
Customers will not miss any attractive promotions or have to find a discount code before making a purchase. All available coupons are now displayed in a clear list for them to pick.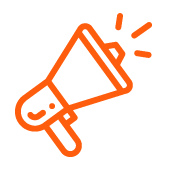 Deliver promotions to customers faster
Instead of introducing promotions to customers through emails that may not be opened, store admins now can easily show all coupon codes right at the view cart and checkout pages to incentivize them to place an order.
Seamless checkout process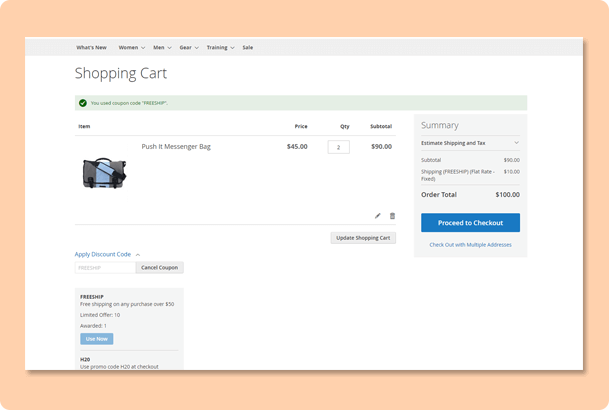 The list of coupon codes including the button Use Now appears both at the shopping cart and checkout pages of buyers. After clicking on the button to use the code, they will receive a notification if it is successfully applied.
Manage how coupon list displayed on the storefront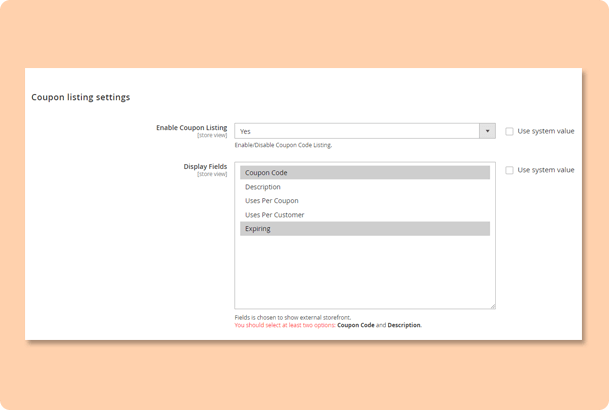 There are five information fields of the coupon for admins to choose to display: Coupon Code, Description, Uses Per Coupon, Uses Per Customer and Expiring. To make it easier for customers, you should select at least two options Coupon Code and Description.
Set up coupon rules based on Cart Price Rules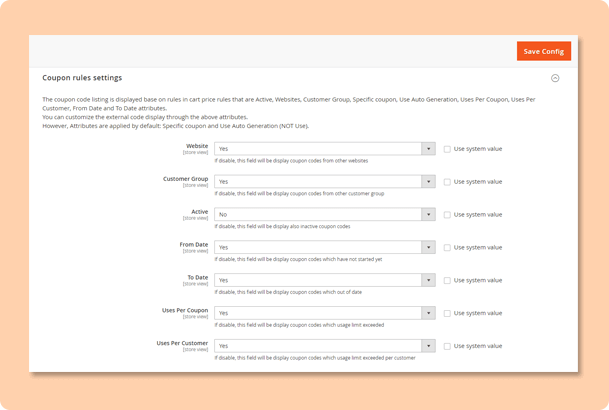 The coupon code listing is displayed based on the configuration set in Cart Price Rules. Store owners can even choose to show inactive codes, but the notification "The coupon code is not active" will appear below the code instead of Use Now button.
Reason to choose Magenest
Free lifetime
software updates
Verified by
Magento Marketplace
One-time payment
without hidden cost