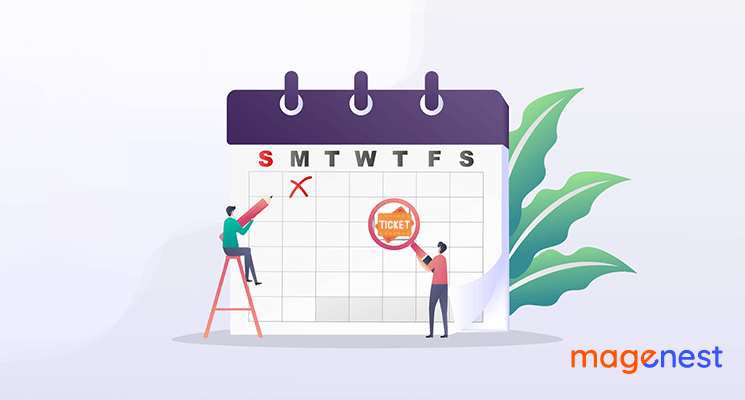 Nowadays, apart from online marketing, various businesses promote their products by organizing a lot of promotion events like concerts, conferences, parties, etc to introduce and draw more customers' attention.
In those events, they will have an opportunity to access their potential customers to understand more about their demand, their shopping behavior in order to improve their product's quality.
Yet, there are many people who are still unclear about how to set up an event ticket for their store and how to send the information to their customers as quickly as possible.
Fortunately, there is a robust tool that lets you create and manage events at ease as well as store past events' data all in only 1 system. That's Magento 2 Event Tickets Extension. If you are interested, explore the below compilation list of the 8 best Magento 2 Event Tickets extensions free and paid 2023 for you to take into consideration.
8 best Magento 2 Event Tickets extensions free & paid 2023
#1 Magento 2 Event Tickets Extension by Magenest
If you are currently searching for a tool to sell tickets for exhibitions, conferences, movies, or any kind of event, Magesnest's Magento 2 Event Tickets Extension will help you accomplish that mission. It enables customers to book tickets online to save their money and time. In the end, it will boost your store's revenues.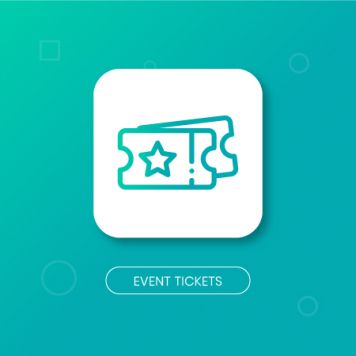 With Event Tickets extension by Magenest, Magento 2 users can set up any event type: conferences, concerts, workshops, screenings, seminars, etc. Also, you can easily redeem status and track your ticket sales in Magento 2 backend. This Magenest's extension is highly recommended by multiple users owing to its convenience and effectiveness.
Highlight Feature:
Establish events with varied venues and dates

Add different options and ticket types

Design PDF tickets that are printable with QR code/barcode

Event attendees are manageable in Magento 2 back-end

Remind customers of future events by automatic email
Price: $249
Compatibility: CE, EE 2.2.x, 2.3.x
Moreover, Magenest has developed an add-on of this Event Tickets extension, named Booking Mobile App. This module helps vendors to easily manage all events by checking attendees' tickets through mobile devices.
Isn't it so convenient? Just with a reasonable price of $149, manager staff can save a lot of effort and time when it comes to tracking events and attendees' status. Because now, instead of transferring data via a laptop or desktop, they can do it right on their smartphones.
#2 Magento 2 Event Tickets Extension by FME Extensions
FME Extensions's Event Manager (also called Sell Tickets) enables the admin to create an online events management system just by one tool. You can create attractive events freely and sell tickets for whatever the occasion.
It is very simple to provide contact info details and a Google Map view to locate. Besides, to remind your customers about the date, this module will help you design a calendar view that displays all the future events in the twinkling of an eye.
Highlight features:
Set up simple & recurring events

Set up event tickets and sell online

Attach images, videos for illustration and Google map for location

Configure SEO of listing page and event detail

Hovering the address to show a map

Show breadcrumbs

Write an Error message when there is no event to be added to a day

Customize the event expiration message

Connect Events Calendar Page to the main page

Set the quantity of events to demonstrate on calendar popup

Enable, disable events; edit, or delete events

Export every event in CSV/XML file for backup or import to other stores
Price: 79$
Compatibility: 2.1.x, 2.2.x, 2.3.x
#3 Magento 2 Event Tickets Extension by AheadWorks
Magento 2 Event Tickets Extension from Ahead Works is considered to be a high-quality extension that can boost your performance in organizing events. Commence a presentation, workshop, or a master-class to grow a loyal brand community!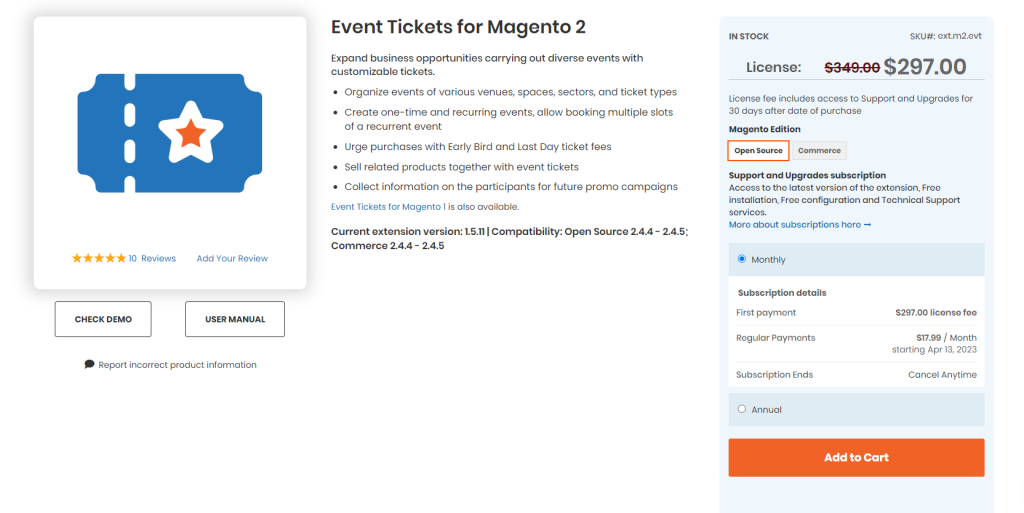 You can spread the messages, at the same time effectively promote your products/services. Start planning and arranging versatile events together with selling and managing tickets in your Magento 2 store now.
Highlight features:
Set up events of multiple spaces, sectors, venues, and ticket types

Establish one-time or recurring events

Push buying with Early Bird or Last Day ticket fees

Redeem tickets either on front-end or back-end

Sell related products along with event tickets

Gather information on the participants regarding upcoming promo campaigns
Price: 349$
Compatibility: Magento CE 2.3.X and Magento EE 2.3.X
#4 Magento 2 Event Calendar by Tigren
If you are still questioning about managing event tickets for your store, and how to get your customers to know about your event in the fastest way. Don't worry, this Event Calendar extension by Tigren will help you do that. This is a robust tool to assist shop owners in efficiently selling the event tickets. In addition, it enables managing flexible tickets and then promoting them to your customers.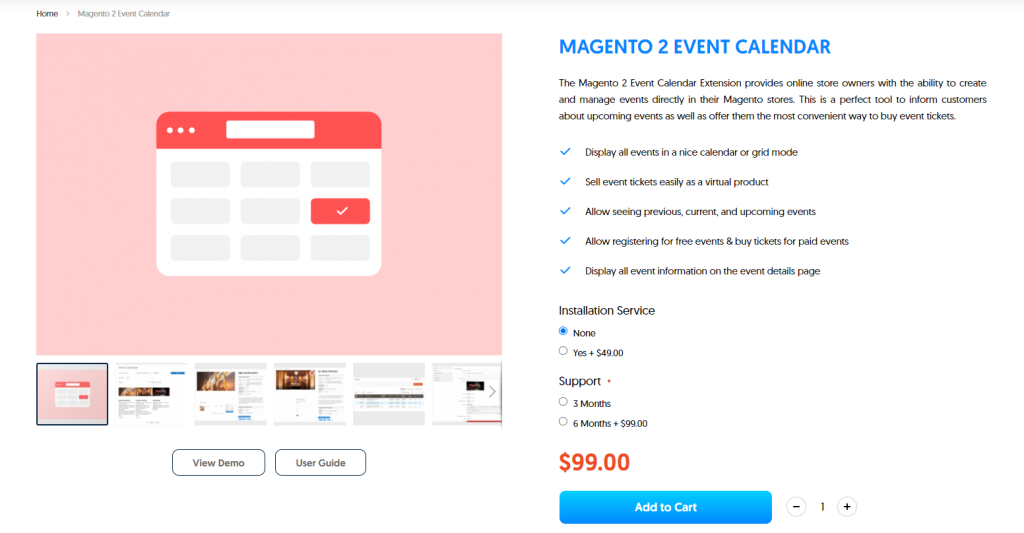 Highlight features:
Display every event in grid mode or a nice calendar

View and navigate the events in day/ week/ month mode with ease
Filtering events by name/ location/ category to quickly find interesting events.

Sell event ticket as a virtual product easily

Allow seeing past, ongoing and upcoming events

Enable to be registered for free events & purchase tickets for paid events

Display all event details on the event information page
Price: 99$
Compatibility: Magento 2.1.x, 2.2.x, 2.3.x
#5 Magento 2 Event Manager Module by Webkul
This is a powerful tool for Magento-based shop owners to manage event tickets effectively for their stores such as event tickets for seminars, movies, theaters, etc. The Magento 2 Event Tickets Extension by Webkul enables customers to easily get to know your events and stores and this helps boost revenues significantly.
Highlight features:
Assist in designing a unique ticket product for the store

Easy to manage: transform, remove event products

Incorporate QR code validation for event tickets

Allow customers to see tickets' details in the account

Let customers receive the tickets through the email
Price: $69
Compatibility: Magento 2.0.x , 2.1.x, 2.2.x, 2.3.x, and the latest Magento 2.4.x
#6 Magento 2 Event Manager Extension by Elsner
Event Manager Extension from Elsner for Magento 2 is a powerful module if you want to display all of your events in a beautiful calendar. What is more, you can also add events and event groups in order for them to be displayed on the calendar. When the customer clicks on the calendar dot, every event and date will show up systematically and automatically.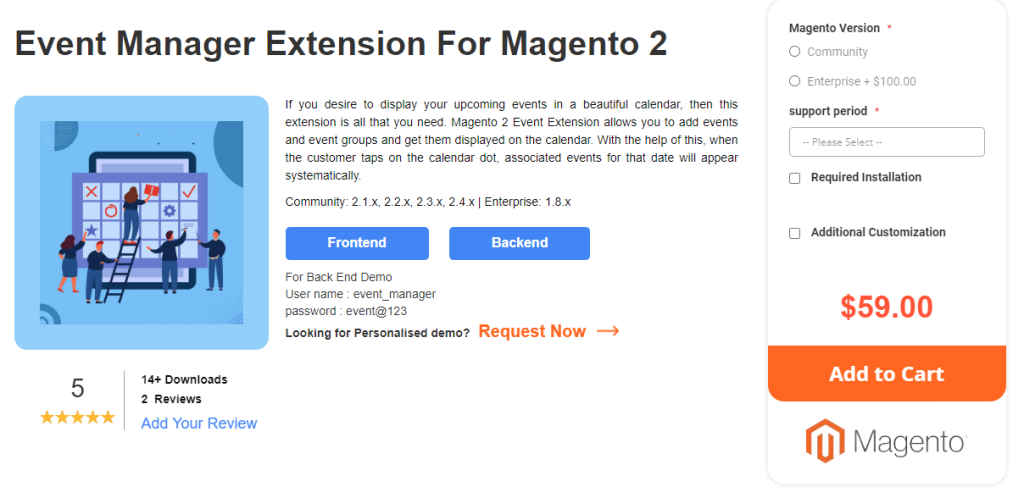 Highlight features:
Design and sell event tickets online

Create recurring and simple events with ease

An option to add images, video, or even a map of the location

SEO configuration for event details and page listing

Create a separate page for each event

Event block option for every highlighted event is available
Price: $59
Compatibility: Magento 2.1.x, and Magento 2.2.x
#7 Magento 2 Event Tickets Booking System by SunCart
Magento 2 Event Tickets System from SunCart is a superb extension that enables the seller to design Event tickets for all occasions. This module provides an all-inclusive online event management platform in order that you can easily organize events and design online tickets. Tickets will then be sold and displayed in a user-friendly way by using image and video galleries.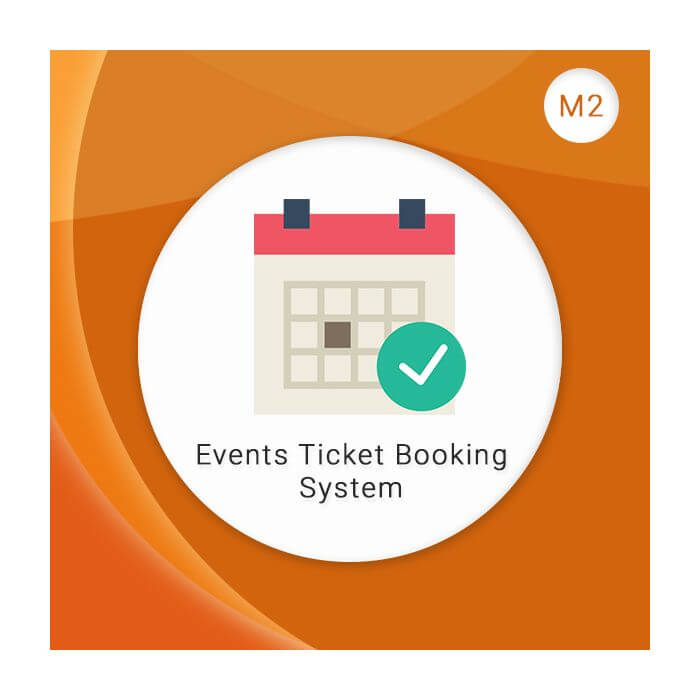 Highlight features:
Provides admin with various features to sell tickets online

Video & image gallery can be added

Admin can do SEO settings separately for each event

Separate invoices and shipment for individual order can be created

Calendar view & layouts are available for the events created
Price: $129
Compatibility: Magento 2.x & Magento 2.3
#8 Magento 2 Events Manager Extension by MageArray
If you use the Magento 2 Event Calendar from Magearray, a beautiful calendar with noticeable events can be now configured easily by the store admin. You can also include essential information or more details about the event like time, date, duration, location map, textual description, etc, and the list of all the events can be downloaded in CSV File from the backend.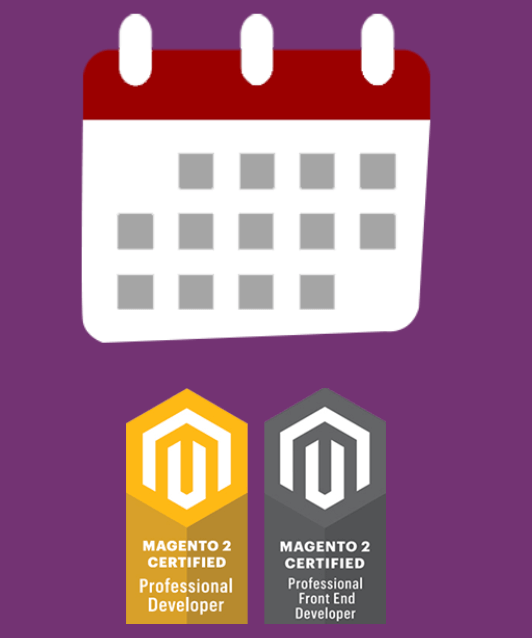 Highlight features:
Events calendar can be displayed by different modes: month, week, or day

Capability of filtering events by categories

Provide unique and outstanding SEO URLs

to get the SEO advantage

Enable full management of events calendar's look

Events link are allowed to add to the user footer or menu
Price: $69
Compatibility: Magento 2.1.x, 2.2.x, Magento 2.3.x
5 Advantages of Adopting a Magento 2 Event Tickets Extension
Magento 2 Event Tickets is becoming a trending tool with tickets that helps store owners to create numerous events of all types, design exceptional tickets, and then sell them to customers. Furthermore, some modules also set out printed PDF tickets and customizable email notifications. Tickets and participant management will be easy and efficient with the support of these extensions. But what is more?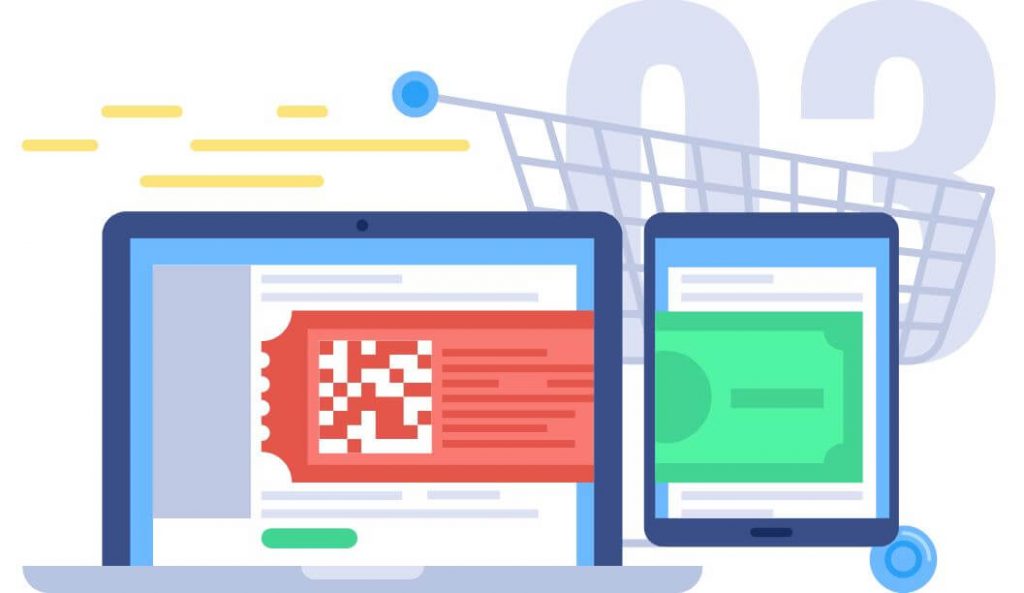 #1 Enormous Event Registration
Ticket sales run from the very outset in the process of registration. But in fact, it is necessary to estimate the number of tickets that have been sold, who purchased those tickets, and which target audiences drop off? Consequently, an integrated extension is an excellent tool for you to track ticket sales per ticket type, category, and target groups in one interface.
#2 Automatic Confirmation and E-ticket
Your guests feel like after buying their event tickets, professional events should have a registration confirmation. As a consequence, an integrated event extension should have an automatically sending email.
In some circumstances, when you attach an e-ticket, that should incorporate a logo or particular event information. Besides, many B2B event attendees demand a company invoice. Event tickets extension will create this invoice, email confirmation, and also e-ticket for you. It is very helpful!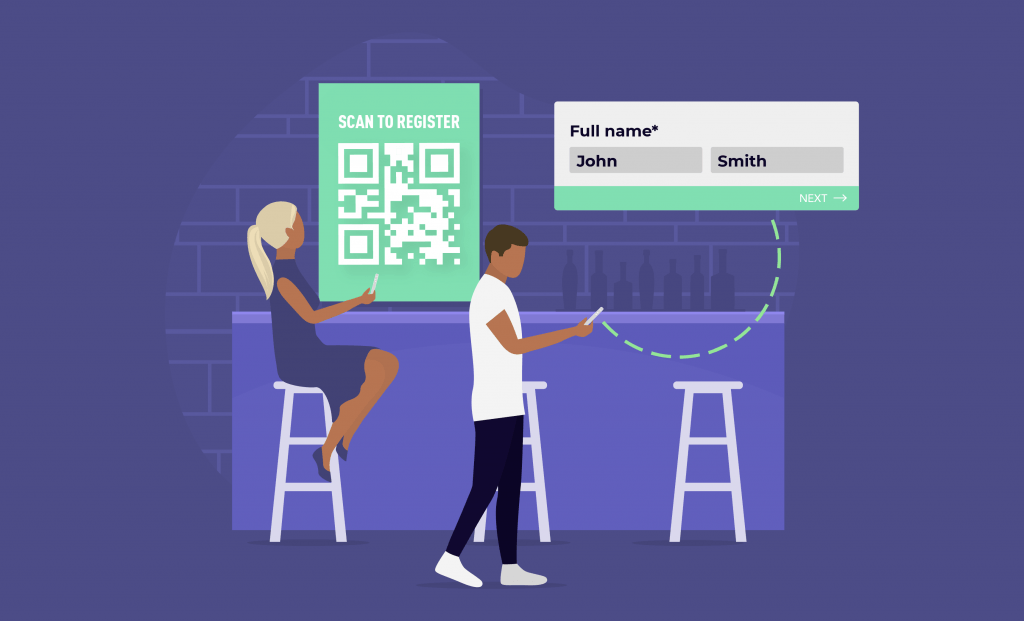 #3 Targeted Communication
If the adopted Magento extension can track accurately who bought a ticket, registered, canceled your event, sending out a targeted follow-up email task would now be really easy.
Also, you can send an event update or reminder to the non-respondents to your prospective attendees. Concerning an event update, you can lead them to your event website where they can find event details and fresh announcements in a flexible manner.
#4 Attendee Convenience
To increase the professionalism and effectiveness during the event, you can optimize the check-in by allowing attendees to scan the QR-code on the e-ticket with their smart devices – free of charge and with no other equipment.
Just by connecting your ticketing software to your registration overview, you can be provided with insight into who is still to be expected and who is present. Moreover, after the event, if there is more supplemental information, you can send through the attendee list quickly and efficiently.
#5 Measuring Event ROI
One of the major factors to determine the success of your event is event statistics. You now can measure your event ROI. The following indicators will help you a lot:
number of tickets sold per day

ticket turnover per ticket category

percentages of show and no-show
In addition, you can send an evaluation survey to your attendees through your ticketing extension. You can ask them to give feedback or measure their satisfaction during the event. All that information will inform you how your event performed and how effective your ticket strategy was. You can use these metrics to promote your upcoming event, too!
Final thoughts
In today's article "8 best Magento 2 Event Tickets extensions free & paid 2023", we all learn that the Magento 2 Event Tickets Extension is a helpful tool to assist shop owners in selling event tickets in the most effective way. Of all the above modules of Magento 2 Event Tickets Extension, each has its own pros and cons. So before making the final decision, you may need to browse their website and try out these extension demos.
We hope that this article can make you see the big picture of some event tickets extension in the market. Now make up your mind and choose the most suitable one for your business!