Event Tickets
Let store visitors book tickets for different events in a couple of clicks. Easily send reminder emails and printable PDF tickets, track purchased tickets and registered attendees in the admin panel.
New: Mobile Barcode Scanning App
Create different ticket classes
Assign date and location to events
Manage attendee and ticket status
Details
Sell and manage events successfully with Magento 2 Event Ticket
Create tickets for events with flexible options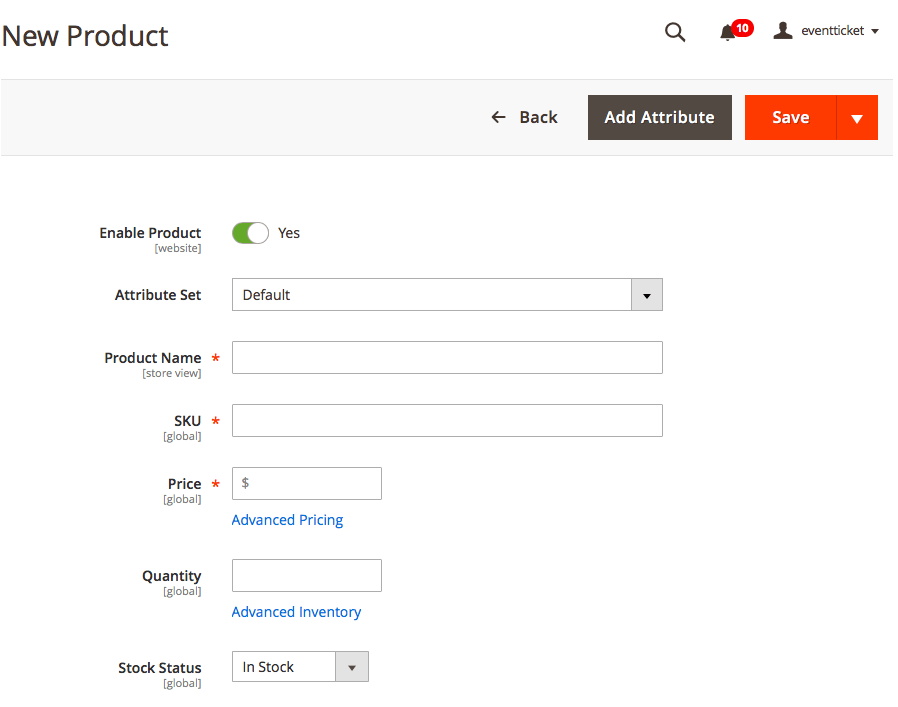 Admin can create different events with different types and levels like Child, Adults, VIP, regular, and display them on product pages as custom options. Take it easy to create ticket, if you have a hundred of products or events, this is really meaningful and useful.
Customize ticket types to fit for each event such as set name, price, quantity and sequence of available tickets for each type
Customize ticket price: Specify custom price for each type of ticket. The extra price will be automatically added to the base price whenever a customer adds the corresponding tickets type to cart
Tickets quantity: Define the number of ticket available at the beginning of event. After that, track, calculate and report the amount of purchased tickets and regulate the prices according to the customer demand
Manage event easily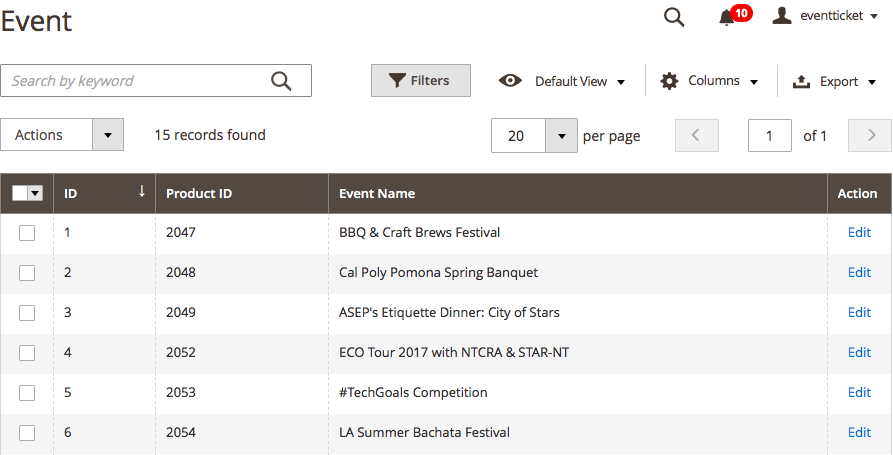 Allow to edit the properties of events easily in administrator panel
Allow to manage tickets and events in the order view with the details of events: location, start time, end time
Show the event details, especially multiple location, multiple sections for the events
Keep track of ticket orders for your events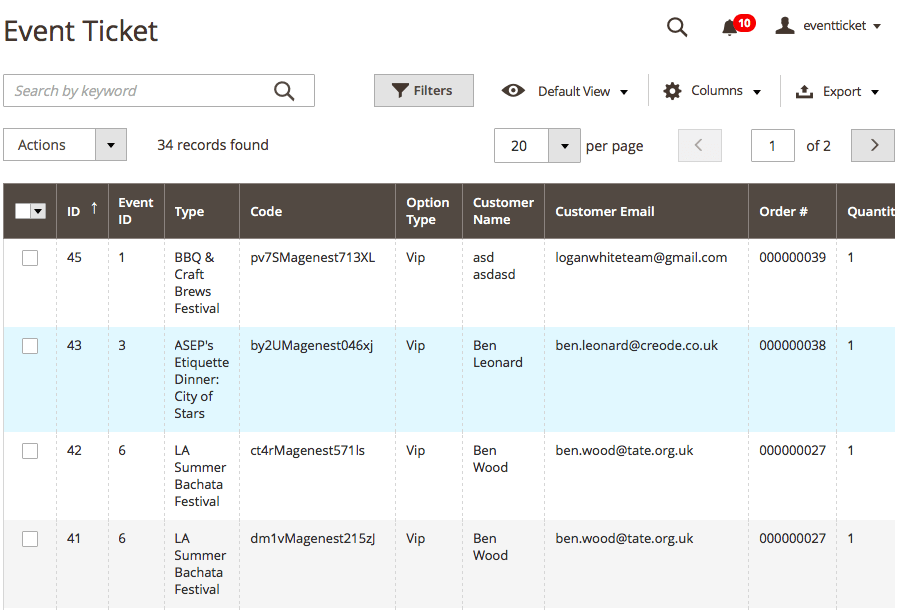 Track the purchased amount of tickets. Via accurate Magento ticket system grid, admin can receive real-time information about all orders event tickets
Make reports after or anytime you want of the quantity of tickets in back
Secure the tickets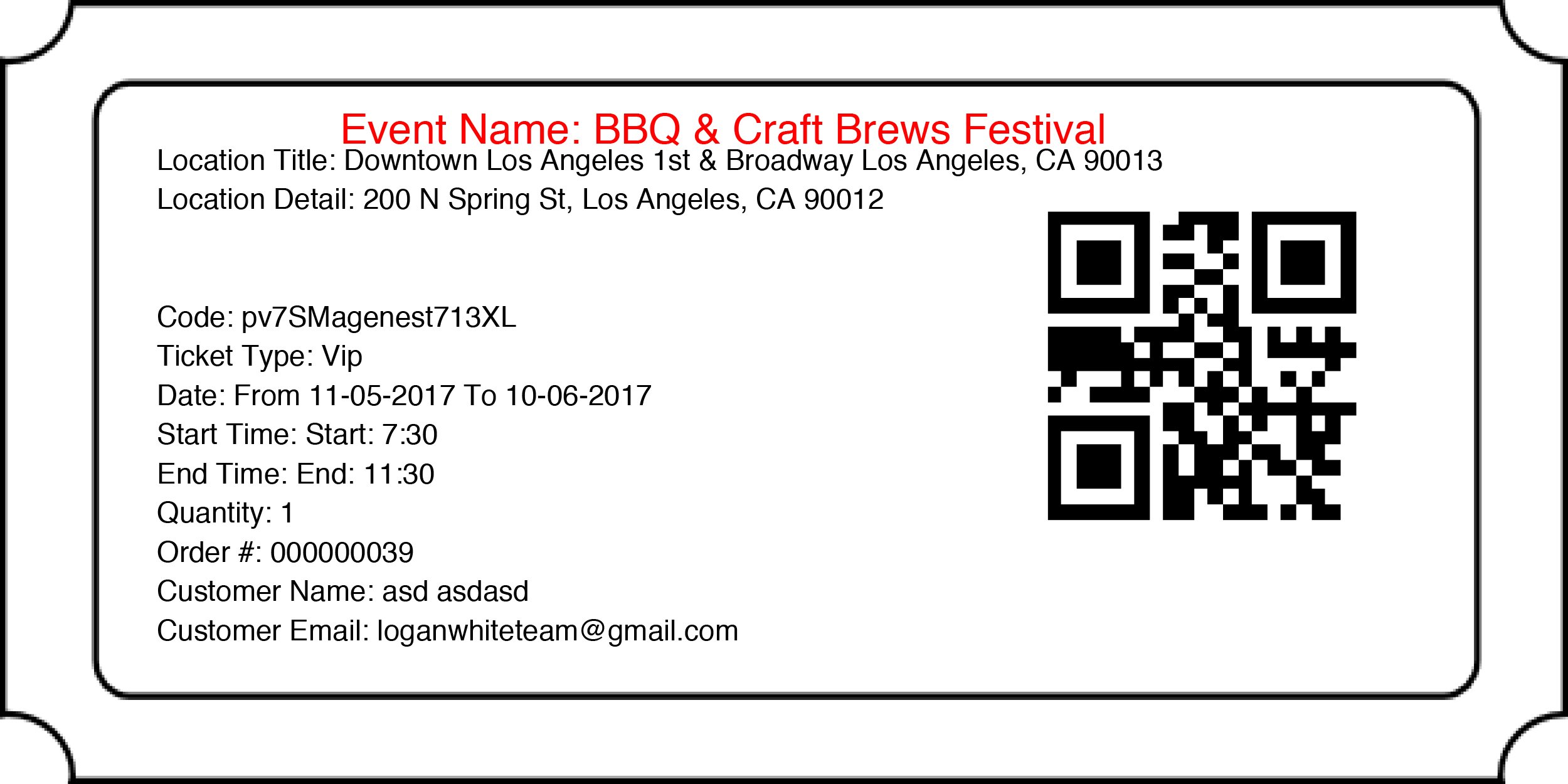 Generate Bar code and QR code automatically
Preview and print PDF ticket instantly in back end
Setup reminder emails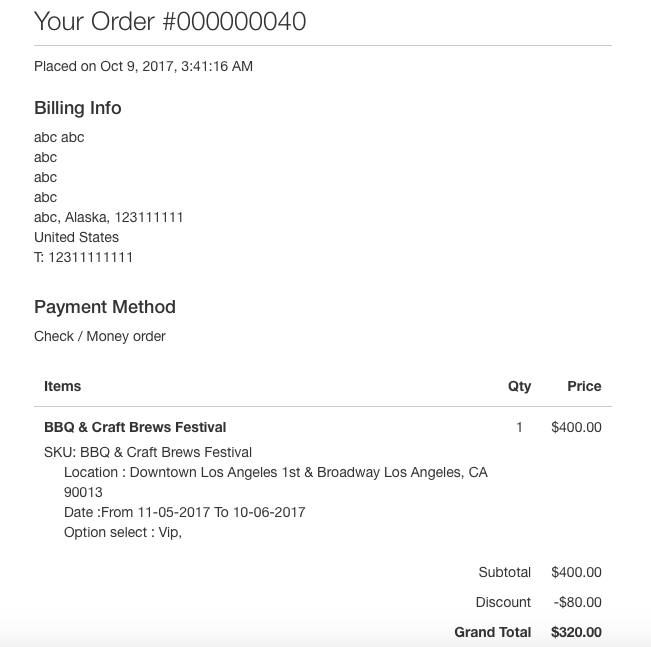 Send ticket confirmation emails to event attendees
Setup reminder emails before and after events. Notify customers about upcoming events by sending email campaign to remind. According to the customers requirements, the ticket buyer or event holder can set a particular date or specify the number of days before the event to send emails
Built-in templates for each type of email
Manage event attendees with ease

Manage the number of presentation of attendees via checked in tickets
Export .csv file of the list of customers after each event or all held events
Look at event attendees, quantity and types of tickets they have bought
Analyze the result of an event via the statistics and effectiveness rate of marketing and merchandising strategies
NEW!

Mobile Barcode App - Ticket Checkin Faster than ever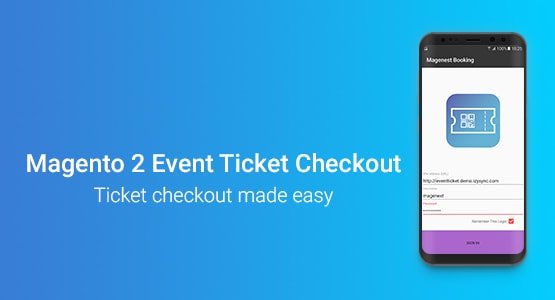 Scan and read the information of the events, no need to press any buttons, auto capture the photo and detect it
Allow update immediately the number of used ticket in events in administrator panel
QR code and barcode image can be auto generated after customers made payment for tickets. Those images can be scanned by any mobile devices that have an ability to install our application and read QR codes. A customer can print a ticket or scan QR code to get more details about the upcoming event. When event holders or administrators scan QR code/barcode, a ticket is defined as redeemed ticket and customer can go through the event. The module provides you with ability to redeem separately
Full list of features for Magento 2 Event Ticket
The extension will add a new "Event Ticket" product type
The admin can specify custom ticket types for a product, each with its own price, quantity and sku
Barcodes and QR codes are automatically generated
The admin can define customize a ticket template with a built-in coordinates system and preview it instantly
The admin can easily track an event's attendees and purchased tickets amount
The admin can manage events and purchased tickets in a grid view
The extension can send printable tickets with auto-generated QR codes and barcodes as an email's attachments
The customer can manage booked events on My Account page
The extension can export events' attendees, events list, tickets list into CSV, XML files
Customize
High quality extensions and services

6-month Free Support

Free Life-time Updates

Open-source and customizable
Releases
Version 1.0.3 - Updated: May 13, 2017
Compatibility: Magento 2.1
* Fix bug : add to wishlist, remove item on minicart, exception. * Enabled/Disabled date-time. * For admin print ticket and .resend mail for customer * Change calculation coordinate.
Version 1.0.2 - Updated: November 30, 2016
Compatibility: Magento 2.1
* Fix bug
* Add multiple location
* Add multiple Date
* Add multiple Time
* Change configuration : email, calculate
* Change emal template
* Change database
* Change frontend

Version 1.0.1 - Updated: August 29, 2016
Compatibility: Magento 2.1
* Fix bug
* Fix Access Control List in Backend

Version 1.0.0 - Updated: August 28, 2016
Compatibility: Magento 2.1
* Add new product type: Event Ticket Product
* Add new tab: Event Booking in product edit/new page panel
* Add coordinates, background in PDF Template
* Add attachted PDF file in email
* Add option
* Deployment instructions