Description
Magento 2 Rental System helps you manage your rental business at ease. Keep track of your workflow and products with simple and convenient features. Set up your own renting and delivering rules. Let's get ready for more revenue and better services with our extension!
Create and manage your rental properties
Set a specific time period for each product
Let customers choose ways of delivery
Different pricing for each product and additional rental time
Customized email templates and receipts with a unique identification code
Add a default rental policy page
NEWEnsure you'd never have overlapping orders through hold rate
NOTE: Our demo is for feature testing only, the Magento Demo edition is not relevant to the Magento Extension edition. Please check on the product pages or with our support team for the correct Magento edition of our extensions.
Details
Run your business with the toolkit customized for the rental system!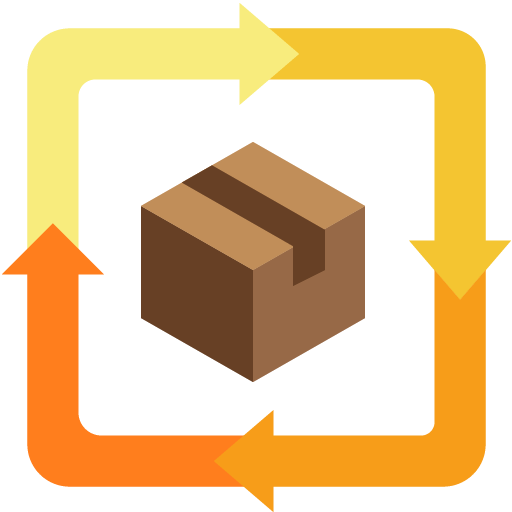 Maximize your product lifespan
It's time to make the most of your products by making them available for multiple purchases. You can easily transform your business workflow with a rental system. For expensive items like wedding dresses, costumes or camping tools, a rental business can provide the best service for many customers simply from a little number of products.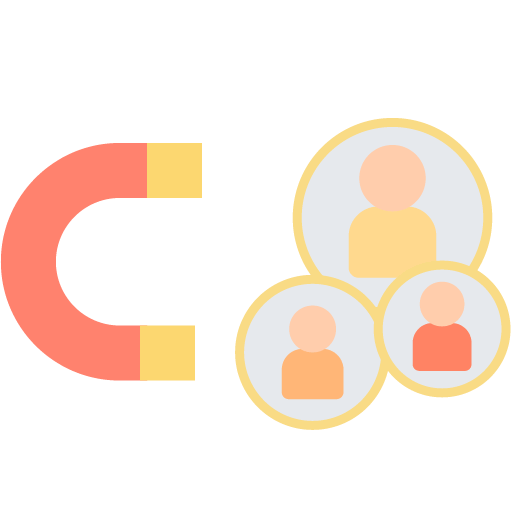 A new way to attract customers
Different from normal business, a rental brand gives customers a new way to shop online. They can have the products on repeated occasions with no need to buy it! This is the best way for customers to save money from buying infrequently-used items, or sometimes just luxury products. You can be the provider that fulfills their needs!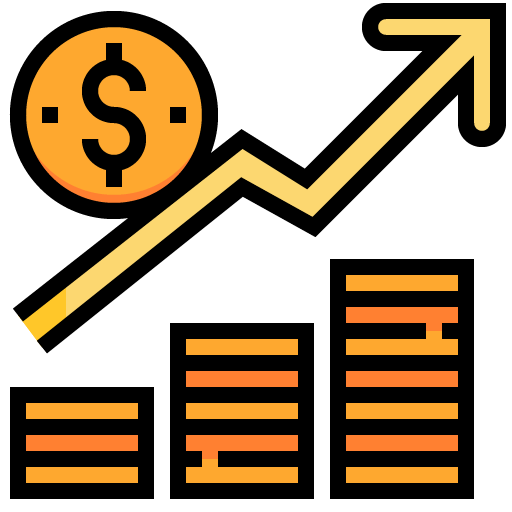 Increase your revenue at ease
Having more repeated orders will definitely increase your sales. Customers can come back from your store for future rental activities. You can be the providers of various services for customers, which will bring your good reputation goes far! There's no doubt that customers are attracted to your rental business - a cost-saving way to get what they want!
Quickly set up your rental business
Create new type of product - Rental product
You can easily create and edit the new type of product for rent in Magento backend. Every attribute of rental products can be edited based on your requirements, and it's just as simple as manage your usual products!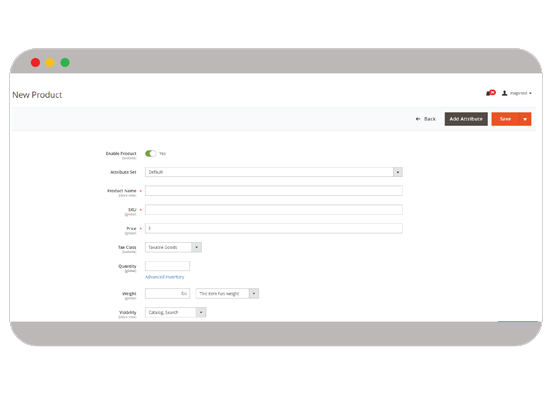 Set a rental period for each product
If you are struggling to run your store systematically as well as giving customers a seamless journey, Magento 2 Rental System will help you set up a specific time for each function!

Advance Reservation Period: Maximum period from now can a rent start. This prevents selecting renting time too far in the future.
Maximum rent duration: default maximum rental period. Each product can have its own maximum duration in the product settings.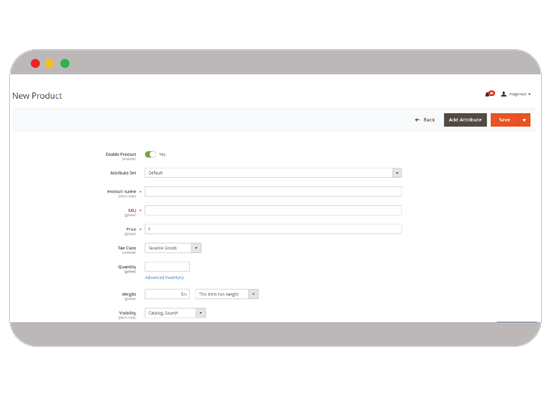 Choose fixed price and additional price
There are different criteria you can fill to make the pricing rules clearly:

Base price and Base block (required): Set the rental price for each rental period/duration
Additional price and additional block (optional): Set a different price for additional durations which exceed the base block.

You can calculate the rental price with or without the additional block. Our algorithm will deliver the exact amount that customers must pay.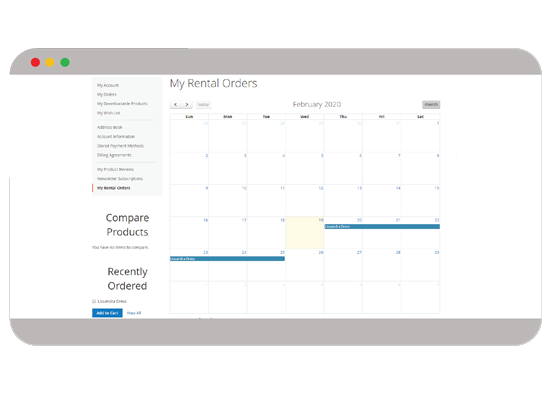 Set up two types of delivery
There are two types of delivery that you can select on the backend: Shipping or local pickup. For shipping, admins can set approximate lead time which is displayed on the product page. For pickup, admins can choose pickup address and show it on the product page. Store owners can allow customers to choose between two types or fix the delivery choice on only one method.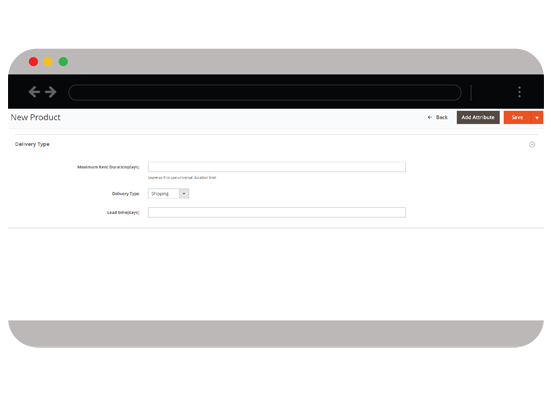 Manage every rental activity of your orders and customers
Follow a thorough report on data and status of orders
On the Orders page, you can view and manage rental data at ease. The details are organized thoroughly so retailers can follow every order. The info is in the grid table and contains available quantity and time rented. Thanks to clear rental data, you can effortlessly keep track of your stock. There are six statuses of orders so you don't have to worry about getting lost in your own store! The extension also supports CSV and Excel XML file export.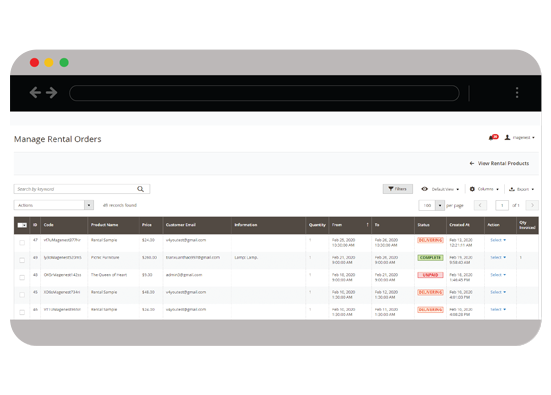 Set up and display important time and dates
Magento 2 Rental System makes it easy for you to inform customers about important times and dates so that avoiding unsuccessful transactions.

Days off: select the day(s) customers can't choose as start/end of rent duration
Opening/Close hours: available hours when selecting rent duration
Holiday: select day(s) off for special occasions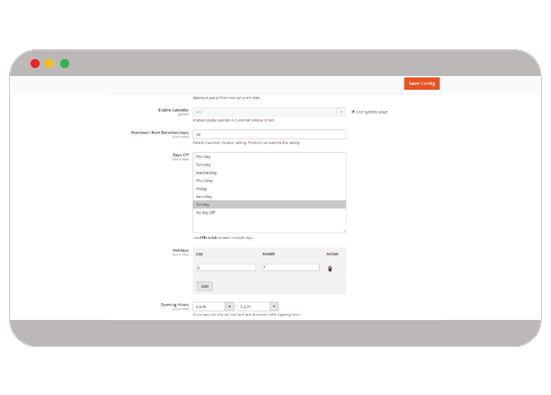 Avoid overlapping orders through hold rate
Magento 2 Rental System includes the Hold rate to help you control your inventory and prevent overlapping orders. Hold rate is the maximum product quantity that customers can hold when their orders have not been invoiced yet. This will avoid overlapping orders as well as a shortage of products for other buyers.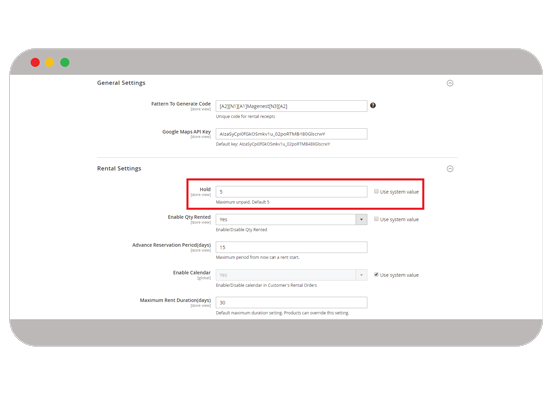 Smart interface and notification system
Select rental products with multiple options
It's time for customers to pick their perfect items! They can choose in a wide range of choices: From products, additional options to the delivery method and rent duration.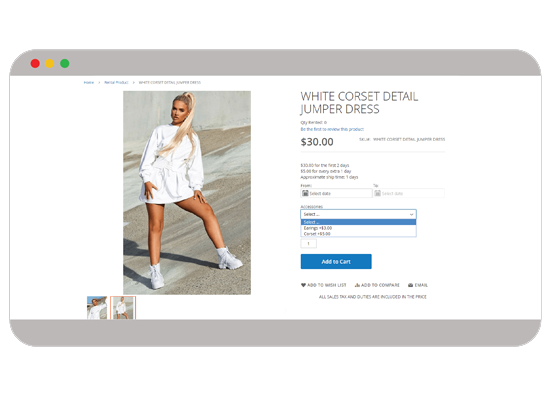 Set up email templates and rental receipts with unique identification code
Your rental receipts will be sent in emails. Admins can choose between the default template or customized template from your store. Each order will receive a unique identification code so both retailers and customers can keep track of the workflow and quickly identify their products.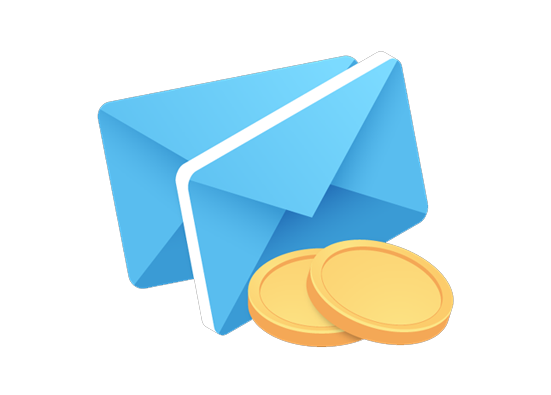 Follow rental activities easily through calendar and report
You can see everything clearly in order to not miss any important information. Special dates are displayed in a comprehensive calendar. You can follow the status and rental history in your account easily. Magento 2 Rental System connects customers with retailers effectively for a successful purchase.
More useful features
Provide rental policy

Make sure customers understand the rules and policies of your rental system. You can also send a confirmation request before buyers finish the transaction.

Integrate Google maps

Show exact pick-up locations for customers at the frontend.

Show the number of rent times

Display how many times the product was rent to provide real-time proof for future customers.
Reason to choose Magenest
Free lifetime
software updates
Verified by
Magento Marketplace
One-time payment
without hidden cost