Magento 2 Rental System lets store owners add rented properties. Customers can rent items for a selected period of time and pick up their orders in-store or receive them via shipping
Set rental periods for products by hours or days
Set advanced rental period and maximum rent duration for rental products
Advanced pricing: Set separate pricing for a fixed rental period and for additional rental time.
Let customers pick up their orders at store with Google Maps for directions
Set up lead time when customers choose to receive their orders via shipping
Add a default rental policy page
Assign email templates for rental receipt with a unique identification code
Track stock quantity, available quantity and times rented of rental products
All essential tools you need for your rental business packaged in Magento 2 Rental System

Easily customizable rental options to fit your Magento store
You can turn any products into the rental type with your own setup so that you can gain more profits.

Effective rental orders management for a smooth operation
Everything is under your control. You know exactly rental statistics in real-time for business planning.
Easy configuration to set up your own store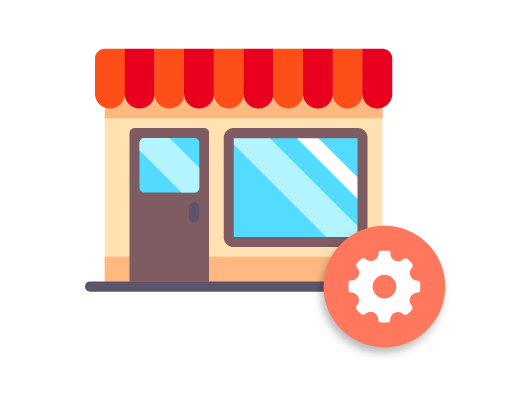 A rental receipt code is generated automatically.
Google API Keys are integrated to show the map on the product page.
Settings for the maximum rental period and pick up address.
Settings for opening time and day-offs.
Policy announcement.
A new type of Magento product - Rental product is created and edited easily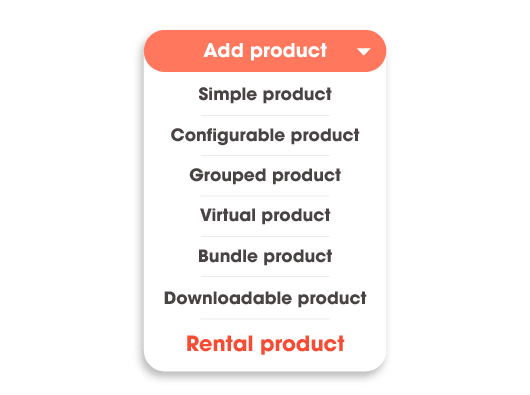 You can opt for adding a new product with rental product type by 2 ways: Catalog > Products > Add product or Catalog > Rental Products > Add Rental Product. You are enabled to set:

Base price and Base block.
Additional price and additional block.
Rental price calculation.
Delivery type (pickup or shipping with lead time)
Rental products and orders are managed easily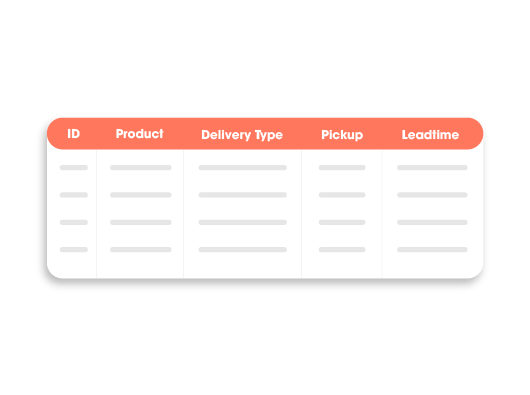 Info in grid table shows available quantity and time rented.
Track the status of orders (pending, delivered, returned).
Easy-to-use storefront for customers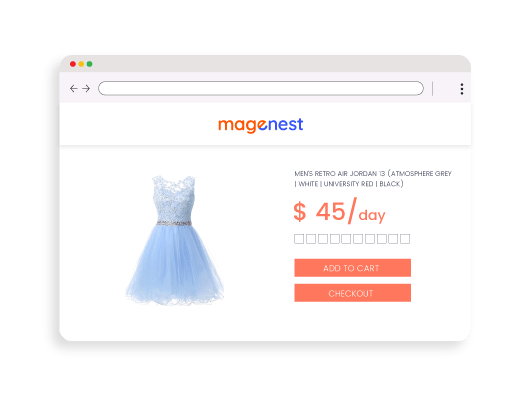 Choose rental products with multiple options.
Plan a flexible rental scheduled time.
Google map integration for better customer experience.
A full list of Magento 2 Rental System features
Backend Features
Add a rental with a new product type - Rental product.
Set various rental period for products: hour(s), day(s)
Set price for a fixed rental period and additional rental time.
Choose delivery types: shipping or store pickup.
Set address for store pickup and lead time for shipping.
Create additional options for rental products with a fixed price or based on rental hours.
Set advanced reservation period and maximum rent duration for rental products.
Set store's days off and available hours for renting.
Add store's rental policy.
Assign email templates for rental receipt with a unique identification code.
Track stock quantity, available quantity and times rented of rental products.
View and change the status of rental orders.
Frontend Features
Choose a suitable rental duration and multiple options.
View local pickup locations with integrated google maps.
Access personal rental history and status.
Reason to choose
Magenest
Free lifetime
software updates
30-day money-back
guarantee
Verified by
Magento Marketplace
One-time payment
without hidden cost
GENERAL QUESTIONS OF RENTAL SYSTEM
Is it possible for the consumer to checkout hired product and e-commerce product in the same transaction?

Yes, our extension allows customers to checkout with rental product and e-commerce product in the same cart.

How the order would be in case customer checks out with both rental and e-commerce product? Will there be only one order or two seperate orders for each type of product?

In this case, the order will be separated into two single Magento orders when viewing from the backend.

If rental and e-commerce product is placed in the same order, then how order status can be updated or maintained?

After the order is paid, the rental item will create its own entry in our Rental Orders menu (on the backend, go to Catalog > Magenest Rental Management > Orders). From here you can manage rental information and status.

What if customers rent for 10 days and on day 5 want to cancel?

On the management side, you can set the rental order as returned from Magento backend. On the financial side, it's up to you and your store's rental policy. Our extension does not handle payment processing.
Does your extension support grouped product?

Our extension does not support grouped product as default feature. In case you need this feature, we provide the customization service for this feature. Please contact us via email sales@magenest.com to discuss further on the customization.

Can we set the additional rental product for both rent and buy?

The additional product can not be set for purchasing.
Version 1.2.0 - Updated: October 6, 2019
Compatibility: Magento 2.2.x, 2.3.x (Open Source and Commerce)
* Compatible with Magento 2.2.x, 2.3.x
* Add multiple date format
* Add tax price display
* Refactor code
* Fix bugs

Version 1.1.1 - Updated: May 24, 2019
Compatibility: Magento 2.1.x, 2.2.x, 2.3.x (Open Source and Commerce)
* Fix a conflict with grouped products

Version 1.1.0 - Updated: May 19, 2019
Compatibility: Magento 2.1.x, 2.2.x, 2.3.x (Open Source and Commerce)
* Add policy configuration
* Add locale configuration
* Add frontend i18n
* Fix bugs
Version 1.0.0 - Updated: April 1, 2019
Compatibility: Magento 2.1.x, 2.2.x, 2.3.x (Open Source and Commerce)
* Compatible with Magento 2.1, 2.2 and 2.3
* Add new product type: Rental Products
* Add a new tab for product edit: rental settings
* Add rental configurations
* Add rental orders management
* Track stock qty, available qty and times rented of rental products
Send rental receipts