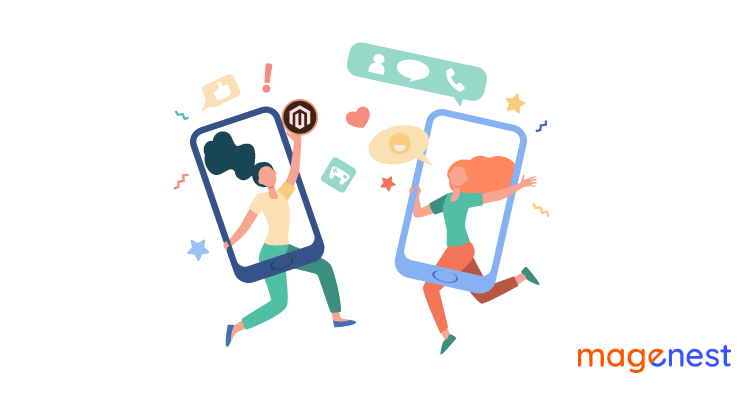 Have you ever recognized the great power of referral links previously? And why is the Magento 2 Affiliate Program nowadays a must-have extension for every Magento-based store?
This cost-effective marketing effort will drive more traffic to the store site, therefore, increase the rank on search engines. But the biggest advantage of having an affiliate program is that it is generating positive sales motivation, which further results in a dramatic increase in the sales of the store.
Here is a compilation list of the 7 best Magento 2 Affiliate extensions free and paid in 2023 for you to take into consideration.
#1 Magento 2 Affiliate Extension by Magenest
With Magento 2 affiliate extension by Magenest, you can design attractive campaigns effortlessly with your own rules. There are four different types of programs for you to create campaigns (Pay per Lead, Pay per Click, Pay per Sale, Pay per Discount) which enables for more various ways for customers to earn commissions interchangeably.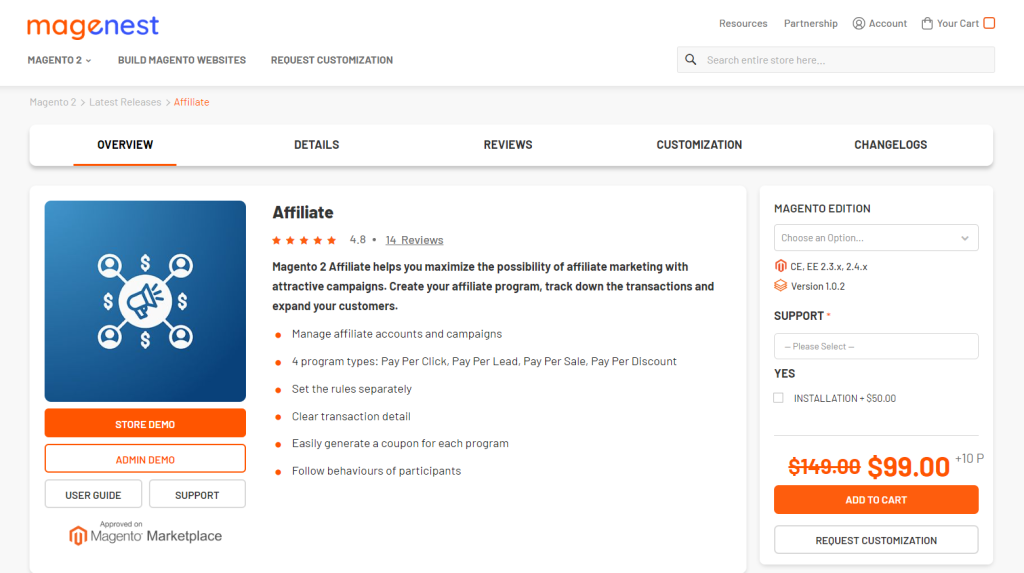 This extension not only helps you optimize the possibility of Affiliate Marketing with appealing campaigns but also tracks down every transaction and expands your customers.
Highlight Feature:
Advantages for affiliates
Receive and design their materials for referring (e.g., referral link, coupon, unique code)

Commissions are subtractable when it comes to refund

The interface is easy to use and easily set up banners

The affiliate withdrawal process can be done with ease
Advantages for admin:
4 types of campaigns to choose from: Pay per Sale, Pay per Lead, Pay per Click, Pay per Discount

View, accept or reject all withdrawal requests with the Withdraw Listing page

Adjustable withdraw limitation

Limitless tiers for each affiliate program

Full control over the affiliate program at ease

Set the rules separately

Track behaviors of participants
Prices: $149
Compatibility: CE, EE 2.1.x, 2.2.x, 2.3.x
#2 Magento 2 Affiliate Extension by Mageplaza
Magento 2 Mageplaza Affiliate extension is one of the renowned affiliate marketing solutions for your online brand. Along with affiliate programs, you can generate more website visits, brand awareness, and bring more opportunities to earn a huge amount of money for sales for your Magento 2 store.
Highlight Feature:
Design multi-affiliate marketing programs

Create different levels of commissions for affiliate programs

Customizable affiliate link: Hash and Parameter

Establish multiple Affiliate Groups

Invite friends by sharing on social channels

Enable effectively designing and managing banners and links

Capable of withdrawing the commissions
Prices:
Smart pricing: $99 - $199 - $299 depending on different editions.
Compatibility: Magento 2.1.x, 2.2.x, 2.3.x, 2.4
#3 Magento 2 Affiliate Extension by Magecomp
Managing affiliate programs is a cumbersome task if you don't have a suitable system to manage them. Magento 2 Magecomp Affiliate Extension will be a great tool for your store since it directs customers to the affiliate product they want, together with increased traffic and hence revenue for the store.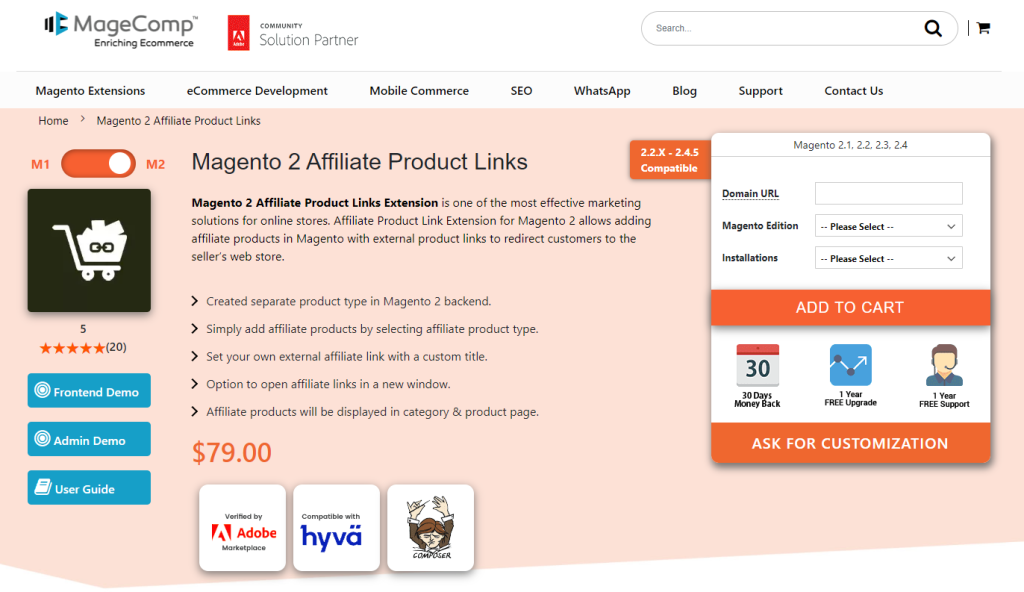 Highlight Feature:
Add affiliate products by picking affiliate product types in the Magento store.

Provide added affiliate products with external links with customizable text.

Able to open affiliate product links or external links in a new tab.

Affiliate products can be seen both on the product and category page once configured
Prices: $79
Compatibility: Magento 2.1, 2.2, 2.3, 2.4
#4 Magento 2 Affiliate Extension by Mirasvit
Launch affiliate programs that are fully featured in your store with the Magento 2 Mirasvit Affiliate program extension. You don't need to use a third-party service and pay extra fees. This extension for Magento 2 will help you own an advanced affiliate program that is more attractive to your potential affiliates. Furthermore, you can increase sales from alternative channels.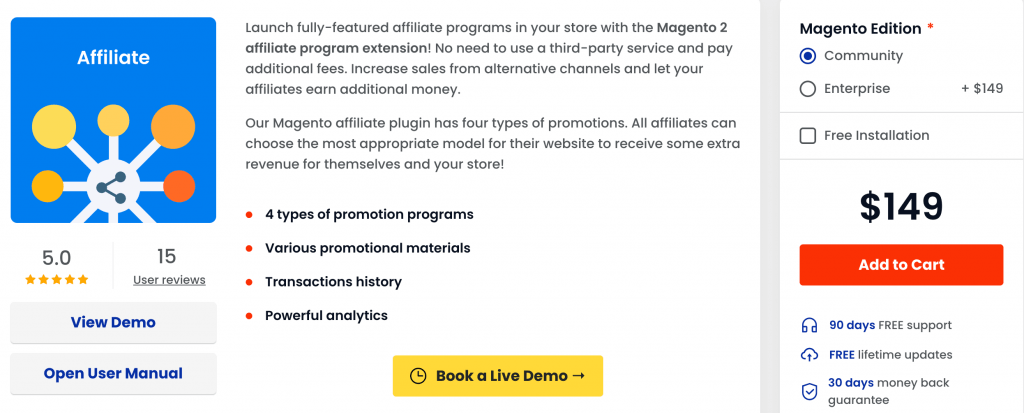 Especially, this Magento affiliate plugin has four types of promotions for every affiliate to choose the most suitable one for themselves.
Highlight Feature:
Clear and convenient rules

Easily accessible to promotional advertising

Wipeout all transaction history on the account without leaving a trace

Simple withdrawal process to do in a flash

Backend Dashboard brings put valuable insights

Easily-managed Programs, Commissions and Withdrawals

Banners and Reports are added in the same spot
Prices: $149
Compatibility: Magento 2.0, 2.1, 2.2, 2.3, 2.4
#5 Magento 2 Affiliate Extension by Plumrocket
If you want your online store to increase traffic and potential customers, strengthen the store's branding, rank higher on SERPs, Affiliate Extension by Plumrocket will be a terrific choice for your Magento store. It will power a well-organized affiliate program to actively receive more traffic and sales, generate qualified leads, drive brand awareness, and gain better search engine rankings.
With the extension, you can award your affiliates by tier percent rate, fixed percent rate, tier amount, or fixed amount– based on different conversions of sales.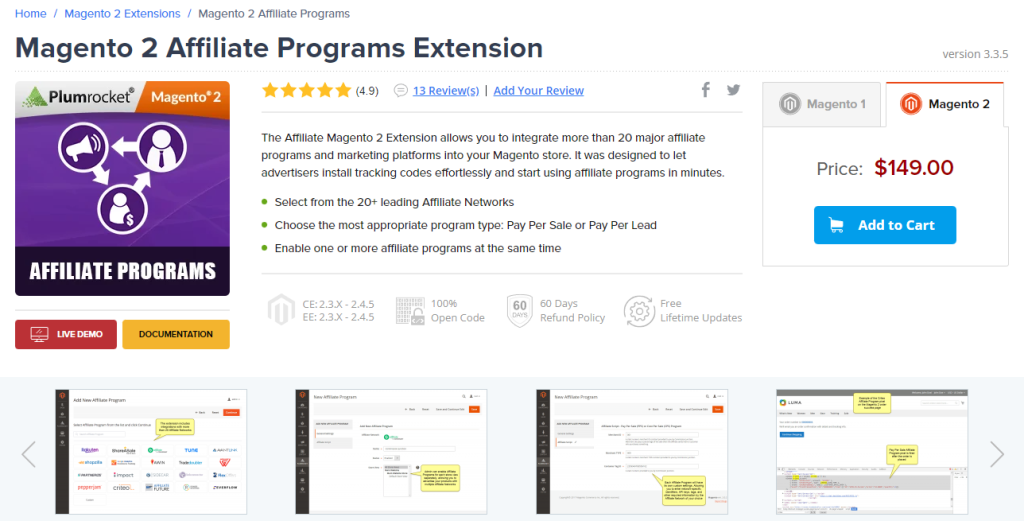 Highlight Feature:
Manage

effectively and varietally

pay-per-sale affiliate marketing program

Design various affiliate campaigns with different terms

Modifiable for specific products and customer groups

Set reward rates as money value or percentages

Create reports with important campaign stats

Properly manage products and customers
Prices: $149
Compatibility:
Magento CE: 2.2.X - 2.4.X
#6 Magento 2 Affiliate Extension by Amasty
When it comes to affiliate marketing of Magento 2, which has already shown itself to be an effective tool that generates massive traffic to your website, there is one of the most highly flexible referral program tools: Magento 2 Affiliate Extension by Amasty.
It allows you to launch and manage a limitless number of affiliate programs with full features right from your admin panel. As a result, your full-scale affiliate programs on the website will effectively run to drive sales from alternative channels.
Highlight Feature:
Launch affiliate programs on the basis of cart price rules

Determine a particular commission type for each program

Config discounts and payout requirements

Use a wide variety of promotional materials

Administrate affiliate accounts and transactions

The frontend is mobile and optimized
Prices: $199
Compatibility: Magento 2.3.1 - 2.4.x
#7 Magento 2 Affiliate Extension by Landsofcoder
Affiliate marketing is one of the most important marketing tools for selling online. Are you currently looking for a perfect but FREE extension to design your affiliate program?
Magento 2 Affiliate Extension is here for you. Although this extension is free, it is fully responsive, quick, and simple for affiliate partners to join, moreover, it will effectively help you to drive a considerable amount of sales from your affiliate channels.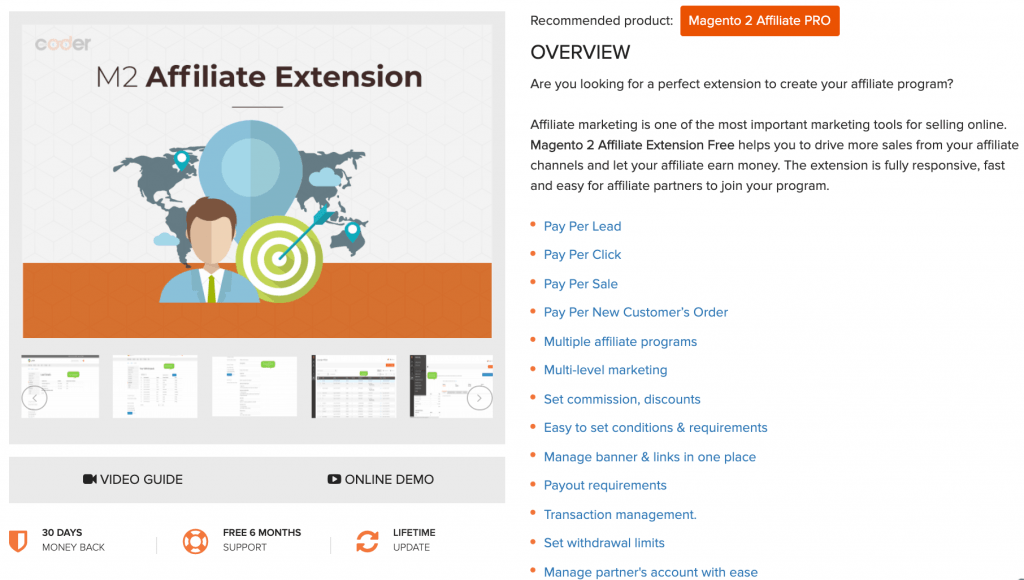 Highlight Feature:
Enable Pay Per Sale, Pay Per Lead, Pay Per Click, and Pay Per New Customer's Order

Clear and easy to use with various affiliate programs

Multi-level marketing

Easy to set conditions & requirements, commission, discounts

Manage banner & links at the same location

Manage transaction partner's account conveniently

Mass payments and Payout requirements

Set withdrawal limits and withdrawal commissions through Paypal & Bank Transfer
Prices: $199
Compatibility: Magento 2.0.x, 2.1.x, 2.2.x
Final thoughts
When the cost to acquire a new customer rises constantly, affiliate marketing is proven to be one of the most cost-effective acquisition ways for eCommerce businesses. It's undoubtedly that an appropriate affiliate program can generate a notable boost in your online revenue.
Implementing this performance-based marketing program is affordable and low-risk to earn a second revenue stream for your Magento-based store. Hope the above list of Magento 2 affiliate extensions is likely to set up a proper affiliate program In your Magento.