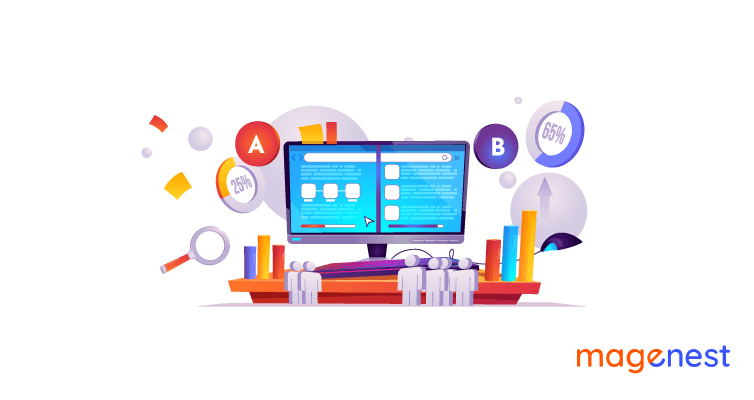 Can you guess what is a perfect tool to optimize your conversion rate? Many of you may already know that it's essential for your company to get direct data from customer behaviors in order to evaluate the conversion funnel and as well as the effectiveness of your marketing campaign. Today we will focus on the A/B Testing method, one of the most powerful ways to elevate any e-commerce site. Now let's start to find out a complete guide about A/B testing that helps drive up sales and keep your e-commerce business profitable.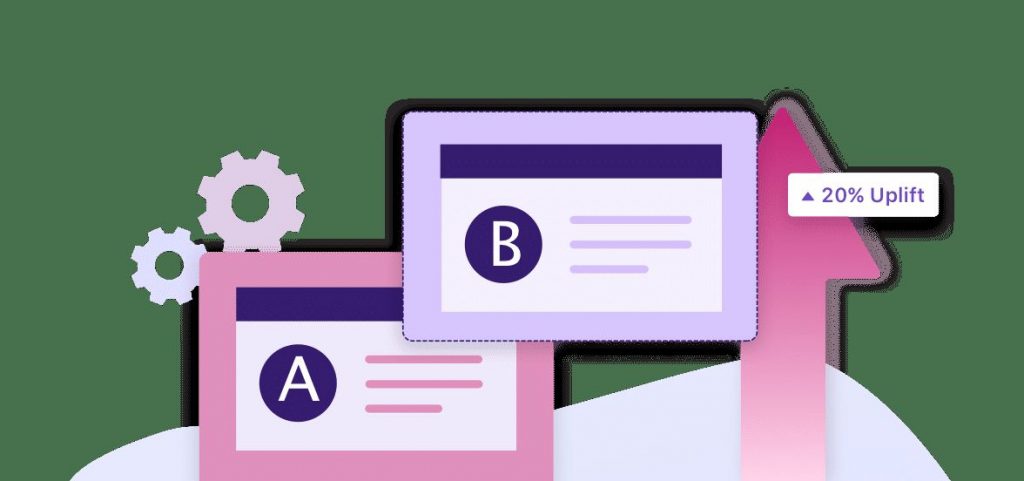 A/B testing and what is it?
A/B testing (also known as bucket testing or split testing) is a process that compares two elements of the same web page with segmented website visitors coming at the same time. The purpose is to find out which variant would create more conversions for your business.
The higher the number of visitors to your website, the better it is for your online store because it means you stand higher chances of expanding your business, you can either acquire new customers or strengthen relationships with existing ones.
Conversion rate is a rate at which a site can drive conversion (customers' action). Your conversion funnel is key to see whether the website has a big volume of traffic and if it converts consumers to the site. If you can optimize your funnel, the conversion rate would get higher.
The great thing is A/B testing can help you do that.
The winning variant in A/B testing typically is the one that gives higher conversions compared to the other, choosing that variant can bring about better outcomes for your web.
Also, each website has unique metrics for conversion. For example, for B2B it's the generation of qualified leads, while for e-commerce, it may be the product sales. Based on Conversion Rate Optimization (CRO) data, you can gather both quantitative and qualitative customer insights to understand their preferences and optimize your conversion funnel.
Why should you apply A/B Test?
If e-commerce stores today are unhappy with abandoned carts, B2B businesses on the other hand, often have problems with the unqualified leads. Meanwhile, the media and publishing industry is suffering from low viewer engagement. And if you're familiar with any of this, consider trying A/B testing to tackle your problems.
Building a website or launching a marketing campaign doesn't make sure your business succeeds. They are only the very first steps in running a company online. That's the reason why we need A/B testing to know what kinds of words, images, videos, and other factors work best. Keep in mind that even the simplest changes can have a bigger impact on conversion rates than you might think.
A/B testing allows you to see whether your new updates or new features are on the right way to boost sales. For example, by A/B testing you could know how your customers react to the changes you've made. After that, you're more likely to make proper decisions to modify your website without wasting too much time fixing unexpected mistakes. Making changes without testing may or may not lead to success but the thing is we should not take that risk. We always can make good outcomes more certain only with A/B testing.
How can an A/B Test be performed?
Structured A/B testing is conducted by pinpointing the biggest problems or areas that need to be optimized. Follow 5 different steps to perform an effective A/B test program:

Step 1: Collect relevant information
Before developing your existing system, you need to carry out thorough research to find answers to crucial questions like: How many people coming to the website per month, what are the conversion goals, what types of content drive the most traffic, and all other possible questions related. Knowing exactly how your current website is performing is significant to build an effective A/B testing plan.
Use analytics tools for websites such as Google Analytics, Mixpanel, Omniture,... These testing tools allow you to figure out statistics on your most visited pages, pages on which visitors spend the most time, and pages with the highest bounce rate. Shortlisting potential pages with high revenue or a high amount of daily traffic would give you deeper insights into qualitative aspects. Based on the collected data on visitors' behavior, you can identify the strengths and weaknesses of the website and move on to the second step in the process.
Step 2: Examine and make hypotheses
By making research observations and creating alternative hypotheses based on data resources, your business is one step closer to reach the conversion goals. After gathering visitors' behavior data by using quantitative and qualitative research tools, now it's time to analyze and make use of that data. Every bit of data collected needs to be utilized effectively to formulate hypotheses. Once you come up with possible hypotheses, test them against different parameters such as its impact on macro and micro goals, whether it gives you many opportunities of winning customers or is easy to set up, etc.
Step 3: Create variants
The next step in A/B testing would be to develop variations based on those hypotheses and make comparisons of them against the current version. A variation version is just another existing version with some changes that you wish to test. Multiple variations can be tested at the same time to see their functionalities and compatible features.
Your website can also take advantage of A/B testing software (for example, Optimizely) to check if modifications work well on your new version.
Step 4: Run A/B test
A perfect A/B test should have only one element experimented at one time unless you want to cause conflicts because of changes from different elements.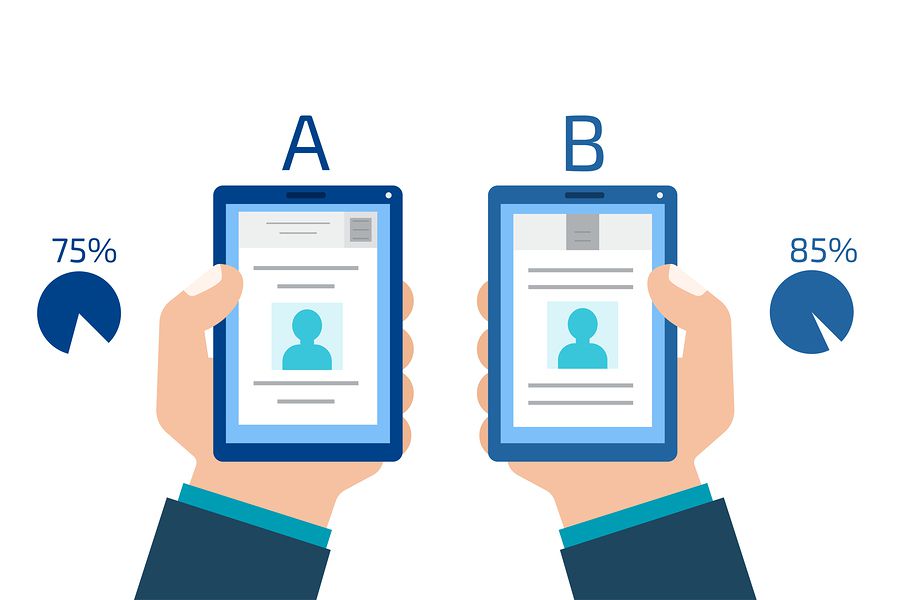 It's better to run two pages simultaneously and the A/B tests should last at least a week or more, because a short amount of time may produce less reliable results.
Take time to test considerable changes first as they deserve to be paid attention to, rather than microelements. Besides, big changes tend to make a greater difference in your A/B testing program.
Step 5: Carefully analyze results
At this last step, result analysis plays a crucial role in your testing process. All that you have done before, your time and effort are to reach this critical stage. Carefully analyze statistics by considering various metrics.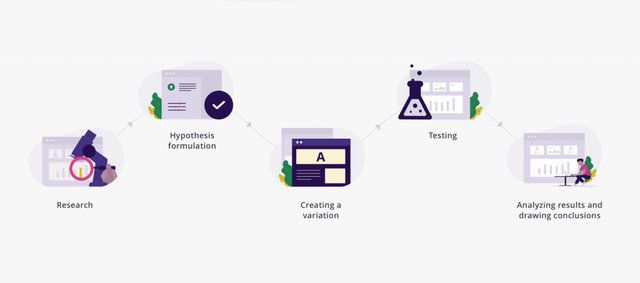 If it's clear through the test result that the new version you're looking for outperforms the existing one, your testing journey ends here. Apply what you have learned and experiment on your website to boost engagement rates.
On the other hand, don't worry if your test comes out with a negative result or even no result at all. We recommend you consider the process as a learning experience and propose a new hypothesis to try again.
What elements to test in A/B Test?
It's true there are some elements that seem to contribute to conversions more than others, you should devote your time and energy to more impactful elements to run A/B tests. Here we are listing key elements that should be considered for your A/B test:
Content: headlines and sub-headlines, text, product descriptions, writing style, etc. Every marketer knows that content is the most important aspect in business and marketing. Make sure you choose the right way to deliver messages for the right audiences. Pay attention to things like headlines too, because it's the first thing that affects people's decision whether to land on your page or not. Keep your headline concise and get to the point. 
Images and videos: make good use of images and videos to promote your brand in an eye-catching way. Imagine anyone would choose 5-page lengthy text instead of a 30-second video to know more about your company? If this question is easy for you to answer immediately, then you know what your website should be demonstrating. Always create a website with both high-quality media and rich in content. 
Design: theme colors, fonts, placement of menus navigation bars, how your website looks matters more to your business than you might imagine. Attractive and well-designed websites are no doubt attract more attention than those that are not. Don't forget to take time doing research to figure out what your visitors like and dislike. Mixing these criteria properly can leave a huge impact on customer's impression.
Other elements: CTA buttons, landing page, homepage promotions, social sharing buttons, purchase funnel, email marketing, etc.
In conclusion
Magenest hopes after reading this article, you now all know that A/B testing is a powerful resource to assist any e-commerce business in making their game-changing decisions. Follow each step above as well as other insights provided above to help your website boost sales and conversion rates. Apart from interesting posts like this one, our store covers every marketing tool you need to run your online store smoothly.