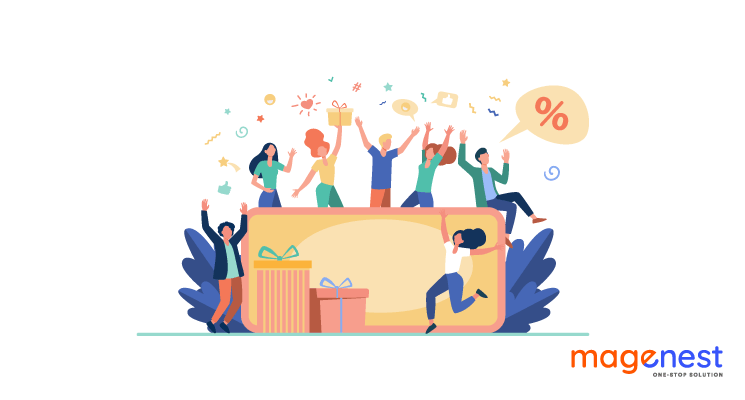 If you are still searching for a broad solution that enables your customers to design and receive a gift card, you can consider adopting Magento 2 Gift Card extension as a comprehensive management tool to promote your eCommerce store and your relationship with the customers.
These are the 10 best Magento 2 Gift Card extensions from hundreds of providers in the market today, with various prices from $0 (free) to $499.
What is a gift card?
Have you ever wondered "what is gift card number"?" "What is gift card code?" You need to see this if you have.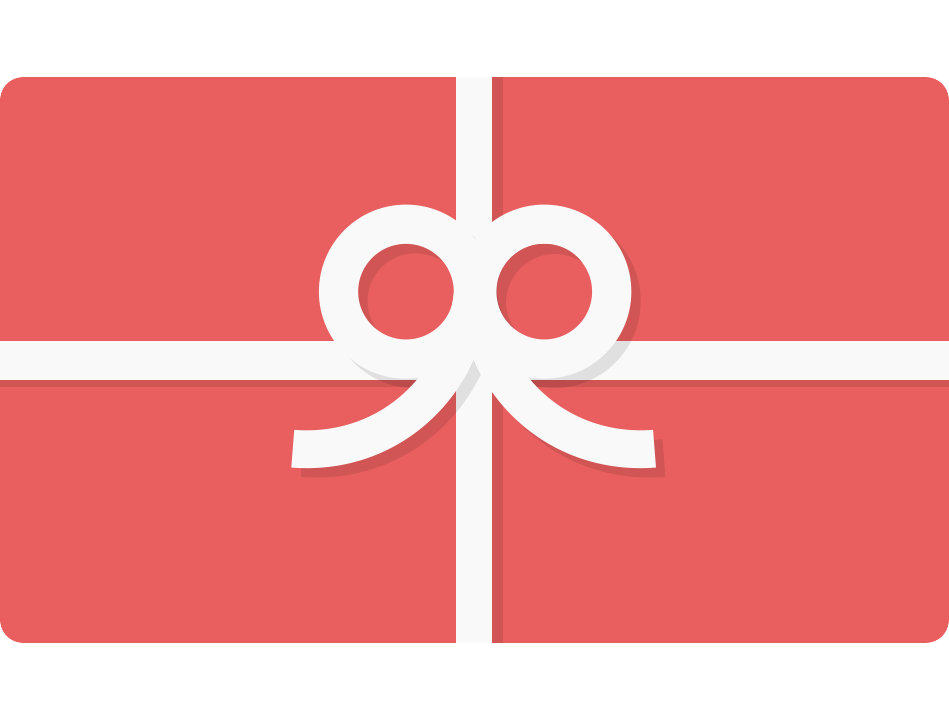 According to Wikipedia, a gift card (gift certificate, gift voucher or gift toke) is a prepaid stored-value money card, can be an alternative to cash for purchases in a particular shop or related businesses.
Gift cards are given out by different companies as rewards or gifts or a promotion strategy by retailers and marketers to tempt the receiver to return to the store. Therefore, they are subject to an expiry date and only redeemable for purchases, cannot be cashed out.
Main types of Gift Cards
According to the Federal Trade Commission, gift cards grow in 2 main types. These are:
Cash Gift Card (or Bank Gift Card)
Cash Gift Card can be used everywhere, These gift cards usually indicate the logo of specific payment networks. We usually see some sponsored by organizations like Visa, American Express, MasterCard, ...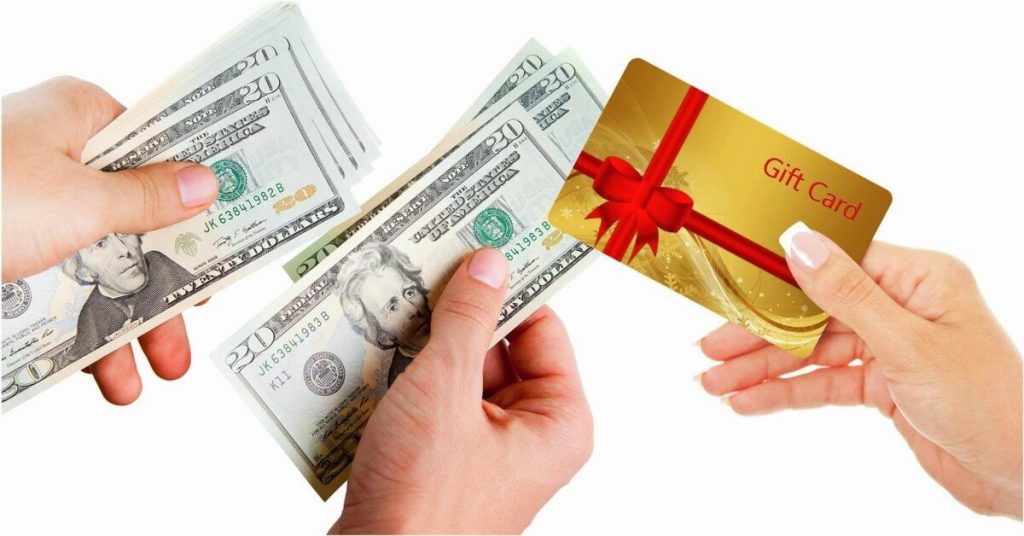 This type of gift card offers great flexibility as you can use them everywhere credit cards are accepted. Its functions are the same cash which enables you to pay bills online. They save recipients the trouble of exchanging or returning a gift.
Nevertheless, these gift cards can't be personalized. Essentially, It's a substitute for giving cash, so it's not a great gift for family or close friends.
Store Gift Card (or Retail Gift Card)
Store Gift Card is issued by a particular retailer, such as Starbucks, Victoria's Secret, and usually used only for the same retailers or brands that advertised them.
This type of gift card gives you a chance to personalize your gift to show you care and grasp the receiver's interests.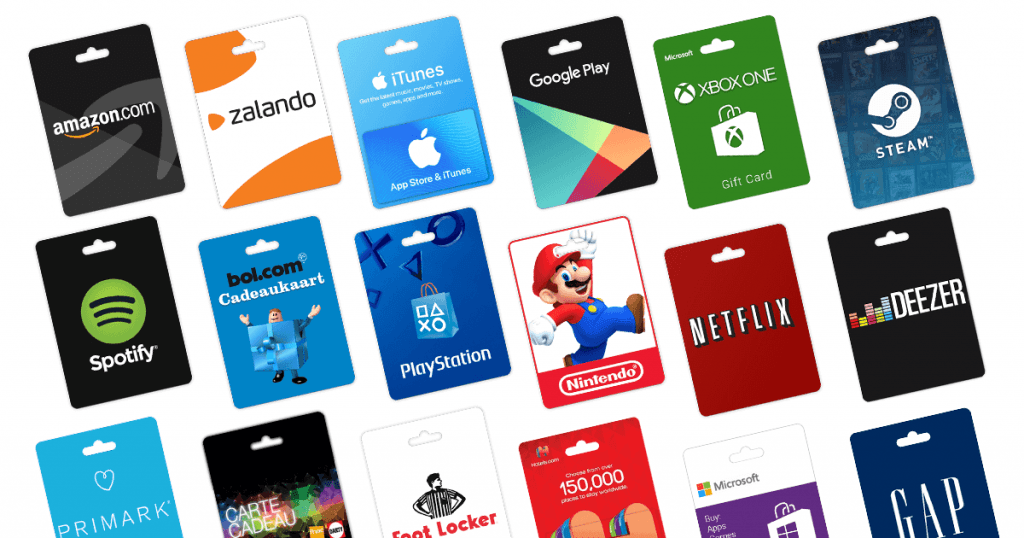 Numerous stores offer gift cards, yet they all implement their own policies for them. You have to be very careful about expiration dates. Most of them are valid for 30 to 90 days. Sometimes a demurrage policy can be seen in the fine print, which means the card falls a little bit of value every month. A $50 card after 4 months may only worth $40.
So what is gift card used for?
Running a Gift Card campaign is a fabulous way to increase sales. Magento 2 Gift Card extensions will help you create a powerful gift certificate system for your shop. It's so simple that it doesn't require technical skills or special developers.
With various types of Gift Card extension, your customers can purchase gift cards with or without a discount. They can give these certificates to their friends or directly redeem the gift cards whether on the website or at physical stores whenever they want to.
Furthermore, you can develop a sales-boosting campaign to engage customers and maintain your loyal customers coming back via other Magento loyalty applications like Reward Point or Store Credit.
Gift Card default feature in Magento
If your eCommerce website is Magento-based, you may be similar with the default feature allowing you to create gift cards as products. Each gift card has a unique code, which can be redeemed by only one customer during checkout. There are three kinds of gift card products in Magento:
Virtual gift cards sent through email

Physical gift cards that can be delivered to the recipient

Combination of the Physical and Virtual
Click here to see how to create a Gift Card using a product template, demanded fields, and basic settings.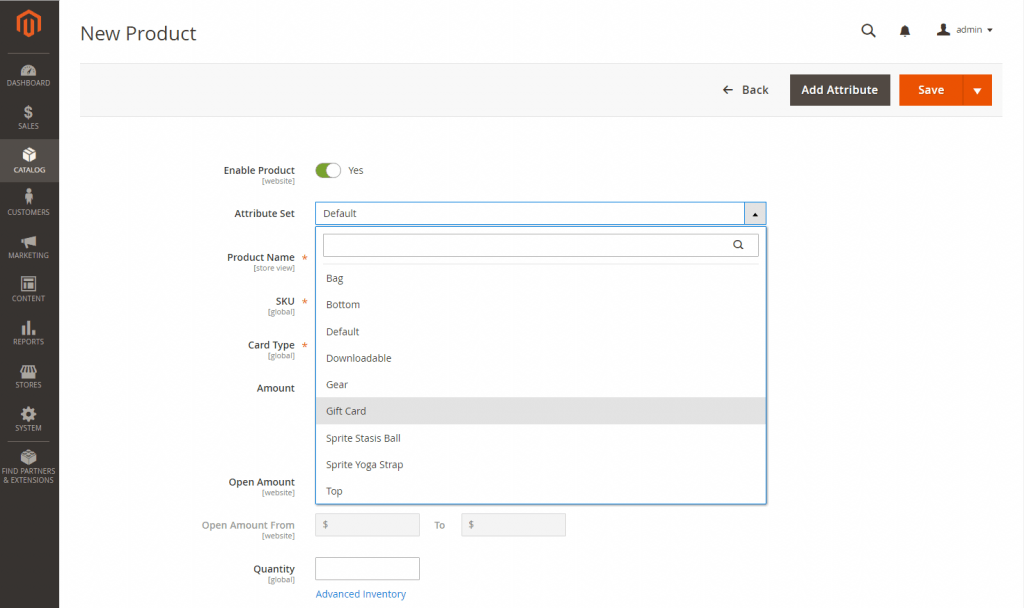 You should take into consideration that:
A code pool containing unique numbers must be created before offering gift cards for sale.

Gift cards can be set to Non-Redeemable or Redeemable.

The lifetime of a gift card can be set to desired days or unlimited.

The value of a gift card can be set to a fixed value or set to a maximum and minimum value.

A gift card account for the shopper can be formed when the order is placed or at the time of invoice.
Although Magento already provides users with tools to create their gift cards, the cards created are extremely humble and simple because there are few templates to choose from. Such trivia gift cards cannot draw the customer's attention when compared to competitors, as there are now lots of attractive-designed gift cards in the market.
That's why we need to adopt new and useful extensions, in order to reach our most important objectives: attract more and more customers.
10+ Best Magento 2 Gift Card Extensions
#1 Magento 2 Gift Card extension by Magenest
This is an excellent Magento 2 gift card extension free that lets customers purchase gift cards from your store flexibly and seamlessly. You will find it very useful because of a wide variety of necessary tools such as drag and drop design to entice customers to purchase gift cards.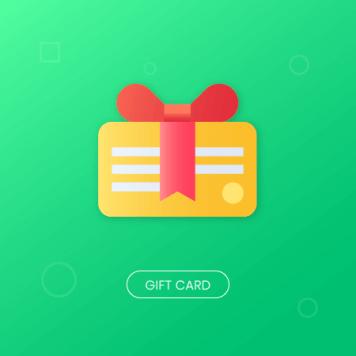 Feature Summary
Provide you with all tools to sell gift cards in a Magento store: Customize text color and value and other text fields of the card, attach personal messages, add images to design the visual of the gift card.

Provide customers the freedom to design their own gift coupon: Create and sell gift cards with different templates, a price range, and expiry date.

Manage gift card usage: gift card codes and usage status

Promote customers' ability to sketch a gift card from scratch by offer drag and drop tools

.
Pricing: FREE
Compatibility: CE, EE 2.1.x, 2.2.x, 2.3.x
#2 Magento 2 Gift Card extension by Mageplaza
Magento 2 gift card extension by Mageplaza will let shop owners give presents to their family, friends, and colleagues. It is flexible to plan and design their gifts personally and can be delivered through the post office, email, or printout.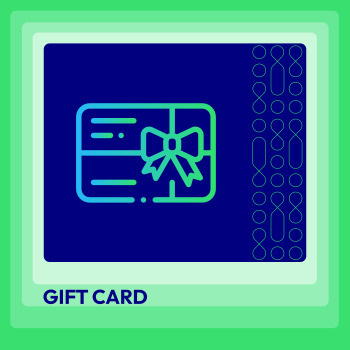 Feature Summary
Virtual or blended gift cards

Flexible gift card values based on the prices

Elegantly and attractively designed gift card

Fitting several different themes with custom designs
Pricing: $249
Compatibility: Magento Community and Enterprise 2.2.x, 2.3.x, 2.4.x.
#3 Magento 2 Gift Card extension by Webkul
Webkul provides a tool to helps admin create gift certificates based on product types. Customers also can create different gift cards by themselves and send them to friends, relatives as presents on special occasions.
Feature Summary
3 default beautiful templates of Gift Cards

Different price range alternatives: fixed price, price range, and dropdown

Support the themes, templates & check out pages
Pricing: $89.00
Compatibility: Magento, 2.0.x , 2.1.x, 2.2.x, 2.3.x, 2.4.x
#4 Magento 2 Gift Card extension by Amasty
The Magento gift card extension serves to send the gift cards created by customers. The gift vouchers can be sent by email or post office. If the customers bought the certificate, a bizarre code will be carried with the greeting message. Based on different pricing types, the extension design gift card using card images or uploading their personal images.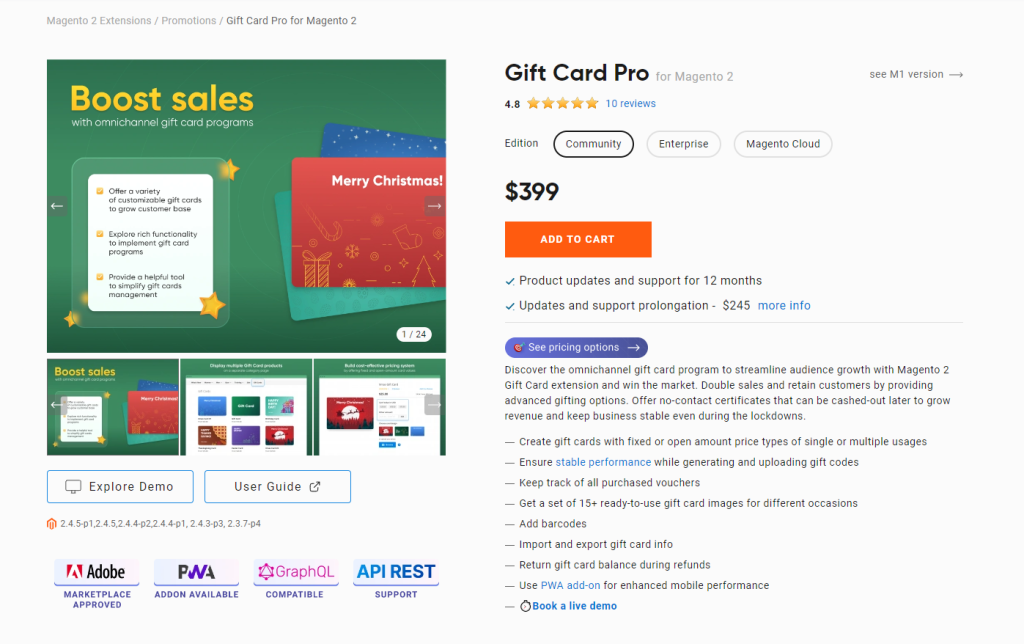 Feature Summary
Make gift cards base on different types of price

Manage purchased gift cards

Sendable, through email or post office

Provide pretty templates
Pricing: $399
Compatibility: Magento 2.2, 2.3, 2.4
#5 Magento 2 Gift Card extension by Mageants
This is a flexible means to develop compelling gift cards that balance your business model and customer preferences perfectly. Give these gift cards to your customers and allow them to send to family and friends through email or post or simply redeem the card.
Feature Summary
Grant custom design templates and adjustable pricing schemes

Support Physical and E-gift (Virtual) Card

Track all the purchased gift cards

Allow customers to add a custom message with a gift card

Maintain expiration date and warns to run timely promotions and keep customers notified
Pricing: $79.00
Compatibility: Magento 2.0.X - 2.3.X
#6 Magento 2 Gift Card extension by Mconnect
This module helps stores to increase customer loyalty by generating and sending unlimited gift cards or vouchers to your shoppers. Customers can choose to use it or customize it as per their needs. Besides, the admin can set the voucher usage based on the condition.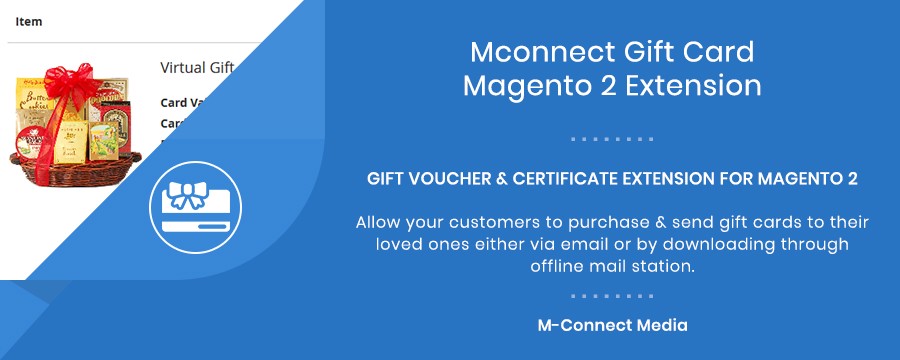 Feature Summary
Generate plenty of gift cards

Sent gift cards to your buyers through email or post office

Ability to use certificate value or a custom value

Control and track all purchased gift codes

Attach multiple voucher codes on the cart page
Pricing: $99.00
Compatibility: Community Version 2.0.x, 2.1.x, 2.2x
#7 Magento 2 Gift Card extension by Magedelight
This Gift Card extension Magento 2 brings about your customers the opportunity to send the gift card to their friends and family members. Based on the price, you can create various gift certificates. Besides, it's very simple to personalize gift cards by including the receiver name, sender names. From the backend, you can run purchased cards and customers or they can share the codes socially.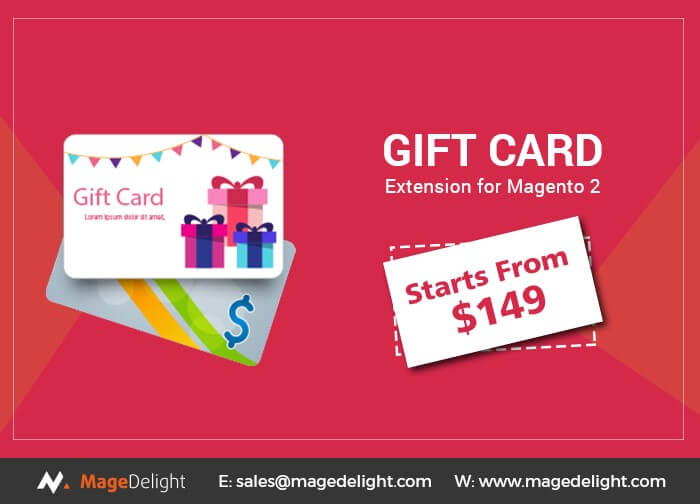 Feature Summary
Buying the physical or virtual gift cards

Gift cards can be sent by email or post

Extensive gift cards by fixed price or price range

Design gift card template quickly

Control the status of traded cards

Multiple coupon codes can be applied during checkout

Create and control numerous card codes from backend
Pricing: $99.00
Compatibility: Community & Enterprise 2.2.X - 2.4.X
#8 Magento 2 Gift Card extension by Aheadworks
This is one of the most prominent tools for customers to deliver the gift card designed with beautiful themes to their friends and relatives. Along with generic features, this extension offers multiple alternatives for your customers including flexible design, delivery methods, card balance tracker, convenience at checkout,...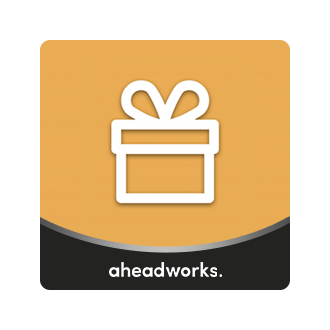 Feature Summary
Attaching the physical gift cards

Clients can address a personal message on the gift

Support API

Building design offered to the customers

The Gift code grid is directly added by the admin from the backend.
Pricing: $349.00
Compatibility: CE, EE 2.3.X - 2.4.X
#9 Magento 2 Gift Card extension by Mageworx
It needs a lot of time and effort to create a good gift-giving process. Hence, Magento 2 Gift Voucher extension is the solution for creating flexible gift certificates quickly and the customers will feel satisfied.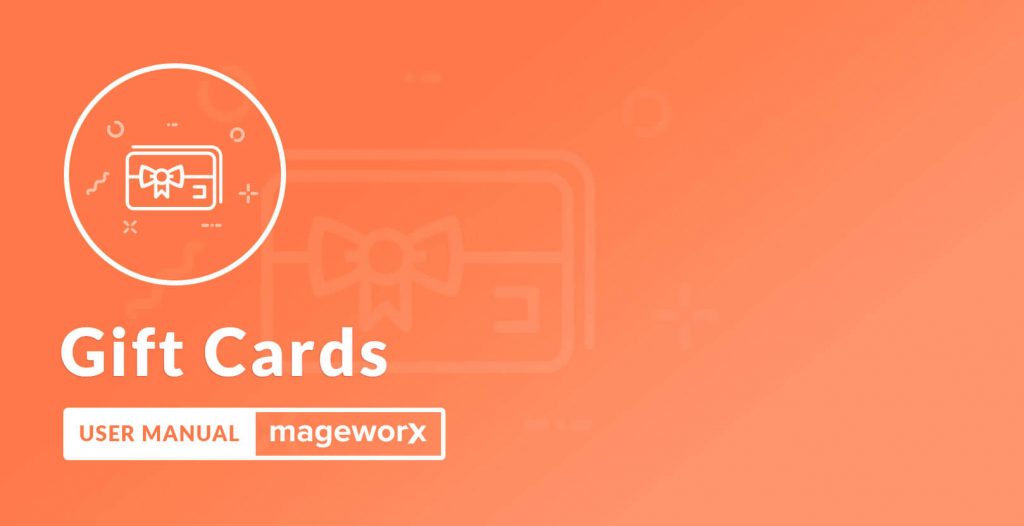 Feature Summary
Multiple gift card kinds such as email, print-out, mail

Various values and pricing schemes

Manage gift cards on the backend

Formulating card codes in bulk

Gift voucher with Expiration Date
Pricing: $199.00
Compatibility: СE, EE 2.3.x - 2.4.x
#10 Magento 2 Gift Card extension by Magetrend
This module can be adopted by all types of stores, enabling customers to design professional-looking gift cards. Through this extension, retailers can set up a proper gift card program to deliver a smooth gift-giving practice by offering high flexibility in making custom gift cards. This can be considered a smart marketing tool to increase sales and get your brand awareness.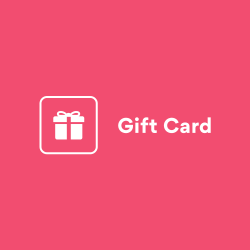 Feature Summary
Generate multiple physical & virtual gift cards

Adjust gift certifications to specific needs

Utilize card codes in the shopping cart & checkout page easily

Display gift card stability on customer account page

Control email notification at ease

Create unlimited card codes

Keep track of all card purchases

Offer multiple gift card images
Pricing: $74.00
Compatibility: CE: 1.4.2 - 1.5.x - 1.6.x - 1.7.x - 1.8.x - 1.9.x
Final thoughts
Have you found yourself a suitable one in this top 10 Magento 2 Gift Card extensions? Through a well-built extension, you are more likely to deliver an appealing shopping experience. Picking the best tool for your Magento shop is a fabulous way to help you kick start.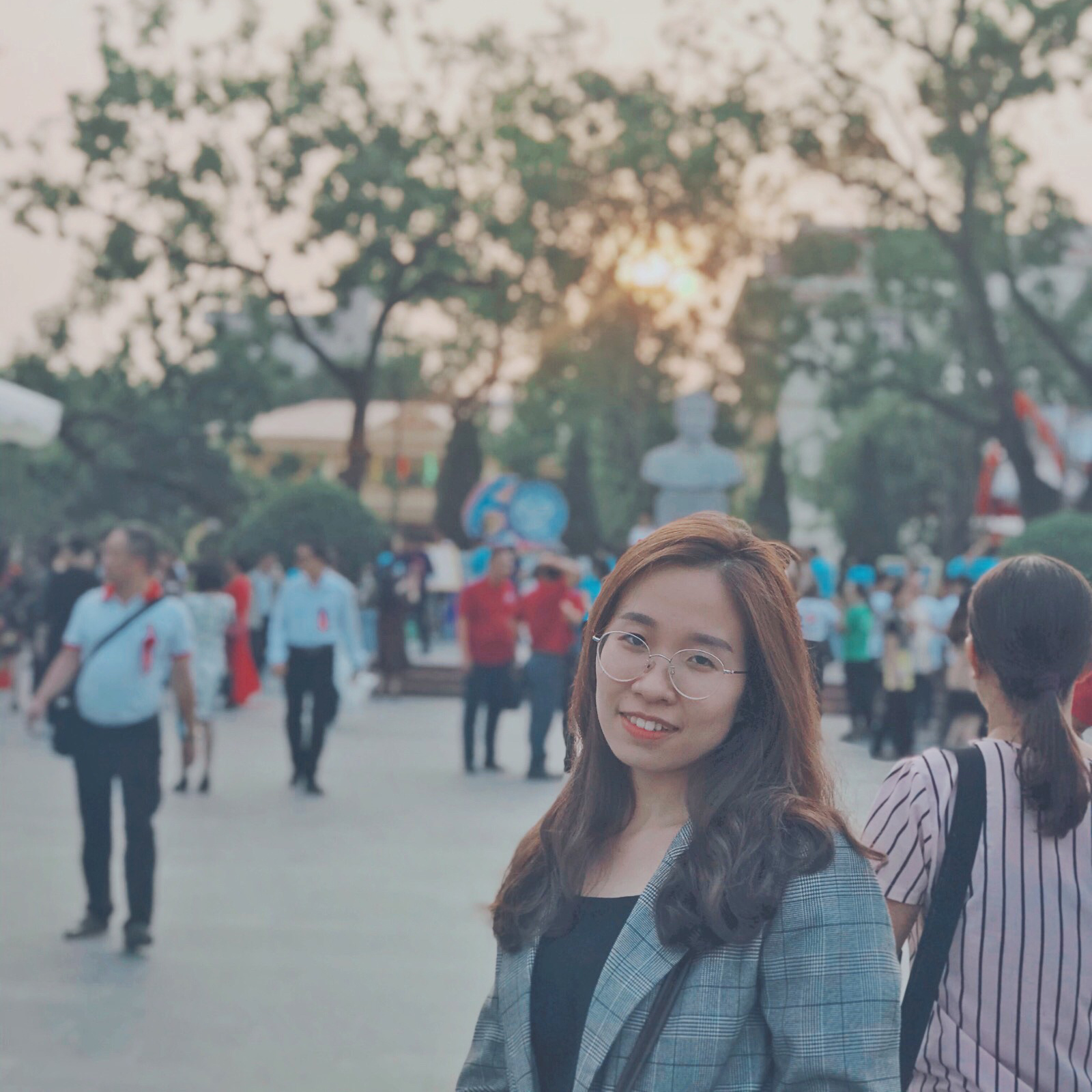 Marketing Executive | Content Manager