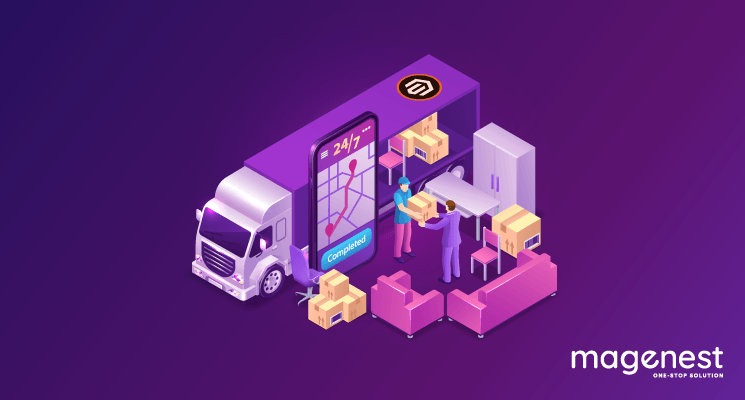 Are you in trouble with managing the delivery process of your Magento 2 store? You want to provide customers with various shipping rates based on numerous conditions such as locations, cart attributes or product attributes but do not know how to do?
So, a Magento 2 shipping extension can totally help you with that. It allows you to take all of your shipping strategies under full control and give your customers more options to choose their preferred shipping method.
Let's explore 12 best Magento 2 shipping extensions below and choose the most suitable one for your business!
Free Magento 2 Shipping extensions
1) Magento 2 Multiple Shipping Flat Rates Shipping by Mageplaza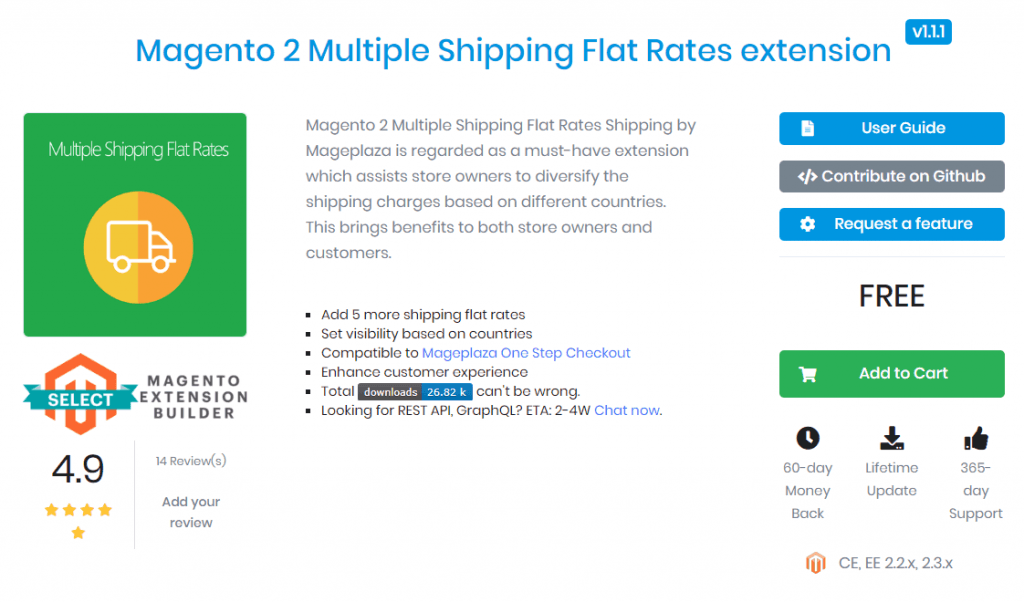 Magento 2 shipping extension from Mageplaza helps store owners provide their customers with different shipping rates based on different countries. With this module, you can create up to 5 more flat rates and limit the access of specific customer groups to specific rates.
Key features
Add up to 5 more shipping flat rates depending on numerous countries
Manage visibility of multi-flat rates for each country
Arrange multi-flat rates in a proper order
Display error messages when customers choose shipping rate not available in their country
Compatibility
Magento CE 2.2.x, 2.3.x
Magento EE 2.2.x, 2.3.x
2) MatrixRate for Magento 2 by WebShopApps
This Magento 2 shipping extension allows you to diversify delivery options for customers depending on where they are located. Shipping rates can be set up based on many conditions such as location; shipping method; weight, price, and quantity of products. You can download this module for free or buy the premium version to access more features.
Key features
Add multiple shipping methods for different locations
Define shipping rates based on location, carts' weight, quantity of products or subtotal
Calculate shipping charges via pattern-based zipcode filtering
Supports zipcode numerical ranges (e.g. 5000-6000)
Compatibility
3) Magento 2 Admin Shipping Method by BSS Commerce
Store admins can use a new shipping method (Admin Shipping Method) in this Magento 2 shipping extension to assign free shipping rules for orders created in the backend. The tool also automatically creates invoices and shipments after orders are completed.
Key features
Create orders in the backend to assign Admin Shipping Method
Set up to apply for specific countries
Auto-generated shipments and invoices for completed orders
Enable Pre-select to set Admin Shipping Method as the default shipping method
Customize title, method name and error message
Compatibility
Magento Community: 2.2.x - 2.3.4
Magento Enterprise: 2.2.x - 2.3.4
4) Magento 2 Matrix Rate Shipping Extension by MageArray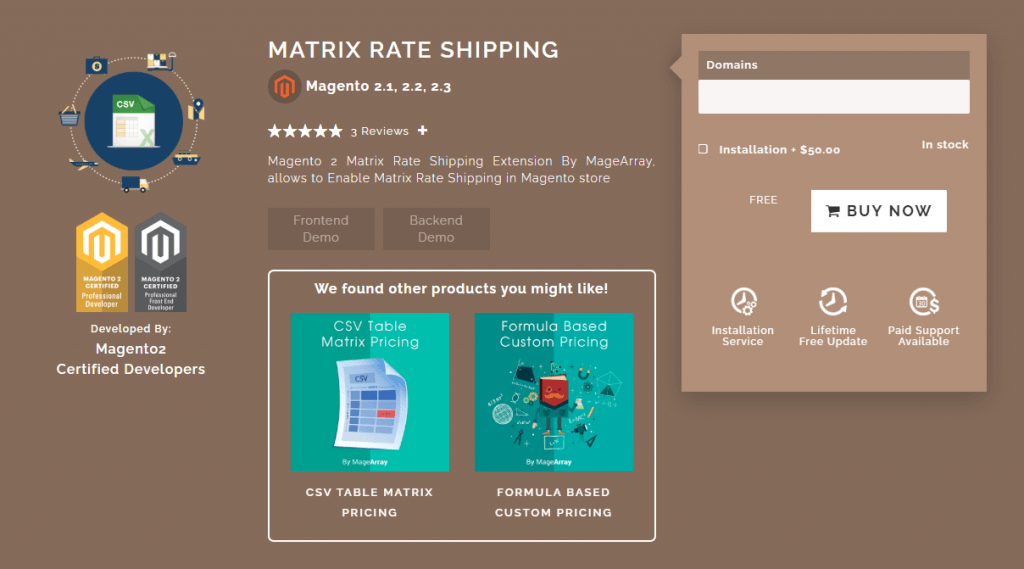 MageArray provides store owners with a free Magento 2 shipping extension to offer customers more shipping options (based on locations, product weight and quantity, order subtotal amount). Data will be presented in the CSV file for admins to calculate shipping rates.
Key features
Show numerous shipping methods for different destinations
Shipping rates are calculated depending on cart weight, order subtotal or number of products
Support zip code ranges in defining shipping charges
Use CSV files to define and add shipping rates
Compatibility
Paid Magento 2 Shipping extensions
5) Amasty Shipping Suite for Magento 2 (from $499)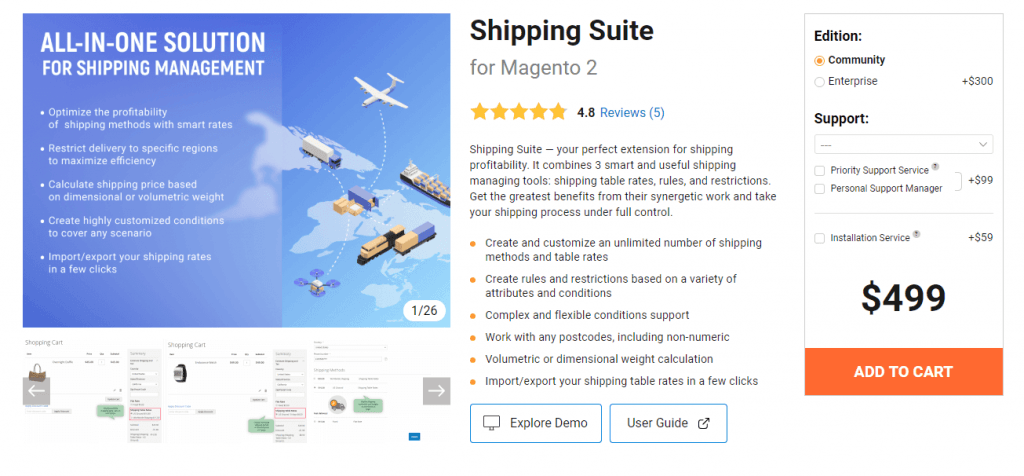 Shipping Suite by Amasty is the all-in-one solution for delivery management in Magento 2 stores. It provides users with 3 smart tools: shipping table rates, rules and restrictions. This Magento 2 shipping extension will help store owners take full control over all shipping strategies and reduce abandoned cart rates in the shipping method selection step.
Key features
Optimize the profitability of shipping methods with smart rates
Restrict delivery to specific regions
Define shipping fees based on dimensional or volumetric weight
Create highly customized attributes and conditions to cover any situations
Import or export shipping rates in a few clicks
Compatibility
Magento Community 2.2, 2.3, 2.4
Magento Enterprise 2.2, 2.3, 2.4
6) Magento 2 Shipping Suite Ultimate Extension by Mageworx (from $399)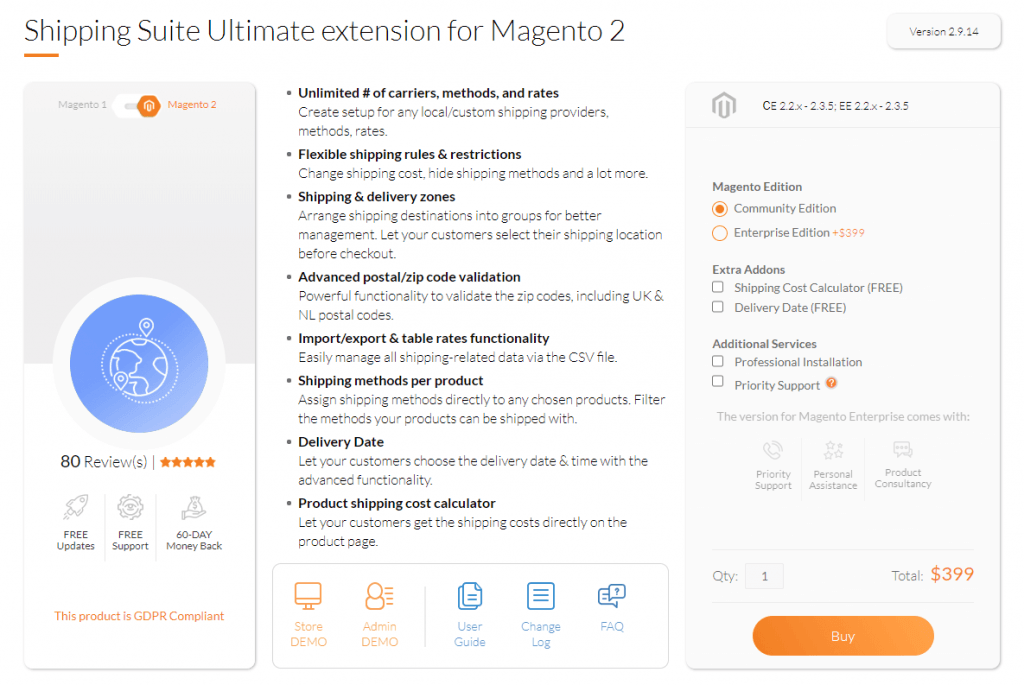 This one-stop Magento 2 shipping extension from Mageworx will give you all the features you need to optimize the shipping process and easily manage all types of shipping methods on your eCommerce store.
Key features
Create highly-customized and individualized shipping options via flexible rules and conditions
Calculate shipping costs based on extended cart attributes, shipping information, product attributes and stock attributes
Import and export shipping data to create shipping strategies
Alphanumeric postal/zip codes validation
Support multi-store
Compatibility
Magento СE 2.2.x - 2.3.5
Magento EE 2.2.x - 2.3.5
7) Magento 2 Multiple Flat Rate Shipping by Landofcoder (from $69)
This Magento 2 shipping extension allows you to diversify delivery methods for customers. You can easily set up multiple flat rates based on different factors such as price, location, handling fees, product types, etc.
Key features
Create unlimited custom flat rate shipping methods
Configure to apply for specific countries or all countries
Apply flat rates by fixed or percent amount
Define flat rates on a per-order or per-item basis
Import and export shipping rates by CSV files
Display custom error message
Support multi-store
Compatibility
Magento CE 2.0.x - 2.1.x - 2.2.x - 2.3.x
Magento EE 2.1.x - 2.2.x - 2.3.x
8) Shipping Matrix Rates for Magento 2 by Mageside (from $200)
Mageside's Shipping Matrix Rates will provide your customers with perfectly calculated shipping options, giving new customers a great first impression and satisfying returned customers with an excellent shopping experience.
Key features
Create shipping rates from multiple product criteria
Assign shipping rates to specific product groups or customer groups
Display multiple postage rates per order
Use detailed or exclusive conditions to create rates
Import data via CSV files
Filter by postcode
Compatibility
Magento Community: 2.2.x - 2.3.x
Magento Enterprise: 2.2.x - 2.3.x
9) Magento 2 Table Rate Shipping Marketplace Add-on by Webkul (from $199)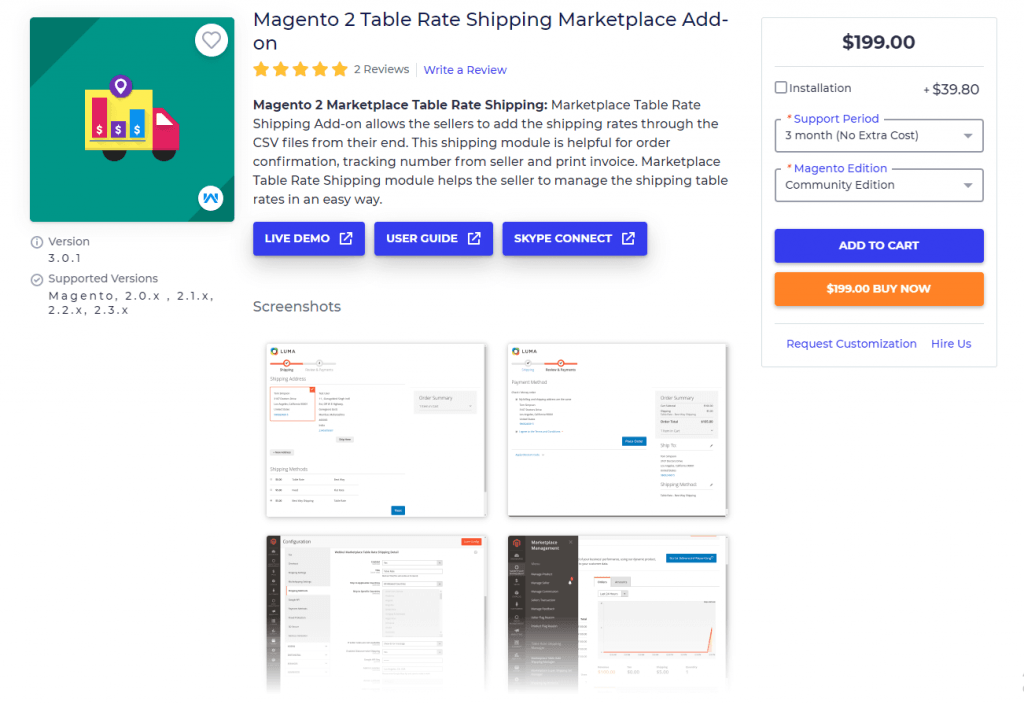 It is quite tedious to manage the shipping based on vendor locations, product weight and customers' destination in the marketplace. So, this Magento 2 shipping extension is developed to address the problem. Sellers can easily create different shipping rules to calculate delivery costs based on table rates.
Key features
Import shipping rates using CSV files for table rates
Assign shipping rates to each seller by entering the seller ID
Create Super Shipping Set
Create sub-methods for Table Rate Shipping
Calculate shipping cost based on ZIP and product weight/ as per seller or vendor
Compatibility
Magento 2.0.x , 2.1.x, 2.2.x, 2.3.x
10) MageAnts' Shipping Table Rates Extension For Magento 2 (from $99)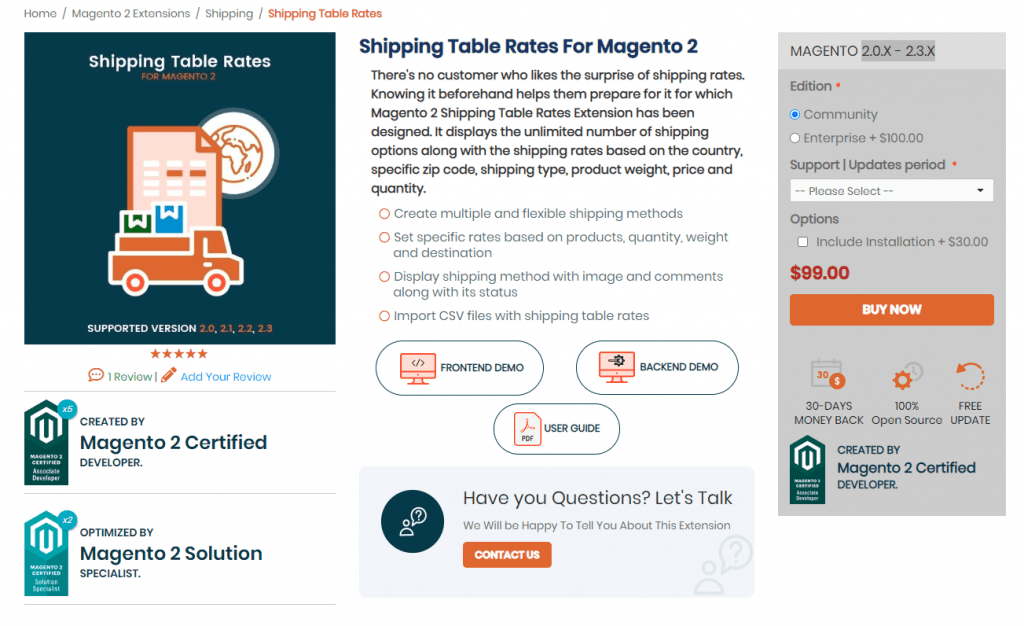 This Magento 2 shipping extension is designed to help eCommerce store managers offer customers an unlimited number of shipping options along with shipping rates based on customers' country, specific zip code, shipping type and product attributes (weight, price, quantity).
Key features
Add unlimited shipping methods
Configure and manage shipping methods with ease
Set up shipping method visibility for each store and customer group
Import shipping table rates by CSV files/ export rates in CSV format
Configure rates based on location, product attributes, delivery time/date, etc
Compatibility
11) Magestore's Dropship module for Magento 2 (customized price)
Dropshipping is an order fulfillment method in which you 'drop' the shipping process and let a supplier handle it for you. This module will help you control the dropshipping system more easily, shortening lead time and saving money on shipping and storage.
Key features
Provide 3-step dropshipping process
Allow suppliers to create shipment/cancel request on the front-end
Keep track of the dropshipping process through notification emails
Display detailed order listing pages in both admin and supplier views
12) Magento 2 StarTrack Shipping by AppJetty (from $149)
For Australian merchants, you can use AppJetty's extension to integrate StarTrack Shipping service into your Magento 2 store and fetch contract-based shipping rates from StarTrack for different locations within Australia.
Key features
Display multiple shipping methods on the storefront
Create custom attributes for Length, Height and Width
Error messages shows up when customers choose an unavailable shipping method
Compatibility
Magento Community Editions: 2.1.* to 2.3.*
Magento Enterprise Editions: 2.2.* to 2.3.*
Conclusion
Delivering flexible shipping options to customers is one of the most effective ways to minimize the chance they will abandon their shopping cart just because they can not find the delivery option they prefer.
There are many Magento 2 shipping extensions that can help you optimize customers' shipping experience. So it is important to understand your goal and decide which one will suit your needs the best. Hopefully, the list above can be beneficial to your decision!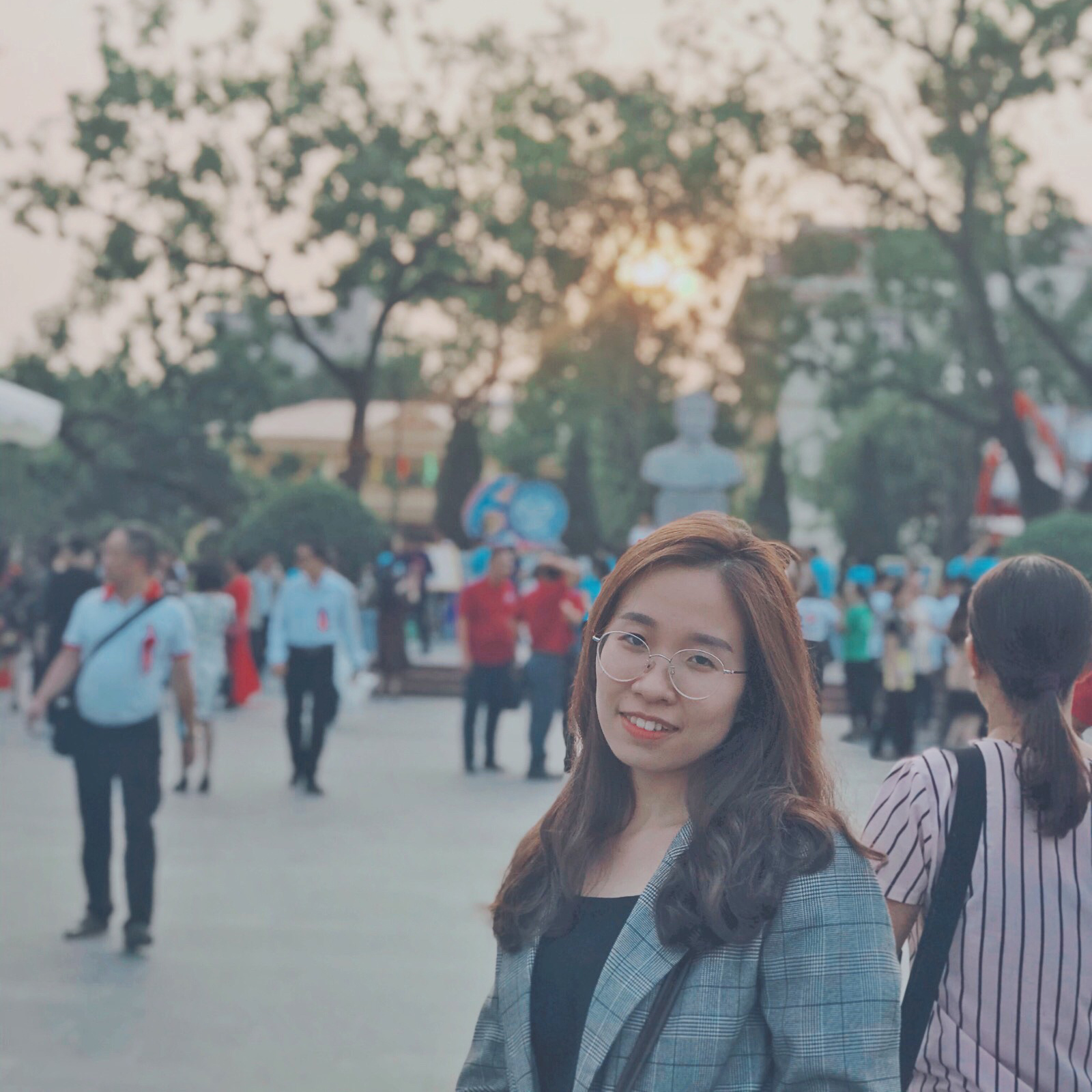 Marketing Executive