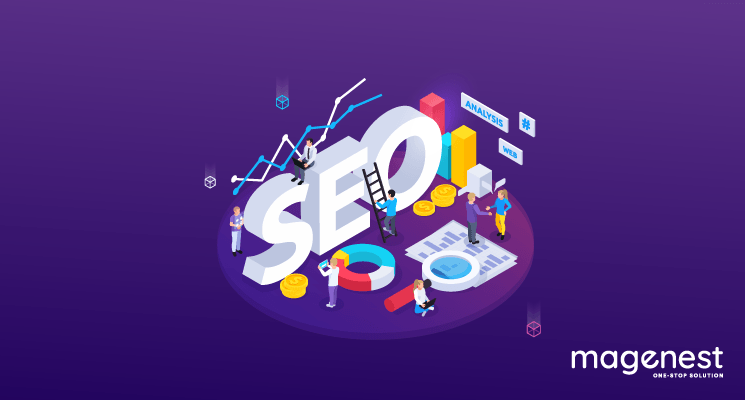 For eCommerce businesses, SEO presence can be one of the most important factors to help store owners boost revenue. Having a high ranking on the search results page means that you could drive more organic traffic to your website and get more conversions, hence an increase in your sales.
If you own a Magento 2 website, you may need a Magento 2 SEO extension that helps you rank better on search engines. In this article, we will provide you with the best 10 Magento 2 SEO extensions to make the most of search engine optimization for your business.
Free Magento 2 SEO extensions
1) Super Easy SEO - Magento 2 SEO extension by Magenest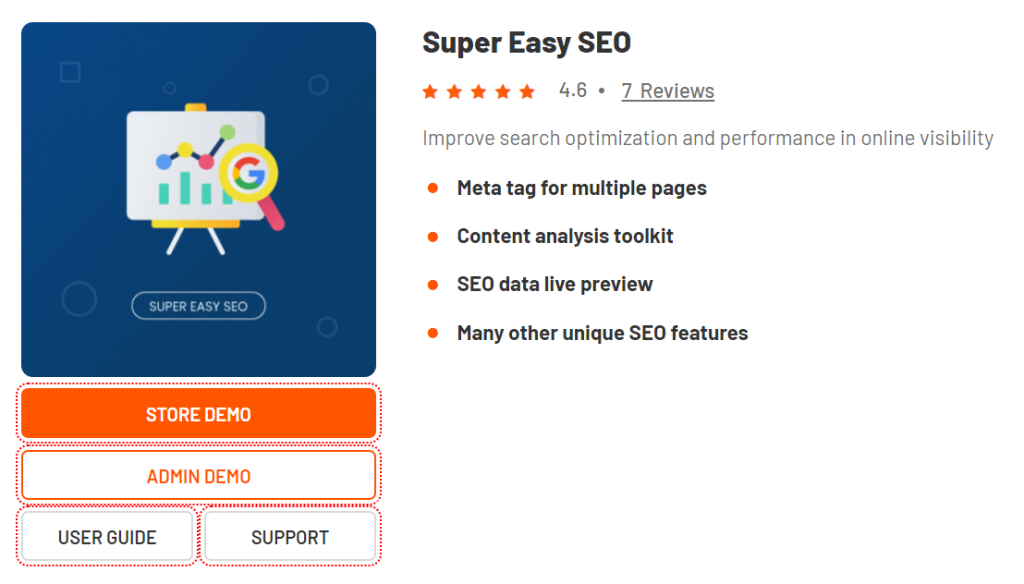 This free Magento module by Magenest allows you to manage search engine optimization for up to 10,000 products with ease. Store managers can create SEO metadata for all SKUs by just a click, saving them from tons of manual tasks that take too much time and effort.
In fact, search engine bots have their own rules to crawl and index website content, setting up the right rules will give them the right signal to index your website more easily. And Super Easy SEO tool could help store owners control how web crawlers will interact with the website.
Moreover, this module also assists you in optimizing customer experience on your website by managing internal linking, redirection, and image loading speed. Better user experience will lead to a better ranking on search engines.
Compatibility: Magento 2.1.x, 2.2.x, 2.3.x (Open Source and Commerce).
2) SEO Suite - Magento 2 SEO extension by Emipro Technologies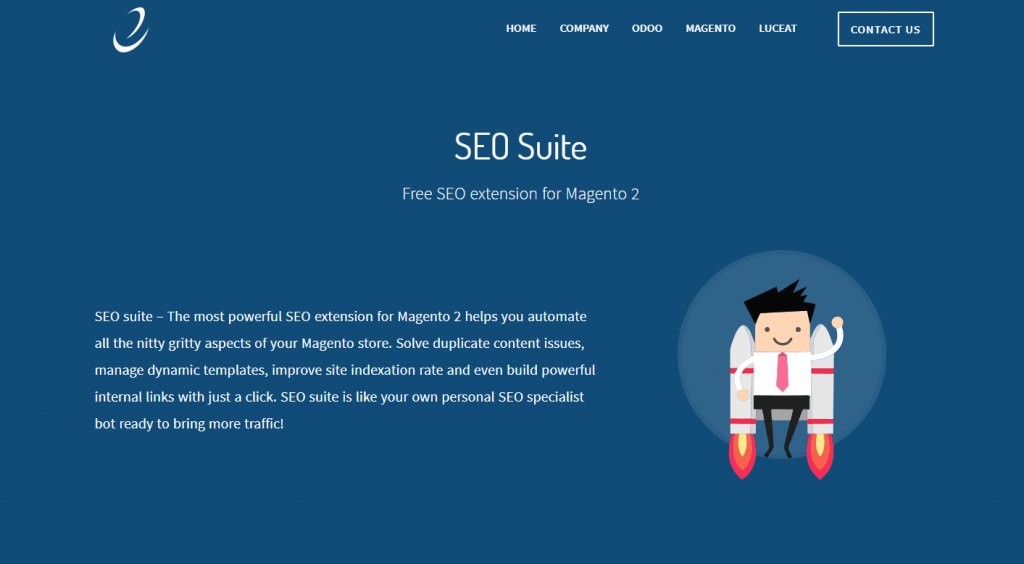 Emipro Technologies provides Magento 2 store managers with a powerful Magento 2 SEO extension acting as your SEO assistant to help you generate more organic traffic from search engines. You will have all the solutions in hand to manage dynamic templates, improve site indexing rate and build a well-organized site structure.
Search engine optimization involves many bits and pieces, you may not be able to control all of them if they are scattered. So, a powerful SEO Dashboard in the form of a checklist can give you a bird's eye view of all the improvements and settings available. Also, many other features can contribute to your SEO efforts such as advanced SEO templates, canonical tags for duplicate pages, SEO information rewrite, etc.
Paid Magento 2 SEO extensions
1) Amasty SEO Toolkit for Magento 2 (from $299)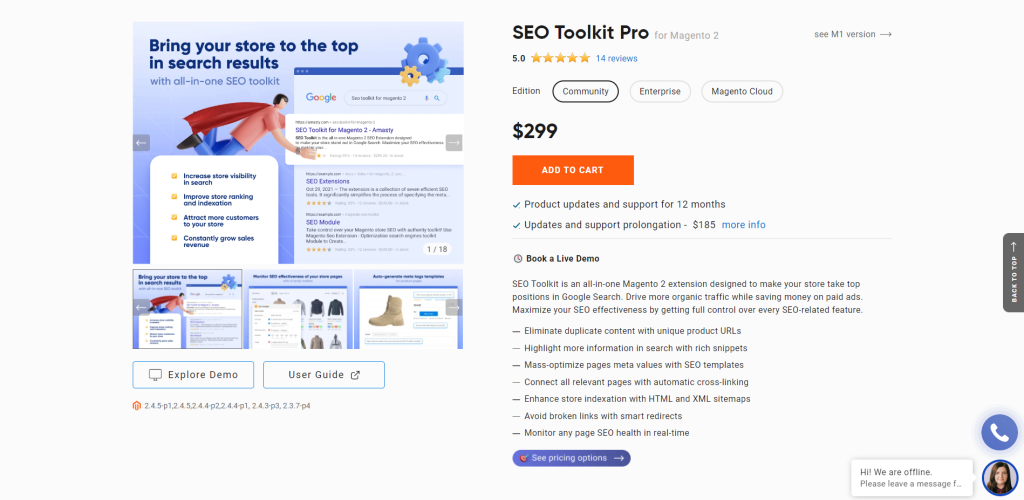 SEO Toolkit provided by Amasty is a complete Magento 2 SEO extension that helps your Magento 2 store stand out in a crowd of competitors in Google Search result page. This all-in-one SEO toolkit can address multiple optimization problems at once, so you will save money on paid advertising and attract more organic traffic to your store.
With this intelligent SEO tool, business owners can easily enhance your store's online ranking by the most effective search engine optimization strategies such as enriching snippets with prices, automatically building cross-link and creating meta tag templates for all categories and products, creating sitemaps, etc.
Compatibility: Magento 2.2, 2.3, 2.4.
2) BSS Commerce Magento 2 SEO extension (from $149)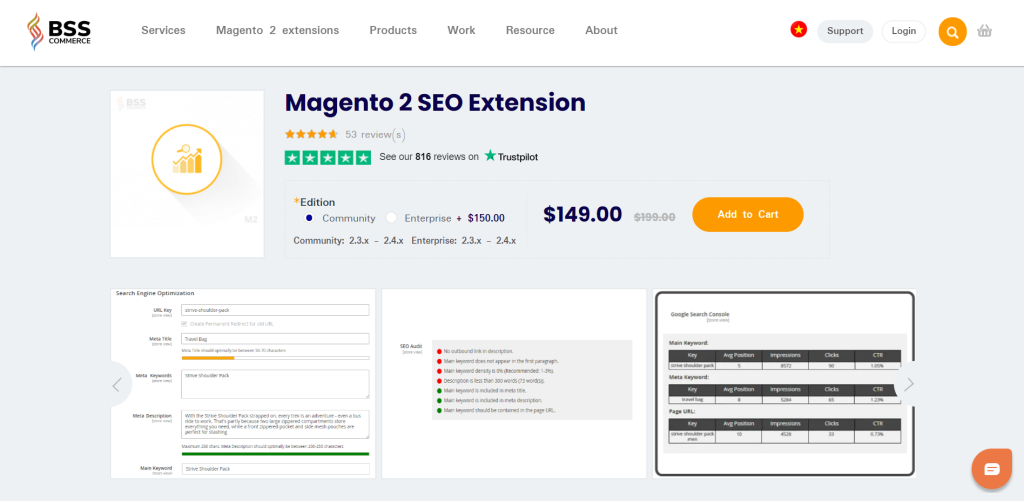 This one-stop solution Magento 2 SEO extension from BSS Commerce brings all the features you need to attain a high ranking on search engines, making your website more SEO-friendly with many out-of-box functions. Buying this tool, you are offered free website SEO Audit services from BSS Commerce.
Let's take a look at what this module can do to help you gain better SEO performance:
Make your site more highlighted on search result pages with Rich Snippets
Provide better site navigation using Advanced Breadcrumbs
Give users an overview of your site with HTML Sitemap
Instruct web crawlers to index site content via Robot Meta Tag
Prevent duplicate content by using Canonical Tag
Compatibility: Magento Community and Enterprise 2.2.x, 2.3.x, 2.4.
3) SEO Suite Ultimate Extension for Magento 2 by Mageworx (from $299)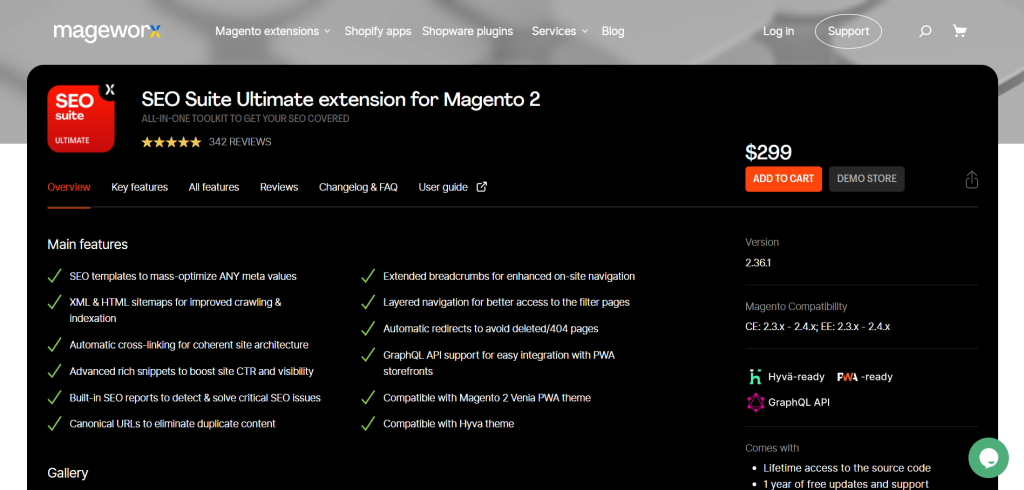 SEO Suite Ultimate extension is a full-featured SEO solution covering all on-page search engine optimization activities for your Magento 2 website, from small elements optimization to well-structured website architecture. The tool provides store managers with dynamic templates to manage website navigation effectively.
By using SEO Suite Ultimate, you can help the search engine spiders easily explore your site and index all of its important content, as well as enhance click-through rates with advanced Rich Snippets. Besides, store owners also have access to detailed reports to track SEO performance and instantly come up with solutions for critical issues.
Compatibility: Magento 2.2.2 and 2.3.x (CE & EE).
4) Magento 2 SEO Suite Extension by Mirasvit (from $149)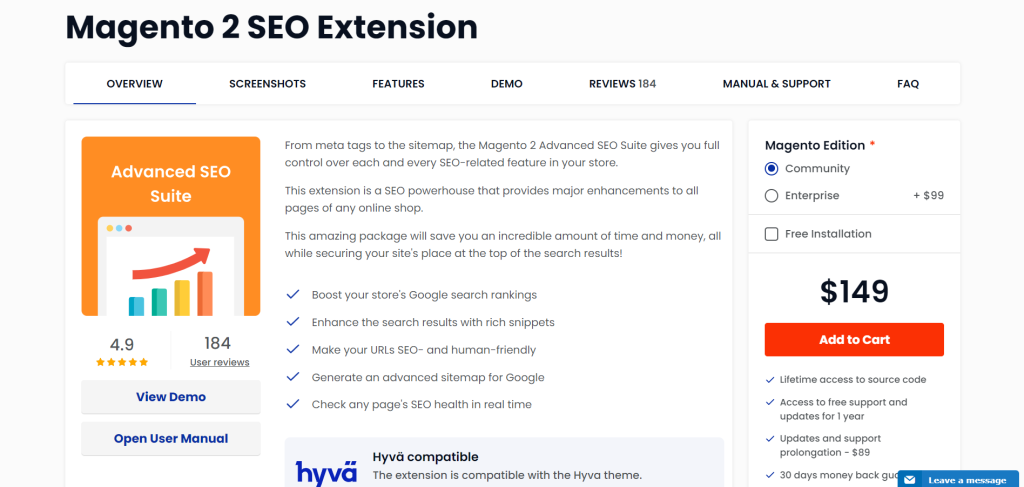 With Magento 2 SEO Suite Extension from Mirasvit, your Magento 2 website will reach a higher ranking on search engine result pages thanks to many striking features integrated into this suite. In addition, the toolkit can help you optimize your site for specific search terms related to specific categories and products.
Compatibility: Magento CE and EE from 2.0.x to 2.4.x.
5) FME Extensions Magento 2 SEO extension (from $279.99)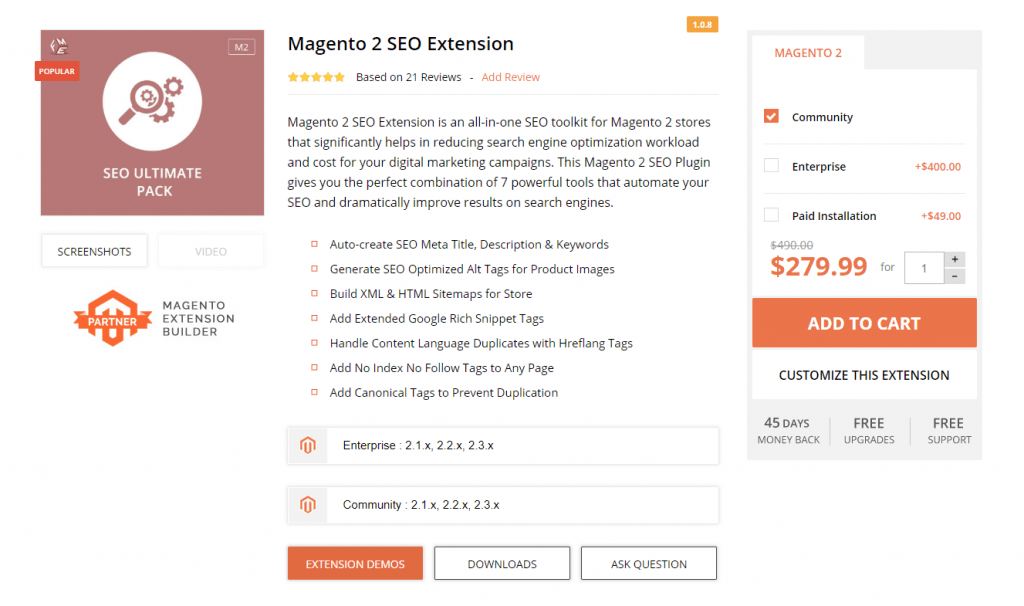 Magento 2 SEO extension by FME Extensions is designed to significantly helps store owners reduce search engine optimization workload and expense for digital marketing campaigns. By integrating this plugin into your Magento 2 store, you will be given the perfect combination of powerful tools to enhance your SEO performance effectively:
Auto-generated SEO optimized meta tags and image alt tags
Extended Google Rich Snippets tags
Hreflang tags for multilingual stores
HTML and XML sitemap
No-index and No-follow tags
Canonical tags to prevent content duplication
Compatibility: Magento Enterprise and Community 2.1.x, 2.2.x, 2.3.x.
6) Magento 2 Advanced SEO Suite by Scommerce Mage (from £179.99)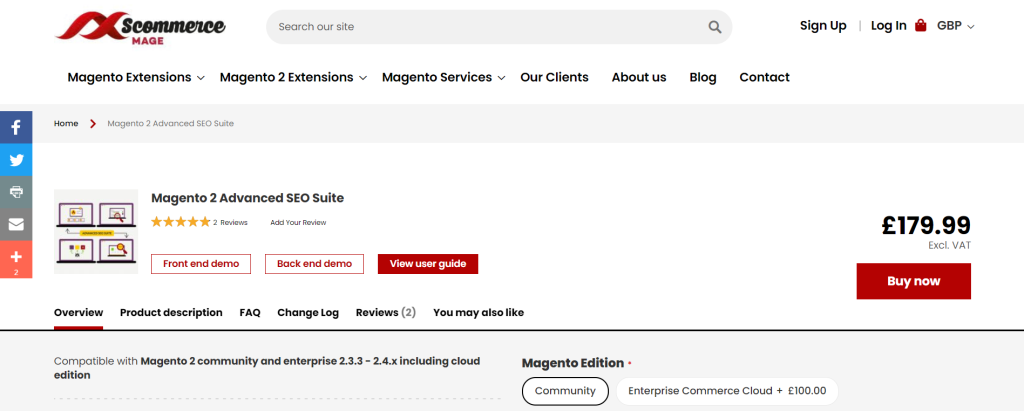 Magento 2 Advanced SEO Suite by Scommerce Mage is the all-in-one SEO package to take advantage of search engine optimization and improve stores' online ranking. In this suite, you can find everything you need to set up Magento 2 SEO features and technical components, which reduces traffic loss and adverse effects on your site's search engine ranking.
Compatibility: Magento 2 Community and Enterprise Edition from 2.0.x to 2.3.x including Cloud Edition.
7) Ultimate Magento 2 SEO extension by Mageplaza (from $89)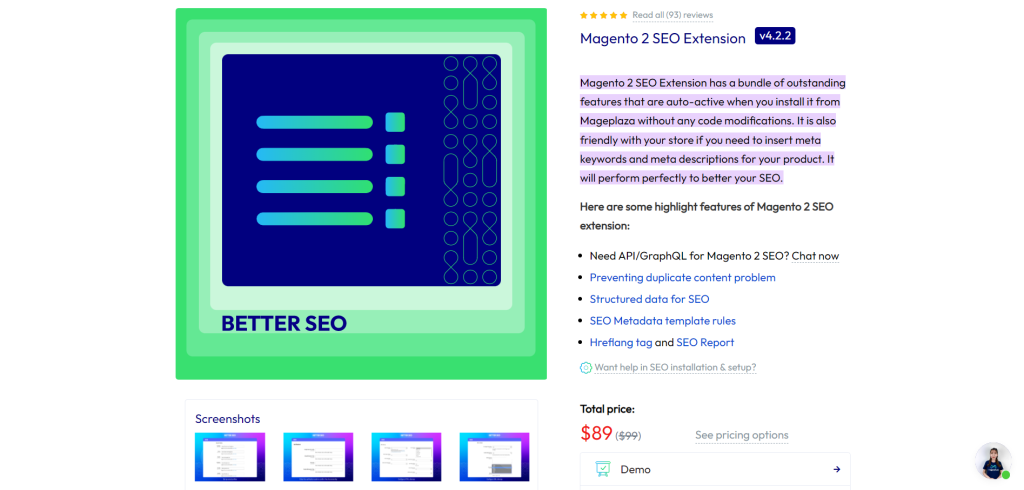 From only $99 for Mageplaza Ultimate Magento 2 SEO extension, you are provided with a bundle of outstanding functions to better your SEO performance. This module is also friendly with your website if you would like to insert metadata for your products.
With the Ultimate Magento 2 SEO tool from Mageplaza, store admins are enabled to preview how your content will look like on the search engine results page right in the backend and customize properly before submitting.
Compatibility: Magento Open (Community), Magento Commerce (Enterprise) 2.2.x, 2.3.x.
8) Webkul Magento 2 SEO extension (from $99)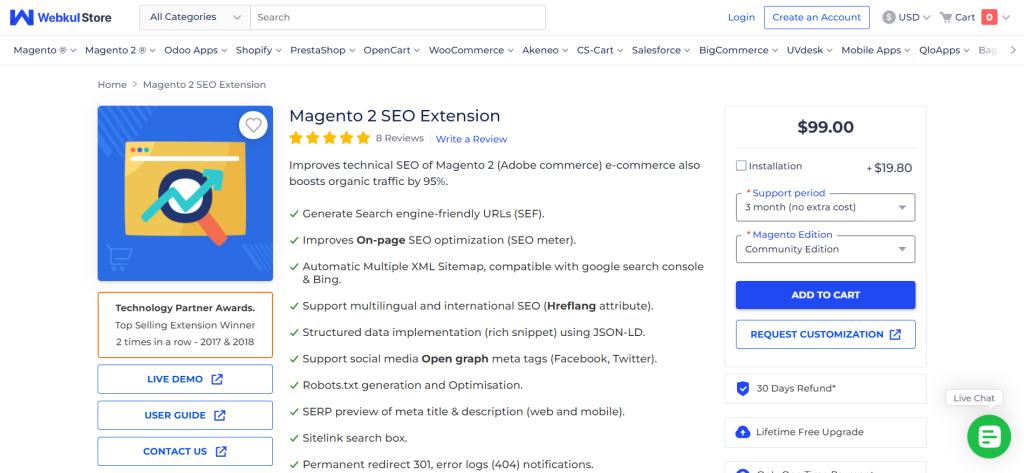 This paid extension from Webkul offers a wide range of helpful tools and options that enhances your SEO presence. One of the most interesting things about this module is that store managers can easily add content for Facebook Open Graph and Twitter Cards, allowing customers to share their favorite products on these two social networks with just a click.
With this extension, store admins could preview search engine listing for both web and mobile modes in the backend. The Webkul Magento 2 SEO extension also includes SEO meters that show suggestions and solutions to improve the SEO level.
Compatibility: Magento 2.0.x , 2.1.x, 2.2.x, 2.3.x.
Final words
To sum up, Search Engine Optimization plays a vital role in the development of your eCommerce store. And integrating a Magento 2 SEO extension can help your website win the highest ranking on search engine result pages and get more organic traffic, increasing your revenue.
We hope that our sharings above will give you an overview of some useful Magento 2 SEO extensions so that you could choose the best for your store.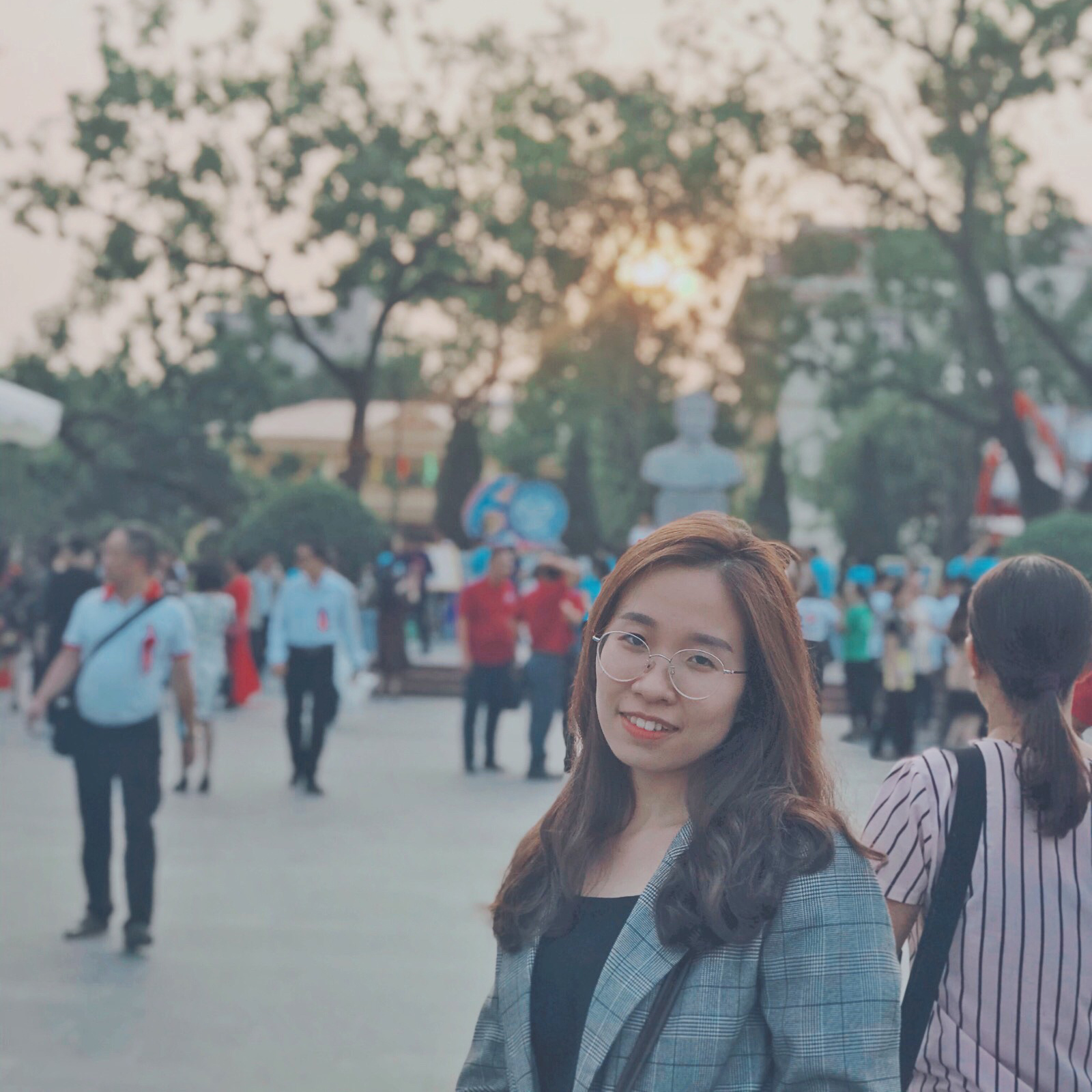 Marketing Executive | Content Manager