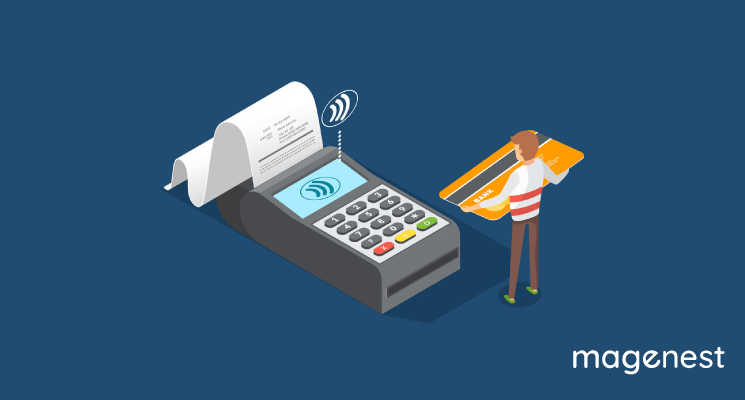 A modern type of modern POS system is actually a combination of software and hardware that can help you run your store with many tasks rather than just conducting a transaction. However, what most business owners didn't realize was its important role in assisting them to operate their companies. In today's article, we will cover the key points of how to use a POS machine and its tangible benefits.
But first, let's discover what a POS machine is and also how it works.
Definition of POS Machine
First of all, there's no such thing called a "POS machine", this term is actually referred to as a card terminal or POS system (Point of Sale system). Although the term itself can have several different interpretations, the full meaning of POS is just where your transaction is finalized.
When speaking of a POS machine, people would think of the whole terminal with an informative screen and the capability to handle all main types of payments.
A POS machine will be a device that represents the whole checkout process. Modern checkouts consist of software and hardware components such as card machines, receipt printers, EPOS (electronic point of sale) software, computer monitor or tablet screen, and barcode scanner.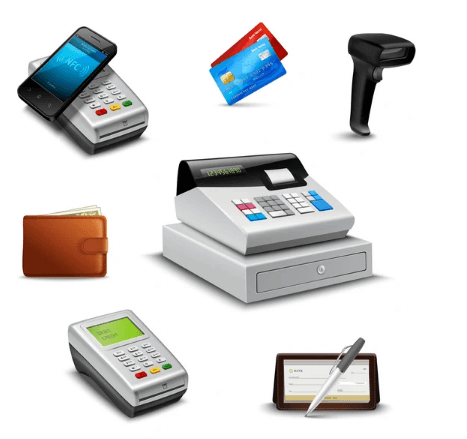 How Does a POS Machine work?
To understand how to use a POS machine, let's take a closer look at each of the components above.
Customer screen
The function of the customer screen is to display the order information and from this customers can see the order itself, tax, discounts, and information of loyalty programs as well during the payment process. Customer screen is very important since it helps retailers improve the shopping experience for their customers and gain trust from them.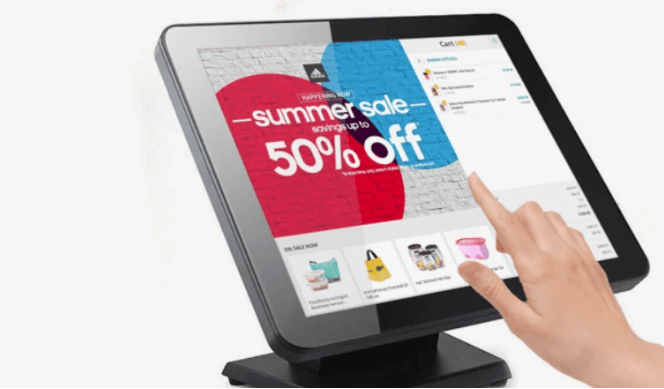 Credit card reader
This card reader of the POS machine is used to assist retailers with taking credit and debit card payments. Merchants can choose a basic credit card reader with a card-swiping feature, or a more versatile one that can accept transactions of both swiped and chip-card transactions.
Cash drawer
Since we don't live in a completely cashless society, it's indeed necessary for a business no matter what field they are in to have a cash drawer in the POS system. Basically, this component is used to help businesses easily manage and keep better track of their cash, usually in a shift or a working day.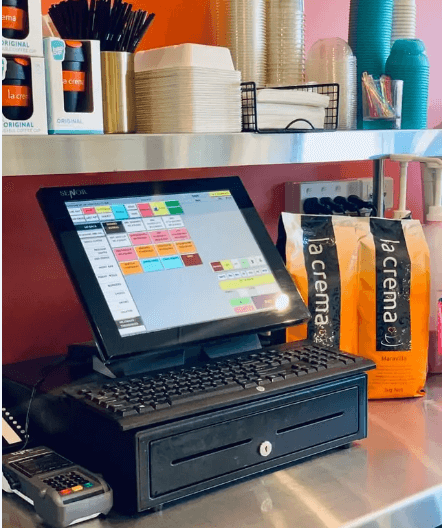 Receipt printer
We are all used to the fact of being given a receipt after every transaction in stores. It's true that digital receipts are on the rise, however, many customers still want to receive printed ones. Since receipts are records of transactions and purchases, it makes sense that customers want them as proof to return items if necessary or just for any reference needed.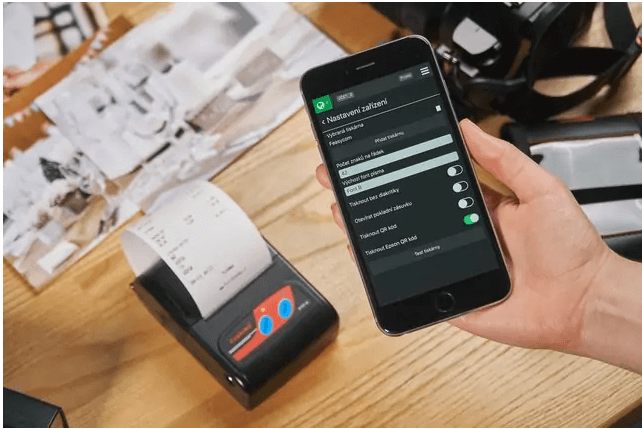 Barcode scanner
This equipment is used to scan barcodes in stores that sell products with a barcode on them.
Barcode scanners can help eliminate trouble associated with mistyping products. Like receipt printers and cash drawers, barcode scanners will be connected to the POS terminal via USB or wirelessly connection.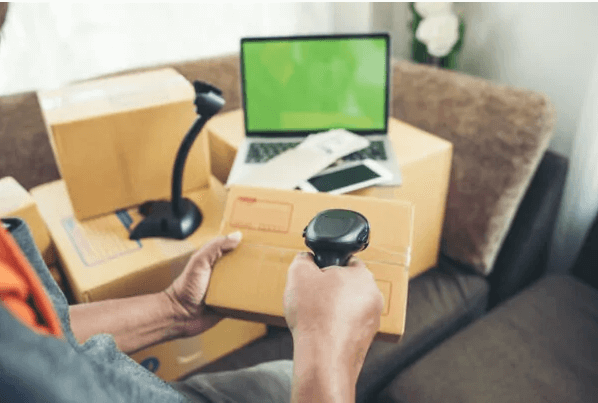 A Step-by-step Guide to How to Use a POS Machine
How to use a POS machine refers to processing a sale transaction and the two biggest payment methods are via debit or credit cards, which will be explained in greater detail right now.
1. How to use a POS machine to ring up sales
The main function of a POS machine is to ring up sales, that's why you have to familiarize yourself with the POS screen when selling your products. Generally, every solution is different but you will need to follow these basic steps below to create sales with the POS system.
Add products to the sale:
Depending on how you set up your system, adding items will vary but at this very first step of the checkout process, the task of adding items could be done by:
- Scan the barcode of the product
- Search for that barcode on the selling screen (note that most POS systems should have a note bar or product lookup function
- Use a selling screen shortcut for items that are bought frequently
Then from there, you could just adjust the quantity of the products that customers buy.
Apply accounts
If you are running a sales campaign or want to apply discounts for a line of products, you can use your POS machine to do so. In case your POS system hasn't included this feature yet, let's see if you can adjust the product price manually.
Take payments
This is the part when you get your money paid by customers. Usually, almost all the POS systems have the capabilities to accept cash and credit cards, making this process of collecting these payments pretty straightforward.
There are also other solutions that enable merchants to offer additional payment options such as:
- Gift cards: if you choose to use gift cards for your marketing programs, make sure they are integrated with your POS system and you accept them as a form of payment.
- Buy now, pay later: As its name has a clear meaning, this kind of service allows customers to take items to their home immediately and pay for them in installments. One company that has succeeded in this method is Afterpay, their service rapidly gained popularity, particularly among the young shoppers today.
- Layby/ layaway: This is a service in which merchants can take a deposit from their clients first and allow them to pay off later.
- Mobile payments: Depending on what your POS and payment processors are, you could get your money via mobile payments like Apple Pay. Check with your solution partner for further information on this method.
- Loyalty: Loyalty points and rewards can also be a form of payment.
2. How to use a POS machine to accept a card payment
In general, there are two main ways to accept cards which are: a manual method or an automatic one (via a linked-up system2. . Both methods require a card reader, a standalone terminal, or an integrated terminal to process payments with some manual steps. Regardless of what terminal type is used, the card reader needs to be connected to the Internet via Wifi, a phone line by cable, or via a built-in SIM card.
A standalone card terminal is an independent piece of the cash register or POS software system through which you register transactions. This means there would be no communication between the standalone terminal and other pieces of your POS system. When making a transaction on the cash register screen, merchants would have to enter the total amount of the bill from the keyboard of the card machine. After that, the terminal will connect with the card-issuing company, the bank that the merchant registered, and other parties involved to proceed with the transaction properly. Once the transaction is approved, there will be a receipt printed out (if the terminal has an inbuilt printer), or just a message or a beep on the display screen to notify users that the payment is already completed.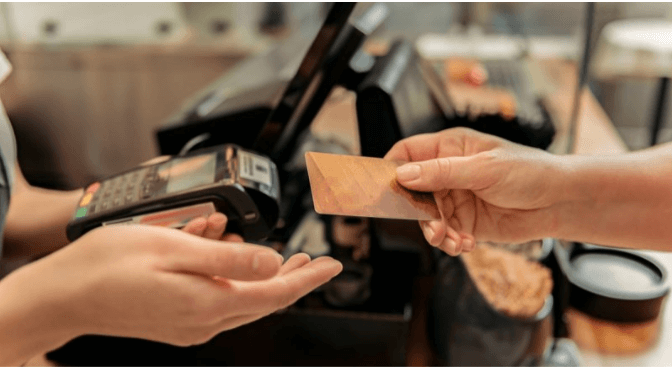 An integrated terminal is equipment connected with the EPOS software and when you enter products on the screen and start the card payment, the central software now will send the amount of the transaction to the terminal. After the card machine shows the payment on the screen, customers may choose to add a tip if they want to do so. Users don't need to enter anything in a manual way on the terminal. The same as a standalone terminal, an integrated machine processes payment transactions via the Internet or over the phone line, it's also possible for users to print receipts.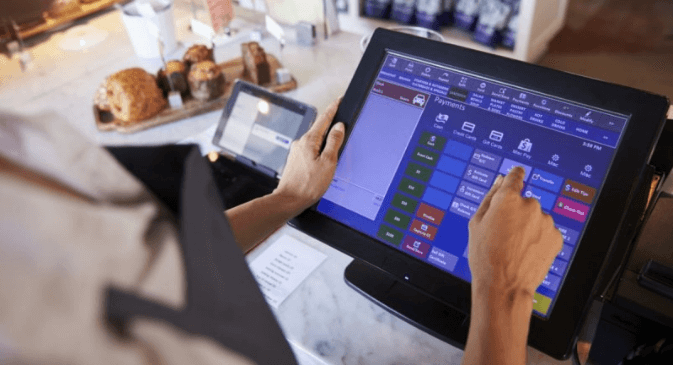 3. How to use a POS machine to accept a cash payment?
The EPOS systems today often have a touchscreen monitor with a visually friendly interface to enter product information and the amount of money paid by customers. If your client chooses to pay in cash, you will need to enter the value of the bill so that the POS software can calculate how much change is needed to give back to the customer. Then you will put the cash collected into the cash drawer and make sure the amount is correct on the machine.
Remember that the cash drawer has to be securely shut when you are not using it to prevent any theft from stealing your assets. Today's EPOS systems are usually integrated with a computer or software, which allows it to automatically open as soon as the user enters the amount of cash paid on the bill screen. In case it's not integrated to function this way, you will need to manually open the drawer.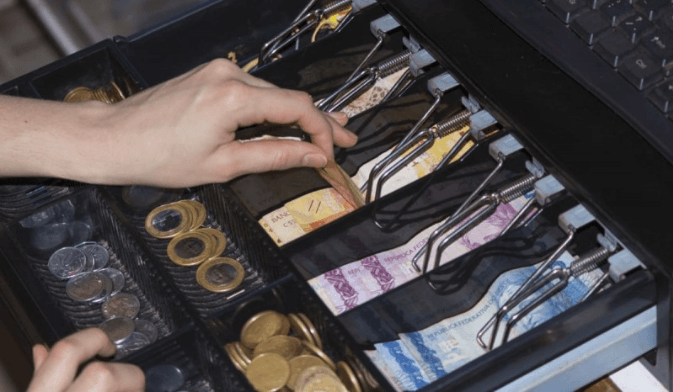 4. How to use a POS machine to perform end-of-day duties?
At the end of each trading day, merchants need to perform a "Z-report" (an end-of-day report shows your daily totals divided into different payment methods such as cash, cheques, card, and gift cards).
With a card machine, you may only need to run a Z report for the card sales, not the totals in the EPOS system. The Z report of overall point-of-sale can be run on the POS screen, mobile device, computer, or any place where you can log into the EPOS system to view sales.
With a standalone terminal, users can compare the terminal Z report with the EPOS Z report and see if the card totals are matched. If they are not the same in any aspect, it means that a card payment may not be entered in the EPOS system, or a payment on the EPOS system was misplaced as a card payment while it was actually made by cash or other methods.
If you accept cash, you will have to count the cash drawer, deduct the float amount at the beginning of the trading day and calculate the total cash takings during the day. After comparing the total cash of the Z report, if you find the same result then your business is doing right. If the final result is over or under the Z report, then it should be counted as a discrepancy and be noted in your accounting.
Main benefits of using a POS machine
Increase efficiency
Of course, when your cashiers have a powerful tool to support their work, your operation will run much more efficiently and avoid mistakes happening by human involvement. A barcode scanner and a POS system can really help you manage your store effortlessly.
Expanded payment capabilities and flexibility
A great advantage of POS is the ability to accept various payments including EMV chip cards, mobile wallet payments, and contactless payments (NFC). By enabling your clients to use diverse payment methods, you also increase revenue as well as customer satisfaction to a great extent.
Greater accuracy
Not only easy to use, using a POS machine can greatly eliminate manual steps and therefore minimize the risk of human error. Since the technology of POS has improved over the years, the accuracy it can bring to your management is also enhanced as well.
Better inventory management
POS software can save its users a large amount of time on inventory management since it can help to track a product's quantity on hand and set up reorder triggers too. Plus, the best part of a POS system is that it will give you inventory data in real-time, something even the best cash register may not do. We also recommend you a great extension with simple integration for your POS system, which is Odoo, check it out right here. With this amazing tool, you may no longer worry about how to use a POS machine on your own.
Conclusion
POS solutions absolutely lower the cost of your business operation while enhancing productivity at the same time. We hope that after reading today's article, you gain more useful insights into the concept of a POS system, the importance of using it as well as how to use a POS machine effectively. Don't hesitate to share with us your thoughts and any brilliant ideas about excellent tools that can help businesses smoothly run their companies.