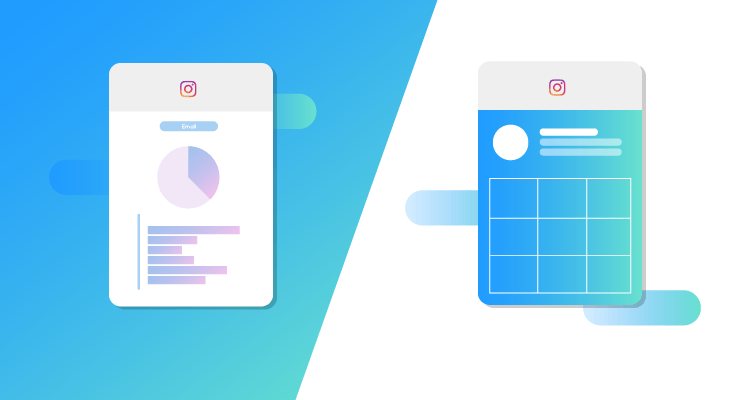 If you're running your own business on Instagram, and one question should have popped up by now: Is it better to use a personal account or a business account?
While many businesses switch to an Instagram business page to increase their engagement, others are content with sticking to their personal accounts. To give the right answer for you, we will take a comprehensive view of the pros and cons of the two profiles. Let's explore that thought some more.
Personal Instagram vs. Instagram Business Profile
Until Nov 30, 2017, there have been over 25 million active business profiles, up from 15 million in July all over the world after launching in May 2016. The growth is impressive since the Instagram business account allows for more functionalities in the profile itself, as well as access to additional analytics. This innovation has persuaded every business of any size from a more professional appearance to effective marketing tools.
Does an Instagram business profile work well for you? With a detailed flowchart from Later, you can easily come up with a reasonable answer.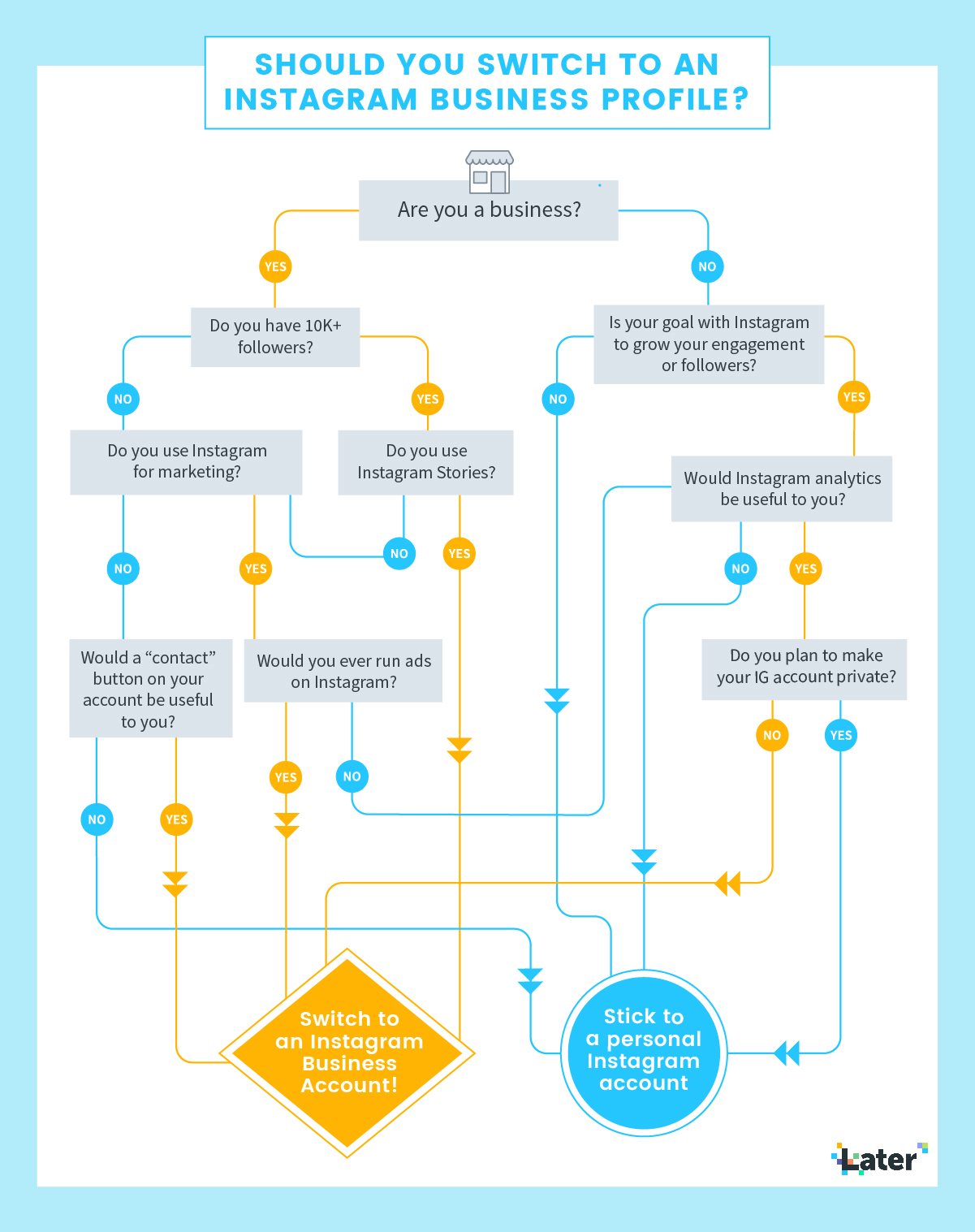 From this flowchart, you should be able to decide the type of Instagram account based on your business purposes.
Still not sure?
If you are using a personal Instagram profile, it is simple to get all the basic functionalities without any extra charge. With two main features following, you can make use of them to promote your business.
Private Account
Well, privacy is the first difference between the two kinds of accounts although it might not be the most amazing feature to you. Personal profiles can simply be set to private with one click, but business counterparts can't.
Normally, you will deploy your account to private when you are scared to be followed by strangers. However, if social media privacy is extremely essential to you, sticking with a personal Instagram profile is a great idea. Moreover, when someone wants to follow your business products, they need to press the "Follow" button, and your engagement is absolutely increased.
Linking to Numerous Facebook Pages
Another feature of personal profiles enables your business to link to multiple Facebook pages. Whereas Instagram business profiles might only connect with one page, you can link to as many Facebook pages as you want in personal profiles.
What are the main features of an Instagram Business Profile?
While personal profiles provide you the basics, plenty of higher-level features are available to business profile users such as Instagram insights, promoted posts, and contact tools.
Instagram Insights
The first thing you will notice after converting to business accounts is that you will have access to Insights, the app's built-in analytics tool. Insights provide you with a ton of detailed statistics to analyze how successful a post or story has been. The statistics you are able to see are:
- Likes

– The number of times your post has been liked.

- Comments

– The number of comments left on your post.

- Saved

– The number of unique accounts that have saved your post.

- Impressions

– The total number of times your post is viewed.

- Reach

– The number of unique accounts that have seen your post.

- Engagement

– The number of unique accounts that have liked, saved, or commented on a post
Instagram Promotions
Instagram is the same dominant tool as Facebook, with a business profile you can set up, run and track promotions as sponsored posts in people's newsfeeds. The way to do it is similar to boost a campaign on your Facebook page.
First Contact
Without a business profile, your visitors who want to make contact with you will take a lot of time to search on a URL to your website, and then get your contact details or use a contact form on your web page. Nevertheless, it is easier thanks to business profiles because they may directly contact you by the press of a button including the phone number, email address, and directions.
Attach Links on Instagram Stories
Have you never attached links to your Instagram Stories because your account is restricted? Prior to the business account, only verified Instagram accounts can get access to this feature. Luckily, if your Instagram business account reaches 10,000 or more followers, you can add links to Instagram Stories right now!
Should You Switch to an Instagram business account?
The right answer for your business is dependent on your purpose and objectives. They are what you want your brand to reflect and attract, what your strengths and weaknesses are, and who you are.
This transformation is free and allows you to switch back to a personal account without difficulty, so you needn't face any threats of trialing it to measure whether or not it is beneficial to you. It really amounts to the way you intend followers to see your Instagram account and how keen you are on taking in the operation of your posts.
Have you tried out Instagram's Business Profile features? Did you revert back to your Personal Profile? Have you run promoted posts? Please share your experience with us in the comments.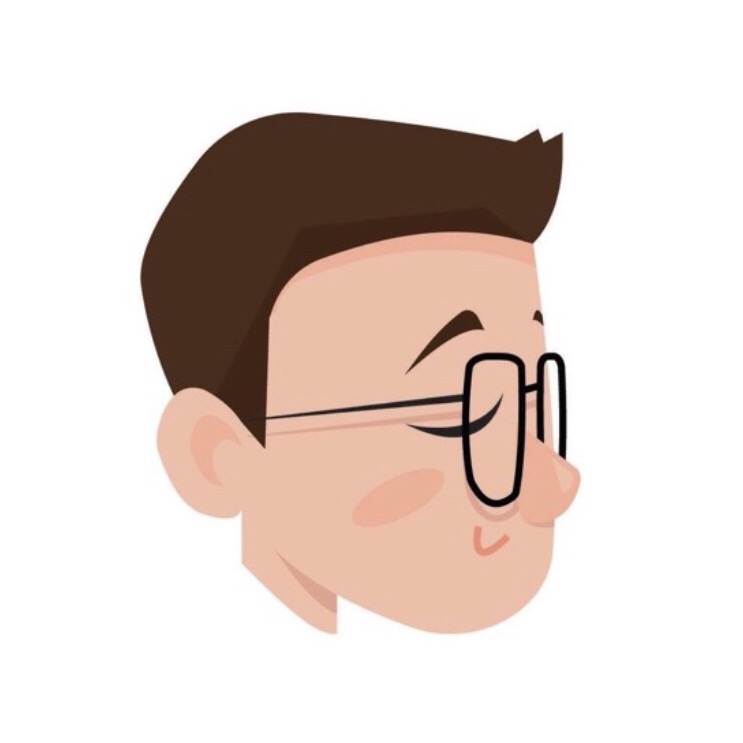 A graphic design and copywriting enthusiast. Marketing Manager