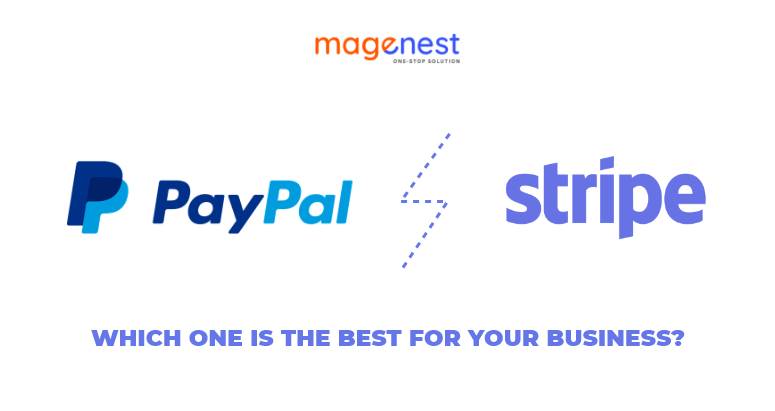 Online payment processing makes it easy for purchasing, accept payments and even set up subscription-style services for enterprises. The processor you choose will have a huge impact on how streamlined the process is and affect your profitability as well.
For most businesses, the choice comes down to two big providers, PayPal and Stripe.
This Infographic below might be helpful for an overview of the comparison about each aspect of PayPal and Stripe that matter most to business – everything from fees charged, to the overall user experience of the service.
So... Let's check it out!

Speaking of payment platform, choosing the most suitable one is of the utmost importance to any online stores. As for small business growth, PayPal and Stripe are the biggest competitors in the market.
While PayPal is a great option for businesses just getting started and for established businesses, the overall cost of using Stripe will make it a more attractive option as fees can add up quickly and eat into margins.
Actually, a wide range of businesses are using both PayPal and Stripe as payment options on their websites. Regarding Magento store owners, it is always crucial to choose a payment gateway that can really reduce check-out time and optimize customer experience like Magento 2 Stripe Extension by Magenest which helps protecting customers' payment data for eCommerce businesses.
The good news is that Magenest provides both options for you to manage your invoicing with ease. Explore that and other features of Magento 2 Stripe Extension, check out this blog!
We also offer you a ton of Magento 2 Payment Gateway Extensions, let choose the one that suits your business!
Hopefully, this blog has brought some valuable information to you. If you have other questions when running your business, don't hesitate to check out our blogs and leave a comment below so that we can help!