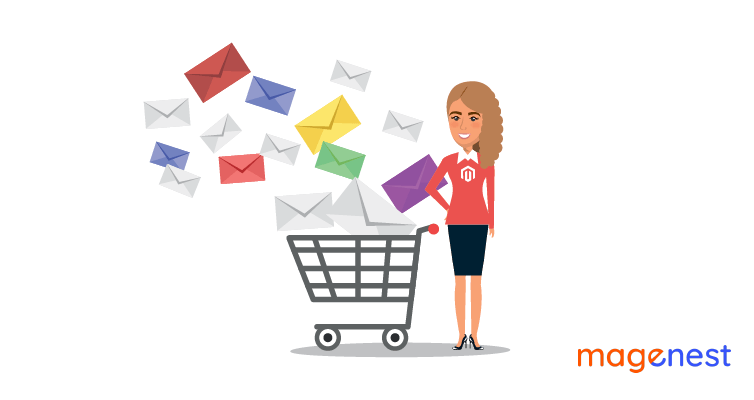 Abandoned cart email plays an important role in marketing activities of any business. With this, your e-commerce website may gain more profits by reminding your customers of coming back and finishing your shopping. Therefore, integrating abandoned cart email extensions in your website helps you effectively control and send the emails as well as save time and effort.
However, a bunch of extensions by providers all around the world sometimes makes you confused because you do not know which extension is considered the best for your e-commerce website.
In this article, we are going to analyze and recommend the 10 best Magento 2 abandoned cart email extensions based on their highlight features, users' feedback, prices, most importantly, conversion rates they bring to your business.
1. Magento 2 Abandoned cart email extension by Magenest
Did you know that the extension by Magenest is a good choice for every single business? Why? Because it is so flexible.

Unlike extensions by other providers, Maganest allows business owners to customize the content of the email to effectively turn abandoned carts into orders. Moreover, this helps your business save time and effort by sending reminders to customers automatically. If you are afraid of the open rate, Maganest integrates with Nexmo to send SMS notifications to customers to be sure that they all open your email.
"I did not expect much but it actually helps me increase conversion rate up to nearly 50%" – Ali, one of thousands of customers talked about it after installing.
Highlight features:
Flexible and unlimited rules
"Test campaign" support for each rule
Mandrill & Nexmo integration
Automated coupon codes and the discount generated for both emails & SMS
Google Analytics Campaign integration
Management for Blacklist and unsubscribes
Compatibility: Magento 2.1.x, 2.2.x, 2.3.x, 2.4.x (Open Source, Commerce)
Price: $120
2. Magento 2 Abandoned cart email extension by Aitoc
Aitoc allows business owners to send automated emails to customers to remind them of abandoned items in the shopping carts. Besides, it is helpful because it can attract your customers by adding coupons and other discounts in an easy way.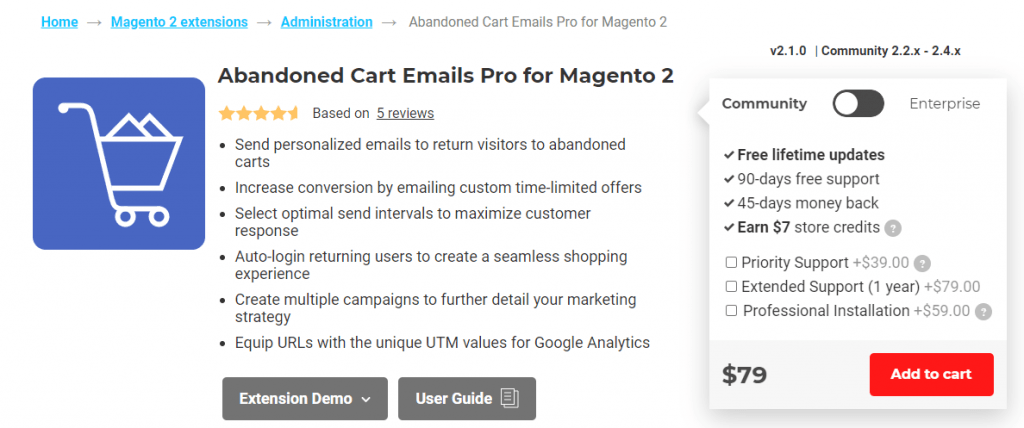 This Magento abandoned cart email extension helps you complete the purchase process of the customers leading to improve sales for your e-commerce website.
Highlight features:
Automatically sending the email to customers to inform them about items left in carts
Set button to resume the purchase by only one click
Be able to log in automatically after clicking to save time
Attaching coupon and discount as required
Let the customers unsubscribe from future alerts
Compatibility: Community 2.2.x – 2.4.x
Price: $79
3. Magento 2 Abandoned cart email extension by Aheadworks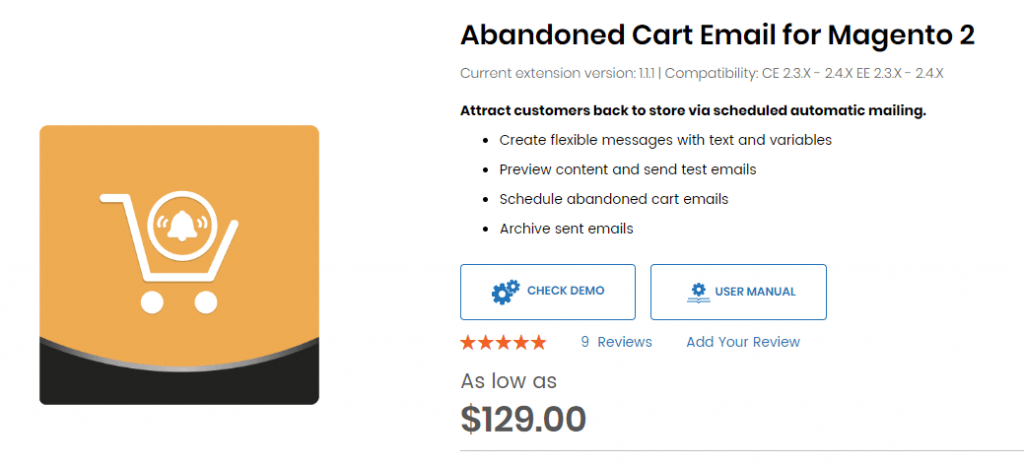 "Clean and neat" is what people talked about in the email by Aheadworks. Like other systems, this M2 extension encourages customers to come back and finish their orders. Offering coupon codes, special discounts, and FOMO formulas are the three mainly focused by Aheadworks.
This also provides business owners with lifetime free updates and 90-day free support.
Highlight features:
Classifying email by sorting audiences' reasons for abandonment
Creating flexible messages with attractive subject lines
Scheduling automated abandoned cart emails
Applying coupon code
Compatibility: CE 2.3.X – 2.4.X EE 2.3.X – 2.4.X
Price: $129
4. Magento 2 Abandoned cart email extension by Mageplaza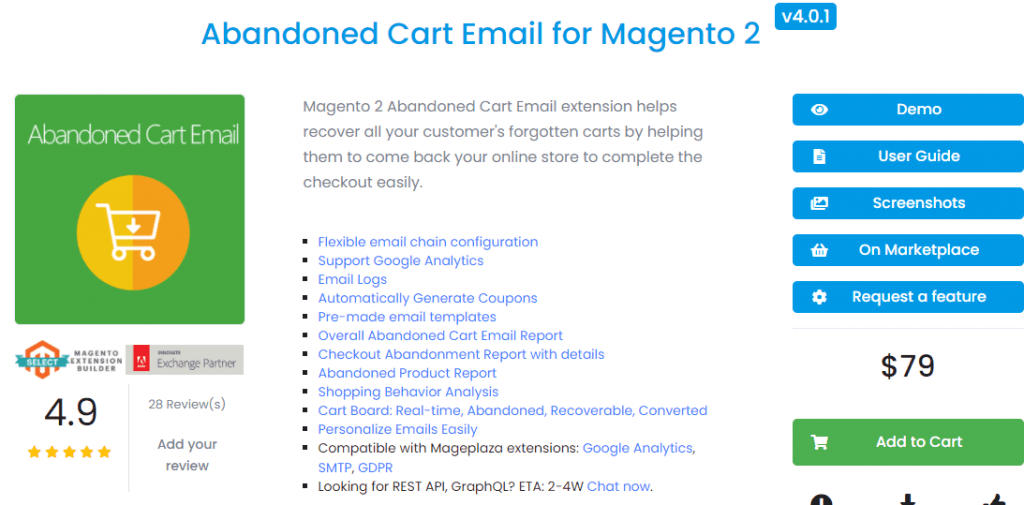 The abandoned cart email for Magento 2 allows business owners to keep track of online buyers and send emails to them to an ultimate and specific type. This leads to optimization and increasing your conversion rates to the highest level ever.
Besides that, it also gives customers special offers and coupon codes to attract them.
Highlight features:
Amazing email templates
Personalizing email based on data
Automatically sending emails and creating coupons
Enable to log in just by only one click
Google Analytics supported
Compatibility: CE/EE/B2B/Cloud 2.2.x, 2.3.x, 2.4.x
Price: $79
5. Magento 2 Abandoned cart email extension by Mageworx

This one is considered an essential part of any marketing campaign. E-commerce owners may gain back money easily by sending automated emails specializing in coupons, free shipping, etc. to customers who left items in the shopping carts.
More importantly, this tool is easy to control and customize to save your time and effort.
Highlight features:
Automated abandoned cart emails sending
Easy to keep track and control
Auto-login and recover to the cart more easily
Giving discounts and coupons without difficulties
Compatibility: CE 2.2.0
Price: $149
6. Magento 2 Abandoned cart email extension by Land of Coder

This Magento 2 abandoned cart extension also helps your Marketing strategy by sending automated emails and generating great coupon codes. Besides that, you can set and select attractive templates among other ones, even customize them to suit your needs.
Significantly, Land of Coder allows you to set multiple rules to personalize your audience leading to an effective result. You also get 12-month support when registering.
Highlight features:
Customizing email templates based on your needs
Automatically generate coupons
Google Analytics tool equipped
Narrowing audience to a maximum level
Easy to config
Compatibility: Community Edition 2.0.x, 2.1.x, 2.2.x, 2.3.x, 2.4.x
Price: $99
7. Magento 2 Abandoned cart email extension by Magebees
This Magento abandoned cart extension does not only encourage your customers to come back to your store but also convince them. It is easy to set criteria and conditions for sending the email, creating templates, and keeping track of email history.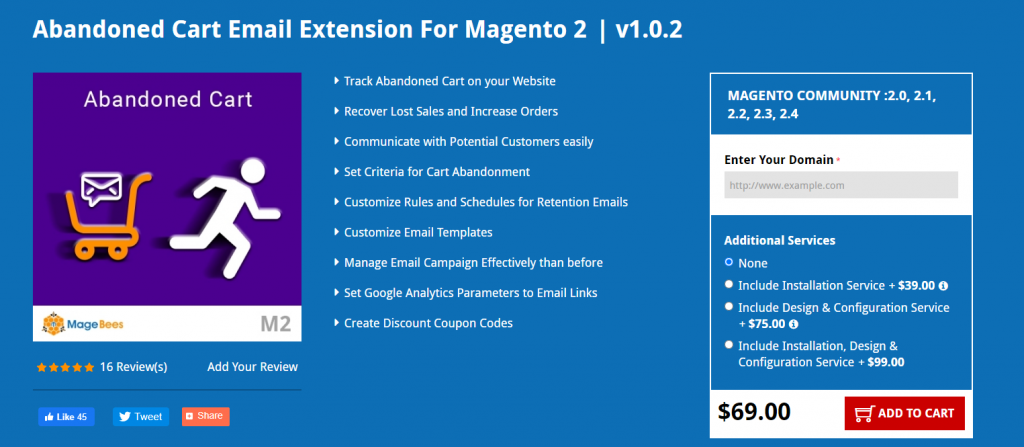 The module generates coupon codes and special offers. Also, it allows you to set Google Analytics as a tool for optimizing data and conversion rates.
Highlight features:
Customize email templates
Manage email campaign effectively
Create discount and coupon codes automatically
Set criteria for narrowing your audience
Set Google Analytics Parameters to email links
Compatibility: Magento Community 2.0, 2.1, 2.2, 2.3, 2.4
Price: $69
8. Magento 2 Abandoned cart email extension by Knowband
The extension provides you with a great email marketing campaign for sending automated abandoned cart emails. The thing here is that this tool makes your customers feel caring and satisfied, not just generating coupons for your e-commerce website.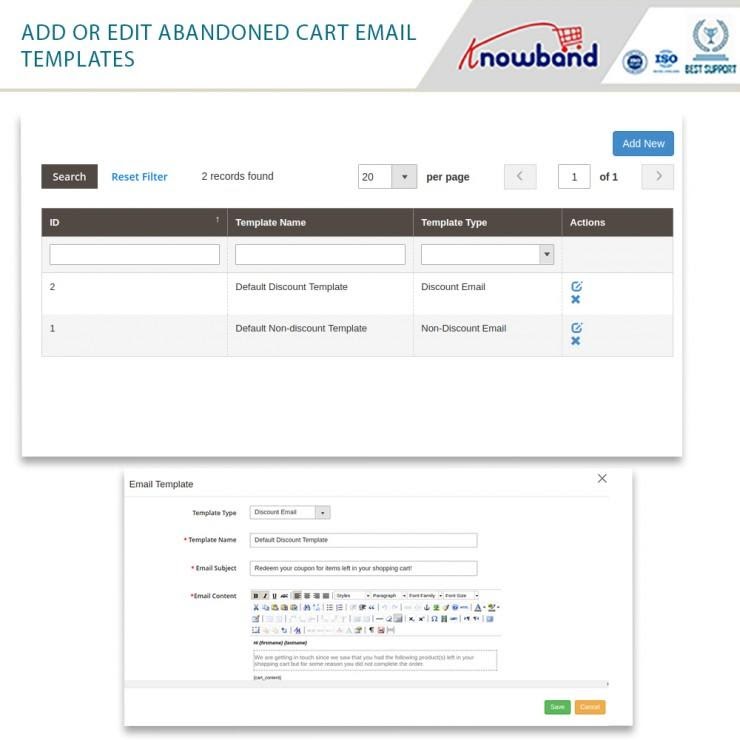 Highlight features:
Easy to set up
Allow admins to customize templates
Share admins' workloads by setting up everything automatically
Recovering to the purchase more quickly than ever
Compatibility: Magento v2.0.0 – 2.3.4
Price: $74.99
9. Magento 2 Abandoned cart email extension by Amasty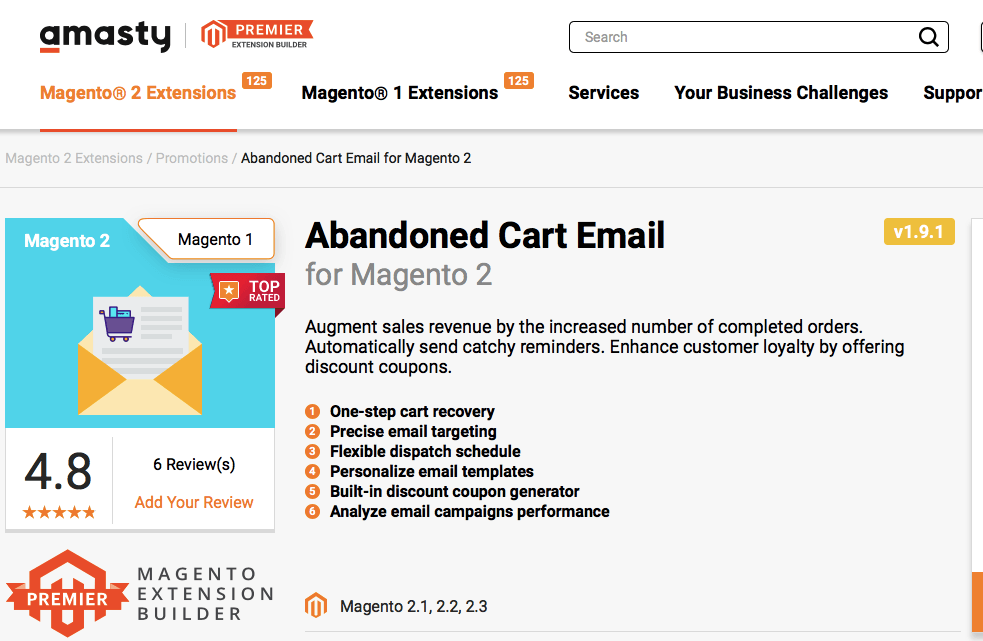 This extension by Amasty is a perfect module for your e-commerce website. This helps your store increase sales by giving admins an easy way to attach coupons, set timeframes automatically to send.
From that, the conversion rates are boosted at a high level.
Highlight features:
One-step cart recovery
Email campaigns performance analysis
Precise email targeting
Flexible dispatch schedule
Personalize email templates
Built-in discount coupon generator
Compatibility: Community 1.9.14
Price: $149
10. Magento 2 Abandoned cart email extension by Goivvy
Goivvy is the provider that you should consider when choosing the best-abandoned cart email extension. With all automated systems, marketing campaigns are easier to approach customers and win them.
Highlight features:
Support to send abandoned cart emails to guest users
Unlimited customized email templates
Unlimited abandoned cart rules
History of abandoned cart customers
Trigger emails with predefined scheduling
Compatibility: Community 2.2.x – 2.4.x
Price: $99
What is your choice?
We understand that looking for an affordable and useful abandoned cart email extension is important and time-consuming. However, based on your budget and needs, selecting one of the above mentioned will not make you regret.
If you are confused because there are too many providers, choosing the one with an average price (about $100) but equipped with a variety of features that helps you a lot. Trust us!