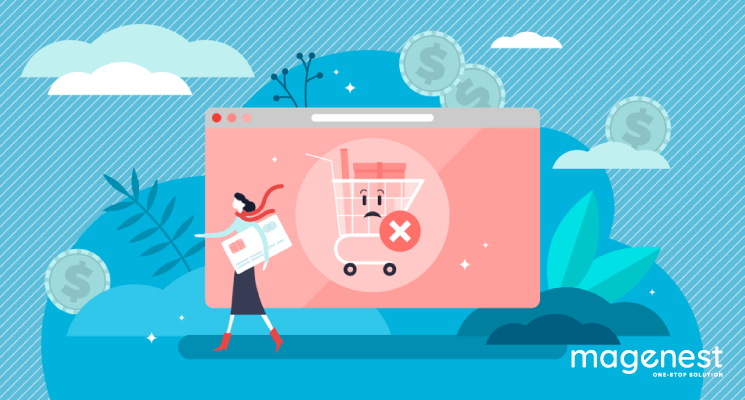 When it comes to selling products online, abandoned carts are a necessary evil. But their numbers seem to keep rising, with nearly 75 percent of carts abandoned before a purchase is complete!
Reducing your cart abandonment rate is a great way to increase sales, but you can also retarget users who abandon their carts; bringing them back to your Magento store.
Let's take a closer look at six of the most effective strategies to convert more abandoned carts into sales.
#1 Avoid Adding Unnecessary Shipping Costs
When customers see a price on your web store, they expect that price to stay consistent throughout the checkout process. Neil Patel found that nearly 30 percent of consumers leave their cart behind when shipping fees pop up during checkout.
The best way to avoid this issue is simply to be transparent about your brand's shipping policies. If customers can get free shipping above a certain minimum order size, that should be prominently displayed throughout your site. Also, make sure those who want more details on fees and delivery times know exactly where they can find this info.

Above all, the price displayed on the product page should match the price that customers end up paying. Other than taxes (and even then…) everything that can be included in the final cost should be clearly shown on your product pages.
#2 Support More Payment Methods
E-commerce customers use a wide range of payment options – everything from credit and debit cards to PayPal and Bitcoin. Supporting additional methods might sound like an unnecessary investment, but each new payment option gives you an opportunity to generate even more sales.
Of course, every customer group has its own preferences. Developing more nuanced buyer personas will help you decide which method best fit the needs of your audience.
#3 Follow up on Abandoned Carts
No matter what you do to maximize sales, it's impossible to completely eliminate abandoned carts. But just as important as reducing them is the need to bring users back after they abandon a shopping cart.
Fortunately, modern digital marketing platforms offer intuitive tools for abandoned cart recovery and other key workflows. With the right provider, you can quickly create follow-up emails that remind prospects of their discarded purchases and give them a chance to reconsider.
If you own a Magento-based website, you can take a look at Magenest's Abandoned Cart Email extension that enables store owners to boost sales by sending automatic reminders to turn abandoned carts into orders. With this module, you don't need excellent design skills to create abandoned cart emails since it provides you with various professional email templates.
In general, it's best to send your first follow-up message within a few hours of the user leaving your site. From there, say a day later, you can send a second message once they've had a chance to think it over. As seen in the image below, a slight discount or other small perks can encourage customers to reconsider the purchase.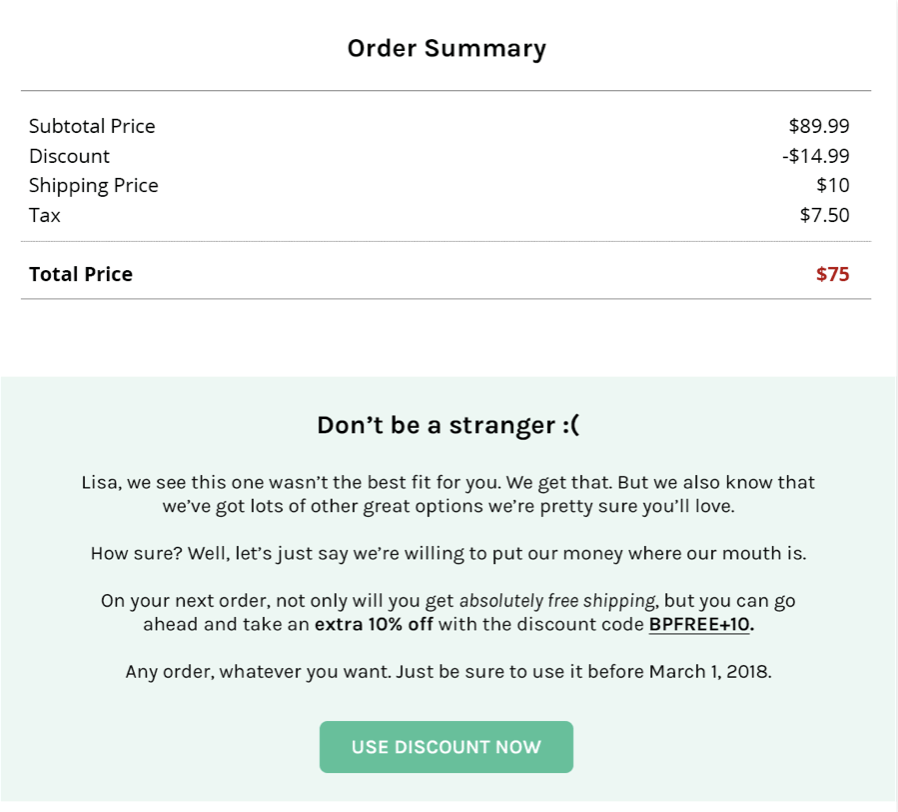 #4 Leverage Exit-Intent Popups
Marketers often see popups as intrusive or distracting, and that can be true when they're used ineffectively. On the other hand, exit-intent popups give you the chance to target website visitors at the perfect time – increasing sales while decreasing the likelihood of turning users away.
As the name implies, exit-intent popups appear when a user starts to leave your site. For example, they might move their corner away from the page in order to select the X button on the upper-left corner.
Unlike conventional popups, exit-intent popups respond to customer behavior and give you a chance to extend the length of their visit. Even if they still leave your site, simply staying in contact will increase the likelihood of future engagements. The image below demonstrates how a simple pop-up and a small gift can help you turn first-time visitors into loyal customers.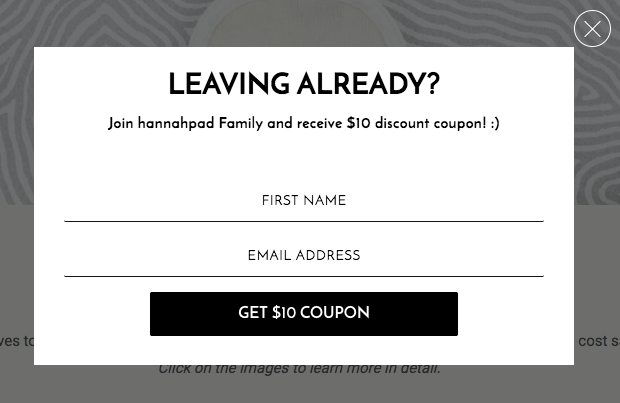 Want to design inviting exit-intent popups for your Magento store? Let's try Magenest's Popup extension now! This tool offers you different pre-designed templates to help you create not only exit-intent popups but also many other types of popups, driving customers' decisions with CTA elements.
#5 Run A/B Tests
Regardless of the strategies you're using, A/B testing is one of the best ways to consistently improve your results. A/B testing involves comparing two variants of the same ad before using the best performer in a campaign.
If you're developing exit-intent popups, for example, you might A/B test two different headlines to determine which one resonates more effectively with your audience.
So, instead of "Leaving Already?" (as in the image above), you could try something like "Don't Go!" or "Don't Miss This Exclusive Offer!"
Marketers generally rely on their intuition to craft better messaging, but A/B tests give you the information you need to make data-driven decisions. Over time, you'll gradually recognize the strengths and weaknesses of your approach; while gathering more and more data on audience tendencies.
#6 Implement Push Notifications
While email is still one of the most common digital marketing channels, it doesn't offer much in terms of real-time engagement – especially compared to push notifications which are typically sent either to the user's browser or through a mobile app.
Web push notifications are still emerging, but mobile notifications are already extremely common. They're more convenient than an email and offer a much shorter response time and direct access. Also, using a brand's mobile app is generally easier than using their website on a mobile device.
Final words
All things considered, there's no shortcut to generating more sales on Magento. However, these six strategies will help you reduce cart abandonment while converting more abandoned carts into sales.
Keep in mind that adjusting your approach to digital marketing is an ongoing process. It's critical to keep an eye on your results and continually refine your tactics in order to stay ahead of the competition.