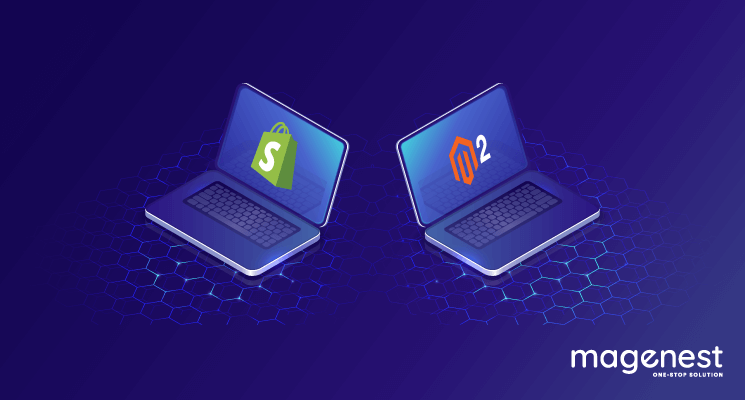 One of the most important things, when you participate in the e-commerce world, is selecting the most suitable e-commerce platform for creating an online store. In fact, it can be the factor that decides the fate of your business.
You are owning a Shopify online shop at the present, you want to improve website performance, boost traffic, scale sales and to optimize the speed of your store. You need to migrate your current store to a more feature-rich and powerful system like Magento 2.
This article is intended to provide Shopify store owners the reasons why Magento 2 becomes a spotlight when re-platforming and the guideline on how to migrate your e-store from Shopify to Magento 2.
Let's find out!
Top 4 reasons to migrate from Shopify to Magento 2
#1 Out-of-the-box functionality
Both Magento and Shopify come with a complete set of basic e-commerce features. However, Magento has a few significant features that Shopify does not have:
Unlimited inventory size
Coupons and discount codes
Multi-language support
Although both systems can be easily improved by adding many important extensions from the corresponding stores, Magento is the winner with more than 5000+ extensions (free and paid).
#2 Visual customization
Shopify with its SaaS business model (Software as a Service) doesn't offer merchants the visual customization of their stores as much as Magento can do. With the number of available Shopify themes, around 100, you are limited to basic modifications through theme settings or more advanced customization through the theme editor tool.
On another hand, Magento is an open-source platform that offers you the limitless possibility to modify it to your needs or even rewrite its parts if you have good technical knowledge. Moreover, you can experience hundreds of pre-made themes then choose one of them to use immediately.
#3 Third-party integration and extension
While Magento is supporting more than 5000 extensions in total, there are only around 200 extensions available for Shopify. They are complex and offer a kind of functionality that brings full the workflow to your e-shop.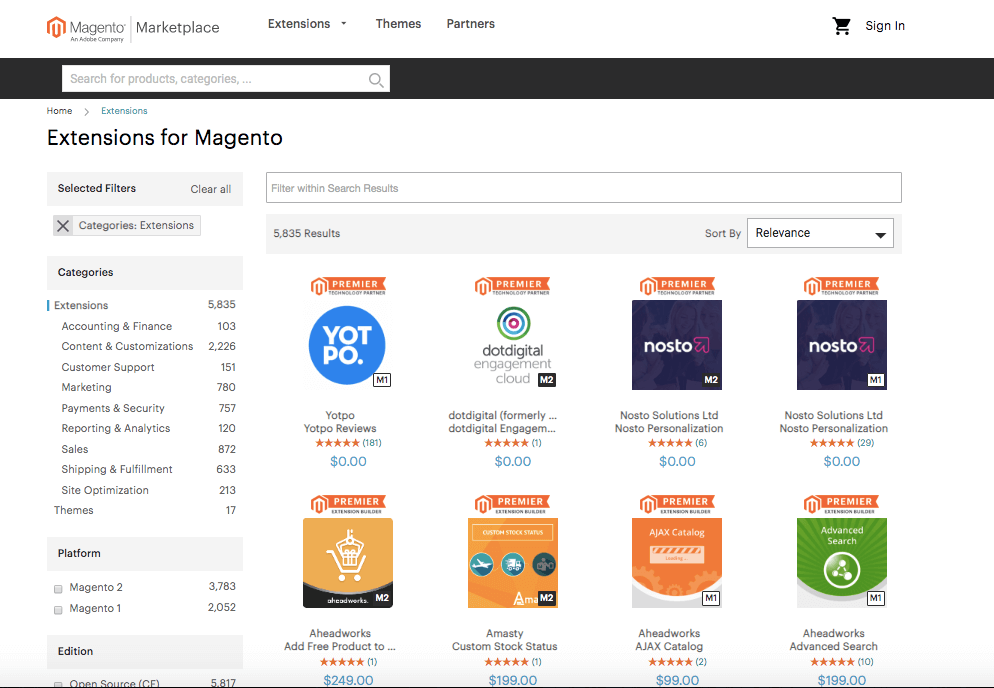 One more thing, you only need to purchase a Magento extension one-time with the full price right away. With Shopify, you need to pay a fixed small amount per month. At first, it seems to be economic; however, in the long-term, with every extension added to your store, your monthly operating costs will increase.
#4 Business model
There are 2 main versions of Magento: Open Source and Commerce. The Open-Source edition (Community Edition or CE) is totally free and this option is preferred by users who want to switch from Shopify to Magento. This Commerce edition is suitable for larger stores with many more powerful features in indexing, caching, backup, inventory management tools, etc.
Once you decide to move from Shopify to Magento 2, you may now find the best way to implement migration smoothly.
How to perform Shopify to Magento 2 Migration
Step 1: Set up your Magento 2 Store
Before running a migration, you first need to set up the environment and create a fresh new store on Magento 2 following this checklist:
Set up your server environment. You need to install the prerequisite software, including PHP, Apache, and MySQL and consult the system requirements for specific information.
Get the Magento software.
Install the Magento software using either the Web Setup Wizard or command line.
Verify the installation by viewing your storefront and the Magento Admin.
In case you do not have time or enough technical knowledge to set up your store, you can purchase LitExtension's All-in-one service. In that, our experts will take care of your migration from top to bottom including setting up your target store.
Step 2: Back up your Shopify store data
It's highly recommended to back up everything before you make any major changes in your store. To backup data on Shopify, go to your Shopify backend and export every important data to CSV files.
Step 3: Two ways to perform Shopify to Magento 2 migration
Currently, there are 2 solutions for you:
Manual migration
Using an automated migration tool
And in each way, we will make clear all the steps to how to transfer your data from Shopify to Magento 2.
How to migrate from Shopify to Magento 2 manually
To manually move your data from your current store to Magento 2, you need to export all data from Shopify to CSV files and import them to Magento 2.
Before you start, here are two things you need to prepare in advance: Firstly, review your existing data and decide what kinds of data you want to migrate (for example: products, categories, customers, manufacturers, orders, coupons, etc). Secondly, find out what types of data you can export CSV files from Shopify and what types are supported by Magento to be imported by CSV files format to the platform.
When exporting, there's a 9000-row limit for each file. Therefore, if your data is more than 9000 rows, you won't be able to manually export them by hand but you have to use an export app from Shopify app store. In reverse, if the data is less than 9000 rows, you need to export everything to CSV files so that they can be imported into your Magento 2 installation.
Next, please go into your Magento admin dashboard, then proceed to System, Import/Export, and Dataflow Profiles. From here, you can then import to Magento 2 by selecting the CSV files you created. However, as you can see, you can only import Advanced Pricing, Products, Customers and Addresses, Customers Main File, Customer Addresses.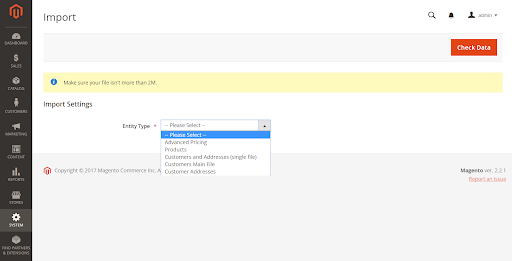 As a result, you need to consider this solution because if Orders, for example, are one of the most important data, you can't import them manually to Magento 2. Consequently, for the unsupported data, the only solution to import them is to copy and paste content from your old site. Moreover, the relationship among data tables will be disrupted when the data is imported to Magento 2.
Migrate from Shopify to Magento 2 with an automated migration tool
In terms of shopping cart migration, we highly recommend LitExtension - the world-leading company in this field that offers top quality servicing with a reasonable cost. This tool helps you migrate all your data including products, customers, orders, SEO URLs, passwords… from Shopify to Magento 2 seamlessly and accurately. They also offer Free Demo Migration so that you can experience how exactly the tool works.
Below, we will walk you through the process from A to Z. You should research for more details about the preparation before running a migration to help you ensure the migration process will go smoothly and successfully.
With only 5 simple steps and detailed instructions, you can easily migrate your current e-store from Shopify to Magento 2 with LitExtension tool:
Step 1: Register a new account or login to LitExtension website.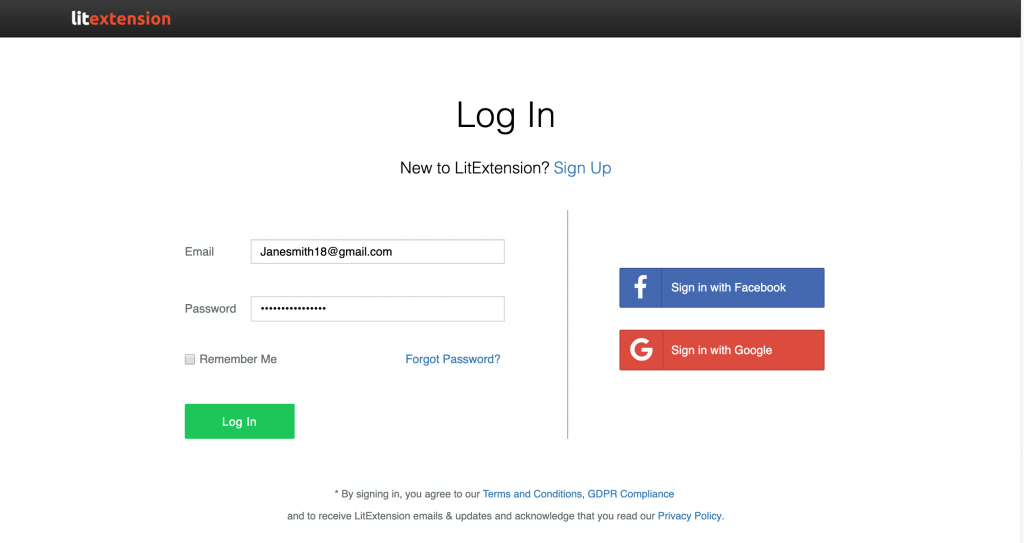 Step 2: Go to your account and click "Create New Migration" to begin.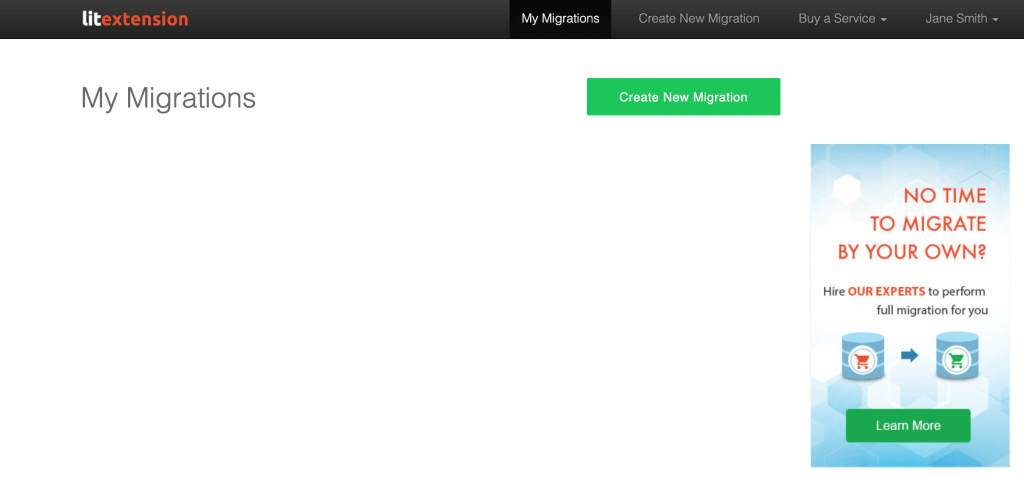 Step 3: Set up your Source and Target Cart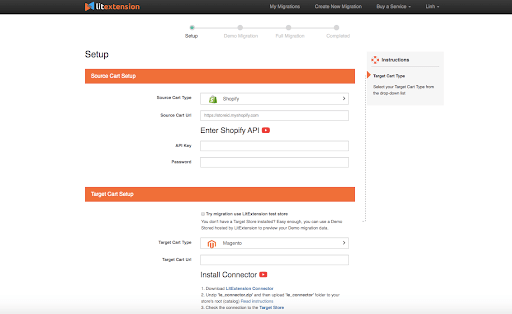 In this step, select your Source cart type as Shopify. Then, fill in the blanks your API key and password. Select Magento as your Target cart type, and provide the target store's URL into the blank bar.
Then, click LitExtension Connector to download the connector, extract the zip file and upload connector to Source Store's root folder.
Step 4: Select entities you want to migrate
Choose entities you want to migrate. You can select either all of them together or certain data.
LitExtension also provides Additional Options here to extend your migration possibilities.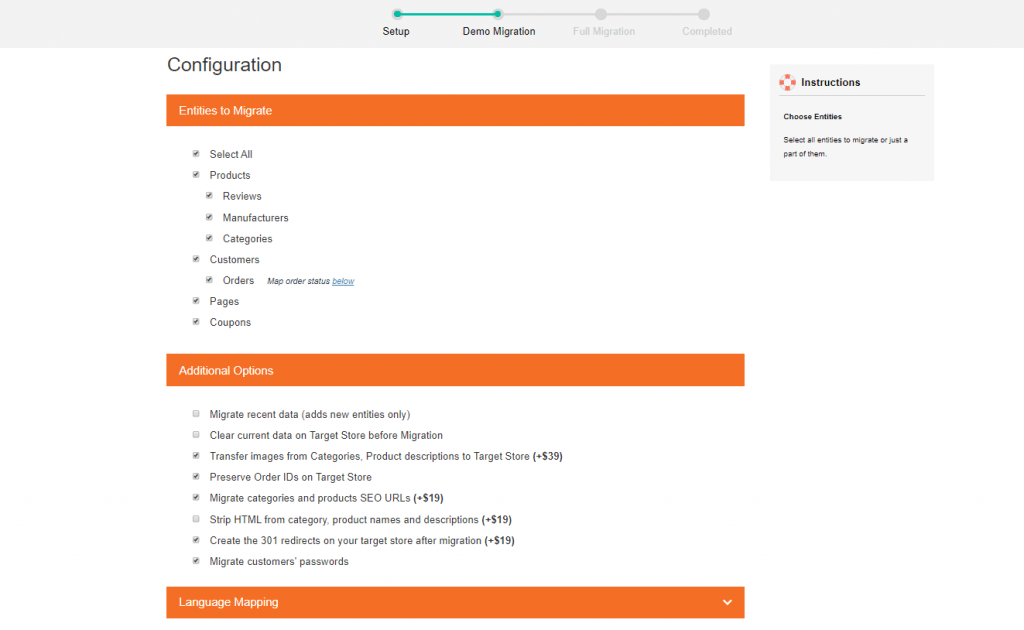 Step 5: Perform Migration from Shopify to Magento 2
To Try Free Demo: Start your demo migration with a limited number of entities. You will see the same actions as the actual migration. However, you can skip this step by clicking the "Skip Demo Migration" button to immediately move forward to Full Migration.
To Perform Full Migration: Please click on the "Skip Demo Migration" button to perform full migration immediately. Please wait while the data is migrating, an email will be sent to you from LitExtension system after migration completed. Now, your data will be moved to Magento 2.
Step 4: Check your store after migration
After a full migration is well completed, the first thing you want to do is check the result immediately. You want to see what your new store looks like both in the store-front and in the back-end. LitExtension provides a detailed instruction to check your e-store after the migration. You can see it for more information.
Especially, with Magento, you need to kindly clear cache and reindex data by running these command lines:
php bin/magento indexer:reindex
php bin/magento cache:clean
And one more important note that out-of-stock products can be disabled and not visible from the front-end. So that you need to make some changes from the back-end to fix it.
Step 5: Migrate Theme And Customisation
It is impossible to migrate Shopify themes to Magento 2. You need to recreate them so that they can work properly with the Magento 2 structure. Or else, you can consider these possible solutions to create a theme on Magento 2:
#1 Download and install a Free theme for Magento 2
There is a wide range of Magento 2 responsive themes free download on the market that you can easily find and install on the new site.
#2. Buy and implement a ready-made Magento 2 theme
With this option, you have to pay for ready-made themes of Magento 2. Compared to the free themes, most of the paid Magento 2 themes and templates have better quality both the design and the functionality.
#3. Recreate the theme you have on your Shopify store or build a unique one for your Magento 2 store
Based on the design of your old website on Shopify, you can build a new theme and template for your e-store on Magento 2. Or you certainly can design an absolutely new Magento 2 theme for your store from the beginning.
As a result, you will have a unique design that meets all of your needs and requirements. In this case, you can contact Magenest team to help you out!
Step 6: Run recent data migration
During the migration process, your current store is normally running and still receiving new entities such as new orders and new customers. Therefore, after performing your full migration successfully, you need to move all those recent data from your old store to your new store. Then, with LitExtension Recent Data Migration, you can easily migrate recent data for free and unlimited times within 3 months after the initial migration.
To begin, follow 2 simple steps below:
Step 1: Go to your account on LitExtension site and choose Recent Migration.

Step 2: Follow the simple steps that you did when setting up the full process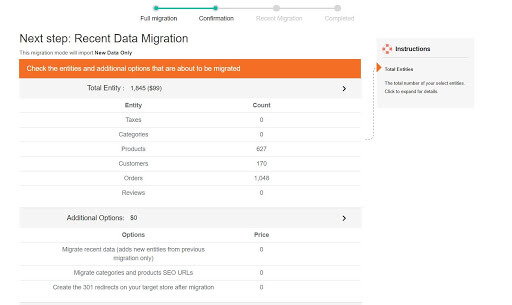 That's how easily our Recent Data Migration works. After that, your new site is guaranteed not to miss any data and to be ready to work officially.
Step 7: Switch Domain
Finally, after your Shopify to Magento 2 migration is completed, you should Change DNS and switch domain to your new store on Magento 2.
If you are new to e-commerce, some of these terms and features may seem confusing and daunting. LitExtension offers a reliable Change DNS and switch domain service for a single fee.
CONCLUSION
It can be very tedious or a pleasant experience depending on what method you choose to migrate from Shopify to Magento 2.
If you ask for our opinion, we highly recommend you go with LitExtension for an A-Z migration service. Then, you can save a lot of time and money for other tasks.
Lastly, do not let the migration process delay your business development!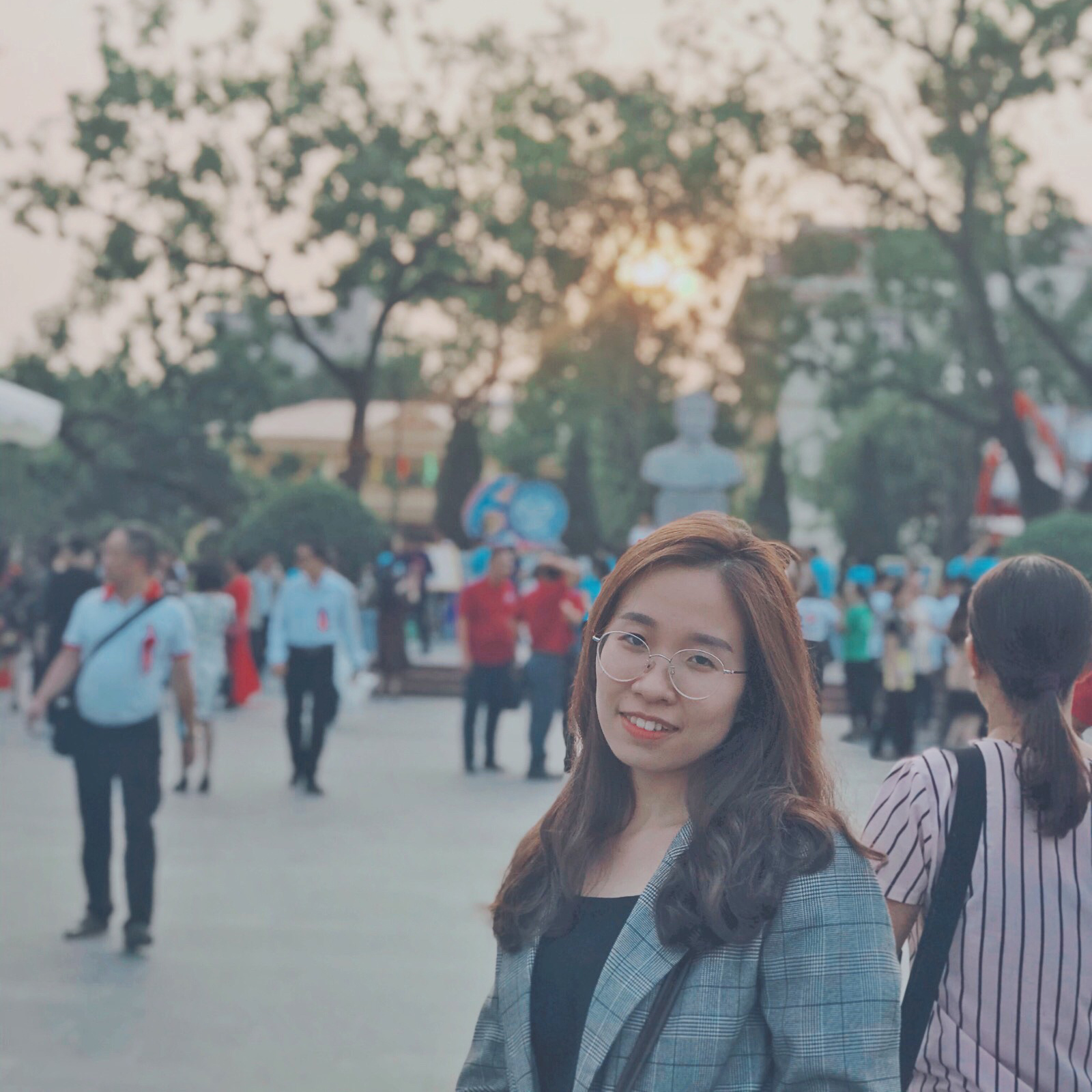 Marketing Executive | Content Manager