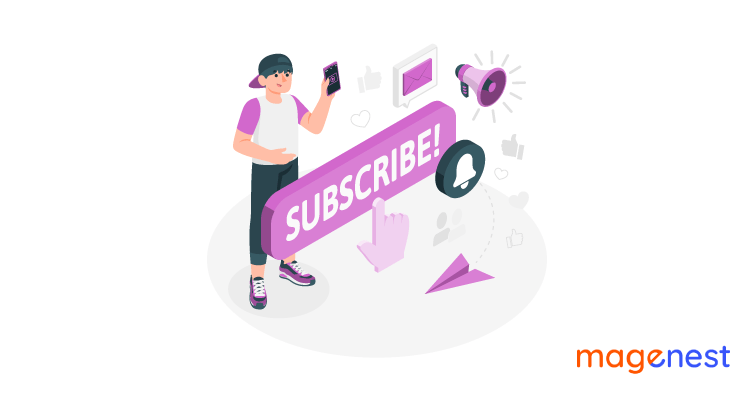 Subscription models are winning momentum with numerous multi-million-dollar subscription services that defeat bricks-and-mortar stores.
Subscription services soon diversely range from fashionable clothes, healthy food, organic vegetables, to beauty products while taking many of the inconveniences of traditional shopping away: the commuting, the limited selection, the store hours, the amount of time to choose.
Amazon, the leader of convenience and speed, has hopped on the subscription-based eCommerce model trends. With their most advanced venture, Amazon Fresh, as part of their Prime Membership, lets customers set up recurring grocery deliveries.
Today, let's take a look at some standout subscription models.
Have you prepared to be inspired yet?
Subscription-based eCommerce: Important Milestones At a Glance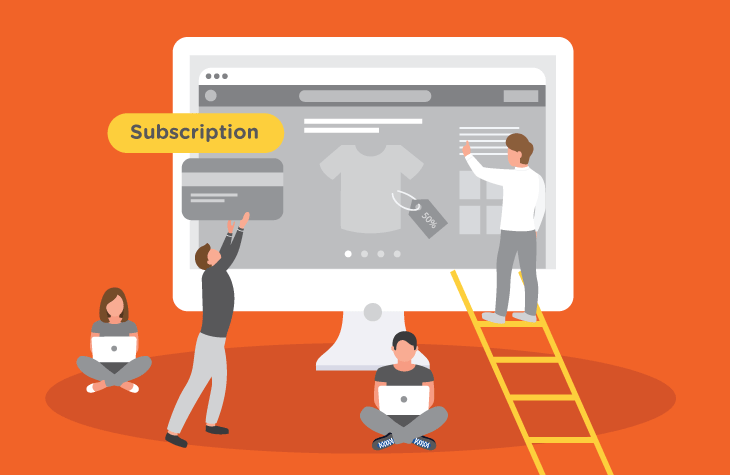 The subscription-based eCommerce model is increasing at an exponential rate. According to research carried out by McKinsey & Company, 15% of online shoppers have signed up for one or more subscription services. That's a surprisingly big number — regarding the projected number of online customers as 2.14 billion by 2021.
The good news for eCommerce retailers looking at offering a subscription-based model is that business is still booming.
The latest forecasts hint that by 2025 the market of global eCommerce subscriptions will be worth $246.6 billion.
The Subscription Economy Index (SEI), which tracks subscription businesses on the Zuora platform, unveils that subscription businesses raised revenues approximately five times faster than S&P 500 company revenues (18.2% versus 3.6%) and U.S. retail sales (18.2% versus 3.7%) from January 1, 2012, to June 30, 2019.
Subscription-based eCommerce businesses boasted about $2.5 billion in venture capital funding during the past four years, including $400 million in the first eight months of 2019.
Top Most Successful Subscription Stories
That the subscription business model can be remarkably fruitful under the right direction can't be doubted. With a little creativity in implementation, a subscription-based eCommerce model can be offered by any industry be it automotive, fashion, music, beauty, and more.
As evidence, here's the list of the most profitable subscription-based businesses from diverse industries, all of which have made it big with subscriptions and are now worth million dollars:
#1 Birchbox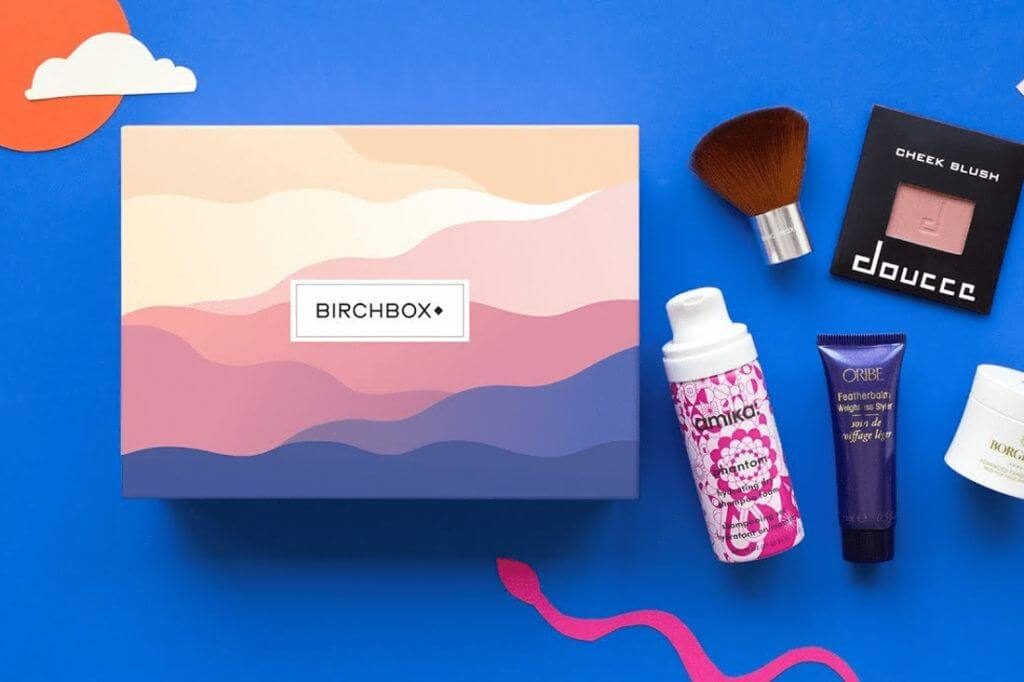 If we're discussing the models of eCommerce subscription services, Birchbox of Amazon is a prime example with a fabulous success rate as far as the subscription-based eCommerce model performs. It has been thriving in more than 6 countries with above a million subscribers.
Firstly, subscribers are required to narrow down their skin types and style preferences, and then Birchbox monthly delivers their customers a box full of beauty samples every month accordingly. It's not simply buying five beauty products but also discovering new ones personalized to their particular tastes.
The two ideas-focused are personalization and discoverability, as well as regular refilling as they are the core values of every eCommerce subscription service.
#2 Spotify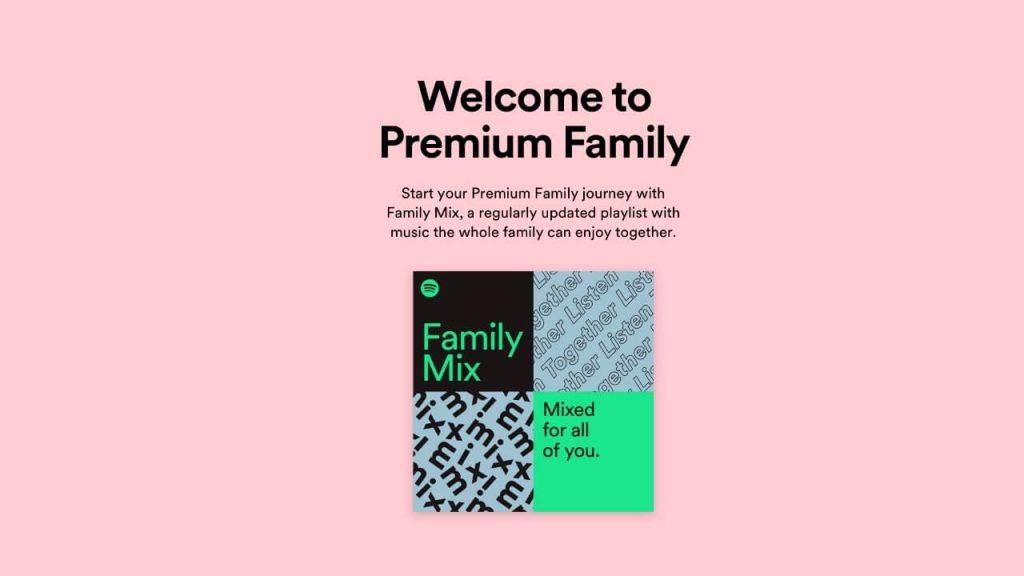 The turbulent music industry has been given a new lease of life thanks to subscription-based eCommerce model ideas.
One such business that has made it big and is evolving up to this time is Spotify. Spotify has two subscriptions, one is a free service that is ad-supported and the other is paid subscription.
For a monthly subscription, users get access to any song they like, from as many diverse recording artists, wherever and whenever they want. In 2017, the company yielded over €4 billion of revenue, 90% of which almost was based on premium memberships and another 10% based on a free and ad-supported service.
#3 Porsche
Imagine spending a monthly charge to drive the Porsche of your fantasies, and also able to change for a different model a few weeks later. That is the subscription-based eCommerce model of Porsche Passport.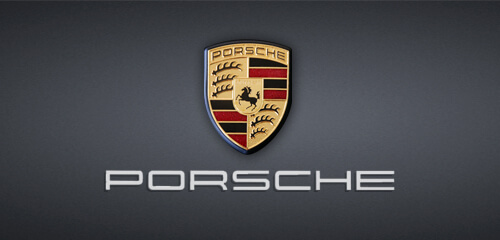 Sounds interesting yet?
Other top companies like Cadillac offer a Cadillac subscription system named the BOOK, where consumers can rent up to 18 different cars in a year. In the meantime, BMW is currently testing out a subscription service, providing customers the ability to swap vehicles as usually as they want in a month. And Volvo has already allowed US consumers to subscribe to its compact SUV, Volvo XC40 for $USD600/month. This price includes maintenance, insurance, wear-and-tear, additional concierge services, and 24/7 customer care.
#4 Justfab
Returning to the fashion industry, among the leading subscription-based giants is JustFab, an online and subscription-based fashion retailer. They run on a subscription-based eCommerce model that provides an exceptional shopping experience to their customers. The blend of the bankable fashion industry, the usefulness of subscription services, and the temptation of personalized professional styling make it a win-win ideal for the retailer.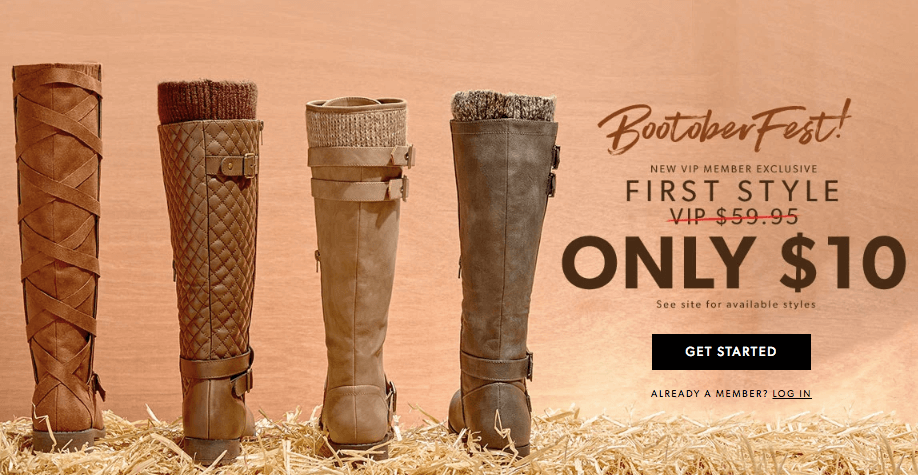 Here's how they work. After getting visitors to take a short style quiz the site records your "style profile" to put forward recommendations in your customized "Showroom."
As a VIP member, customers receive a 30% discount on the retail price and a monthly personalized boutique. While a new boutique is delivered at the beginning of every month, the payment for the membership is also billed automatically at the beginning of each month. If customers can't wait to skip a month, they will be given 5-day time.
#5 Amazon
Clearly, you've caught the phrase "Subscribe & Save" retail subscription-based eCommerce model of Amazon, the online retail giant. This subscription service offers delivery of recurrent household needs, from goods to personal care items, from beauty products to baby care, in an automatic manner every month.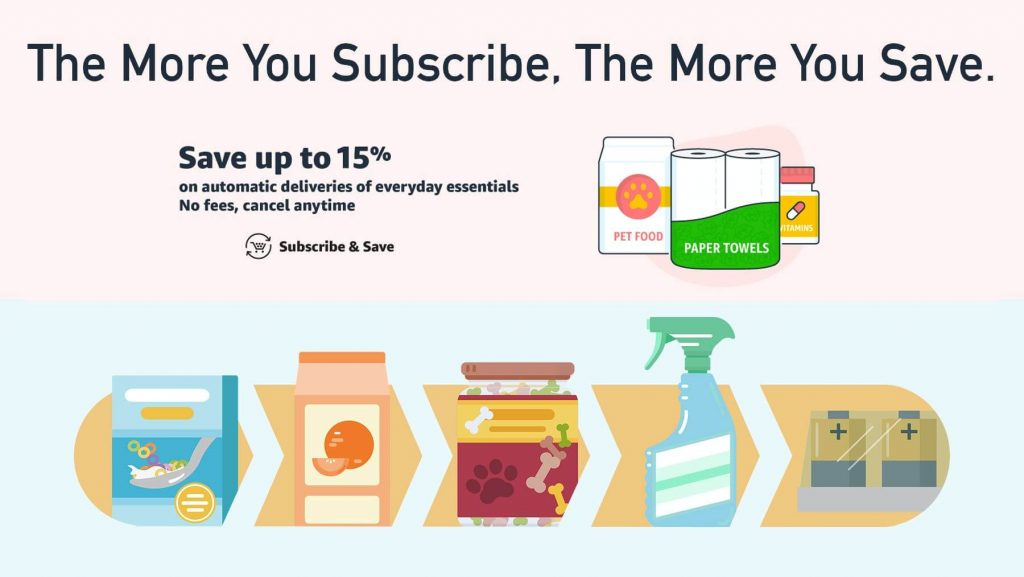 Amazon allows a discount of 15% on goods if you subscribe and buy over five products in a month. Prime members receive 20% off these prices. Free shipping is also covered and shoppers can cut subscriptions anytime without any charges.
Another well-known subscription option is Amazon Fresh, in which customers can organize recurring grocery deliveries as part of their Prime Membership. In the UK in 2018 sales reached £150m and the figure is assumed to rise continuously.
#6 Loot Crate
That slogan from Loot Crate's is "No matter what you geek out about, Loot Crate has a monthly subscription box for you! Exclusive collectibles, apparel, and gear are delivered to your door."
Rather than just focusing on personalization, Loot Crate sets itself on discoverability and amazements besides the supply of specialized crates like Anime and Gaming.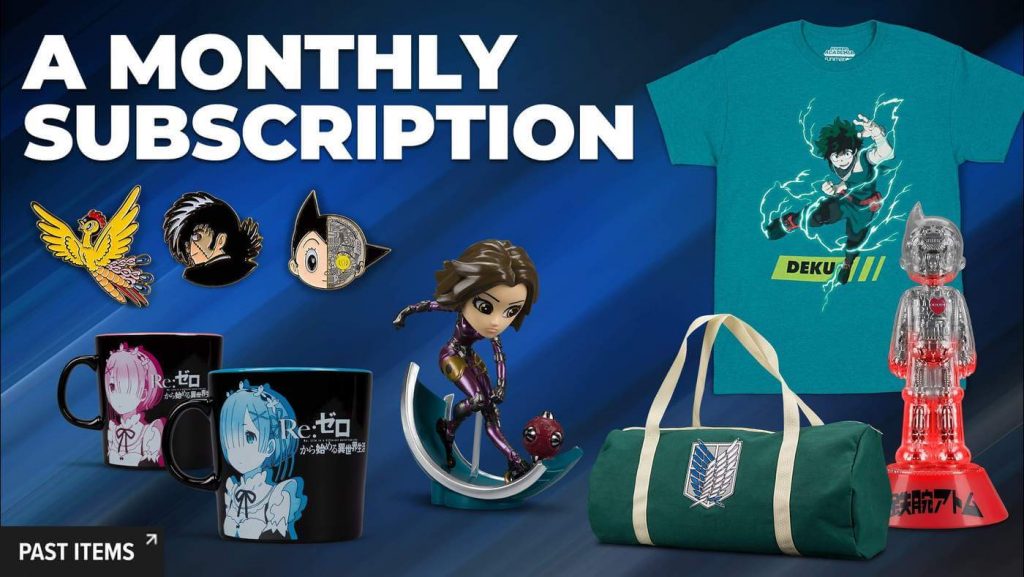 Each subscriber will receive the same contents organized by distinct themes. For example, February's theme was "Build" while last October's counterpart was "Horror" to match Halloween. A niche market like geek culture is not amongst diverse industries like fashion, so it's an effective tactic as their subscribers often share the same taste. Therefore, you can generate subscription boxes that the target customers are willing to pay for.
#7 Naturebox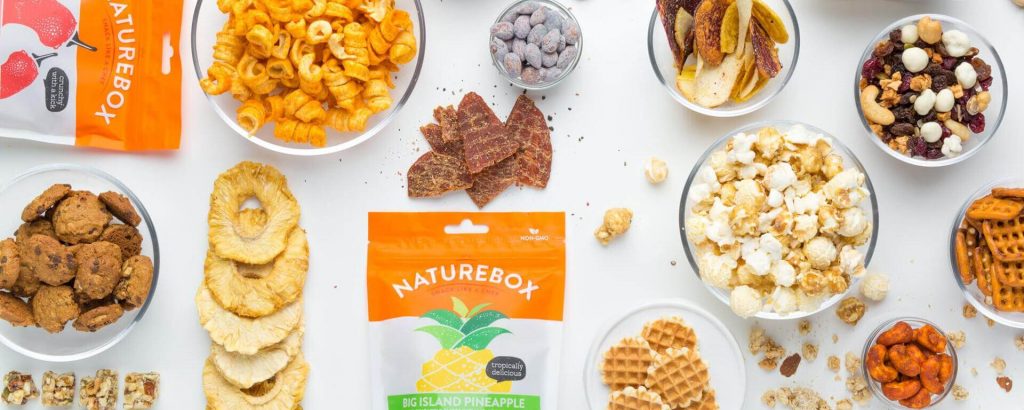 When it comes to products that require constant reordering, food is the first thought that comes to our mind. Naturebox understands deeply this basic demand for regular sustenance by a care set of specialized treats. They form an impression on customers via a selling point which is healthy and organic snacks with zero artificial constituents.
They target the minority niche of healthy and vegan eaters who are really keen on non-GMO, gluten-free food. Furthermore, Naturebox credits you for snacks you like and don't like automatically, so you can both regularly receive your favorite snacks at home and save a considerable amount of time for going out to get them.
#8 Netflix
Netflix has been famous for the top eCommerce subscription services for all time. By streaming a limitless museum of movies, TV shows, and specials, Netflix's service competes with that of television in general. Though customers can't access the "first airing" of traditional TV, Netflix offsets them with on-demand viewings of various shows and movies at their disposal.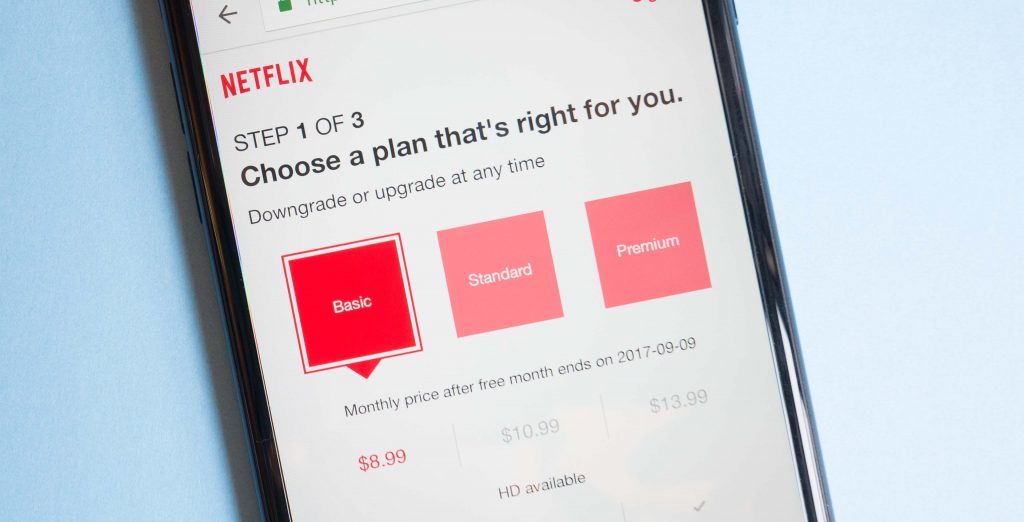 Netflix takes personalization as a core in their business strategy to win in the eCommerce subscription industry. Netflix provides customized recommendations on what to watch by identifying the relationship linking the subscriber's rating with the preferences of other subscribers who have comparable ratings. The discoverability in eCommerce subscription is also applied completely, which makes Netflix subscribers feel appreciated, and they're always available to find out new films and shows associated with their tastes.
#9 Freshly Picked
Memberships are a powerful idea for eCommerce merchants in 2021. When Amazon Prime began selling memberships, people were immediately hooked. In fact, Amazon Prime owned more than 100 million subscribers at the beginning of 2019. While most people aren't shocked that several people shop on Amazon, the kicker lies in the fact that these people aren't subscribed to any products but a service.
Freshly Picked, merchants of matching 'mom and daughter' moccasins, clothes, bags and more, have established an incredible membership model. Their subscription-based membership grants subscribers 20% off all products plus free shipping, a $10 monthly store credit, and priority access to brand new items (by hiding some products from those not subscribed).
Subscribers can control their access to their own membership via their Customer Portal and can use stored monthly credit to any purchase at a given moment using a loyalty solution also included the Customer Portal.
#10 Friction Free Shaving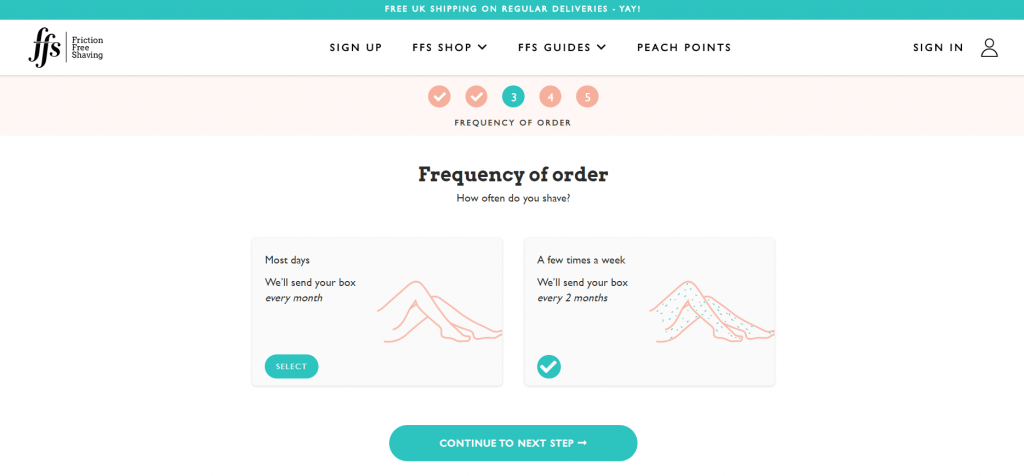 The UK's industry-leading subscription box, and the first razor delivery service intended exclusively for women, has remained industry-leading since the 2015 launch.
What makes Friction Free Shaving such a unique business is its onboarding process. After sign-up, a subscribed customer gets a new razor and replacement blades. Every purchase following removes the initial razor but covers fresh blades at an interval determined by the subscriber.
Friction Free Shaving perceives subscriptions are all about a customized, tailored experience, that is why they offer the capability to pause and restart or cancel every time you want. Besides, their cross-selling mechanics work wonders for boosting average order value – offering shave creams, balms, and scrubs to improve the personal shaving experience. Certainly, it's working, as the brand has scaled from strength to strength in the past years!
Businesses that operate especially well in the subscribe and save business model are usually those that sell consumables. Products that customers need to be refilled or restocked every once in a while are ideal as there's no uncertainty of when to re-order. If you need 8 razors every 4 weeks, or a new pitcher of shampoo every 2 weeks, or more coffee every 10 weeks, the subscribe and save model works remarkably well.
How to Start Your Subscription-based eCommerce Model with Magento?
If you get in on the ground floor, you may consider investing in the Magento platform to build your online presence. Nevertheless, if you already own an existing Magento store, you only need a reliable subscription extension to swing into action.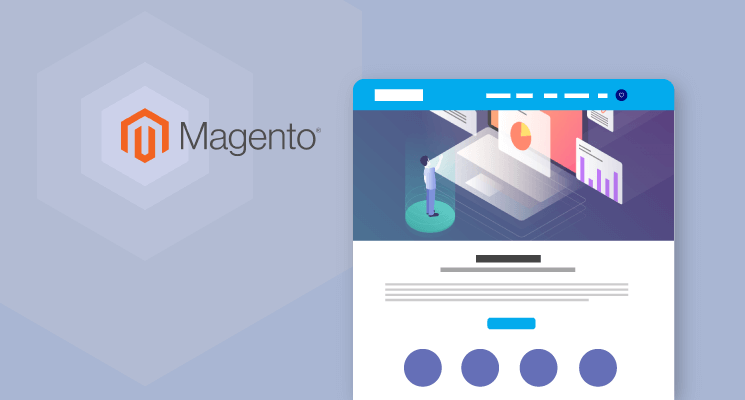 Install and configure the extension as per your needs, and you will be able to begin selling your products on a recurring basis. The basic extension can help you:
Add more subscription choices to your diverse product catalog

Automatically collect payments

Create an advanced report of product subscription
Apart from the above-introduced ones, there are now several more features offered by several agencies. Whichever high-end Magento 2 subscription extensions you may prefer, make sure the extension provider offers regular and free updates, say at least a 60-day free support, and a money-back guarantee (just in case the extension didn't fit in your site).
Final Words
True that designing a subscription can be a little daunting. Nonetheless, with the appropriate strategies by your side — you can create a flourishing business in minimum time and effort. Throughout this article, we spotlight the top success stories of the subscription-based eCommerce model.
If you're trying to set up your subscription business, the first step, needless to say, is to identify the type of your business, curate products, fill in your inventory, get an effective subscription extension, and you will be well ready.
You will be able to make a subscription commerce business with almost any product or service. Still, it's important that you price your subscription plan properly in order to sustainably grow your business.
In consideration of the foregoing, now is your high time to develop your first successful subscription business. Bear in mind the tips and tactics that have been shared throughout this blog, and you will end up creating an extremely successful subscription business that churns revenues.