Whether you're already a business owner or just starting a new business, you may look for a system that can assist in keeping business transactions running smoothly. Thanks to the advances in technology over the last few decades, the POS system makes this process more simple and allows you to have better control over your business operations. In this article, we're going to take a look at "What is a POS System?". Let's dive into it.
1. What is POS System? Definition of POS system
A point of sale or POS system is a computerized device at which purchases are made and money changes hands between buyers and sellers for goods sold in retail stores around the world - with billions being exchanged each day through these systems.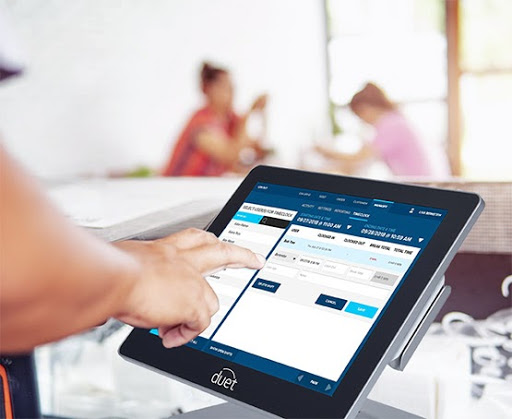 Because different types of businesses will require different point-of-sale systems, so there are a variety of options. Therefore, it is essential to choose the right POS for your business. But in general, there are two primary types of businesses that need the point of sales system. These are retail companies and hospitality businesses such as restaurants and hotels.
The biggest advantage of adopting POS business software is the ability to obtain an instant and precise appraisal of your inventory in seconds. The items that are sold out are automatically banned and deleted from the inventory list whenever you check out a customer. Retailers can manage and maintain inventory while saving time by having a clear overview of current and sold inventory items with the point of sale business software. Moreover, you also get knowledge about the recent price and the average price you paid in the past to make the best deal with your supplier.
In addition to tracking inventory, a good POS system lets you know your best customers and their preferences. In this way, retailers maintain those products to make them their regular customers. With the help of the right POS software and hardware devices, retailers get a great advantage in the form of business growth and efficiency that keeps their customers coming back.
2. POS system components
Before you take steps to purchase a point of sales system, consider POS software and hardware needs together for your retail business as particular software requires hardware of the best compatibility. Below are some standard POS hardware components for POS software:
Software Components of a POS System
A POS system, or point-of-sale machines as they're also known, is a complex and intricate suite of software that runs the hardware to do what it does. Without this, you're just wasting your time with all those wires! The quality of the entire system depends on how well-developed its brain (software) is.
There are two main types of POS software: on-premise and cloud-based. To utilize on-premise POS software, you must be physically present. On-premise POS terminals are the most prevalent. Cloud-based POS software gives you greater freedom because you can view the dashboard from any connected, compatible device.
Hardware components of a POS system
These are the common physical components required to get your POS up and running.
Monitor/tablet: POS hardware typically includes a monitor for viewing the product database and other functions such as clock in/out times for employees. Tablets have also become popular with businesses because of their thin profile (they don't take up much space) combined with high functionality at an affordable price!
Barcode scanner: A barcode scanner is a device that automates the checkout process. The item's price and description are read from its barcode, which then automatically adds it to your purchase total. Barcodes can also be scanned by inventory management systems for automatic stock adjustments when levels decrease or increase; this means fewer employee errors in keeping track of supply!
Credit card reader: The EMV standard has been a major shift in the credit card industry. Merchants that are not up to date with this new trend may face losses from fraud charges, so secure and compliant credit card readers must be used at all times.
Receipt printer: Receipt printers that print paper receipts are still a crucial component of most POS systems, as they provide customers with the convenience and simplicity of actually seeing their purchases or refunds
Cash drawer: Cash may fade away eventually-until it does its role won't change one bit. As such, you'll need to invest in an indestructible cash drawer for your POS system that includes tight security and easy accessibility as well. Having this component will help make sure all aspects of your business stay on track when customers want their change back after making a purchase at checkout!
Scale: One of the most important features of a POS system is an automatic scale. Scales make it easier to charge customers for products by weight and save time since you don't have to enter each product's price manually into your register after weighing them out on the scale.
3. Must-have features of a POS system
Sales Reporting
Reporting is always a priority in any business. Reporting helps to know the status of your business at the time of making your decisions. It also helps to know about the changes that occurred in your business. If you don't have any reporting then you will face some major problems. Reporting is considered the primary tool to grow and keep your business profitable.
Inventory Management
Inventory Management is a crucial part of your business. If you do not have the information about inventory then it might be a problem for you. If you want to know which item is selling good or bad then you have to know the inventory of that item. Every business faces problems because of unwanted inventory. So inventory management is the best way to know about your inventory and its status.
Customer Management
Customer management is a part of your business. In this part, you have to keep all the customer information. So you need to know all the details about the customer. From their contact details to their personal information. If you don't have a customer management system then it might be a major problem for you.
Employee Reporting
Employee Reporting: In any business, it's essential to take care of an employee's needs. By using employee reporting, all the problems that occurred due to their performance, their service, their availability, and their productivity can be solved, etc.
Management of POS
This part of the business is the core of your business. If there is no manager then it is a problem for you. In order to manage everything, you have to manage everything from beginning to end. You should have a plan to see everything that happens in your business and then you can change it. And Management of the POS system is the best way to solve the problems that occurred due to planning.
4. Top Best POS Systems for Retail
Square POS
Square POS is sweeping the nation. This brand has one of the most common and well-recognized systems that can be found in retail locations, such as where you do your shopping for clothing or electronics. The reason that they are so prevalent is flexibility. You don't have to buy any extra hardware because you just need your own device like a cell phone or tablet with Square installed on it; no more clunky devices taking up space at checkout counters.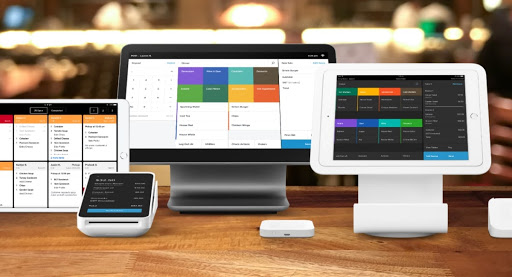 With the integration of QR Codes into the Square Point-of-Sale platform, the business can begin collecting more of its revenue as more customers pay with a single click instead of exchanging cash or cash cards. This year, they've made it even easier to add the functionality of a point-of-sale to your phone for Android and iPhone users. With this app, you'll be able to access the most up-to-date balance, amount, and transactions with more features. Square charges a per-device fee.
Shopify POS
Your business will be able to operate efficiently with Shopify POS. You'll never have long lines again! This is because your eCommerce and in-store solution are connected, meaning that customers can return or exchange an online purchase from a local retail location. Not only is this convenient for them but it saves you time too since the process doesn't need to go back and forth between stores. Plus, when someone makes a purchase at any store they get rewarded points towards their membership card – essentially giving people freebies just by shopping there more often.
Shopify POS is great for in-store transactions. If you're already using Shopify to sell online, then it's a no-brainer! If your business has dozens of physical store locations and you're looking to start selling online with just one platform, there are more advanced platforms than the easy setup that is Shopify.
Odoo POS
Odoo POS is a next-generation web-based system for running your business. Thousands of users have switched over to the Odoo platform and they rave about its fast, user-friendly interface that does not require an internet connection; this makes it perfect for all devices including tablets and smartphones. Odoo has garnered attention from businesses around the world with features like multi-store management, inventory tracking capabilities (including purchase orders), product catalogs, flexible employee scheduling options - you name it. Odoo POS provides a simple, user-friendly interface that makes it attractive and easy to use.
Here are some modules available for Odoo POS:
POS
Purchased items with barcode scanner
Cashier transactions
Sales tax
Inventory
Multiple POS
Payment collection
Receiving & Receipts
Batch Process
Sales Promotions
Cost Accounting
Custom reports
Booking & Customer Dashboard
Quickbooks POS
QuickBooks offers a great point-of-sale system along with their accounting and bookkeeping solutions. The benefit of this is that it will be much easier to sync up the data from both sources to get accurate analytics on how things are going within your organization at any given time; however, if you aren't yet invested in the software company or don't want all aspects of what they offer like pricing, hours tracking, etc., then there may not be enough reason for switching over just because of this one feature alone.
Vend POS
Vend isn't a typical POS solution. They don't sell any hardware, and they don't process payments either. Vend only deals in small retailers - it's not made for bars, restaurants, or food trucks. You can pay monthly or annually to get access to the Lite plan at $119 per month (or $99 billed annually) which comes with just one register. Additional registers cost an additional fee depending on what package you have selected but this still makes it more affordable than other alternatives when considering how much time and money they save your restaurant over traditional systems.
Conclusion
POS systems are an integral part of any business that requires technology. It not only records transactions but also keeps track of inventory. One key function is Sales Reporting; it lets you see how many items were sold in each department and what was the total dollar amount for those sales. If your company wants a more thorough analysis, check out our POS data analytics report — its features include charts showing trends like seasonal patterns, product categories, customer groups monthly comparisons against previous years as well as long-term industry analyses!