Magento 2

Notification Box
Magento 2

Notification Box
Description
NEWNotification Box for Magento 2 is a useful tool that informs your customers about important news such as order status updates, new products, available promotions & discounts, etc. in a quick and effective way.
Push unlimited notifications for customers
Create a notification box in the header section
Set up 2 notification modes: Send immediately or schedule time
Set up conditions to send notifications based on customer behaviors/customer attributes
Display text, image with URLs
The design of notification box is highly customizable
Support notifications for guests
NOTE: Our demo is for feature testing only, the Magento Demo edition is not relevant to the Magento Extension edition. Please check on the product pages or with our support team for the correct Magento edition of our extensions.
Details
Why web push notifications are necessary for an eCommerce website?
Smart Notifications that help you grow sales
Abandoned cart
The notification of this type can be sent only when there are items added to the cart but the customers left before completing the order. In the Magento backend, the admin can set how long a shopping cart is considered abandoned to start sending notifications.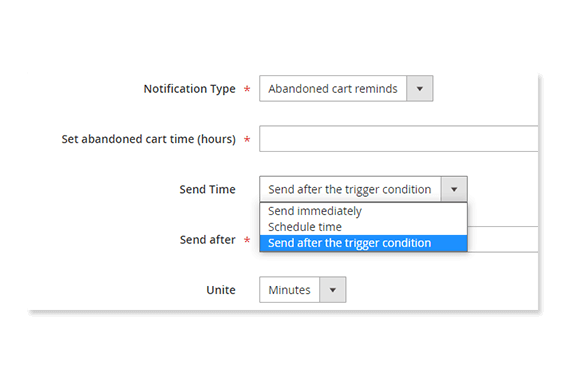 Review reminder
The customer usually forgets to write a review after purchasing your product. That's why you need to send them a reminder. With Notification box for Magento 2, the admin can set the required order status to activate the asking-for-review notification.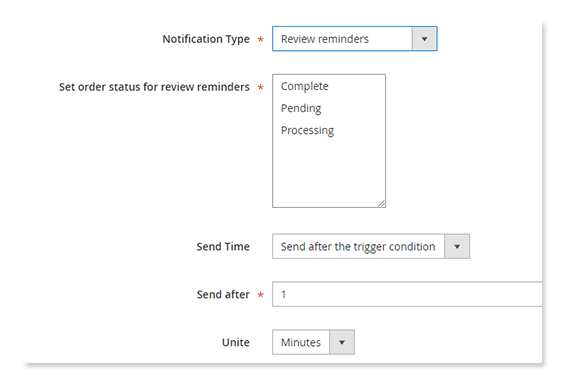 Order status updates
It could be must easier for your customers to keep track of their orders via web push notifications. They can update the order status immediately while surfing the Internet. Our extension allows the admin to choose exactly which status needs to be informed to the customer.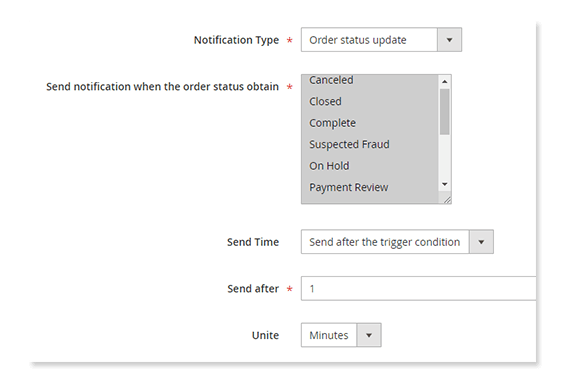 Set up a gold time to achieve the highest effectiveness
Send immediately
By choosing this sending mode, the notification will be sent right after you set up and save it with "enable" status. In case the customer does not receive or click on the notification, your news will never be missed! All the unread notifications are stored in the notification box.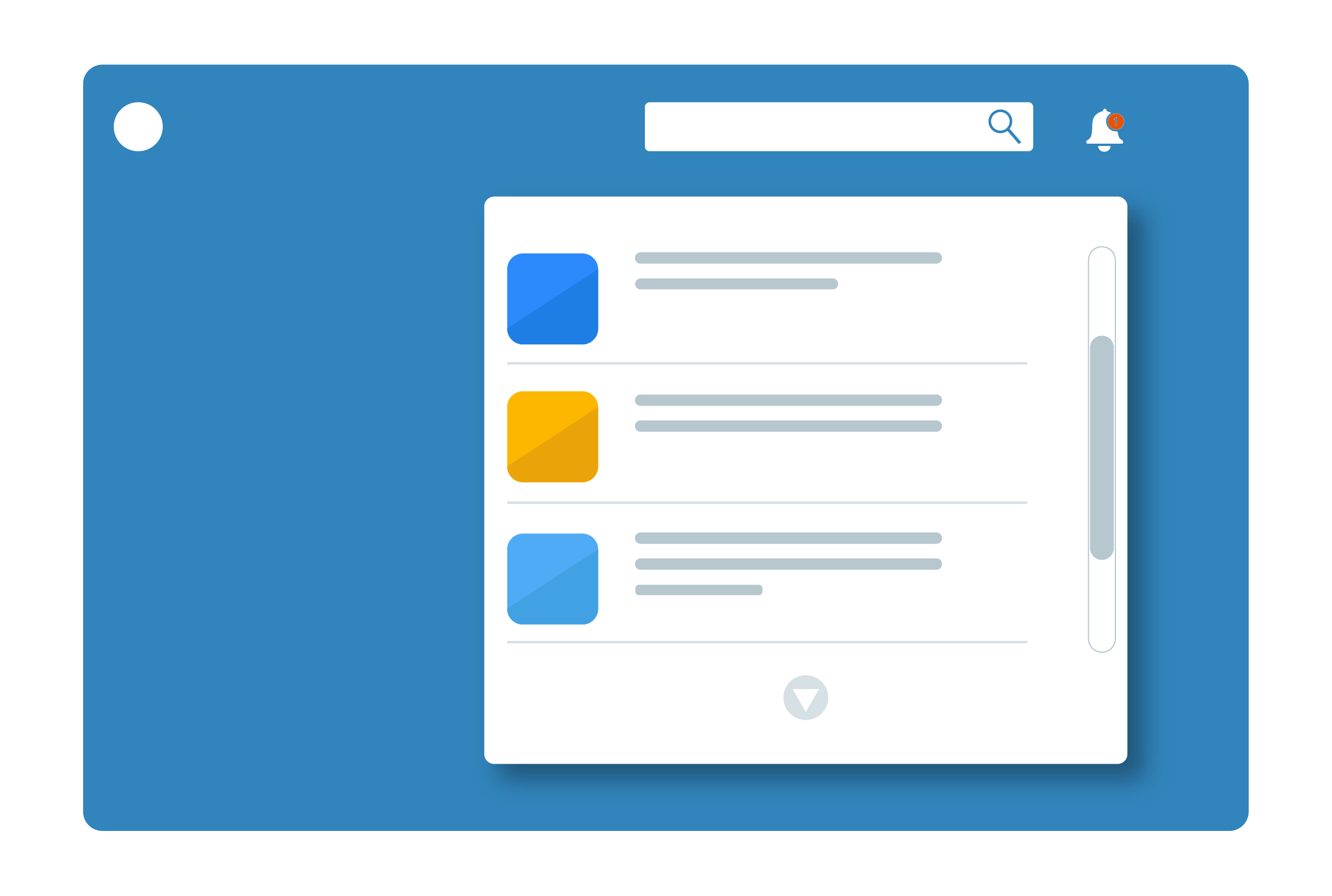 Schedule time
The admin can set a specific date and time for each notification. So all the campaigns will be pre-setup in one time that saves you a lot of time. This sending mode is suitable for promotion programs, new arrivals, or online events.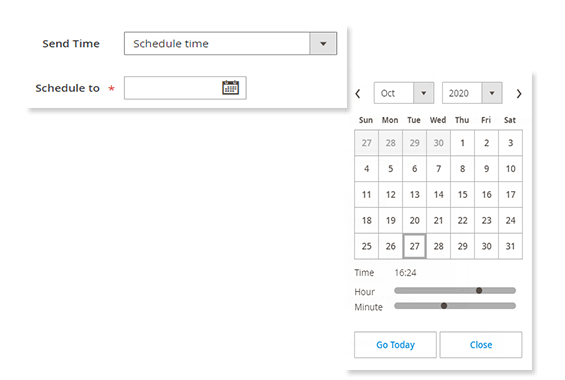 Send after the trigger condition
This option is available for the 3 default notification types. For example, you realize that the best time to recover abandoned carts is 1 hour after the user left or customers will be most likely to write reviews 20 minutes after they received the item. Our extension will help you catch the right moment with ease.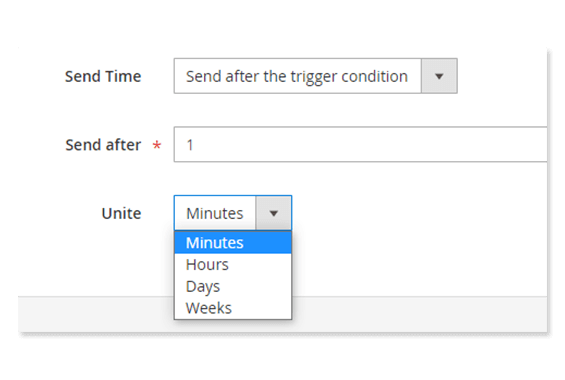 See whether web push notifications work well for your store
Keep track of notification performance in individual
The extension will show the sent times and the number of clicks of each notification. Based on that data, you will be able to build your best practices for web push notifications.
Manage all subscribers with ease
You can change the status of each subscriber (from subscribed to unsubscribed and vice versa). If a subscriber is not on your target customer any more, just delete them with a click!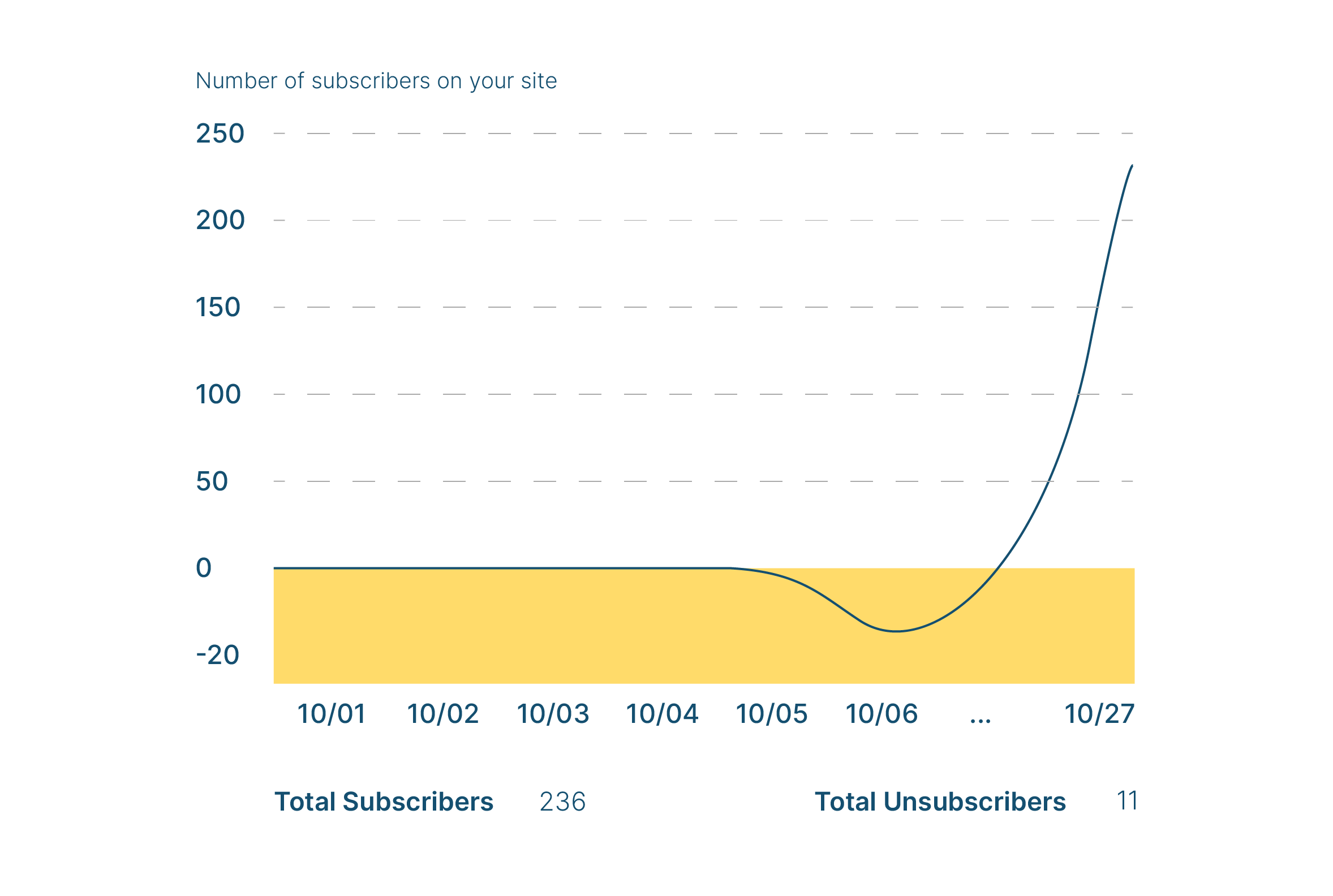 Reason to choose Magenest
Free lifetime
software updates
Verified by
Magento Marketplace
One-time payment
without hidden cost