Magento 2

Customizable Pdf Invoice
Magento 2

Customizable Pdf Invoice
Description
Magento 2 PDF Invoice helps you reduce your workload with auto-generated PDF invoices. Prepare to transform your checkout process thanks to unique invoices fully designed by you!
Quickly create PDF invoices
Design your own template
Attractive premade templates
Download invoice at ease
Print invoices easily
Details

What you need
Most buyers hesitate to order from eCommerce store since they're afraid of online frauds. It's important to ensure that customers receive a transparent transaction. Usually, brands have established a billing system after the orders have finished. However, it's a time-consuming job to fill all the information into the template. Retailers are seeking a new way to make this task much more comfortable. Besides, the default template is not too appealing to keep customers' attention and also difficult to manage.

How we handle it
Magento 2 PDF Invoice supports you customize your one-of-a-kind invoice! It's easy to build trust with customers through quick and effective workflow right after the checkout. You don't have to leave vital info out of your orders since our extension let users add any wanted features into the personal invoice!
Simplify your workflow with comprehensive PDF invoices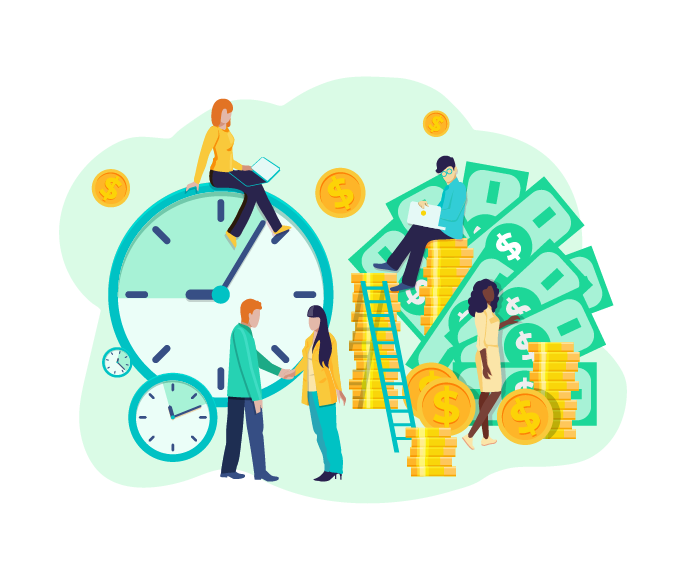 Reduce time on repetitive tasks
Don't waste your precious time on boring repetitive tasks! Let our tool do the hard work from you by generating automatically invoices based on your chosen templates. Everything is organized instantly right after the checkout is done.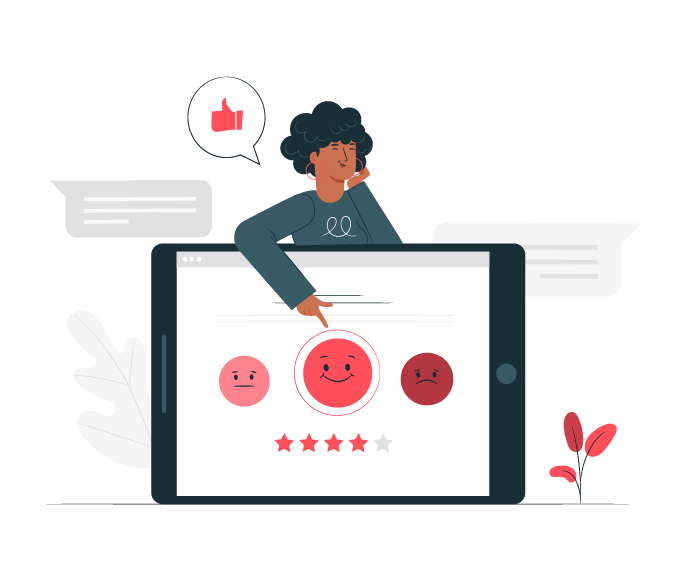 Improve customer experience
Providing fast confirmation will help both sellers and buyers follow purchased products efficiently. This will help you prepare the best follow-up actions and at the same time, customers are satisfied with your services. Taking good care from tiniest details will guarantee the success of your business.
Create your custom template
Add wanted info into your invoices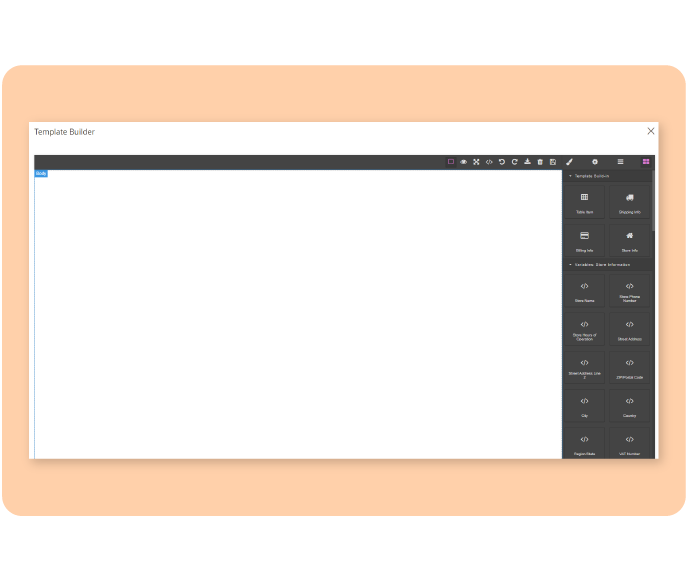 We provide eCommerce store with a wide range of attractive invoice templates originally included in the extension. The tool gives you excellent choices on what information you can add to your confirmation. Some info should be featured are company logo (for branding purpose), company essential contact numbers, terms and conditions, customers' shipping info, QR code, etc
Freely personalize billing designs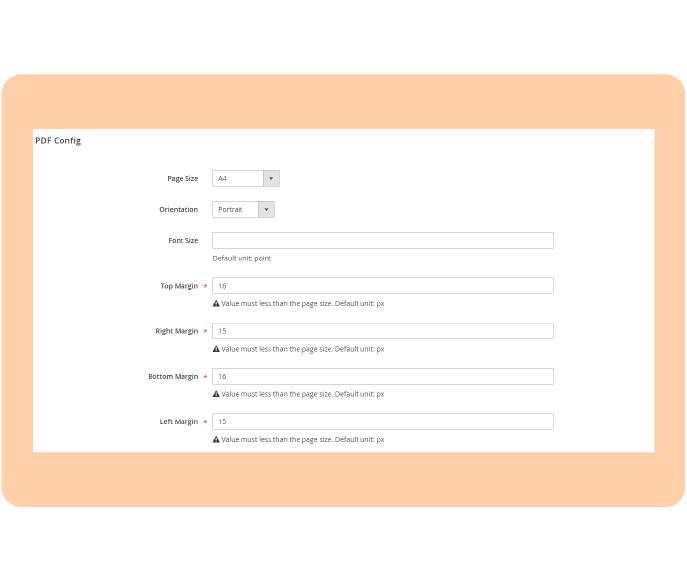 If you want to build your own design from scratch, just drag and drop the items on the tool tab to build your perfect PDF template! For the IT department, you can use shortcode to convert from HTML or CSS code to PDF template.
You can highlight your invoice by uploading a background or set different colours and font or each info section and template. To provide further information for customers, you can also add a footer to the PDF file.
Manage everything in a few clicks!
Send confirmation via emails for customers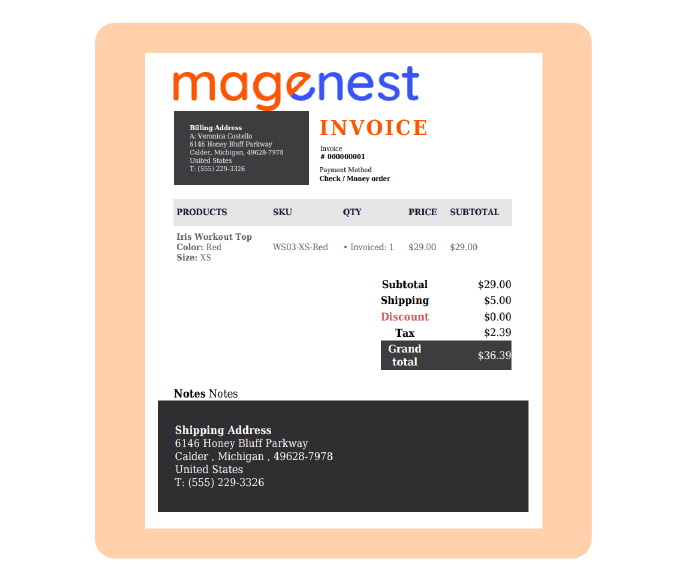 It's easy to send your orders and invoice in the backend. There are 4 types of emails:

Notification email
Confirmation email
Payment email
Refund email
Export data from Magento 2 backend into the invoice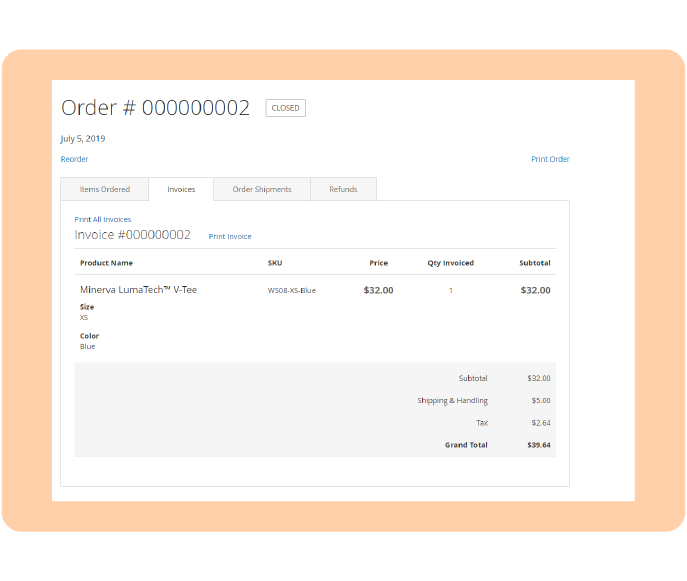 You can export your company info and product details on product page into the PDF files. Choosing beneficial elements to attach to your documents such as related products, extra images or additional screenshots. It's your choice to enable this feature or not.
More useful features
Display QR code

A QR code is a smart tool for customers to check their order online right through their mobile phone.

Auto-generate PDF code

Organize your invoice in a convenient order so store owners can keep track of customers' behaviours and products' flow.

Print invoice at ease

Invoices can be printed in the backend by admins and in the frontend (My Account page) by buyers

Preview invoice in backend

You can see the preview of your work directly on the building section or after finishing it.
Reason to choose
Magenest
Free lifetime
software updates
Verified by
Magento Marketplace
One-time payment
without hidden cost