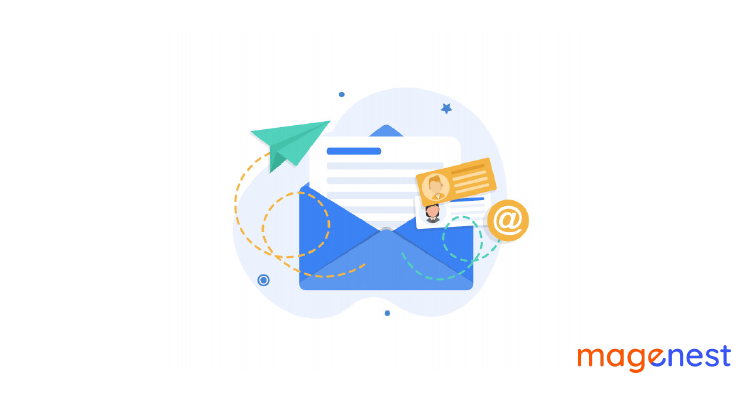 Mike runs an e-commerce business. In the first year, he noticed that shoppers tend to leave his website without any payment although they (customers) put many items in their shopping carts. After understanding this behavior, Mike consulted an expert in the field and quickly applied abandoned cart email.
In the first quarter of the second year of business, Mike's business sharply recovered due to successful abandoned cart emails. Jack owns another business specializing in sports clothes. The same situation goes around his business. After getting information about the abandoned cart email, Jack applied immediately. However, after that, there was nothing to change in his business revenue.
The question is why Mike successfully conducted abandoned cart email for sending their customers with high conversion rates but Jack did not? The answer revolves around abandoned cart email subject lines.
In this article, we are going to show you the answer. What makes shoppers open the email? How could you optimize them and gain huge profits like any other competitors? Let's take a look!
Abandoned cart email subject lines: How to optimize them?
No matter how good your products are, you are going to lose thousands of dollars each year because of the abandonment of shoppers. In that situation, you possibly take them back due to a very useful tactic called abandoned cart email.
However, optimizing the abandoned cart email is considered one of the difficult tasks ever. One way to highly recommend here is to pay attention to abandoned cart email subject lines.
As you can notice, an abandoned cart email subject line is the first thing people look at when they read your email. Therefore, if the subject line is compelling, they will open it and read through all of the information contained. On the other hand, if the subject line is boring or similar to a bunch of other subject headlines, they will ignore it and you have zero conversion rate for sure. In other words, an abandoned cart email subject line is vital for any businesses aiming at getting their customers back and finishing the purchase. Mainly focusing on this helps your business situation.
There is no proof or any correlation between the standard for an abandoned cart email subject line. However, you should keep it as short as possible. Because people are not willing to read something too long or too complicated.
With this in mind, trying to make your subject line short and simple is the best way for optimizing them and winning your customers. That is also the first requirement you must remember before taking the 7 ways hereafter.
7 Types of best abandoned cart email subject lines
#1 The "Forgot something" abandoned cart email subject lines
"Old but gold" is exactly the quote that best this type. Imagine when someone tells you that you forgot something, what you should do after that? There must be an answer and come back to take what you forget.
Some best subject lines for abandoned cart emails follow this rule as follows:
- Hmm, you forgot something!
- Wait, did you forgot something?
- Please come back, you forgot something.
- You left something behind!
- Are you sure you have the best memory? You forgot something already.
However, you should be extremely careful when applying this type because it is common and a lot of your competitors out there applied. If you do not have a different approach by using this template, you will be missed by your customer.
Look at some practical examples following this rule to fully understand: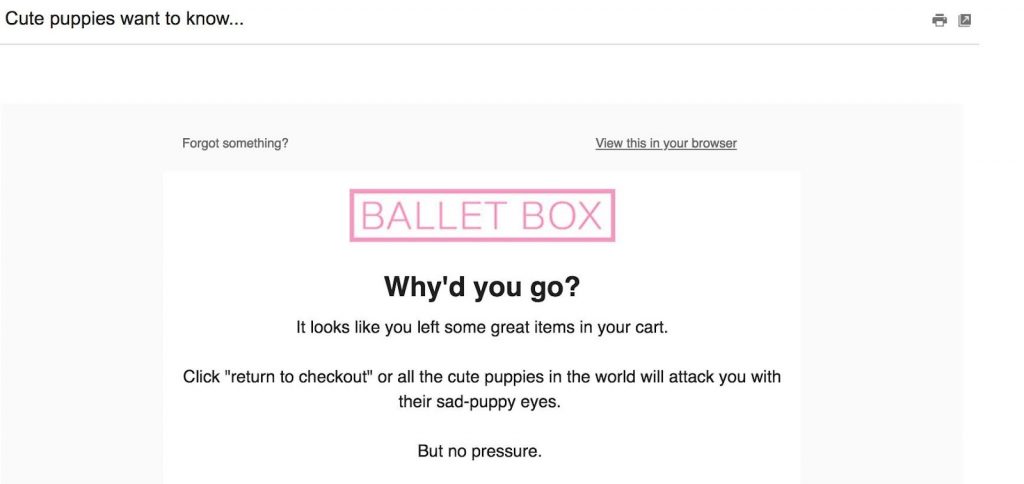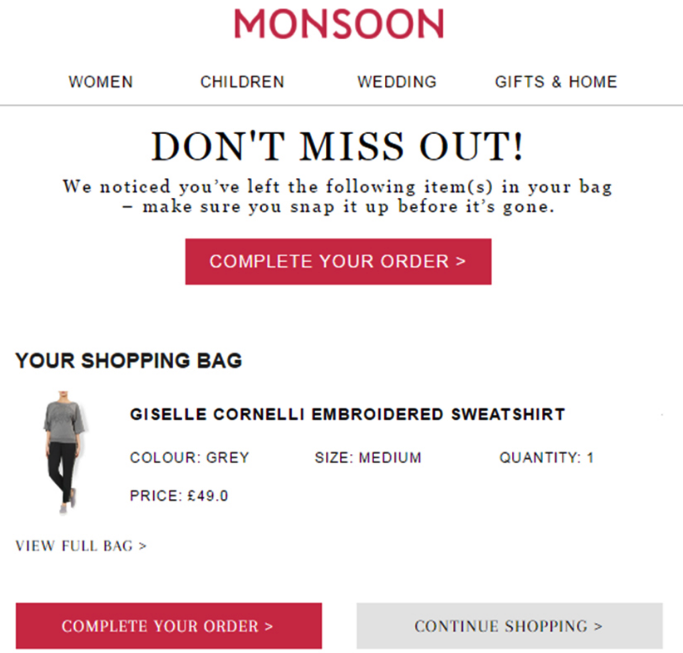 #2 The "personalized" abandoned cart email subject lines
Trying to use names of your customers to show them that you care about them all the time. According to a research, people are willing to open mails, letters, messages, etc. when there are names of them inside.
Some best structure successfully applied you can make reference:
- Hey [NAME], did you forget something?
- Dear [NAME], we are with regret to inform you about this
- Still thinking over it, [NAME]?
- You only have 3 hours left to complete the order, [NAME]
- Do not worry [NAME], we save it for you
- [NAME], this one produced is only for you
- Believe me [NAME], you will get the best product with the best price
The theory is fun, let's look at one typical practice here: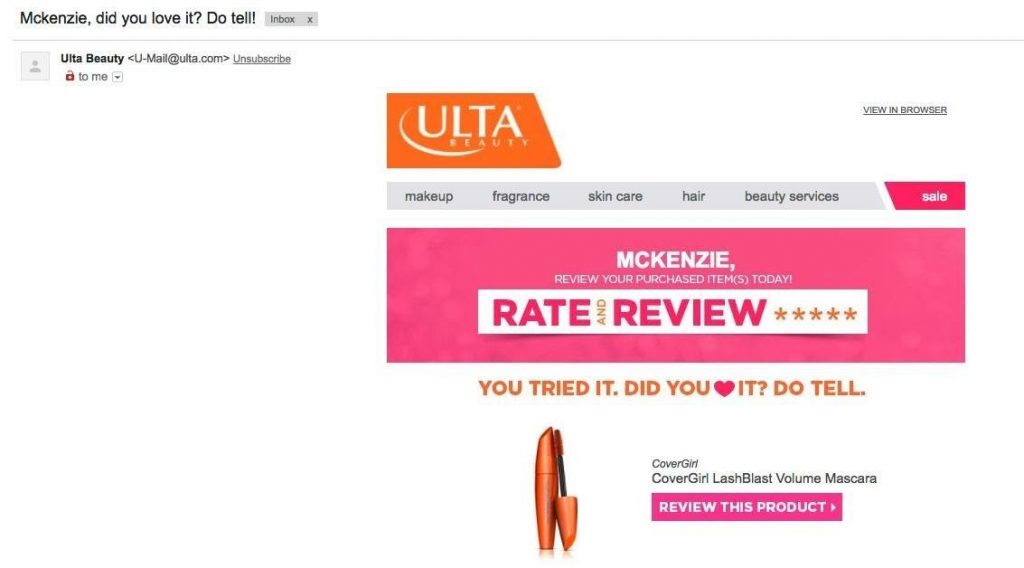 #3 The FOMO abandoned cart email subject lines
FOMO stands for "fear of missing out". According to psychology, people have a tendency to regret something that they miss more than something they get. As a result, creating the FOMO subject lines trigger your customer to come back and fill in the process to buy your products. In fact, FOMO applied in a variety of contents of a business.
- The product in your cart is going really fast
- 3 days left
- 24 more hours left
- Last chance
- Your cart is expiring
- Let's look at your items the last time
- You will never have a chance to get the best deal about this
- Do not hesitate, limited time only
- Only apply for 500 customers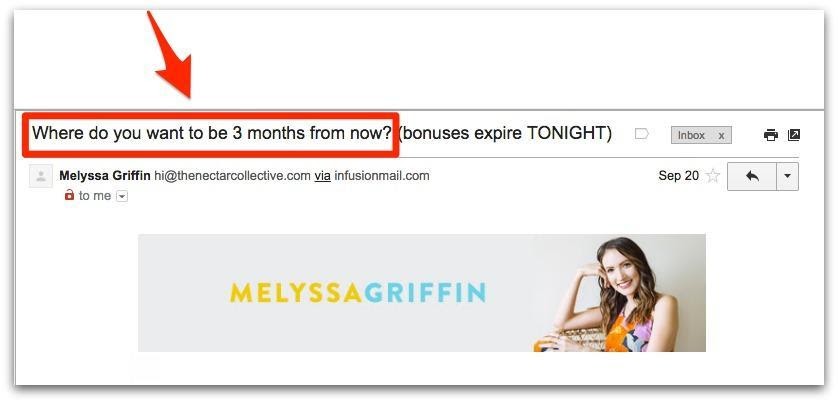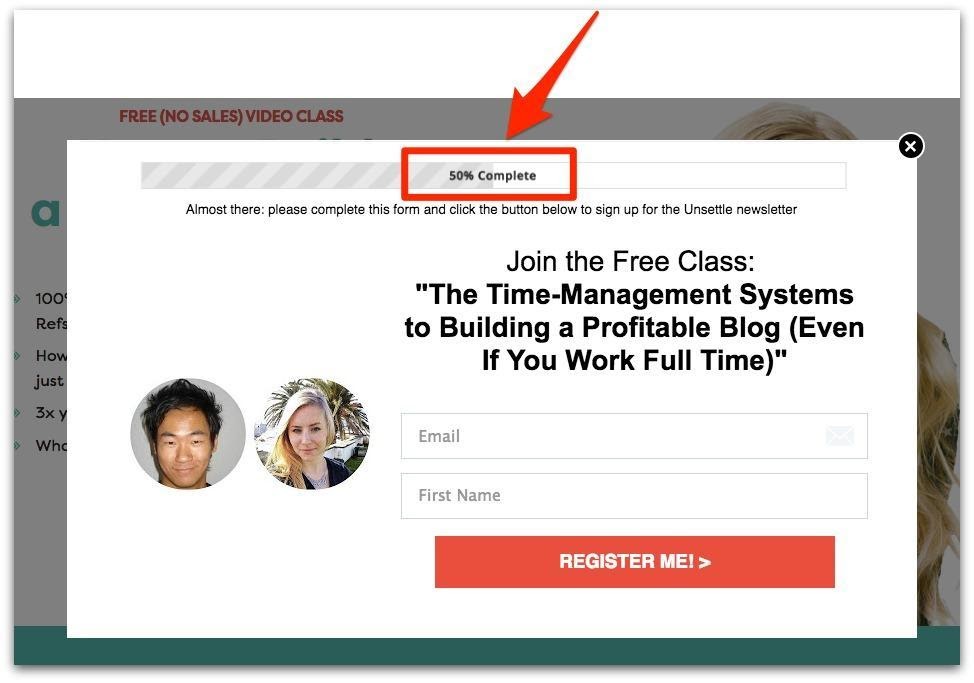 #4 The incentive abandoned cart email subject lines
Shoppers abandon items mainly because of extra costs. If you solve their problems by offering discounts or free shipping, they will come back and get their things. Based on this, you can create a subject line with attractive discounts.
However, business owners must be careful when applying this way if they would not like to lose too much money. Looking at some examples:
- Unbelievable! 50% discount on [product]
- WOW! Free shipping only for you
- The price really drops because of you
- Good news: Best price ever
- Save up to 70% when you come back
- Free shipping plus 30% discount on total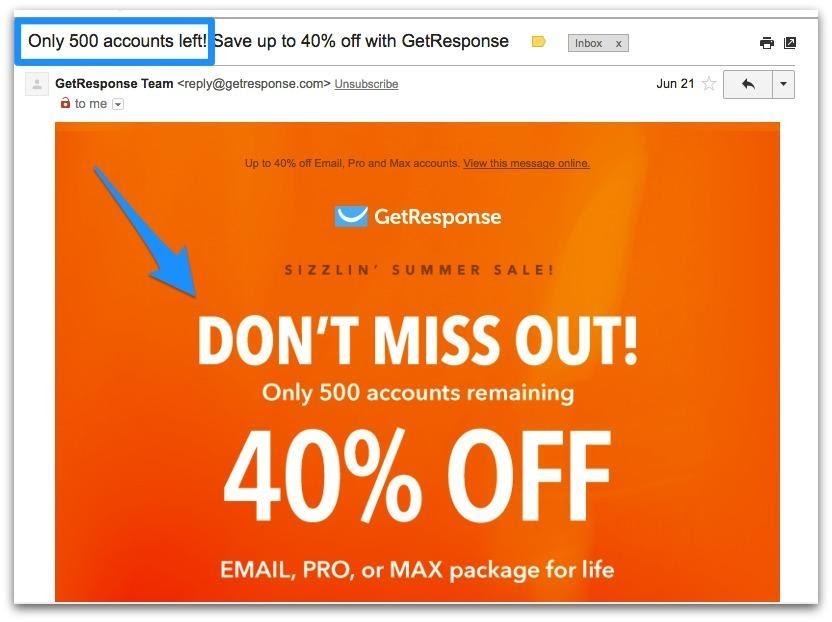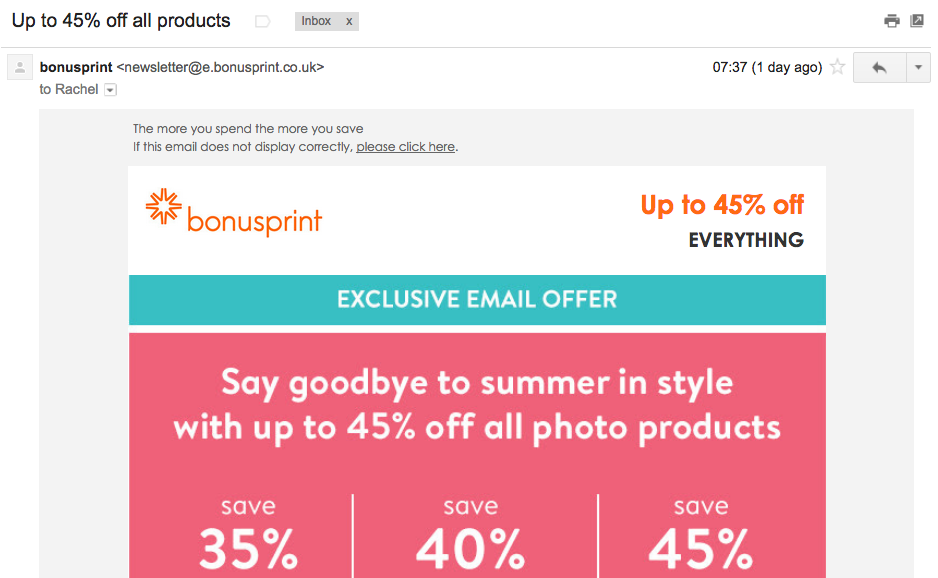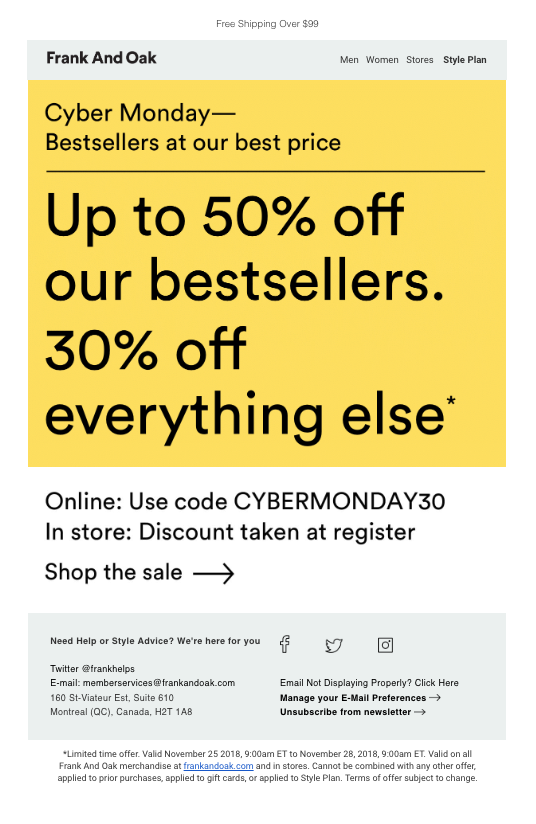 #5 The "product" abandoned cart email subject lines
When people add something in their carts, that means they really want it. Your mission is so simple, just reminds them that the product they picked is really good for them. Who ignores the things that they love, right?
Additionally, people remember well when something is described in detail. Therefore, creating a subject headline with the name of the product and telling them exactly why they should choose it.
Some formulas here may help you:
- Complete your order on [product] with [brand name]
- Your [product] is still waiting for you
- This [product] will help you with your daily activities
- Purchase this [product] now and you will see the value it brings to
- The best coffee ever had found
- Snack for you because it's free

#6 The "brand" abandoned cart email subject lines
There are a bunch of brands producing the same products each day, but why do customers come to choose your products? The answer may be useful because they love your brand. Therefore, trying to create a subject headline emphasizing your brand in it may trigger the customers' mind to come back for sure.
- [Brand name] is waiting for you!
- [Brand name] have the best product in this industry
- Complete your [Brand name] purchase
- Thousands of people buy [Brand name] products every day
- Wait, you have just missed out on the best products of [Brand name]
- [Brand name] is the first rank in town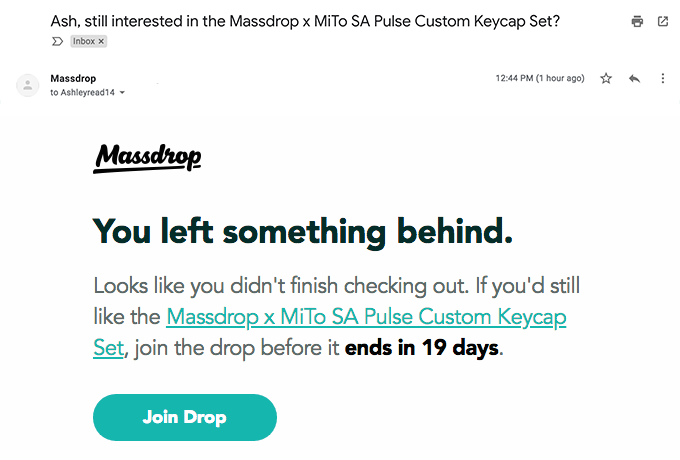 #7 The "little nudge" abandoned cart email subject lines
Sometimes, you have to dig deeper into customers' behavior to successfully get high conversion rates. Because everyone has their own purpose when deciding on a product. At least, before putting the item in the cart, they complete the research process on the brand, the quality, the price to make their final decision.
With this in mind, you just need to slightly trigger them by sending an email to remind them of what they have done. This way works best if the six above-mentioned subject headlines fail to get them back.
- You've already done most of your work
- You are so close
- Is there anything preventing you from getting the product?
- One click and you will get this
- Checkout takes you only 1 minute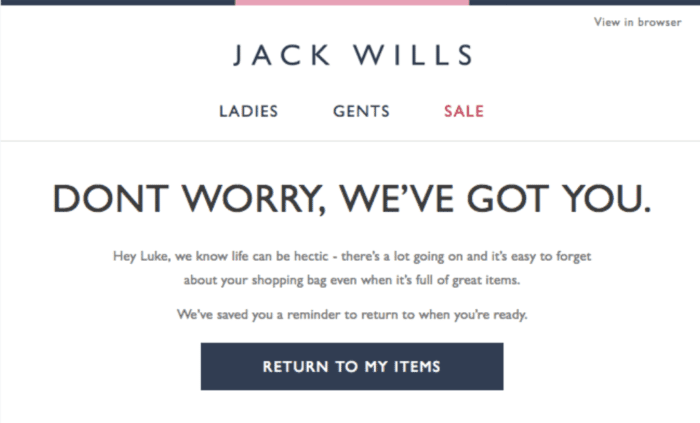 So, what are the best abandoned cart email subject lines for you?
Do not worry, things you need to do is conducting a survey to ask people why they leave at check out without paying for the products? From that point, you have very strong proof to select the best option to get high conversion rates for your email.
For example, if the response is that they leave because the extra cost is too much higher than expected, just applying the "incentive" formulas. Likewise, if the majority of them respond that they do not want to finish the product because they think they have time to come back, immediately apply the FOMO formulas.
In a nutshell, there are 4 steps to consider for the best abandoned cart email subject lines:
- Examine and discover why people leave
- Apply the best option based on those reasons
- Weekly and monthly review of what you have done so far
- Find an expert in the field to help you quickly and effectively get high conversion rates.