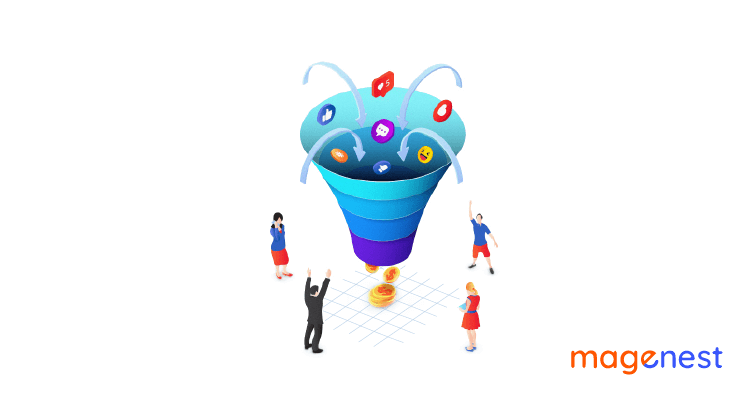 If you're operating an eCommerce business, you know how tough it can be to attract buyers and turn them from "window shopping" into actual leads.
That's probably when creating a sale funnel for eCommerce comes into play. With the right funnel created, you can facilitate the process of attracting, cultivating, and selling to those leads.
Here are a few steps and tips for creating a sales funnel that has worked for many eCommerce businesses that you can deploy today to strengthen both sales and also, conversions rates.
Overview: What is a sales funnel?
A sales funnel is a sequence of steps intended to lead visitors towards a buying decision and this process contains 7 stages: Awareness, Interest, Evaluation, Decision, Purchase, Reevaluation, Repurchase.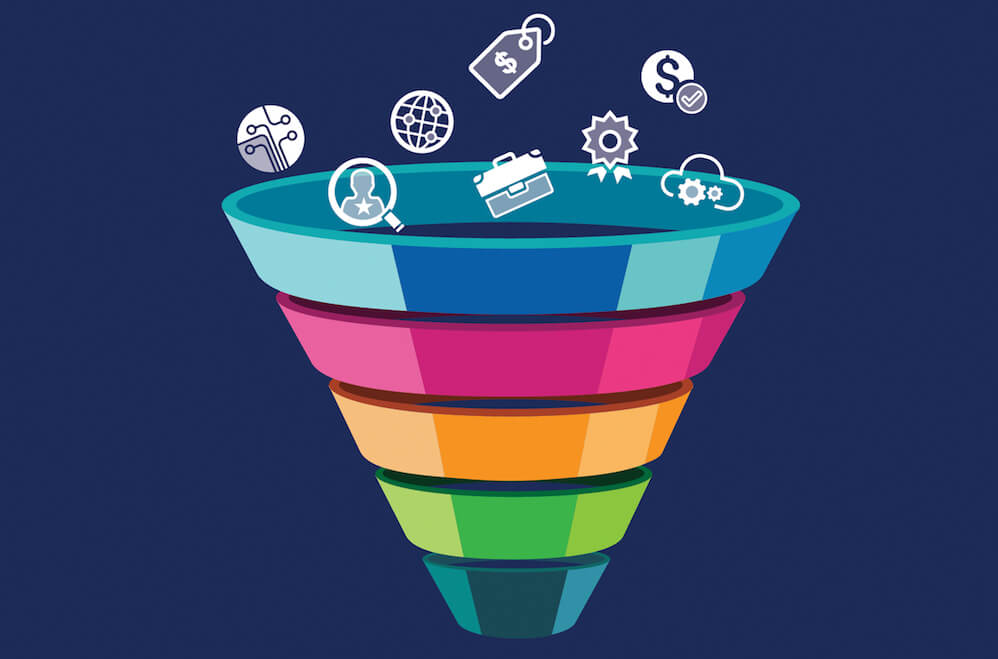 If you want to track down further details, what is the sales funnel, why businesses desire it, and some examples of sales funnel in real life, check it now!
Today, more than ever, it's of importance that eCommerce firms create a sales funnel to nurture leads, develop rapport, close the deal and strengthen client retention.
3 Steps of Creating a Sales Funnel for eCommerce
If you follow all these 3 steps of creating a sales funnel, nothing will go wrong. You then can easily identify what your customers want and need.
Let's look at them one by one.
#Step 1: Determine your customer journey
In this step, a sales funnel builder needs to work out what people do when they reach any of your website pages. These are a few criteria for you to consider:
Do visitors behave in a different way when they touch upon your homepage for the first time than they do in case they find one of the product pages?

What sort of referring domains earn the most traffic?

How many touchpoints do consumers make before actually buying something?
A useful tool to map your customer journey through different reports suggest here is Google Analytics.
#Step 2: Map your sales funnel phases to conversion triggers
To map your sales funnel to conversion trigger, the first thing you need to do is to create a plan for ushering consumers via your sales funnel design. Remember: stick to the stages of the funnel: awareness, interest, desire, and action, for instance.
To be more specific, an eCommerce sales funnel may need to list the sorts of content that should be served up at every stage and, at the pages on the site that you want to examine.
#Step 3: Define the point at which a visitor turns into a lead
A majority of eCommerce businesses believe that the moment turns a visitor into a lead is when he or she hands over his contact information.
For this reason, take it as a pinpoint, to make a visitor becomes an eCommerce lead, a smart sales funnel creator need a specific lead-nurturing plan of action. Be a little more specific, it is the wise decision of how you'll facilitate the consumers' transition: from awareness to interest to desire and finally, to action.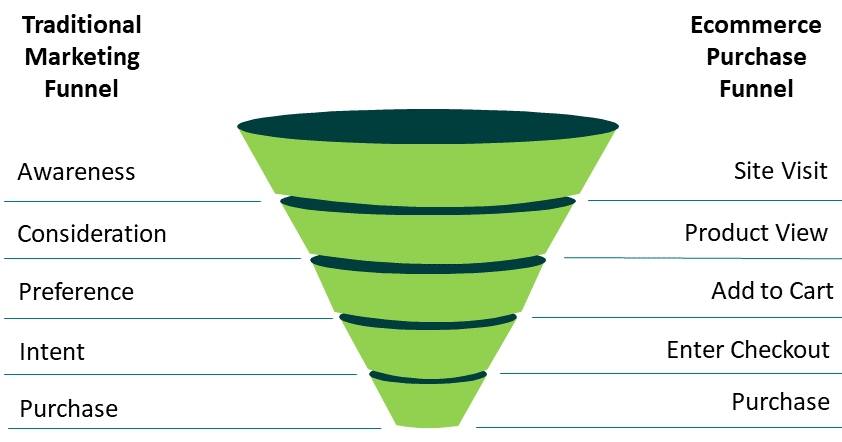 And that's also the reason why your email subscribers should be designed with varied content for all primary stages. In this way, catering to your entire target visitors will be of no difficulty.
3 Tips for Creating a Sales Funnel with More Conversions
Target customers are entitled to decide whether or not to accept your offer.
So how do you tip the scales for your own sake? By creating an offer too fascinating to give up. This works out effectively toward advertising contests, lead magnets, sales, promotions, and more.
The following are some powerful tactics to convince your audiences not to turn down the offers but to convert upon it.
Now, brainstorm your plan of sales funnel building with the following suggestions:
#1 Analyse and optimize main pages
The main pages of a typical eCommerce site include the homepage, the product pages, and the category pages, depending on the number of products you sell. For example, if you sell hundreds of products, you'll properly have more than one "main page" than if you draw attention to a single product or two flagship products.
As a sales funnel builder, start optimizing all main pages first by bearing in mind both SEO (Search Engines Optimization) and user experience. As a result, Google will transmit your traffics and soon visitors will find your captivating content.
#2 Analyse and optimize your sales funnel forms
The forms to captures leads can make or break the conversion rates on your eCommerce website. Customers clearly won't fill your form if they don't want to.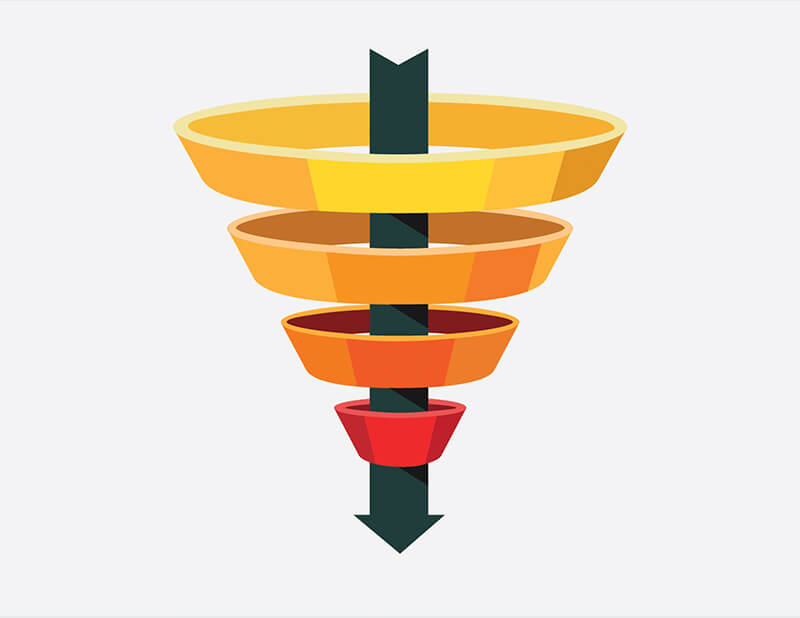 In the sales funnel for eCommerce world, brief and short forms in many cases perform more beneficial than longer forms since eliminating form fields diminishes the friction. It doesn't seem like as much work. If someone wants your products, promotion, or lead magnet, they won't waste time filling in too many information fields.
Remember, just record your form to the most essential information. For example: if you just want customers' email addresses, ask for that individual. Don't request your prospect to give further details like name, location, or other nonessential data.
#3 Analyse and optimize your checkout sites
Although 15% of your visitors placed items in their cart, only 3% of them actually check out, and you're failing to achieve a lot of money.
Creating a sales funnel for eCommerce requires better checkout sites, indeed. Let's start by offering additional payment methods, then considering the use of two-page checkouts. Moreover, to show that you're concerned about privacy and security, progress bars and trust badges can also be added.
As well as updating checkout flow, take into account sending cart abandonment emails. If somebody leaves your site without buying the items available in their cart, send a reminder notification to invite them back.
If you are a Magento commerce owner, try our extension of Magento 2 Abandoned Cart Email, which lets store-owners boost sales by reminding their customers automatically to convert abandoned carts into orders.
Or perhaps, you can offer a discount code to regain those lost sales.
Final thoughts
You can bring them into your own eCommerce conversion funnel. Begin the process of converting them from leads into actual buyers and maybe, royal customers.
When your leads are automated with your eCommerce sales funnel, you'll waste no valuable time you've always needed to manage other tasks to grow your business.
As you can see, creating a sales funnel is not so hard. Try to refer to the above steps to have a perfect sales funnel for your eCommerce store.