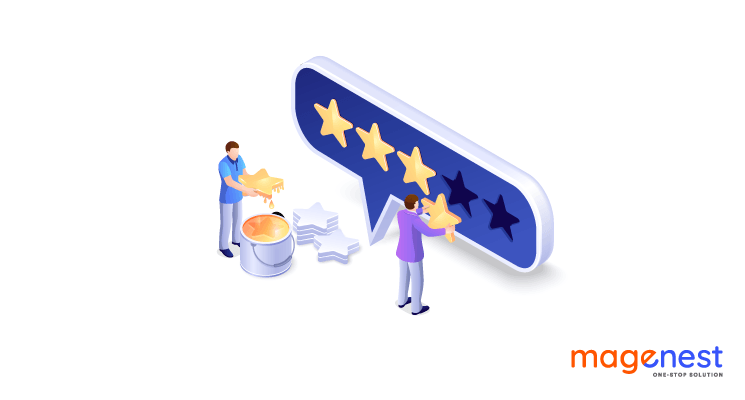 When customer reviews are the best testimonials and social proof to your business, getting feedback has become a part of the marketing strategy. With the help of technology, clients are now having many places where they can leave feedback whenever and however they want.
The thing is, not everyone is up for giving feedback, especially the casual shoppers who end their purchase cycle as soon as they got their desired items at hand. There is no room for your after-purchase service or customer retention plan to take place.
But, every review is equally precious and worth getting. Then, how can you effectively and elegantly ask for reviews without annoying your customers? Let's find out in this article which customer review templates are effective to get the feedback you want.
Where You Can Request Customer Review
Depends on your preferred business platform and where you usually stay in touch with your clients, you can decide where to send your requests.
On your business websites: it could be an embedded link to the review website on the landing page or an actual review page right on your website can do you good.
Social Media: Facebook, Twitter, Instagram, they all have "inbox" features where you can easily send them a request for their feedback.
SMS: old but gold. A request for customer reviews can be sent to your clients no matter where they are without worry about internet reception.
Emails: This is the best way if you want to be professional and have an email list in your database. Emails have room for customized content and there are templates designed for this method. This is also our main focus for this article.
How To Request For A Review Through Email With Customer Review Templates
General format
Before we dive into the templates and analyze further, let's have a brief look at the general format for your customer review requesting emails. No matter which type of templates you use or what your purpose is, the general format for your emails is the same.
Here are several things you need to notice:
Email Subject
The email subject is like a first impression, is what makes feel like they want to open the email to read what inside or not.
Personalized Salutation
A simple hello leads to a million things. But with professional email, just a simple hello is not enough. How often do you see an email sent to you by a brand starting off with your name in their salutation? Yes, personalized content has proved to make clients feel more special when receiving them and here on this top left little corner of an email is where we're going to apply it.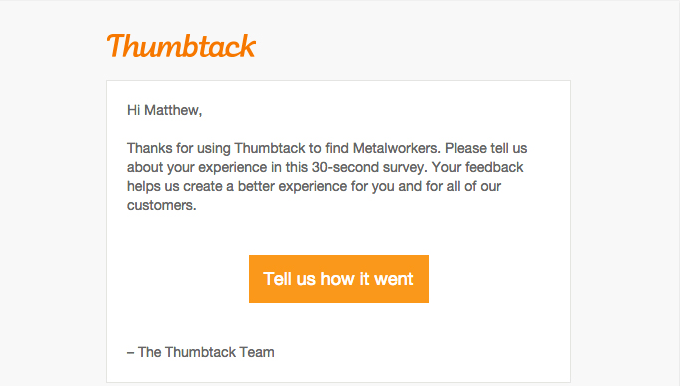 The reason
Let the customer know why you send them an email (to request their feedback, of course). There are people who couldn't be bothered to read thoroughly a short Facebook status, so having your reason shaped neatly at the beginning can help them quickly grab the main idea of your emails. Don't forget to add how their feedback can help with your business. Make them feel like they contribute to your brand development. You know, just to ensure they will take action after reading the email.
The Duration
To give your clients a push, let them know it doesn't take long to complete a survey or write feedback (and yes, your customer review forms shouldn't be too long). With the reason you gave them as mentioned above, they can't refuse you if it only needs a click to rate and one or two sentences for review, or one minute to take a multiple-choice survey.
Thank-you Line And A CTA To The Review Form
Last but not least, just like a salutation at the start, a thank-you line at the end is the default for every email. Therefore, don't forget to say thanks and add the link to your customer review form or review website. If just a text-based link is boring, you can make it into a CTA button and place it where you think best.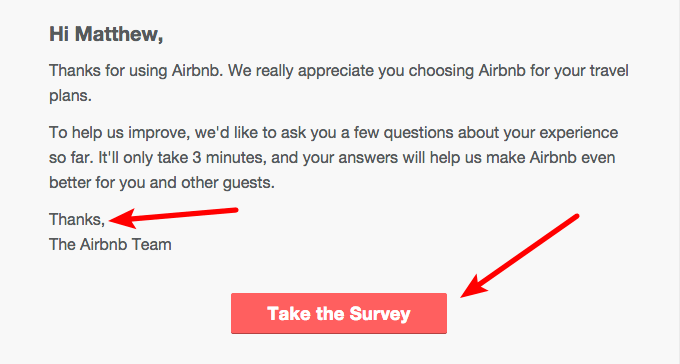 Customer Review Templates
Sending emails to customers could be tricky and templates help you save more time on choosing words to make a neat and still purposeful and professional. Here are X customer review templates you can use for your testimonials request emails:
#1 General Templates
Use these if you're want something general you can customize. These customer review templates are great starting points for any business. Especially you have your business on review sites like TripAdvisor or Yelp, you can add the link to the review site to take your customers there.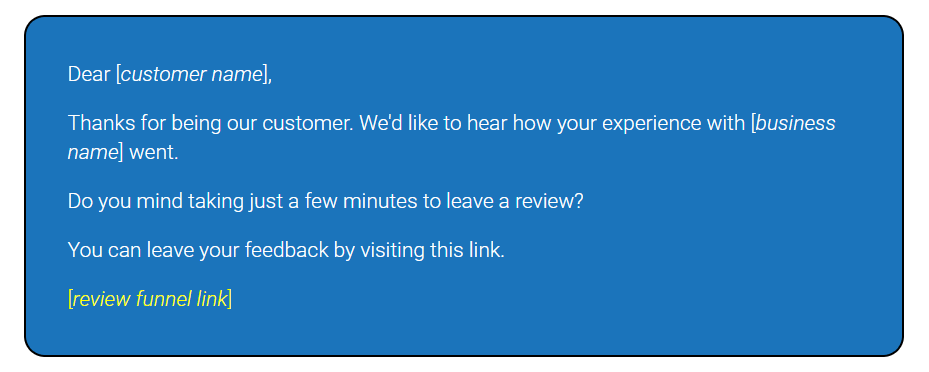 #2 Home services reviews
This is for businesses like a contractor, a carpenter, or a home service professional. If you are one of those, use these email templates to ask for reviews.
The impact of words and emotion is especially important here. This type of customer review templates can help defuse objections, reduce risk, and show your customers you care about them even after the job is done.

#3 Post-transaction requests
One of the best times to ask customers for feedback is right after they finish their buying at your store (physical or online). An email works as confirmation is effective and a great excuse to send your customers an email.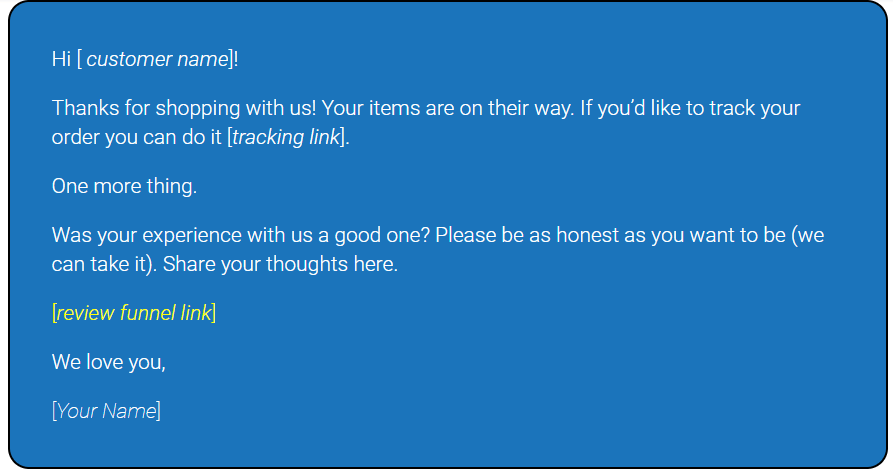 #4 Legal Industry Templates
There are businesses in which customer experience is not something comfortable to give a review of. The legal industry is one of them. But the good news is the clients understand how the reviews can help their lawyers. So, asking for reviews isn't something that needs to be avoided.
Here is the template for you.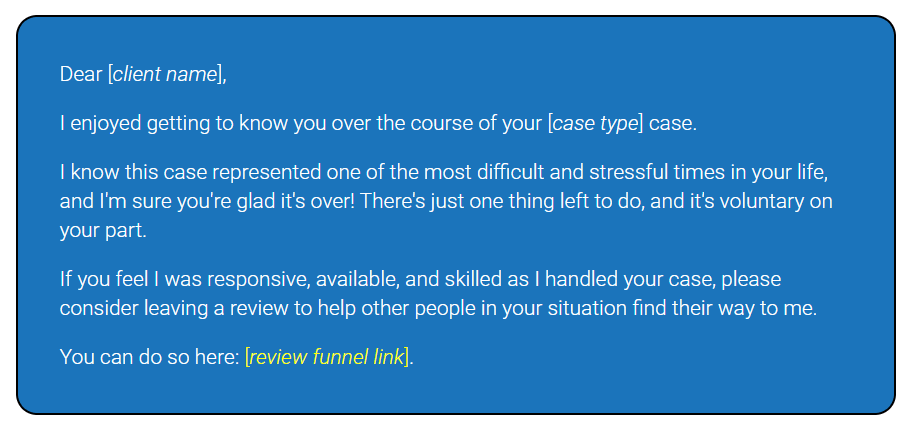 #5 Satisfied follow-up
When you can target the satisfied customers, here is the question you might want to ask them: How likely are you to recommend our brand to your friends?
This is a question that's sent to customers at the end of a transaction or a service. Here is the template to use with these customers.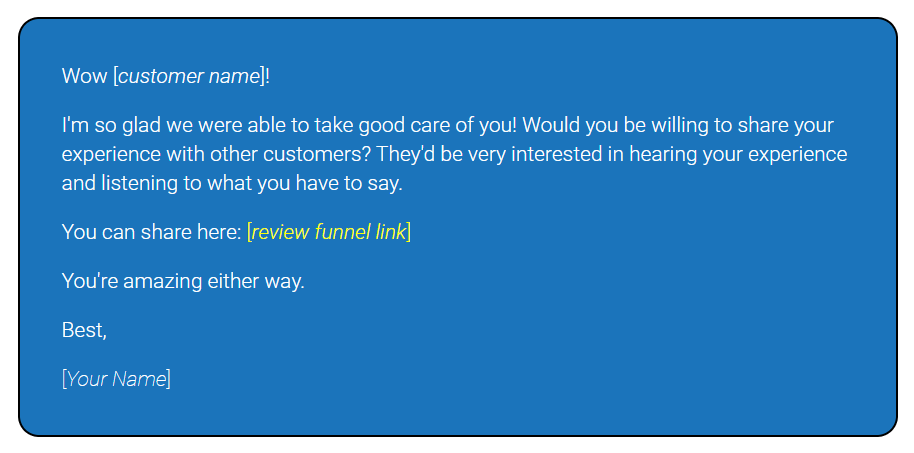 #6 The unhappy customer
If you're running a business, a few unhappy customers can't be avoided. This is when asking for feedback is very important, this is not just to know what happened but also to suggest a solution and win your customers back and show new ones that you take their experience seriously.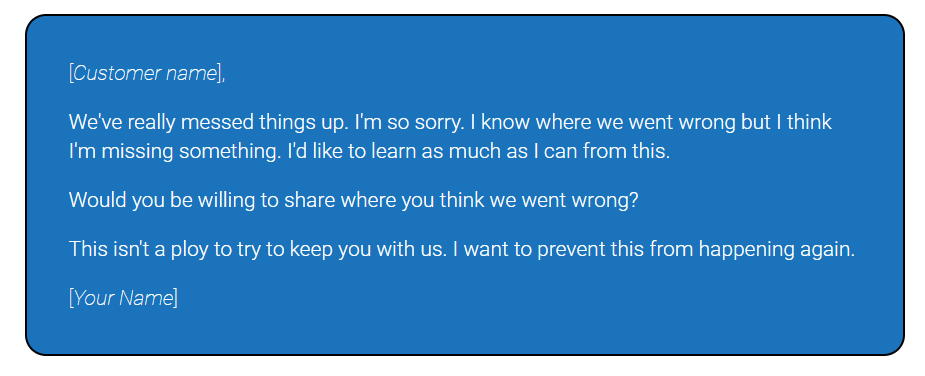 #7 Wedding services templates
Weddings are emotional and stressful at the same time. That's why a template that recreates that positive emotion and works as a reminder of their special day when you ask for reviews will be rarely rejected. Or even, you will likely have positive feedback.

#8 Real estate templates
Maybe if there is one industry that relies heavily on customer relations, that would be the real estate. Online reviews are crucial to real estate workers and give them the upper hand to sway a large majority of customers to their side.
If you're a realtor, you might need this customer review template. This template is to make happy customers feel more likely to stay with you whom they've grown to trust.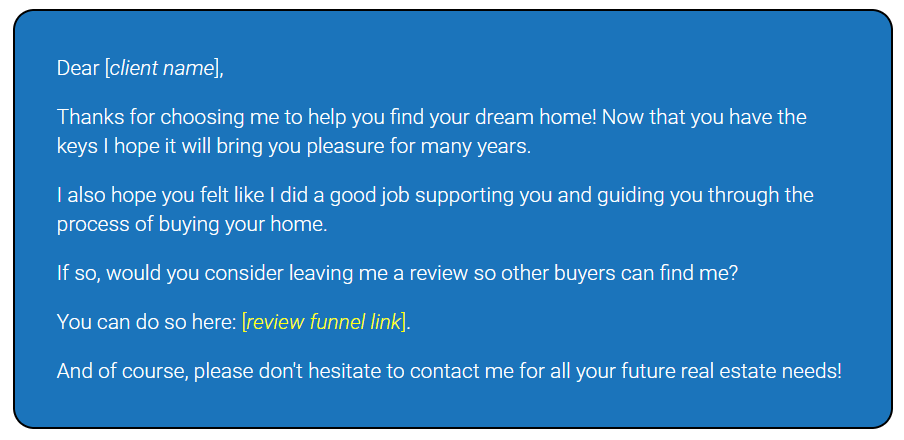 #9 Healthcare templates
Healthcare might be one of those rare industries where personalized content will be awkward to ask for a review of the service. This kind of template will focus on the points that make your medical facility special and make it less awkward for you and your clients.

#10 Applause request
Not only bad reviews that need your extra attention. Sometimes a happy customer needs your touch as well. We're sure that happy clients have more to say about your business and their review will help you build better customer service, too. So don't forget to leave them a message asking for a review and this template is here for that purpose.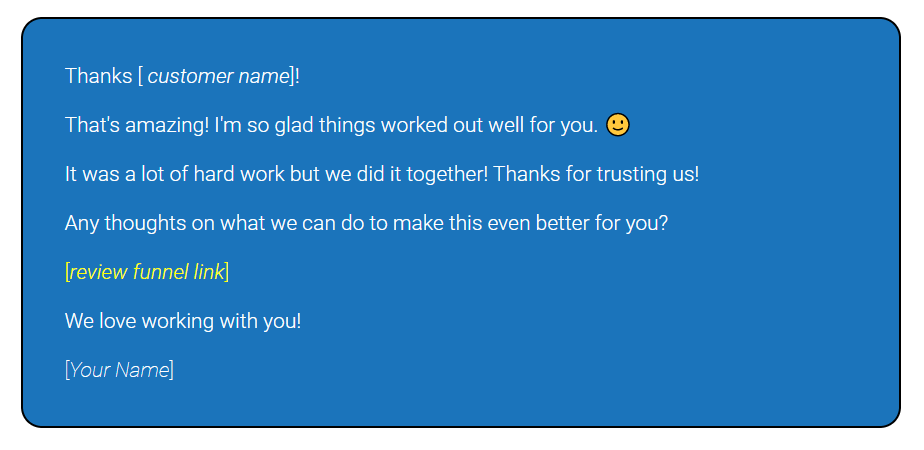 When to Send Customer Review Requesting Email
Timing is everything and sometimes it makes the success of a review request campaign. Here are 3 times when you take a hint and send customer review templates to your customers.
Shortly after purchase (but long enough for them to experience your products or services).
When a customer comes back to repurchase or reorder.
Upon receiving a referral.
Conclusion
We hope these customer review templates can help you next time you need to send a review request email.
When you gather the feedback you want, don't forget to display reviews on your website.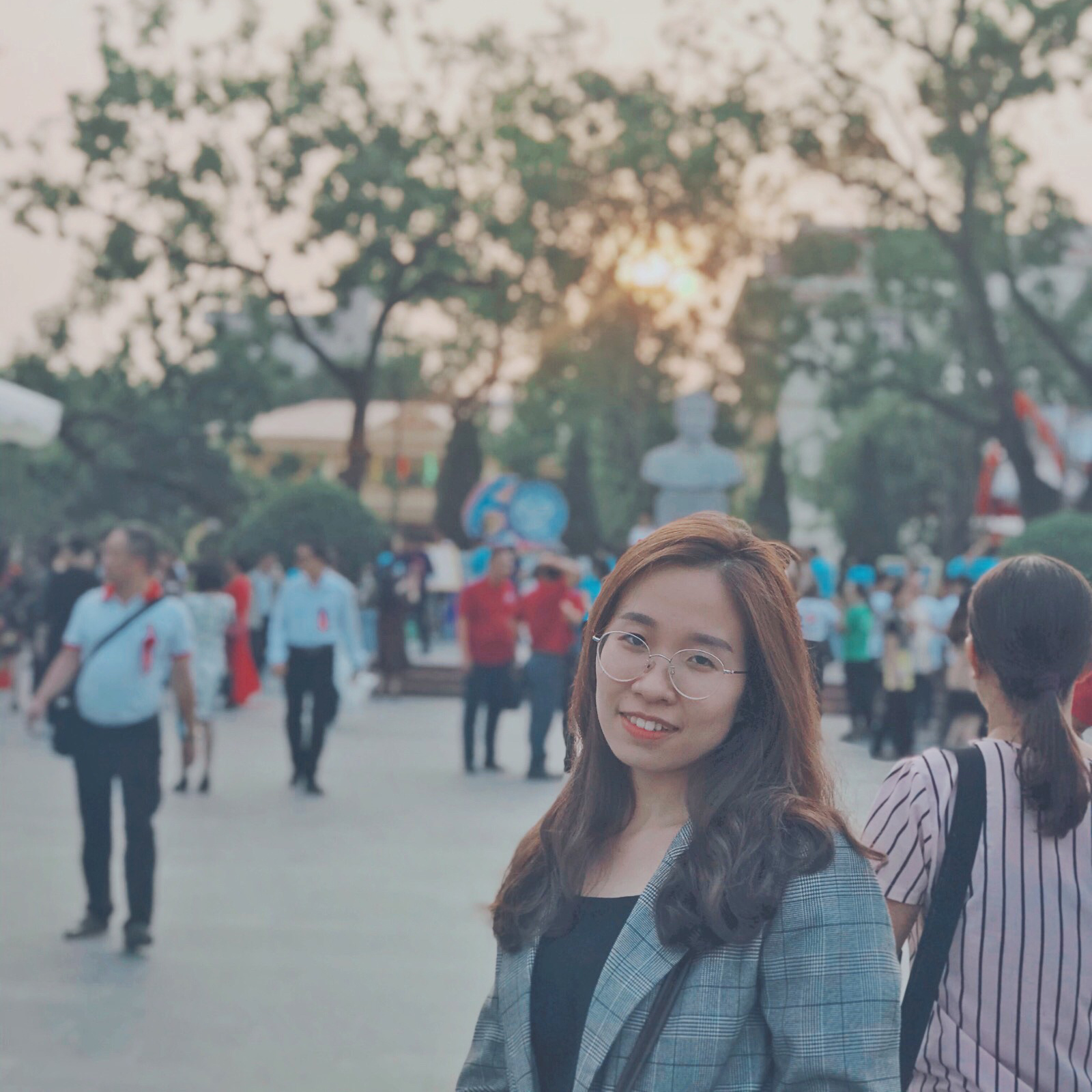 Marketing Executive | Content Manager