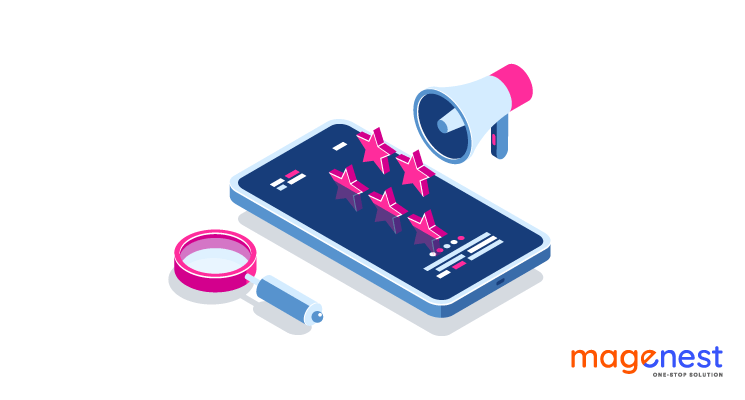 Do you know that according to Offerpop, websites with featured user-generated content saw a 20% increase in return visitors? Knowing how to make the most of customers' feedback and photo reviews can help your business stand out from other competitors and make the quality of your products or services more reliable in the eyes of prospective customers. Hence, you will drive more traffic to your site and increase conversion rates considerably.
However, the default review section of some eCommerce platforms may not have enough features to deliver the best experience to your customers when they come back and write reviews for your products. Don't worry, in this article, you can take a look at some of the best customer reviews apps and extensions that can help you enhance the default review function on your site with advanced features.
8 Magento Customer Reviews Extensions
1) Photo Review by Magenest ($69)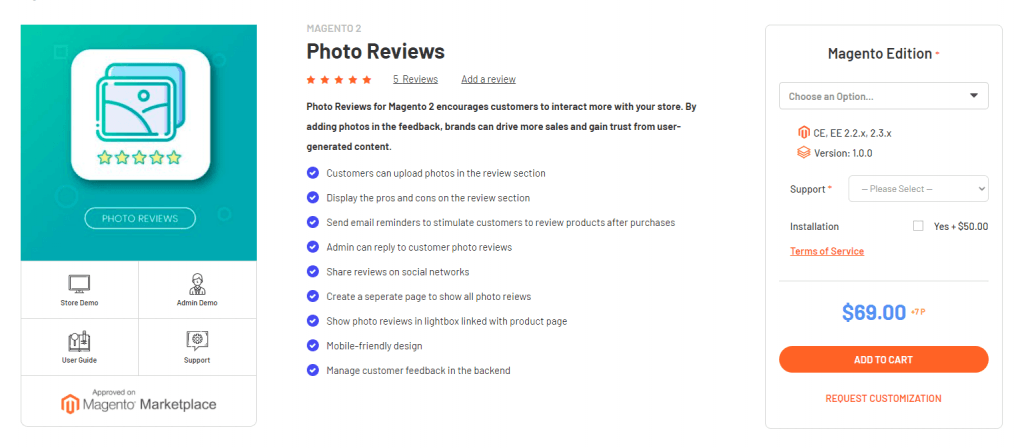 If you are finding ways to enhance the boring default review section on your Magento-based store, this photo reviews extension can be a perfect choice. It allows purchased customers to add their own photos to a product review, which is a chance for them to share their experience with your product.
With this module, store owners can take advantage of user-generated content to gain trust from potential customers who always want to research realistic feedback from previous buyers before purchasing.
Key Features
Upload photo in the review section
Show pros and cons in the review
Reply to customer reviews
Send emails to remind customers to write reviews after purchases
Share reviews on social networks
Compatibility - Magento CE, EE 2.2.x, 2.3.x
2) Advanced Product Reviews for Magento 2 by Amasty ($199)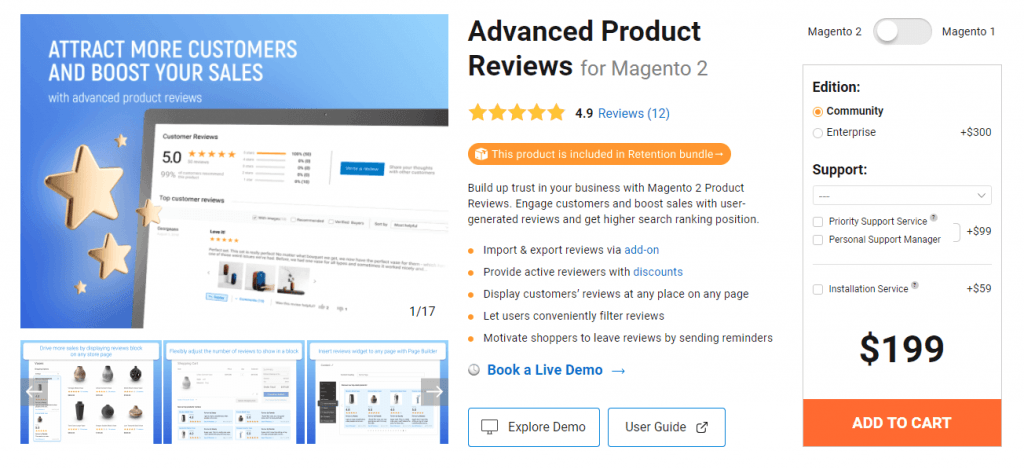 Magento 2 Customer Reviews extension provided by Amasty is designed to help online businesses build trust with customers, increase their engagement on your website and boost your revenue significantly. It does not only enable customers to add photos to reviews but also offers them powerful tools to filter and react to reviews.
Key Features
Display customer reviews on any page
Show product reviews on the Google search results page
Enable "verified" badge for purchased reviewers
Advanced filtering by Recommended, Verified Buyers and With Images; sort reviews by Date, Rating and Helpfulness
Display pros and cons in reviews
Compatibility - Magento CE and EE 2.2, 2.3, 2.4
3) Advanced Reviews for Magento 2 by Aheadworks ($199)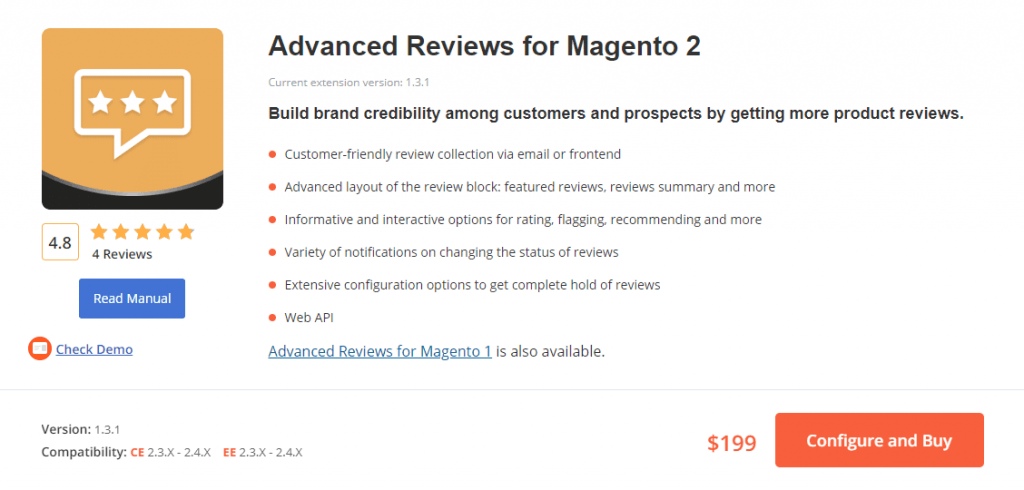 This module can help store managers get more product reviews from customers by providing them with a user-friendly review section, building brand credibility among prospects. It is important to make customers feel that you really care about their opinion on product and service improvement. This will strengthen their loyalty to your brand, hence an increase in your revenue.
Key Features
Advanced review block layout: featured reviews, reviews summary, etc.
Request for product reviews through email or frontend
Send notifications about review status changes
Informative and interactive options for flagging, rating, recommending,...
Web API
Compatibility - Magento CE, EE 2.3.X - 2.4.X
4) Magento 2 Product Reviews by Mageplaza ($159)
With this Product Reviews extension for Magento 2, you can deliver a better experience with reviews and ratings to customers in your online store. Once you gather more feedback from shoppers, you will have a chance to clearly understand what they need and serve them better with higher-quality products.
Key Features
Compare products via review summary
Add images to reviews
Share reviews on social networks
Admin can reply to reviews in the backend
Display Verified Purchase badge for purchased customers' reviews
Compatibility - Magento CE, EE 2.2.x, 2.3.x, 2.4.x
5) Magento 2 Advanced Review Extension by Magetop (free)
Magetop provides you with a free Advanced Review tool to extend the basic functionality of the review section on your Magento store. Customers can easily add a title, photos or attachments to their reviews. Besides, it allows store owners to display a summary for each product including the number of reviews in different ratings.
Key Features
Upload photos, videos and attachments to reviews
Reply to customer reviews
Enable/Disable comments on reviews
Vote up/down or flag comments on reviews
Admin notifications and multiple review layouts
Compatibility - Magento CE, EE 2.0.x, 2.1.x, 2.2.x, 2.3.x
6) Advanced Review for Magento 2 by BSS Commerce ($99)
This extension is a one-stop solution for store managers to improve the default review section on your store, It enables customers to specifically tell about the pros and cons of the product by choosing from a list of pros and cons in previous buyers' reviews or creating their own ones.
Key Features
Detailed product reviews with pros and cons specified by buyers
Enrich product rating system with custom criteria
Advanced product review filter
Enable voting for helpful/unhelpful review and sharing via social networks
Reduce spam and fraud with report reviews feature
Review access restriction for admins at the backend
Compatibility - Magento Community & Enterprise 2.2.x - 2.3.x - 2.4
7) Magento 2 Product Reviews by Landofcoder (free)
Landofcoder provides you with a free product reviews extension to let your customers express their feelings, experience, evaluation, and satisfaction with your products. It enables shoppers to upload comprehensive reviews along with photos and ratings. As store owners, you can establish, maintain and enhance the reputation for your online shops.
Key Features
Add multiple images to reviews
Show pros and cons of products
Rate the review helpful or not
Report abuse displayed
Filter reviews by ratings, helpfulness or keywords
Send email to request for purchased product reviews
Compatibility - Magento 2.0.x - 2.1.x - 2.2.x - 2.3.x
8) Advanced Product Reviews for Magento 2 by MageAnts ($79)
By using Advanced Product Reviews extension for Magento 2, you can provide an effective review system for your customers. It makes the review submission process become more user-friendly and less time-consuming. Various features of this module help you to create a dynamic atmosphere for your store and hence an increase in your sales.
Key Features
Detailed product review by customers along with filters and sort options for the same
Enriches the product review system by helping visualize the rating ratio in the form of charts
Customers are allowed to upload images or videos on review
Provides a popup view for the user upon clicking images or videos submitted on reviews
Enables voting for the reviews by like or dislike buttons
Compatibility - Magento 2.0.X - 2.3.X
5 Shopify Customer Reviews Apps
1) Photo & Product Reviews by Yotpo
This customer reviews app by Yotpo helps you gather product reviews from customers via automatic review reminder emails or review widgets.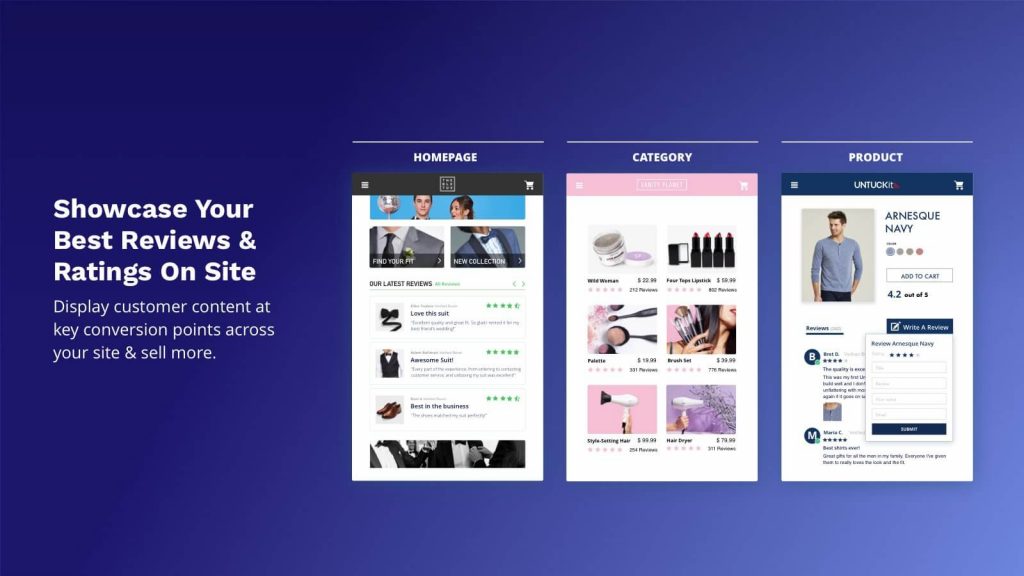 Key Features
Collect reviews, ratings, photos, and Q&A from your customers
Increase conversion by showcasing customer content onsite
Leverage our official partnership with Google to boost brand discovery and increase traffic from searches on Google Shopping
Share your best customer content on Facebook & Instagram
Build a powerful brand community
Make better business decisions using analytics and customer feedback
2) Rivyo Product Review by Thimatic
Thimatic provides Rivyo Product Review app for store owners to easily display real customer reviews and FAQ customer-centric approach, making your products more trustworthy in the eyes of prospects. What's more, this customer reviews app allows you to import reviews from Amazon or AliExpress to your store in a few clicks.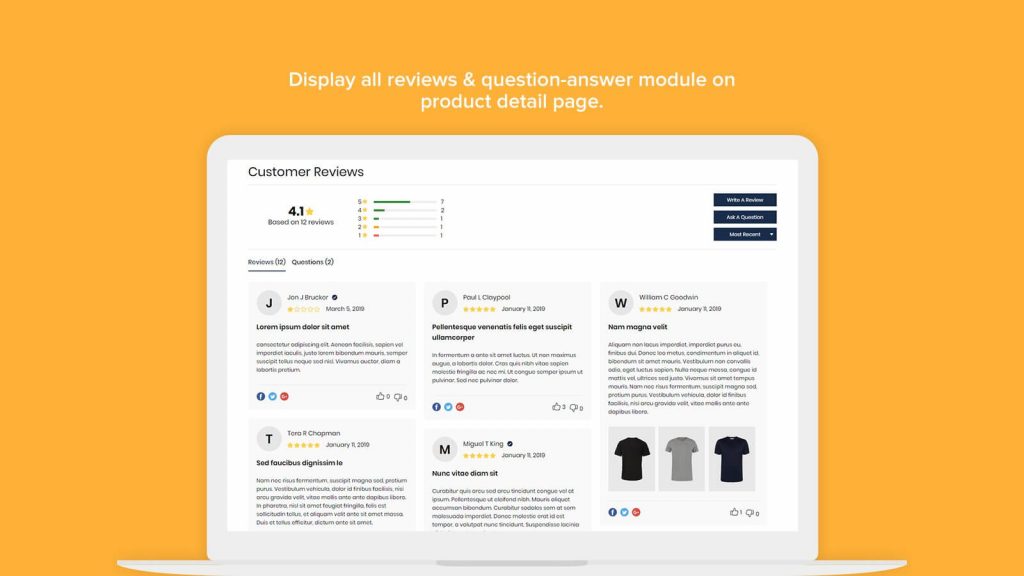 Key Features
Vote for helpful Question & Answers
Rate product with product images
Share reviews on social networks
Show product rating in Google search results page
Export reviews as a CSV file
3) Free Photo Reviews by EnormApps
With the free Customer Reviews app by EnormApps, you can allow customers to add their own photos with your products to reviews, attracting more new customers and giving them confidence in buying products.
Key Features
Display reviews with product images
Responsive and customizable layout
Import reviews via CSV files
Enable/Disable email reminders
Slider and Grid options
4) Free Product Review with Photo by HulkApps
This feature-rich free customer reviews app can help store managers build trust and boost conversion rates by showing reviews from happy customers.
Key Features
Gather and curate ratings with text and images
Boost sales and get more conversions with SEO Structured Data
Unlimited meaningful reviews with custom attributes
Customizable layouts and styling
Modify and approve reviews in bulk
5) Google Customer Reviews App by Simprosys InfoMedia
Google Customer Reviews app provided by Simprosys InfoMedia can help you display Survey Opt-in to purchased customers to get their high-quality feedback. Your good customer services can increase the number of review submissions against opt-ins since satisfied customers are more likely to write reviews when requested by Google.
Key Features
Survey Opt-in module
Get seller ratings on Google search results page
Easy to install and configure with ready-to-use program code
Display Google Customer Reviews badge on websites
5 WooCommerce Customer Reviews Plugins
1) YITH WooCommerce Advanced Reviews
With the YITH WooCommerce Advanced Reviews system, you can let your customers leave reviews of the product they choose and acquire more sales. You can create a histogram table for reviews of different kinds of products. You can add rich snippets, let customers add titles and attach images while writing product reviews and add a review statistics bar so your customer can rate products based on the 5-star rating system.
Key Features
Add rich snippets to reviews
Add a title when writing a product review
Attach images to the product review
Choose how many files can be appended for a single product review
Add review summary bar with statistics about how many times a rating of 1,2,3,4 or 5 stars was submitted
Customize the look and feel
2) WP Product Review Lite
If you are seeking to transform your basic posts into in-depth reviews containing ratings, pros & cons, affiliate links, rich snippets, etc., then WP Product Review Lite is the best choice. WP Product review encompasses high customizability features and comes in two versions: free and paid versions.
Key Features
Create a top products review widget
Easily update all the colors of the widget from theme options
Add a download button in the posts
Add an awesome wrap-up widget at the end of your articles
Add specific user review options to WordPress comments
Add rich snippet to your posts
3) Yotpo Social Reviews for WooCommerce
With each passing day, it has been observed that online stores are now transforming more into social review websites. Gaining excellent leverage to user-generated content, website owners are more focused on directing communication to the best interest of their customers. Yotpo Social Review for WooCommerce is one such plugin that creates your online web store on a social platform. It has recently launched its WooCommerce extension.
Key Features
Collect reviews, ratings, photos, and Q&A from your customers
Increase conversion by showcasing customer content on site to help buyers with purchase decisions
Drive high-intent traffic by displaying ratings in organic search results and Google Ads
Share your best customer content on social networks with a click of a button
4) SIP Reviews Shortcode for WooCommerce
WooCommerce product pages are awesome and unique. However, at times, the need to market and promote a specific product from a normal post or page becomes mandatory. Now, one way of doing so is to copy/paste your product reviews, but guess what? SIP Review Shortcode for WooCommerce offers you a perfect solution. It does not only limit your product review to live feeds but also helps you identify product rating daily and directly for Google search engines.
Key Features
Display product reviews anywhere with a shortcode
Display product reviews anywhere via widgets
Insert product Schema (name, price, rating) anywhere with a shortcode
Customizable style
Customize product name for Schema
5) WooDiscuz – Woocommerce Comments
Observing the diverse demographics using E-commerce platforms for buying products, it has been found that over 90 percent of the online shop visitors wish to ask questions, discuss features and gain other buyers' advice before making a sale/purchase. With WooDiscuz, you can now add an effective review system based on comments and discussion tabs to your Woocommerce web store.
Key Features
Adds a new Discussions tab on product page
Responsive discussion form and comment threads design
Interactive, clean, simple and easy user interface and user experience
Fast and easy comment form with ajax validation and data submitting
Allows to create a new discussion thread and reply to existing comments
Ajax button "Load More Comments" instead of simple comments pagination
Fully integrated and compatible with WordPress and WooCommerce
Can you choose the best customer reviews app for your business?
The more feedback you get from your customers, the better you can optimize your products and services to satisfy them. Not to mention the fact that taking advantage of user-generated content is an effective way to gain trust from prospects and turn them into loyal customers.
If you want to Whether your store is running on Magento, Shopify or WooCommerce platform, we hope that the list above can provide you with an overview of the best customer reviews apps to easily decide which one suits your needs and your business the most.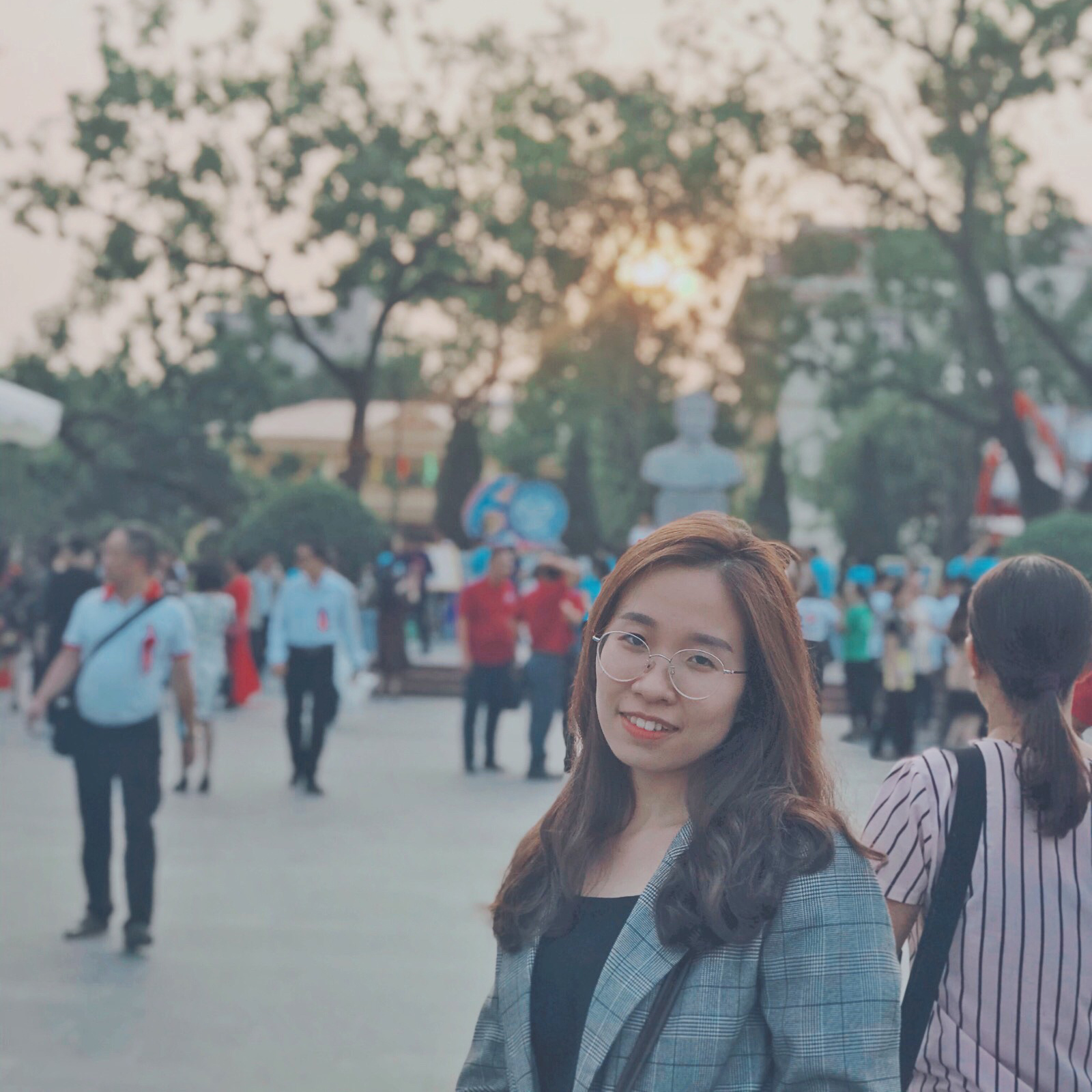 Marketing Executive | Content Manager