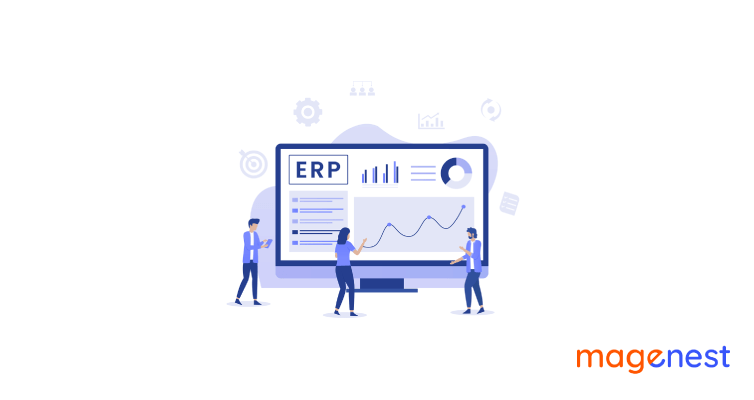 Back in the day, ERP (enterprise resource planning) system was only used by large and multinational organizations, which used to be complex, costly, and demanded a lot of expert technical support.
However, things have changed. ERP is now way less expensive for small and mid-market businesses to centralize all their business tools with that system.
If you are currently seeking a suitable ERP system for your business, this blog post comprises a comprehensive list of the most famous ERP solutions. Find out now!
What is an ERP?
In essence, an ERP (Enterprise Resource Planning) is software that automates business processes and provides insights and internal management, based on a central database that gathers inputs from departments inclusive of manufacturing, sales, marketing, supply chain, accounting, and human resources.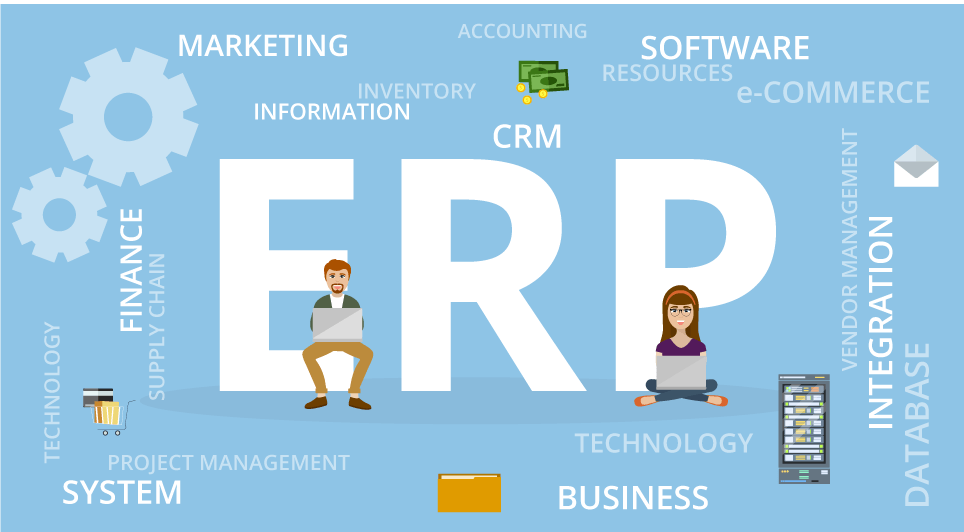 Once data is compiled in that central database, managers gain cross-departmental visibility that gives them the green light to analyze multiple scenarios, identify process improvements and give rise to major efficiency gains. That brings promptly to cost savings and higher productivity since people spend less time searching for needed data.
ERP application is considered an important tool for businesses of all sizes across industries. A lot of the world's most successful companies have leaned on ERP over the past century. For the time being, this software can be configured and priced to satisfy the needs of all-size firms.
Simply put, an ERP system helps bring people, processes, and technology together across an organization.
Why is an ERP System Important?
ERP systems are the answer for enterprises looking for ways to use their resources wisely. They can support leaders, reallocate financial and human capital or develop more systematic processes that save money without sacrificing performance or quality.
Besides, an ERP is considered an asset when it comes to planning and coordination. Employees can view up-to-the-minute inventory and detailed customer orders, compare supplier purchase orders, and finally provide a forecast on future demand. If required, they can make adjustments to avoid problems. ERP software also promotes communication and collaboration since workers can check on the status of other members to make their own decisions.
As a comprehensive source of data, one of the benefits of ERP systems is to provide various reports and analytics as well, which can be difference-makers for the business. Turning a vast trove of info into charts or graphs that represent trends clearly and help model possible results is of the utmost importance of an ERP.
How does an ERP System Work?
The ERP system works based on a standard, determined data structure. The information posted by one department will immediately be available to authorized users on all parts of the business. This uniform structure helps maintain everyone in the same flow. For instance, say a local garment distribution chain has many locations that share stock and personnel oftentimes. Because sales, quality, and employee data from those sites are fed into the ERP system, it's formatted to show which place it comes from.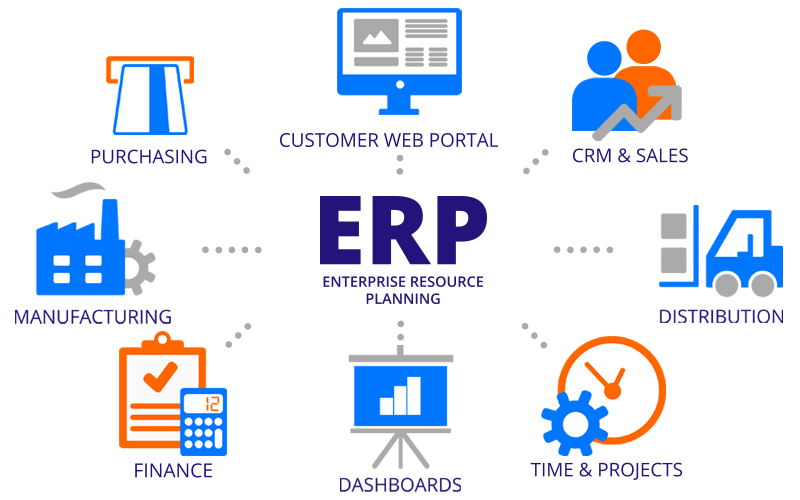 Info is then woven into enterprise processes and workflows crosswise departments. The managing director can see if one area is doing outstandingly better at avoiding spoilage than a relative site and work to understand why, while operations can make sure staffing levels arrange in line with traffic patterns. Finance can weigh the differences between sales to rents to assist executives while making important decisions.
ERP systems foster the most value when a business has modules for each main business function and ensures accurate, timely data input. The more stakeholders gain access to, the better.
When a company uses business systems from various vendors, integrations are commonly possible to make data flow automatically into the ERP. This data can then be utilized during the ERP instance to benefit any workflow or process.
Top 5 Most Used ERP System 2022
#1 Deltek — Best ERP System For Small Business
ERP software is not reserved for global enterprises anymore. There are lots of excellent alternatives for small firms that want to leverage these solutions out there. Deltek, which is one of the top 5 ERP systems, is definitely a bright example of the above statement.
Deltek Vision, regularly used by professional service companies, is a project-based solution that coordinates project management, project accounting, time/expense management, resource management, and client management completely in one product. It is a web-based solution outfitted for on-premises or cloud deployment. The cloud-based deployment makes it easier for smaller businesses to execute.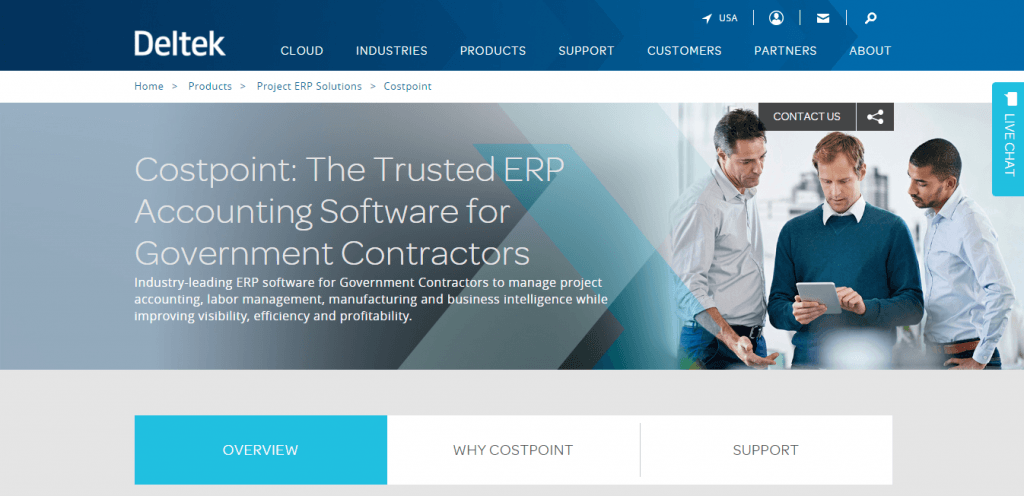 With this ERP system, you will quickly develop a new business with a comprehensive overview of your new projects precisely and control finances with multi-currency and multi-company project accounting and also comprehensive general ledger.
Generally speaking, Deltek is an exceptional option for project-based businesses endeavoring an ERP solution. They have a broad range of products and modules in categories such as:
Information collaboration and management

Business development

Project management and portfolio management

Human capital management
Moreover, they offer niche-specific solutions, for example, project lifecycle management for small firms and architecture or cost points for government contractors. These examples showcase the versatility of Deltek.
#2 IFS — Best Agile ERP system
IFS is a bit unique in comparison with other ERP software on the market today. The system is not as complex and rigid as other tools that you may come across.
Rather than that, IFS gives you the sense of adaptability in real-time as market landscapes vary, and new technology becomes practical. This approach helps your organization optimize its agility. The complete IFS suite of tools operates ideally, across any iOS, Windows, Mac, or Android device.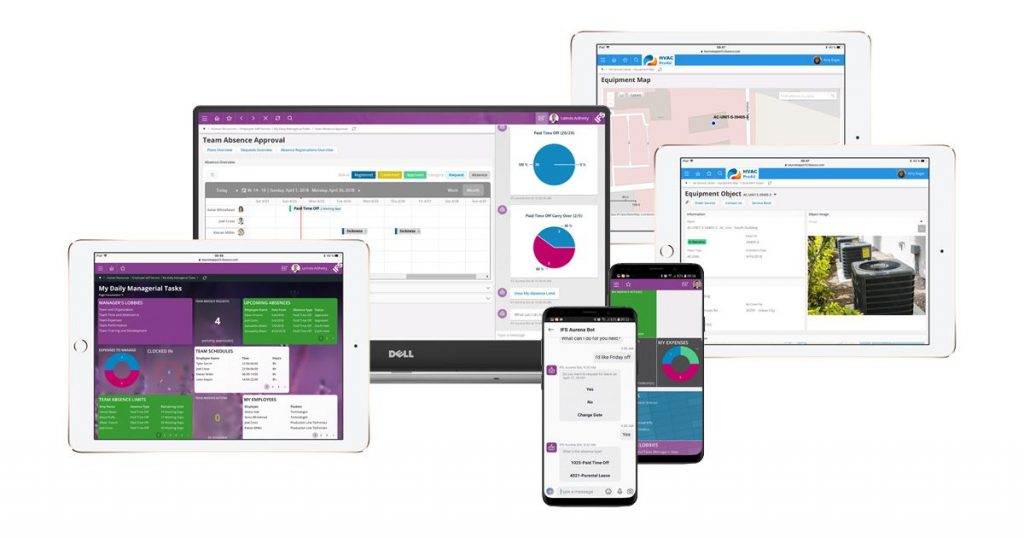 IFS has pre-configured ERP solutions for fields like human capital management, supply chain management, manufacturing, project management, financials, and service industries. Within those categories, some of the outstanding features of the ERP software include:
Risk management and opportunity management

Digital asset lifecycle journey

Contract management, payment applications, and variation order management

Real-time planning and scheduling optimization

Demand planning and sales forecasting

Multi-site and multi-entity supply network planning and visibility

CRM and SRM

Financial accounting, project accounting, management accounting, and strategic accounting
All of these ERP system functions are intended to keep your organization quick-witted as the market changes. You'll be prepared to achieve a competitive edge and make strategic decisions in real-time utilizing IFS for enterprise resource planning.
#3 Infor — Best Versatile ERP Software
Infor is a cloud-based ERP software with solutions that are suitable for SMBs or similar enterprises. They have numerous different ERP products to choose from, specifically based on your industry and business needs.
With more than 30 years of expertise in this field, Infor's flexible and robust technology ensures them a position among the top.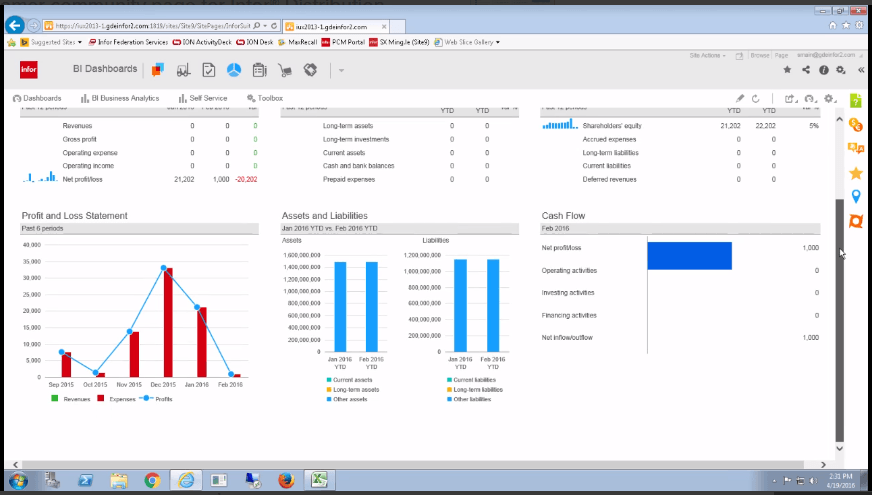 The ERP system offered by Infor is a recommended choice for wholesale distribution companies, manufacturing businesses, and many similar service industries. Some of the noticeable highlights of the software:
Ability to personalize dashboards and home pages

Intuitive user interfaces based on roles

Wide variety of financial calendars, basis reporting, ledgers, and dimension strings

Set up analytics directly within different user' workflows

Production plan and scheduling management

Optimized purchasing with high-level order controls

Ability to secure maximum margins with integrated pricing modules
While Infor is surely known for its cloud solutions, they do offer on-premises and single-instance deployment alternatives for some of their software.
Infor also has a wide spectrum of specific software for stuff like HCM, CRM, SCM, PLM, and many. So if you simply have one single need, you can search for those choices as well.
#4 Epicor — Best ERP System For Manufacturing
Epicor is also an industry leader in the ERP software area. They offer cloud and on-premises solutions for companies in fields like manufacturing, automotive, retail, distribution, lumber, and building.
All things considered, the manufacturing ERP software provided by Epicor is the apparent standout, which is trusted by various manufacturers producing products like industrial machinery, lumber and wood, high tech electronics, rubber and plastics, medical devices, aerospace and defense products, furniture, fabricated metals, and more.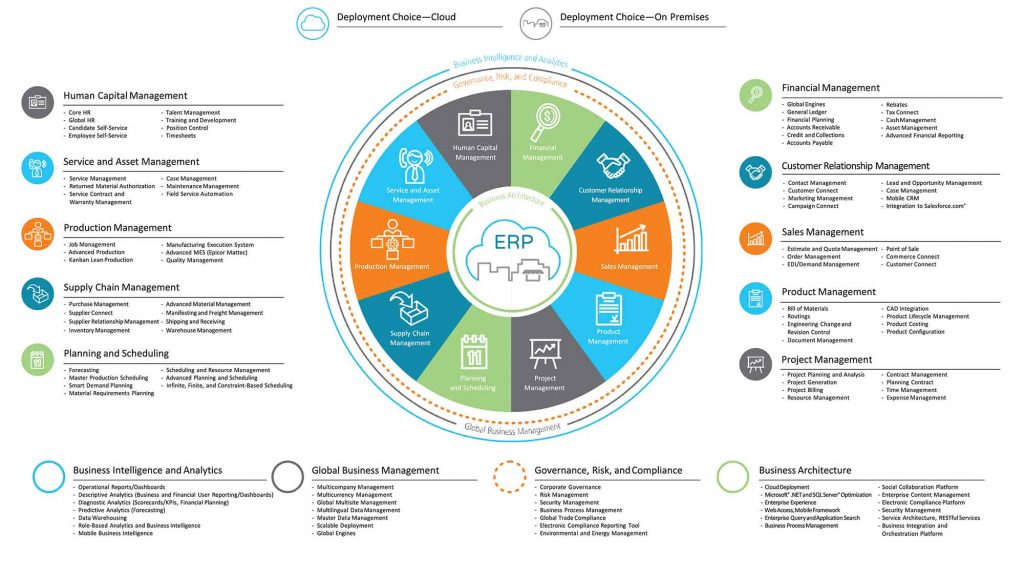 Here are some of the best benefits you'll receive with Epicor's ERP software:
Ability to track, measure, and control the whole operation from raw materials to the final product

Increase efficiencies with real-time visibility into plant operations

Smooth the processes to decrease costs and enhance profits

Adapt to new strategies, new manufacturing methods, and varying customer needs

Implement lean manufacturing methodologies to reduce waste

Make wiser decisions and prioritize customer satisfaction
On the whole, the software is reserved for mid-sized and large businesses in the manufacturing and distribution industries.
#5 AccountMate — Best Vertical-Specific ERP System
AccountMate has been branded as "the world's most customizable accounting software." It's created to help developing businesses earn a competitive edge with unique ERP solutions based on specific verticals.
The software is adopted by 125,000+ companies universally. In addition to the software, AccountMate offers additional services to help you make the most out of the ERP tools.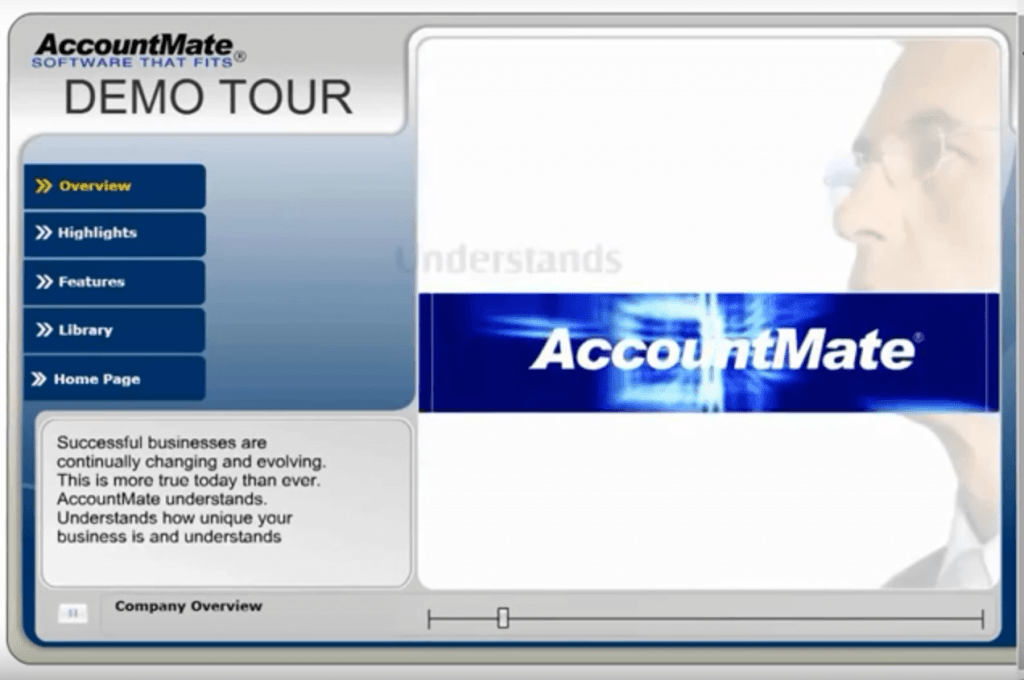 AccountMate's vertical solution catalog is extensive, the least that can be said, with over 30 vertical-specific category alternatives available. Their development partners help businesses get industry-specific functionality besides the base financial software.
Some of those top categories comprise:
Billing

Budgeting and forecasting

Business intelligence

Business analytics

CRM applications

Document management

Sales analysis

Warehouse management

Ecommerce

Human resources

Food processing

Invoice automation

Payroll

Route management

Job costing
The list will go on and on. As you can recognize, these vertical-specific offerings are remarkably versatile. AccountMate can equip you with a comprehensive front and back-office solution.
Companies within industries like government, manufacturing, wholesale distribution, utilities, eCommerce, solution providers, and business services completely rely on AccountMate for ERP.
For those who are searching for a vertical-specific solution with a core focus on finance and accounting, look no further than AccountMate.
How to Choose the Best ERP Software
Essentially, ERP software consolidates all of your business tools into a centralized console. It includes sections like accounting, supply chain management, human resources, customer relationship management, and more.
By combining your business tools into one single ERP system, it's much more relaxed to manage. Also, it gives you tons of additional value from a big-picture perspective that you normally wouldn't notice from standalone software.
To determine the best ERP software for your business, you need to know what to seek as you're shopping around.
There's not a "one-size-fits-all" solution. These considerations may help you with narrowing down potential choices.
Business Processes and Modules
ERP software encompasses various types of business processes which typically come in the form of modules when you're customizing an ERP solution.
Some businesses need only a handful of these processes, while others could be searching for a dozen. It is subject to your existing tools, business size, and future goals for resource planning.
Examples of processes and modules to pay attention to include HRMs, CRM, SCM, inventory management, purchasing, and supplier management, financial management tools, sales and marketing tools, and more.
There are also industry-specific processes for businesses like manufacturing or engineering. These will incorporate essential functionalities for product planning, production scheduling, shop floor planning bill of materials, etc.
Ensure the ERP software you're assessing can meet your needs with modules for those types of ERP system functions.
Reporting, Analytics, and Dashboards
The best ERP software in today's market has exceptional reporting capabilities. These go beyond basic spreadsheets and PDF downloads. The thing is: book for a solution that covers real-time data and smart filters.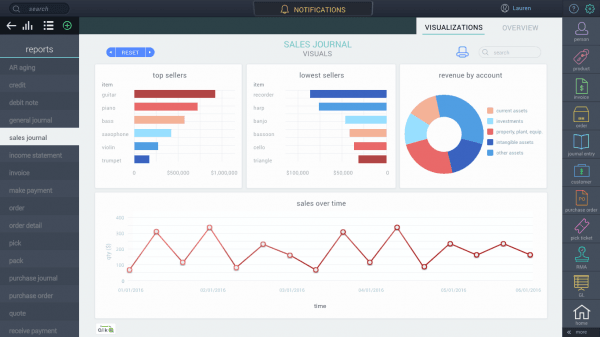 Some tools may even have agile reporting and ad hoc reporting, so you can quickly adjust to ever-changing demands without interruptions.
You should be able to handle these complicated reports and analytics through a simple dashboard. If the dashboards can't be figured out, you'll never get the most out of those reports (which renders them useless).
What's more, dashboards should demonstrate KPIs and let you analyze various data with just a few clicks. For example, you might want to compare qualitative vs. quantitative data based on users or departments within your organization.
Integrations
Your ERP software must integrate seamlessly with your current tools and software. These all must work together, from easy file transfers to complete integrations. For example, you need to be able to sync your actual CRM with your brand-new ERP software, or, you need to link an ERP payroll module to an HRMS software that you have previously used.
ERPs that offer flexible integrations can extend the functionality of your existing tools or replace them completely after a smooth file migration.
Custom Capabilities
Customization is essential when it comes to assessing ERP software. Apart from that, you won't make the most of the potential advantages; here are the reasons:
Each team will have different business workflows which potentially could have contradictory goals and priorities. For instance: marketing departments want to focus on spending while accounting ones just focus on saving. Sales teams' priority is a monthly quota, but production departments prioritize daily output.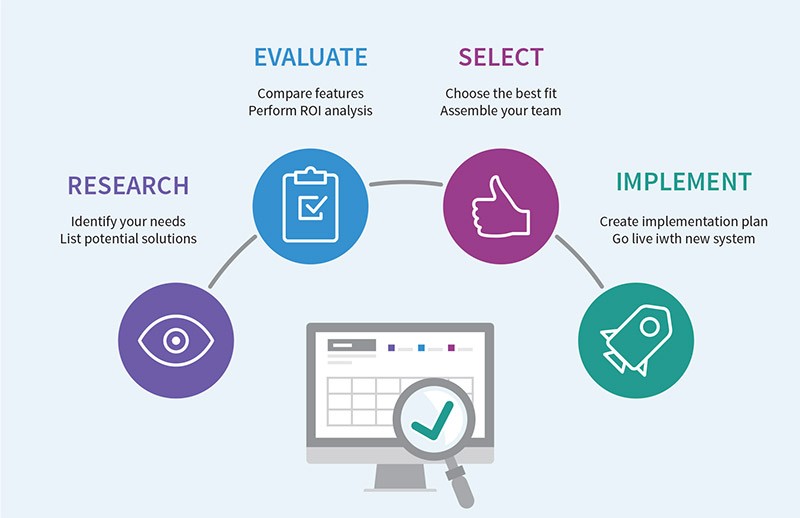 It's unlikely to configure these miscellaneous workflows into an all-in-one solution.
Therefore, your ERP software should produce configurable workflows and custom dashboards for each unit. This will enable those decision-makers to establish specific KPIs and goals based on custom parameters.
Setup and Deployment
It's no surprise that ERP software can be complicated. As opposed to other business tools, it's not a "sign up today and deploy in flashes" sort of tool. This is mainly due to the custom nature and diverse modules required to run effortlessly.
Yet, some ERP systems providers are easier to set up and deploy than many others. If you don't want anything to be installed locally, check out the cloud-based ERP solution. You'll have many selections to consider between cloud-based SaaS solutions and on-premises deployment.
Training and Support
As we all comprehend, ERP software isn't always that simple. You need to find a provider that offers you the resources required to get down to business.
Most of the time, a proper installation by technical expertise is needed. So make sure you have reviewed your SLA, in case your business doesn't have a dedicated IT.
The installation could be charged one at a time from the ERP license or subscription. Setting up cloud-based systems is easier, needless to say, however, they may require some training.
What happens when you need some assistance or have a question? Will any software vendors be there to lend you a helping hand?
Above are the sorts of questions you may need to ask yourself first as you're evaluating various ERP options.
Conclusion
There are hundreds of vendors out there providing ERP systems. Which one is the best? The answer is it depends on your situation.
When you're shopping around, make sure you comprehend the methodology described earlier in this guide to narrow down your alternatives in this top 5 ERP system. This will make your life much relaxed and still ensure you make the best decision for your business.