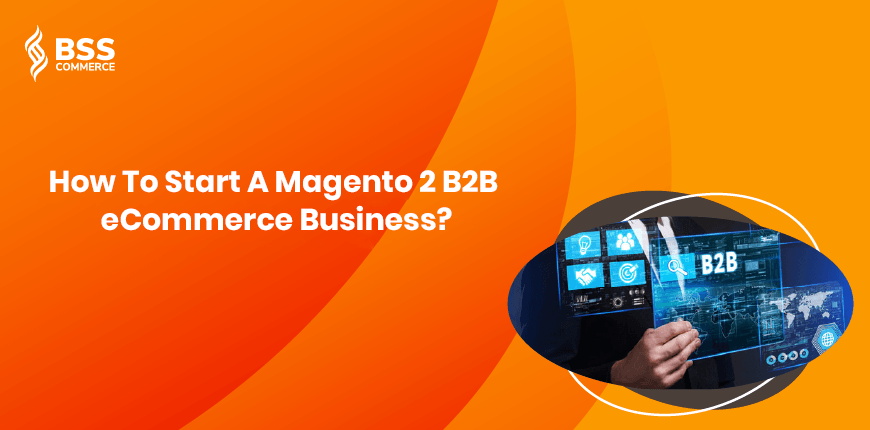 B2B eCommerce is now growing on a daily basis. From research conducted by Forester, B2B eCommerce transactions in the US are expected to hit $1.8 trillion after 2 years from now, accounting for 17% of the total sales in the country.
Besides, more and more B2B businesses are going online to adapt to new technologies and bring customers the best shopping experience, especially in the period of the global pandemic.
So, what should you do before starting a B2B eCommerce online store?
The very first and most important step is to choose a suitable platform between various options: Magento or Shopify, BigCommerce, or Salesforce, and so on. Each platform has its own pros and cons, hence, you had better seek as much information as possible before choosing the best one for your online B2B website.
Today, we are glad to introduce how to start a B2B eCommerce business with one of the most popular B2B eCommerce platforms according to the Forrester Wave report (Q2/2020): Magento 2.
Let's figure it out!
Why should you use Magento 2 for B2B eCommerce?
As mentioned above, Magento is an eCommerce platform for every merchant to start their online business.
Magento offers its users various editions, including Magento 2 Open Source (Free), Magento 2 Commerce, and Magento 2 Commerce Cloud. However, these latter two editions have been recently consolidated into one single brand - Adobe Commerce - to help customers across their full commerce journey.
There are some significant advantages that make Magento overwhelm other big platforms to become your first choice such as:
An open-source platform allows high customization and scalability to meet the diverse requirements of merchants.
Rich features enable merchants to conveniently manage their stores from A to Z.
Built-in B2B functionality included in Magento Commerce edition to cover the most basic features in a B2B website
High security with a security center that brings users detailed information about security, security patches, security updates, and practices.
SEO-friendliness
Multi stores and languages support
Good mobile experience
Built-in B2B Functions in Magento 2 Commerce
B2B functionality is one of the biggest advantages of Magento but just exists in the Commerce edition, not Open Source.
If your website is built on the Commerce edition, it's great because all B2B features are available for you to make necessary configurations. In case anyone is using or has the intention to try the Open Source one, please note that the edition does not support these features.
Let's explore the following built-in B2B features supported by the Magento 2 Commerce:
Company Account
Shared Catalog
B2B Quote
Quick Order
Requisition List
Purchase Orders
Company Account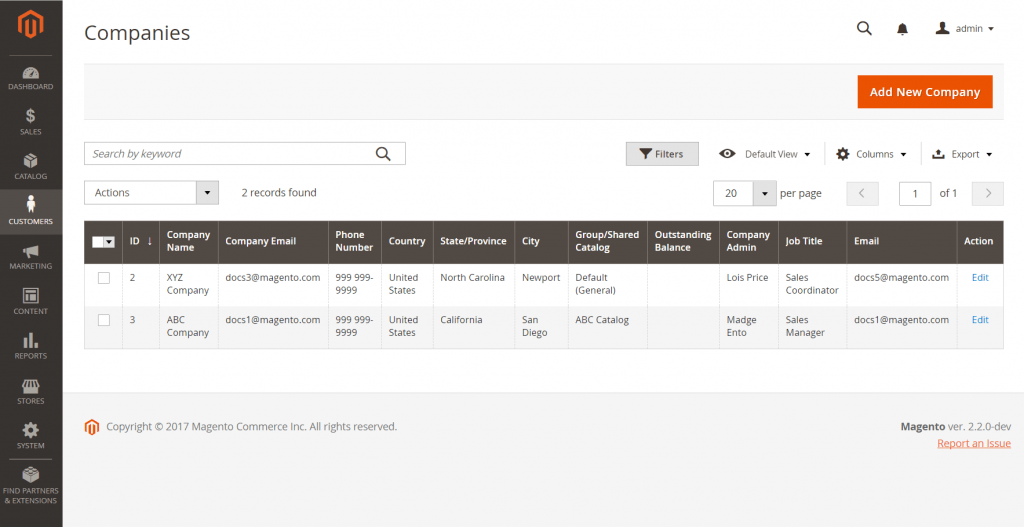 As we know, B2B businesses target different customer segments, usually manufacturers, wholesalers, distributors who don't purchase products and services for consuming purposes. For that reason, the B2B sales process is much more complicated than the B2C one.
In the process, not only one but many people are involved in the decision-making. Hence, the company account functionality is necessary for B2B businesses to allow multiple users with pre-defined roles and permissions.
In this way, multiple decision-makers can be updated with transparent information; thenceforth, supporting each other in the sales and purchasing process without transmitting the information orally.
Shared Catalog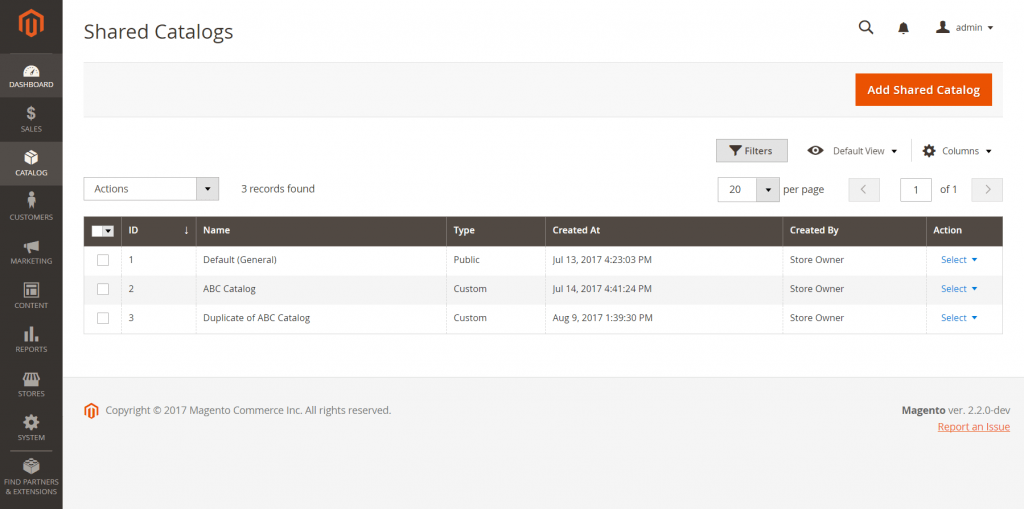 Shared Catalog allows Magento 2 B2B businesses to set different pricing for each company in mass quickly. Thus, you don't have to spend a lot of time personalizing every single product's price. It is much more advanced than the original way.
When using this feature, the admin can create custom catalogs besides the standard master catalog, which only the admin can view. To enable each company account to view their personalized pricing, the store admin can configure the catalog to be visible to specific customers.
B2B Quote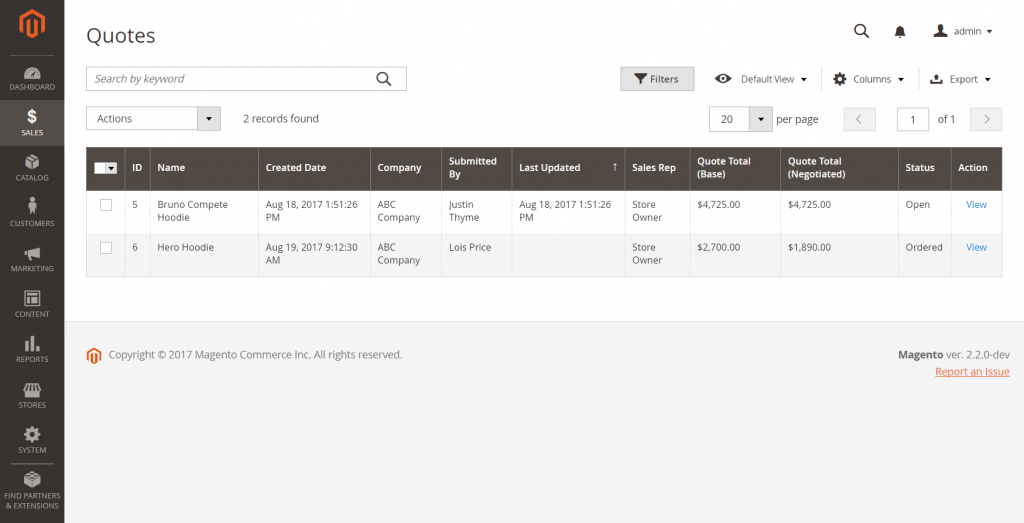 Unlike B2C eCommerce, the price in B2B business is personalized. Hence, customers can negotiate with sellers for better pricing due to the bulk order volume they intend to purchase.
However, the B2B admin users may receive many emails and calls to negotiate the price with customers. It's incredibly difficult to manage so many negotiations; consequently, problems might appear.
Hence, a quote system is necessary in this case to streamline pricing negotiation. When you enable the B2B quote function, authorized buyers can start dealing for better prices right in the storefront. They submit a request to negotiate their expected price without writing an email or making a phone call.
Notably, it is much more convenient for quote management. Once a customer submits a request, it will be immediately updated in a grid table of the store backend, and the admin can approve, or reject this request conveniently. The quote information is continuously updated between buyers and sellers:
Buyers receive notification emails about their quote status, then they can convert quotes to orders if they agree with the store admin or continue to update quotes for more negotiation.
Sellers repeat the process (approve or reject) in the backend.
Quick Order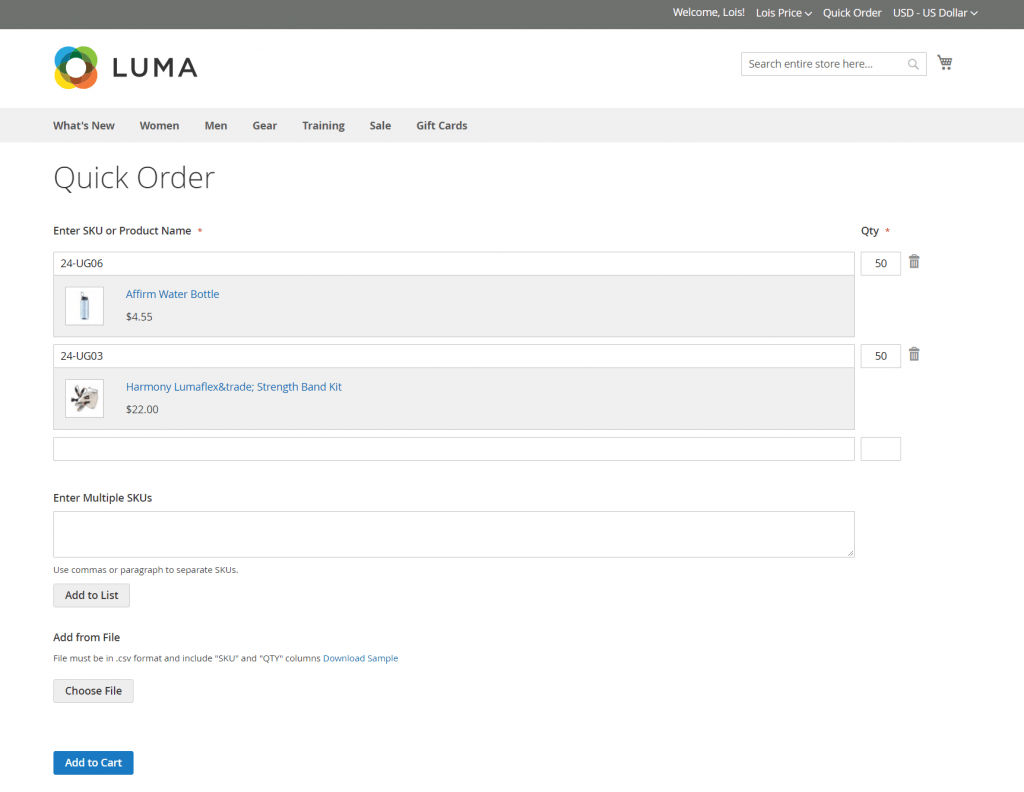 Every customer loves speed; that's a fact. Take regular online shopping as an example. Nowadays, there's a transformation from traditional shopping to online shopping because of its convenience and speed. The process from searching for the product to making a payment and taking the delivery needs to be rapid to satisfy customers.
It's the same for B2B customers. That's why Magento includes a feature called Quick Order in its platform.
The Quick Order function allows customers to order multiple products by specifying names, SKUs or entering many SKUs manually in a form. More conveniently, customers can import a CSV file including every information of products and then add all to the cart within one click.
Requisition List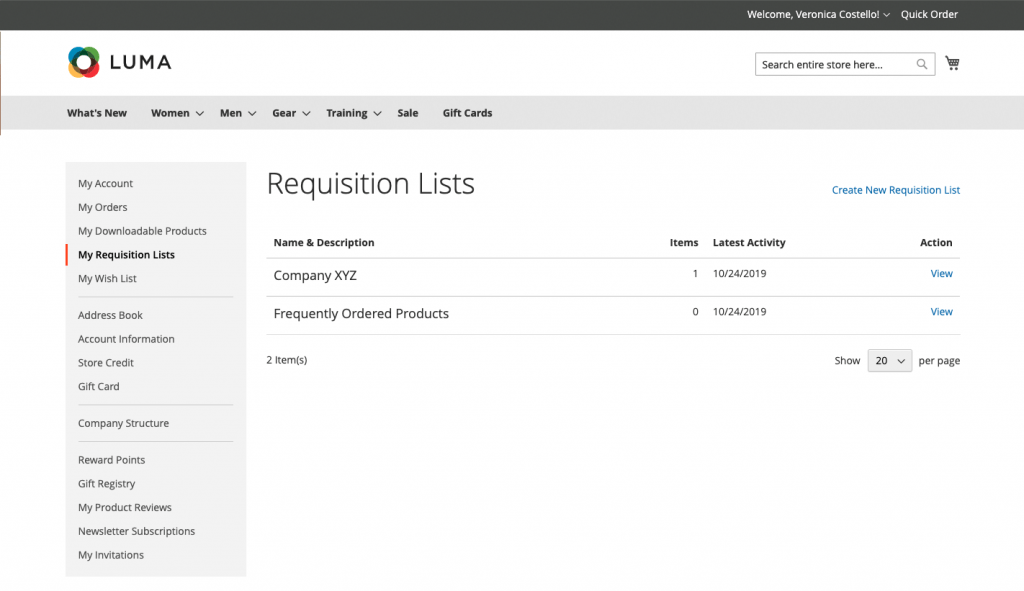 Any business wants its customers to come back as much as possible, to increase the re-purchasing rate. And so do B2B businesses. Unlike B2C customers, B2B buyers usually purchase products in large quantities, hence, creating a convenient and quick process for them should be a priority.
Magento 2 Requisition List means that customers don't have to repeat the whole process as the first time they purchased at the store. They don't have to find the products and repeatedly add them to the cart. Items are directly added to the cart from the list. Therefore, it saves time for buyers when purchasing frequently-ordered products.
The requisition list is quite similar to the wishlist, except for the following:
The requisition list can be used repeatedly as the items in the list will not be removed.
To show a vast number of objects, the user interface for requisition lists uses a compact view.
Each customer account can maintain up to 999 requisition lists regarding the configuration from the admin.
Purchase Orders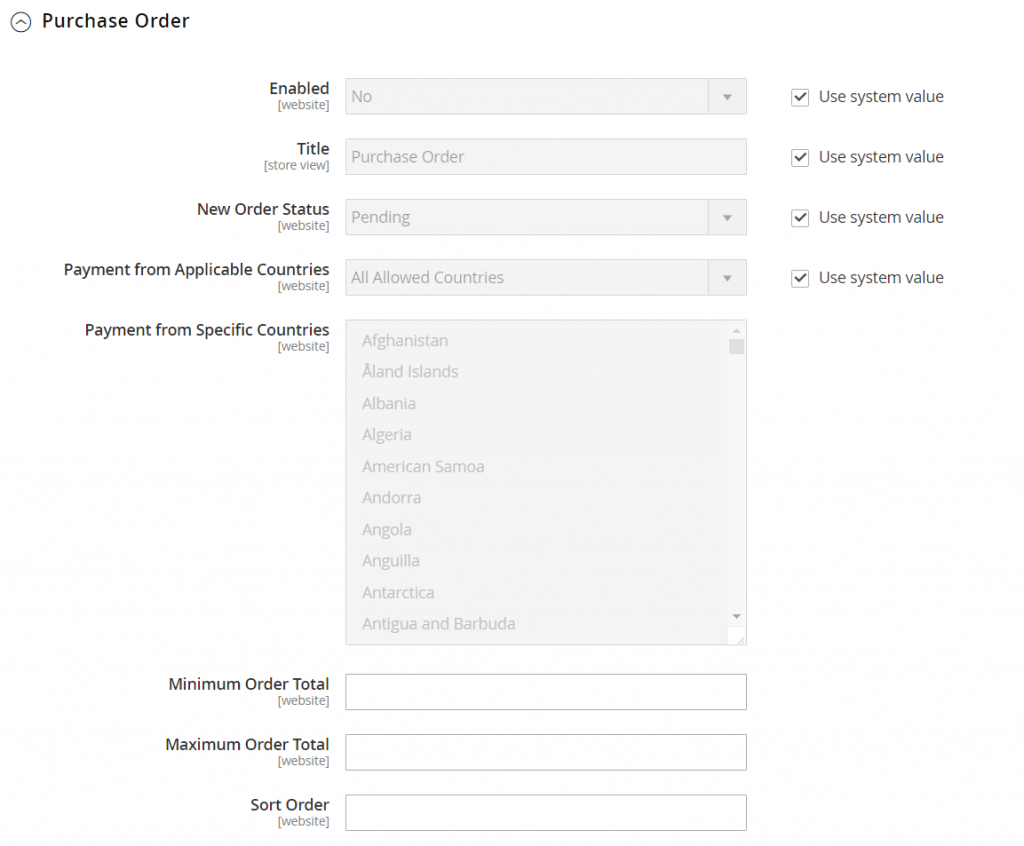 Purchase orders is the final B2B feature on the list. Commercial customers may use a Purchase Order (PO) for authorized orders by referencing the PO number. And the seller authorizes and issues the purchase order in advance.
During the checkout process, the customer selects a Purchase Order as the payment method. Subsequently, the business processes the transaction through their accounts payable method and pays for the order.
What about B2B eCommerce with Magento 2 Open Source?
As we have mentioned, only Magento 2 Commerce edition supports already built-in B2B functionalities. If you are using the Open Source edition, which is free of charge, you need to seek another way to have B2B functions in your Magento 2 B2B website: use Magento 2 B2B eCommerce extensions developed by third parties.
In the current market, there are countless B2B solutions provided by a large number of Magento service providers. When entering the keyword in the search engine, many results will appear that may confuse you. Without a doubt, you don't know which one is the best solution, which one will meet your requirements, which one will suit your business the most.
In this article, we are going to figure out a B2B eCommerce solution developed for Magento Open Source websites: Magento 2 B2B extension by BSS Commerce that covers everything in the customer journey from Login to Checkout.
This solution is suitable for B2B, B2B2C, and B2B marketplace businesses that want to create an entirely new website or just expect to equip more power for the existing wholesale website.
Let's continue!
Highlighted functions of the Magento 2 B2B solution
Restrict access to wholesale websites/pages
There are some reasons why you need to restrict access from unauthorized audiences in a B2B website. Firstly, it helps you segment B2B and B2C customers effectively. Secondly, some pages are only for B2B; hence, you surely don't want B2C customers to get access, do you? Moreover, you - as a store owner - can protect product information from competitors.
Hence, the B2B package by BSS Commerce will help you to avoid the situation by:
Block non-logged-in audiences to access specific pages or the whole website until they sign in to an account.
Set several categories or CMS pages to be visible for some customer groups.
Motivate guest visitors to create an account and make purchases at your online store.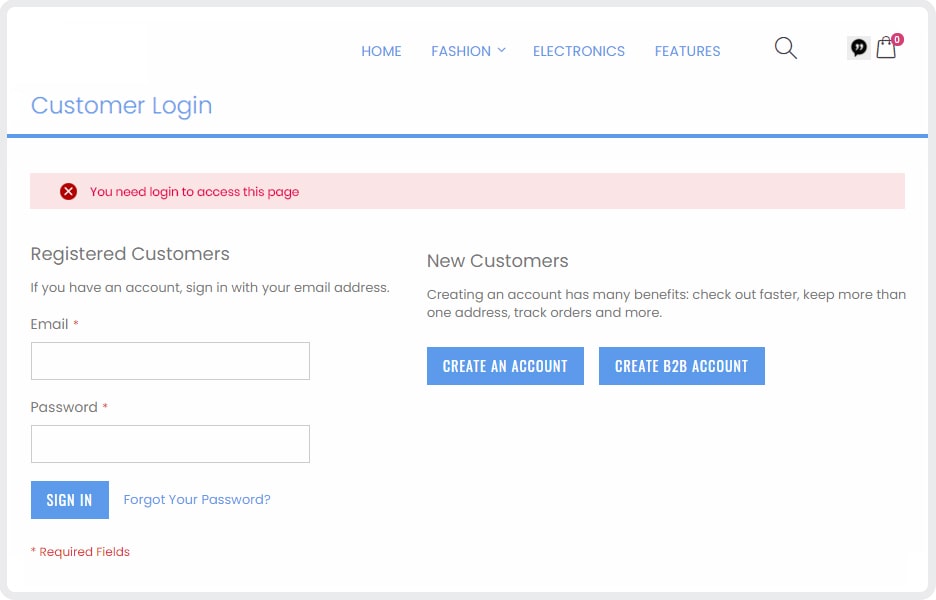 Better corporate account management
Maintaining customers is essential when running a B2B business. Each customer will usually purchase goods in bulk; for that reason, long-term contracts are needed to boost sales.
To do that, businesses need a system to manage customer information efficiently. With this Magento 2 B2B extension package, you can collect more data from B2B customers, divide customers into various segments, and deliver some appropriate marketing campaigns for each group with no effort.
The package helps you to:
Provide a B2B registration form to collect more customer data and easily segment customers into groups.
Collect various detailed information, including address, tax code, identity, shopping behaviors, etc.
Support company accounts with multiple users to enhance wholesale purchasing.
Increase engagement with customers by assigning them to suitable sales representatives.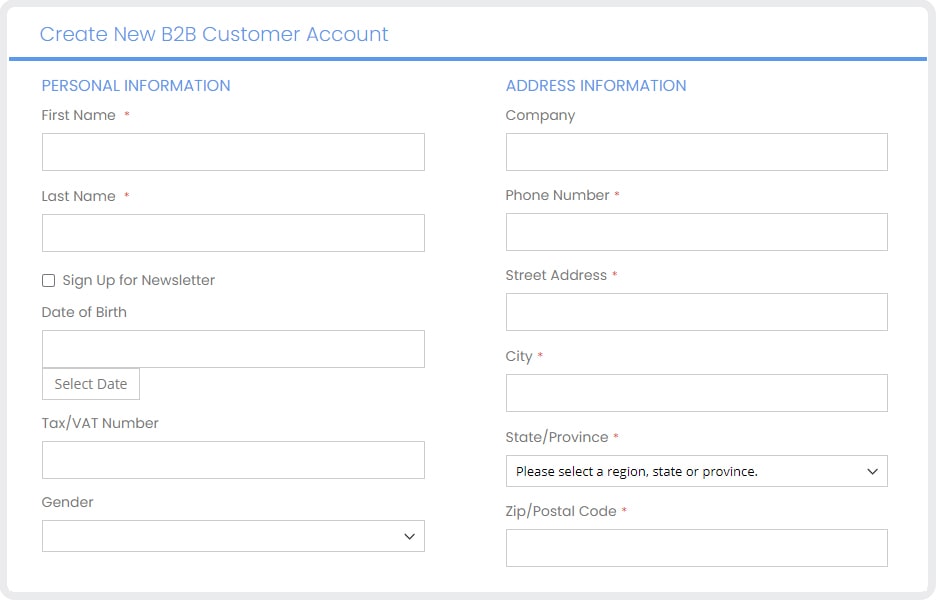 Optimize B2B pricing strategy
We have mentioned that B2B businesses need to personalize pricing for each B2B buyer. Unlike B2C, with a fixed price that buyers only need to follow, B2B customers are more sensitive to price.
The feature of the Magento 2 B2B extension will help you:
Apply the secret pricing strategy to maintain competitiveness and encourage customers to contact for more support.
Support an effective Quote system to streamline the pricing negotiation process.
Modify different prices for different customer groups and customers.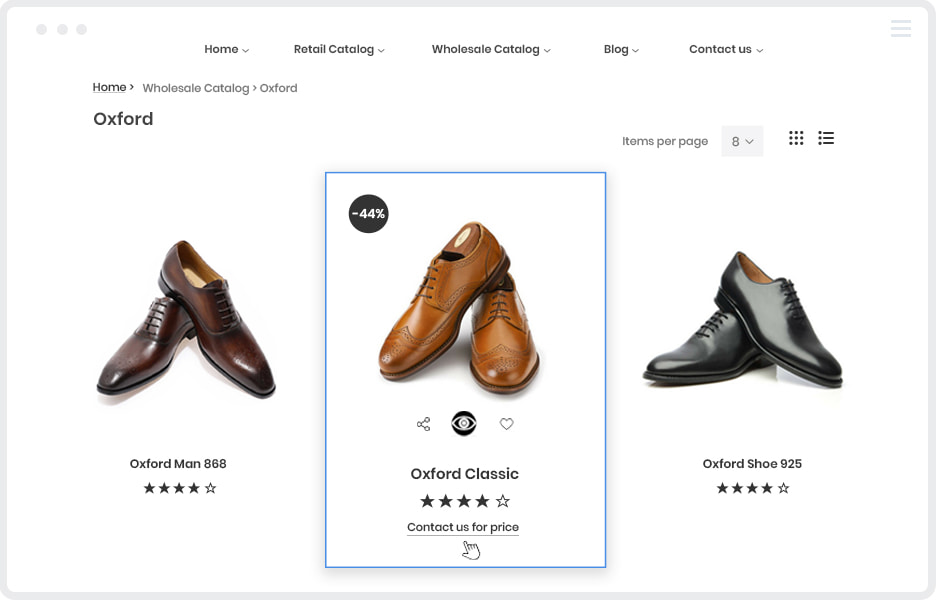 Enhance order placement process
B2B buyers usually purchase in bulk quantity. For that reason, smoothening that process is crucial to gain customer satisfaction and commitment.
The B2B package includes all needed functions for you to optimize the whole sales process:
Support file attachments in product pages to provide as much information as possible.
Provide a quick order form to let buyers add multiple items to the cart in a single time.
Display a well-organized option table for configurable products.
Set up a required minimum order amount for each customer group
Enable customers to add various wish lists
Allow customers to reorder products more conveniently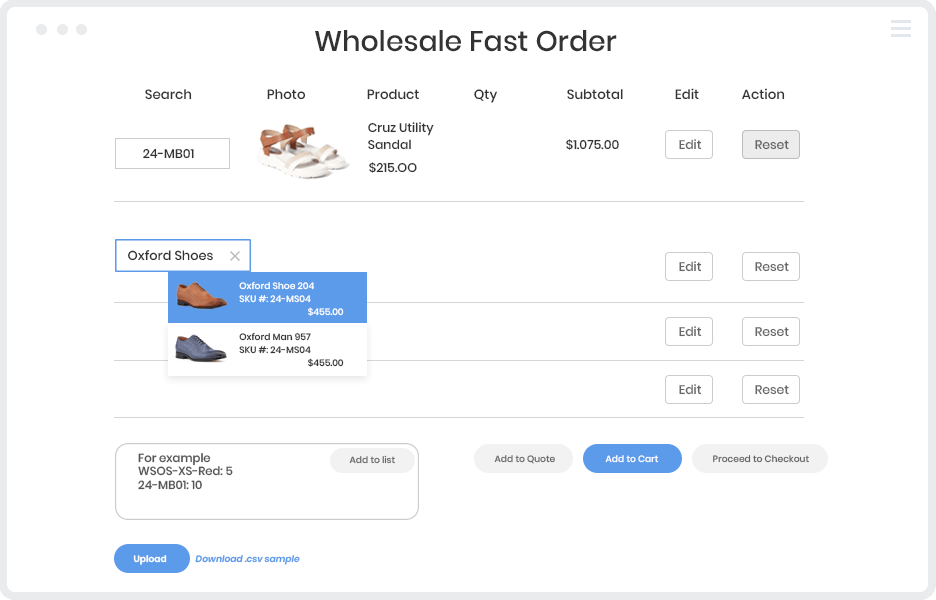 Enhance checkout experience
Many customers have abandoned their carts because of complicated payments or the inability of B2B customers to find a suitable shipping method. This has motivated developers to make necessary improvements for the B2B checkout experience.
With this Magento 2 B2B module, businesses can:
Set up different shipping and payment methods for specific customer groups.
Enable customers to use purchase orders (PO) as a payment method.
Build a custom shipping method for each country and region to enhance the checkout rate in areas.
Work well with 2 payment methods: PayPal Express & Klarnar (Coming soon: Stripe)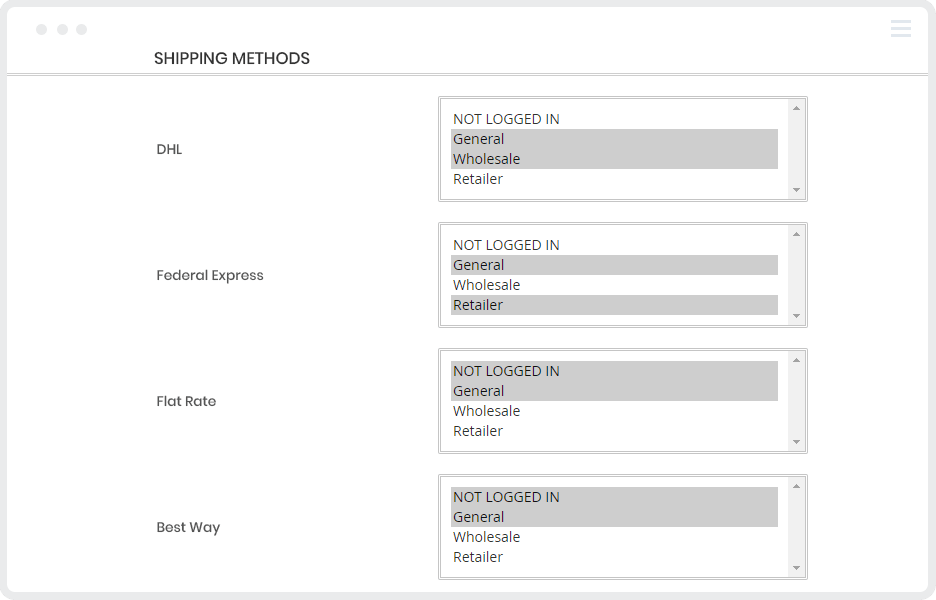 Retain customers in case of refund
When a customer requests a refund, most businesses will refund by cash; but it is not a wise strategy anymore. Nowadays, it is common that store credit is an alternative used to refund customers.
The reason is store credit can keep customers coming black for the next purchase. On other hand, store credit is a new tool to help merchants keep money inside the store and motivates customers to continue their purchases.
With the Magento 2 B2B solution package, you can create a store credit system and flow to better customer engagement without money loss.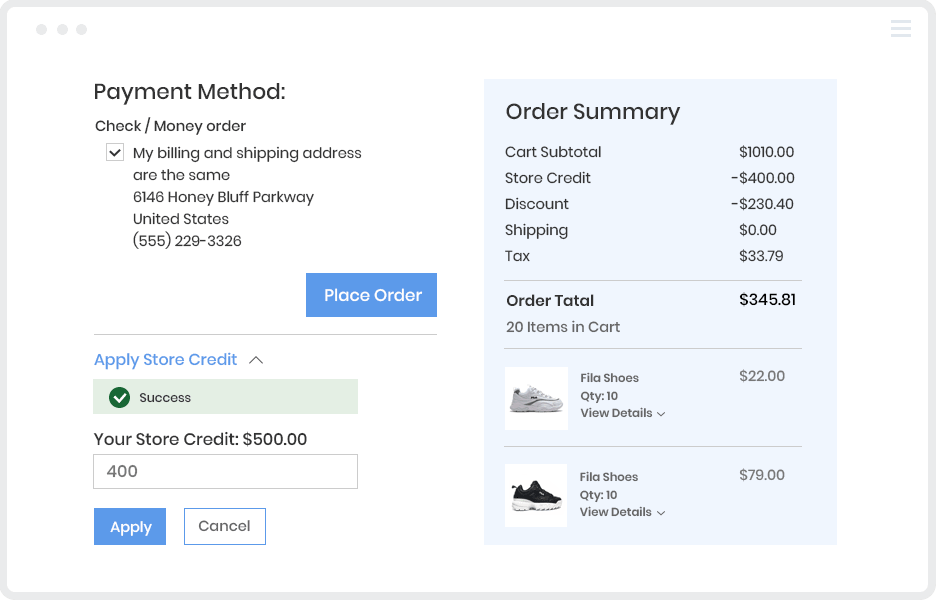 Final Thoughts
In conclusion, building a Magento B2B eCommerce website is not quite simple, but takes you much time and money. You can either utilize the default features if you are using Magento Commerce, or you can use the recommended solution above on the Open Source edition. It all depends on your business, budget, and even resources to choose which solution should be used for your B2B website.
Check out our Extension Store if you want to grow your Magento 2 business fast and substantially.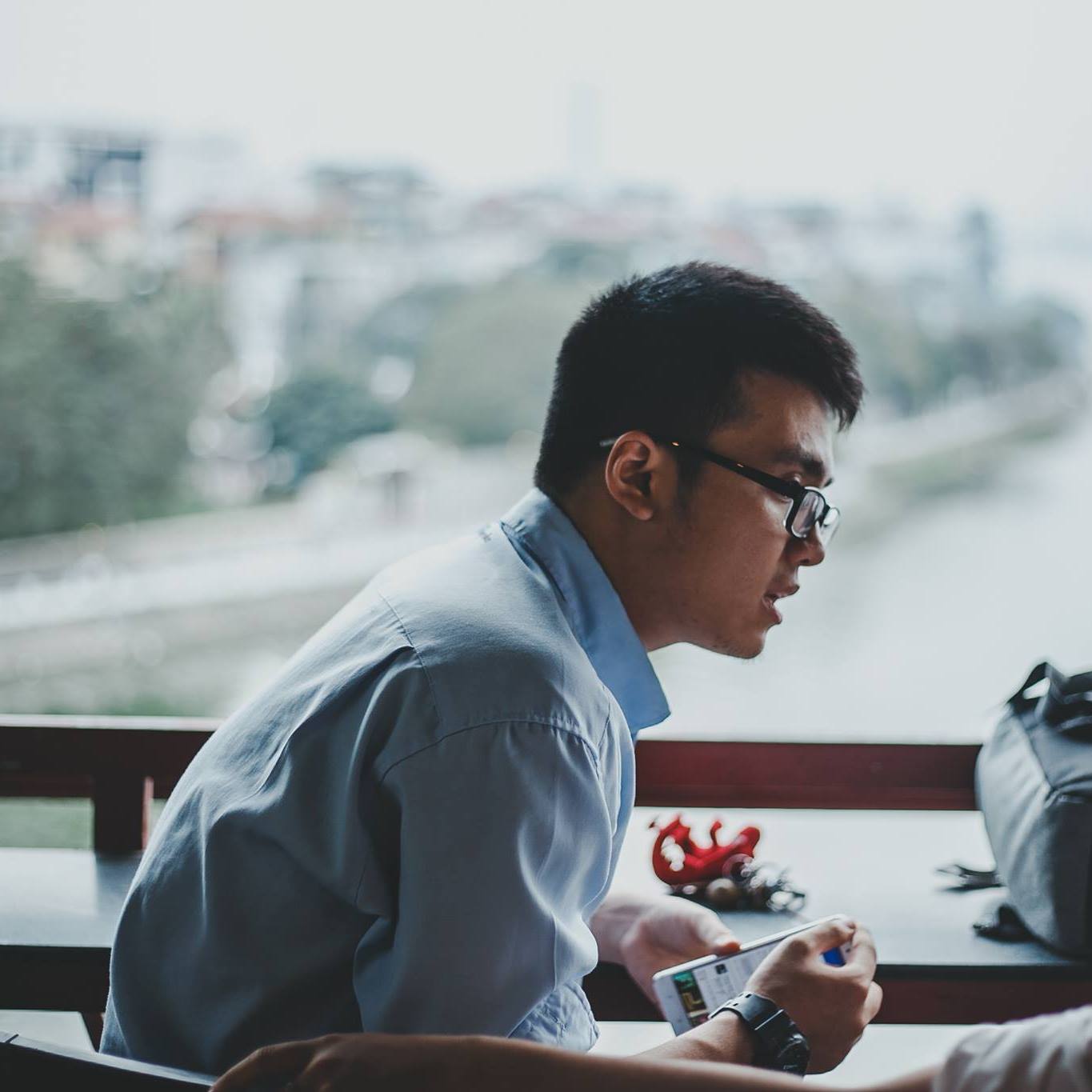 Marketing Executive | Content Manager