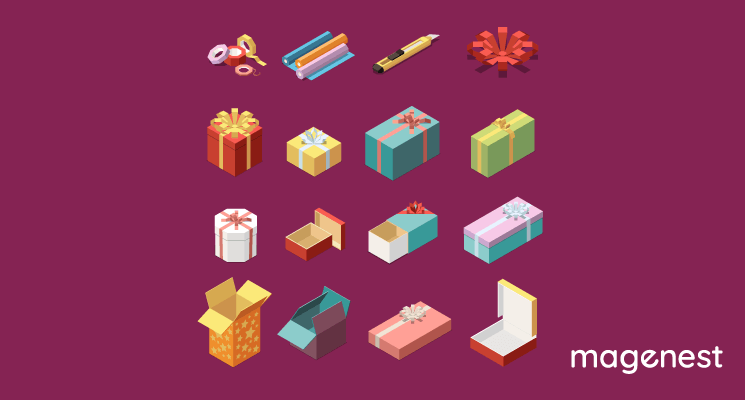 You are an eCommerce store owner and you're looking for an extension that will enable your customers to complete the wrapping process of their purchases, especially when the holiday season is coming?
Lucky for you if you are running a Magento 2 website because in this article we feature the top Magento 2 Gift Wrap extensions that are in widespread use for holiday marketing campaigns.
Trust us, Magento 2 gift wrap will be a convenient and effective tool to help you increase the customer experience.
These are the leading 6 Magento 2 Gift Wrapper extensions from the numbers of the Gift Wrapper extensions in the market today.
Gift Wrap feature in Magento default
The Gift Wrap feature is the default function available on any Magento 2 website for any product that can be shipped and can be offered for individual items or for the entire order.
You can impose a separate price for each gift wrap design, and upload a thumbnail picture of the design that emerges as an alternative for the goods in the cart.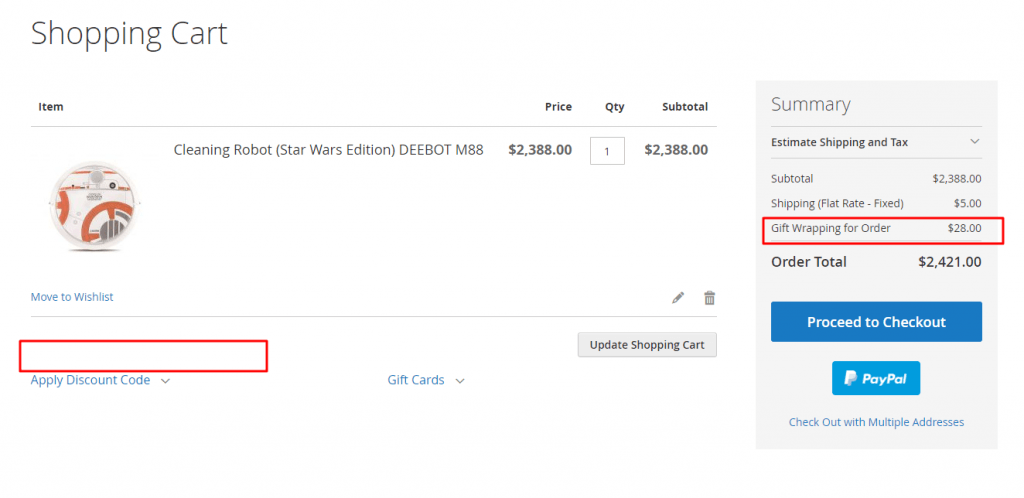 If the thumbnail is clicked, a full-size image emerges. Throughout the checkout review, the gift wrap cost appears with the additional checkout totals within the Order Summary section.
The gift wrap image should be a swatch that shows the perpetual pattern, and can also, comprise a sample of the ribbon. You can either scan the document or take a picture of a wrapped package. The uploaded picture can be in GIF, JPG, or PNG form, and should be squared.
However, these available default features are for basic and simple demands only. Of course, if you want your website to be unique, fancy, and stand out from all other websites to get customers clicks.
So how to stand out among the countless websites offering online gift-wrapping services?
Want to hear a solution?
Adopting an extension for your eCommerce store right away, with more superior features than the default version, it's more likely that you will capture more and more customers.
6 best Magento 2 Gift Wrap extensions for Holiday marketing 2020
#1 Magento 2 Gift Wrap Extension - Magenest
Gift Wrapper for Magento 2 provided by Magenest enables merchants to provide their customers with a perfect gifting experience on their eCommerce websites by wrapping postcards and papers. 
With pre-made and available wrapping and postcards, the online store admin can generate unlimited wrappers and different samples of postcards with titles, descriptions, and photographs at the backend. Customers can further design their packaging on their personal preferences.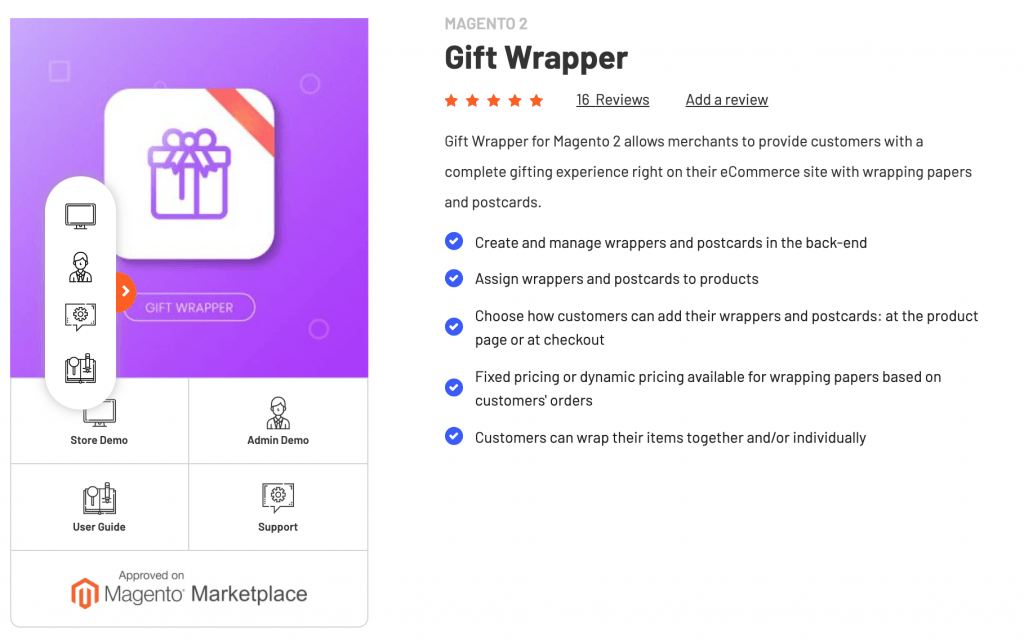 This Magento 2 Gift Wrap extension will positively bring a lively and stimulating gifting experience for customers.
Key features
Assign wrappers to products

Decide how customers can attach their postcards and wrapper either at the product page or at the terminal checkout.

Pricing is fixed or dynamic based on different customers' requests

Customers can choose to wrap items collectively or separately
Price: $99.00
Compatibility: CE, EE 2.1.x, 2.2.x, 2.3.x
#2 Magento 2 Gift Wrap Extension - Amasty
Grant flawless gift-giving experience with Magento 2 gift wrap extension. Let customers wrap their properties as lovely gifts and combine cards with gift notes and messages at any move in the buying process.
With this convenient gift-wrapping service, it's your brand's time to obtain additional revenue and profit. Furthermore, you can test performance from the statistical reports given from this extension itself, to see if your sales are actually boosted.
Sound interesting?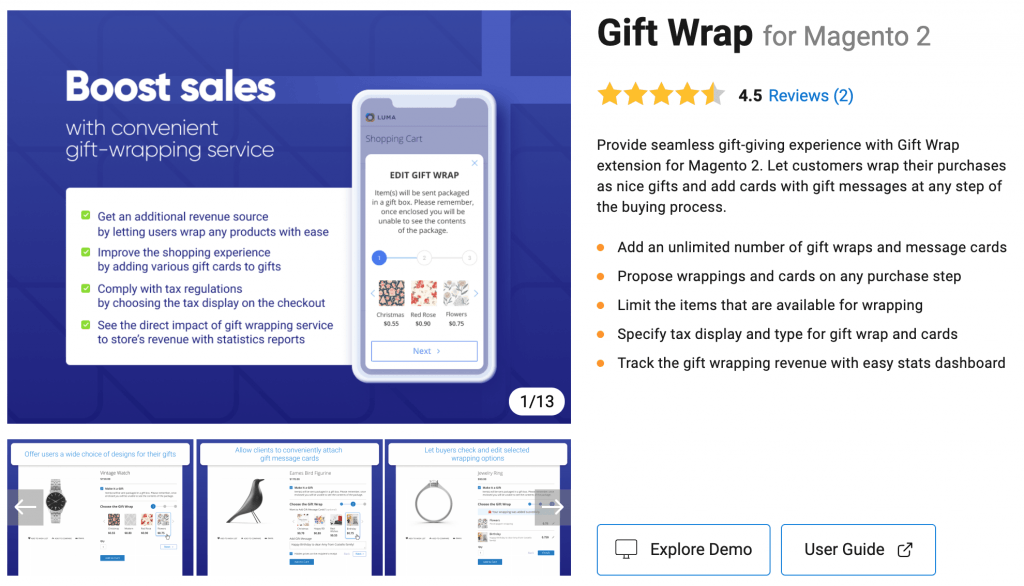 Key highlights
Add an endless quantity of gift wraps plus message cards

Restrict the items that are free for wrapping

Define tax display and sample for gift wrap and cards

Track revenue of the gift wrapping with simple stats dashboard
Price: $199.00
Compatibility: Magento 2.2, 2.3, 2.4
#3 Magento 2 Gift Wrap Extension - Magedelight
Magento gift wrapper gives your customers various alternatives to the gift. It wraps on the product page or purchasing cart page and offers to add the gift personal message for the recipient before shipping.
One outstanding feature that Magedelight owns is that they have responsive and lively effects, such as colorful pop-up, ... This also lies in their Gift Wrappers, take a look: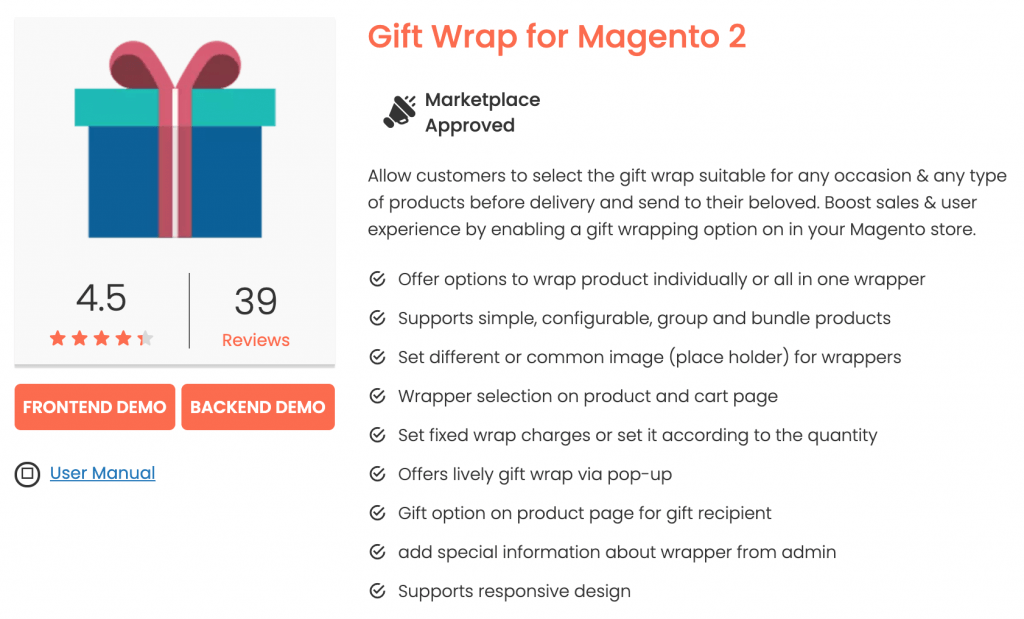 Key highlights
Offers 2 choices: individual products or all products in one.

Enables added image for wrapping papers

Add gift message separately for each of the customer's family or friends

Include personal information on every wrapper

Suggests reactive to design
Price: $99.00
Compatibility: Magento community: 2.2.X - 2.4.X and Magento Enterprise : 2.2.X - 2.4.X
#4 Magento 2 Gift Wrap Extension - Fmeextensions
Magento 2 Gift Wrap extension by Fmeextensions allows you to propose gift wrapping on store stocks. Besides, it helps to add an unlimited quantity of wrap designs and arrange them into a category of gift wrap types.
Please be noted that this is a premium extension, completely loaded with features. It's 100% public open-source including free lifetime upgrades and it matches complete Magento standards.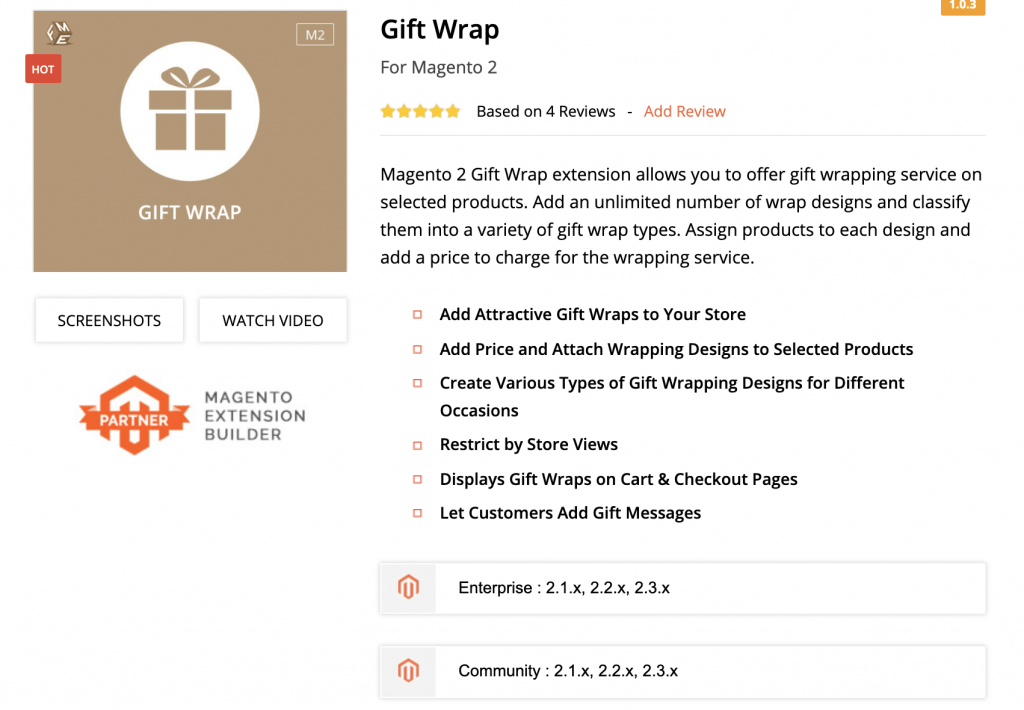 Key highlights
Pick the gift wrap option on the product page or shopping cart page

Buyers can choose any gifts that are wrapped

Add personal messages in the gift wrap

Permit shopper insert endless wrap paper

Fix the cost of every gift wrap

Configure this extension in the Admin panel easily by choosing Enable/Disable 
Price: $99.99
Compatibility: Magento Enterprise : 2.1.x, 2.2.x, 2.3.x and Magento Community : 2.1.x, 2.2.x, 2.3.x
#5 Magento 2 Gift Wrap Extension - Mageplaza
Gift Wrap by Mageplaza supports customers to wrap their purchased pieces as delightful gifts and add the message gift to send to their beloved family and friends. The extension delivers an all-embracing shopping experience for customers on particular occasions.
There must be a reason why Mageplaza receives so much love and trust from users. What exactly does their Magento Gift Wrapper have as outstanding features?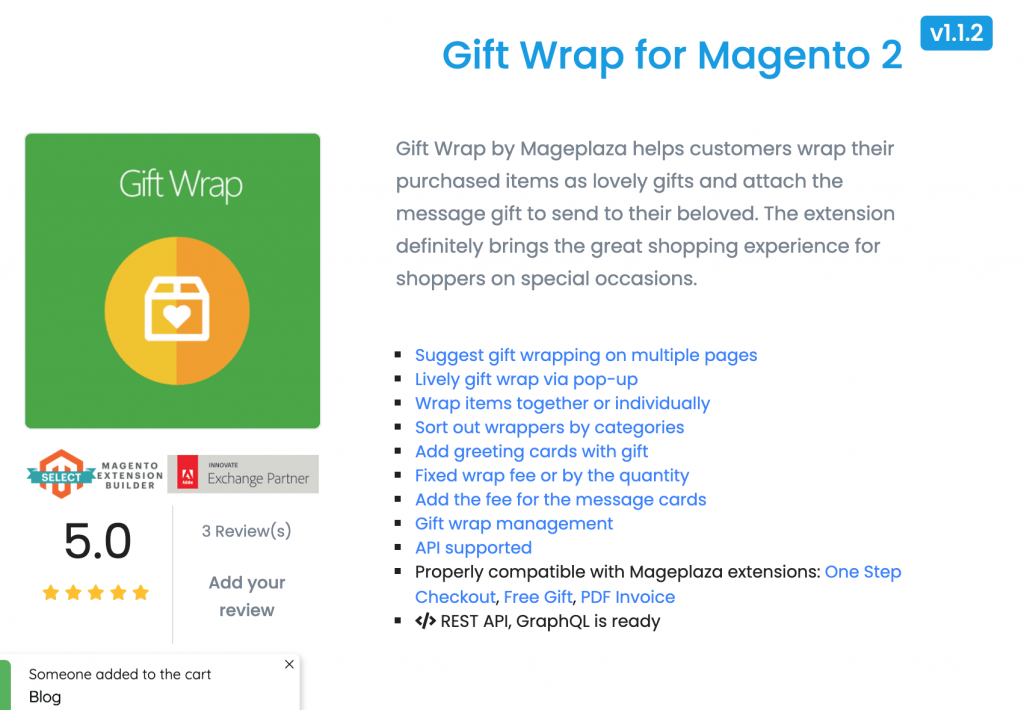 Key highlights
Imply gift wrapping on many pages

Lively and active gift wrap via pop-up

Wrap items collectively or independently

Classify wrappers by sections

Fixed wrap fee and flexible by the quantity

Add prices for the message cards

Gift wrap supervision with API supported
Price: $199.00
Compatibility: CE, EE 2.2.x, 2.3.x, 2.4.x
#6 Magento 2 Gift Wrap Extension - Mage Extensions and Themes
Gift Wrap Magento 2 extension grants customers to pick gift wrap alternatives to products and attach a personalized gift message. This Magento gift wrap plugin opens in the market for Magento 2 and helps to increase buyers and conversion rates. It's a mobile and favorable theme and simple to set up.
This extension is stated to be very friendly with nearly every theme from different websites, moreover, it is offered for sale at a very reasonable price, right?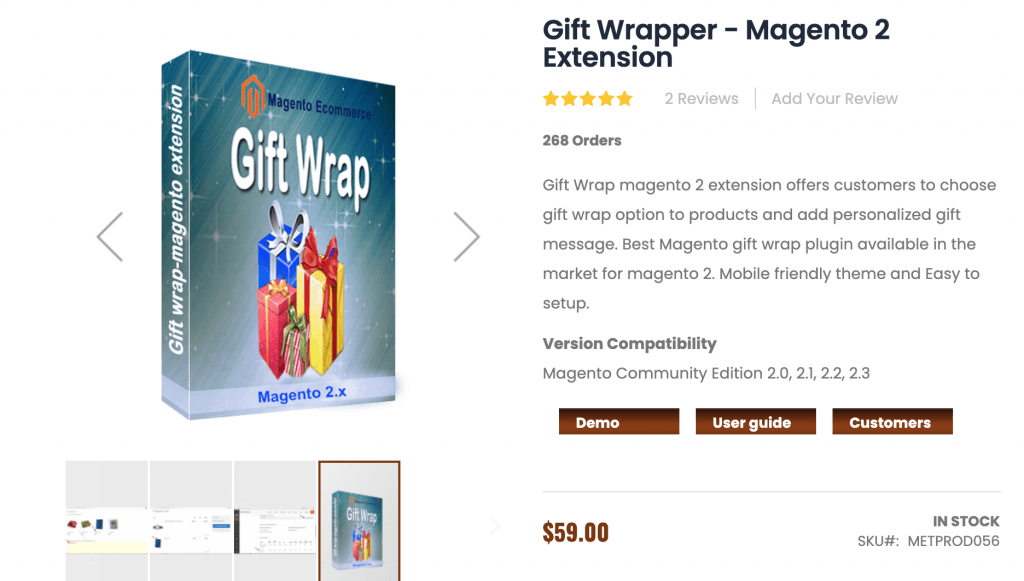 Key highlights
Gift wrap Magento 2.x extension adds value to the shoppers by letting the gift wrap alternatives on the cart page.

Customize gift wrap name, image, and price easily.

Gift Messages can be added along with the gift wrap selection.

Mobile responsive (all mobile devices supported).

Allows gift wrap by separate products for a better stock control system.
Price: $59.00
Compatibility: Magento Community Edition 2.0, 2.1, 2.2, 2.3
Final thoughts
Above are the top gift card extensions from many different brands and suppliers. In order to choose the tool that best suits your eCommerce store, it is important to consider criteria such as features, price, and compatibility.
Each extension has different pluses and minus points, how to consider and balance the nature and budget of your own store to put a Magento Gift Wrapper into use is what's important in the short term.
Magento 2 Gift Wrap is an indispensable extension for any retailers, especially during holidays or special occasions like Christmas, birthday, wedding day,… Hope you can pick the best extension from this article.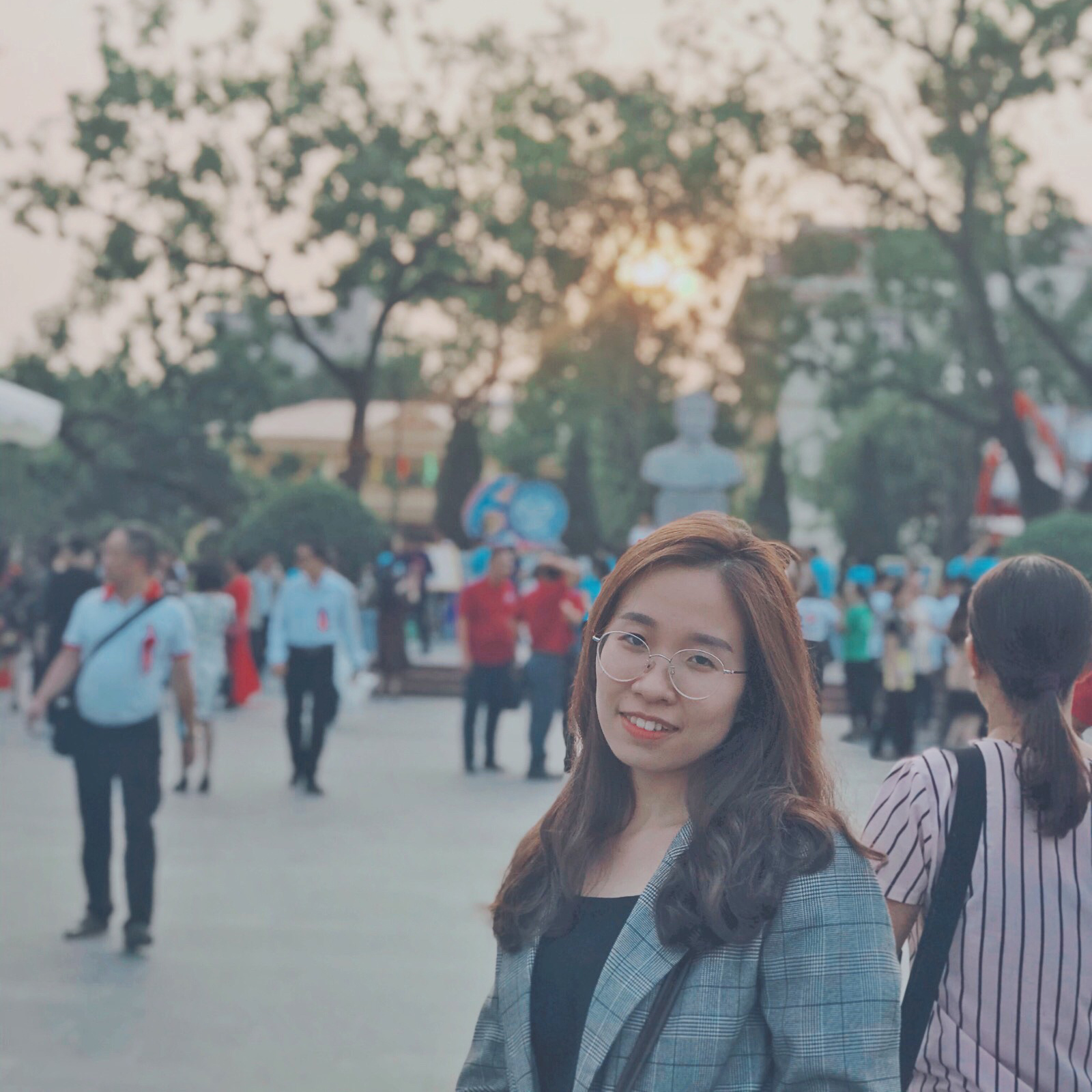 Marketing Executive | Content Manager