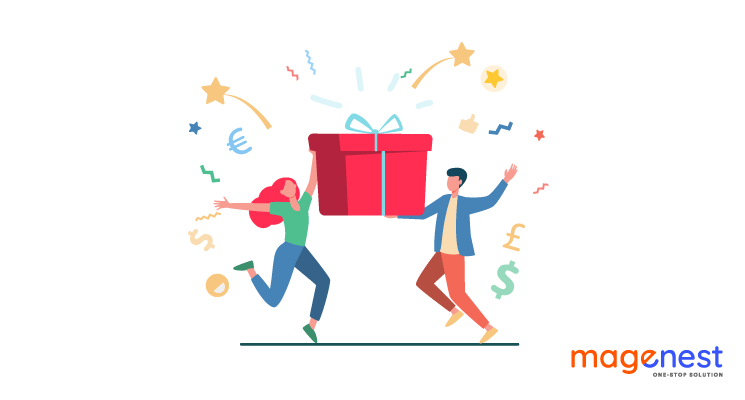 Imagine yourself looking for a perfect gift for your friend for her wedding or your brother at his birthday party, you will want to look at their wishlist to ensure that you're giving them what they want. Isn't it wonderful if you can do so online?
With an online gift registry, it's easier to seal the deal. The article will introduce you to this great feature and the top 9 extensions store you can try to add gift registry to your online business website.
What is Gift Registry?
It is just like a wishlist but online and has technology involved. Party guests, family members, and friends can easily access the gift list when buying presents for important occasions like a wedding, birthday, graduation event, and more. This creates a wonderful opportunity to take advantage of to maximize our eCommerce solution.
By creating a gift registry system on your eCommerce website, people will know what to buy for their friends without duplicating others. The gift registry feature will assist your eCommerce website in increasing sales, marketing, valuable customer data, and creating a huge email list.
Unfortunately, a gift registry is not a built-in feature in most website buildings. It can't be added so easily, either. This is often a big challenge as you don't freely customize it. The only way is to integrate it with a gift registry software or add a third-party extension to create an exclusive gift registry on eCommerce platforms.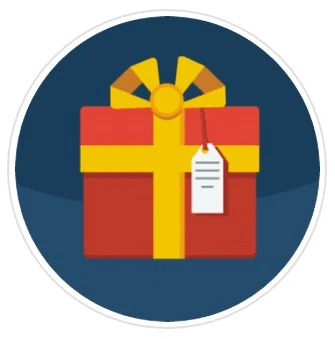 Gift Registry feature in Magento default
Magento allows your customers to create gift registries for special occasions. Their friends and family will be invited to purchase gifts from the Gift Registry. Magento also provides information about all items purchased and the quantities remaining.
By default, Magento includes the following special events:
Gift registries can be created and managed by customers from their accounts. And all of the information that is associated with each registry type is available there. You can use one of the three prepared gift registry templates, or create your custom registry.
Each gift registry type includes several attributes, which are the info entry fields that a customer completes to make a gift registry. The attributes provide additional information about the event, time and date, or the other information that's needed. Some attributes have multiple options depending on the input type.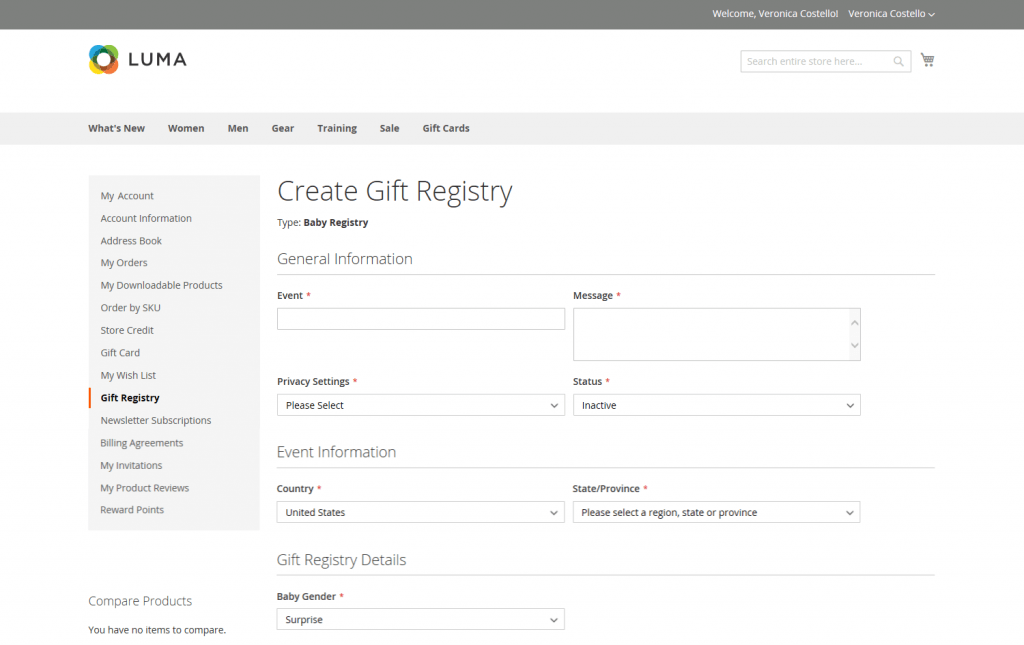 For more information about creating a gift registry on Magento, read here.
Although Magento does offer users the default Gift Registry feature, it is still very basic and doesn't have many options to choose from. That leads to the release of the extensions. The Gift Registry extensions for Magento will help you gain more control in gift list management, creating lists on various occasions. Thus, customers' experience will also be increased.
9 Best Magento Gift Registry Extensions
Here we introduce to you the top 9 most recommended gift registry extensions that help you boost your online business.
#1 Gift Registry for Magento 2 by Magenest
Besides helping recipients create gift lists, Gift Registry for Magento 2 allows customers to both receive and give gifts by sharing gift registries via social networks or email, etc.
Highlight features:
Customize block content & background image for each event type
Manage gift registries with ease as well as orders of gift registry
Send notification email using ready-to-use templates to the registry's owner
Allow customers to share gift registry via direct link, email & social media.
Compatibility: Magento Community and Enterprise 2.1.x, 2.2.x, 2.3.x
Price: $149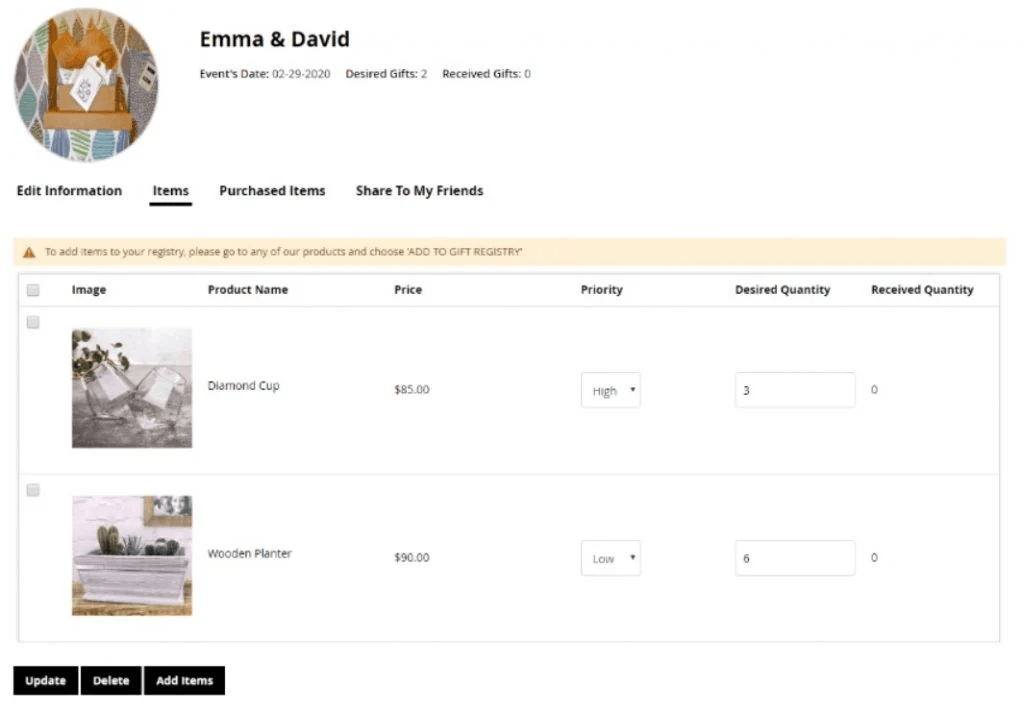 #2 Magento 2 Gift Registry extension by Mirasvit
You sometimes get unwanted presents from friends and family, Magento 2 Gift Registry by Mirasvit will help you get rid of this problem. Thanks to this Magento 2 extension, you can pick the desired gifts and sort them in the priority. Then, you share them with the loved ones. Fascinatingly, your customers can get the favorite items from their friends. Your online store can increase the conversion rate significantly from this.
Highlight features:
Ability to generate multiple gift registries for many various occasions
Gift registry can be shared quickly
Customers can add products to the favorite gift registry easily
Intuitive customer interface is included
Compatibility: Magento Community and Enterprise 2.0.x - 2.4.x
Price: $349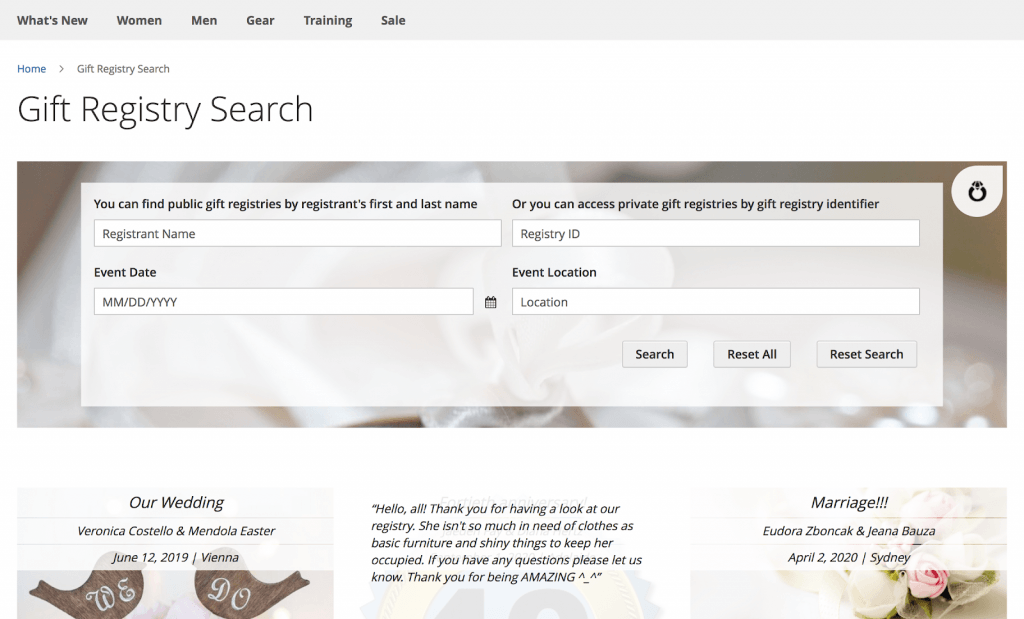 #3 Group Gift for Magento 2 by CedCommerce
Group Gift is an extension by CedCommerce for Magento 2. This extension enables the user to purchase a gift for their friends by just creating the group gift registry. From the gift view page, any guest can contribute to the gift list with any amount they want. After the completion, an email with the coupon code will be sent to the gift receiver.
This extension is compatible with all types of products, and custom options. Developed by CedCommerce, Group Gift is the perfect extension that offers many useful functions. It not only allows the customers to create the group gift registry but also allows them to invite many guests to contribute to the gift. Not to mention, the price is also appealing.
Highlight features
Allow inviting many guests to contribute to the gift
Allow creating the coupon code for the gift receiver
Enable the customers to generate the gift registry
Compatibility: Magento Community and Enterprise 2.1.x, 2.2.x
Price: $45
#4 Multiple Wishlist for Magento 2 by Amasty
Multiple Wishlist is a great solution that helps enhance the customer shopping experience. And these gifts are their desired ones. Thanks to this Magento 2 extension Multiple Wishlist by Amasty, your business can also improve the conversion rate by instantly converting the wishlist into the selling field with the button "Add to Cart".
Highlight features:
Convert the wishlist to sales with the 'Add to Cart' button
Easily customize the gift registry page
Allow the customers to share the gift registries with their friends
Enable admins to track all gift registries
Compatibility: Magento Community and Enterprise 2.2, 2.3, 2.4
Price: $109
#5 Gift Registry by Mageworx
Just like other extensions, Gift Registry by Mageworx is released to solve the problem of finding a perfect gift for your loved ones. People are eager to receive their favorite gifts, but finding them is extremely difficult. Thanks to this extension, your customers can pick the desired items They can share the gift registry with their loved ones via social media. Besides, this tool can also improve the customers' shopping experience dramatically.
Highlight features:
Allow viewing the detailed overview of the registry stats from the backend
Include customizable registry search
Unrestricted number of products
Compatibility: Magento Community and Enterprise 2.0.x - 2.4.x
Price: $79
#6 Magento Gift Registry by AITOC
Magento Gift Registry by AITOC is one of the great choices for the Gift Registry extension. It allows your customers to choose their gifts for their birthdays, weddings, or any other occasion. Then, they can share their choice with gift-buyers. Besides that, your customers can also prioritize the gifts within the list of chosen items. Thanks to this tool, you can boost your sales significantly.
Highlight features:
Allow the shoppers to require the presents they prefer
Enable the customer to prioritize their gifts
Allow the customers to leave their comment about desired gifts
Compatibility: Magento Community 1.3.x - 1.9.4.x
Price: $99
#7 Gift Registry by Fmeextensions
Using the Magento Gift Registry extension, your customers can generate the item wishlists for various events. After that, they can share them with their friends and loved ones. Especially, the customers can set the gift registry with a pin code to be private and secure. Thanks to this module, your online store can improve sales as well as the conversion rate easily.
Highlight features:
Allow customers to generate and share gift registries
Let private & public registries with PIN code
Easily manage the customer's gift registries
Ability to customize gift registry landing page
Compatibility:
Community: Magento 1.4.x - 1.9.4
Enterprise: Magento 1.8.x - 1.14.x
Price: $129
#8 Gift Registry by Webtexsoftware
If you are looking for an extension that helps to increase your store traffic, customer base, and the number of sales, you have got the right choice. Gift Registry extension for Magento by Webtexsoftware provides interesting features. It is really useful for holiday occasions.
Highlight features:
Allow admins to generate/modify/remove registry via the admin panel
Unlimited product amounts
Integrate Ajax technology
Enable admins to view all statistics and information from the admin panel
Compatibility: Magento Community 1.3.x, 1.4.x, 1.5.x
Price: $99
#9 Gift Registry by Consultmosaic
Gift Registry extension by Consultmosaic is a useful tool that helps the shoppers generate a gift registry, add their favorite products, invite their friends, and family to purchase the items for them on special events. This is especially great for the customers who only want to keep the gift registry for themselves and the people whom they share it with. Because this extension allows customers to set the privacy of their Gift Registry.
Highlight features:
Allow customers to share the gift registry via social media or email
Enable Register owner to modify the Registry details
The owners can see the Gift registry as guests by going into the User View.
Compatibility: Magento Community 1.9.x
Price: $99.50
Gift Registry is one of the best eCommerce solutions
Even if your website is not set up for eCommerce, it is still a valuable marketing tool for your gift registry. When it comes to searching for gifts, customers will do research online and compare notes with others before they act. This means your website offers many opportunities to build your gift registry and increase sales. Just as importantly, you can always quickly and easily update the content you present on your site – with far less cost than creating a new marketing or advertising campaign.
Now customers can go to online gift registry stores to see the preferred items to shop them off for their loved ones without worrying about the duplicate issue.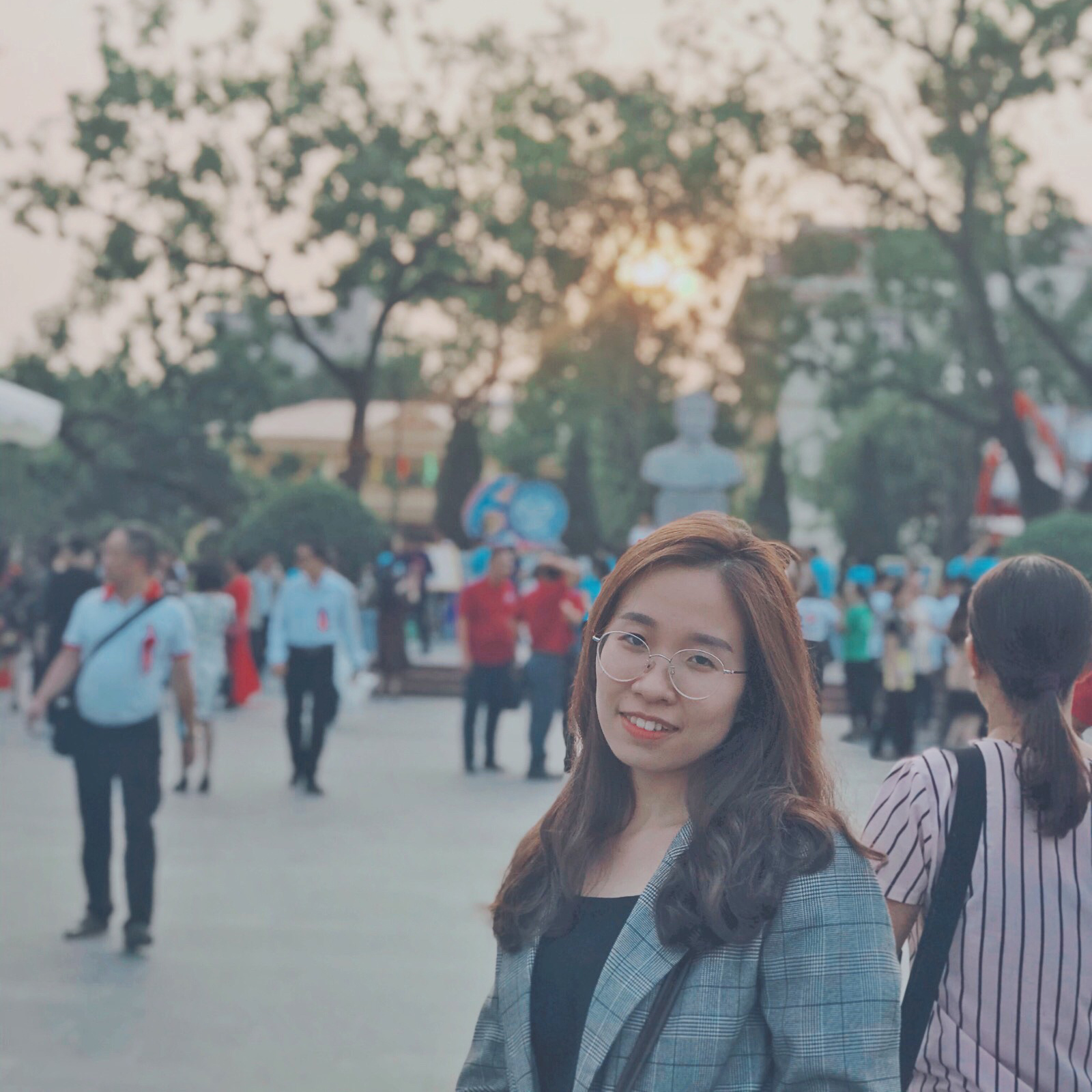 Marketing Executive | Content Manager