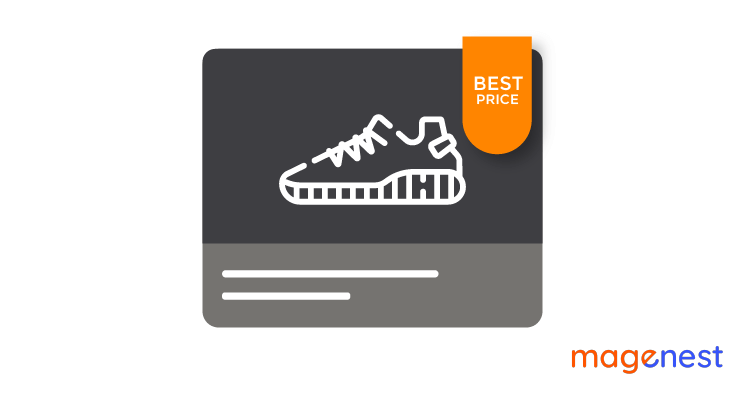 The product label is essential in a customer's purchasing experience. It cuts down on the time to browse among dozens of products and pick ones that suit their tastes. It's a well-informed piece of information to categorize the items and save customers loads of hassles.
If you want to provide the best customer experience to your existing or new customers on your Magento website, the Magento 2 product label is what to opt for.
Here are the 11 best extensions for you to check out.
#1 Magento 2 Product Label extension | Magenest
The extensions from Magenest ensure your label is crafted in an appealing way to grab the visitor's attention. By emphasizing the product attributes, browsers will find it easy to navigate through the product list and quickly find what they need.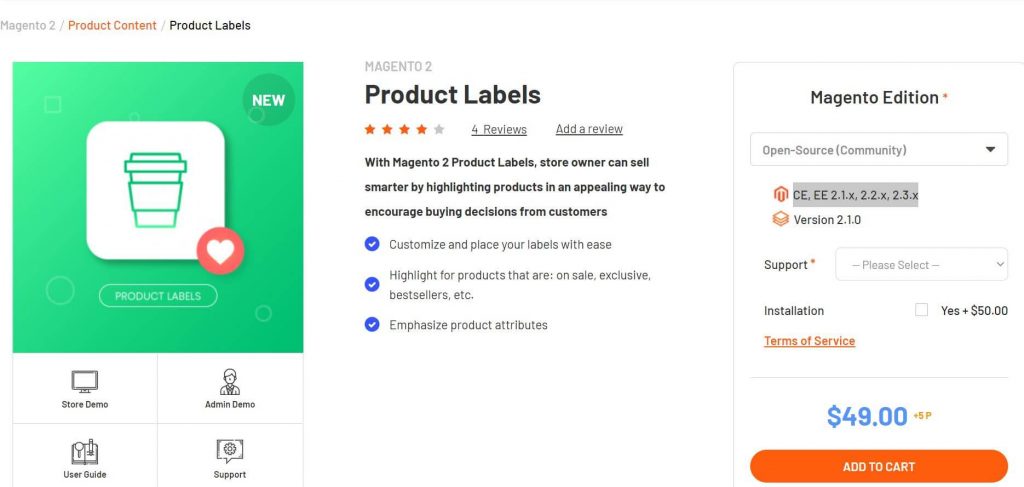 Key features
Create unlimited labels for any attributes: product on sales, most purchased products, promote a campaign such as buy one get one, or get a 20% OFF coupon. Some other particular attributes such as environmentally-friendly, cruelty-free, organic, etc.

Access to a wide range of labels and stickers

Feel free to customize it according to your tastes: change sticker's position, create new stickers in the Magento 2 backend

Choose to show labels to a specific group of customers

Set priority for the product labels if you have multiple labels to display

Define some rules to display the labels that meet the requirements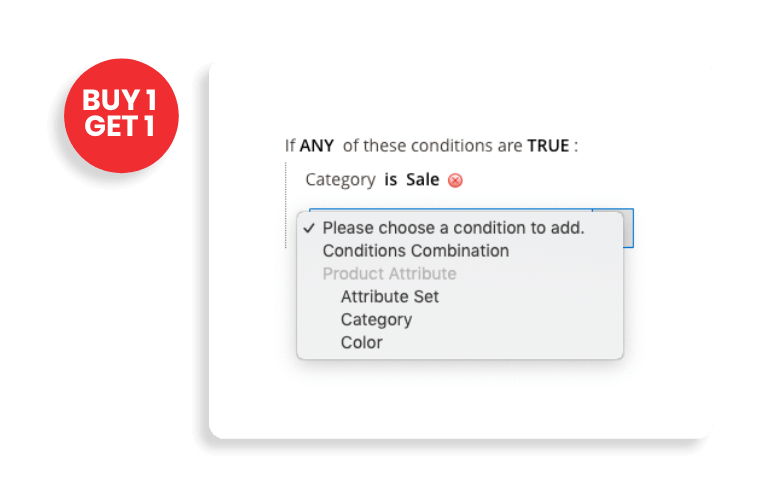 Price
Community: $49
Enterprise: $149
Compatibility
CE, EE 2.1.x, 2.2.x, 2.3.x
#2 Magento 2 Product Label extension free | Sparsh Technologies
Add labels to your product display to entice customers and draw them to buy. The Magento 2 product label from Sparsh Technologies is free for you to get a hold of the advantages of the product label.
Key features
Easy to handle from the backend, user-friendly interface

Set up conditions to assign labels to different products

Enable you to upload and add image and text to the items

Categorize labels and display only to a group of browsers

Open source and free for both community and enterprise version
Price
FREE
Compatibility
2.3, 2.4
#3 Product Label extension Magento 2 | Amasty
Amasty believes having an appealing product label will increase sales by up to 55%. That's quite like a good deal to grab! With Magento 2 product label, you can label many kinds of product attributes and have multiple marketing programs run at a time!
Key features
Inform customers about your products, whether it's a discount, new arrival, extra sales or promotions, etc.

Create eye-catching visuals to motivate their buying intent. They are pre-made, ready to use, and come in many shapes and forms such as text, images, etc

Place your label in any position with a simple click

Customize labels for each type of customer. For example, wholesales customers vs general customers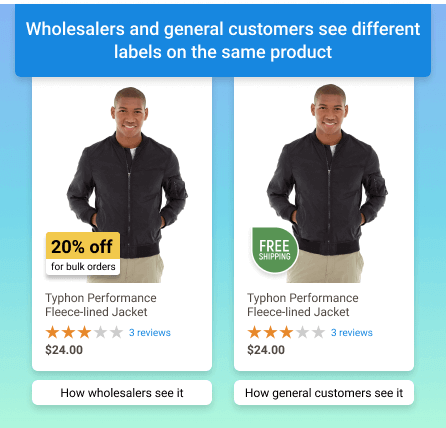 Set the conditions for your labels. All your labels will be shown automatically according to your setup

Create urgency by adding the "X items left", "Almost sold out"

Configure a certain time for the labels to display. It will show up and disappear automatically

Create a mobile-responsive interface with the help of the PWA Product Labels add-on. No extra cost charged!

Craft your own labels with CSS and advanced setting
Price
Community: $199
Enterprise: $499
Compatibility
2.2, 2.3, 2.4
#4 Custom Product Labels for Magento 2 | Mageplaza
Make the first impression with your customers and urge them to buy with Magento 2 product label extension from Mageplaza. The extension also allows admins to customize and edit it quickly, easily. A good experience for both customers and you - the business owners.
Key features
Pre-created templates with tempting looks and designs to grab attention. You can edit and customize it in the backend

Support you to create the best "Best Sellers" badge -- the most powerful labels especially to first-time visitors

Change your label messages depending on each campaign and different variables

Set your own rules to assign labels to specific products. These rules can be based on types of products, categories, SKU, etc

Label management grid for easy handling and control

Set the displayed timeframe for the labels to be shown
Price $129
Compatibility
2.2.x, 2.3.x, 2.4.x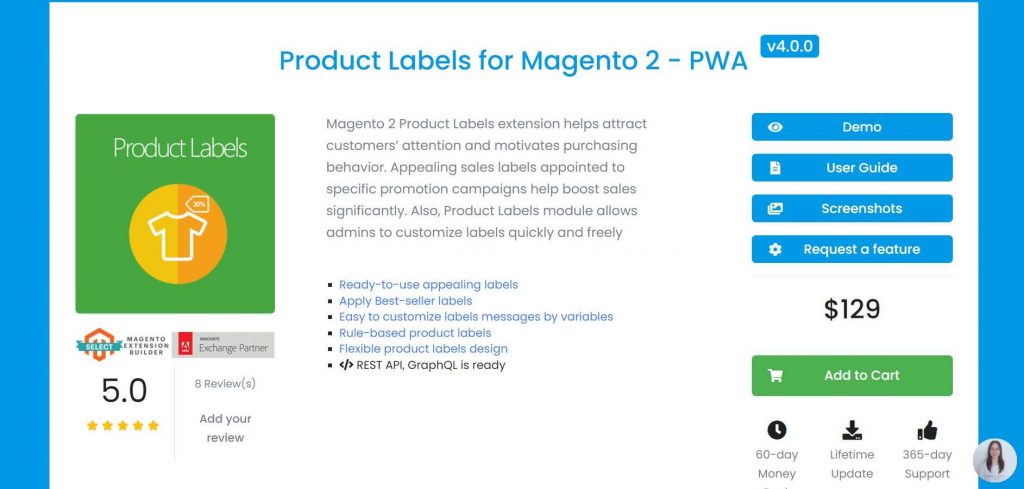 #5 Product Labels for Magento 2 | Mirasvit
Every store needs to run promotion campaigns or highlight their featured products from time to time. Mirasvit has come with a Magento 2 product label extension that helps you attract more visitors with vivid illustrations and badges.
Key features
Highlight your sales and products with ease. It's a simple yet powerful tool in marketing to adopt

Define and set up your own labels and stickers for each campaign

Setup the display rule to easily control your work

Make your product visuals-friendly by locating them in the right position. The product label can help you do that
Price
Community $99
Enterprise $248
Compatibility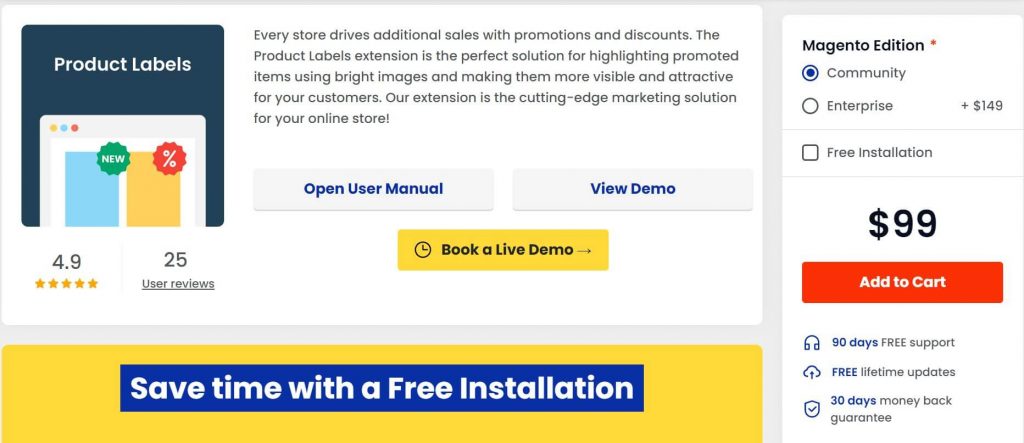 #6 Magento 2 Product Label | Magebees
Adding visuals and labels to your product display and keep customers stay with the Magento 2 product label from Magebees. The extension comes with many useful functionalities to draw attention and also makes it easy for you to diversify your campaign look.
Key features
Create as many labels as you want

Attach labels to products based on pre-setup conditions such as timeframe, categories, stock

Set priority to your products and customize it to be shown to a certain group of buyers

You can upload your own image, label, image text
Price
Community: $49
Enterprise: $75
Compatibility
2.0, 2.1, 2.2, 2.3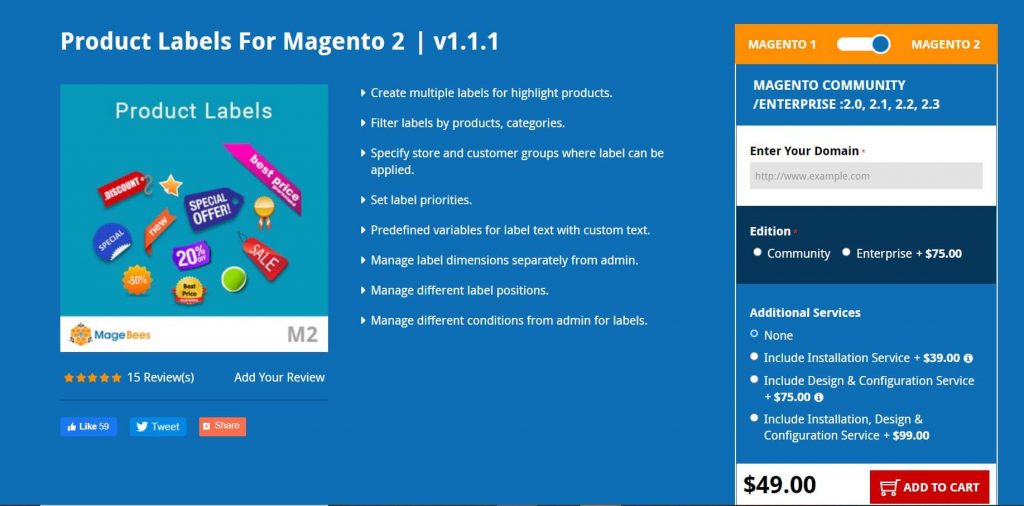 #7 Magento Product Labels | Aheadworks
The Magento 2 product label extension from Aheadworks aims to create variety in presentation, displaying, and your management in the backend. It emphasizes flexibility to help you fine-tune your display because visuals matter.
Key features
Create engaging labels that can communicate with customers and draw them in. You can use CSS, images, objects to decide how you want to label to look like

Attracting design that you can tailor to your need

Position labels on the image to better inform your customers

Setting to display certain labels at certain times

Customize labels to suits the audience

Able to create multi labels on a product
Price $199
Compatibility
2.3.X - 2.4.X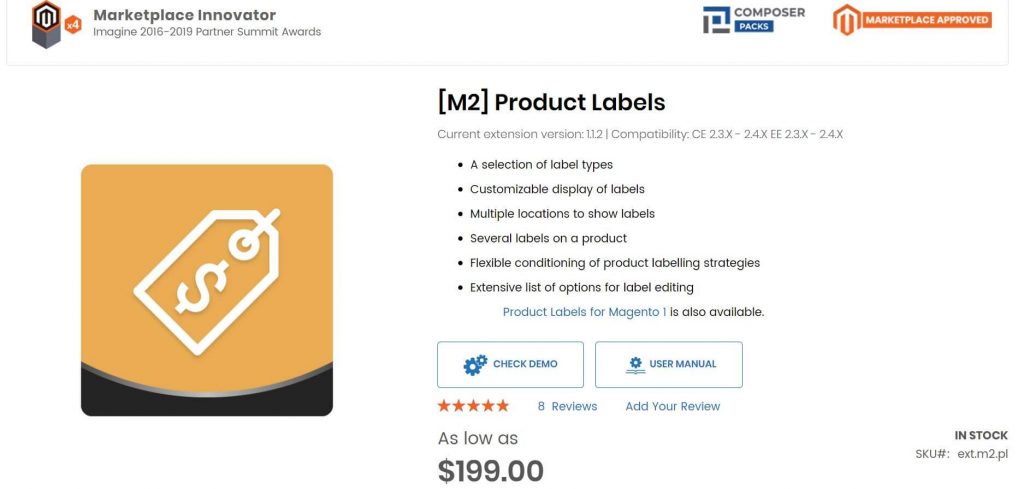 # 8 Magento 2 Product Label | BSS Commerce
Grow faster and smarter with Magento 2 product label extension. BSS ensures this tool will empower you to engage more deeply with your customers and handle your product display better.
Key features
Resize your label, quickly design and place it on the image with the drag-and-drop method

Assign labels to the products that satisfy the set requirements

Adding the urgency by motivating labels such as "Sold out soon"

Choose to apply which labels to which stores (if you have multiple stores) and products

Set the time duration to display labels for your new arrival, promotion
Price
Community $79
Enterprise $229
Compatibility
2.2.x - 2.3.x - 2.4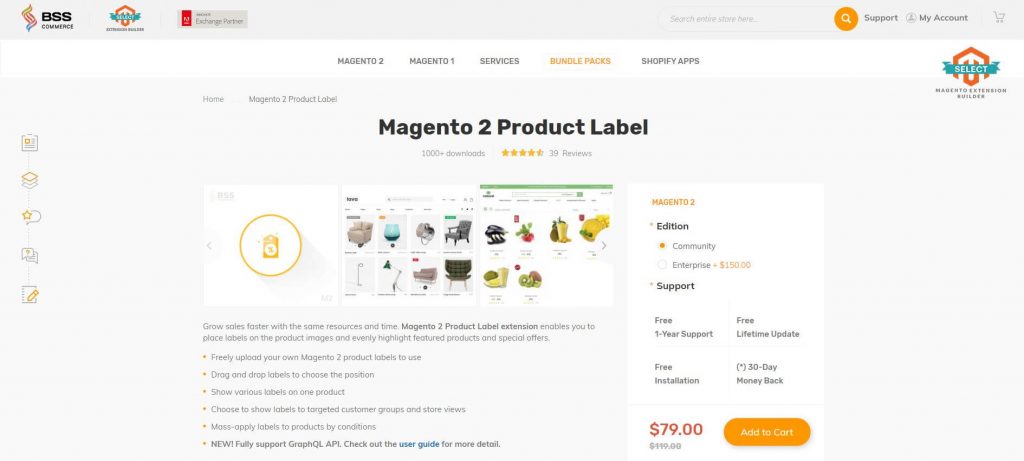 #9 Magento 2 Products Label Extension | Magezone
Add a call-to-action to your pages with Magento 2 product label and display tempting labels such as "Hot", "Fash Sales", etc because these are what buyers tend to look for. Upgrade the look of your product page to sell more with product label extension!
Key features
Display the labels on different pages on your website: home page, product page, etc

Customize your labels with 10 preset variables (price, product SKU,...)

Place them onto different positions and monitor it from the preview window before applying

Formulate your rules to assign labels on a specific group of products

Time and priority setting available

Detailed guides and instructions to get used to the extension
Price
Community $99
Enterprise $299
Compatibility
2.0.x, 2.1.x, 2.2.x, 2.3.x, 2.4.x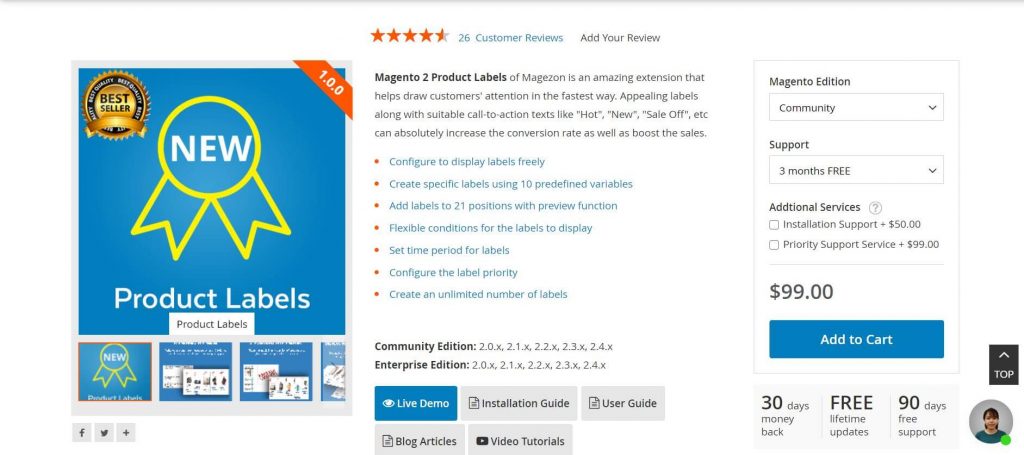 #10 Magento Product Labels | Weltpixel
With the Magento 2 product label extension, you can feel free to add stickers and labels to different pages and highlight your messages to your prospects anywhere on your website.
Key features
Configure your labels and make them more attracting using CSS, changing font, style, or add your own image

Schedule your label at the desired time

Set conditions to display different labels and messages

Different labels for different customers (VIPs, wholesalers, new, etc)
Price
Community $149
Enterprise $349
Compatibility
2.0, 2.1, 2.2, 2.3, 2.4.0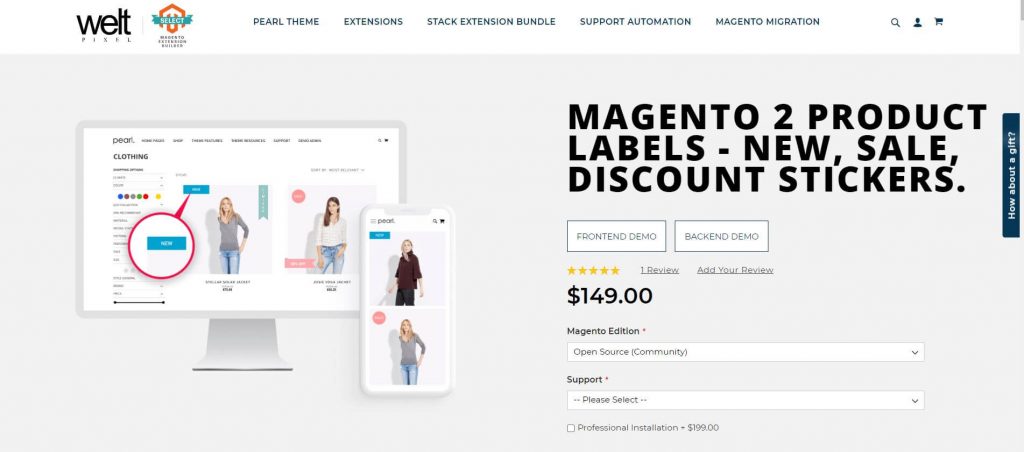 #11 Product Labels For Magento 2 | MageAnts
Craft a smart and beautiful marketing strategy by using Magento 2 product label on your website. Inform and interact with your customers from the onset and draw them along your sales funnel.
Key features
Create your own unique sticker and add to the product page

Apply different labels to different types of products

Set up multiple layers of priority for each product

Enable/disable the label display for your products
Price
Community $89
Enterprise $189
Compatibility
2.0.X - 2.3.X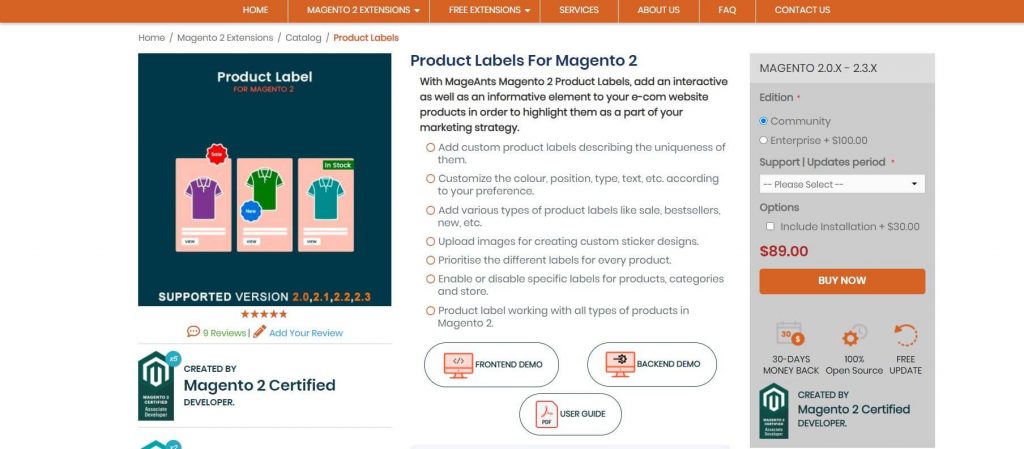 Final words
That's it! It's a brief of the 11 Magento 2 Product Label vendors on the market for your perusal. The product label is known as an effective tool to impose a huge impact on a customer's mind upon their visit. Marketing tactics are getting more sophisticated, so make sure you look through all the possible tools and methods then adopt what's needed for your business.
It's always good to combine different metrics together and optimize them. If you are worried about your budget allocation, pick the bundle offer, and see how it helps!