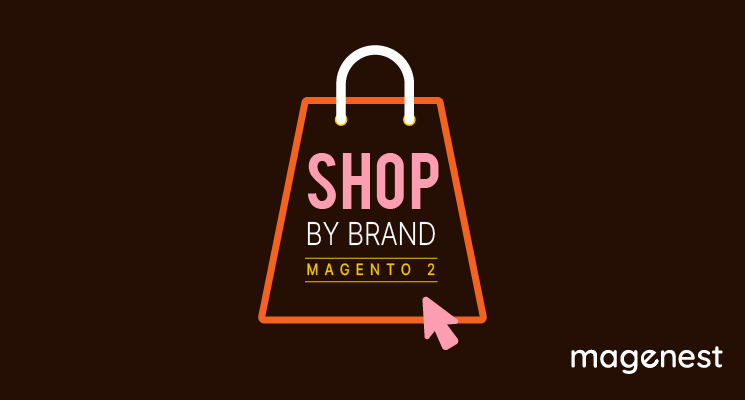 Many businesses have done a great job to make their brand remarkable to the world as Valentino, Victoria's Secret, Versace, and so on. And meanwhile, there are more and more brands that have come into play, each customer also has the demand to choose their preferred one. Therefore, Magento 2 Shop By Brand is ready to serve, to help your shoppers efficiently find their favored brands, at the same time, promote your store with exceptional features.
Organizing the products based on Brands is a clever idea to boost sales in your Magento-based shop. Customers, especially those who prefer to make purchases predicated on brands will be highly benefited from this extension which helps to improve customer satisfaction and boost sales on your site.
#1 Magento 2 Shop by Brand by Magenest
Retailers can now demonstrate all the brands attractively in their store owing to Magento 2 Shop by Brand. Transforming your website into attractive stalls of famous brands will help you earn trust from your shoppers.
The shopping journey is shortened, leading to more sales generated! Shop by Brand for Magento 2 allows your brands to do the selling and cross-selling by increasing AOV. This awesome tool points out your products' brands and saves time for visitors to explore and purchase in your online stores.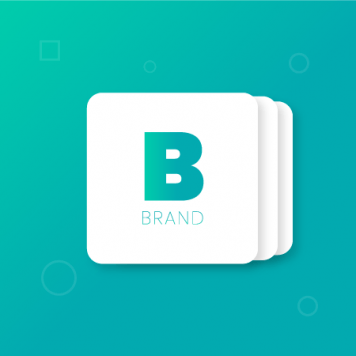 Highlight features:
Easily add and manage brands

Attractive brand pages filled with comprehensive information

The brand CMS page can be personalized

SEO-friendly and user-friendly interface

Brand data can be imported/exported by XML. and CSV. files

Arrange brands to various stores

Compatible with AloThemes
Price: $129
Compatibility: CE, EE 2.3.x, 2.4.x
#2 Magento 2 Shop By Brand Extension by Magezon
Magento 2 Shop By Brand by Magezon helps your customers find products of their favorite brands in the fastest way. Using this useful extension, you can build delicated, content-rich pages that compile products of each brand. If you're offering products from diverse brands from popular to high-end, then it's time to equip your Magento stores with this powerful Magezon extension.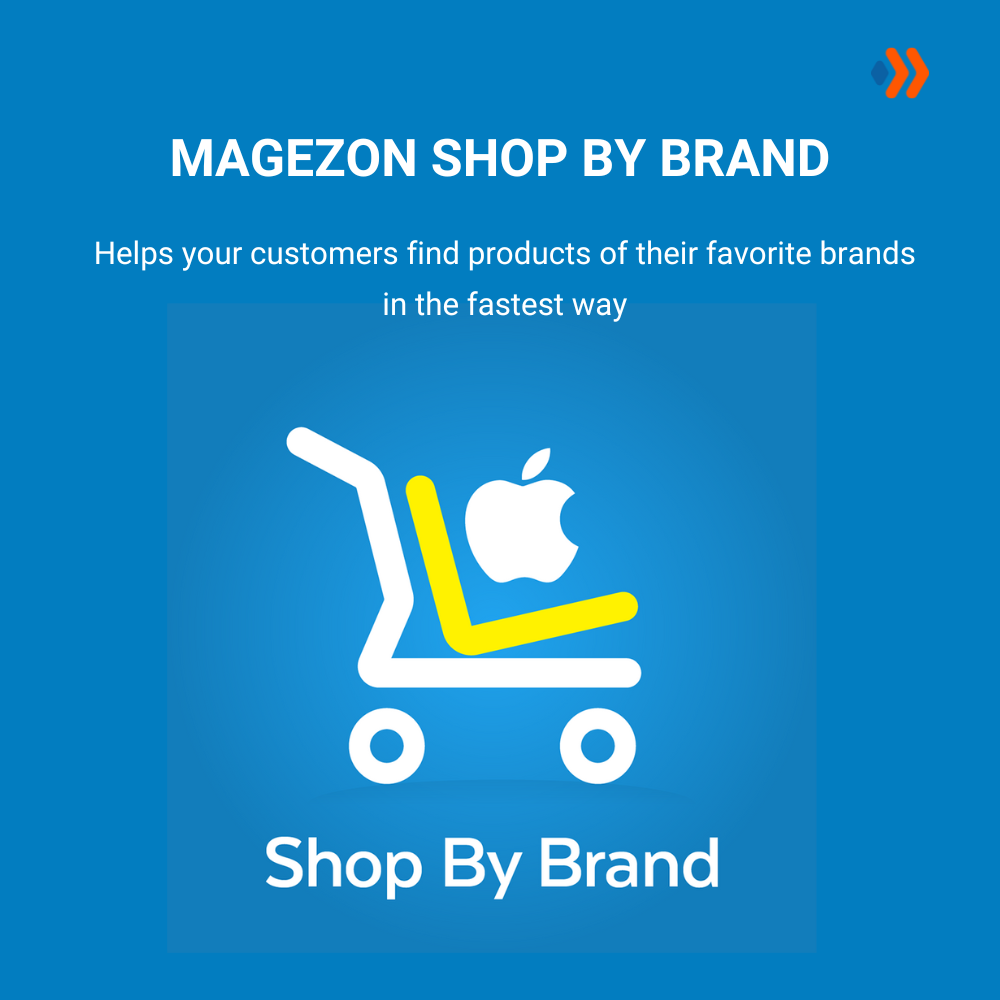 Highlight features:
Create brand listing page
Create brand detail page
Compatible with Magento 2 Layered Navigation
Display Featured Brands Block Flexibly with Brand Widget
Show brand logo & related products on product detail pages
View sold products of every brand
Change multiple stores & languages in one place
Access brand listing pages from top link and menu bar
Import and export brands
SEO-friendly brand pages
Fully compatible with Magezon Page Builder and Single Product Page Builder
Price: 99$
Compatibility: 2.0.x, 2.1.x, 2.2.x, 2.3.x, 2.4.x
#3 Magento 2 Shop By Brand Extension by Magetop
To showcase branded products in your store, adopt the Magento 2 Shop by Brand Extension by Magetop - a wonderful plugin to do such things. You can generate and customize as many brands as you need, moreover, assign products to the brands, and enable customers to filter and view products from their favorite brands in multiple ways. Additionally, SEO Meta details can be set for the brand page.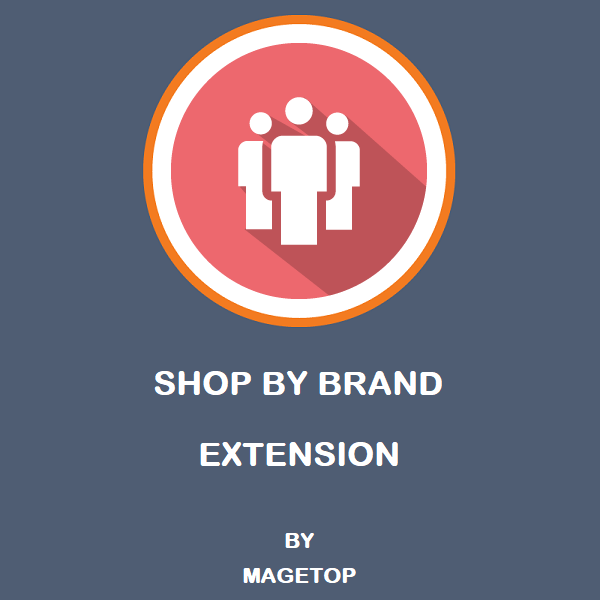 Highlight features:
Link in the top navigation.

Automatic and closely linked with default manufacturer attributes.

New manufacturer brand can be re-synced

Assign any brand as highlighted

Left sidebar block for shop by brands.

Support multi-store and multi-language and 100% Open-source
Price: Free
Compatibility: CE, EE 2.2.x, 2.3.x, 2.4.x
#4 Magento 2 Shop By Brand by MageSolution
Magesolution's Magento 2 Shop by Brand extension enables administrators to set up a brand & manufacturer listing page and details pages that showcase and filter in the store navigation all products of that brand & manufacturer. With this extension, the admin receives another opportunity to decorate the home page Magento 2 store by adding a brands & manufacturers slider by using a ready-to-use widget…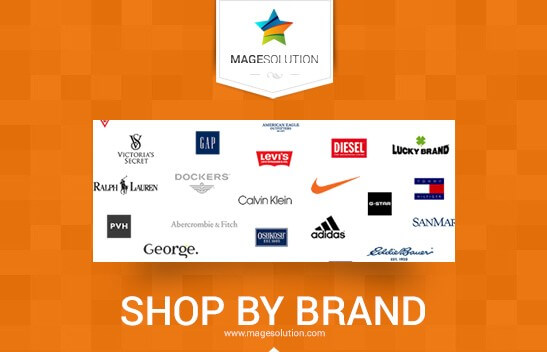 This module lets you add new brands and connect related products to those brands. All created brands can generate a landing page. Users can quickly browse products with the help of automatic design, clicking on any brand link brought you to that particular brand landing page.
Highlight features:
Interactive with the database of shops by brand with importing and exporting features.

Choose the brand's attribute

Manage brands easily

Allow uploading various types of images for a brand

Allow combining different brands to various stores

Assign products to a brand at ease

Support widget to add brands slider to all pages

Display at the frontend the brand image slider

Show highlighted brands, browse brands form on brand pages

Show on the brand page the filter layered navigation
Price: Free
Compatibility: Community Edition: 2.0.x, 2.1.x, 2.2.x, 2.3.x
#5 Magento 2 Shop By Brand by Aheadworks
Magento 2 Shop by Brand by Aheadworks creates separate brand pages with brand logos, descriptions, and related products (brands are automatically assigned to the products concerning the attribute you chose). You now can add a widget with all brands in any position to any website page. With the 'More from this Brand' block on product pages, additional purchases will be promoted.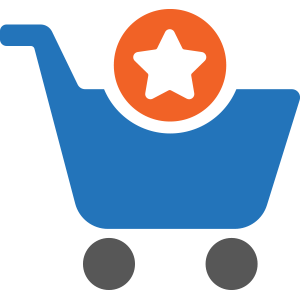 Highlight features:
'All Brands' page for timely and comfortable brand browsing.

Individual brand pages with brand details and related products.

Find flexible display settings in the "More from this brand" block

Able to put across the featured brands on different site pages.

Integration with Layered Navigation, established by Aheadworks.
Price: $129.00
Compatibility: CE 2.3.X - 2.4.X EE 2.3.X - 2.4.X
#6 Magento 2 Shop by Brand by Amasty
Magento 2 Shop by Brand by Amasty is the solution to gain customer attention and loyalty. Shoppers become emotionally and quickly associated with brands, especially when the products they previously found engaging and fit confirm their quality regularly. So, the first thing they usually do when they land on online stores' pages is to browse by their favorite brand. It is better not to step on and interrupt the customers' way when they are rushing to their favorite brands. On the other hand, with Magento 2 Shop by Brand add-on, you can make the brand-to-customer connection a lot more natural and well-directed.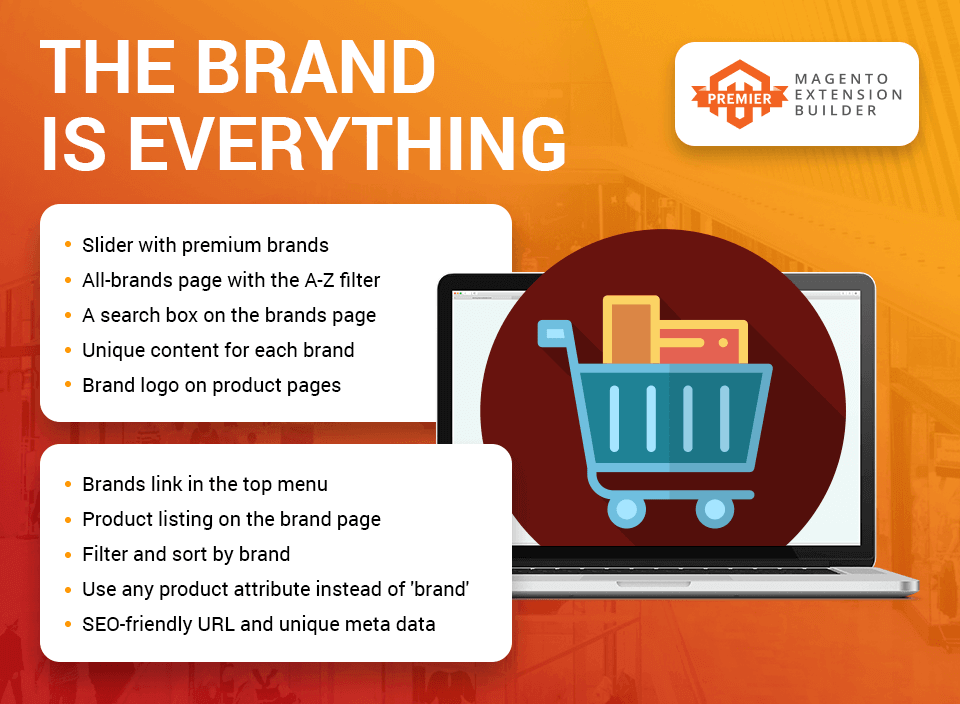 Highlight features:
A slider with featured brands.

All-brands listing page with the search box.

Able to filter and sort by brand.

Unique CMS page content for each brand.

Able to demonstrate the brand logo on product pages.
Price: 129$
Compatibility: CE 2.3.X - 2.4.X EE 2.3.X - 2.4.X
#7 Magento 2 Shop by Brand by Mageplaza
Shop by Brand Magento 2 of Mageplaza will create a separate searching tool for your customers to investigate freely and flexibly each brand on your website. All brands will be found on one page for your visitors to choose from. Furthermore, each brand will hold its own space which includes the products, description, logo. It is apparent that your customer now can do shopping with ease when being able to view items filtered by brands.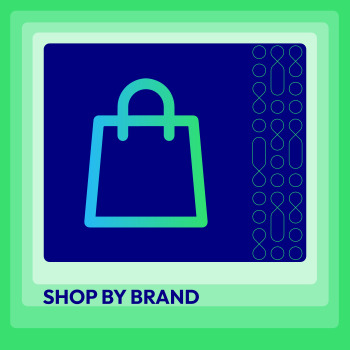 Highlight features:
The brand page is armed with instant search brands, featured brands and filter by alphabet

SEO-friendly URL and custom meta tags.

Bulk import CSV file including brand images

Display brand logo on product page

Filter Shop by brand freely in Layered Navigation Ultimate.
Price: 99$
Compatibility: CE/EE/B2B/Cloud 2.2.x, 2.3.x, 2.4.x
#8 Magento 2 Shop by Brand extension by Mageworx
This extension of Mageworx is a have-it-all solution that enables your Magento 2 store visitors to conveniently search for their favorites by brand. As a merchant, you get to showcase brands right on product/brand/category pages, along with promote partner/specific brands in a special area.
Highlight features:
Brand-based search made intuitively

All-in-one-place brands listing

Separate page for specific brand products

Able to display/hide product brand on product/category pages

SEO-friendly optimization possibilities
Price: 149$
Compatibility: CE: 2.3.x; EE: 2.3.x
Final thoughts
In conclusion, Shop by Brand extension is beneficial and effective that allows Magento store admin to showcase products from brands to brands in a user-intuitive manner.
If you are currently in search of some useful Magento 2 Shop by Brand extensions, then you don't need to look for somewhere else. This article is a collection of some excellent extensions for your eCommerce Magento-based store.
We hope you can find a suitable one and further improve your eCommerce business.
Thank you for reading!