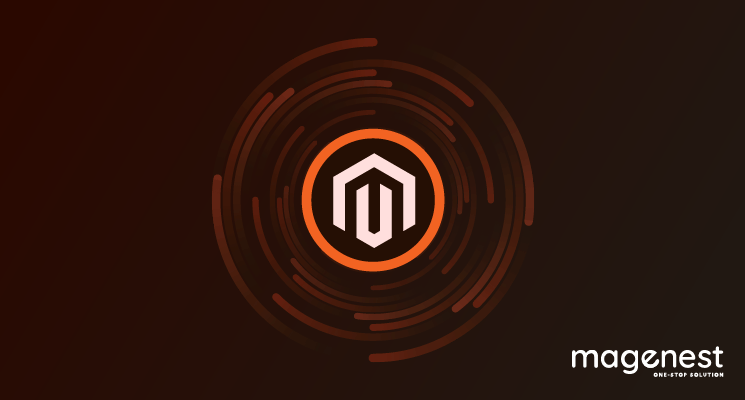 In September 2018, Adobe officially announced that all support for Magento 1 will end in June of 2020. It means that if store owners do not migrate Magento website from version 1 to 2 after this time, there will be no longer security patches or official updates for your store.
It is important to have a detailed plan to ensure the migration process will work smoothly. Let us help you with all you need to know about Magento data migration!
Overview of Magento data migration
Why should you migrate from Magento 1 to 2?
Before having a deep understanding of Magento data migration, you should take a look at key benefits of Magento version 2 in comparison with version 1, then decide if this migration is really necessary for your Magento store. Let us summarize how Magento 2 can optimize your eCommerce website:
Enhance performance and scalability with a higher page loading speed

Simpler 2-step check-out process for better customer experience

Frequently updated features and useful extensions

Friendly admin interface for non-technical users

Mobile-responsive
About Magento data migration
Magento data migration process is divided into three modes with the respective order as follows:
Settings Mode

: migrates the system configuration and website-related settings.

Data Mode

: migrates database assets in bulk.

Delta Mode

: migrates changes since the last run.
In each mode, there is a list of steps to migrate particular types of data.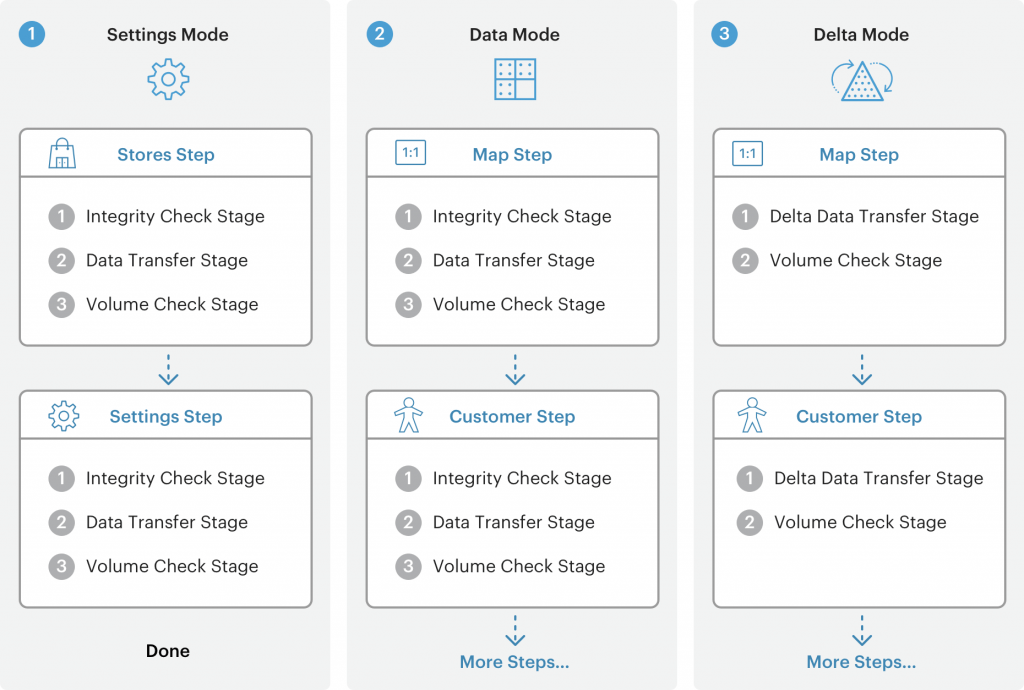 To make sure the entire data is migrated properly, three stages are implemented within each step in the order below:
Integrity Check Stage

: compares table field names, types, and other info to verify compatibility between Magento 1 and 2 data structures.

Data Transfer Stage

: transfers data table by table.

Volume Check Stage

: compares the number of records between tables to verify that the transfer was successful.

What types of data are included in Magento data migration?
There are four kinds of data in Magento data migration process: default data, extensions and custom code, themes, and customizations.
Default data
Default data includes information about your products, customers, orders, store configurations, promotions and others. For this type of data, Magento provides you with Magento 2 Data Migration Tool to handle the migration process.
In case you find this tool not really friendly with business users, have a look at our Magento 2 Data Migration Tool. This extension allows merchants to enjoy a faster and simpler migration process with simplified UI.
Extensions and custom code
We have been working hard with the development community to help you use your Magento 1 extensions in Magento 2. Now we are proud to present the Magento Marketplace, where you can download or purchase the latest versions of your favorite extensions.
Themes and customizations
In Magento 2, store owners have an unlimited ability to optimize shopping experiences for their customers with new approaches and technologies. Therefore, to make the most of these advances, you should make changes to your themes and customizations.
Common issues in Magento data migration process and how to solve them
#1 Losing search engine ranking
Search engine presence is one of the most important things to eCommerce stores. Having a high ranking on the search engine result page helps your website attract more organic traffic, which may lead to a stable increase in your revenue.
After finishing data migration, merchants could face losing online ranking, and this somehow affects a store's performance in a negative way. This problem can come from changes in URLs, store redesign or duplicate content throughout the migration process.
Solution
It is not always easy to overcome SEO barriers, especially when you have to manage a huge store and a giant product catalog. Once deciding to upgrade and rebuild your store, there are numerous things you had better consider to make sure all of your previous SEO efforts will not turn to zero due to Magento data migration.
You could use some tools such as Google Analytics or Search Console to regain your ranking, but it might take quite a lot of time. So instead of finding ways to solve this issue, why don't you avoid it from the beginning by hiring a specialized team to take care of all steps of the Magento data migration process for you? This way will not only keep your online rankings stay unchanged but also save you from a ton of technical issues.
#2 Website loading speed can be affected
To this point, you might wonder if I am mistaken cause I have just mentioned in the above part that Magento 2 runs faster than Magento 1. Well, actually starting Magento data migration does not mean your store will be shut down till the process ends. In fact, your eCommerce website can be operated as usual but its loading speed might be slowed down during the data migration process.
Solution
Your store's off-peak season could be the most suitable time to implement the Magento data migration process since there will be not many of your visitors affected by website speed. Also, before upgrading your store, it is better to announce to your customers about that, express your sincere thanks to them for their cooperation and promise a better user experience after this change.
#3 Incompatible theme or extensions
If your Magento 1 store is integrated with custom extensions or theme, they could not be compatible with the new Magento 2 website, resulting in poor design and bad user experience. One simple reason for this problem is that the theme and extensions you are using for your Magento 1 store are not available for version 2.
SolutionTo address this problem, you can totally find suitable themes and equivalent extensions developed for your Magento 2 website. Thousands of extensions and themes on Magento Marketplace allow you to find ideal ones that fit your business well with ease. At Magenest store, we also provide high-quality extensions and themes for businesses of all sizes and industries. Moreover, if the theme of your Magento 1 store does not have a compatible version for Magento 2, try a new theme and customize it as you want; or create a replica of your old design by reframing all the styles and HTML-templates.
#4 Data loss
Moving entire data from Magento 1 to 2 does not seem to be merely a simple task and requires many steps. So, losing some crucial data in the process of Magento data migration may be one of the common issues that many store owners have to deal with. It could be your user's account information, customer orders, your blog's content or other CMS pages.
Solution
If you do not have enough technical knowledge, it is better to find an external experienced team to handle it for you. In terms of Magento data migration, LitExtension - our shopping cart migration partner could help you transfer all of your crucial data automatically, accurately and securely. Also, LitExtension offers a free demo migration to show you how this process will work.
For Magento 1 merchants, Magenest proudly offers a full-stack service to help you smoothly upgrade your store without any issues. With 5+ years of experience in implementing Magento 2 migration projects for many leading businesses in various industries, we deeply understand what your business really needs, effectively aligning your objectives with Magento 2 functionality. We optimize the use of native features and save you from unnecessary customization.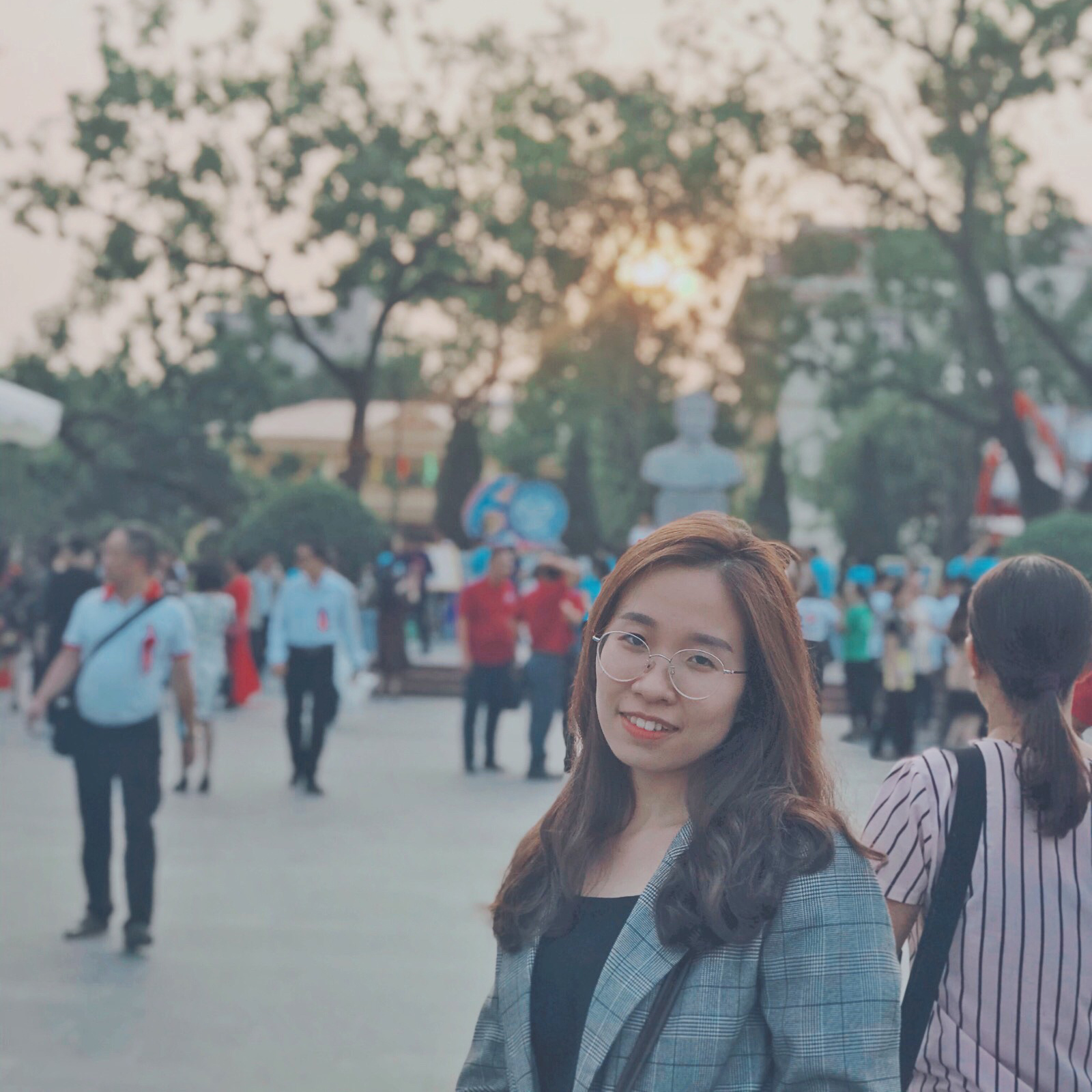 Marketing Executive | Content Manager