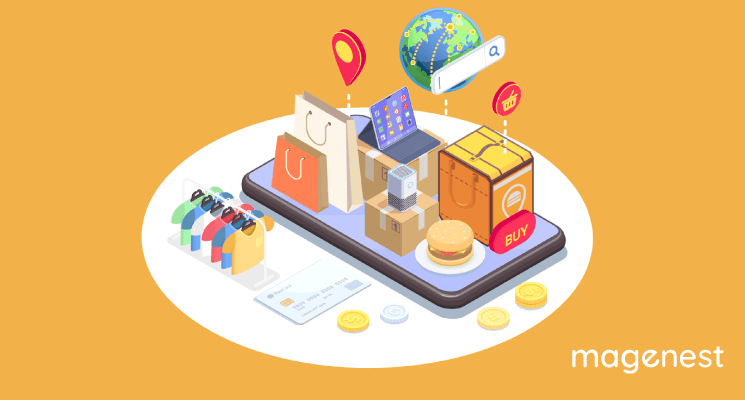 You can not easily use your PC or laptop everywhere but you can surely use your smartphone anywhere without trouble now. You can even do online shopping, transfer money online simply with the help of mobile phones. Hence appears a very popular terminology nowadays: M-commerce or Mobile commerce, which is very useful and rising day by day.
So, let's move towards the details of mCommerce. This article will get you familiar with this term which may be new for you then get to know in detail about M-commerce from a Magento 2 merchants' perspective.
The Definition of mCommerce?
Mobile Commerce, also termed mCommerce or m-commerce, includes every monetary transaction performed using a mobile device.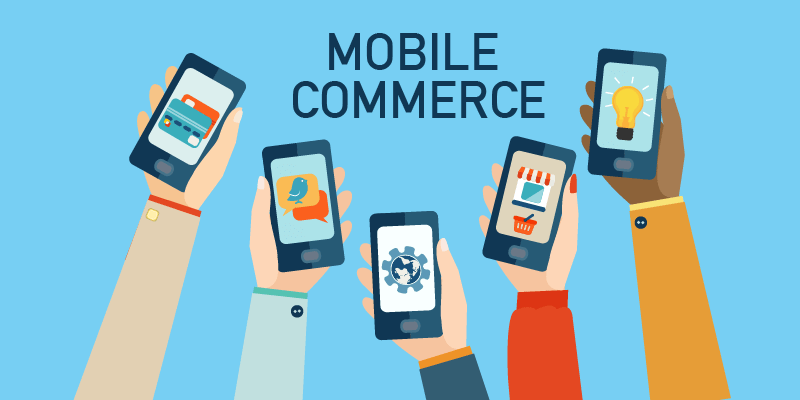 It is the evolution of eCommerce, allowing anyone to buy and sell goods or services from almost everywhere, only using a tablet or mobile phone device. Yet, mCommerce is more than just a simple advancement of eCommerce.
It serves as a trigger for recently developed industries and services, either an improvement for existing ones grow, including:
Mobile banking, money transfers

Electronic tickets, boarding passes

Digital content purchases and delivery

Contactless and in-app payments

Location-based services

Mobile marketing, loyalty cards, and coupons
Talking about types, mCommerce includes three major types:
First is Mobile Shopping which implies online shopping can be simply done via smartphones by using online shopping apps and websites.
Next is Mobile Banking, which indicates the transfer of money has become very easy. By using banking apps like Paytm, Google Pay, etc, users can transfer or receive money anytime without the inconvenience of using regular banks or ATMs.
The last type is Mobile Payments, which indicates several bills like TV cable bills, electricity bills, phone bills, etc, can be paid via smartphones easily.
What is the Future Trend of mCommerce?
Mobile technology has revolutionized the idea of life. Our smartphones are seemingly always within arm's reach and dominate our daily habits.
As a result, mobile commerce trends are moving forward: mCommerce is on pace to control 73% of the global eCommerce market share by 2021 (The percentage was only 59% in 2017) and nearly 80% of mobile users have at least once purchased online using their mobile devices.
As an eCommerce store owner, you must always stay up to date with the most recent mobile commerce trends: not ignore mobile consumers whether you're using Magento 2 or any other platform for your business.
That's why you have to research and analyze some mCommerce trends. Here are some that will dominate beyond 2021:
#1 Shopping through Mobile Apps
It's no doubt that consumers are increasingly using their mobile devices to shop online. A mobile-friendly eCommerce website is not enough to succeed anymore since 2021 will become the year of mobile shopping apps.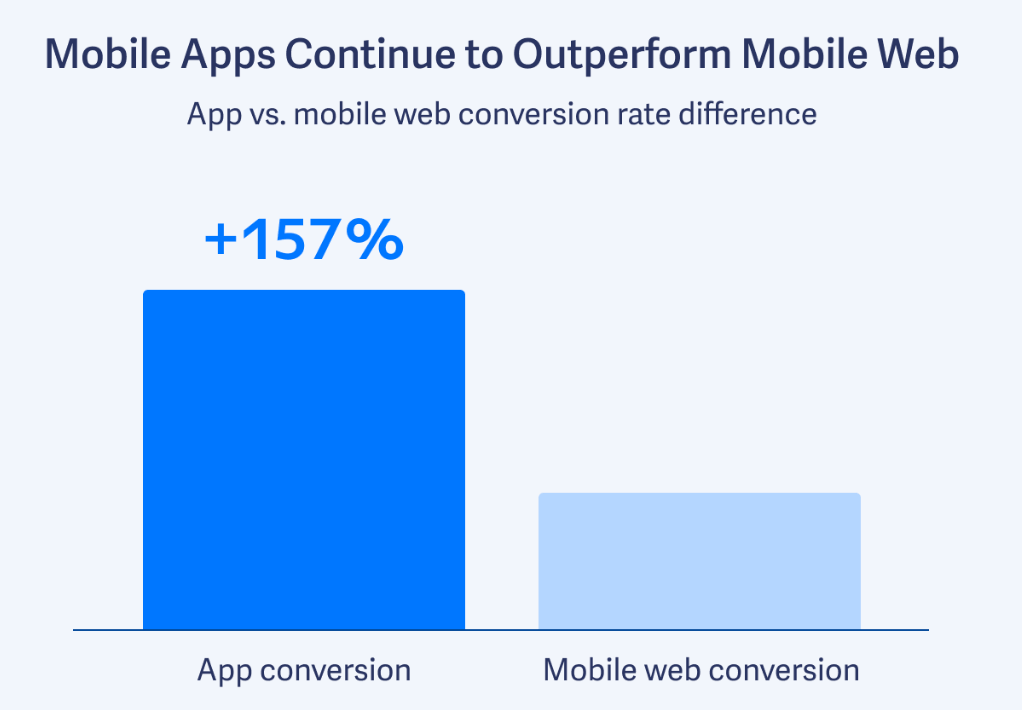 Moreover, mobile shopping apps convert at a higher rate than mobile websites.
Think of that figure in dollars, if a 157% higher conversion rate, how much more money could your eCommerce business make? Therefore, to stay competitive, you need to develop a smartphone app for your business in 2021.
#2 Say Hi to Chatbots
The most popular use of smartphones is communication, unsurprisingly. From Facebook Messenger and Instagram to Telegram and WhatsApp, people rely on apps to keep in touch with their families, friends, and colleagues every day.
It's no surprise that many brands have realized the potential of communicating with their customers through these services, namely: eBay, H&M, Nike, which have developed AI-based chatbots that can chat with customers naturally as their friends do.
54% of people claim to always choose a chatbot over a human reply since it saves them time.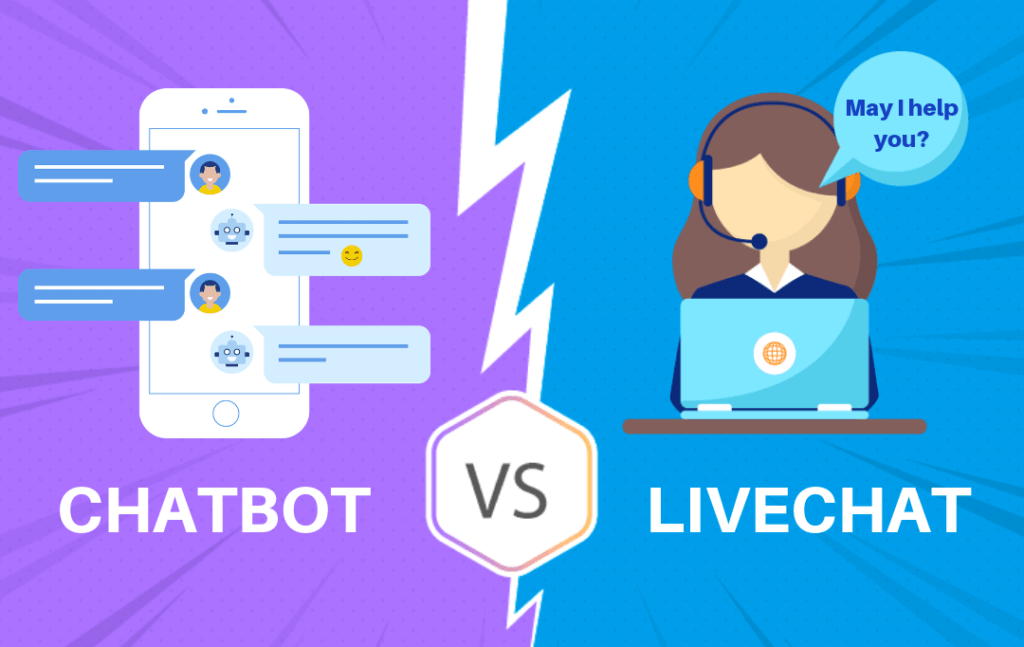 This is not only an excellent method of strengthening brand loyalty, but it's also very helpful for the customers. They can instantly ask the chatbots for recommendations, information of their orders, the contact of customer service, ... and so much more
If you want to make the most out of mCommerce, consider these messaging apps. With over a billion users, your business, at the very least, should be reachable via Facebook Messenger. Mobile chatbots will be far more supportive than ever before in 2021. The prevalence of mobile commerce chatbots will continue to thrive in the future as well.
#3 Sales From Smartphones
It's also no surprise if sales from mobile devices will dominate in the future of mCommerce. To see which devices are people shopping on the most? Let's have a look at the Business Insider 2021 m-commerce volume forecast.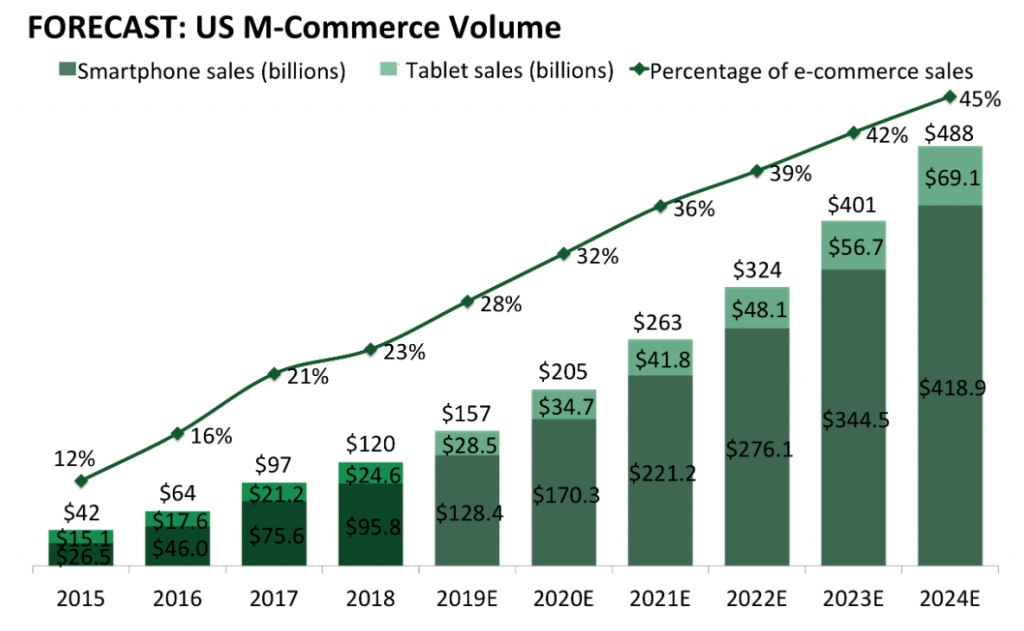 As you can notice, smartphones dominate this category. It's expected that $221.2 billion mobile commerce sales will generate from smartphones by the end of 2021, compared to just $41.8 billion from tablets and it will also remain dominant against tablet sales in the future.
This is important information to any eCommerce business owner. The method of communication with your customers will differ depending on the devices they are using.
However, it's not recommended to ignore tablet users altogether, just that smartphone users will be the main target of m-commerce apps from 2021.
#4 Develop Voice Shopping
In 2021, voice search will enter the eCommerce market. Voice shopping is expected to reach $40 billion by 2022, up from a modest $2 billion in 2018.
This will have a notable impact on mobile commerce, regarding the fact that 20% of all searches on mobile devices are voice-based and 40% of adults use voice search at least once per day.
Let's take a closer look at how consumers are using voice features on online platforms?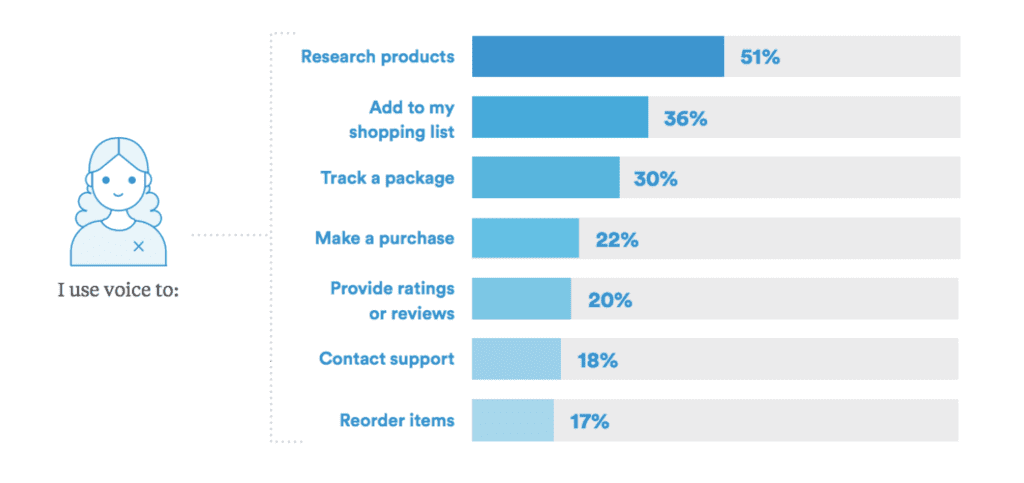 51% of people utilize voice commands to research products and 22% use voice search to make a purchase. And that's why your mobile app must be friendly for voice shopping.
Even consumers that don't have a smart speaker still have access to voice assistance and voice search from their mobile devices. That's how voice shopping will exert a massive impact on the mobile eCommerce trends of 2021 and beyond.
#5 Omnichannel Mobile Shoppers
To explain briefly, omnichannel retail is the practice of selling via multiple channels, for example, a physical store, eCommerce website, or mobile app, … And 73% of consumers shop on multiple channels.
eCommerce store owners need to know that buyers are gathering information from a wide range of various sources before they buy.
If you own a physical retail location, that in-store experience can change the way people buy online and 75% of people expect those experiences to be consistent across different channels. Moreover, 73% of people are willing to switch brands if they don't get a consistent omnichannel experience from a company.
So how to provide for omnichannel mobile shoppers? Here's an example to provide a smooth omnichannel shopping experience:
If you own a mCommerce mobile app, you can set a push notification to be triggered when an app user reaches your retail locations. The discount or coupon can give that person an extra incentive to buy.
There's a good chance that they'll be checking for information via their phones, so this gives the customer more motivation to convert. One step further is to give the user a personalized recommendation promotion based on their browsing behavior.
The above mCommerce trends partly point out the necessity for Magento 2 merchants to understand and apply mCommerce to their businesses from trends and statistics in the future it will reach a more advanced level. Will you be one of those wise store owners?
Read more: How to build an app
How should Magento 2 Merchants Properly Apply mCommerce Into Their Businesses?
If you wish for thriving in the mCommerce market, investing in Magento 2 mCommerce is the ideal option for you. As a mobile-friendly platform, Magento eCommerce stores can adapt themselves to all the mobile versions. It is believed to offer the much-required reliability and flexibility to your website to gain a remarkable position in the market.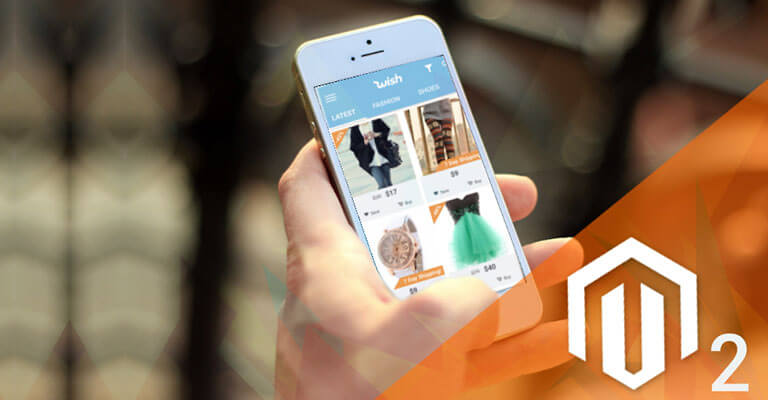 Here are mobile optimization best practices that Magento 2 mCommerce merchants can apply to their business:
Responsive, Eye-Catching Website Design

User-Friendly Navigation

Fast Website Load Times

Intuitive Checkout Process

Optimized Images and Videos

Eliminate Invasive Pop-Ups and Ads

Reduce Heavy Content
Online merchants who migrated to Magento eCommerce development have experienced an increase in sales by 56% as compared to the platforms used in the past. And with mobile phones being increasingly used to place orders, eCommerce businesses are likely to push their online sales with Magento 2 app development. Whether you're selling a few products online or a broad range of items under various categories, you can choose Magento mCommerce to improve your online business.
To learn from the success stories of mCommerce Magento 2 business, you can search for Catbird, Solar, or Construction Fasteners & Tools for more details.
Conclusion
So, in short, we can say that mobile technology has changed the way we live. These days, there is tons of work that needs the help of mobile phones hence increasing the expectations of rising M-commerce in the future. So, it will be intriguing to see how and what will be the new facilitating stuff in the upcoming years.
And if you are a Magento-based store owner, don't take too long to make the decision of whether to develop mCommerce, otherwise, you will fall behind the competition. And if you have difficulties with building a smartphone app for your stores, we at Magenest Store are always ready and happy to help you.