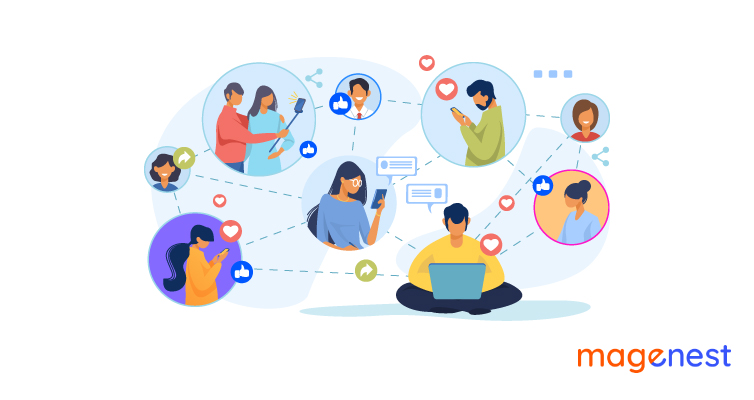 One of the cost-efficient ways to get more traffic and increase interest in your business is through creating valuable content. The content is considered useful and effective when it is shared widely on social platforms called social sharing.
In this write-up, we are going to explain what is social sharing, how it benefits your business and some typical examples to follow.
What does social sharing mean?
Simply put, the word "social sharing" is made up of "social" and "sharing". Commonly, you could understand the word by explaining it. Social means social networks, sharing refers to the spread of information on those social networks. Briefly, the social sharing definition is known as social media users broadcasting web content on multiple social platforms to their connections, groups, or specific individuals.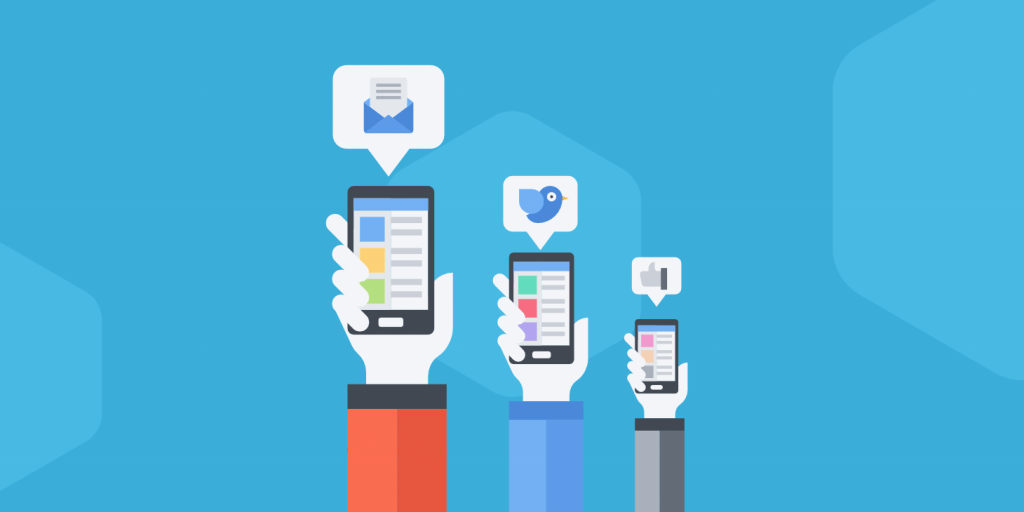 The purpose of conducting social sharing by e-commerce websites is so wide. However, the primary aim of it is to generate brand awareness, get more people involved in the promotion, campaigns or whichever related to the purpose of the sales of your business.
Benefits of social sharing
According to Social Media Examiner, about 96% of e-commerce businesses are now joined in social media marketing. The key advantage that they want from this tactic is to get more people to know about their company. Speaking of that to let you know that social sharing is crucial for any businesses in their social media marketing. Below are 5 key benefits that social sharing brings to your organization:
Reach more organic interaction
Social sharing plays an important role in the digital era. It helps to generate organic interaction among users on social media networks. Through social sharing buttons available on the posts, customers share products' information, blog posts, inspirational images, etc. relating to your business. As a result, it resonates more than a message displayed directly by a business.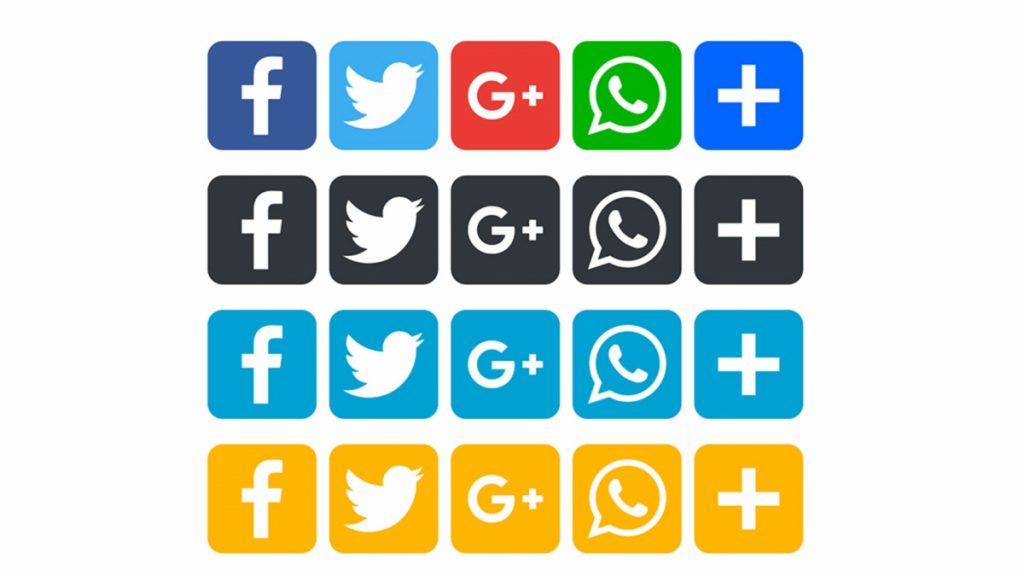 Besides, when social sharing happens, your business campaign is considered to be effectively run. Once a post is shared, your customers' friends, families or coworkers will connect to your store quickly. It brings to your business a huge benefit. When your social posts (any form) is repetitively shared, they become viral. And that is what a business wants.
According to Social Media Examiner, about 96% of e-commerce businesses are now joined in social media marketing. The key advantage that they want from this tactic is to get more people to know about their company. Speaking of that to let you know that social sharing is crucial for any businesses in their social media marketing. Below are 4 key benefits that social sharing brings to your organization:
>>>> Read more: Social login best practices for eCommerce in 2020
Higher Conversion Rates
With the increase in visibility, your business gains more chances for conversion. For instance, people easily buy a product because they are impressed with it. For your social content, when it is viral or widely shared, more people get to know your products, and also more chances of conversion rates will come. To conclude, the more your business approach to customers, the more chances of conversion your business may get.
According to a study, social media has a 100% higher lead-to-close rate than outbound marketing. Therefore, optimizing your brand on social platforms is really effective, getting more sales.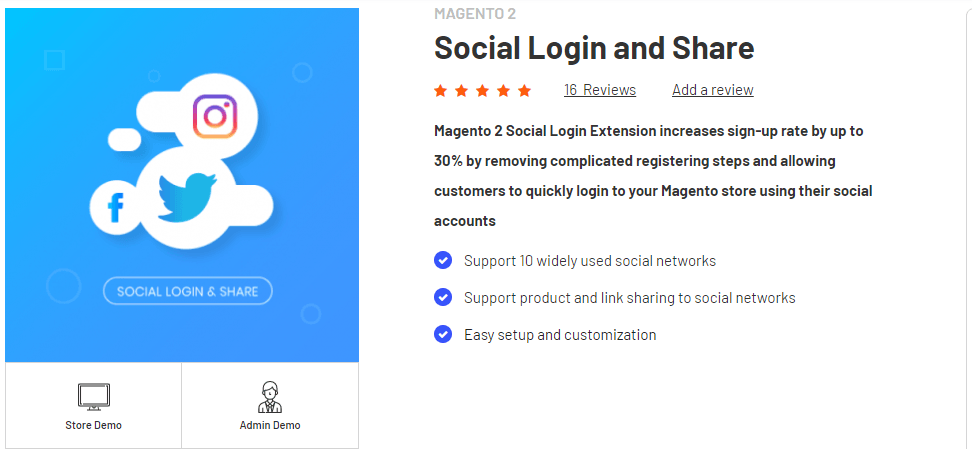 Magenest provides the Social Login and Share extension that helps you optimize social activities for your Magento store. By integrating our extension, your customers will log in to your site via their social accounts easily. Also, your eCommerce website can get more sales with social sharing buttons.
Increase Brand Awareness
Innumerous people actively participate in social media today leading to a huge opportunity for business to get their targeted audience. Implementing social media to get it shared widely on these social platforms helps your business approach thousands of customers a month. Therefore, effectively conducting social sharing allows your business to increase brand awareness.
For example, commonly, you create a post on your social page aiming at your targeted audiences. But if your content is triggered and interesting, they share it. A lot of people connected to that customer (including friends, family, coworkers, etc.) on social media will know about that post. This leads to more people knowing about your brand and your messages. Automatically, brand awareness would be increased in a cost-efficient way.
Better Customer Satisfaction
Customers love to "cooperate" with a brand that is positive and popular. Therefore, creating a significant voice for your business is important to show them that you are a good option among other competitors. With social sharing, you are about to become what a customer requires in an organization.
Shares, likes and comments on your posts make them feel that you are a competent brand that is closely connected to customers. Moreover, social sharing also makes your brands stand out, providing customers with the best experience ever.
Also, when a post is shared, it touches your customers. This shows that your brand has compassion for them. By that, it makes them feel a sense of satisfaction.
Brand Authority
What is brand authority? It is described as your brand is a good one, and has authority in the market compared to other brands. What else? When your social media platforms get popular because of social sharing, it appears to be more credible. Literally, your brand becomes powerful and is always considered to be the best choice in the customers' mind.
Moreover, the credibility that your business has thanks to the authority it gets makes your customers satisfied. As a result, your conversion rates will be increased greatly.
Successful social sharing examples
#1 User-Generated Content - Cupshe
User-generated content is all about sharing photos and posts that your customers have published for you. In other words, when your customers post anything on their private accounts relating to your products (such as reviewing), you may re-post that content. This action is simple but triggers a lot because it shows your customers that you really care about them. Therefore, they will share it again on their sites.

Cupshe is a typical example of this tactic. It is a swimsuit brand that exclusively focuses on user-generated content in their Instagram strategy. They understand the happy and exciting feeling of customers, creating a win-win situation for both. By conducting this (they usually tag or attach the social sharing links below each post), Cupshe gets about 800.000 followers on their Instagram.
#2 Humor - MoonPie
People all love humor and some fun social posts. In 2019, Sprout Social Index found that 67% of consumers responded that they love to share entertaining content. To grab their attention, your brand must be a perfect place where your customers can find it. In this way, MoonPie is one of the most common brands chasing humorous content.
Look at some humorous content that MoonPie successfully tells their customers and get it viral on social media.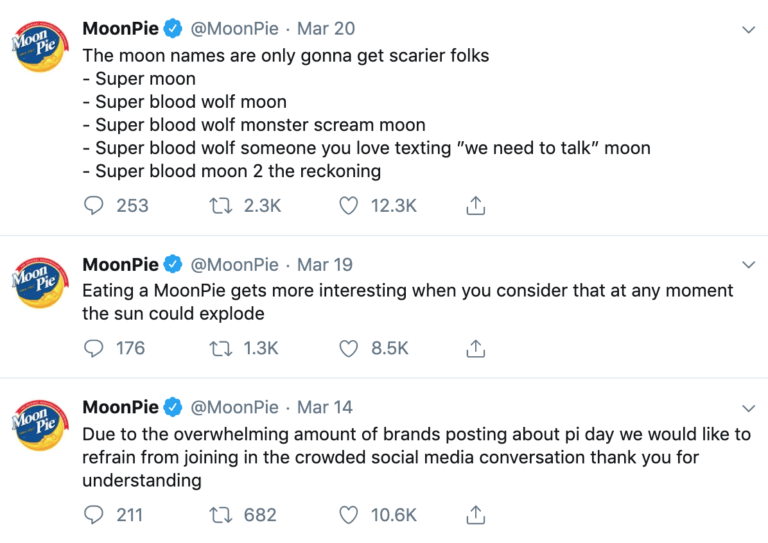 #3 Visuals - Square Sayings
You must be familiarized with this old quote: A picture is worth 1,000 words. You may write 1,000 words on your posts, but it is too boring to get the audience's attention. This is why visuals are important in any social media platform. In this case, Square Saying is a master specializing in using visuals to spread its contents. They have created promotional products like phone cases, t-shirts, and more based on their interesting graphics.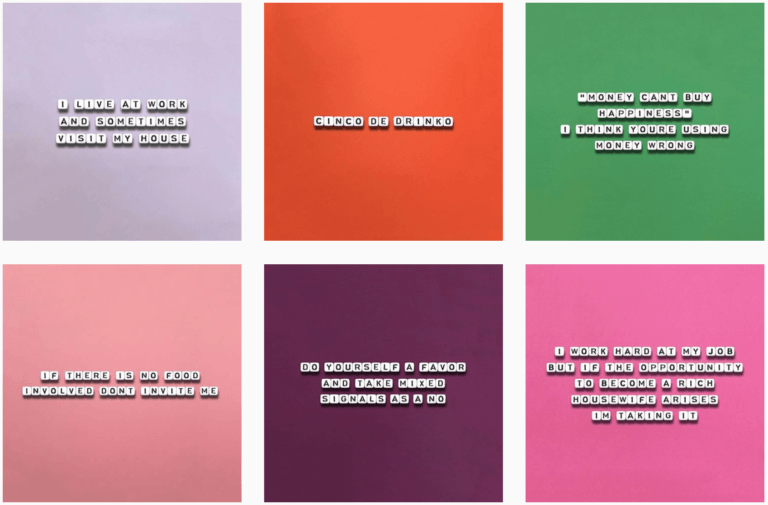 Powerful visuals help sell products and entice prospects to make a purchase. Square Sayings did a good job of emphasizing their visual content.
#4 Cross-Channel - Casper
Individuals tend to use more than one social platform. Therefore, your brand must also utilize all of the prospective social networks connecting to your customers. Casper is a really good example for you to follow. They are using basics like Facebook, Instagram or Twitter, but also actively participate in Spotify, Youtube and IGTV.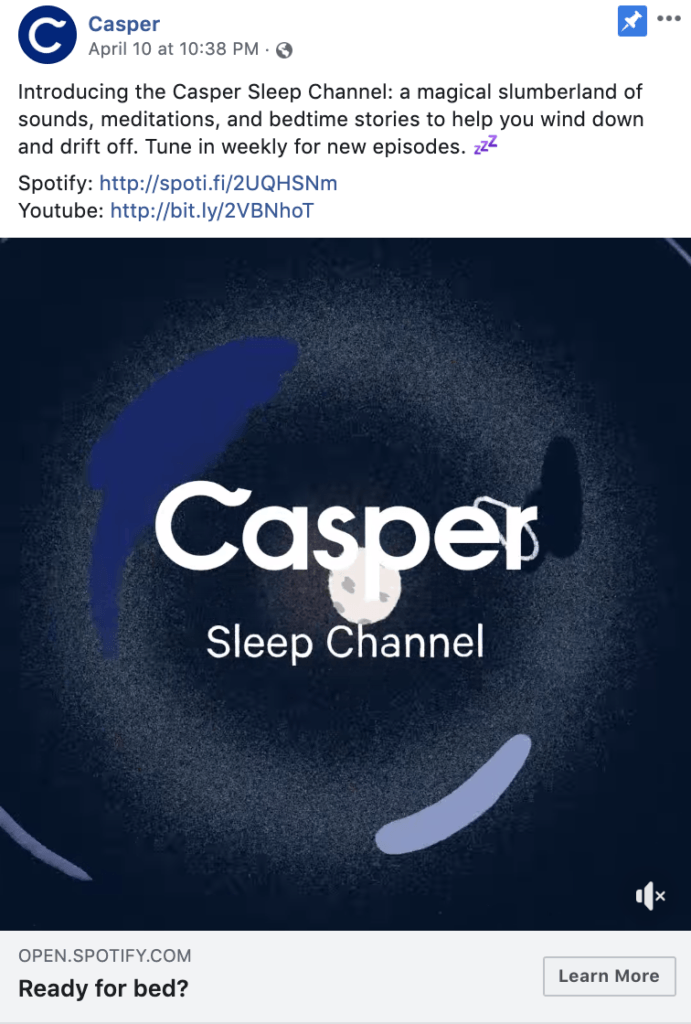 However, Casper did not choose the platform randomly. They choose them because most of their customers use those social platforms, or directly connect with what they sell. In this case, Casper is filled with soothing sounds that help its customers drift soundly to sleep.
Therefore, they take advantage of Spotify, Youtube and IGTV to get more opportunities to get social sharing. If you get access to the social pages of Casper, you will see a wide range of social sharing widget or social sharing logo when you press the sharing button.
Final words
Please consider carefully before making a decision on which social networks you want to open. The more social sharing best practices you learn, the more effective you will become successful.