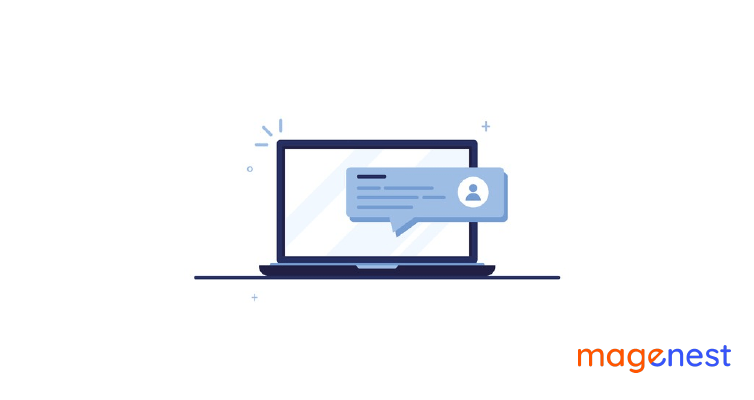 Web push notifications have already become one of the most essential tools to engage with customers in E-commerce. That is why regularly checking the web push notifications statistics offers businessmen a better perception of how to use web push notifications effectively. For those of you who are not clear about the history of web push notifications, we have already summarized its history right below.
History of web push notifications
Although web push notification is an extremely common tool nowadays, its history can be traced back to 2009. In June 2009, the first push service called Apple Push Notification Service (APNs) was launched by Apple.
Despite being the first company in the market, Apple couldn't be the leading company. Shortly after the launch of APNs, Google also joined the game with C2DM (Cloud-to-Device Messaging) in May 2010.
In May 2013, Google introduced "rich notifications" to its service. This allows images as well as action buttons to reach customers more easily because they can take immediate action from a notification.
In 2015, push notifications are now popping up on the desktop version of Chrome. Chrome users now can have their information that stayed up-to-date and relevant to their preferences.
In 2016, Push stories (carousel or multi-image push) were supported by Apple and Android. Push notifications evolved from simple means of communication now can be shown up in many forms such as GIFs, video, and audio.
In the current implementation of Chrome, users can receive push notifications when the web app is in the background. Thanks to the collective effort of big companies like Google and Apple, website notifications have become much more fun, relevant, visually appealing while still maintaining customer privacy as the number one priority.
Web push notifications statistics
We have already divided the statistics into smaller categories. Take a closer look at the categories that you concern about the most. Please keep in mind that all the statistics were the 2023's. Things can change extremely fast in this year 2023, but then it still worth taking a look.
Push notifications opt-in rates
By industry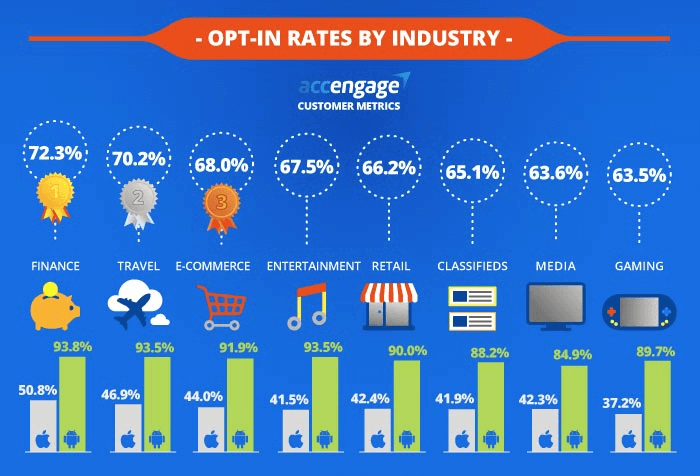 According to Accenage's Push notification Benchmark, finance was the subject that users consider the most to turn on push notifications on their devices. Travel and E-commerce were followed by 70.2% and 68% respectively.
By European countries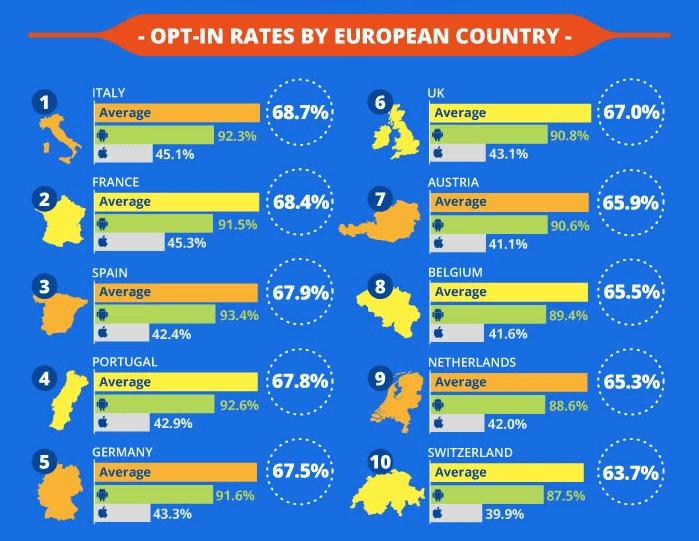 Push opt-in rates for Android devices are reported mostly higher than that for ios devices and the highest app push notification opt-in rates are seen in Spain at 93.4% for Android devices. Italy is at the top for the highest average opt-in rates at 68.7%. Although the opt-in percentages are not the same for countries, the differences are very slim.
Push reaction rates
By industry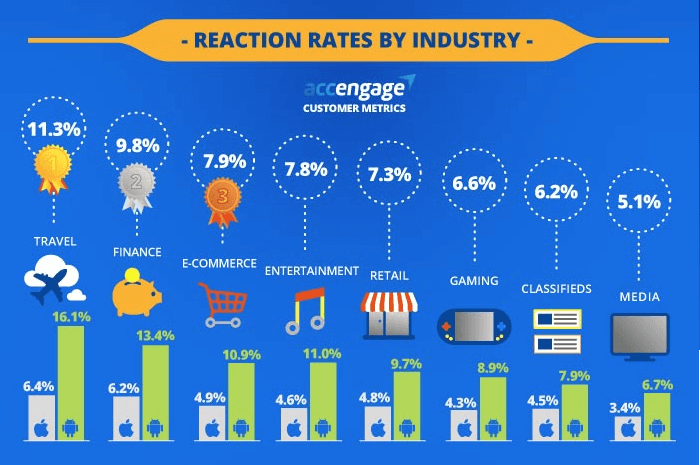 The statistics show that customers are more likely to react to push notifications when it comes to travel, finance, and e-commerce fields, followed by entertainment and retail.
By days of the week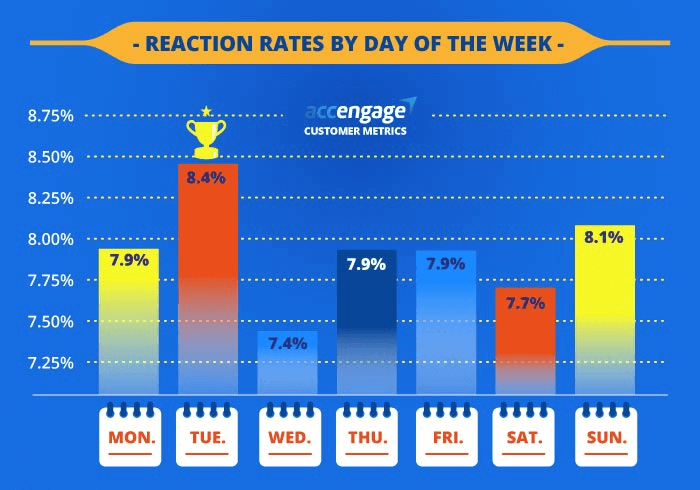 There is no great difference in reaction rates over 7 days of the week. However, contradict most people's belief, the highest reaction rates of the week is Tuesday. We did expect that weekend would have the highest response rate, but then again the true statistics tell us a different story from our belief.
When are push notifications sent?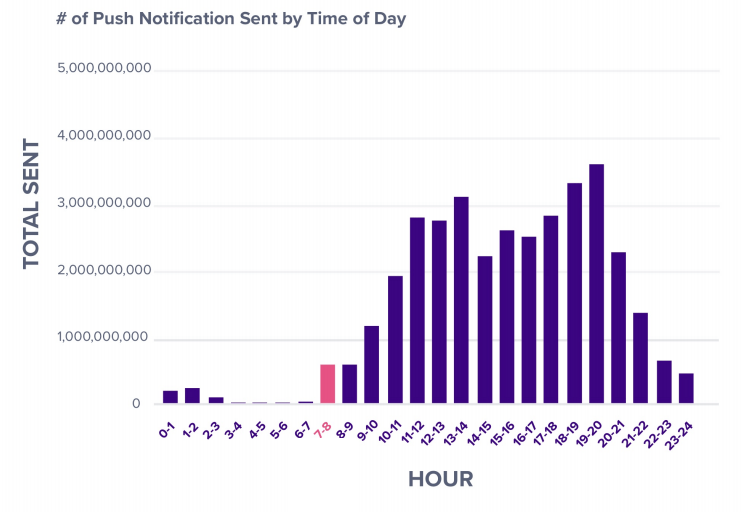 This chart basically tells us a story that we already know: more notifications being pushed in the day-time and few or none notifications at night. Simple to understand for regular people, but real CEOs view this chart very differently. This chart says that if you send your notifications during the daytime, there are tons of competitors battling with your ads. However, if you are willing to send notifications at night, the risk of being marked as spam from customers is certainly high.
Who are push notification senders?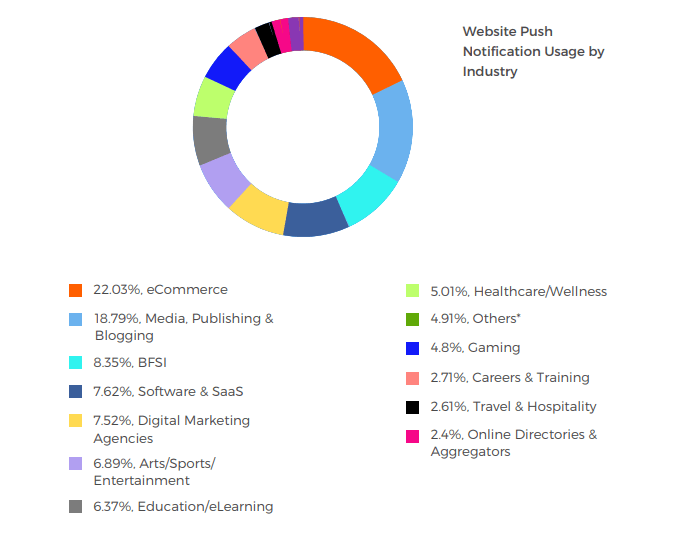 It's found that e-commerce companies are the biggest senders in push notifications with 22,03% of the total, followed by media, publishing, and blogging. These two alone make up for over 40% of businesses sending website notifications. Other industries rarely can catch up with these two business fields.
What is the function of push notifications in the e-commerce sector?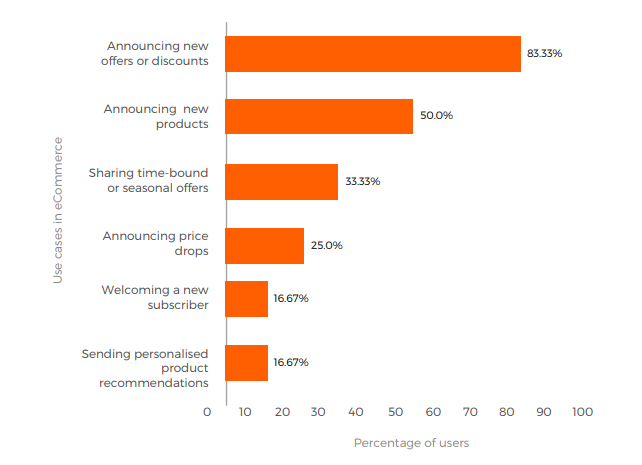 The e-commerce business mostly sends them to announce to their potential customers about new offers and discounts. Five out of every six notifications are sent for this purpose in the e-commerce sector. Announcements for new products are also popular options to use push notifications.
To boost sales with web push notifications, our store provides Notification box to help you inform your customers about important news such as order status updates, new products, available promotions & discounts, etc. in a quick and effective way.
What sorts of apps do users preferably receive push notifications from?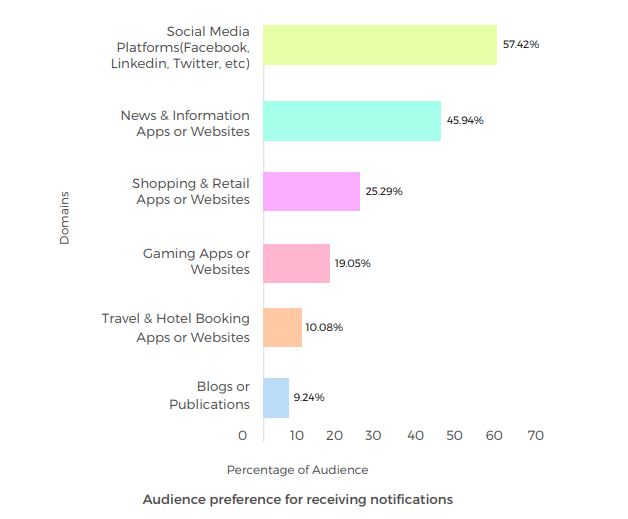 According to VWO Engage's stats, users are more interested in receiving notifications from social media apps. News and information from other apps and websites are also very popular but not blogs and publications notifications.
When do users like to receive push notifications?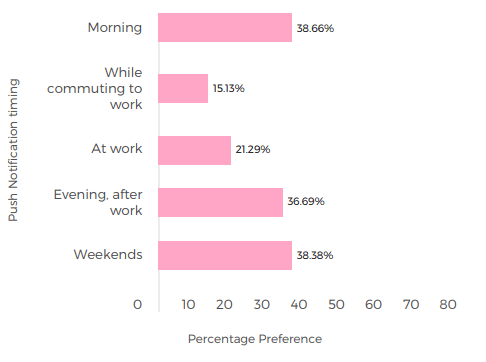 Push notifications are more welcomed when they are sent in the morning when people open their devices to catch up with the news or in the evening time when they are relaxing but not when they are busy working or on the way to work. Notifications can attract more attention if they are sent at the right time, plus no brands want their customers to mark them as spams
What is the length of ideal push notifications by industry?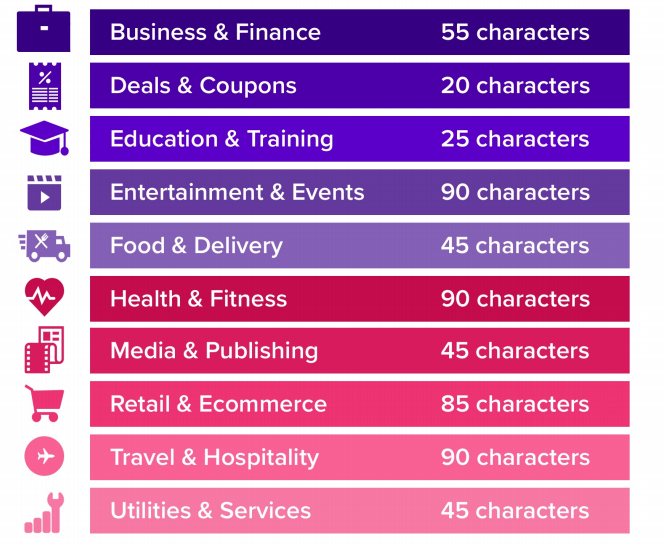 The ideal length of a push notification varies according to which sector it comes from. Entertainment & events and travel & hospitality need to send 90-character messages to convey their content to customers in the best way, while deals & coupons and education companies only need about 20 to 30 characters to have disciplined and concise announcements.
Frequency of push notifications/CTR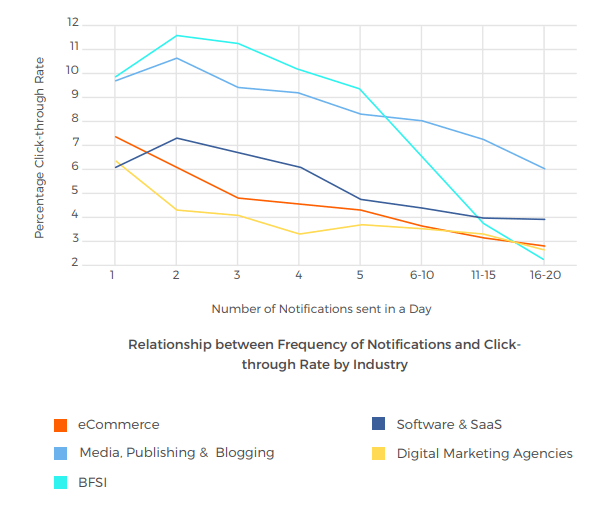 This data from VWO Engage indicates the ideal numbers of pushes by industry.
CTR has an inverse relationship with the frequency of notifications. According to VWO Engage push notifications statistics, two pushes are the peak of CTR in e-commerce and media-publishing-blogging sections after that its frequency falls sharply. In general, no company should send more than 5 push notifications per day, otherwise the chance of being marked as spam is really high. While careers-training and digital marketing apps can make a profit by sending more push notifications, those in arts, sports, and entertainment need to limit the number of web push notifications sent.
What are "power words" in push notifications?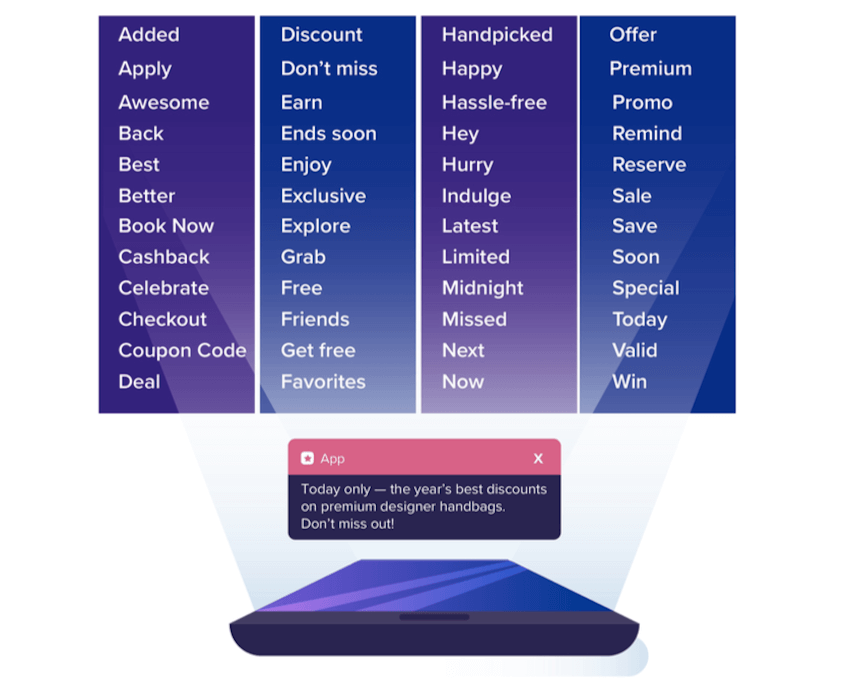 Some words result in strong engagement, so they should be frequently used in messages for customers. For example, words suggesting urgency like "soon", "missed", "only today", etc, or words indicating quality such as "incredible", "awesome", "premium" and as always readers love "free'' and "get a free one by one"...
On the other hand, some words should be avoided in any circumstances if brands don't want them to be counter-productive.
Conclusion
Web push notifications play an important role in the marketing business, especially in online business. Therefore it's vital to know more about how it should be used best and what needs to be done to improve its effectiveness and attractiveness to web users. Carefully analyzing the web push notifications statistics above can somehow help store owners make good use of their resources by using this wonderful tool properly.