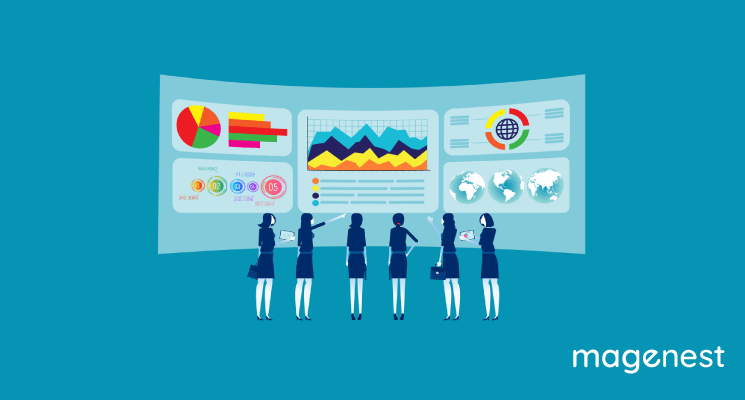 Whether you are a B2C content creator or a B2B marketer, your goals will be to spread your brand image and satisfy the needs of your target audience. While there are many ways to increase the number of subscribers and traffic to your site, content syndication stands out because it's a cost-effective method to help you boost your brand awareness as well as improve SEO performance.
In this blog post, we will show you why syndicated content has become a valuable marketing tactic these days and how to apply it to your business. But first, let's explore what content syndication means.
What is Syndicated Content?
Syndicated content is the process in which web-based content is republished by a third-party site. All types of digital content such as articles, blog posts, graphics, videos, etc... can be syndicated. The third party will get free and relevant content and post them on their site. Meanwhile, the content creator in turn will get free publicity, exposure, and backlinks to boost their traffic volumes.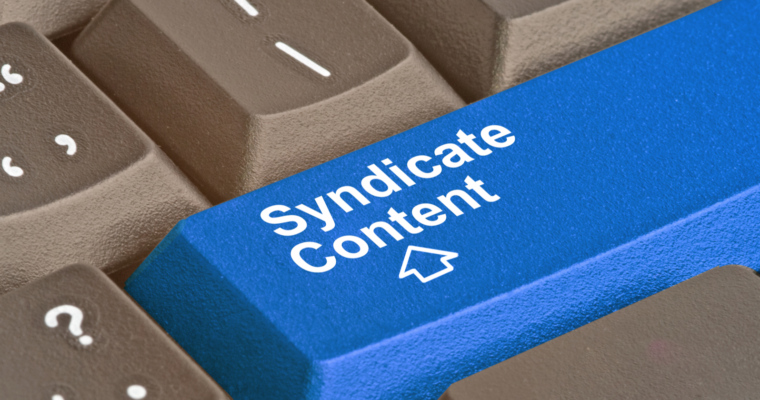 The word "syndication" is not new in the media industry. Before the invention of the Internet, magazines and newspapers with a large number of subscribers sometimes printed syndicated content written by freelance writers and other smaller publishers. This is considered a win-win situation because the smaller would benefit from reaching a much wider audience whereas the large publisher could get more content to provide for their readers without having to invest too much money and resources to create it.
It's necessary to note that even though content syndication may seem similar, it's not the same as the guest blogging method. In a guest post, the content is completely new and written specifically for one website whereas syndicated content is the same piece of content that is republished with the permission of both the original writer and the publication.
Usually, a reader can tell if an article is a guest post or syndicated content because there is a byline or a mention of the page about the original source. This kind of reference is important as it gives credit to the original author to avoid issues related to duplicated content.
Syndicated Content and SEO performance
As you might already know, Google prefers fresh content and discourages duplicate one. Google may not give out a direct penalty to you for posting duplicate content but it will surely lower your rankings on its search engines.
The good news is that syndicated content is not considered duplicate content and it's totally okay as long as you can make it obvious to search engines and readers that what they see and read is made from content syndication.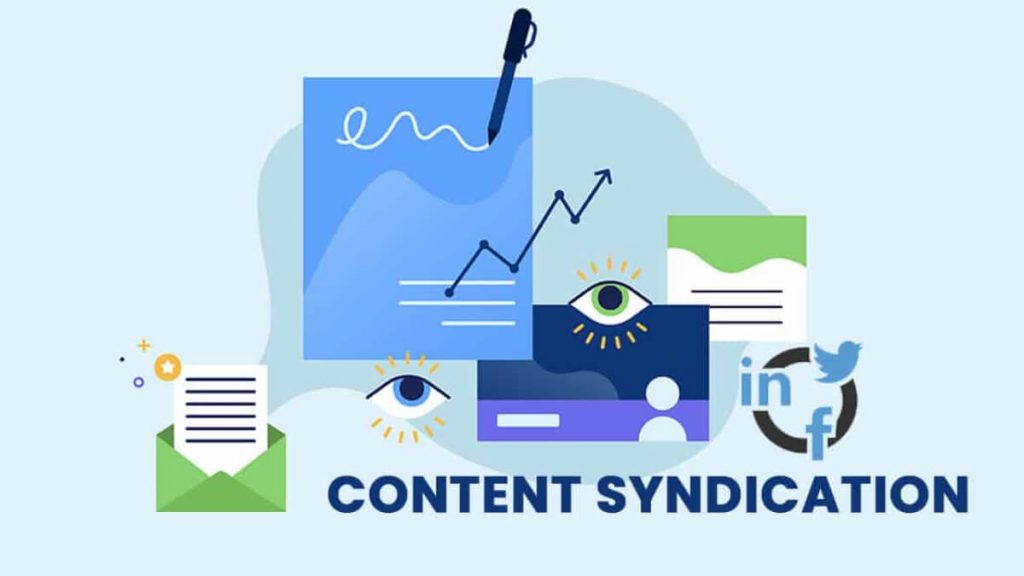 What are Content Syndication Solutions?
There are 2 ways to make your syndicated content SEO-friendly: free or paid. In the first approach, you will find suitable publications and then start pitching your content, also try to build partnerships to have your content posted. For the paid solution, you will use tools to have your content recommended to major publications in a quicker and easier way. Later in the post, we will discuss both methods of content syndication with more details as well as explore what syndication providers you should work with.
Free Content Syndication
With the 4 primary ways below, you can syndicate your content for free:
1. Republish your best or latest content on higher-level websites than yours
Since bigger websites have more audience and higher authority than yours, posting your content there allows you to reach more readers. However, you should know that they may lack some incentive to check out the original source because they already could consume the whole content directly on the website from a third party. That means only a small percentage of the audience will pay a visit to your site. Therefore, one of the main goals of syndicating is to increase your brand awareness.
2. Syndicate on the website that has a similar audience and readership as yours
Especially if you want to put emphasis on a niche market, it's essential to consider syndicating content to smaller and more-focused publications. Look for websites that have roughly the same audience and authority as your site. They are more likely to allow contextual links for reference so that you can put backlinks to your blogs in the article. Since you and the target website both have the same audience, readers will likely click and discover relevant content you posted.
3. Guest posting on bigger publications and syndicate the content later on your website, LinkedIn, or Medium
Sometimes it's better to publish your fresh and original content on a big website first to reach your targeted audience on those top sites, those you can hardly reach. Then depending on the publication, you would be free to republish the content to your audience on other social channels.
4. Get selected by websites that naturally syndicate content
Just type the title of an article from a top publication into Google Search Engine, you will see that it's actually picked up by many smaller publications. They usually publish some short excerpts from the original content and give credits to the source.
Paid Content Syndication
What about paid content syndication networks? Are they better than free syndicated-content solutions?
Big brands often choose to collaborate with big publishers but this tactic is not suitable for small brands with a limited budget.
Working with paid syndication partners is when you pay to have your content published on the websites of those paid syndication partners so that your content would reach a greater level of audience engagement. Like Google Ads, paid service providers also charge fees to publish your advertising and promotion content.
Compared to free syndication solutions, paid syndication is much more straightforward to get your content posted in reliable publications. Sometimes it's the only way to get your content featured on famous sites like CNN and BBC.
Top Content Syndication Providers
#1 Quora
Pricing model: Free
Quora is a well-known social media platform that allows people to ask questions that are not easily answered with Google search keywords. With Quora, users can create personal profiles to share their professional experiences and hobbies as well.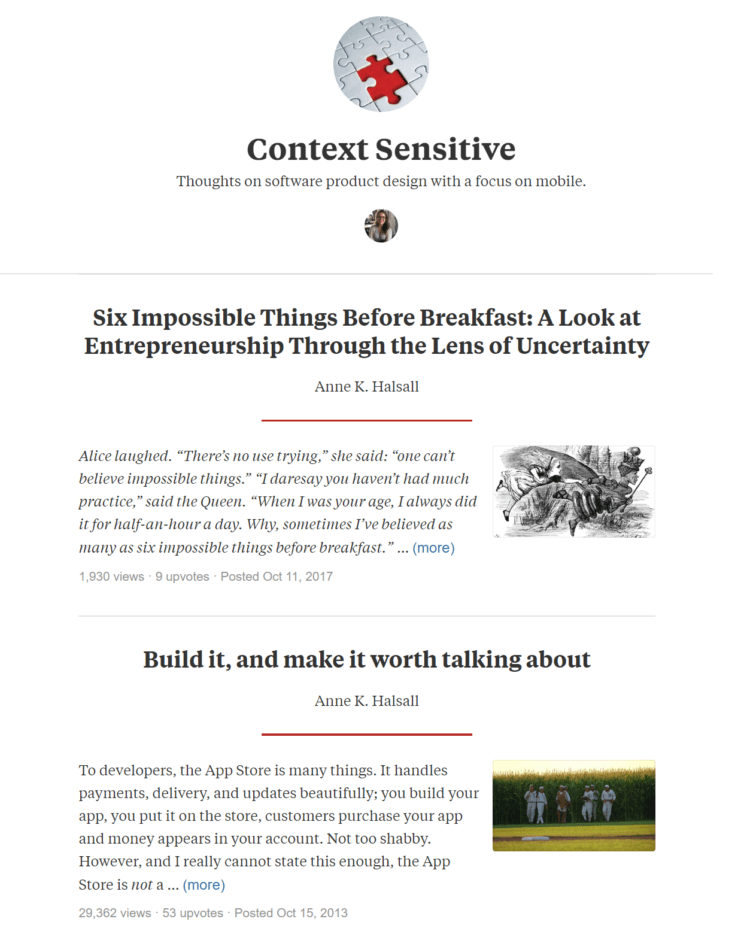 Quora also offers a blogging platform for writers who haven't had an audience base before. Bloggers on Quora don't need to have much knowledge of SEO and cover much SEO work because this platform is made very easy for people to discover content. This is an advantage because writers can instead focus on creating more compelling and valuable content for readers. B2B businesses can use this platform to share their blogs and interact with engaged readers.
2. SlideShare
Pricing model: Free
The slideshare platform is designed to help leaders share their expertise on the Internet. Slideshare was purchased by LinkedIn in 2012 and has been constantly in the top 100 most visited websites worldwide.
SlideShare users can share documents, PowerPoint presentations, videos, and graphics. This platform has sophisticated search functionality so it's simple for your readers to find content.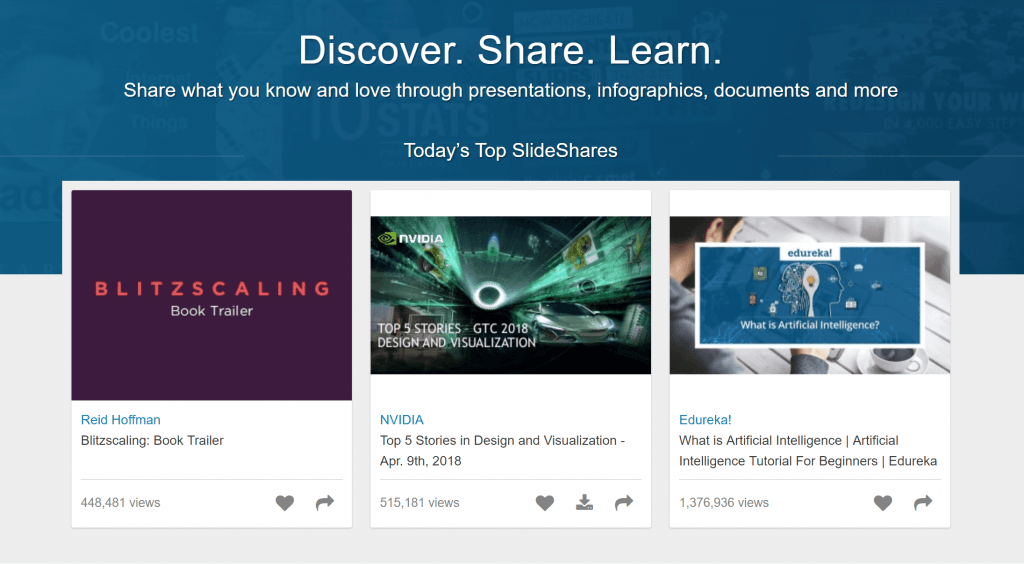 3. LinkedIn
Pricing model: Free
LinkedIn is a highly useful distribution platform and content syndication. Designed for business people, LinkedIn is an ideal solution for B2B marketers.
LinkedIn allows you to share your expertise and knowledge with not only people in your network but also those in your secondary professional network. The more likes and shares your content gets, the more impressions it can gain.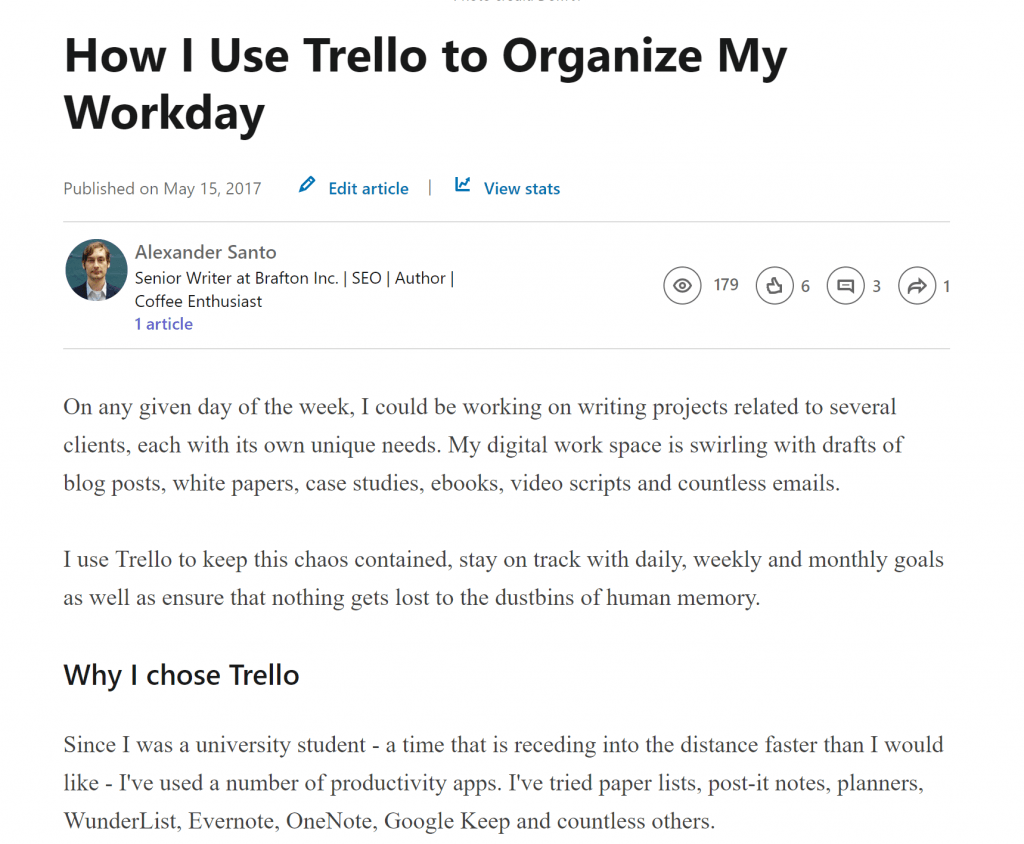 4. Facebook Business
Pricing model: Free and paid
Facebook Business provides organizations and individuals with the ability to share their expertise with online readers through free and paid channels. There are several options such as paid advertisements, audience analytics tools, and sponsored posts. Although these options don't enable you to fully reproduce your content on Facebook, you could share links and snippets.
Facebook Business can help you connect with relevant audiences. For example, your new audience can be those who have not interacted with your brand but they have similar web surfing habits to your current audience. That can work thanks to the algorithms that Facebook uses to target users and expand the reach of your content.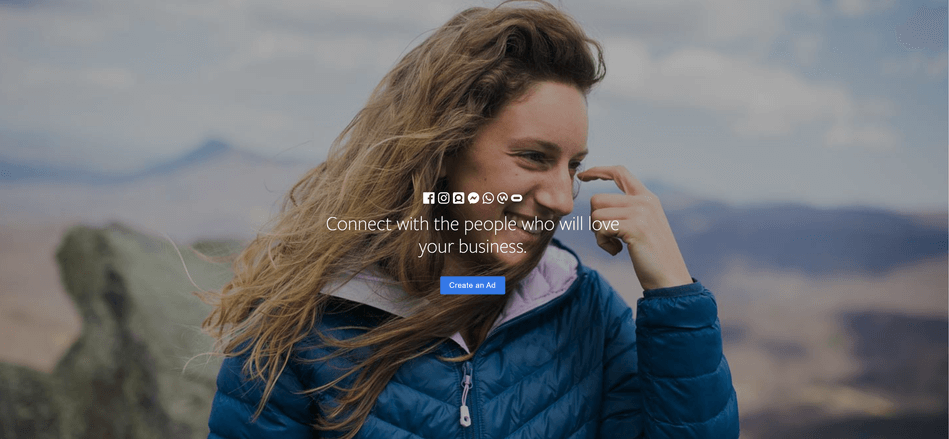 5. Reddit
Pricing model: Free
This is another platform that allows people to share links and content from around the website. Reddit is one of the most popular sites in the US and all over the world. There are sections called subreddits where communities are centered around a particular topic. These communities range from forums with daily topics like pets to industry-specific forums such as r/WebDev, a place where developers and programmers discuss their problems.
6. Soundcloud
Pricing model: Free and subscription
Soundcloud is an amazing platform to reach audiences if you often have content in the form of audio like podcasts. Like iTunes, you also can upload and share your content for free on SoundCloud or sign up for monthly or yearly subscriptions to enjoy more features including detailed analytics and fine-tuned audio controls.
To succeed, your podcasts should reach a wide audience and the best practice to make it come true is to syndicate your audio content on many platforms. For example, if you only publish your podcasts on iTunes, you are likely to miss out on a large number of other listeners. But don't worry, just some basic skills with RSS feeds, you can easily sync your iTunes and Soundcloud and upload your content at once.

7. Youtube
Pricing model: Free
Another syndicated content provider we want to mention is Youtube, a social platform with more than 1.9 billion active users worldwide per month. Obviously, Youtube is a great choice for video content syndication. Youtube users can easily upload their informative videos, presentations, and tutorials within a few minutes after creating a Youtube account.
To track each video's performance, go to the YouTube Studio section and you will see an analytics dashboard. There you also gain many insights into your audience's behavior to have a clear aim of how to attract more viewers.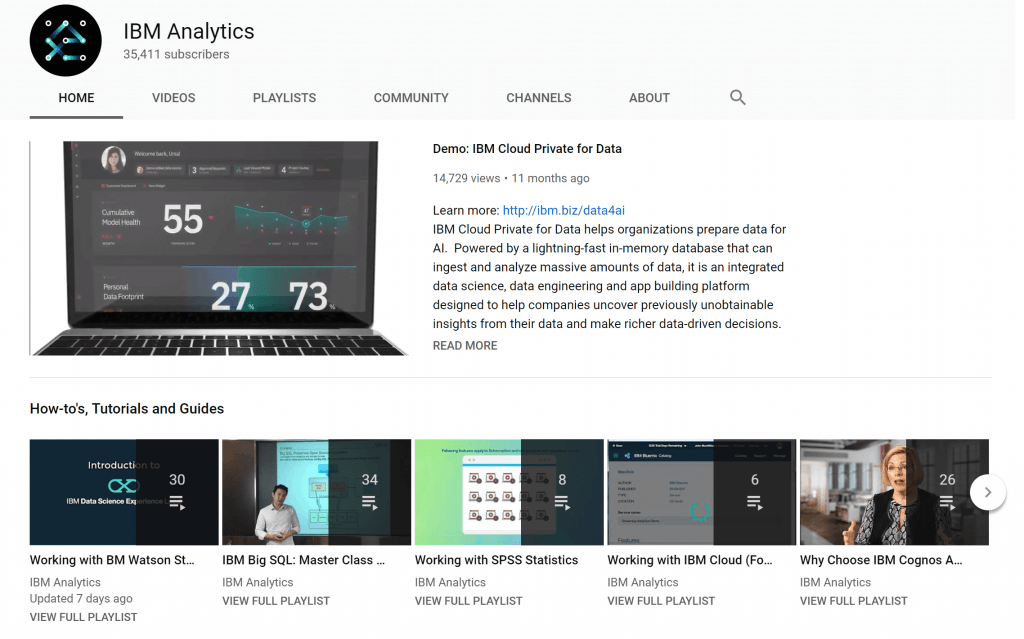 8. Pinterest
Pricing model: Free and paid
Pinterest is a powerful platform when it comes to creating infographics or other visual content. Unlike other content syndication solutions, Pinterest users can display infographics in the way they want them to be seen without cropping some parts just to fit a web template.
Pinterest users could upload as many pieces of various content as they want without paying money. For users who want to create special pins to encourage audience interaction, they can opt for a paid option. For example, the Article Pins feature can show a headline or description to let users know whether it's the content they are looking for.

Pinterest is one of the best methods that help you spread your ideas in a visually appealing way, share recipes, and shoppable product descriptions too.
9. Outbrain
Pricing model: Cost-per-click
Outbrain is another name in the world of the biggest networks for content syndication. Every month, Outbrain can generate more than 275 recommendations for content. You may have already seen content from Outbrain on sites such as CNN and Le Parisien.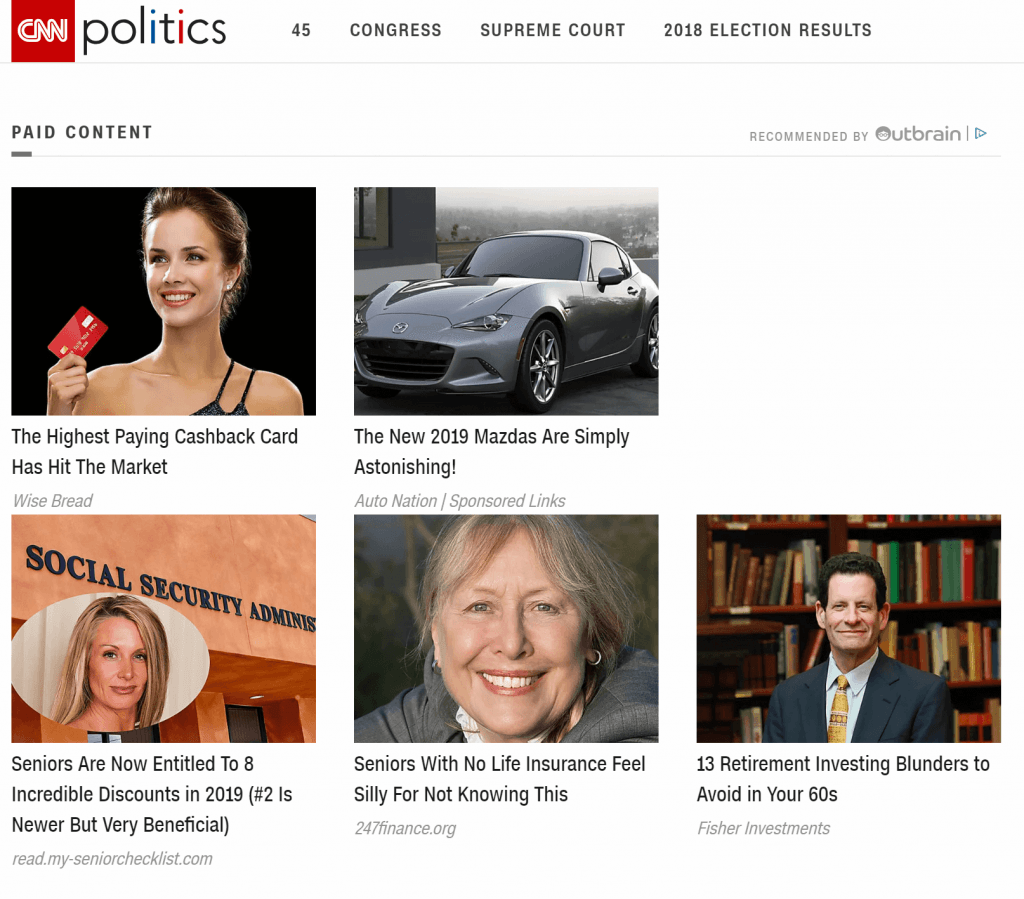 There is an extensive native ad network and distribution channels for content on Outbrain. For payment options, Outbrain will distribute content in many forms like press coverage, podcasts, blog articles, display ads, social media posts, and almost any other type out there. Though sometimes these can appear like spam advertisements at the bottom of web pages.
10. Taboola
Pricing model: Cost-per-click
The last content syndication service we want to introduce is Taboola, just like Outbrain, they provide an extensive network of publications to help distribute your content.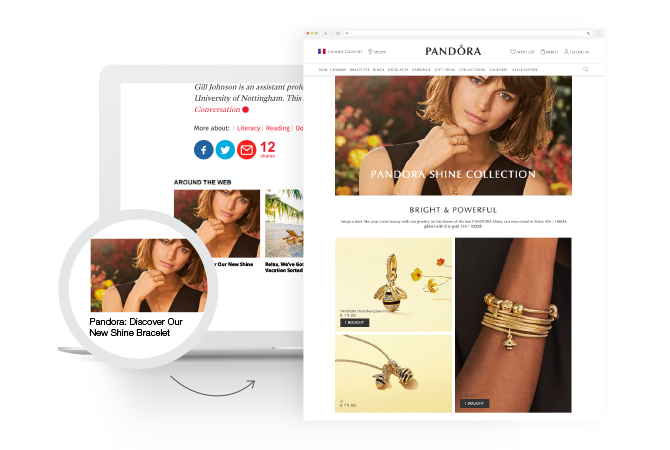 Taboola users have control over what sites they want their content to appear on. For example, if you don't want your content to be displayed next to articles regarding political issues, just need to exclude those sites through a simple dashboard. Pay some attention to this function, otherwise, your brand may appear on some sites against your wish for days or weeks before you find out.

Whether it's a free or paid syndication content provider, it takes time to find out what is the best for your online business. Above are our suggestions to help you facilitate the processing of finding a suitable solution for your syndicated content.
Conclusion
Hopefully, after reading our article today, you can get what syndicated content means, how it works and what kind of syndication partner to work with. No matter what it is, we really hope you will gain success with your content plan and tell us your amazing story here. For other informative blog posts, visit our blog store, it won't take much of your time but we're sure you will find something valuable to help you succeed in this eCommerce market.