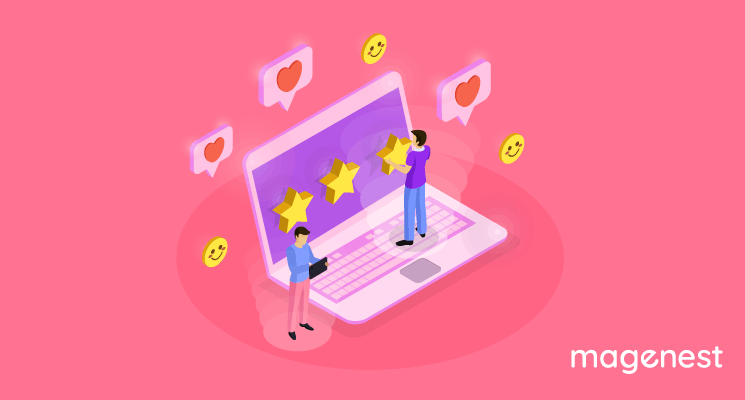 Building a great reward program for loyal customers can bring many benefits to your business, not only improve customer relationships and increase customer retention but also contribute to boosting your revenue. According to Harvard Business Review, businesses with a strong customer loyalty program witness a 2.5 times faster revenue growth rather than their competitors.
The success of a loyalty program depends mainly on how well you understand your customers and what can motivate them to come back to your store and make more purchases. In this article, you will know how to get started with your customer loyalty program in five steps.
#1 Study your current customers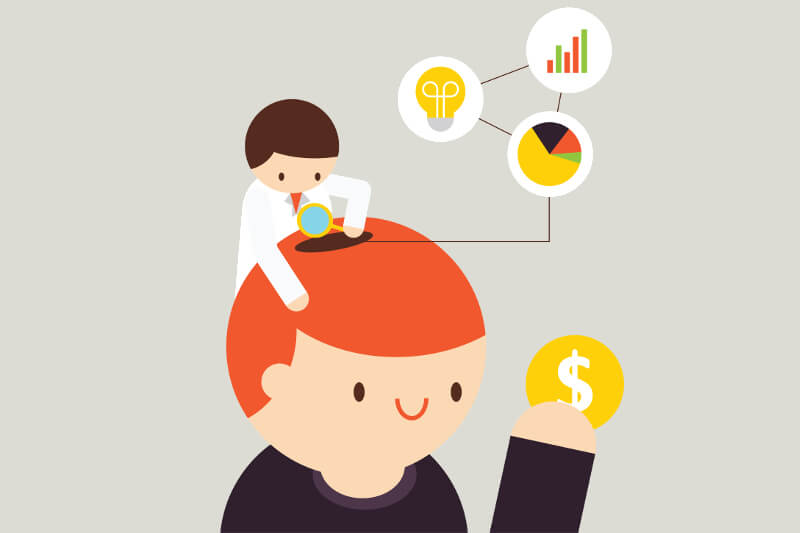 To design a perfect customer loyalty program, firstly, you need to understand your customers' needs and find out which can be the most suitable for them. You can measure the current level of satisfaction of existing customers towards your brand and know what they expect from your customer loyalty program through techniques such as interviews, questionnaires, surveys, etc.
This is really a necessary step to make sure your reward program will be attractive enough to incentivize your customers to participate. You must not have wanted all of your effort to come to nothing when customers to ignore the program just because they do not find it beneficial to them.
#2 Determine the goal for your customer loyalty program
One of the most important factors for a successful customer loyalty program is a specific and concrete goal to plan activities accordingly. If you plan to create your own reward program just because your competitors do and you want to imitate them, that kind of loyalty program is bound to fail. Therefore, the goal of the program should come from a business issue or a pain point.
You should use metrics to benchmark your progress because they can be easily measurable. It is necessary to determine the target average order value, the ideal rate of repeat purchases or the purchase frequency of customers that you want to achieve through your loyalty program. Always stick to your KPIs to keep everything on track.
#3 Choose an appropriate type of customer loyalty program
Once you have understood what your customers need and have a goal to follow, it's time to decide which kind of customer loyalty program can be the best fit for your business and customers. There are many types of reward programs for you to take into consideration, but here are some of the most common programs:
Point-based program: This is the simplest form of a customer loyalty program in which customers are rewarded for some actions they take in the store. It can be registering an account, making a purchase, writing a product review, etc.
Tier-based program: This program is based on the levels of customer loyalty in proportion to different membership tiers. When customers attain a higher tier, they will be rewarded with more exclusive and special offers.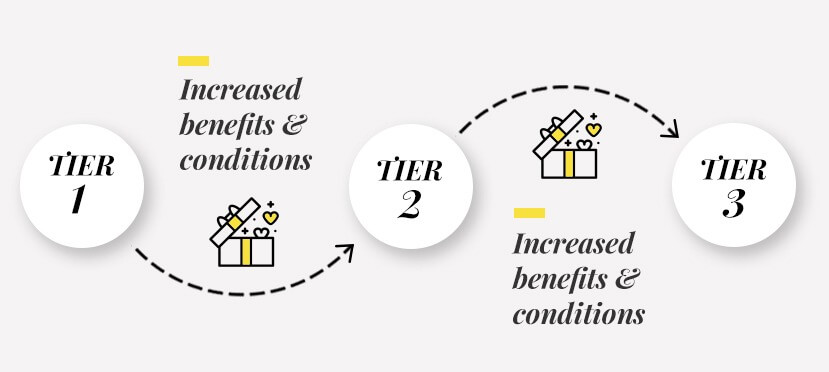 Value-based programs: This program connects to customers on a deeper level. You do not reward them directly but they can still feel like they are rewarded since your program is built based on the internal value they truly prize.
Spend-based programs: With this program, customers are rewarded based on their spending on your products or services in a specific period of time.
Gamification programs: This program allows customers to play games to earn reward points. It can be suitable for young customers who love technology.
#4 Decide how you reward your customers
Choosing attractive rewards to offer is also important since it will be the main incentive to encourage your customers to join the loyalty program and become an active member.
You should put yourself in their shoes to find the best for them. For example, would you stay in a customer loyalty program that gives you 5% off coupons as a reward although they regularly run 25% off campaigns? Of course not! In a program with such a rewards structure, you would not receive more value than those who do not participate.
The Muscle and Strength brand understands that their customers are looking for supplements and gear to improve their workouts. Therefore, the brand offers customers many attractive discounts on a wide variety of products and exclusive access to branded workout gear and equipment. This helps them satisfy every group of their customers, from those who want to lose weight to those looking to build muscle.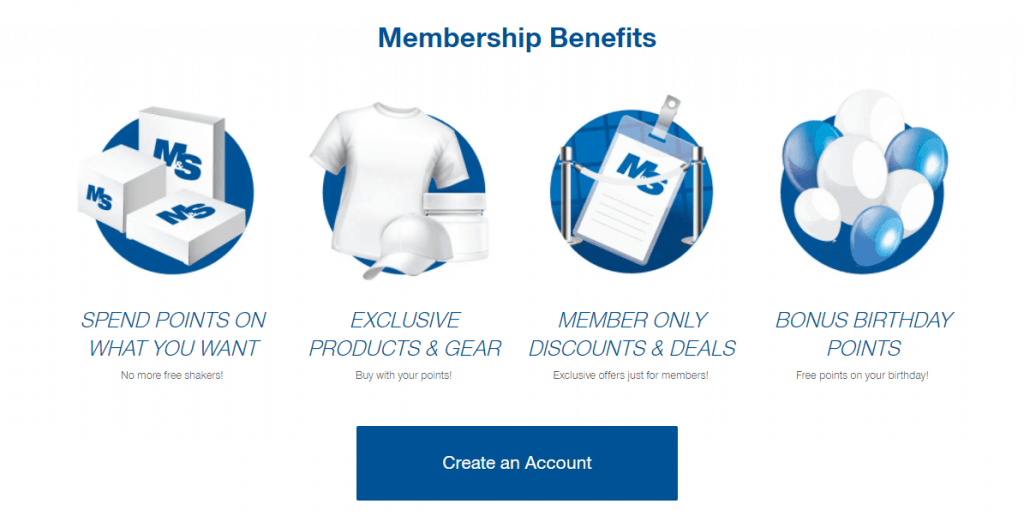 #5 Brand your customer loyalty program
Branding your customer loyalty program will make it connected to the rest of your website and easy for customers to remember, and there's no one who knows that better than Starbucks.
Starbucks has created an entire brand for their loyalty program and as a result, it has become one of the most famous and effective coffee reward programs in the world.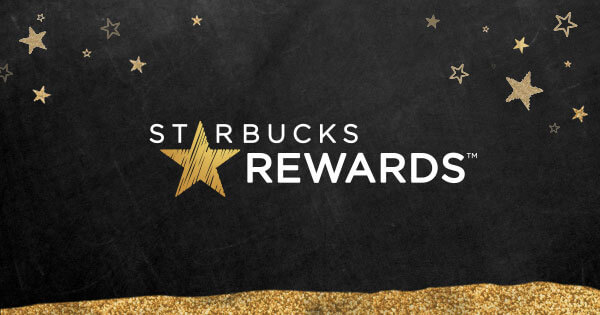 Paying attention to these details from the smallest ones will make your reward program become your customers' top of mind. From its name to the way you design the introduction page, creating a memorable brand name and style will enable your program to break through the noise.
Wrap-up
We all know that it costs you more to acquire new customers than retaining current ones, so it is better to shift your focus to maintaining your relationship with the customers you already have. This will bring in additional revenue by keeping your customers more engaged with your brand and strengthening customer loyalty.
If you own a Magento-based website, you can take a look at our Reward Point extension that allows you to build a customer loyalty program with ease, increasing customer retention and boosting sales effectively.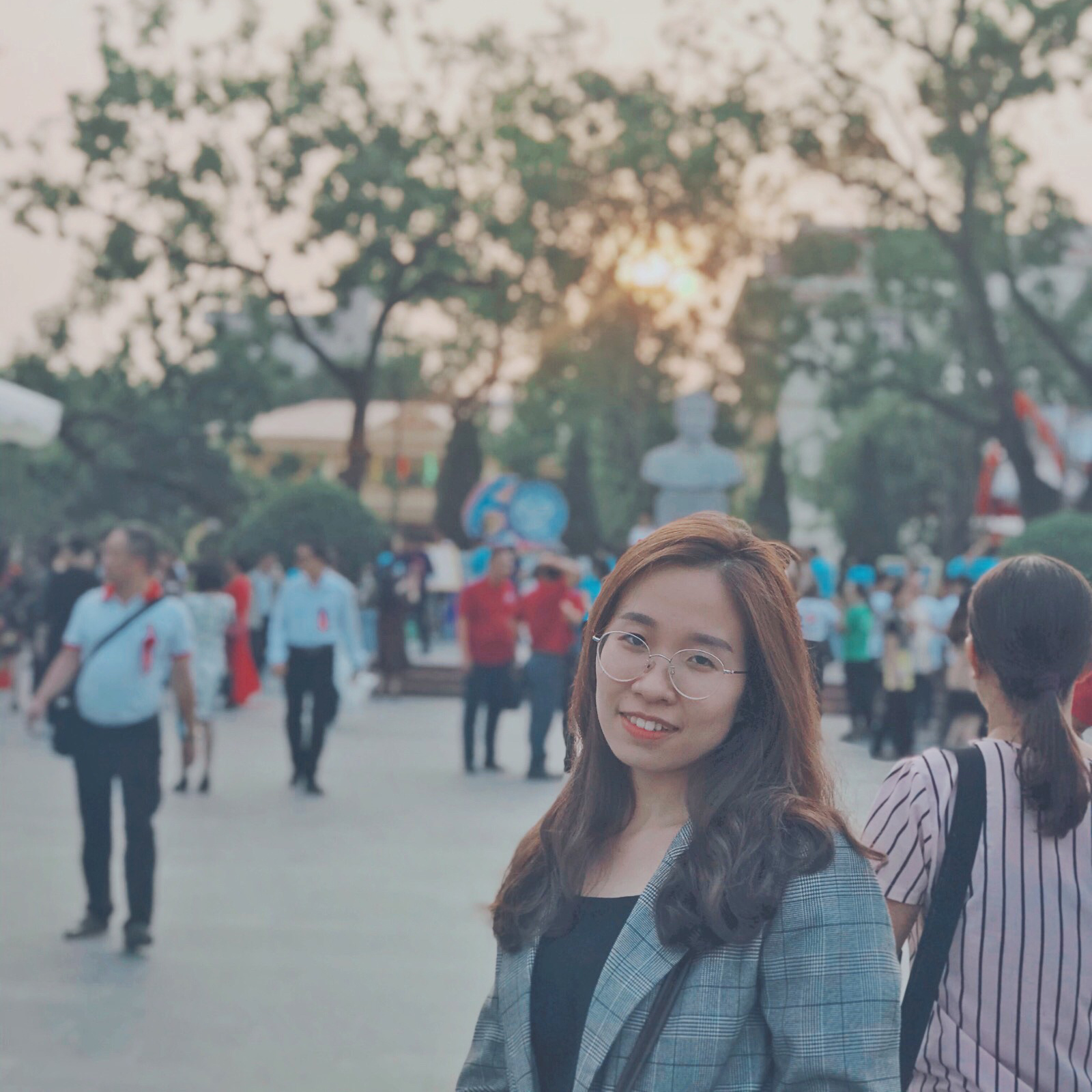 Marketing Executive | Content Manager