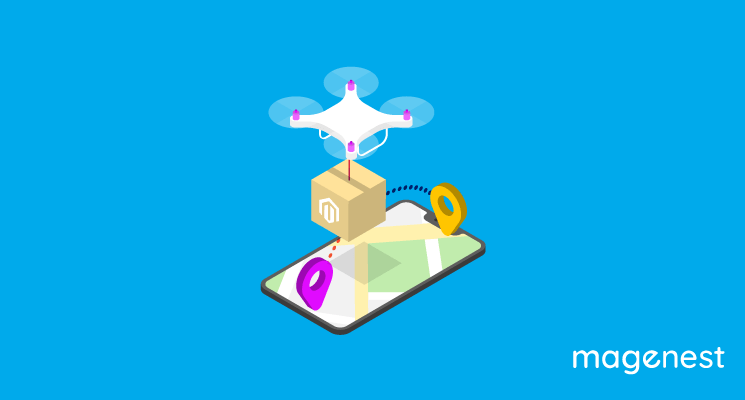 You may have heard that it is high time you started a drone business. But why now and where to start? And what should Magento 2 Merchants know about this new business trend? In this comprehensive article. We will point out elements that make your drone business stand out and thrive in this growing industry.
If you are a Magento 2 Merchant but still wonder how to start a drone business or how to make money with a drone. Don't worry, we will cover all of the essential information, steps, tips to keep you well-informed!
Are you ready for this?
What is a Drone Business?
Unmanned aerial vehicles (UAVs), colloquially referred to as drones, are creating brand new opportunities and also reinventing old businesses. In the first place, drones have been developed for the military and aerospace industries, but after years, they have found their way into mainstream usage since they can offer huge benefits for our safety and productivity.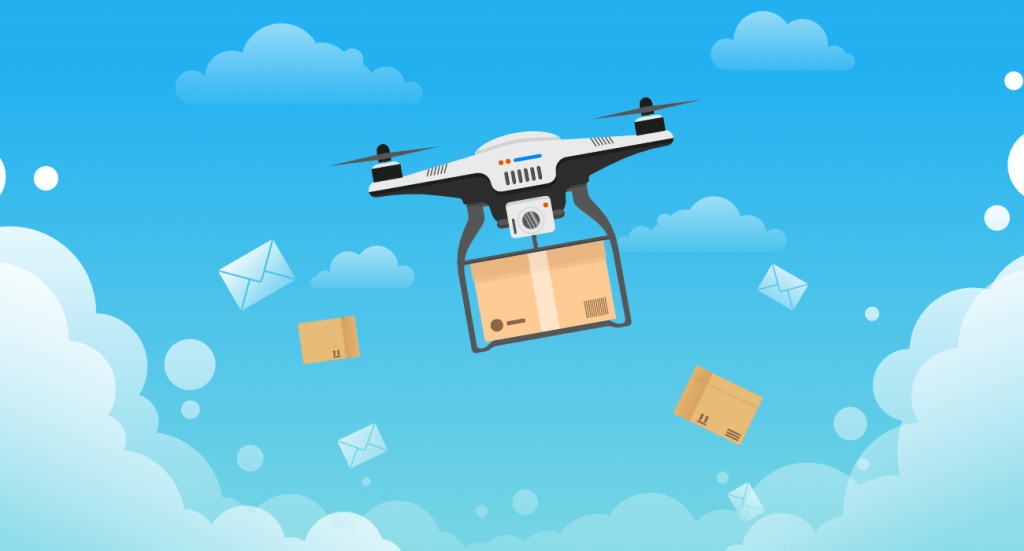 Drone services, also known as UAV services, is the emerging market for services established around flying robots that can fly autonomously under software-controlled flight plans in their embedded systems. This helps industries, such as agriculture, construction, package delivery, search and rescue, insurance, with tasks like measurements, collecting imagery, and managing or broadcasting events.
Why Start a Drone Business?
Over the past few years, the drone market has been growing rapidly with several industries integrating drones into their day-to-day operations. When the industry became more feasible (following the Part 107 FAA Drone Rules), aeronautical experts have forecasted that the industry was primed for entrepreneurial growth on all fronts. Ever since many entrepreneurs have been undertakịng the initiative to start a drone business so that they can grow with the UAS industry at the same time.
A recent report reveals that the drone market is expected to grow from $17.82 billion (2017) to $48.88 billion by 2023. According to MarketsandMarkets, the drone industry has been growing fast thanks to the improvement in venture funding, the increase in demand for commercial drone data, and a lot of other advancements in technology.
The Association for Unmanned Vehicle Systems International (AUVSI) published an economic impact report on the integration of drones in the U.S. The full report sets out every economic benefit including the impact each U.S. state will resist. Some main statistic regarding economics include:
The global drone market is worth US$14 billion currently; which figure is estimated to grow to US$43 billion by 2024.

Between 2015 and 2025, the economic impact of the integration of drones will add up to more than $82.1 billion.

By 2025, Integrating drones will provide an estimated 103,776 jobs.

Also by 2025, tax revenue to the states will equal up to $482 million.

For every year of delayed drone integration, the U.S. loses more than $10 billion (approximately $27.6 million per day) in potential economic impact.
Why Drone Business is Skyrocketing in Recent Years?
There are very few pieces of technology that electrify tech lovers and the general public. The unmanned aerial vehicle, commonly called drones is one of those animated technologies that have gotten many moves during past decades and will keep at affecting every business possible, on account of future technology advancements.
Typically, an unmanned aerial vehicle refers to a pilotless aircraft that operates via an aggregate of technologies, together with object avoidance, artificial intelligence, and other sensors such as LIDAR (a remote sensing tech that uses rapid laser pulses to map out the earth's surface).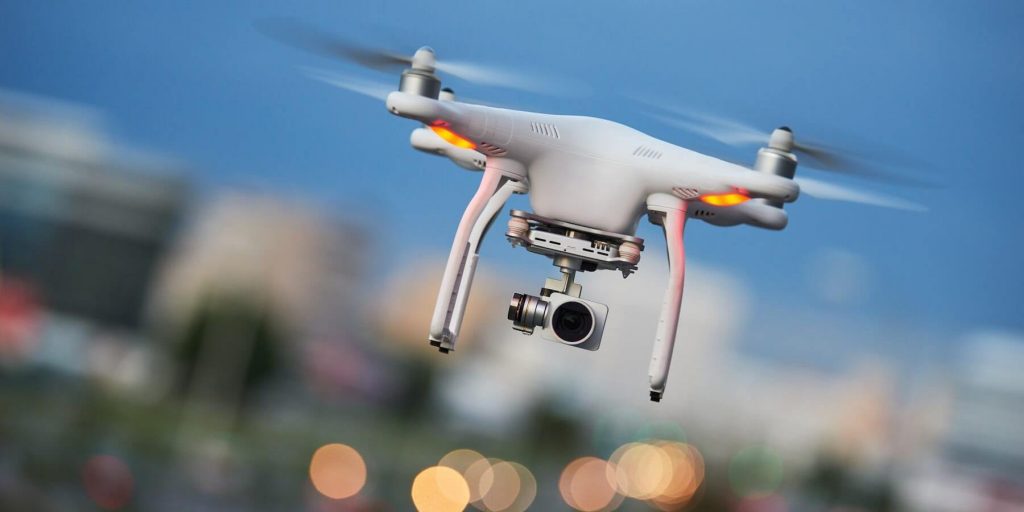 Businesses from various industries realized that drones have several commercial applications, some of which go beyond basic photography and surveillance which are being used already to transform everyday work in every industry vertical.
Insurance businesses are also using drones to examine damaged assets, farmers are sending them to control crops and collect soil data. Since innovators explore band new ways and use cases, even more, marked changes could be in store.
These are some suggestions for you to grasp the popularity of drone recently:
#1 Projected Market Hike
Projected market hike of unmanned aerial vehicle FAA predicted that seven million unmanned aerial vehicles or drones will be seen adorning the sky and commercial drone sales will reach 2.7 million alone, by 2020. Since the technology is proving reliable, there will be an increasing demand for job-specific drone platforms.
On the other hand, the Chinese giant DJI dominates the market with above 70% of the share, up to this time. Also, Amazon has proposed a drone delivery service by 2026. Developments within could indicate how commercial drone usage and investment will proceed in other markets.
#2 Process of Efficiency and Time-saving
Drones have been proving to be the most vital tool in multiple sectors. They are fast, convenient, and capable of delivering in just a few moments.
While traffic affects every other traditional means of transport, drones are apparently immune from it. They are much smaller, light-weighted that gives emergency response teams an ideal solution for recognizing victims in the required time. This can save a lot of time and other resources with an improvement in operational efficiency.
#3 Providing More Employment
Drones won't necessarily be harmful to employment. It can't be denied that some jobs will get replaced, but within which will be replaced with better opportunities. Nowadays, many institutions are offering piloting certificate courses, which may help multi-rotors fans and other tech lovers to get the particularized path.
Drones can gather far more data points than humans. This will replace lower-level operations with more analytical positions. A pilot certification will be required to efficiently operate drones.
Besides, some of the roles may get replaced by people trying to do something to mitigate against environmental harm which will be a big step towards protecting our environment.
#4 Fulfilling Several Functions
The sky's limit when it comes to drones.
Drones by design enable researchers to reach the skies and capture visual data with the top computing power and programming. They can translate any landscape into a data point, which can then be adopted in several ways and multiple industries.
Typical Types of Drone Business
Drones and their various applications proceed to grow in prevalence as entrepreneurs discover more and more uses for them. This could be the business idea for you, with the appealing idea of running a drone business and offering very niche, highly specialized services.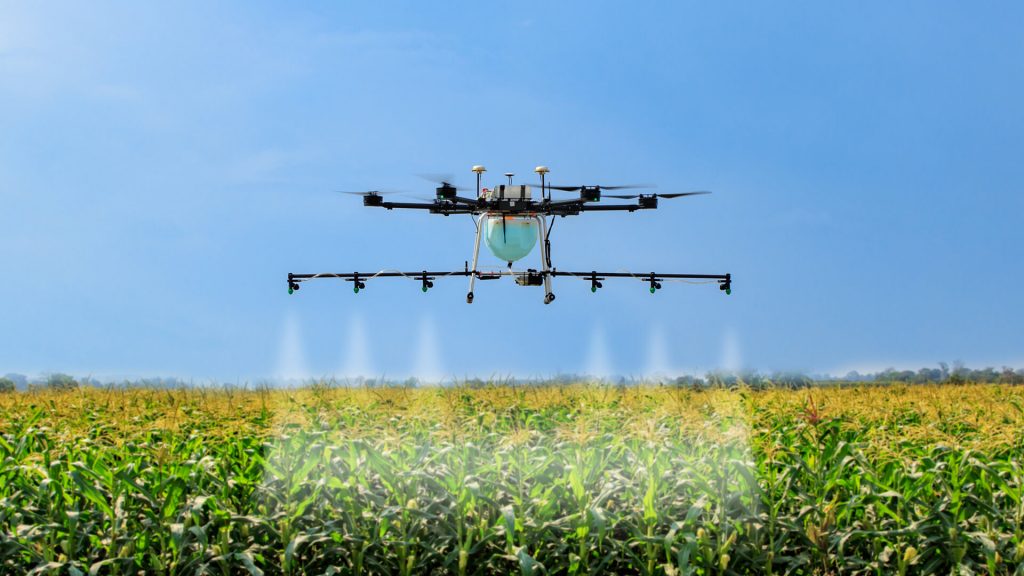 Before starting to invest in different types of drones, here are some typical types of drone business that may provide you with valuable insights and strategies into this new industry:
Drone Filmmaking Business

Drone Photography and Videography Business

Drones Agricultural Business

Drone Advertising Business

Drone Inspection Company

Drone Courses Provider Business

Drone Repair Service Business

Drone Leasing Business

Drone Real Estate Business

Drone Mapping Business
Read more: Types of Drone Business that Magento 2 merchants can try in 2021
What Should Magento 2 Merchants Know About this New Business Trend?
Drone technology was formerly used in the fields of photography, communication, security, research. As this technology advances, more and more uses come to light.
Among those, the most outstanding new use is in retail delivery. As for online retailers, drone package delivery indicates a far easier and faster to ship orders right to a customer's doorstep.
The biggest factor in this drone market growth is its adoption in commercial deliveries in more than US$300 million has been invested since 2012. As a result, by 2030, drone deliveries are expected to grow retail sales by 22%. So if you are a Magento 2 Merchants, there is something about this trend that you may want to note down.
#1 Drone Delivery Service
Drone services involve delivering packages with a UAV, which will be especially useful for small packages. All items like books, medicine, documents, or food can be delivered with no problem.
Using drones instead of trucks could save you and your customer a huge amount of time and cost. It could be considered the most effective method of delivery, for last-mile fulfillment of packages between 0.5kgs to 8kgs that are delivered within a 5km radius.
#2 What Companies are Using Drones for Delivery Already?
Many big businesses have already jumped on the bandwagon. To be honest, the drone market is too attractive for big tech corporations to ignore.
In fact, Amazon has been offering drone package delivery for quite a time now. Others, such as DHL, Google, and UPS have only just started offering dropoff service by drones and only in certain countries. To gain competitiveness over other courier services, an intricate, worldwide network of drones is required; that means a lot of time and effort.
Many of them offer quick deliveries by drones for their eCommerce platforms:
Amazon

UPS

FedEx

Alibaba

Domino's Pizza

Workhorse

Zomato

Ukraine Postal Service

Flirtey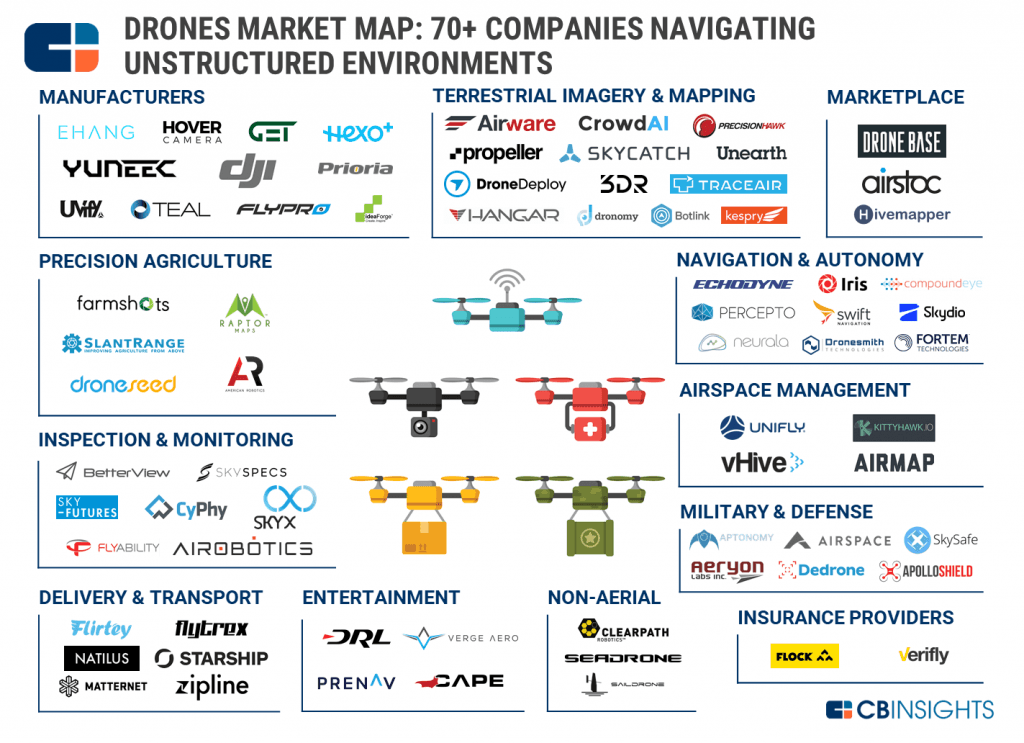 #3 How to Apply a Drone Delivery System to Your Online Store
To implement a serviceable and profitable drone-aided delivery system, you'll have to make sure your eCommerce store has the necessary infrastructure in place. This involves:
Integration of the customer ordering system with the warehouse ERP.

Ensuring the integration of ERP and drone server.

Enable external notifications with the server.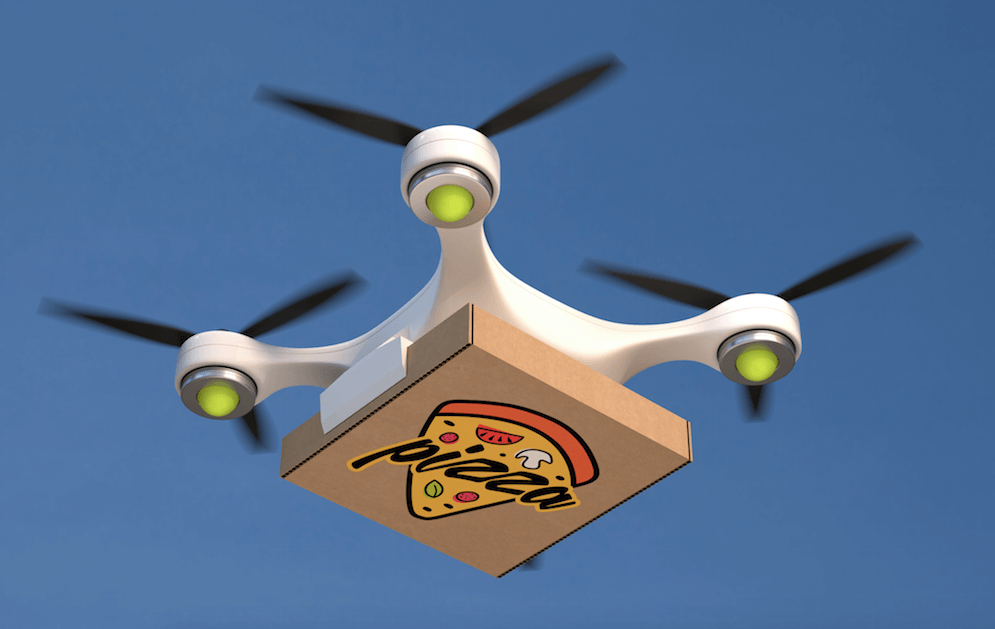 Once you have all those processes in place, your system will work like this:
The customer places an order on your website.

The order is transferred to the main server and to the ERP system.

The order is prepared, packed, and dispatched through the drone. Your staff will do this with the aid of the drone system and server integration system.

The ERM system transmits this information via the platform to the customer as the order status.
Drones install GPS and flight computers in their software, which can communicate its location to the server with a timestamp. When the server gets this information, it is passed to the external notification system to send updates to the customer. In this way, you and your customer will constantly know where your delivery is.
Read more: Drone Rental Business - the most special and sustainable Drone Business type?
Challenges of Drones Delivery Service
The biggest shortcoming of drones is their weight and distance constraints. This type of delivery can only be applied to smaller, lighter packages that are delivered across small areas.
Noise pollution can also be an issue. This isn't a huge issue right now since there aren't that many drones in use in any given area. Yet, as drone delivery becomes more common, noise can be a dilemma that needs to be faced. Another problem that will need to be addressed going forward is that at the moment, there are no processes in place for clients to complain about fraud, damage, theft with deliveries by drone.
In addition, local brick-and-mortar stores may be significantly affected. If customers know they can order small, everyday items that easily and quickly, they're less likely to make trips to the local stores to pick up those products.
Drones are costly machines, so building a fleet for deliveries can be a pricey proposition. Luckily, there are now service providers that cater to small shops wishing to reach local customers.
If you want to implement a drone business for such a small Magento 2 store, you can hire a drone service or invest in your own fleet of drones. But remember the first step is to fulfill the requirements of a proper online retail system that integrates the fulfillment process with the drone system. If you are able to do this well, you can offer your customers an innovative, futuristic shopping experience!
Conclusion
The drone industry is just now taking off, and we are just beginning to tap into it. There are still tons of new opportunities in this market that we can't mention this our blog post.
We hope this article partly helps you begin your entrepreneurial journey. After understanding the above-mentioned basic concepts regarding drone usage and its business potential, time should be taken to assess possibilities to figure out what your biggest strengths are and if those elements match with the drone business?
Many companies are now adopting such a trend. Some are pretty popular, while the others are taking off. Will you be the next?
For all those brave merchants willing to start their own drone businesses, the sun will always shine on you and your endeavors.