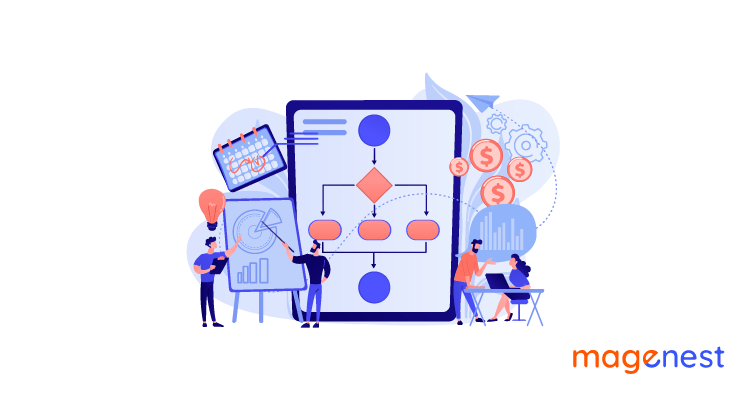 Workflows have become increasingly useful to any business since the industrial revolution never stops growing. It has greatly contributed to the success of businesses worldwide. Without a proper and effective workflow system, it's hard to make sure your company can survive in this highly competitive market, not to mention thriving.
Therefore, workflow is an important concept that business owners and managers should know to run their eCommerce store smoothly. In this article, you will learn what workflow is, what roles it plays in your work productivity, and some useful tips to apply to your eCommerce business.

What exactly is a Workflow?
Workflow is a series of tasks that your staff would follow to complete their work towards some repeatable business goals. To put it simply, the workflow will help you know how to get your part of work in a bigger process done without getting lost during the process.
Repeatable is considered a keyword here since the workflow is neither a task (which is a one-time to-do) nor a project (which comprises a bunch of talks together). The workflow should be a chain of tasks that would be done in a sequence and on a regular basis.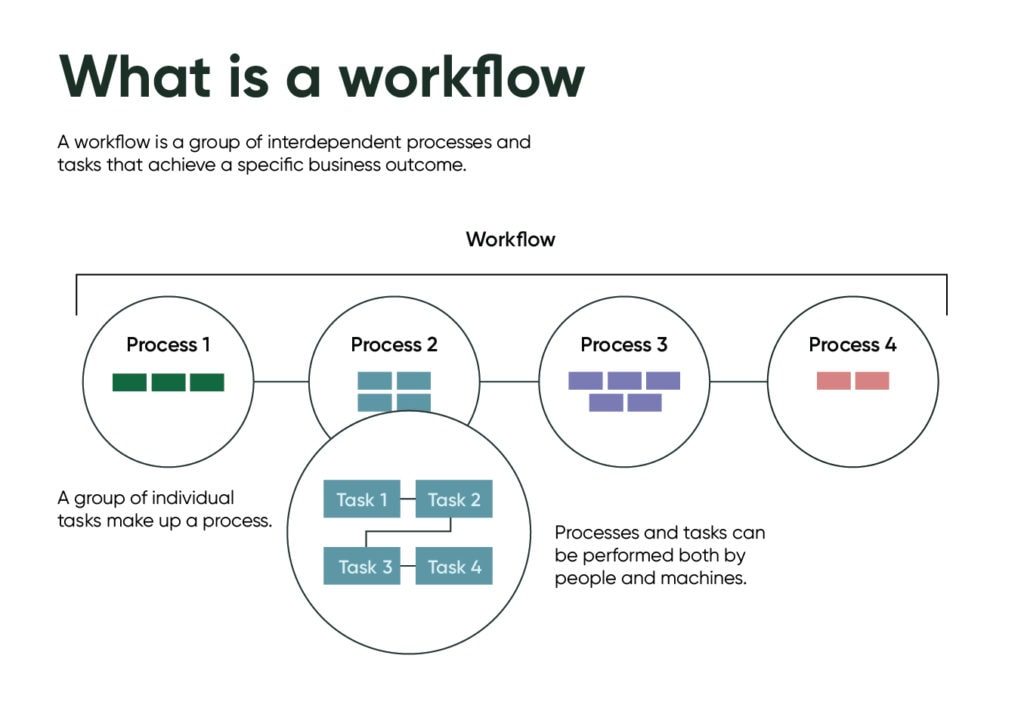 Workflow definition ranges from simple tasks that can be completed individually to massive processes that involve hundreds of workers across business units.
When it comes to workflow, people would think of graphical representation which often appears as a form of a workflow diagram and documentation or software to manage the workflow.
Although it's nice to list out the tasks at the beginning of the day, it seems not to be of much help to your business. Meanwhile, visualizing them can make a big difference, for example, a workflow drawn as a flowchart enables you to easily analyze essential information, eliminate bottlenecks, and improve the process. Or just using workflow software to track all your tasks from start to finish.
Read more: Best and Worst Examples in Workflow Automation
Why is Workflow so vital to your business?
To illustrate the importance of having a workflow at work, we are going to show you some great benefits a workflow would bring to your business.
1. Gain greater insights into the business process
It comes as no surprise that many companies map out their work processes in a workflow because they understand that a workflow can help them get a more clear and top-level view of their business. When you have to answer questions like: Is this process as good as it can be? or What is a better arrangement of steps? Then it's time you need a workflow to help you fully understand the working process before providing proper guidance to your staff.
2. Minimize errors and increase productivity
We all know that it's impossible to operate your company with zero errors. However, being proactive in identifying and reducing errors is something any business can work on. With a workflow management system, possible errors are more likely to be prevented in the first place. Even if they do happen, the workflow system allows you to quickly pinpoint the exact locations that have problems and try your best to prevent the same errors from happening in the future.
If all the workflows are automated, teams can save a great deal of time by sending fewer emails and always be informed of the task development.
3. Improve connectivity in working culture
Having a workflow is essential to connect multiple entities including people, software, and culture because workflow will be effective communication tools that employees use to communicate and work with each other, thus increasing productivity since everything is well-connected within the company.

Integration among software systems is very crucial in terms of IT infrastructure as employees need more than one application to carry out most of their tasks. A workflow system can draw data from different software tools and build stronger connections between staff and machines.
Besides, for companies working remotely, there have already been enough text messages and emails popping up every day, a workflow becomes more necessary than ever to help them keep their work organized and trackable. That way employees could collaborate more smoothly to achieve common goals.
4. Eliminate redundant manual tasks
According to studies, repetitive tasks can cost up to 5 trillion dollars per year globally, and on average office workers spend 69 days of their working days a year on mundane tasks. Imagine how productive it would be if humans spent more time on other tasks that actually need their attention.
With the workflow system, tasks would be neatly assigned to different teams in different processes instead of multiple chat tools, emails, and tons of project boards, which allows employees to follow the steps in an organizing way without any confusion or delay.
Another about the workflow system is that you can provide better customer service and respond more quickly to their complaints. Unlike outdated manual systems where customer requests or complaints may be easily overlooked and messed up. Without customer satisfaction, there's no way to increase sales so make sure your business has a professional workflow to stick to.
Read more: What is Automated Workflow and How Can Magento 2 Merchants Do It Correctly?
Some tips for workflow optimization
Workflow optimization is not a task that can be done overnight. A lot of measures and strategies need to be taken to achieve the best outcomes. Running an organization is not only about getting things done and accomplishing business objectives. In fact, the company has to go broader and deeper to optimize the work productivity in a minimal amount of time as well as predict future circumstances.
In other words, workflow optimization is one of the first steps to enhance your work efficiency, reduce the task completion time and come up with more innovative functions.
Below are 5 useful tips you can apply to improve your workflows: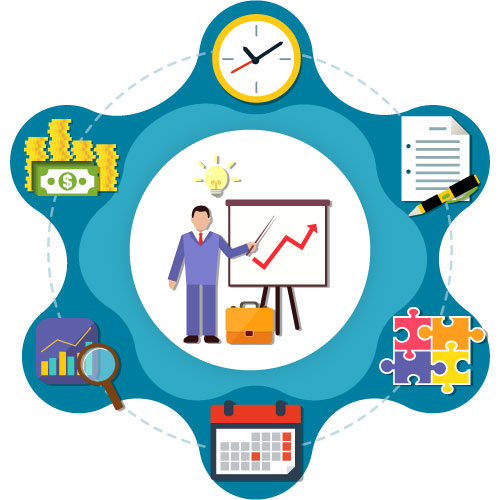 1. Set specific goals for your workflows
You must know what you want to achieve and how you want the workflow to perform before optimizing it. Carefully analyze your workflow and set SMART (specific, measurable, attainable, realistic, and timely) goals to keep your business going forward.
2. Use tools for workflow management
Consider using tools such as software that can create a foundation for the implementation of your daily work. Look at some of the important elements before choosing suitable software that meets your expectations:
Features: make sure the software consists of all the available features that you expect it to have.
Business standards: check whether the software lives up to your business needs and requirements.
Compatibility: the perfect software for your company should have a high compatibility level to work well on different devices and platforms.
Prices: choose the workflow software that fits your budget in the long run.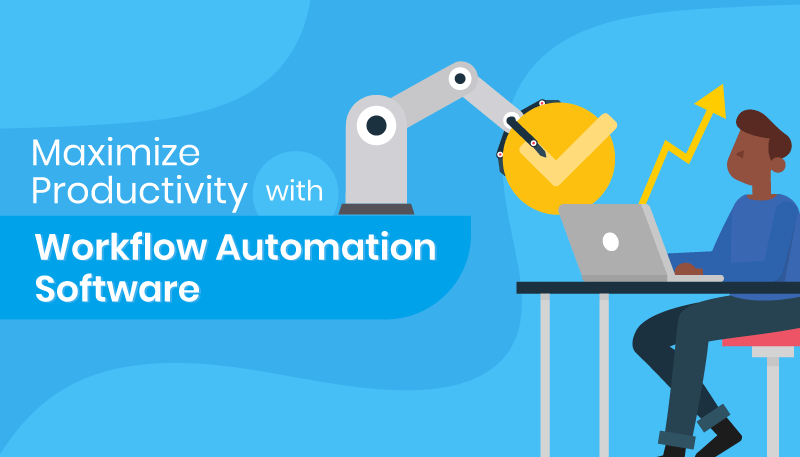 Cloud-based software means that specific workflows, schedules, and plans about projects are all available anywhere and easy to share at any time. Responsibilities that used to be the sole domain of managers and team leaders can be delegated to other members who can access the workflow system and have a clear set of instructions to follow.
3. Use automation if possible
Automation can be a game-changer for your workflow. For example, if you have to create a huge number of contracts and send tons of invoices, the automation process can help minimize the manual by automatically sending reminders to the parties to renew contracts and make monthly payments, etc.
The less time a workflow takes to complete recurring tasks, the better it is for your business. That's why you should take automation into consideration when optimizing your workflow system. Let the software complete tedious and repetitive tasks so that your employees would do the work only humans can handle.
4. Communication is vital to optimizing your workflow
Come up with ways to communicate with your team members and give them support whenever you can. It's normal to suffer from stress when performing tasks and daily operations. One of the ways to help relieve stress among people is to open up to them, Always listen to your employees' feedback and suggestions to improve your workflow.
For example, an organization can conduct monthly meetings within the company to communicate with its employees, get updates from your team and pick up relevant solutions.
5. Document your workflow
Once you are done with all the necessary steps to optimize your workflow, it's essential to document it to evaluate the outcome it brings and analyze future workflows. Furthermore, documentation allows your existing staff to fasten the working process and provide a logical basis for training new employees.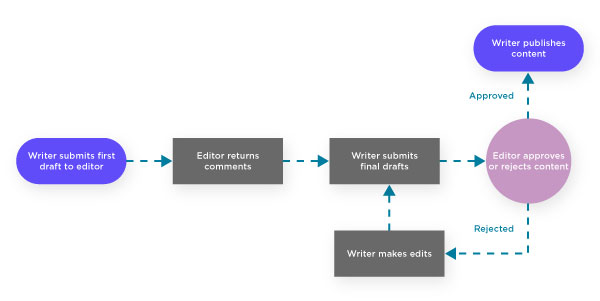 Read more: Best Workflow Optimization Practices for Magento 2 Merchants
Conclusion
Workflow is undoubtedly an indispensable part of almost every industry as it forms a backbone for effective planning, tracking, and managing the whole working process.
Hopefully, this article about the benefits of workflow and helpful tips to optimize it will help you implement the business process more smoothly. Let's create your own Magento 2 workflow and apply what you have learned with us right now! Visit Magenest to read more detailed posts of ways to build an optimized business workflow and its best practices for Magento 2 merchants!