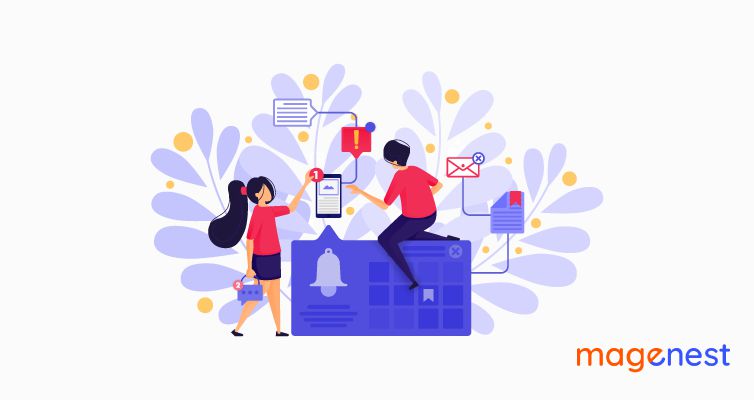 One of the most important aspects of a successful marketing campaign is delivering messages to the customers in the right way via our available tools. Web push notifications are one of those tools, but not many businessmen how to correctly use them. That is why in this article, we provide a complete guide to your web push notifications marketing campaigns. We believe that the best practices for push notifications multiple devices below are great ways to engage customers and increase sales.
Web Push Notifications Marketing: Acquisition
App onboarding and first-purchase campaigns (app push)
How many times have you seen new users who download your app but never finish the sign-in process? If your answer to this question is yes, then it is time you slowed down your business to thoroughly reanalyze your plan. In all fields of business, there are on average 20% of new users who never finished their registration stage. If you can bring that statistic of yours below 20%, you are doing the right thing.
However, if your dropping rate is above 20%, then there are definitely problems since numbers can't lie. Most of the time, your potential users are distracted by something else, so they forget to finish the sign-up step. That is bad news, but the worst news can be because people see no point in signing up for your service.
If you are in the second case, you have to reevaluate the core value of your business so that you can bring practical values to your customers. If you are in the first case, then you need to build a personalized, well-timed app push to show newcomers the benefits of the registration step as well as make them feel the need to stay. In this example, marketers give their online customers a clearer incentive to sign up and consider their first in-app purchase.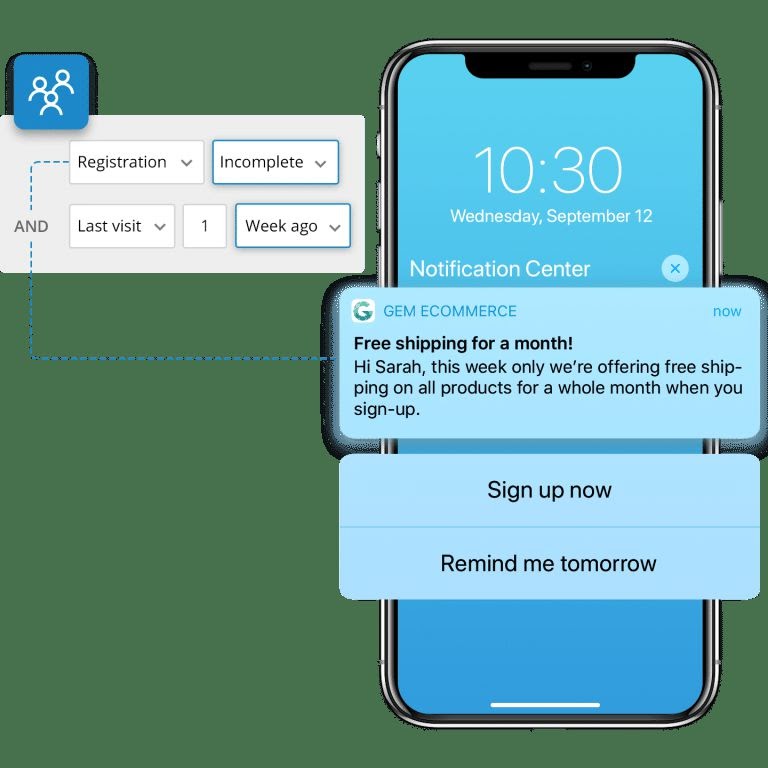 Smartly using push notifications leads to an increasing number of registers and more active users. In return, it gives you more chances to advertise products and engage the targeted audience.
Retargeting visitors with web push notifications
Most retargeting methods need codes from your website which records data when someone pays a visit. Then how does this code work? First, it drops a cookie on the browser, and then when that visitor surfs the website later, the cookie now will notify your provider that it's time to send an ad.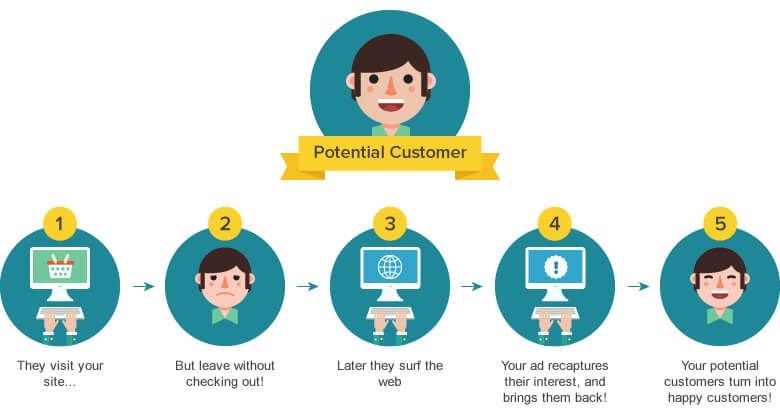 Retargeting is an amazing tool since it allows customers to find ads for their products that they were earlier searching for. This way web push notifications provide ads that can exactly match your potential customer's needs.
Web push notifications tools have all the advantages of a banner as well as the segmentation value of email remarketing. But it's more than that, they have supported browsers that don't conflict with spam filters or inbox criteria. Once someone decides to be a subscriber to receive pushes, they can be sent wherever users are online on multiple devices, at any time of the day.
Unlike banners, web push notifications marketing can match the profile of potential and returning customers so they can be segmented, thus skyrocketing the effectiveness of your business. Plus, most web push notification providers also offer a wide range of pre-installed pushes.
Web Push Notifications Marketing: Engagement
Real-time messages (app and web push)
#1 Push notifications should be timely
Not all push notifications are the same. You never want your web pushes to be marked as spam, so the most important factor is to choose the correct time to send the pushes.
Push interval is important, too. Don't send notifications too often, but don't be quiet for too long otherwise they may forget your brand and feel interrupted when you contact them again.
Create more web push notifications compatibility and consider useful functions like Bedtime mode: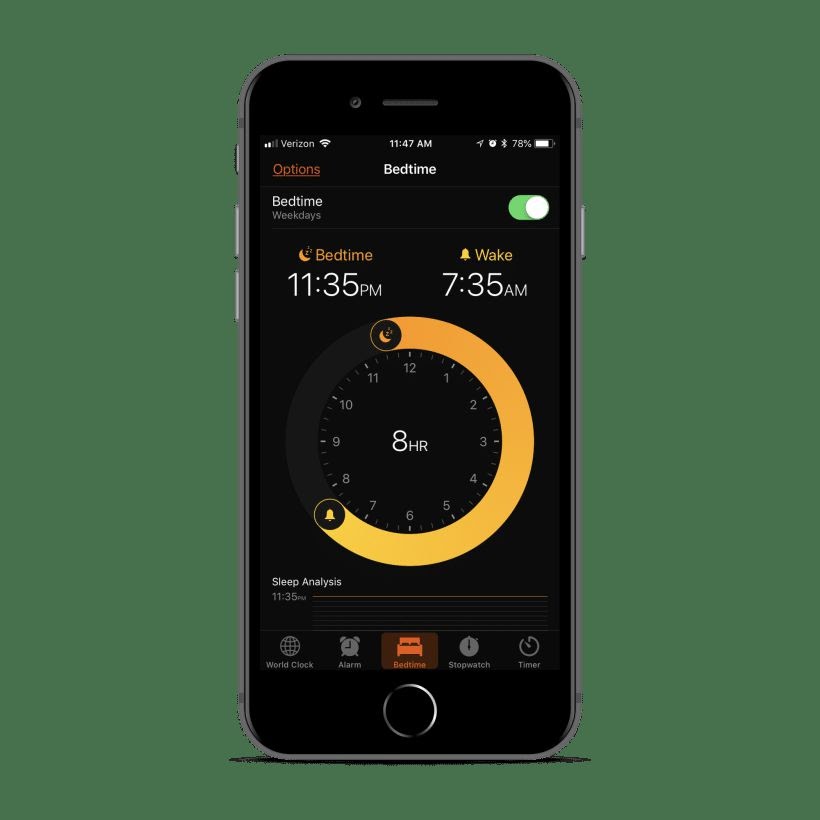 Or Do-not-disturb modes on IOS: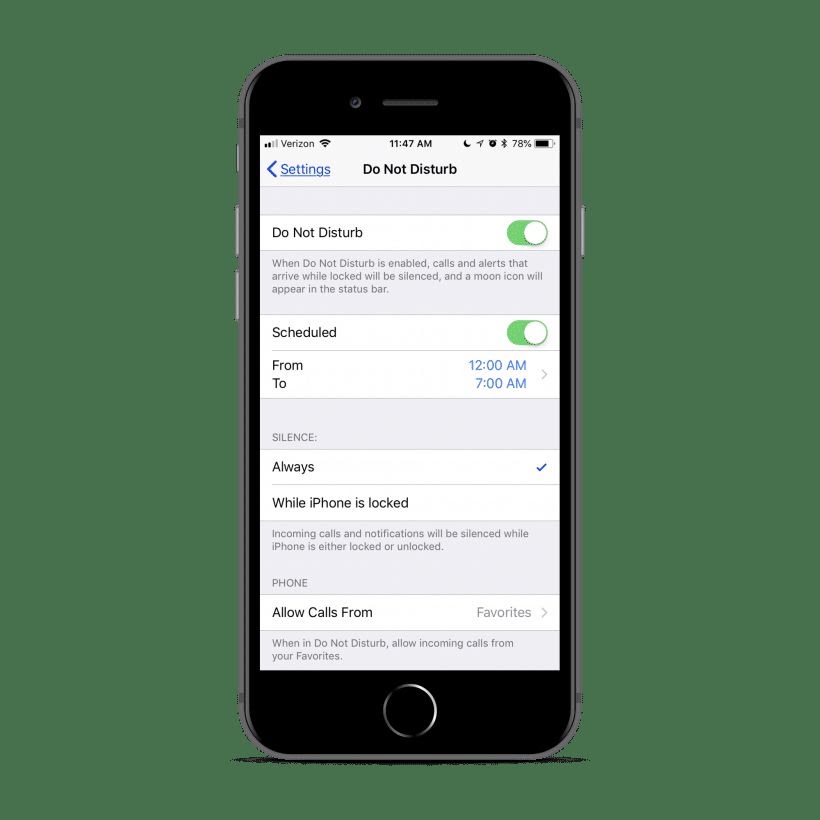 These settings allow users to have more comfort. They can enjoy their sleep and stay out of distractions. No marketers want their pushes to reach customers during nighttime. Carefully analyze your user data to make sure you hit their devices at the right time.
It's advisable to sync your push notifications with your other marketing channels. Sending the repeated content to your web and app users over time can make them frustrated. As a marketer, you may not want to lose your customers this way. So, it's better to adjust your setting before it's too late.
#2 Push notifications should be personalized.
In this age of information, personalized techniques are the key to your success in marketing. Generic content has become out of date and your business should focus on how to create a high-value, more personalized experience for users.
What's great about push notifications is that it allows you to segment the targeted audiences in a very personalized way. Online stores can send messages to their customers based on items that used to be browsed or purchased before. This way, your customers would have more options that suit their tastes, preferences, and needs. They don't have to waste time on products that they don't want and have a smoother experience shopping online.
When setting up push notifications, it's advisable to let your users have a variety of options. If they are given more control, they're more likely to opt-in and stay engaged.
Your target demographic is also important. Never send inappropriate messages to your users. This can be avoided by using personalized methods instead of generic ones.
Drive traffic to your app and website
Our advice is to develop the content of your web and app interestingly. When it comes to the publishing industry, the quality of content is the most important thing because the core business objective is keeping the audience staying and engaging with the platform via good content. Here are tips to make sure you're on the right track with the web push notification in this field.
#1 Use rich content
In marketing campaigns, push notifications are like text messages with images, videos, GIFs, and emojis. Of course, the push notifications with images get 56% more clicks than those with text only. However, sometimes the simple things work better than complex things. Plain SMS text messages sometimes may be more impactful than pimped-out push notifications. So, keep your messages clear and concise if you don't want them to be counter-productive.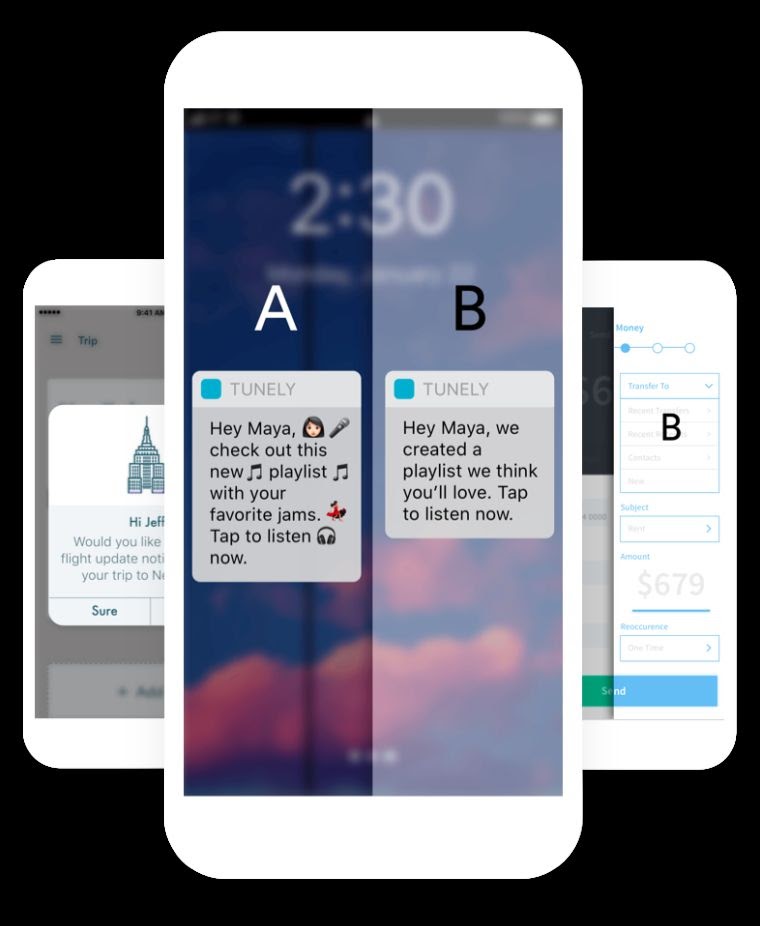 Experiment with different types of content to make a stronger impact on users' experience. If web push notifications on mobile are used correctly, it should lead to higher engagement and interest.
One very useful tool that can help you develop rich and relevant content easily is the Magento 2 Notification Box. It provides all the support you need with web push notifications.
#2 Develop effective Opt-in messages
Before reaching users and visitors with web push notifications marketing, you must get them to opt-in. It begs the question: How can we persuade them to opt into push notifications when Allow/Block functions are used in many websites and mobile apps? Unfortunately, we don't have much choice with web push notifications. The opt-in message will show up like this on all websites.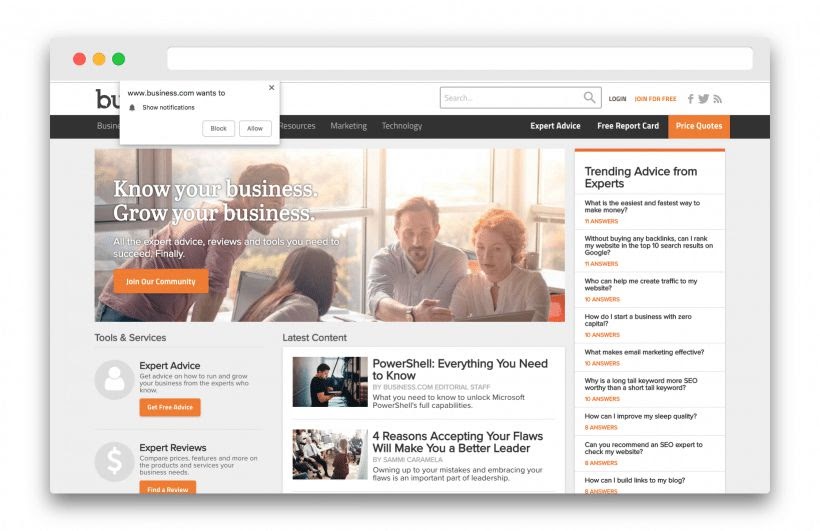 However, mobile app notifications enable you to have a lot of room for personalized upgrades. Make use of these rooms as much as possible since you only have 5 seconds and limited space to persuade your audience to opt-in.
Remember before asking your customers to opt-in, give them reasons why they should do it. Also, it's tempting to cling onto users by making opt-outs difficult but forcing them into communication could destroy their loyalty. That's why it's better to let them go if they want to. Make opting out as easy as possible.
Don't overdo things. The easy opt-out doesn't mean you have a free pass to spam. Once they feel frustrated at your service, bad-mouth concerning your brand can happen. And this is against our goal which is to welcome them as happy shoppers to our stores.
To minimize irritation and build trust from your customers, you should give them the right to choose what kinds of alert notifications they want to get, when push notifications are on or off, and specific undisturbed hours.
Web Push Notifications Marketing: Retention
Recovering abandoned carts (app and web push)
It's hard to find an industry without abandonment issues. It is the digital era now, so all eCommerce businessmen expect to see about 70% of all carts left behind at the checkout.
This problem has been discussed a lot, so we won't go into detail about why it has become a common phenomenon. Too many customers have cold feet right before hitting the purchase button and just back out.
So do we have to accept that sad but true phenomenon? Perhaps not, with the help of web push notifications. By making them deep-linked, online shoppers can be directed back to their previous basket they left at the optimal time.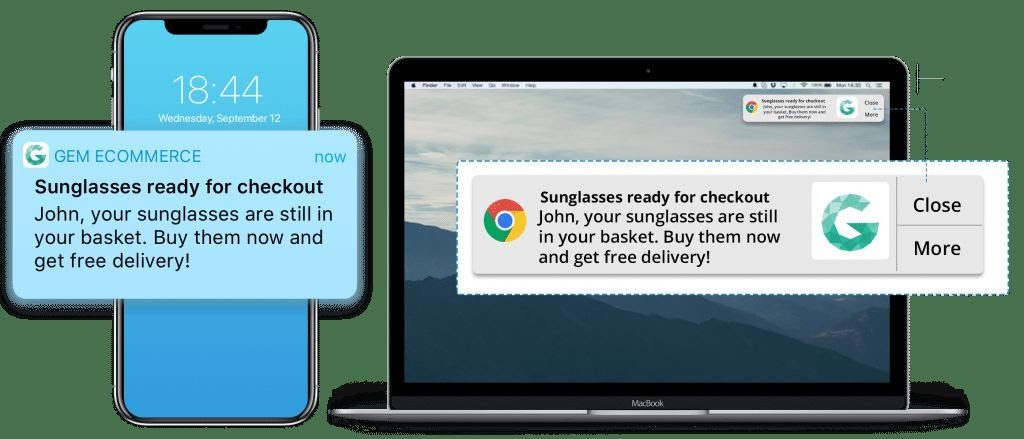 Re-engaging lapsed users (app and web push)
The thing is no matter how hard you try, there will always be a certain number of app users and web visitors who drift away and remain inactive.
An effective re-engagement web push notification strategy will certainly attract more users' attention and bring your old users back. It will remind them of the purpose they downloaded the application in the first place.
Your big effort to re-engage lapsed users will be paid off one day if you take advantage of these tips below:
Target users with re-engagement ads
Provide encouragement and incentives
Personalized and properly timed message notifications
Enable easy subscription phase and social sharing
Remind users of new features
Those are useful methods you can apply to your web push notifications marketing campaigns. Maintaining a high retention rate is one of the key goals and it does require a lot of testing effort to find out what works best for customers.
Conclusion
This article covers almost everything that helps you run your web push notifications marketing campaigns smoothly. Apply what you have just learned and see how it can bring great results to your online store. Find out more insights about web push notifications in our blog post. If you have any questions, feel free to contact us right here.